Artificial Intelligence is a fascinating technology. And it is constantly working to transform the world for good. AI is no longer just part of some sci-fi movie, now it has become a reality in which we live. Even ChatGPT apps are now replacing manpower in multiple cases.
It is quite complex technology. But the benefits and capabilities that it offers aren't any hard to understand.
It is a machine that has intelligence very much like a human, which can perform many of the tasks that humans can do, maybe at times even much more than that. It takes into account the availability of data to perform its commands.
An AI generator tool collects information from your end and then writes the content using NLP (National Language Processing) technology.
The innovation in AI has brought many experiences to reality that were once only thought of as fiction.
AI Content Tools: An Overview
In today's world, a market is a place where everyone is working to outperform the other, and high-quality content is the best shot at getting found.
If you are someone who is running an online business, no matter what it is, content has got to be in the mix. Content is available on websites, blogs, social media channels, and whatnot.
However, publishing the content, just for the sake of doing it, is not enough. Then it will become stale in a short time. You need to be very smart and create enticing content. And for that, you could use the power of AI- Artificial Intelligence.
An AI is a machine that can learn from experience. And it is used widely by the leading mathematicians, scientists, and researchers of all the time to create outstanding content
Is Investing in AI Content Tools Worth It?
Investing in tools that are based on the principle of Artificial Intelligence saves money and time. It is a one-time investment.
Another thing that makes them stand out is the AI Content Tools are accurate. The AI content tool makes use of the most sophisticated models for writing to accomplish the writing of articles. And also, they generate detailed content with just any information from your end.
AI strengthens the internet of things and many more are expected to increase in the upcoming years. There are about 23 billion devices connected currently and this estimate will increase to over 75 billion by 2025. This all proves how much AI-powered tools are being loved.
As AI continues to disrupt how we live and work. Investors like to put their money to work in this advanced technology that is reshaping society quickly.
From advertising to hospitality to the healthcare industry, AI is ruling the market. Various organizations and businesses are taking a part in adopting Artificial Intelligence into their businesses to upgrade and make their work easier.
The best part is that content created using Artificial Intelligence technology can be used to match what internet users are searching for on the internet.
The content written by them has all the relevant keywords, which makes them SEO-friendly. Plus, some AI tools can write content in multiple languages.
Best AI-powered Content Generator Tool
It is not an easy job to run a business website. The process of content creation is always a tough job to handle. Also, it is time-consuming and costly. Here, comes the role of Artificial Intelligence. With its help of it, the entire process can be automated.
Luckily, AI content generation is a technology that ensures the content is generated and your website never lacks fresh content that best suits your business needs.
It is important to look for certain things before choosing a tool for you. Like, the tool should not give you any difficult time while using it. And the software interface should be very easy to navigate from one page to the other.
Another thing that makes an AI tool the best content tool is that it should help you in tracking the keyword research related to the content that you have planned to create.
If you want to choose a tool that lets you create articles that meet all the search queries of your potential visitors/clients. Then the right software should give you a list consisting of all the keyword recommendations that are common. That most people are searching over the internet.
Above all, the best AI content tool can be customized to fit all your business needs. And the ease of customization will help ensure that you have signed up for a plan that was within your budget.
A reliable AI content tool will help you to analyze the ranking of your business websites. It also helps you to review your web presence and provides you with those suggestions that are necessary for better optimization.
Some of the best AI content tools
There are plenty of tools available in the market that works using the power of artificial intelligence. The best AI-powered Content Generator Tool isn't necessarily the cheapest. And some of the AI content tools are worth investing in. A few of them are discussed below-
Surfer SEO
Scalenut
Anyword
Jasper
Rytr
Writerzen
Wordhero
Writesonic
Marketmuse
Outranking
Clearscope
Surfer SEO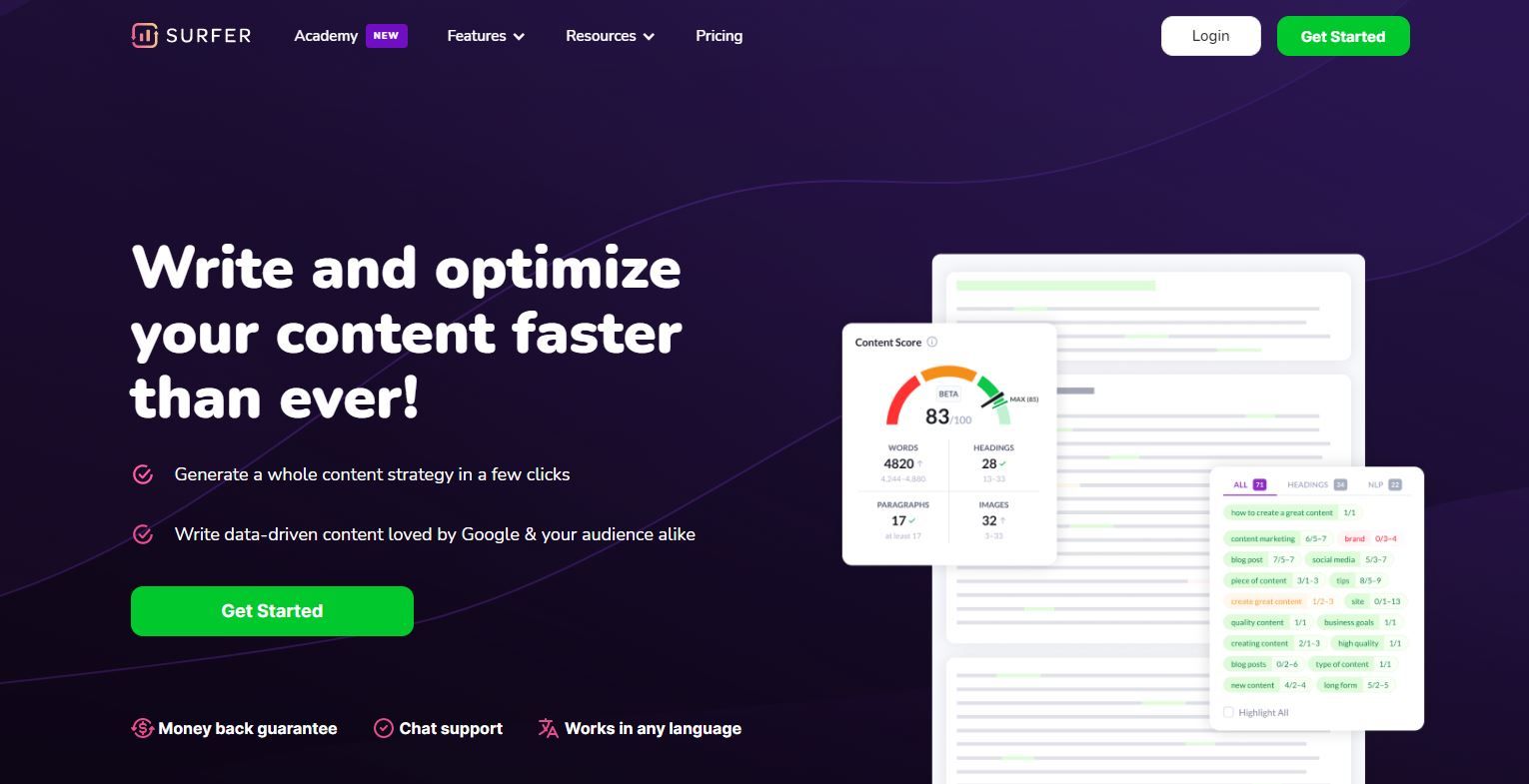 Surfer SEO is an AI software for content optimization. Audit tools are available here using which generate an internal link with the agenda of maintaining the target audience from the top ranking. No matter if you have relevant ideas about creating your content or not, SurferSEO AI writing tools will give you the best methods and schemes for building your content effectively. It performs without any language options barrier and the feature of scheduling the content is also available here.
Scalenut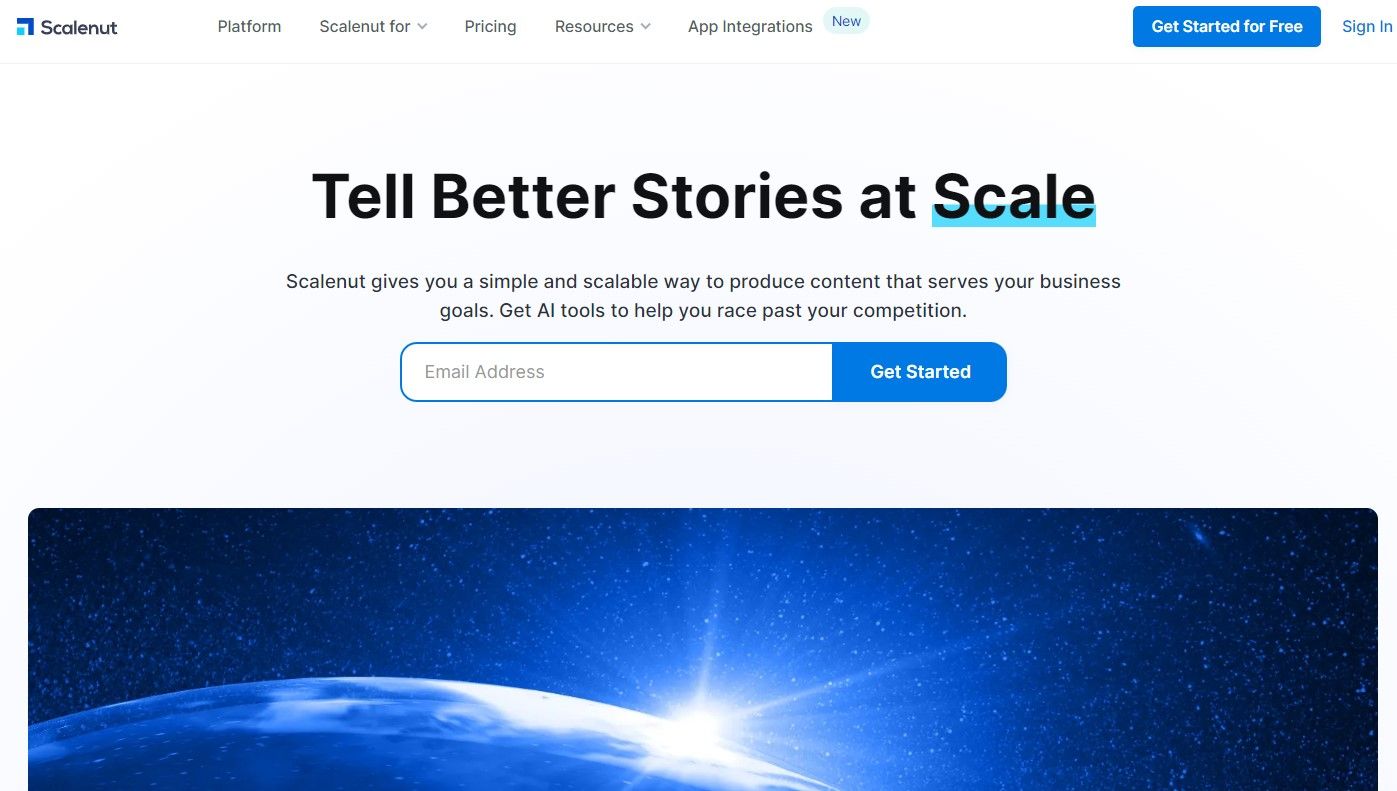 Scalenut is an AI writing software that comes with an AI assistant tool that aids in building long-form as well as short form of content. It has an in-build content brief and automated NLP key terms which plays an important role in generating quality content in a short period that serves as high-ranking content to enhance your product sales. It comes with a user-friendly interface as all of its features are well-explained in its dashboard. Endless schemes are provided here to generate your blog introduction, conclusion, social media posts, profile bio, and so on. 40+ cases are available here to generate content in the way that suits you. It is a platform where you can get solutions to all your SaaS problems.
Anyword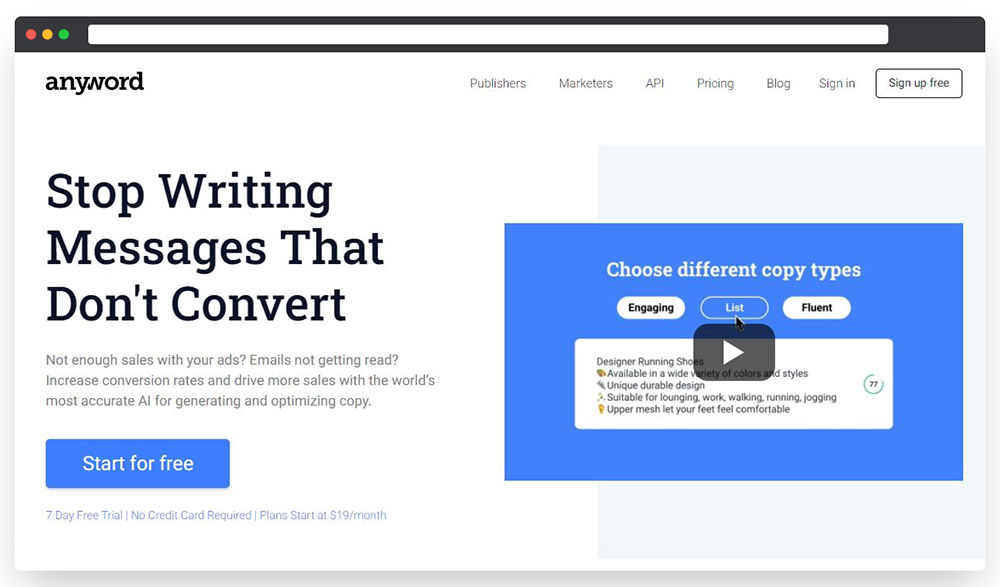 Anyword is an AI writing tool that develops any form of content along with making customizations to it. For instance, you can create social media posts, blog posts, emails, and so on with the help of general copywriting tools. A pre-set keyword library is available which proves to be very beneficial in terms of organizing your content. It makes endless customization in your marketing copy of the product to ensure your content quality which comes to a step before uploading it to achieve an improved performance of your content.
Jasper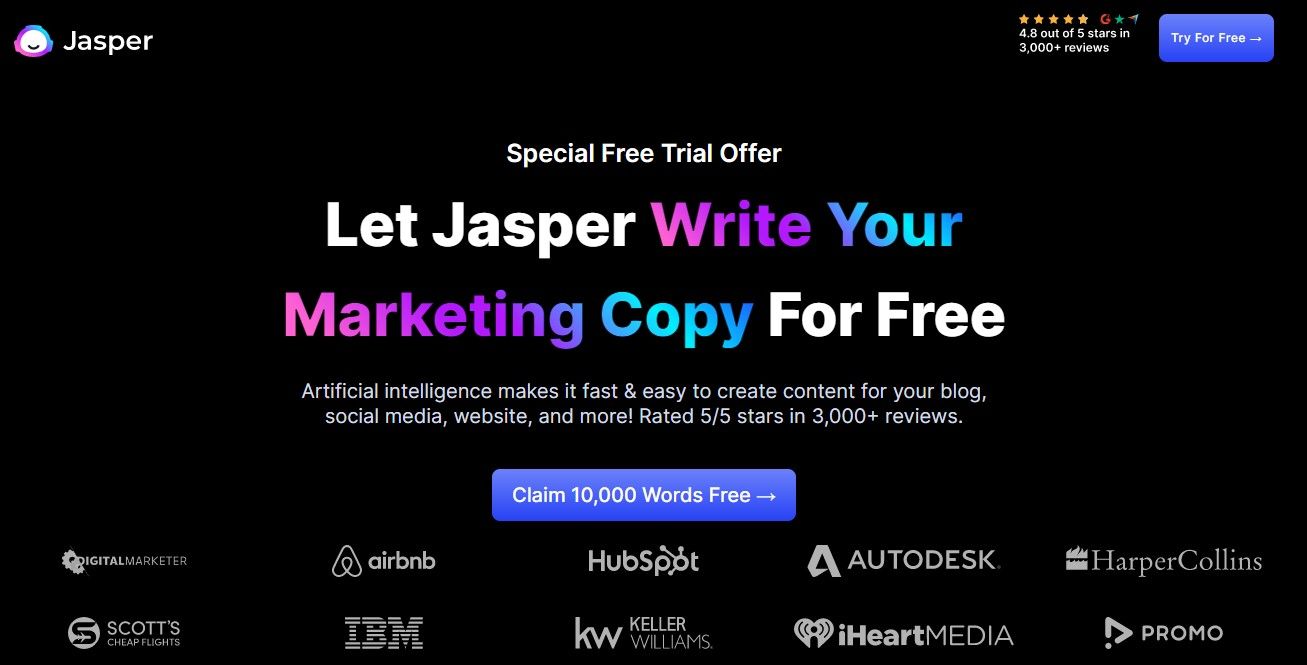 Jasper is an AI writing tool that automatically generates content after receiving commands given by the user. It has access to 25+ languages and comes with a range of concepts along with generating outlines that give quality results such as generating long-form of content in sections instantly. 50+ copywriting skills available here which functions to give output that is real and plagiarism-free without wasting much time. The content is also keyword-rich that serves in terms of best SEO ranking content and helps in high transformation sales copy. It also optimizes content to maintain the quality of your product.
Rytr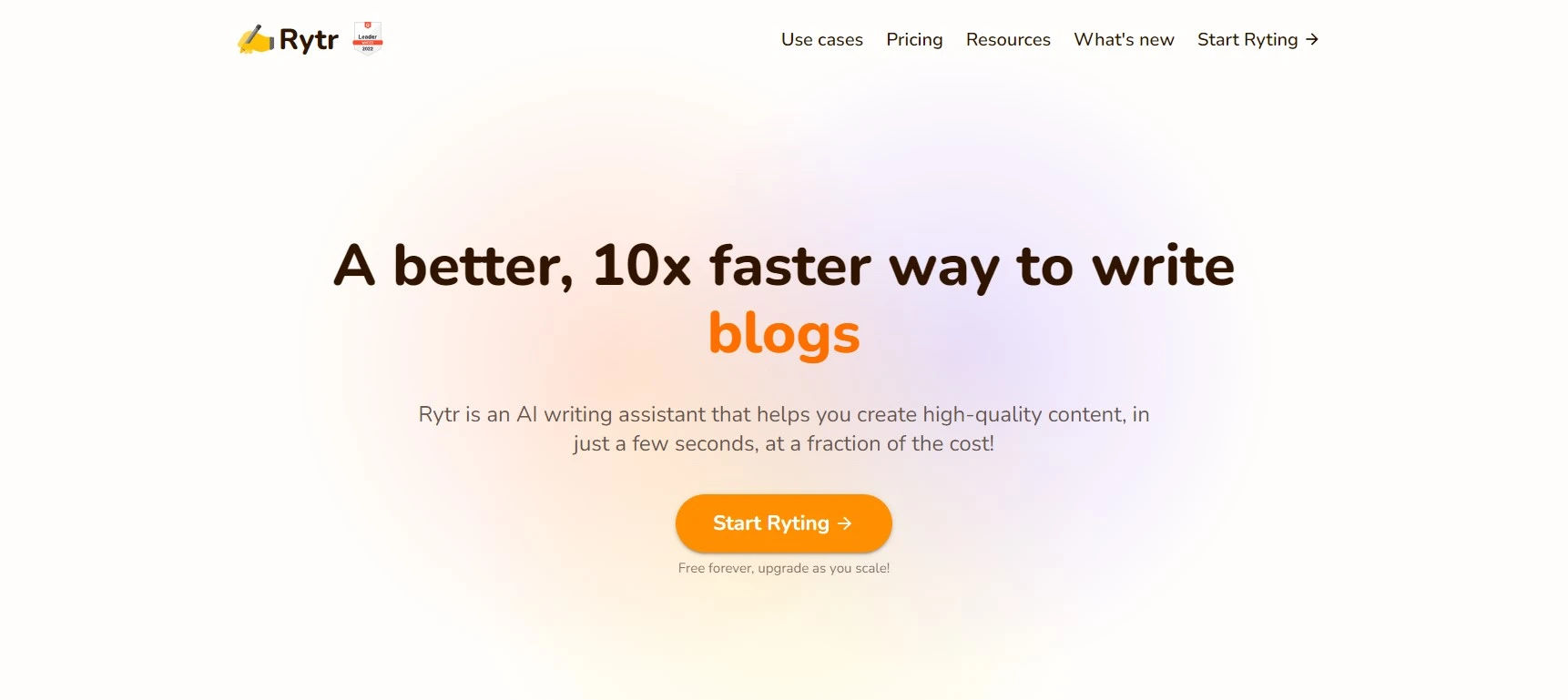 Rytr is an AI writing tool that automatically creates content based on scientific copywriting formulas and copywriting framework-AIDA. So, you don't have to then invest time in editing it further as very less editing is required after that. The plus point is that it provides original and plagiarism-free content. An SEO analyzer is present to ensure your content is well organized. It allows 30+ use cases, templates, and languages including 20+ tones to write in your desired way.
Writerzen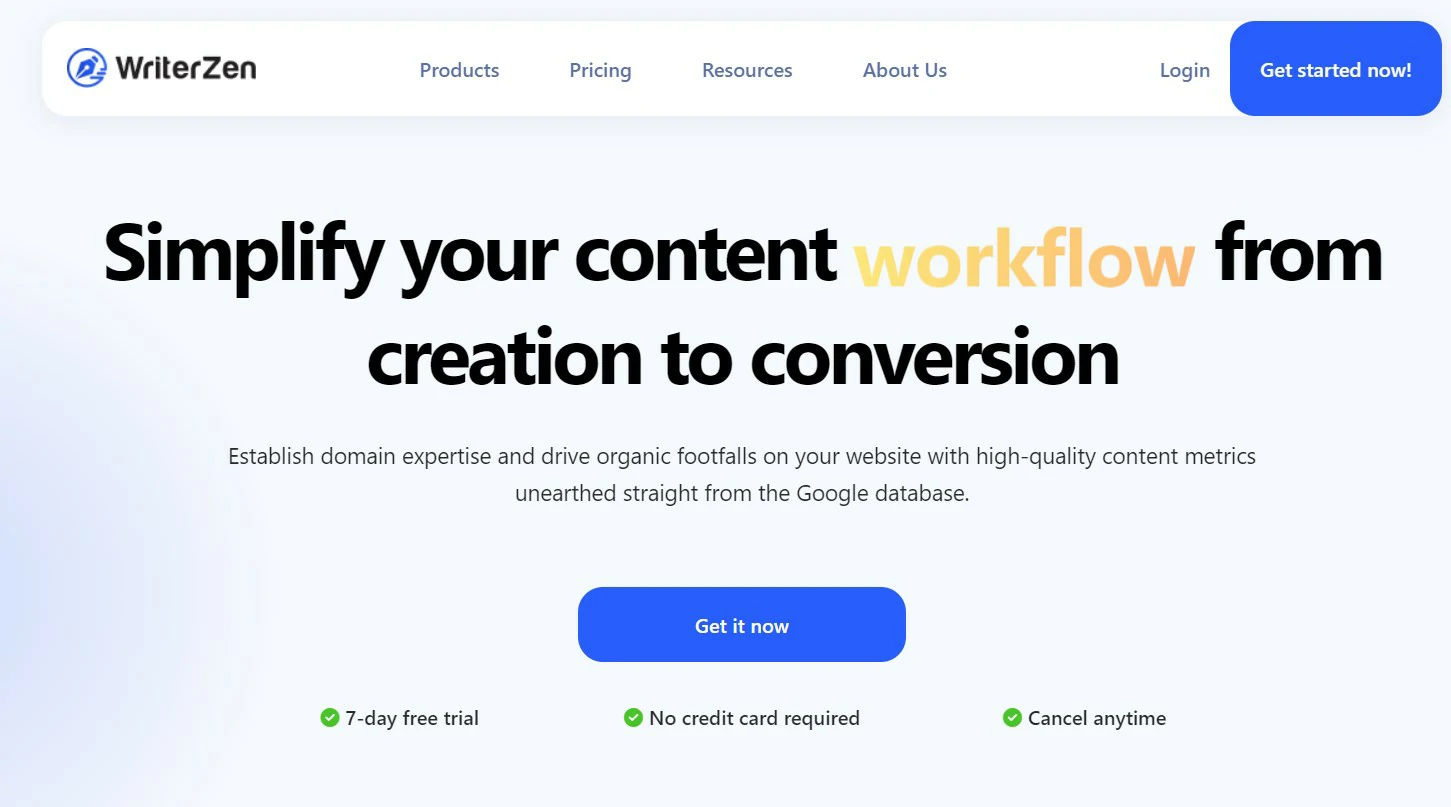 Writerzen is an AI writing tool that offers a variety of keywords from the authority of Google Keywords and the Google Suggest Database. It keeps track of competitors' content to give you suggestions for your content schemes. 60+ templates are provided here to automatically create your content. It even rewrites your content in case any of your users provide some suggestions. The keyword checker tool and plagiarism checker tool are also available here.
Wordhero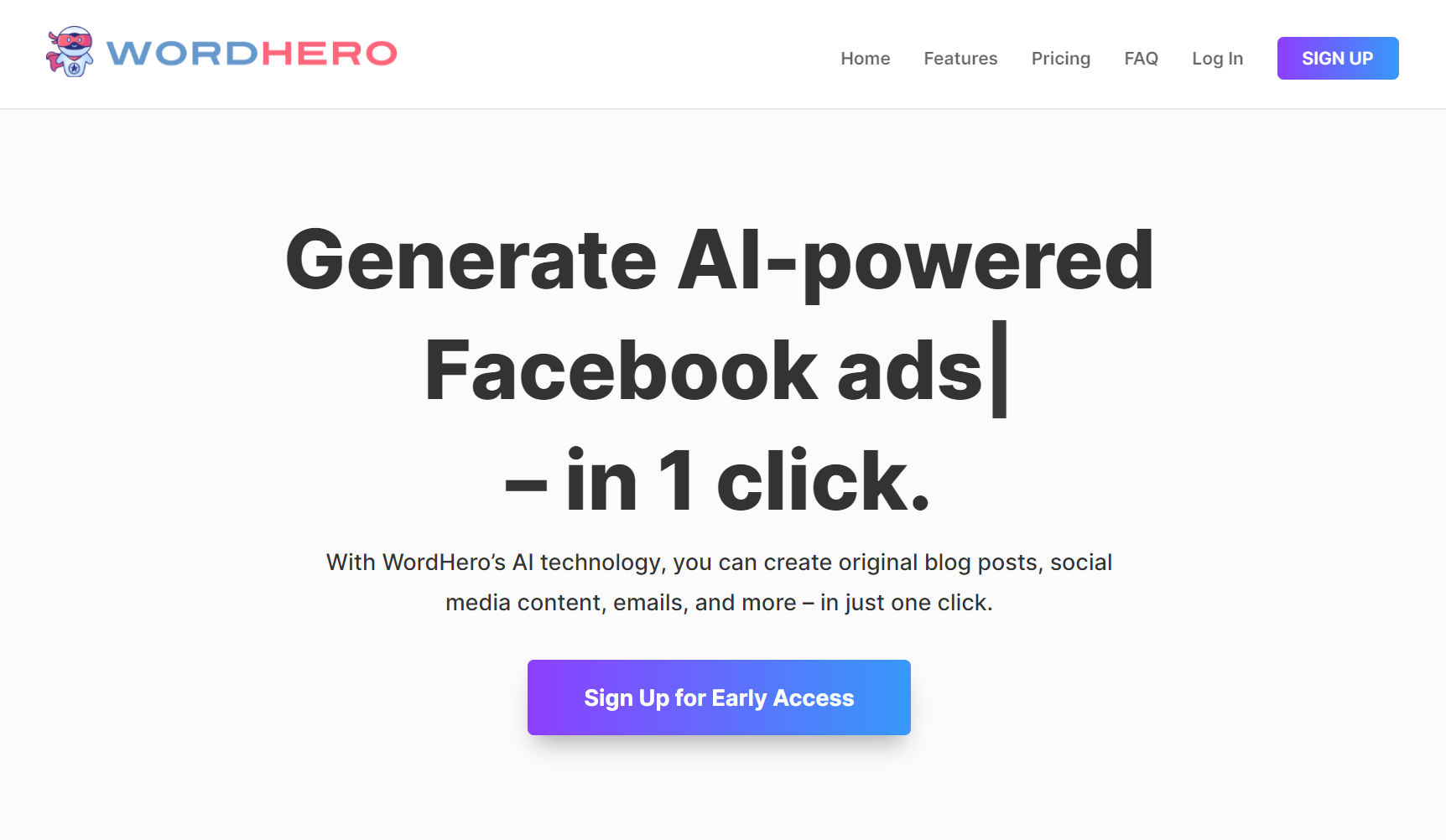 Wordhero is an AI writing software where AI writing tools automatically generate the best quality content simply by receiving keywords as input. Unlimited content can be generated here at a fast speed with the help of integrated 60+ writing tools along with a long-form editor and keyword assistance. 108 languages are available here so you can't run short of any language demanded by your customer for your product description and all. An easy-to-use interface is provided and your content generated is real and plagiarism-free.
Writesonic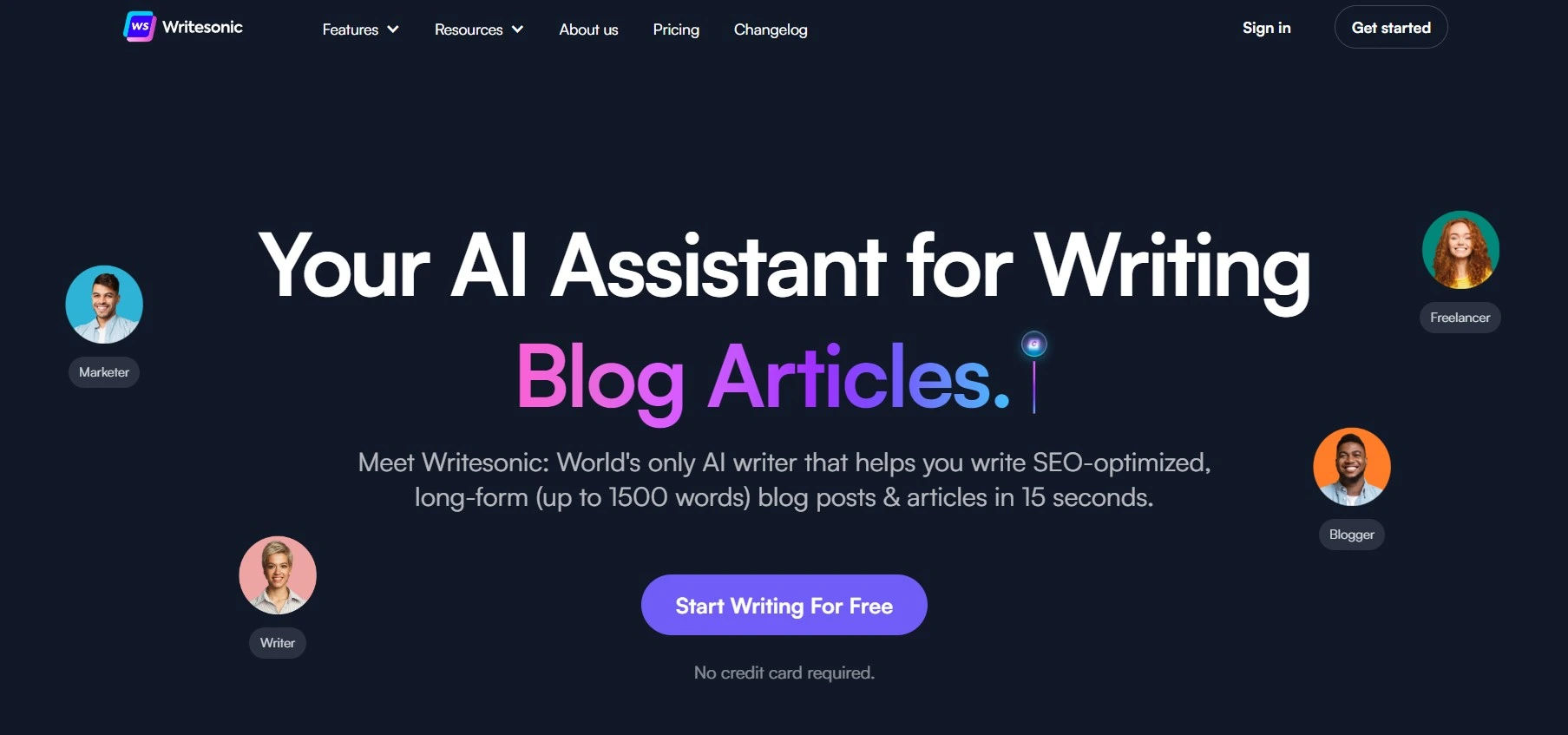 Writesonic is an AI writing tool that serves for creating content in less time by accepting some keywords and a short description of your product. It takes the idea of your content and begins to build the outline which further gets converted into complete content. It comes with a grammar checker and readability score tool. The best part is that if you don't like the content, you can also rewrite your content simply by going on the regenerate button or you can also make changes to it as per your needs by utilizing editing tools. It is one all platform where you can create headers, SEO meta descriptions, product descriptions, and landing pages for your website.
Marketmuse
Marketmuse is an AI writing platform that works for content research and generation. It makes a record of a real-time text editor utilizing relevant topics available from the online sources through an internal and external link of contents, generates brief content automatically, and finally gives the proper content as a result after performing an estimation of competitor's content and making the required changes. A team of SEO, engineers, and data scientists are involved here for efficient management of your content generation that also works to enhance the productivity of your content faster.
Outranking
Outranking is an AI writing software that comes with an AI writing assistant tool providing SEO content schemes using fully automated keyword research, developing the outline for your content, and performing a proper evaluation of people's queries about your relevant topics to provide good content in just a few clicks. So the possibility of a high ranking of your content is increased. You can even make customizations in your content through SERP estimation to enhance the required section.  
Clearscope
Clearscope is another amazing AI-powered software. It is a popular content optimization tool that is owned by Mushi Labs. It is a great platform if you wish to do content publishing at scale, work daily with freelancers, or run a severe niche.
It enables its users to create content briefs, optimize the content before or after publication, or research topics. The software aims to attract more organic traffic with the piece of content that it has created and optimized.
FAQs
What is AI content?
AI content is any type of content that has been created by or enhanced with artificial intelligence (AI) technology. This can include everything from text-based articles written by AI algorithms to audio and video podcasts generated using natural language processing.
AI content can be used for a variety of purposes, including providing more accurate search results, helping to build personalization for web users, as well as creating more engaging customer experiences.
What are the benefits of using AI content tools?
The benefits of using AI content tools are numerous. AI content tools can be used to generate unique, personalized content that is tailored to the needs and preferences of each individual user. This means that content creation can be much faster and simpler than ever before. AI content tools can also analyze data, identify trends, and generate insights that can help inform decisions about content creation strategies.
Additionally, AI content tools can help automate mundane tasks such as editing, formatting, and publishing content, saving both time and money.
How do AI content tools work?
AI content tools generally use natural language processing (NLP) to automatically analyze text, images, audio, and video. By leveraging AI technology, these types of tools can detect sentiment, find key phrases or topics, summarize long texts, recognize objects in images and videos, translate languages, and more.
AI content tools also use machine learning to create personalized content based on user preferences and interests. This type of content can be used to increase engagement with customers and generate more leads.
Are AI content tools worth investing in?
Investing in AI content tools can be a great choice for businesses looking to streamline their content creation process and increase efficiency. AI content tools are able to analyze existing data and generate more effective, personalized content faster than ever before.
Additionally, AI-powered content tools are able to provide marketers with better insights into their audience's preferences and interests, allowing them to create more relevant and engaging content.
By utilizing AI content tools, businesses can save time, money, and resources while producing more effective content across all channels. Ultimately, investing in AI content tools can help businesses create higher-quality content that is tailored specifically to the needs of their target audiences.
Over to You: Are AI Content Tools Worth Investing In?
There is a risk in investing in anything but the fact that with each passing day, AI is progressing continuously. And it has become the future of the Internet, computing, and more. Makes it clear that it is worth investing in AI tools. Now with the browser extensions AI writing tools such as Jasper or Scalenut, one can easily write emails, social media posts, ad copies, product descriptions, and whatnot.
Although there is no doubt that the AI content generator tools are worth the investment. It's very important to keep in mind that even the best software available in the market requires a human effort to keep it running.
It is important to never overlook having human input to run the tool as desired.