Crocoblock is an incredible toolkit for Elementor & Gutenberg. Crocoblock's Jetplugins are very famous among WordPress enthusiasts.
There are various simple ways to design websites nowadays. Even though you've always loved creating pages with popular WordPress plugins or with the front-end Elementor page builder, you now feel that it's missing certain functionality. This means that, while page builders might save you time, your website still needs something else to look professional.
The story of Crocoblock began when its founder, Ihor Lavrynenko, realized that many of his clients are facing similar problems when it came to building complex websites, but there were no comprehensive solutions available that could meet those needs. So, he set out to create a high-end Elementor plugin to make Elementor users' lives easier. The Crocoblock community later introduced Crocoblock JetPlugins for Elementor. A suite of tools and plugins that would make it easier for WordPress users to build feature-rich websites😍.
You will be able to advertise your concept to the whole internet community by using the Crocoblock service. It is a toolkit that eliminates the need for you to search for specific plugins and templates to assist your project. If you find it confusing to build a website using Crocoblock, Elementor's user-friendly interface will lead you through the steps step by step.
In short, Crocoblock was born out of a desire to provide WordPress users with the tools they need to build complex and feature-rich websites. The company's commitment to quality and innovation has made it a leading provider of WordPress solutions, and its products are used by thousands of users around the world.
This post is entirely for you if you build websites with Elementor. In this review, I'll go through the Crocoblock Elementor add-on package.
Let's get started right now👇.
What exactly is Crocoblock?
Crocoblock is a software development company that focuses on creating tools and solutions for the WordPress platform. The company was founded in 2013 by a team of WordPress developers and professionals who were passionate and devoted to creating high-quality products for WordPress users. They recognized the Elementor user base's design issues and launched Crocoblock JetPlugins for Elementor✨.
Crocoblock gives you access to a variety of essential features that can be used to construct rapid, dynamic, and beautiful websites. It extends Elementor with several plugins and components that improve your page-building experience. Your Crocoblock subscription will get you access to a plethora of great components. In addition to a wealth of sample sites and Elementor templates, it offers a selection of Elementor add-ons and the powerful, multipurpose base theme Kava Pro. You will get access to WooCommerce themes as well as theme blocks, huge menus, and other elements to help you build an online store.
The toolkit has hundreds of sections and fully prepared pages for Elementor that cover every function to enhance the Elementor page builder. You will also obtain several over 20+ JetPlugins, a full and powerful tool that can be used to create projects of any complexity from scratch. Some of them allow you to design a Mega Menu and arrange it using a page builder and a variety of widgets. Others let you create and customize footer, archive, header, and single-page templates. Furthermore, the subscription service provides plugins for creating tabs and accordion blocks, as well as blog and gloss graphics.
The best part is, there is no need to buy all of the plugins separately with the Crocoblock. It is all-in-one, you don't even need to worry about the license agreement😎.
Overview of the Crocoblock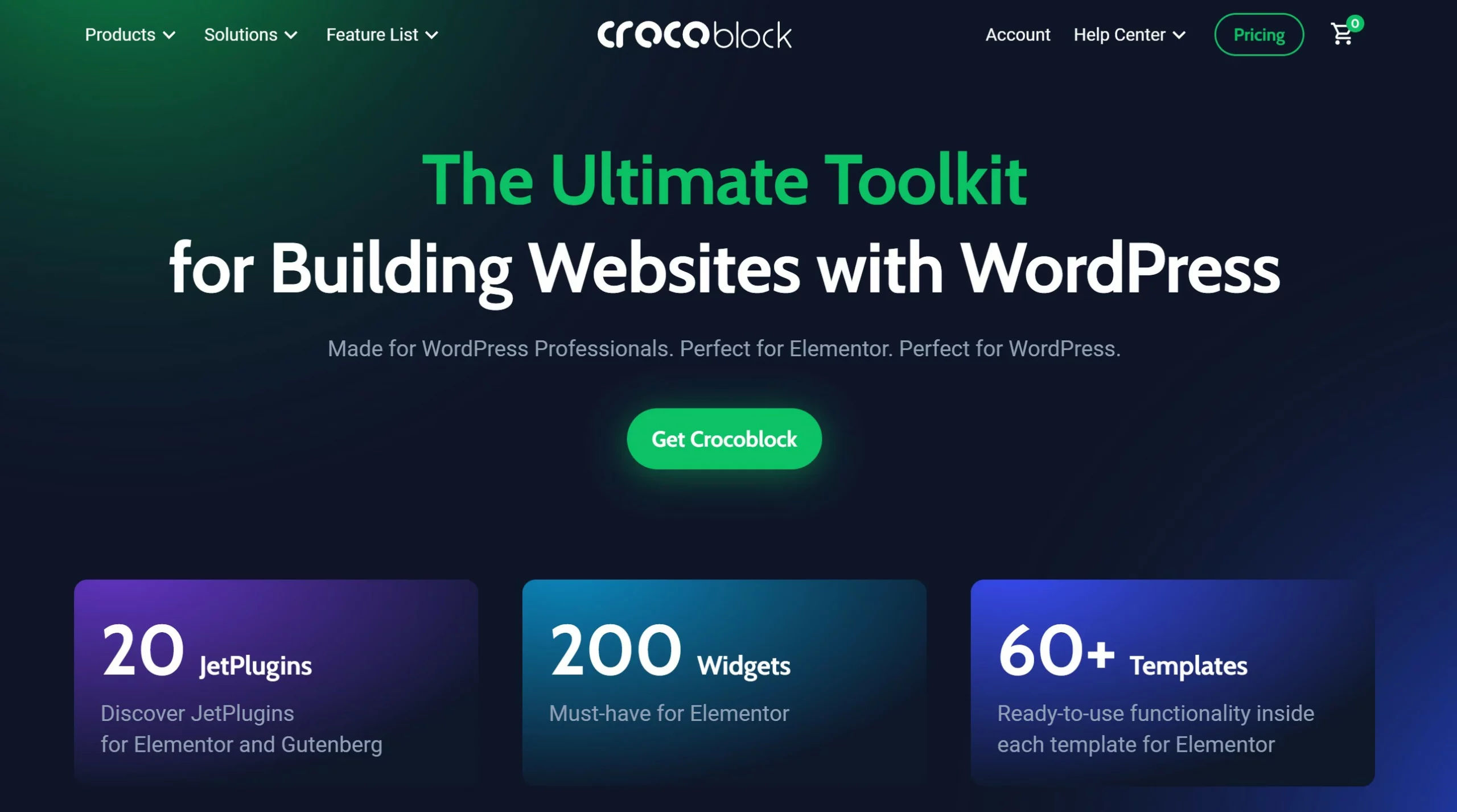 | | |
| --- | --- |
| Plugin Name | JetPlugins by Crocoblock |
| Plugin Author | Crocoblock |
| Seller | Crocoblock |
| Year Founded | 2018 |
| Company website | www.crocoblock.com |
| Product Description | Crocoblock is a one-stop shop for creating WordPress websites using Elementor. |
| Best For | Freelancers, Agencies, Web designers |
| Documentation | https://crocoblock.com/knowledge-base/ |
| Widgets | 150+ Widgets |
| Plugins | 20+ Jet plugins |
| Crocoblock freemiums | Kava theme, WP Query Generator, plugins (JetFormBuilder — Dynamic Blocks Form Builder, JetStyleManager Gutenberg, JetGridBuilder — Grid Builder for both Elementor and Gutenberg, JetSticky Widget, Jet Content Widgets, JetWooCommerce Widgets, and Contact Form 7 Layout Builder |
| Crocoblock Premiums | 20+ JetPlugins (JetEngine, JetStyleManager, JetElements, JetSearch, JetGridBuilder, JetSmartfilters, JetThemeCore, JetCompareWishlist, JetBlocks, JetPopup, JetTabs, JetBooking, JetReviews, JetMenu, JetBlog, JetAppointment, JetProductGallery, JetTricks, JetWooBuilder, JetFormBuilder); 8+ design templates, 12+ dynamic templates, 50+ popups. |
| Languages supported | English, Ukrainian |
| Starting price | $199 per year |
| Support | https://crocoblock.com/help-center/ |
Crocoblock is a WordPress tool and plugin package focused on building unique websites with the Elementor page builder. The firm provides several products that provide customers access to a variety of templates, widgets, and other design components that may be used to construct fully customized WordPress websites.
Crocoblock includes a sophisticated JetPlugins suite that offers a broad variety of customization choices. The JetPlugins suite consists JetThemeCore, JetElements, JetTricks, JetBlocks, JetPopup, JetEngine, and JetMenu, which is one of its standout features. These plugins provide users with a variety of tools and design components that may be used to construct fully customized WordPress websites.
It also provides a selection of pre-made templates and themes that may be utilized as a foundation for website construction. These templates span a wide number of niches and sectors, making it simple for users to pick a design that meets their specifications.
Overall, Crocoblock is a complete suite of tools and plugins that gives customers everything they need to build fully customized WordPress websites. Its collection of templates, widgets, popups, Jetplugins, and other design components makes it simple for users to create websites that stand out👍.
What does Crocoblock provide👁‍🗨?
Let's have a look at what the Crocoblock subscription bundle includes.
Crocoblock provides a suite of tools for building personalized WordPress websites. It has drag-and-drop page builders, a simple admin interface, custom form generation capabilities, pre-made templates, and other features. Crocoblock also enables you to create dynamic, adaptive websites quickly and easily.
It also comes with a library of extensions, plugins, and third-party integrations. Jet Tabs, Jet Elements, JetReviews, Jet Blog, JetWoobuilder, Jet Tricks, JetPopup, JetProductGallery, Jet Blocks, JetSearch, JetSmartFilters, JetCompareWishlist, and other modules are available. These plugins enhance the capabilities of the Elementor page builder. They are constantly adding new plugins and features to their existing plugins.
Crocoblock offers over 200 widgets, 20+ JetPlugins, and 60+ templates in total. Hence, if you enjoy Elementor and use it in the bulk of your projects, this subscription service will undoubtedly satisfy you🙌.
Setting up Crocoblock💻
To install Crocoblock, go to the Crocoblock official website and click on "Download Crocoblock." Choose a price plan. After entering your credentials, click log in.
To get to the contents of the pack, head to the downloads section, which will display all of your download purchase data and special offers. The Crocoblock installation wizard is located here, along with some extras at the bottom. Click "Try now" to download and save the wizard to your storage device.
There is a block of purchase details that contains all of the information about your membership, such as the License type, expiration date, and website installation. Copy the installation key from here and then navigate to your WordPress website's dashboard.
Go to Plugins>Add new. Drag the installation wizard here after clicking on the upload plugin. Choose "install now" followed by "activate."
You will be sent to the Installation wizard's welcome screen, where you may perform a variety of things, including-
Export the skin you created with all of the content and structure intact to another website.
Import the skin you recently exported using the Crocoblock wizard. All of the data from the skin will be added to your current website here.
Use the all-inclusive yearly and lifetime membership to access and install an interactive popup library, as well as dynamic templates, design templates, and interactive popups.
To begin the installation, click "Let's Go". Insert your license key here and click the "Get Started" button.
You will be able to install the plugins included in the licensing set based on the license you purchased. You may install them all or just the ones you need for your site from here. And then click "Continue".
To use any of these Crocoblock plugins, you must have Elementor installed. After that, all of the plugins will be enabled and available to use.
If you wish to work using a different plan from the one, you're now using, then:
• Go to Crocoblock's price page on its website. Scroll down to "Upgrade your existing plan."
Crocoblock Features
Crocoblock Magic Button
Crocoblock takes the Magic Button principle to new heights. The button lets you access sections, headers, pages, and footers without having to import and submit the template to the website😦.
Just start Elementor Editor and click the Magic Button to have access to the templates. You will find a plethora of beautiful sections, pages, footers, archives, headers, and single pages that have been meticulously organized and are ready for preview and usage. To use one of the pages or sections, hover your cursor over it and click the Insert button.
Crocoblock: Templates
Crocoblock templates are pre-built website designs that can be found on the Elementor page builder service. These templates are designed to help customers quickly and easily create professional, modern websites. The themes' aesthetics and sophistication vary, with some suitable for simple blogs and others offering more advanced structures such as product catalogs and e-commerce stores. Crocoblock templates offer a variety of features that can all be readily altered and tailored to the user's needs🎉.
Its Dynamic Templates come in useful whether creating a full-featured booking website or your first WooCommerce store. Let's take a look at some of its unique templates to discover what's inside:
Zolden – You can quickly create an online store with the WooCommerce shop template Zolden for Elementor. Everything you'll need is included, including extra upsell and cross-sell templates, single product pages and catalogs, simple and programmable AJAX filters, and single product pages and catalogs.
Only Book- The "Only Books" template is designed specifically for creating websites related to books, libraries, or bookstores. It features a clean and modern design that is focused on showcasing books and related content in an attractive and user-friendly way.
Once – With schedule layouts, multi-step booking forms, and convenient single-page therapist and team catalogs, Once is a fully functional spa website template.
Travengo- It is designed for building websites related to travel and tourism. It features a modern and sleek design that is focused on showcasing travel destinations, tour packages, and travel information in a visually appealing way. The template includes features such as a customizable home page, tour package listings, customer reviews, and booking forms.
Crocoblock Skins
Crocoblock's Demos website contains a plethora of skins that span virtually every possible theme, from everyday habits to business and corporate. These are available as Elementor landing pages or assets of pages that include Home, About, Contact, Portfolio, and many more for a variety of reasons.
To obtain access to the skins, install and activate the JetThemeCore add-on. Once activated, a Crocoblock Dashboard will be displayed in the admin panel. In addition to the skins, you will have accessibility to Elementor's built-in templates.
Pop-ups Crocoblock
Web developers may utilize Crocoblock's Interactive Popup Collection to gamify and engage the content of their websites. There are more than 50 eye-catching and entertaining popup templates in the collection for Elementor. You may write about any occasion you can think of, such as holidays (Christmas, Easter, and Halloween), sales throughout the year, Cyber Monday, Black Friday, and so on😯.
Moreover, you may choose interactive popups that allow for sliding out, clicking, and scratching. These dynamic popups work beautifully with Elementor. You may also play with typeface and animations, change the backdrop color or image, and more with all of the available choices.
Crocoblock Widgets
Crocoblock is a robust and flexible collection of widgets that enables users to quickly and easily customize their WordPress websites. The capability of the widgets is broad and ranges from straightforward content administration to the production of dynamic, interactive content👌.
The widgets are designed to make it easy for users to quickly and easily create attractive, professional websites. The pre-built layouts offered by the widgets make it simple for customers to change their websites.
Crocoblock JetPlugins

Jet Plugins are widely used and may be purchased separately in many areas. Contrarily, Crocoblock offers every plugin in a single package. It is a collection of JetThemeWizard plugins that enables WordPress users to build and customize their websites🎊.
Among the available plugins are JetEngine, JetSmartFilters, JetElements, JetMenu, JetWoobuilder,
JetTabs, JetTricks, JetSearch, JetBlog, JetAppointment, JetBlocks, JetProductGallery, JetThemecore, JetBooking, JetPopup, JetReviews, JetCompare&Wishlist, JetFormbuilder, JetStylemanager, Jetgridbuilder, etc.
It's amazing how the Crocoblock staff was able to make strong plugins available to you without the need for developers to create them. For a better understanding, let's look at a couple of them👇:
JetEngine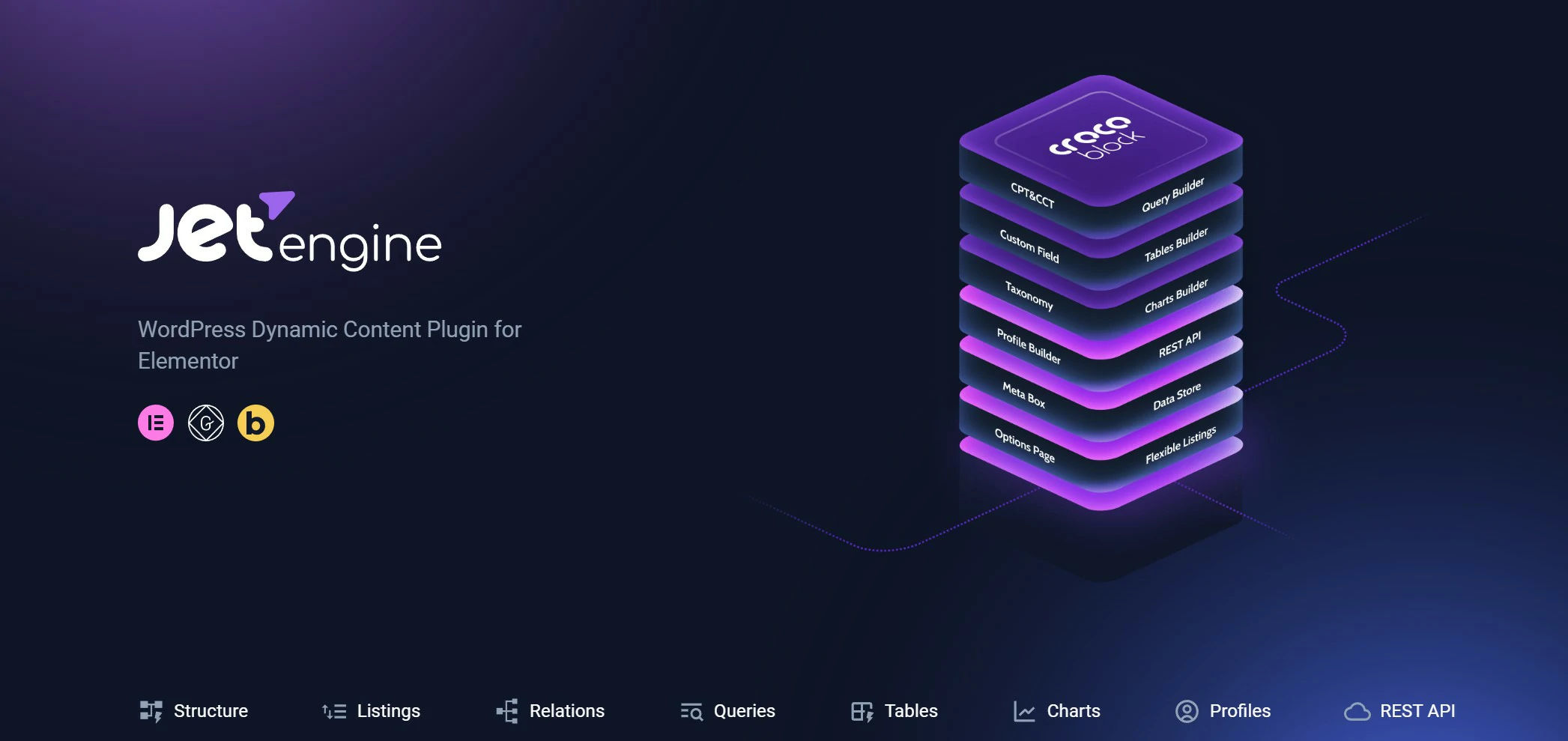 As a dynamic content idea applied to Elementor, the JetEngine plugin is offered. It aids in the development and administration of custom post kinds. It also comes with a separate module for building new post types, taxonomies, and meta-boxes.
The variety that this plugin offers will make you happy. The plugin enables you to quickly add custom fields to any type of content in addition to post types. You may use the plugin to generate a few recurring fields while working with repeaters.
JetSmartFilters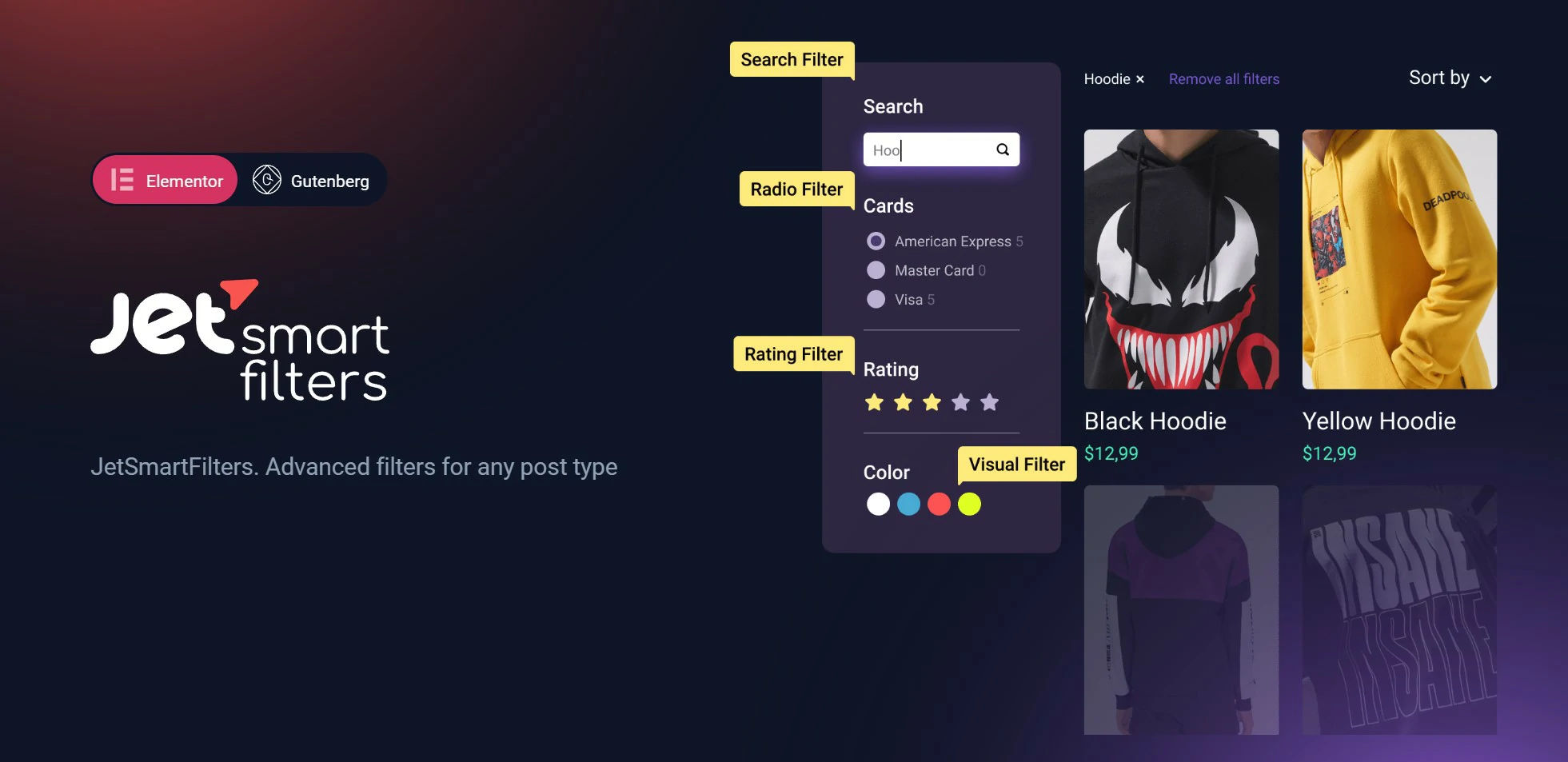 Your custom post types and WooCommerce products may now have incredibly comprehensive AJAX filter functionality thanks to JetSmartFilters. For those who utilize Elementor to build their eCommerce sites, this is a no-brainer!
Rating Filter: The Jetsmartfilter rating widget is a tool that allows you to rate the content's quality quickly and easily. The widget scores each piece of material on a scale of 1 to 5, allowing you to quickly discern between elevated information and moderate stuff. It is meant to help you choose stuff more carefully.
JetElements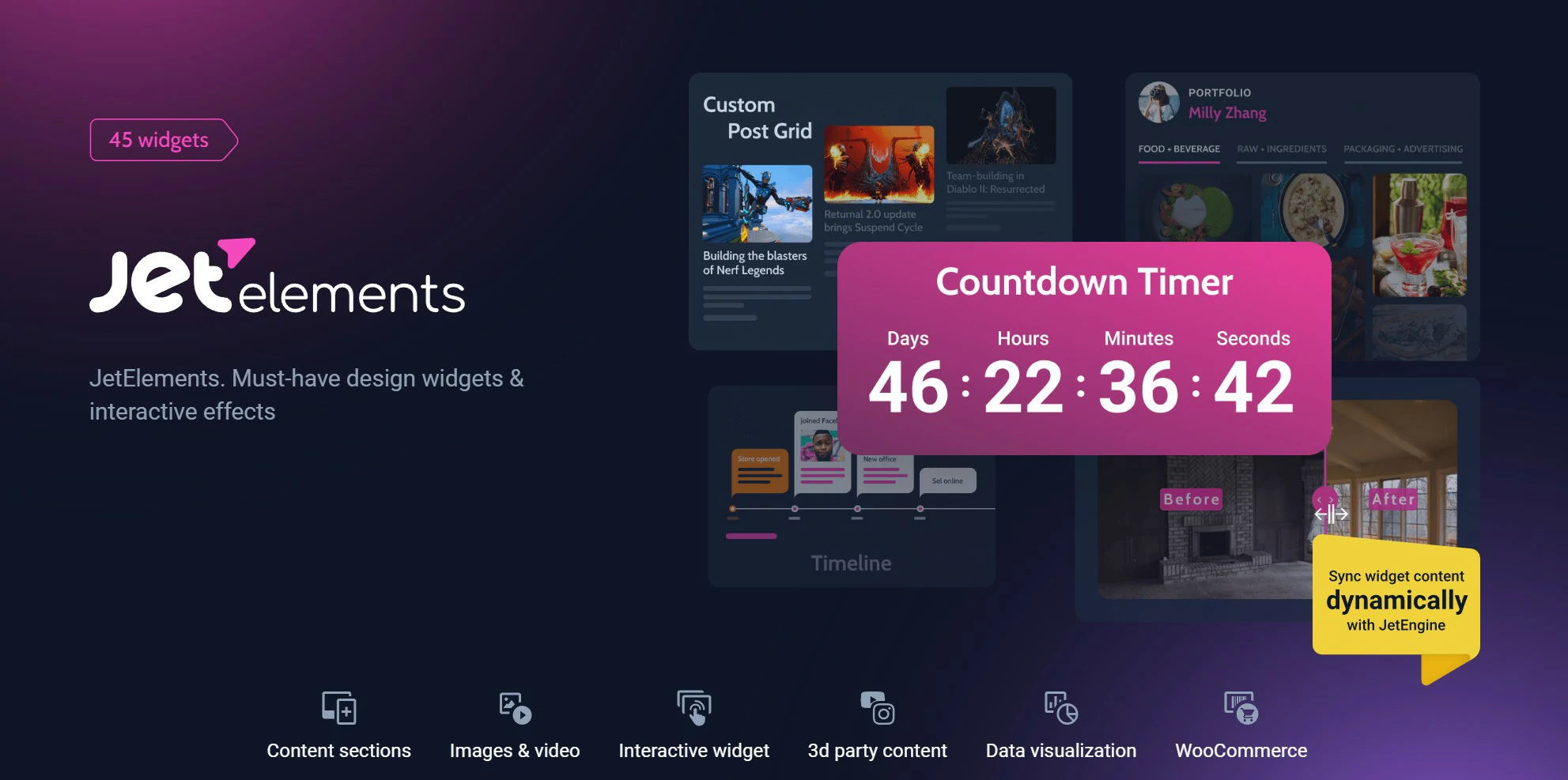 To enable customers, to add more dynamic content to their websites, JetElements provides a collection of elements. More than 30 more widgets are included, including Post Advanced Carousel, Animated Text, Navigations, Timeline, Portfolio, and several others. The add-on also makes it easier for the components to employ the Parallax effect. With the help of JetElements Settings, you may quickly disable any widgets you don't require.
The download button– With the JetElement plugin's download button widget, you can easily and quickly add a download button to your WordPress website. You may also customize the download button's appearance and feel simple, as it features an easy-to-use structure.
Countdown Timer: The JetElement plugin's Countdown widget allows you to create eye-catching, ideal countdown timers for your website. It is incredibly versatile and easy to use, enabling you to change the timer's design to match your brand. With the JetElement plugin, you can easily create countdown clocks with a professional design that is fully integrated into your WordPress website.
Barcharts- The JetElement plugin bar chart widget is a powerful and simple tool for creating beautiful and interactive bar charts on your WordPress website. Using the widget, you can easily and rapidly create bar charts from your data and modify their size, color, and orientation. Using JetElement, you can easily change your bar charts to fit the look and feel of your website.
JetMenu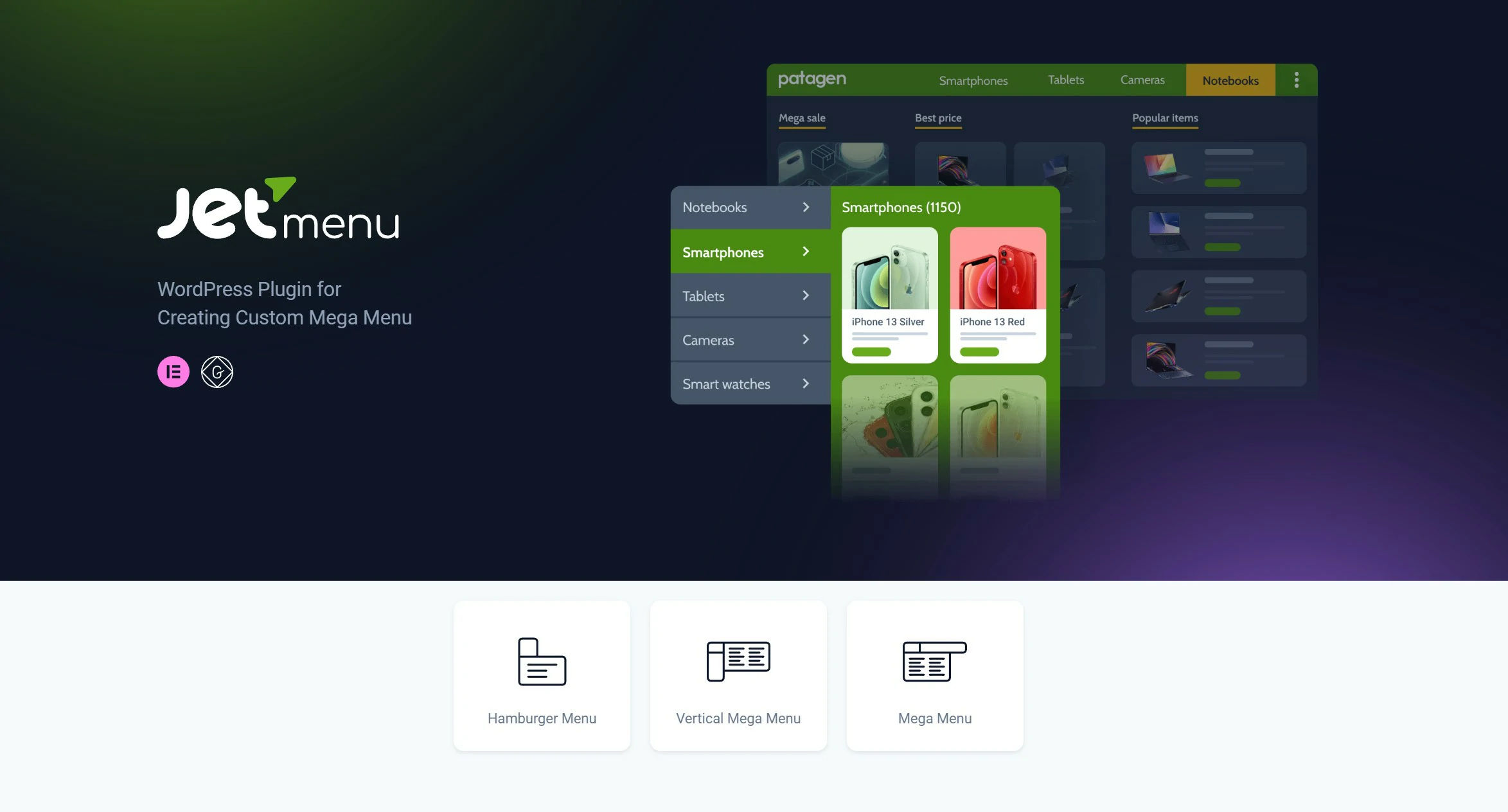 Elementor and its widgets are made available for use in the creation and management of menus. This plugin may be used to either add a menu and add menu items to a page created with Elementor or to modify the default menu in your template. Compared to the built-in menu element in Elementor, it is far more customizable.
Vertical Mega Menu: You can quickly create a beautiful vertical navigation menu for your WordPress website with the JetMenu Vertical Megamenu widget. The JetMenu Vertical Megamenu widget also offers several motion effects, color options, and other features to help make your menu appear more enticing.
Hamburger Menu: It is used to offer a good menu in a brief, uncomplicated way. It is composed of three parallel horizontal lines that resemble a hamburger. When clicked, it frequently shows a hidden menu with some alternatives for the user to pick from.
JetWooBuilder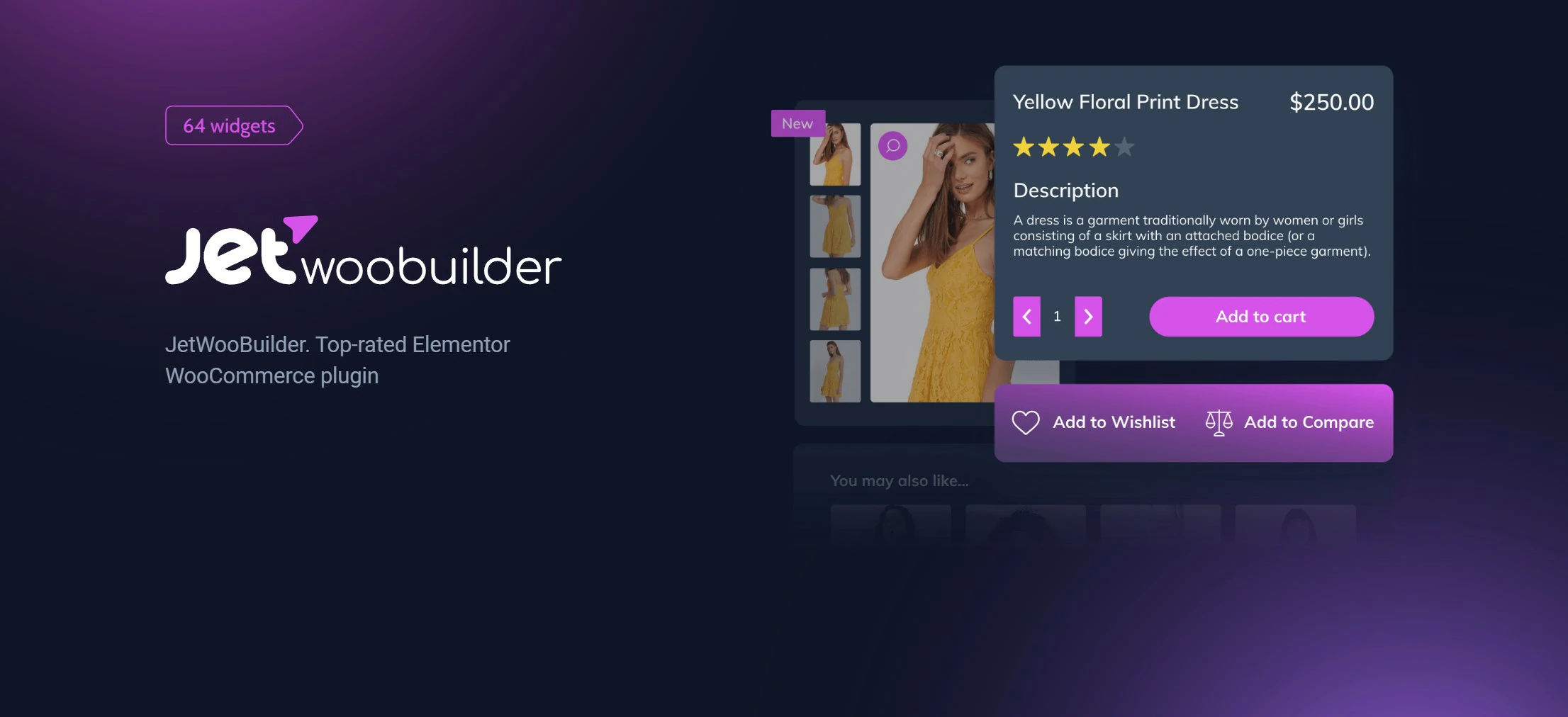 Online stores powered by WooCommerce may be created with the aid of JetWooBuilder. Anybody creating an online store with stunning Single product pages or amazing WooCommerce product layouts must have this plugin.
To begin, create a few WooCommerce products and then use the menu option-WooCommerce JetWoo Templates block, to apply a new template to each one.
A page made with Elementor may also have dynamic content added using over 15 widgets. These will let you show information such as product descriptions, stats, ratings, and images. To show products and product taxonomy layouts, you will also receive a Categories grid, Products list, Products grid, and Taxonomy tiles widgets.
JetTabs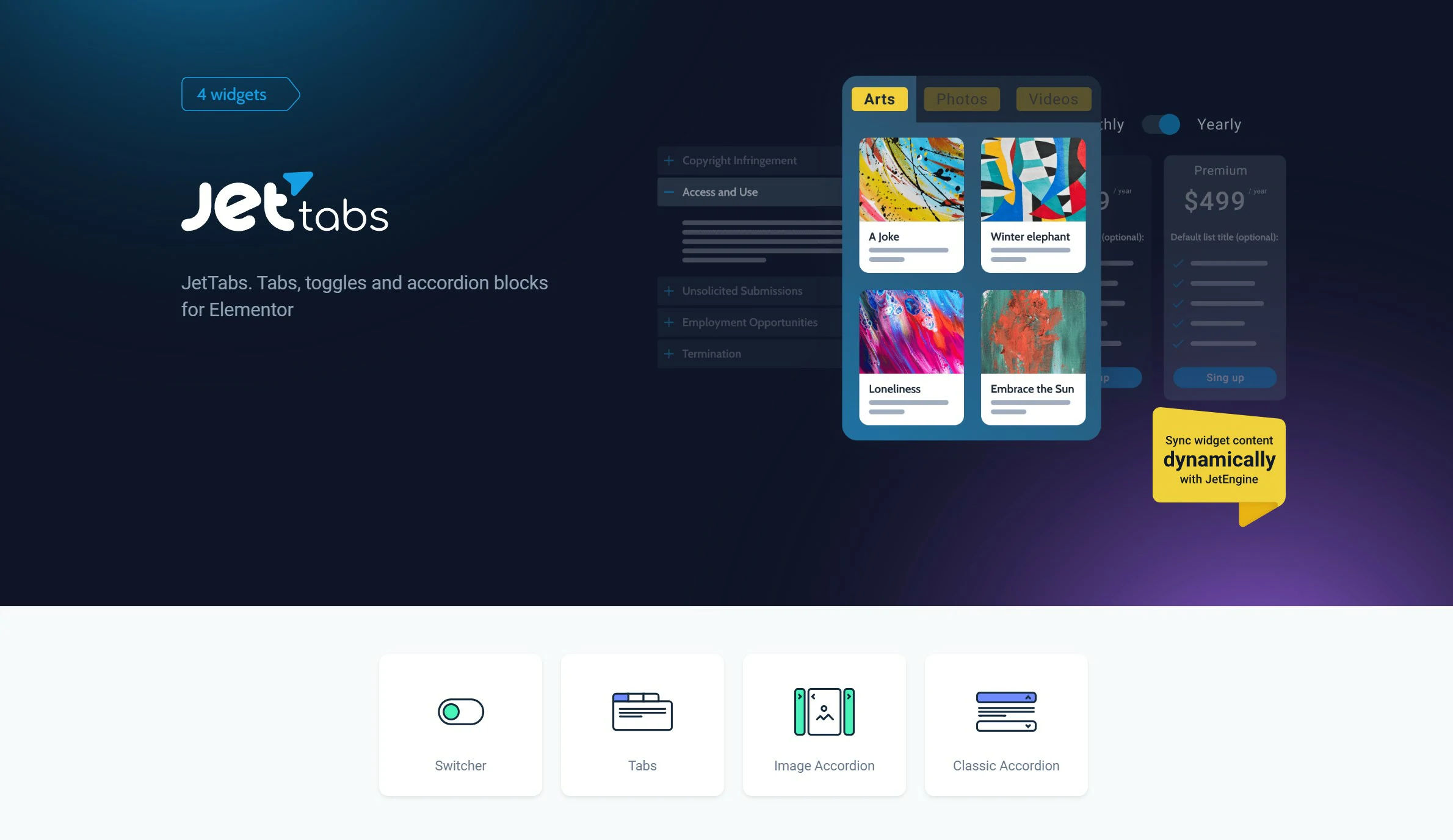 You may add Elementor-made templates to tabs and accordions with the JetTabs. You may go from one section to the next using the Switcher widget built inside the plugin.
Switcher: Navigating between many tabs on your website is made simple with the strong and user-friendly JetTabs switcher widget. You may change the information that appears in each tab as well as the way the tabs feel and look.
Tabs: JetTabs widget- tabs is for the Elementor page builder that lets you build stylish and modern tabs. This widget offers a multitude of customization options. You may create compelling material for your website with JetTabs' variety of tab styles, motion capabilities, and custom backdrops.
JetTricks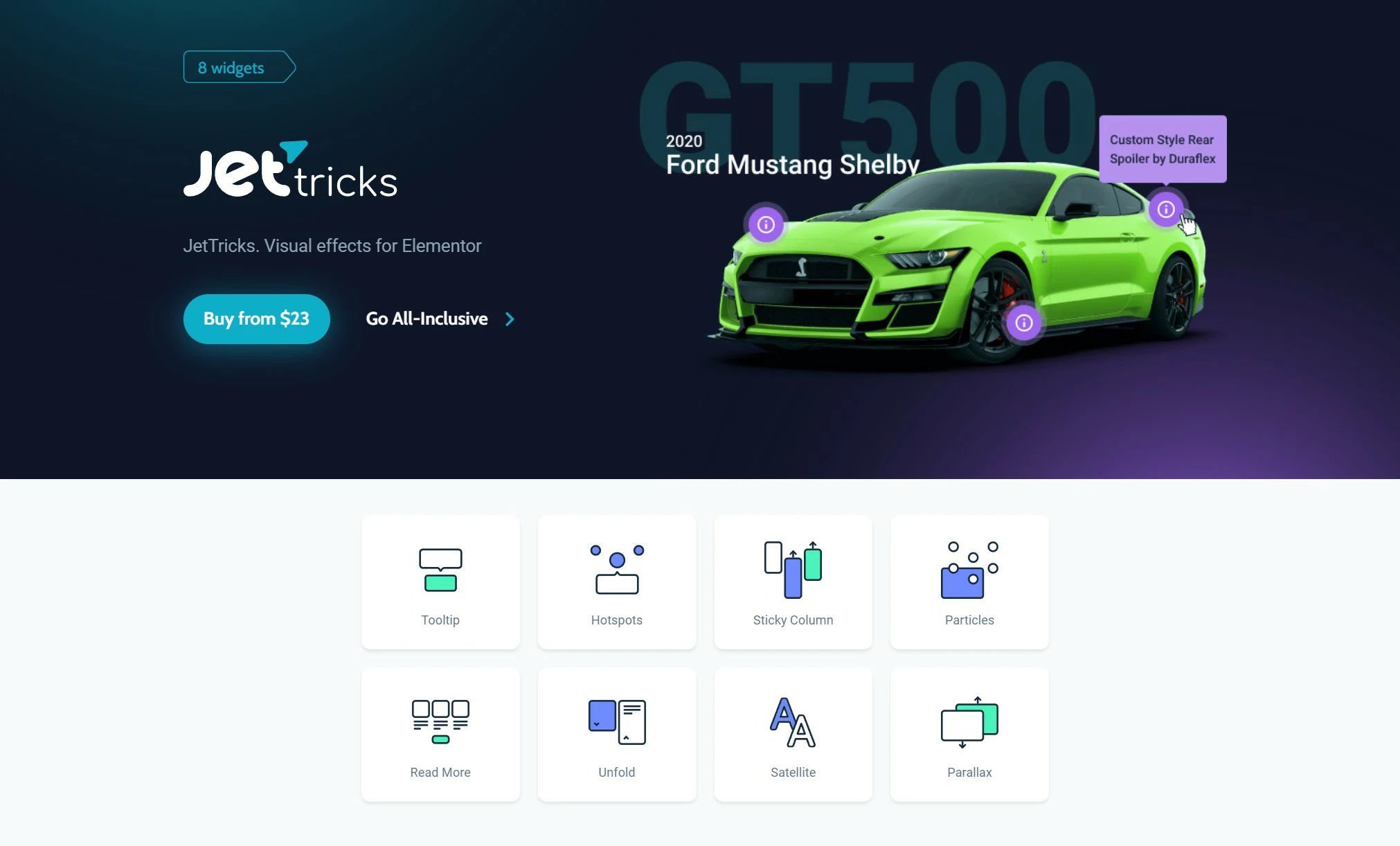 You may get additional visual effects like satellite, parallax, and dynamic section particles with the help of the JetTricks plugin. Both basic and elegant designs can be edited with animated elements.
For sections, widgets, and columns, the Advanced options provide access to a wide variety of effects. You only need to put the animation's JSON code into JetTricks for the effect to be applied to the chosen block.
Hotspots- JetTricks hotspots create interactive hotspots on images and motion pictures. It enhances what is seen with interactive elements including images, text, buttons, symbols, and links. To encourage visitors to explore and learn more, you might simply describe every image or video using them.
Read More: You can control how the material is displayed on your website with the help of a strong read more widget. You may set the maximum quantity of material that will be shown using the widget, and you can conceal any further information by adding a read more link next to it. This keeps your website organized and neat while also making it easier for people to get the information they need.
JetSearch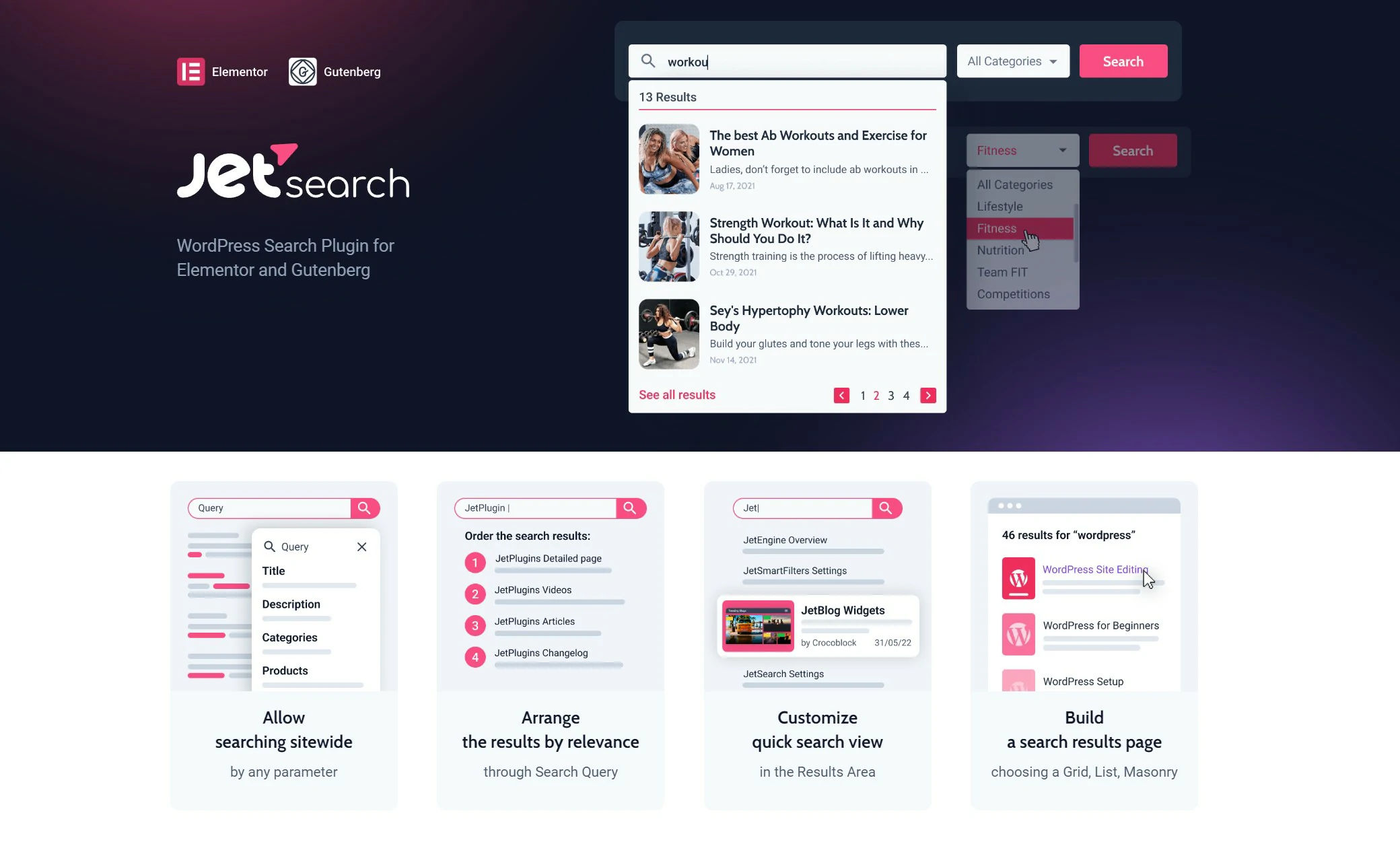 Elementor has strong AJAX search features that provide WordPress websites with a lot of versatility. Everything revolves around product, service, and other category searches. The main features of this add-on are the ability to perform site-wide searches, personalize a fast search view, and create search result pages.

JetBlog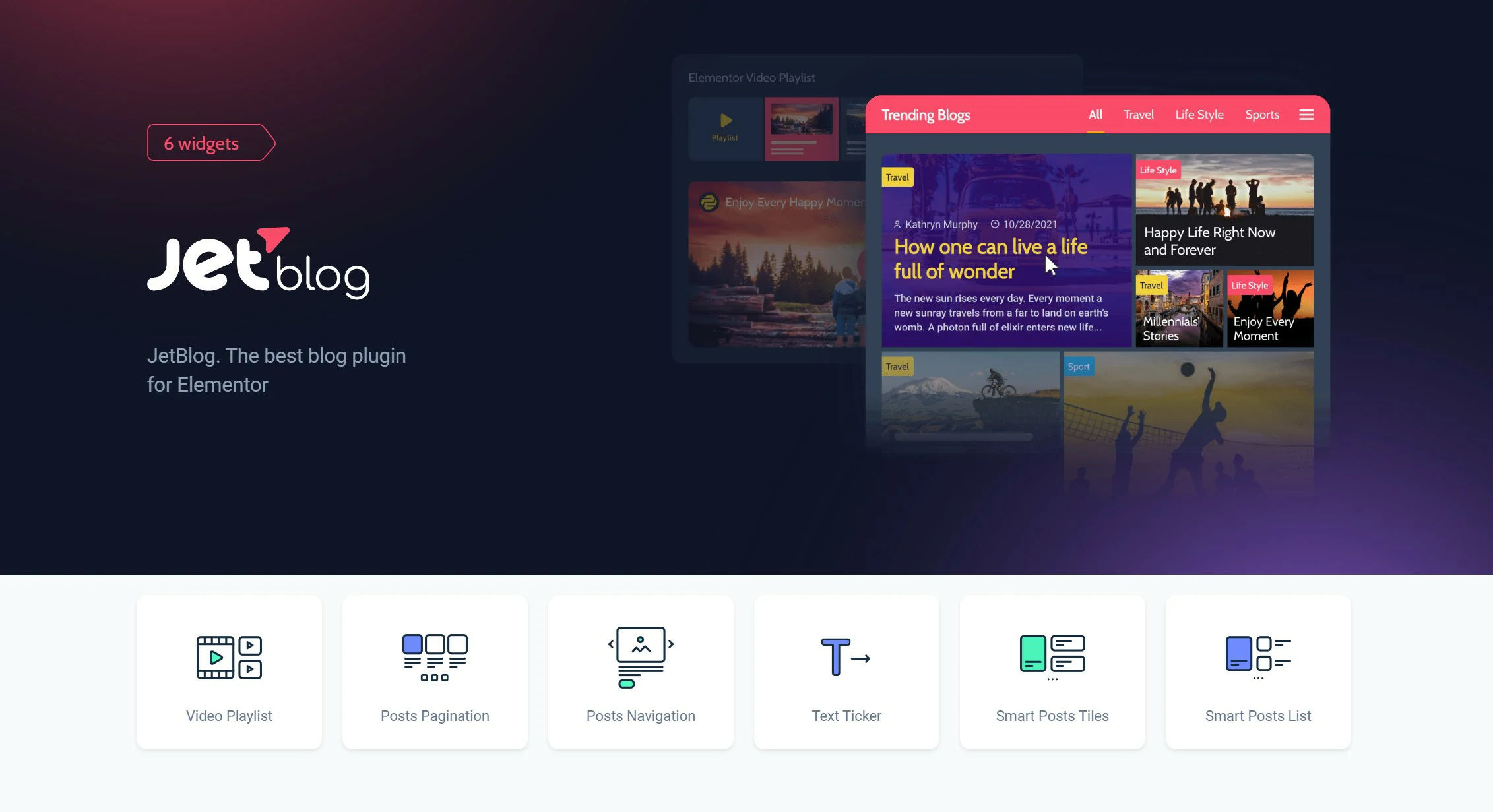 If you wish to manage and produce blog articles, the JetBlog plugin is a great option. It enables you to display customized material as amusing lists, tiles, or a news feed. Also, the website will allow you to upload a video playlist. Using the JetBlog plugin, you can also use custom fields and incorporate other query methods, including post questions with custom fields.
Video playlist- Use the JetBlogs video playlist widget to showcase your favorite videos on your blog or website. You may simply integrate a playlist of videos with only a few mouse clicks. With the JetBlogs video playlist widget, you can also change the order of the movies in your playlist and add titles and descriptions to each film.
JetAppointment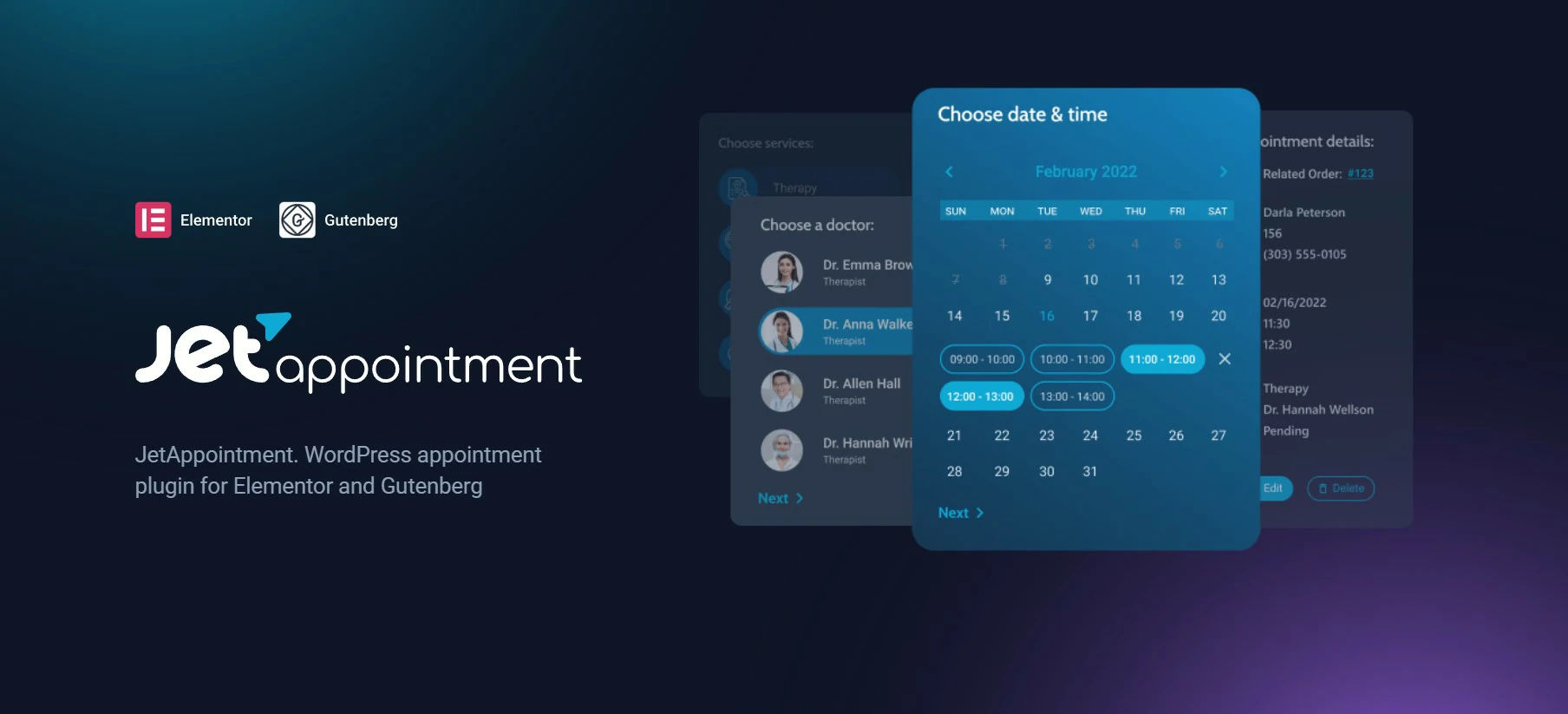 A significant improvement for those looking to develop on-site short-term booking services and payment systems is the JetAppointment plugin. Configure the suppliers and services, specify the booking hours, add specialized forms to gather contact information or comments, and so on. Set up everything in advance.
To assist you in creating the finest service provider website possible, appointment layouts, personalized templates, page breakers, smart notifications, personalized field types, and single-page booking are all available.
JetBlocks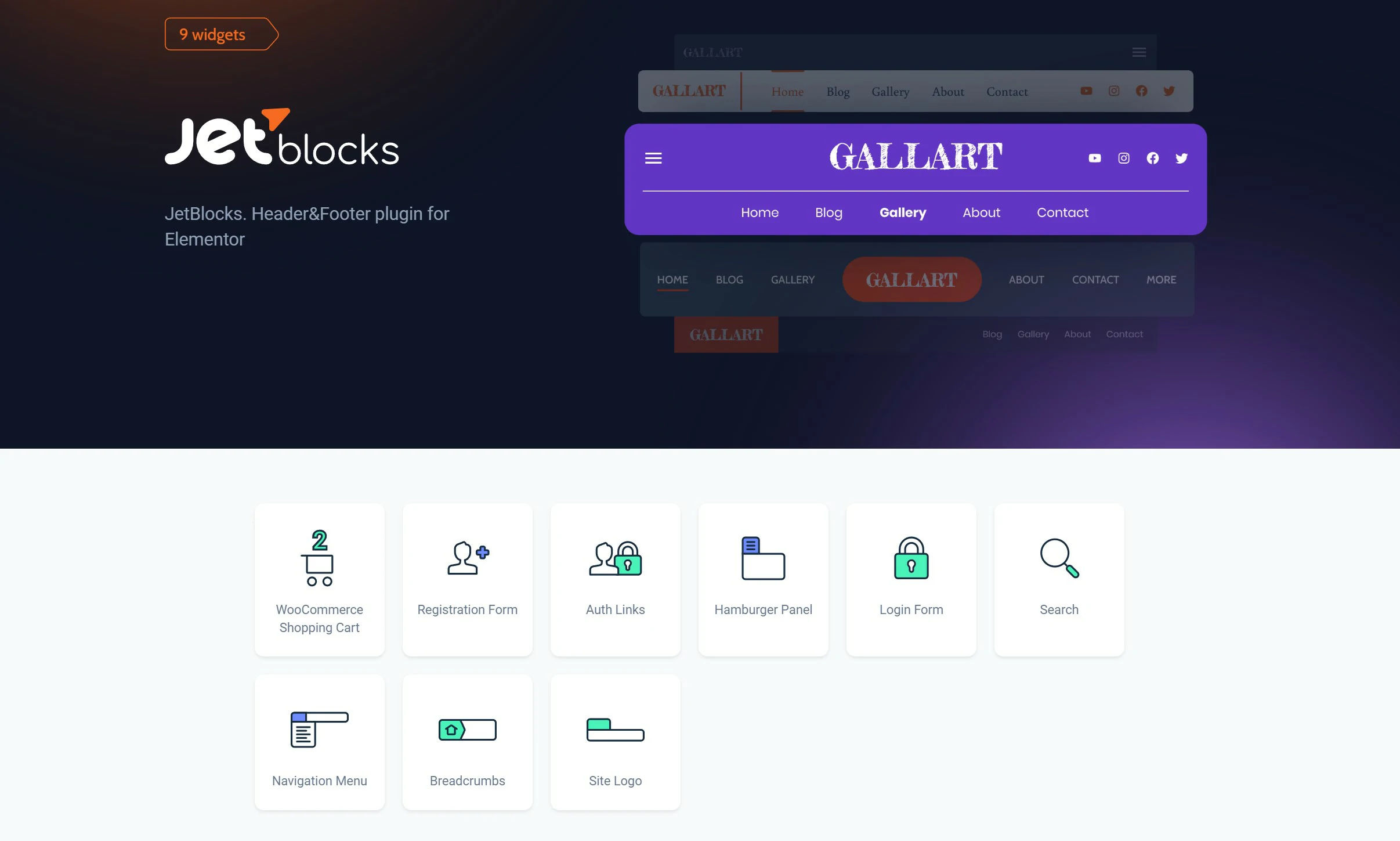 JetBlocks is a vital plugin that enables you to include breadcrumbs, authorization links, log-in and registration forms, and shopping carts on your website.
Log-in form – Users may quickly and easily log in with just one click by using the widget's log-in form. Any app or website may easily incorporate the widget. It is an easy-to-use yet effective program that gives users access to their accounts wherever they are.
Shopping cart widget- With the JetBlocks shopping cart widget, you can easily integrate the powerful, flexible WooCommerce shopping cart into any website. The widget is very flexible and allows for changes to the layout, fonts, colors, and other features.
JetProductGallery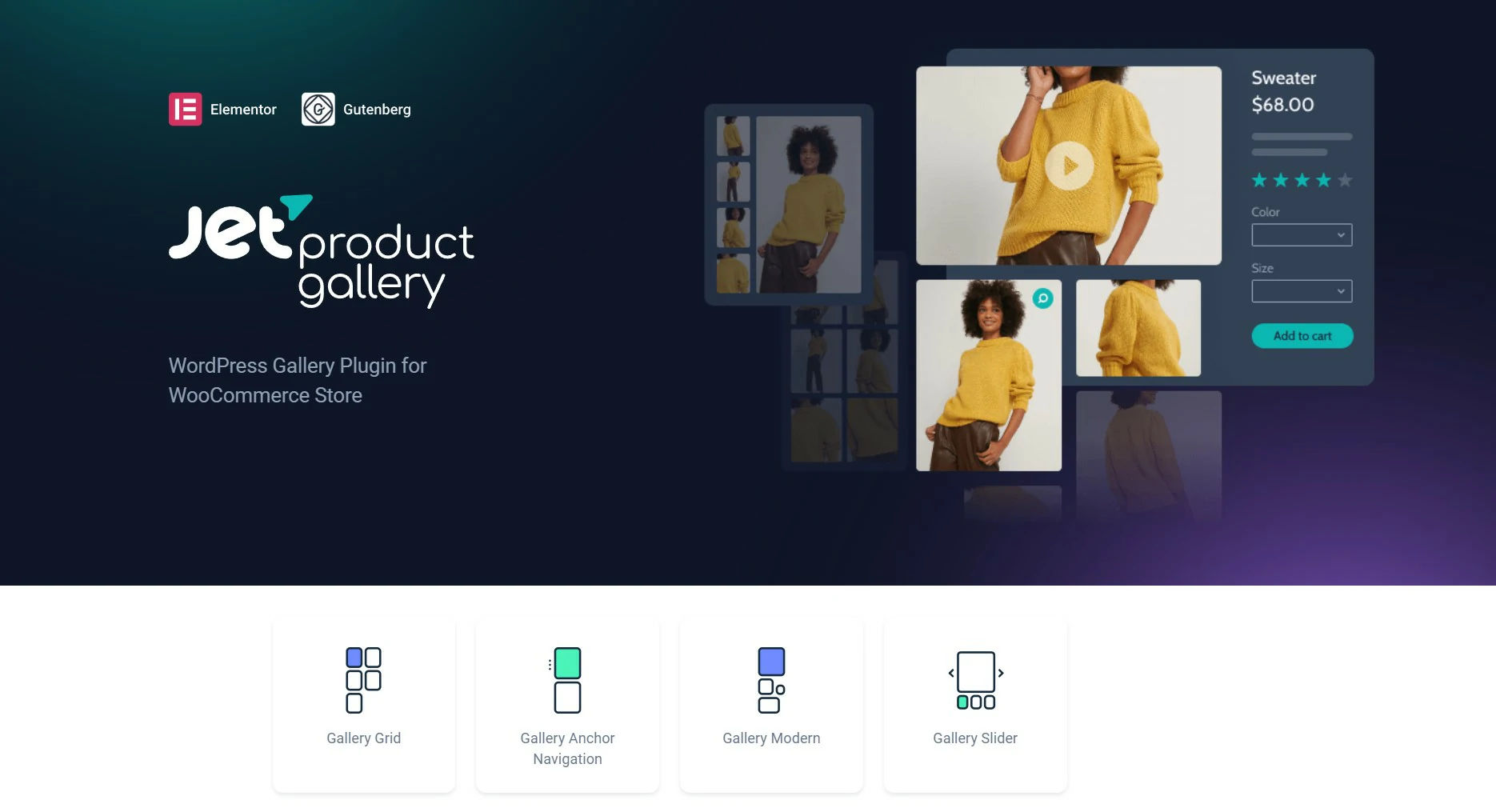 You may make a beautiful product gallery for WooCommerce products with this fantastic WooCommerce gallery plugin. As it offers a variety of Gallery content categories, such as features woo items, videos, etc. To distinguish woo-commerce products, it helps you determine what sort of gallery content is appropriate for your product or website.
Anchor navigation- An anchor navigation widget for an image gallery is a navigation tool that enables visitors to quickly navigate to various photos within the gallery. Typically, this widget has a collection of photographs from which the user may choose one to see in full. Using this widget, you may quickly browse the large collection of pictures in the gallery.
JetThemeCore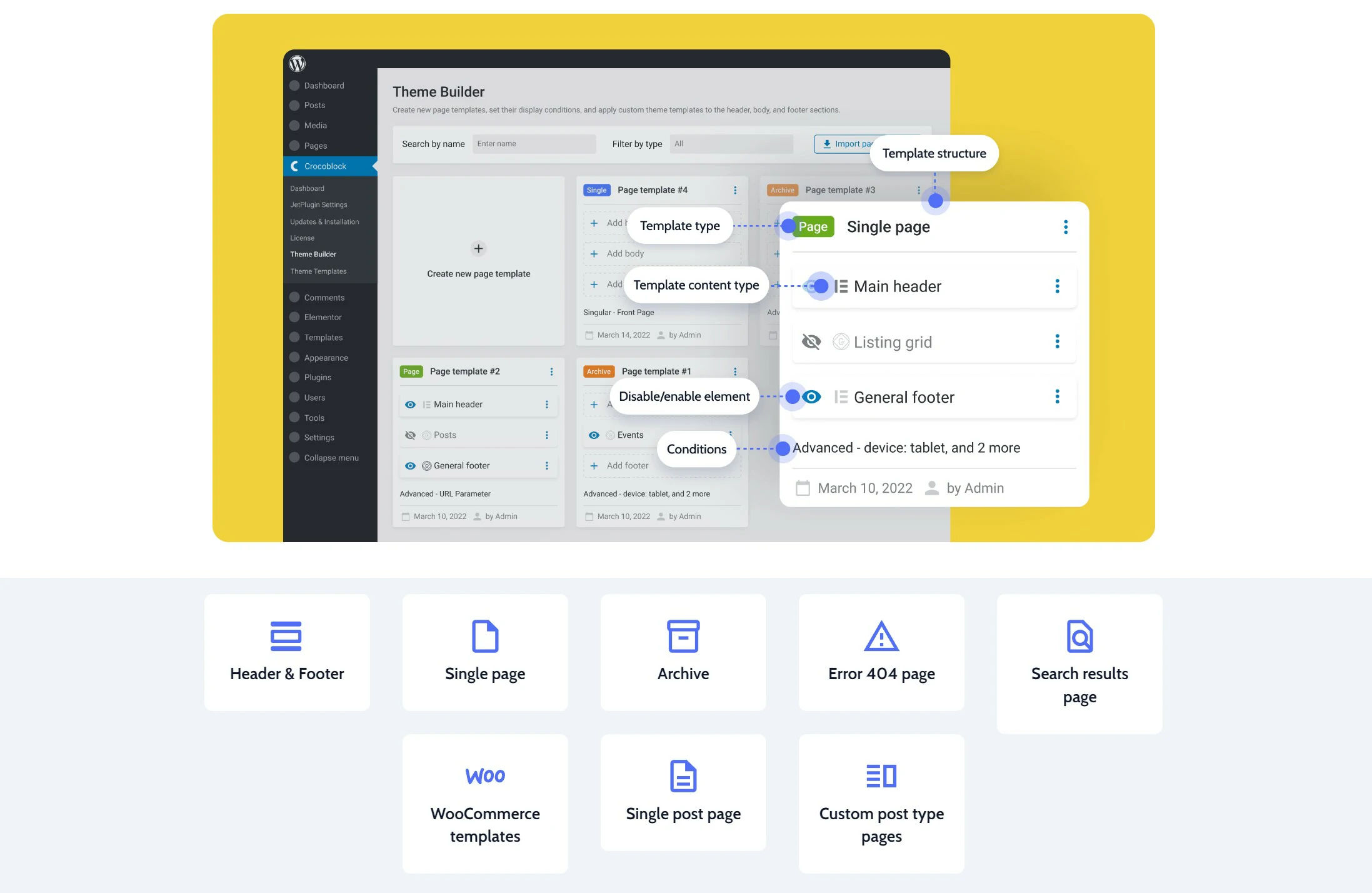 By making it easier to create and alter header and footer templates, archive, and single post pages, the JetThemeCore plugin aids in the development of websites from the header to the bottom. Access the JetThemeCore library in the admin panel by going to Crocoblock > My Library. You can add to and modify the pre-existing theme section templates.
Click the "Add New" button, choose the kind of theme (section, header, footer, etc.), and then click the "Create Template" button to create a new theme component. By assigning different sections to different pages and positions in Elementor after building a new template, you may modify it.
JetBooking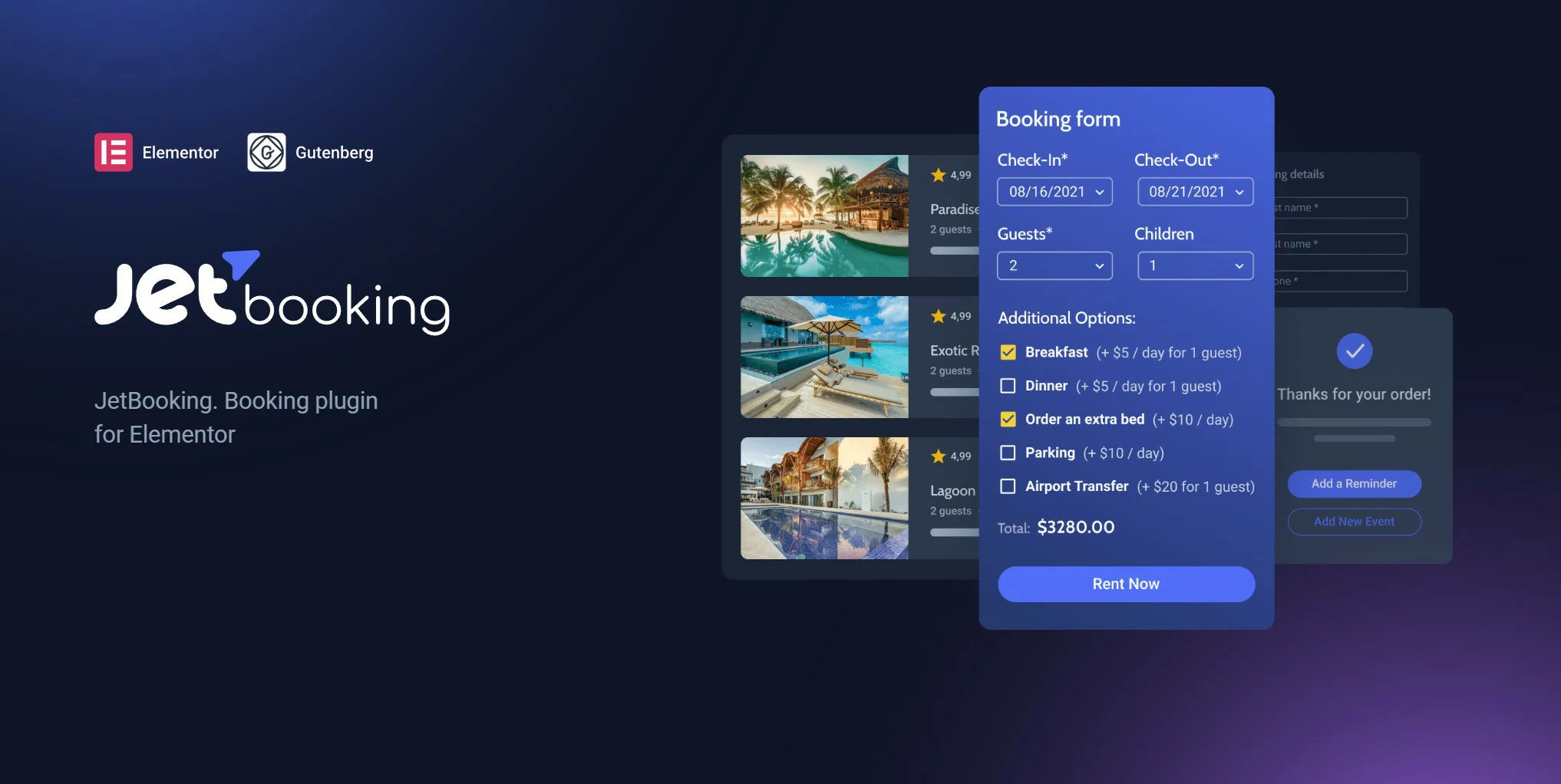 JetBooking is a plugin for both Gutenberg and Elementor, so you can use it to create a rental and booking website to provide daily service to your guests. Provide a variety of services, including adjustable pricing, full booking forms, and more.
JetPopup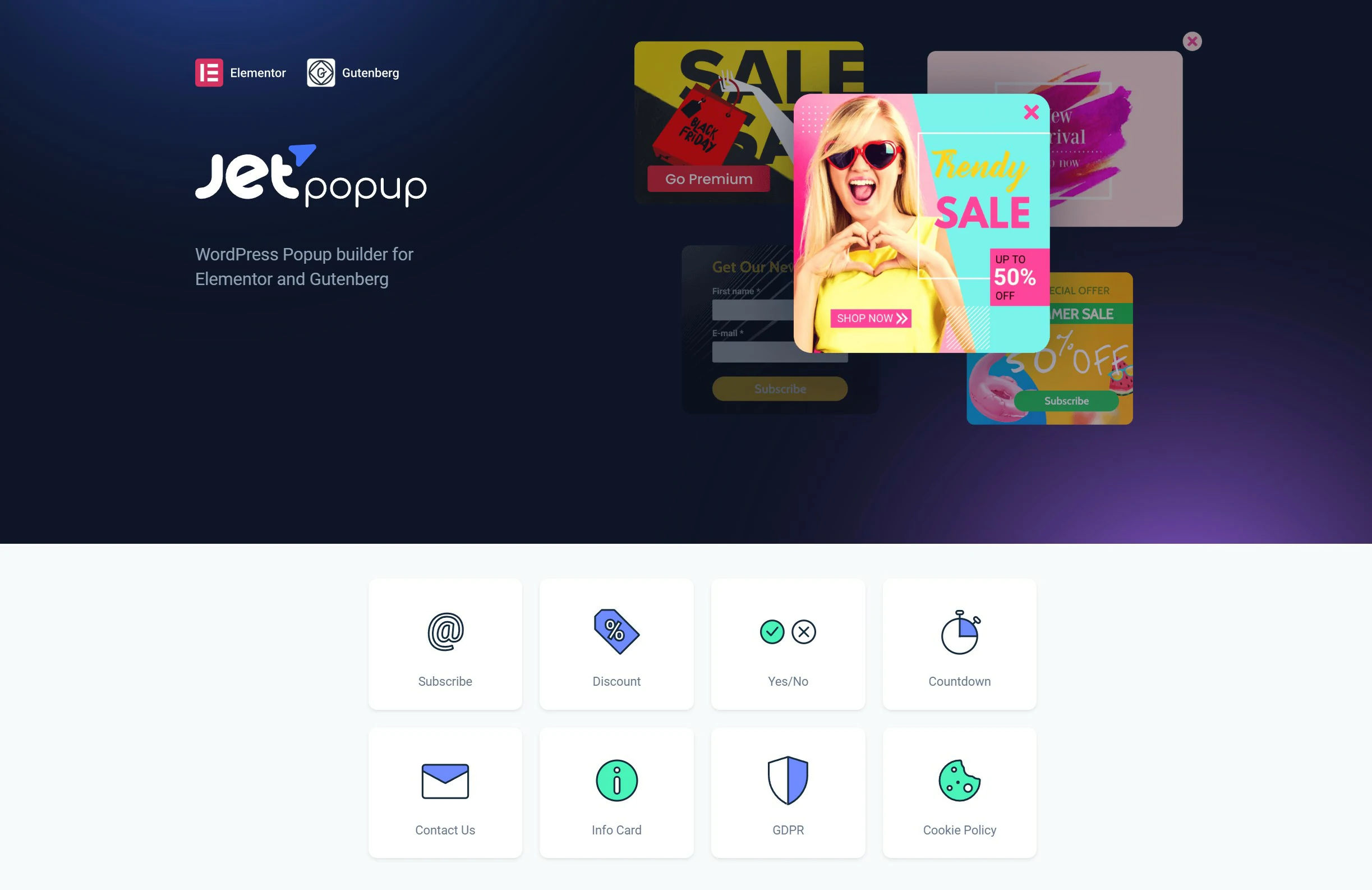 A WordPress plugin called CrocoBlock Popups makes it simple to create aesthetically stunning and highly customizable popups for your site. It helps you to quickly create and customize popups, display newsletters, uses them to promote special offers and carry out some other tasks. Moreover, it features a straightforward drag-and-drop user interface for creating and personalizing popups. With CrocoBlock Popups, you can easily target particular audiences by adding popups to particular pages or articles on your website.
JetReviews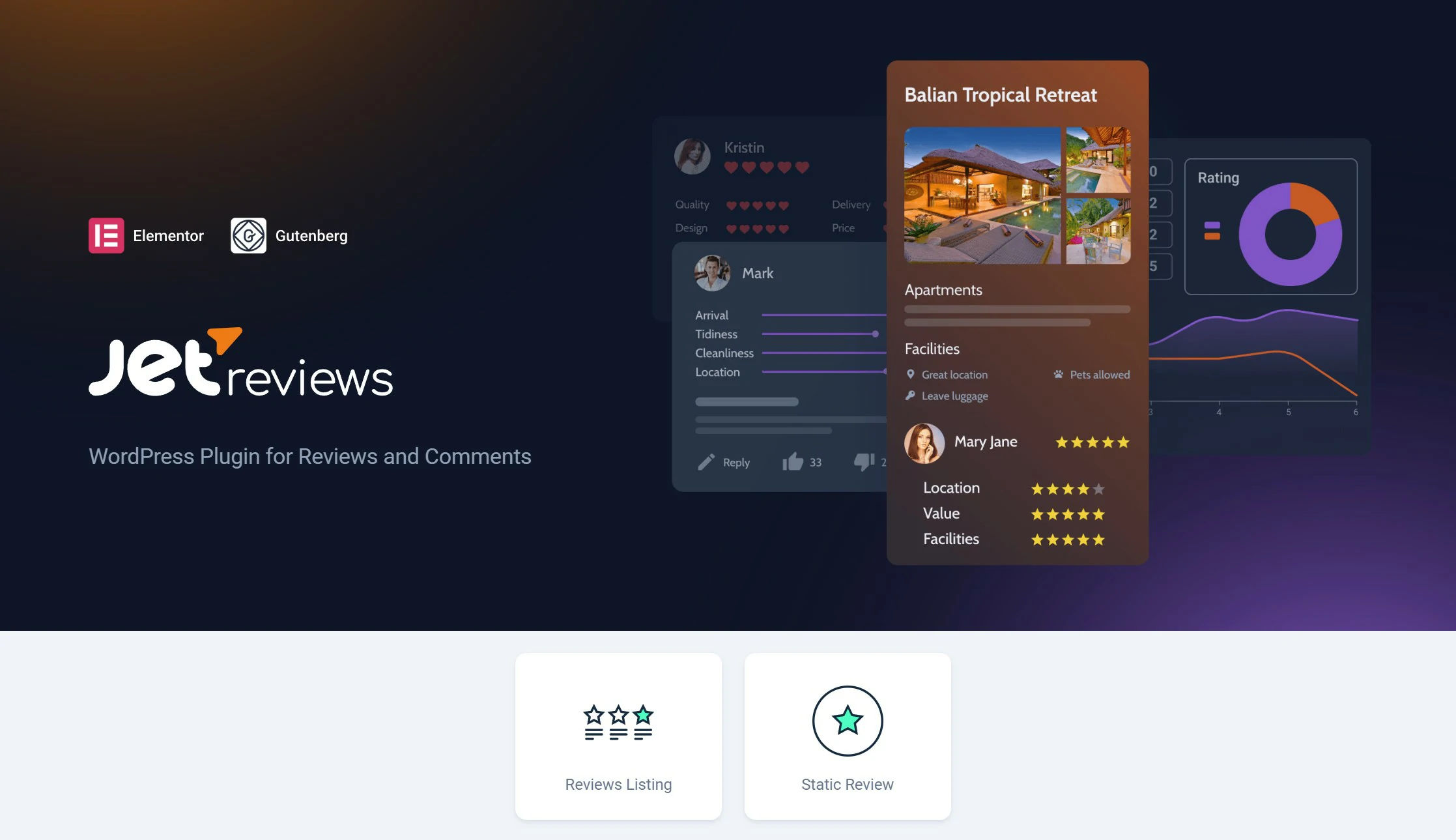 Users may write reviews for goods and services using the JetReviews add-on. Ratings may also be added to pages created using Elementor. Although straightforward, it has a strong layout and attractive features. If you run a review blog hosted by Elementor, this plugin is incredibly helpful. Yet it lacks Schema markup, which is a downside.
Static Review: Without making an account, users can submit reviews and ratings for an item or service on a webpage using a static review widget. The widget frequently includes options for giving a rating and a brief review. Because it is designed to be user-friendly, the widget can assist in increasing the visibility of customer feedback. Reviews are regularly made public and can increase customer confidence.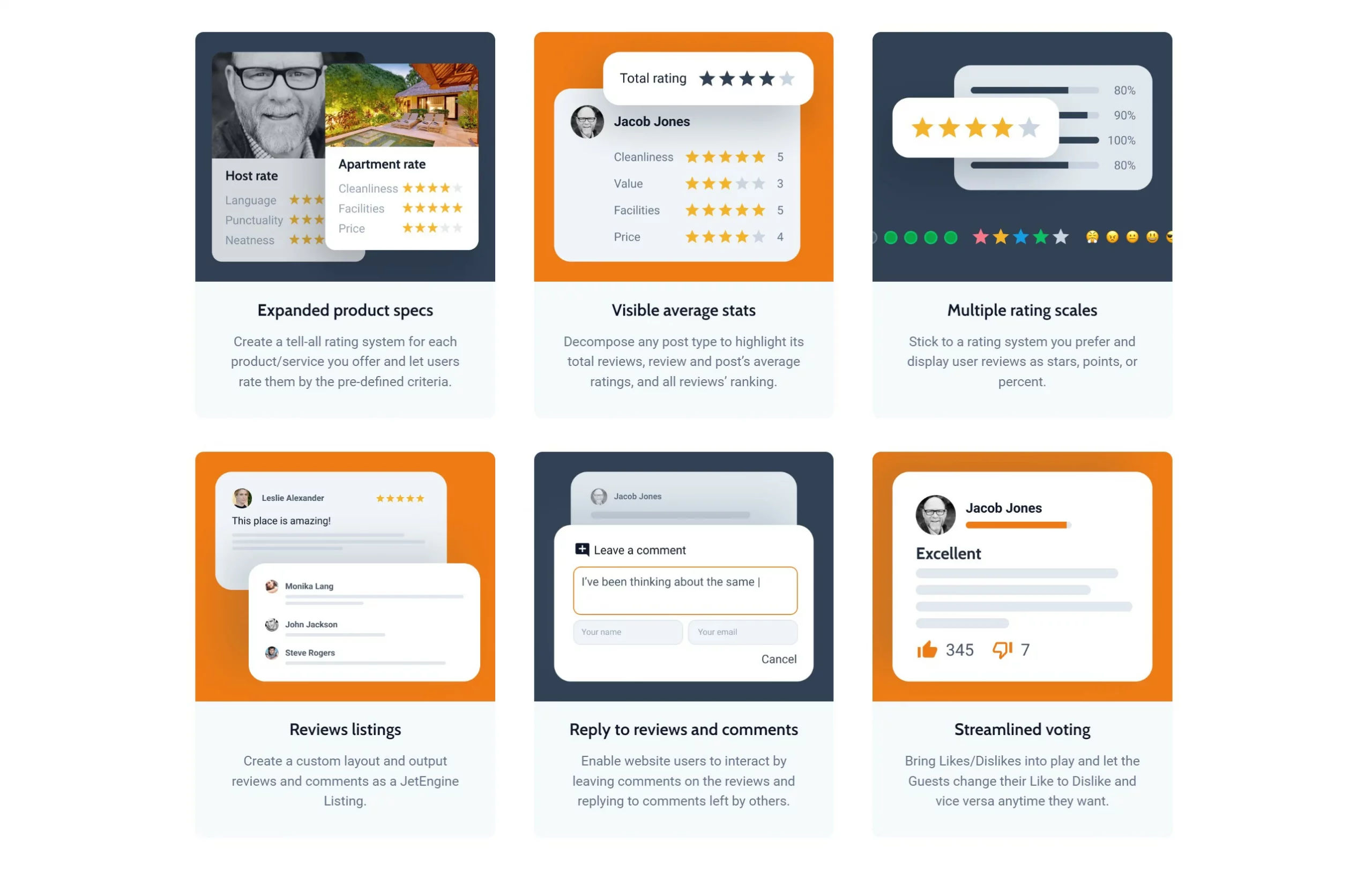 Review Listing- Companies may easily and quickly include customer feedback into their websites using the widget for reviews, giving customers a convenient way to explore and investigate products and services. This widget is an excellent way to improve sales, build consumer confidence, and encourage customer participation.
JetCompare&Wishlist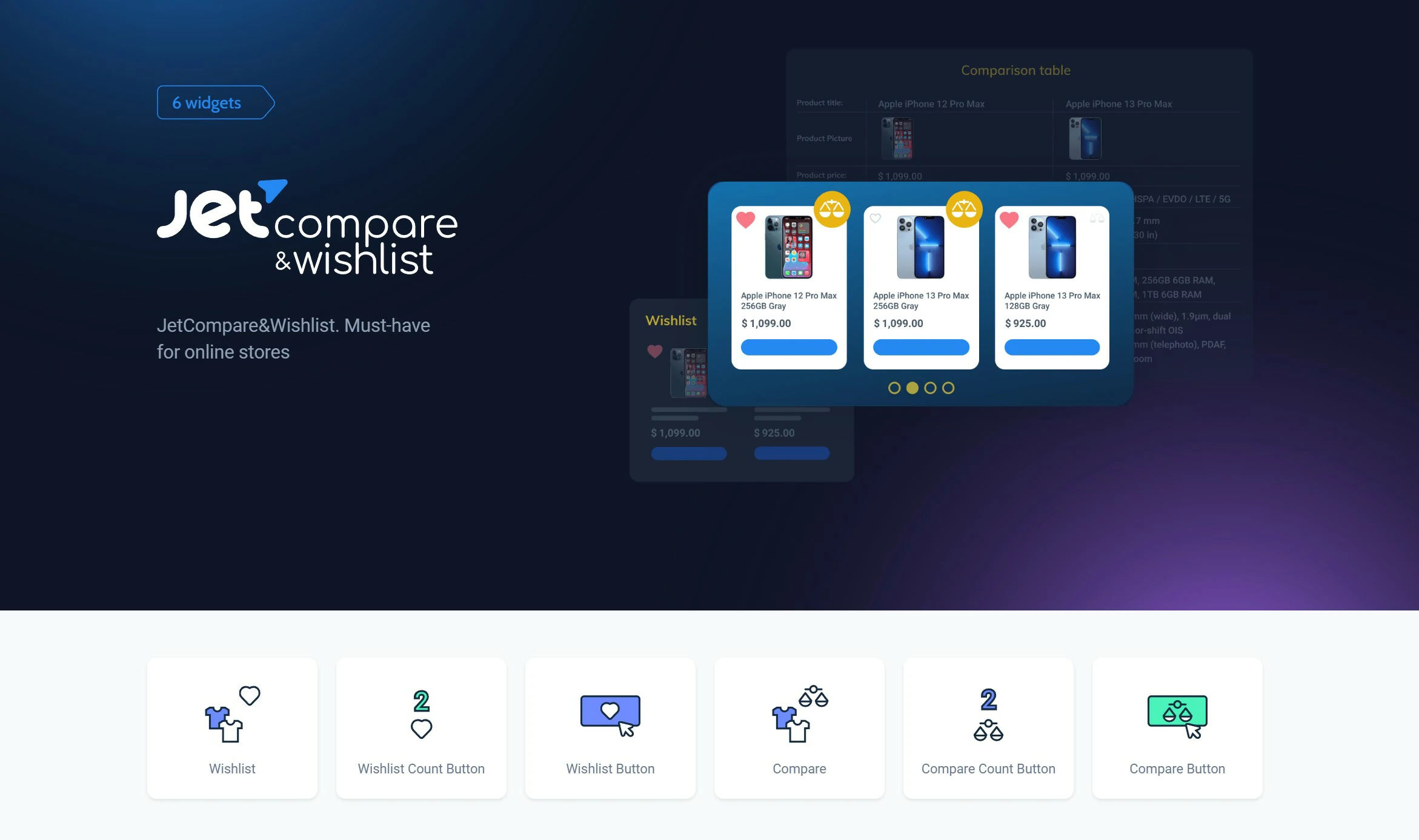 This widget helps you integrate the compare and wishlist features into WooCommerce for higher conversion rates. It is best for the stores that want their users to favorite the products on their list so as to browse them anytime later. It is a convenient plugin that allows them to compare product features and specifications. Compared to other wishlist plugins, this plugin is easy to set up.
JetFormBuilder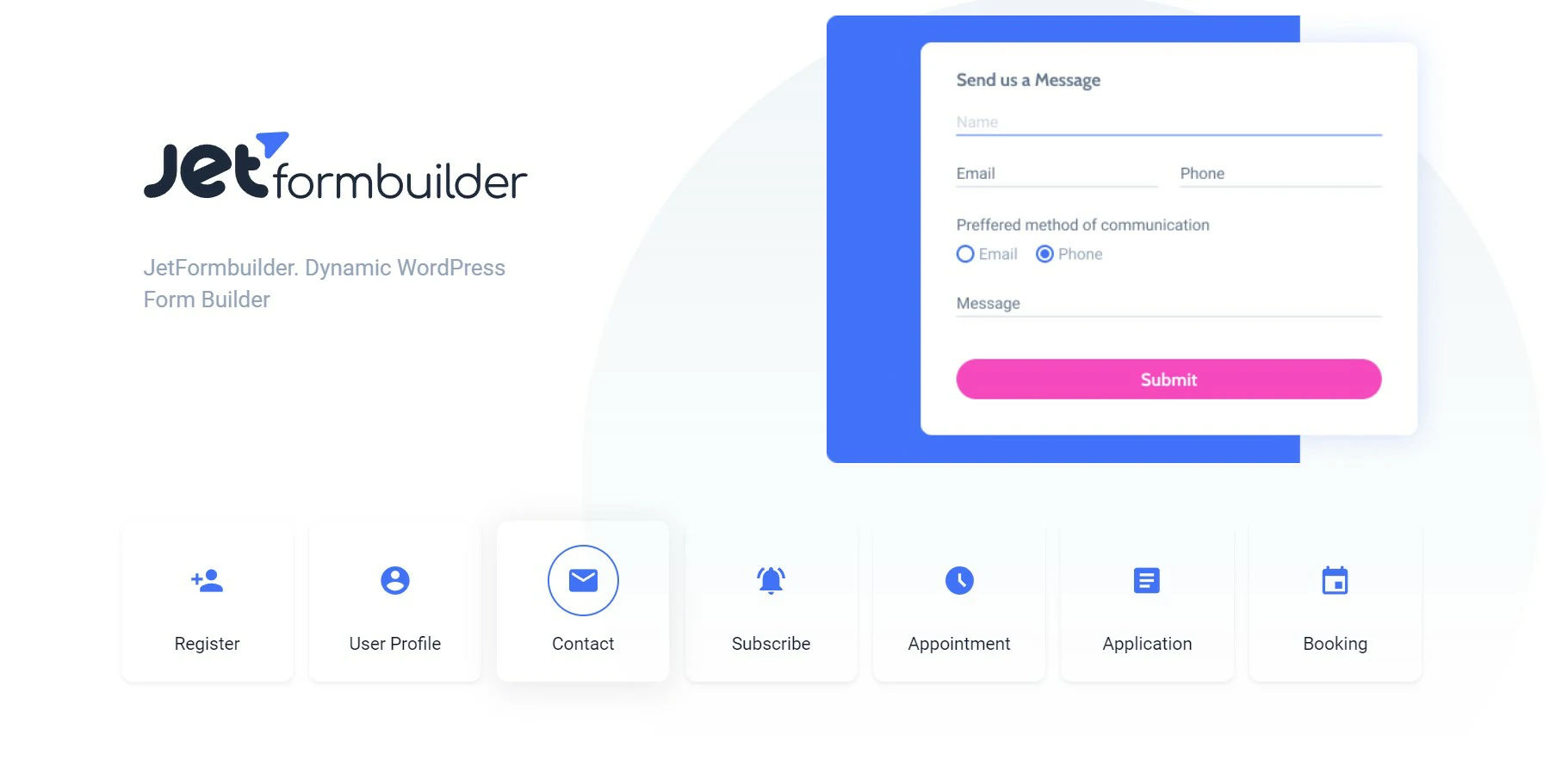 Anybody who likes working with Gutenberg and needs to develop forms may use JetFormBuilder. You can easily develop, set up, and customize any form because you won't need a third-party add-on to meet this need. It comes with more than 18 field blocks that can be disassembled and rebuilt.
There are many different field types, simple layouts, one form builder, as well as the most common form types included. The plugin also contains features for spam protection, calculated content, and generator activities.
JetStyleManager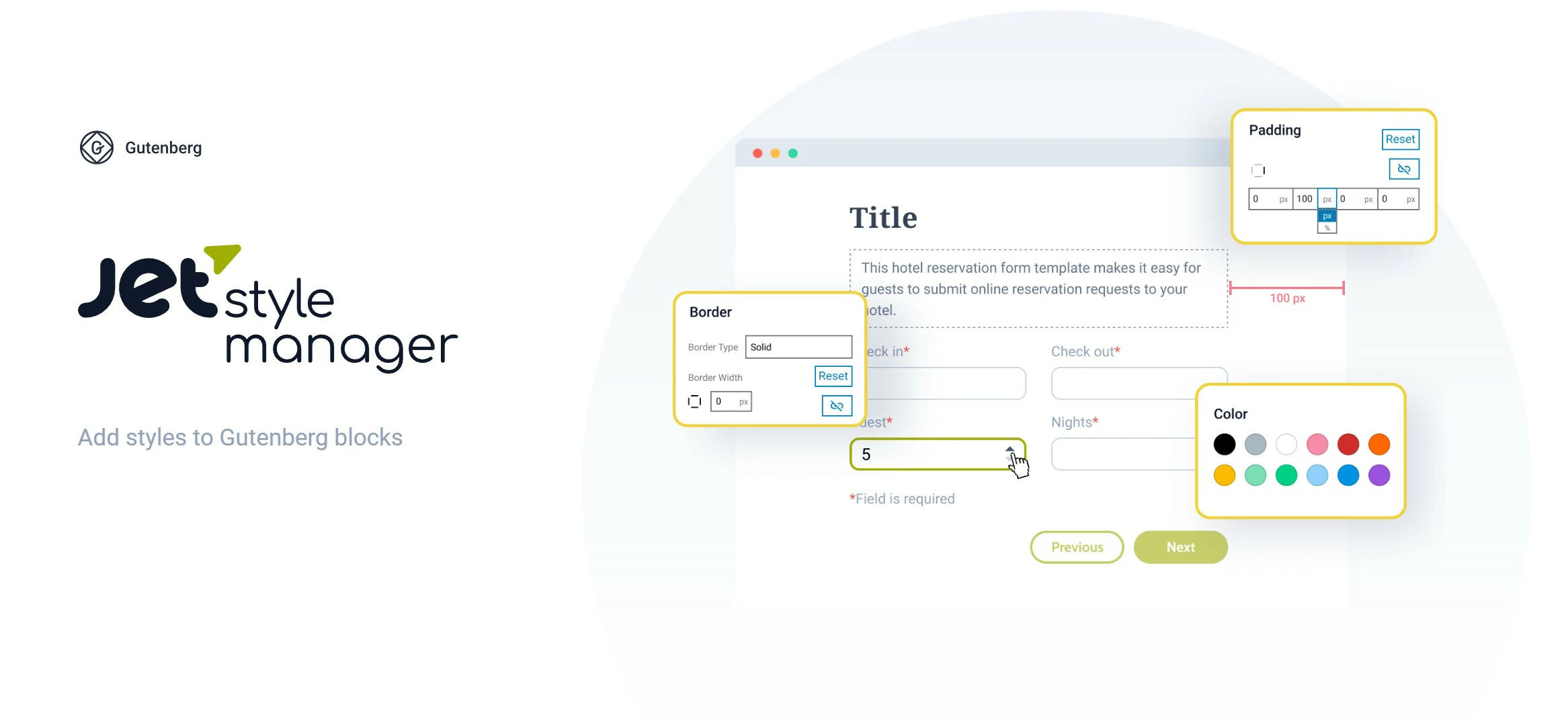 It enables you to create and use widget skins, modify and control Elementor's style settings for widgets, and accelerate websites. Less-used Elementor functionalities can be prevented from loading on the front end and then enabled again as needed.
JetGridBuilder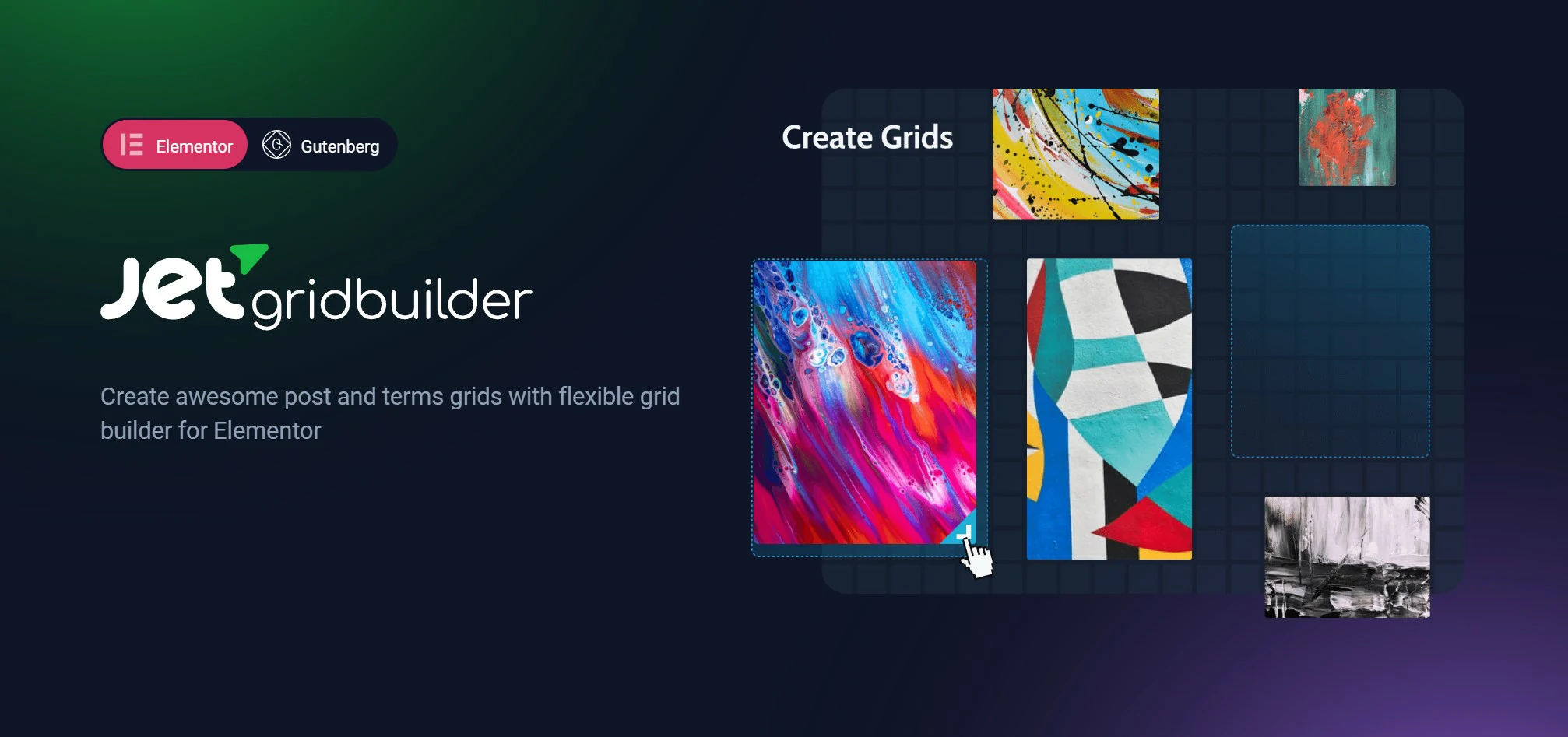 A grid-building plugin for constructing adaptable grids is called JetGridBuilder. There are two widgets accessible in it: Post Grid Builder and Terms Grid Builder.
It works with both Gutenberg and Elementor. JetGridBuilder aids in attractively organizing articles and keywords (tags, categories), despite certain style restrictions. Also, you can select the number of columns, set the appropriate spacing, pull a card by its corner to resize it, move freely the cards along the grid in the background, and utilize a slow load with attractive loading spinners.
What qualities need to be taken into account before using Croroblock's JetPlugins👁‍🗨?
A collection of WordPress plugins called Crocoblock's JetPlugins was created to enhance Elementor's functionality and effectiveness. Look for the following qualities when examining these plugins:
Ease of use😌
The JetPlugins need to be easy to install and use. Check to see if the plugins are easy to use and how well they interact with the Elementor Interface.
Compatibility🤝
Make sure the JetPlugins you select are compatible with the WordPress and Elementor versions you are using. Verify the required functionality before installing the plugin.
Performance👌
For JetPlugins to function quickly and effectively on your website, they must be optimized for speed. Look for performance-enhancing, lightweight plugins.
Features😵
Every JetPlugin offers a unique collection of features and capabilities. Choose a plugin that offers the capabilities you determine are necessary to increase the effectiveness and operation of your website.
Support🙌
It is crucial to pick a plugin with reliable support features like documentation, forums, and quick customer service. This can help you debug any issues and make sure your website is operating properly.
You may choose the best JetPlugins from Crocoblock for your website, enhancing its usefulness and performance, by considering these aspects.
Crocoblock Pricing💸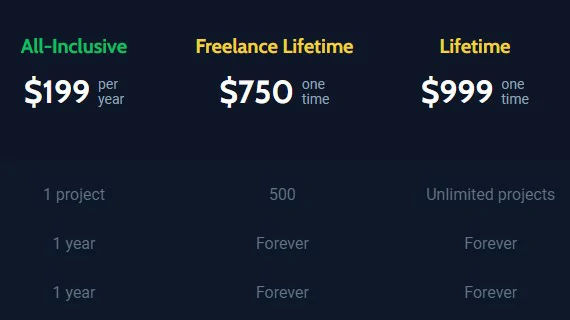 There are four pricing tiers for Crocoblock👇:
For 1 Project
Custom: $ 0 per year: included 199 dollars per year;
Freelance Lifetime: 750 dollars;
Lifetime: 999 dollars per year.
For All Projects
Custom costs $ 0 per year, inclusive of $399 per year; Freelance lifetime costs $ 750;
Lifetime costs $ 999 one-time.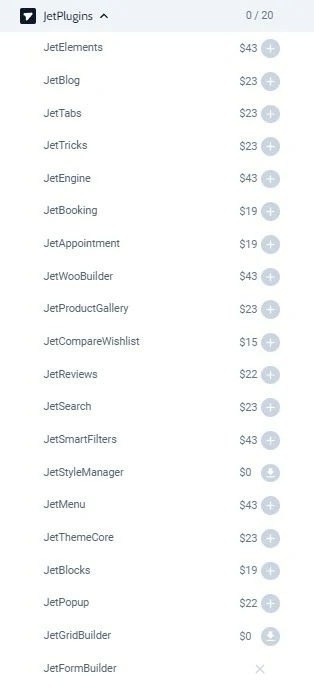 FAQs
What is Crocoblock💁‍♂️?
Crocoblock, a subscription service, was created especially for the Elementor page builder. With this incredible selection of upgrades, you may improve your page builder experience. It has a wealth of experience with WordPress, and its plugins for Elementor and Gutenberg make creating websites much simpler and less time-consuming.
Does having coding skills help while utilizing Crocoblock💻?
Crocoblock does not require coding expertise to use🙅‍♂️. With an easy-to-use Crocoblock's drag-and-drop interface, you can simply build and modify your website without understanding any coding.
What technological requirements must I meet to use Crocoblock💬?
The following requirements must be followed by you: WordPress must have a RAM limit of 256 MB or more, TLS protocol versions 1.0, 1.1, 1.2, or 1.3PHP 7.2 or higher, a server-side SSL certificate, and MySQL 5.6 or higher.
What kind of people often use Crocoblock👀?
Users may quickly and easily develop, create, and manage WordPress websites using the Crocoblock tools. It offers a wide range of products, including drag-and-drop website builders and powerful WordPress themes and plugins. The most regular users of Crocoblock are web developers, web designers, and site owners who use the platform to create and manage WordPress websites😎.
Which plugins are supported by Crocoblock🙆‍♀️?
JetTricks, JetPopup, JetProductGallery, JetTabs, JetElements, JetThemeCore, JetBlocks, JetMenu, JetBlog, JetEngine, JetReviews, JetAppointment, JetCompareWishlist, JetBooking, JetSmartFilters, JetWooBuilderJetStyleManager, JetSearch, JetGridBuilder, and JetFormBuilder are among the plugins available with CrocoBlock. Users may customize their websites to suit their own needs because each plugin offers a unique set of features and functionalities.
Can JetPlugins be used without Elementor🤷‍♂️?
Indeed, there are multiple JetPlugins for the Gutenberg editor, including the JetStyleManager styling plugin, the JetEngine dynamic content plugin, the JetFormBuilder form plugin, the JetBooking & JetAppointment plugins, the JetSearch plugin, and more.
Can I test a Crocoblock product for free first🙋‍♀️?
No free trial period is available. You do, however, have the right to a 30-day money-back guarantee.
Can I receive Crocoblock items for nothing?
A small number of Crocoblock items are free, but the vast majority are not🙅‍♂️.
What is the Crocoblock price structure💰?
Access to all of its JetPlugins for use on a single site is $199 per year. If you administer client websites and want to utilize Crocoblock on an unlimited number of sites, the annual cost is $399.
What benefits does the lifetime plan from Crocoblock provide💸😵?
Crocoblock provides a $ 750 lifetime package, which is wonderful news. Both product upgrades and lifetime support are provided. You will benefit from the following things when you become a member:
Regular product updates
The updates include brand-new skins and plugins.
Every day of the week, assistance is available round-the-clock.
A license granting you the right to use the products in any number of projects.
The fact that you are not required to acquire the entire package is another important benefit.
On how many websites may Crocoblock be used💭?
It depends on the kind of license that was bought. You must acquire an all-inclusive yearly or lifetime unlimited subscription to utilize the Crocoblock on an endless number of websites.
Apart from Elementor, what other builders are compatible with Crocoblock🤷‍♀️?
The Gutenberg editor is completely compatible with several Crocoblock plugins. Nonetheless, Elementor is a must for the majority of plugins.
Are all themes compatible with Crocoblock🙋‍♂️?
No, not all WordPress themes could be fully compatible with it. The plugins Hello by Elementor, Astra, GeneratePress, and others that are comparable play well with Crocoblock.
What exactly is a dynamic template🤔?
Crocobock dynamic templates are pre-built sites with a specific function. Every form, field, connection, and taxonomy is pre-configured here.
What makes Crocoblock unique compared to other WordPress website builder plugins👁‍🗨?
Crocoblock stands apart due to the diversity of features it provides and allows users access to a full suite of tools for creating and maintaining an effective website. A sizable template library, a drag-and-drop page builder, and powerful Jet Plugins for customizing the user experience are among the capabilities provided. Also, Crocoblock offers a variety of lessons and demos to help clients quickly build their websites. Last but not least, Crocoblock's customer care division is manned round-the-clock to assist users and address their questions.
What makes Crocoblock stand out?
Effortless usage😃
If you are experienced with using Elementor, Crocoblock will be simple to use. No coding knowledge is required, and setup is easy. It comes with several plugins that are all very easy to use. Nonetheless, JetEngine may necessitate some instruction.
Drag and Drop Editor 😌
A drag-and-drop editor included in Crocoblock makes it simple to change the way a website looks and feels.
Feature-rich😍
Crocoblock provides many useful plugins with a wide range of complex features to improve Elementor.
Many Pre-Built Template Options😵
To construct unique websites, Crocoblock offers a range of carefully designed website templates that are easy to change.
Customization options😯
Crocoblock offers a variety of customization options, enabling you to adapt your website to your unique needs.
Optimized for SEO👍
All of the themes were created with search engines in mind to improve how well websites fare in natural search results.
Compatibility with widely used plugins🤝
With Crocoblock's integration with well-known plugins like Jetpack and Contact Form 7 is easy, as well as adding additional functionality to your website is simple.
Quality for the money💰
Amazing cost for such a full suite of plugins. Each plugin is now available to you for a one-time fee. It is among the most affordable methods for creating a website.
Incredible Support🙌
Customers that have inquiries or issues may turn to Crocoblock for solid customer care. The assistance is available and of sufficient quality. It takes little time for an answer.
Final Verdict on Crocoblock Plugins
When you buy a product independently, you might not be aware of its compatibility or update ability with the most recent Elementor releases. Separately purchased plugins might also have poor support, cause incompatibilities, etc. There are no such issues with Crocoblock because the products are always being updated, and you can use a lifetime unlimited license to get the most recent Jet products and skins and have access to everything you require while using Elementor.
Its main purpose is to make it simple to construct websites without any coding knowledge😳. This company provides 150+ widgets, 18+ plugins for various purposes, and a variety of extras that will completely alter your coding approach.
Crocoblock provides excellent options for numerous page builders, with a toolset that is tailored to every project. Each plugin has comprehensive documentation and support. Widgets are another appealing feature of JetPlugins that will help you design a professional website🤩.
In a word, Crocoblock is a subscription service that offers it all for Elementor Page Builder. Even though they include a lot of plugins, it's intriguing to see how these plugins connect.
I hope you like our Crocoblock review✨.
The Review
Crocoblock
Crocoblock is a plugin suite that allows you to do wonderful things with your webpage using Elementor. It offers exceptional value and is appropriate for both beginners and developers. The toolkit includes many extensions as well as the Kava Pro theme, which extends the capabilities of the Elementor page builder for WordPress. Crocoblock membership is essential if you wish to advance your Elementor page design skills.
PROS
Crocoblock is designed to be easy to use and set up, even for unskilled users.
Crocoblock lets you stay responsive over various layouts, so your site will appear great on any device.
Crocoblock's talented team provides 365/24/7 assistance
It has a Kava theme that is most compatible with Crocoblock
Have elegantly created templates
Includes an innovative plugins suite
Integrated WooCommerce Developer
Includes Header and Footer, Builder
CONS
Several plugins have average performance.
Expensive Solution in some cases
Review Breakdown
Easy to Use

0%

Features

0%

Support

0%

Brand Trust

0%

Value for Money

0%

Updates

0%

Integrations

0%

Compatibility

0%
Crocoblock DEALS
We collect information from many stores for best price available
Best Price
$199