Divi is the most popular WordPress Page builder & theme in the world and is the ultimate page builder. It takes WordPress to a whole new level with the help of its highly advanced visual builder technology. Divi is not just a WordPress theme, but it's a completely new website building platform which can replace all the standards of WordPress post-editing. It can be used by design professionals as well as newcomers. It has the power to create spectacles and design with high efficiency and ease.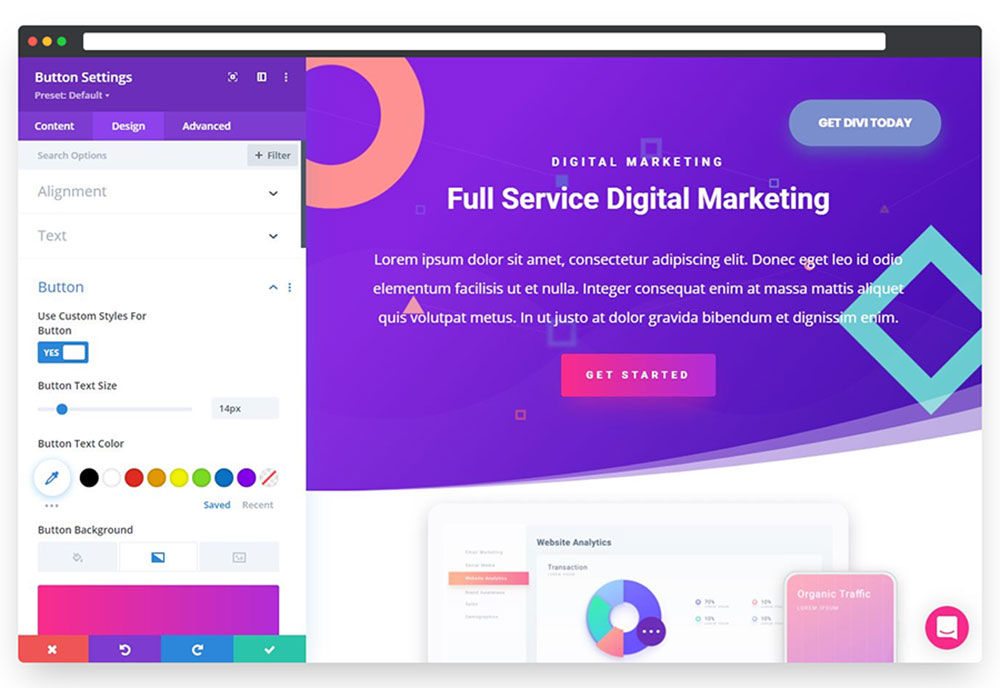 It can be used for free as a trial and this will give you an idea about how to use this tool and get to know about its functioning. Some key features of Divi builder are
Drag and drop building — in order to add, delete and even move elements around on the front end of your website, This can be done through this tool. No coding or any kind of confusing backend options are required.
True visual editing — you can design your page in real-time, and it will present the results automatically. You can even create and customize your own pages using intuitive visual controls.
Custom CSS control — developers can use visual design controls with their own custom CSS. Its interface is simple and yet not limiting.
Responsive editing — you can build a beautiful responsive website with no difficulty. Divi is responsive by nature and gives you full control over how a website will look on different devices, be it your laptop screen or mobile devices.
In-line text editing — you can just click and start typing. Editing your pages is very easy. Your draft pages are on the front end, and you can see the results instantly as you start typing.
Save and manager designs — you have full control over saving and managing unlimited custom designs. You can easily re-use them in order to jumpstart new pages.
Undo, redo and revisions — Divi builder works like a modern software tool. You can go through the entire editing history easily and doing, are you doing and revising your content. In this way, even if you have made mistakes, you can easily undo them.
Global elements and styles –You can manage your entire website design with easy use of global elements and website wide design settings. Divi isn't just a page builder, but it is an entire design system for your website.
Let us now look at some of the alternatives that you can find for Divi Builder. These alternatives are close to it and can be replaced when required.
Not relying on a single service and being on the safer side and having different options to choose from when needed is a good sign as a business developer, be it in the real world or the virtual world.
Best Alternatives to Divi Page Builder & Theme
Elementor Page Builder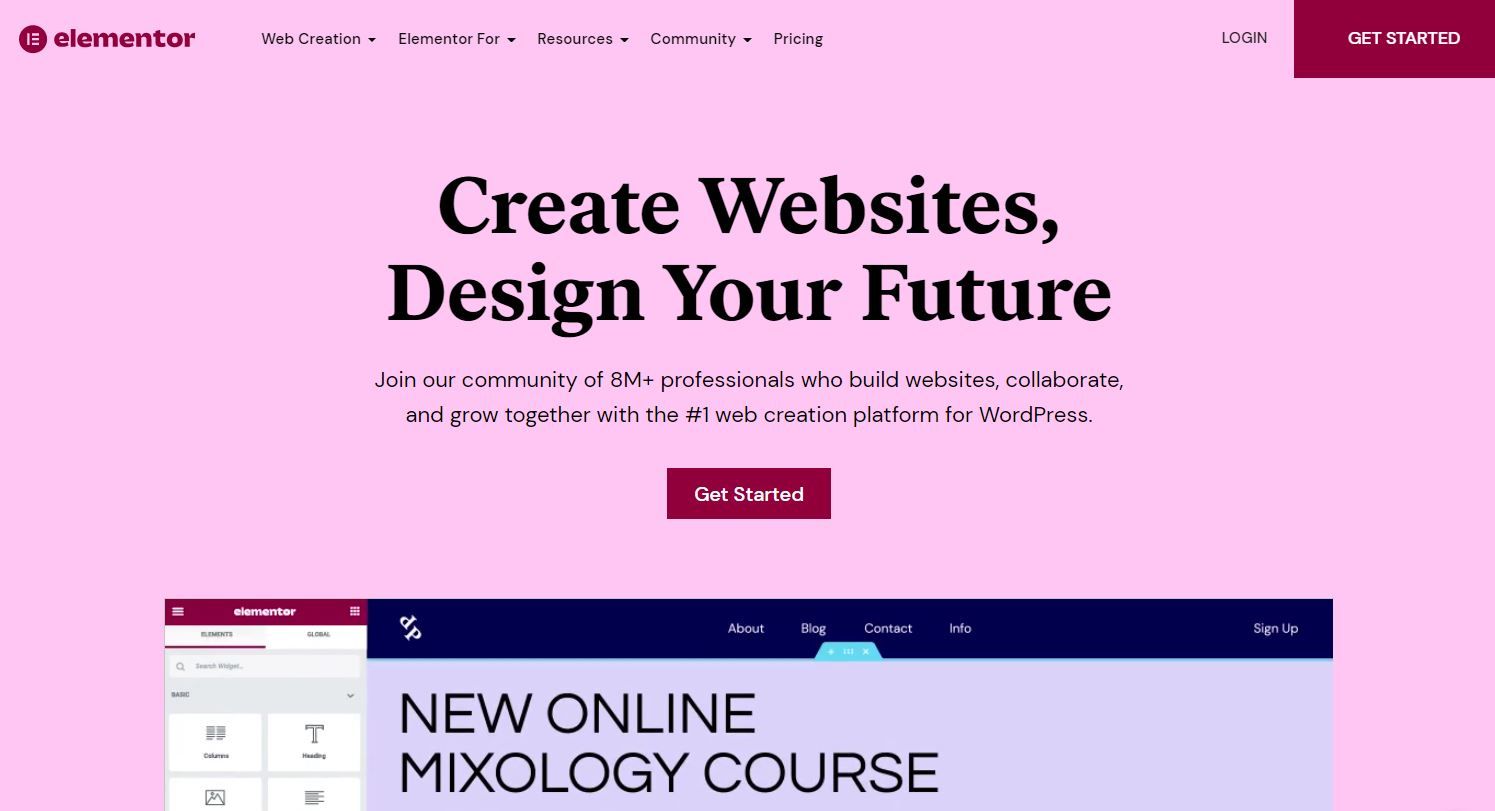 With the help of this tool, you can create websites and design your future. It has a vast community of 8,000,000+ professionals who help you to build websites, collaborate and even grow your business. The best part about this tool is that you can find a free version and then choose a plan when you are satisfied with its features.
It comes with a load of 90+ widgets. They help you to design your goals with a widget for every need along with full customization freedom.
It has a live drag-and-drop editor which will help you to build and customize each part of your website intuitively with Elementor's visual builder. No coding is required for any of these features.
The pixel-perfect design feature will allow you to create flawless websites with custom positions, padding, global settings and margins for your colours and typography.
Bing to the benefits of Elementor page builder, you will get:
Advanced web creation — you can create unique websites with the help of advanced animations, custom CSS, separate responsive design and a lot more.
Professional workflow — it will help you to streamline your project and create consistent web designs with custom templates library and global design settings. You can work without having to get interrupted.
Enhancing WordPress — You can eliminate the need for having multiple plug-ins. With just one plug-in, you can build professional websites and accelerate your page speed.
Oxygen Builder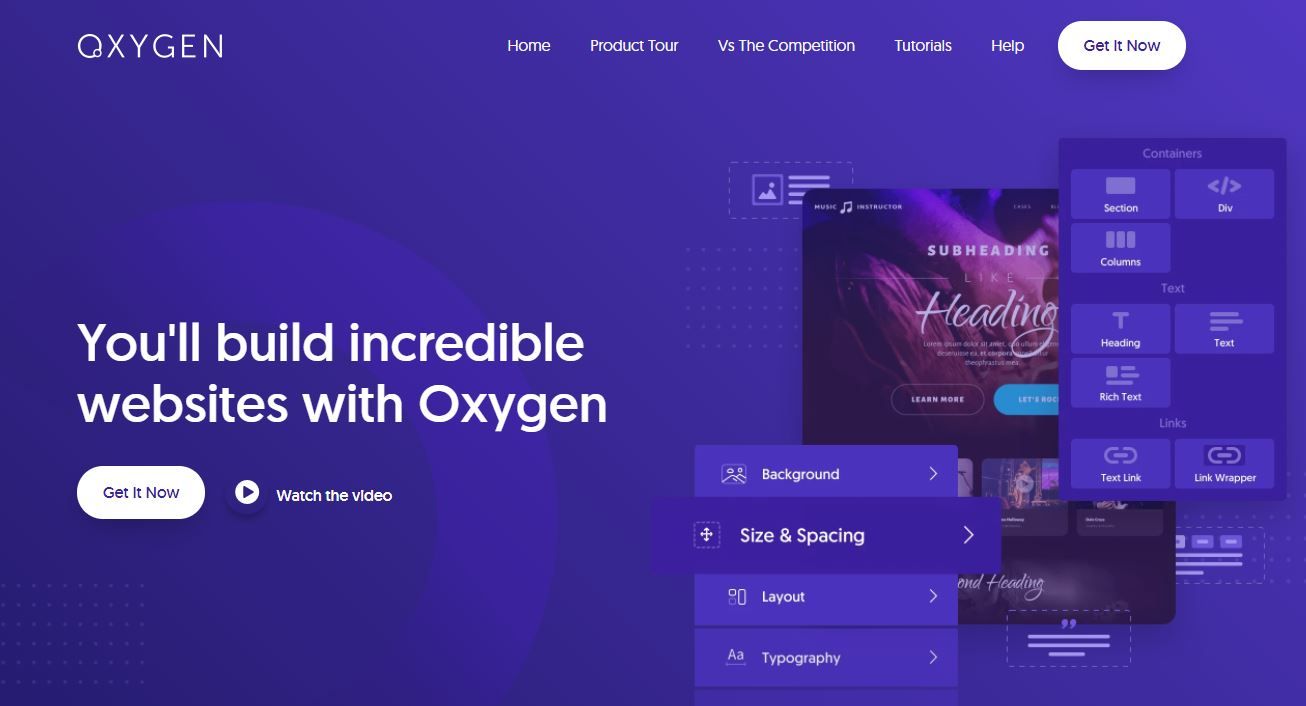 Building an attractive website is not just about having a professional-looking design – it's also about using the right tools. There are many WordPress page builders out there, but Oxygen Builder has set the bar very high.
At OxygenBuilder, responsive design has been on mind since day one. From an amazingly intuitive builder to compatibility with all kinds of plugins, only Oxygen Builder can provide you with what you need for that sophisticated modern web presence. With your layout in place, the site will render beautifully on any device or browser size while adapting to various screen sizes effortlessly. We offer 300+ icons and absolutely unlimited layouts alongside extensive customization options including background images which allow you to create stunning websites with minimal time & effort!
Zion Builder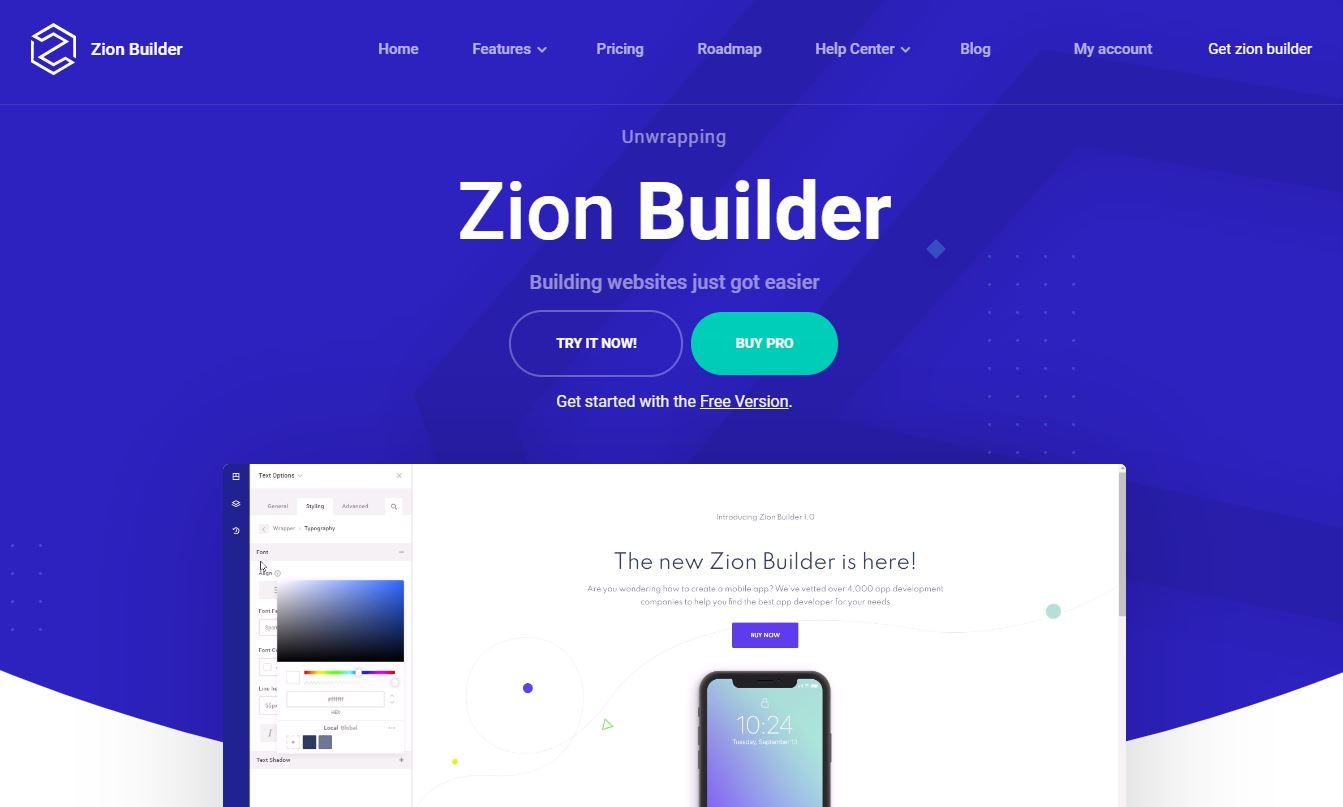 Zion Builder is a new WordPress Page Builder plugin. Built with only one thing in mind: Speed! Both on the front-end and the back-end of your site. Speed has now been proven as Google's ranking factor for mobile searches, which means that if you want to rank first on any mobile search, you're going to need an optimized website and content management system (CMS) that leverages speed, with a clean code and page builder that is light, fast, powerful and fitted with all your desired features plus more!
Beaver Builder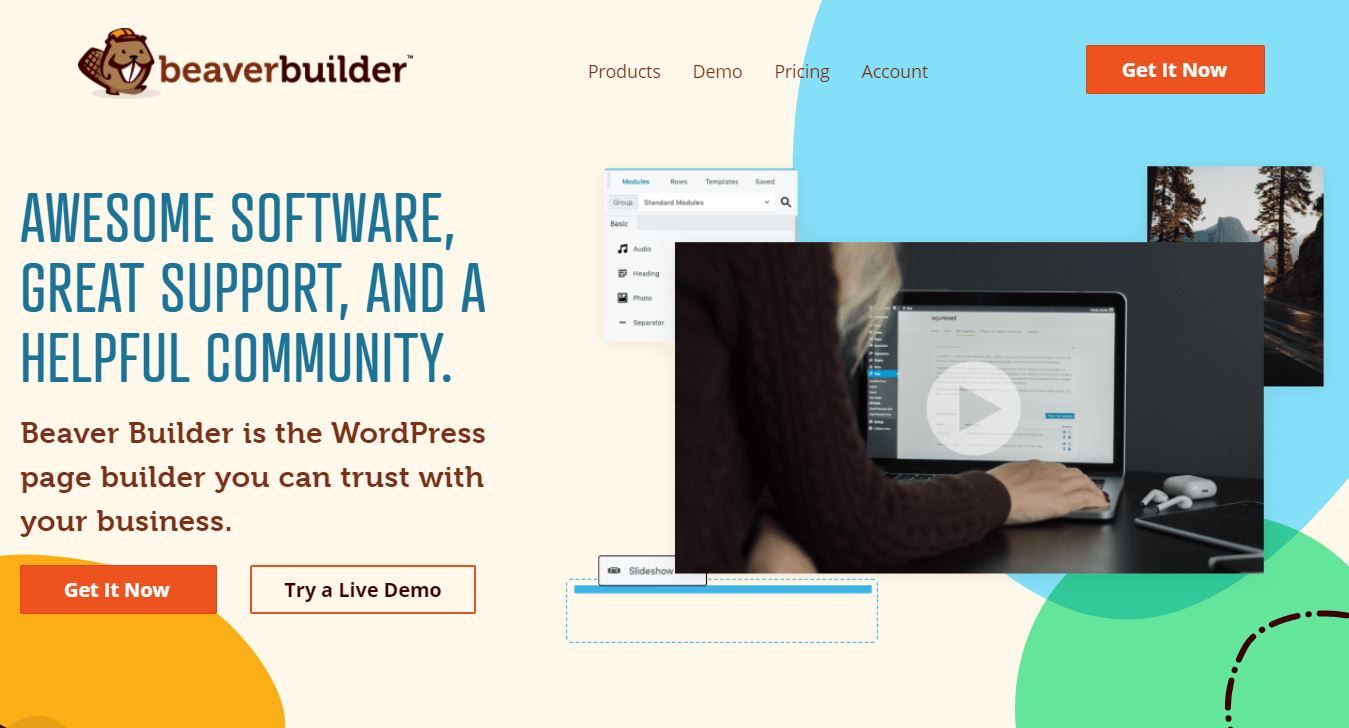 Beaver Builder claims itself to be one of the WordPress page builders that you can trust your business with. It is trusted by over 1,000,000 sites and has one of the biggest names on WordPress.
It comes with a live demo which will give you a briefing about how to use the tool and its features.
Let us now look at some main features of Beaver Builder:
It comes with life, front and editing. This means what you see is what you get. Announce intuitive WordPress website builder works in real-time on the front end of the site.
If you are using a responsive theme, any page built with Beaver Builder will be totally responsive.
The perfect and accurate balance settings and functionality. It has adopted the WordPress customizer in all the theme settings.
It will enable the user to have a live preview of the theme setting changes. With Beaver Builder, you can edit your theme with ease while editing your pages.
It is an everyday productivity tool that helps you give direction to your WordPress site and handles quick tasks without having to go to the WordPress admin area.
You can quickly find a page or post and even update its title or slug. You can upload media and navigate to attachment features.
Beaver Builder theme Add-on
If you want to take this software to another extent, you can use this tool. It will help you to create layouts for archive pages, templates and the entire course type, 404 and search pages as well. You can create parts like headers and footers. The field connection will allow you to connect your layouts with the data kept inside each variety of templates.
Themify Builder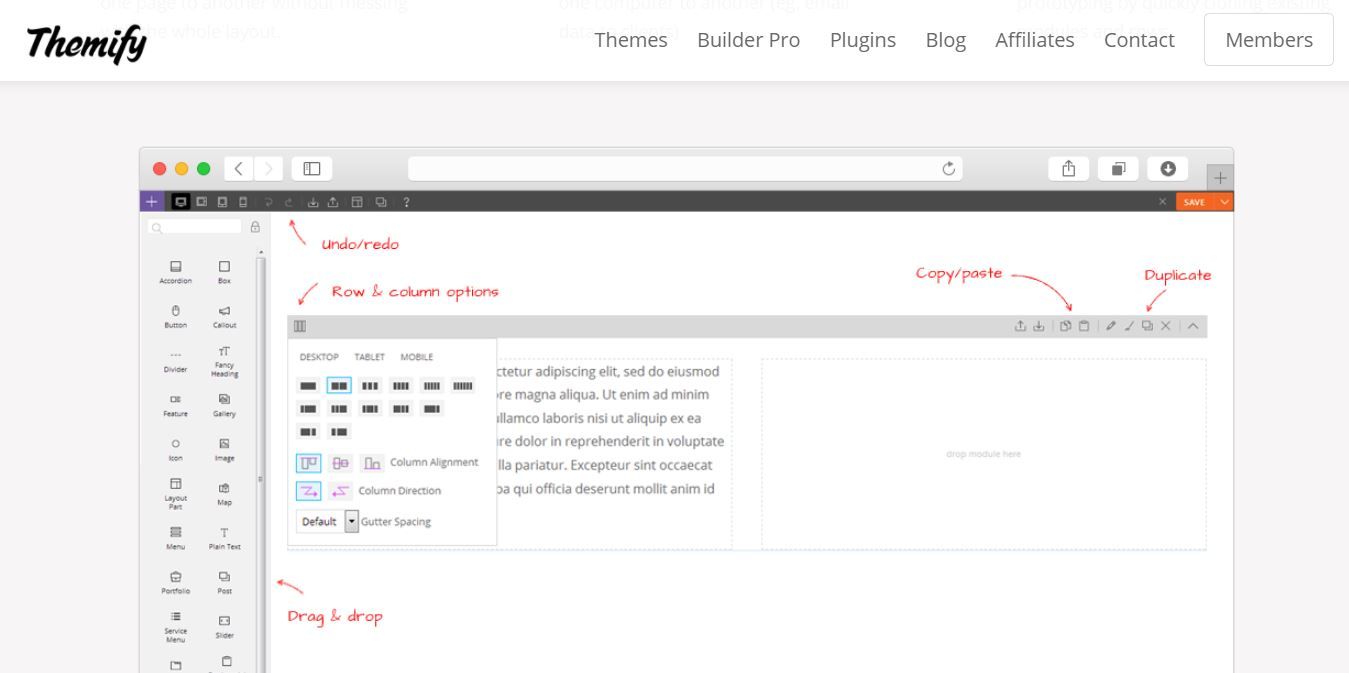 Themify Builder comes with 42 themes, 11 plug-ins, 25 builder Add-ons, 5 PTB add-ons and Photoshop files. It consists of an all in — one WordPress toolkit including all the Themify Builder themes and plug-ins. It is empowering to build any WordPress site in your imagination.
The best part about Themify Builder is that it gives you a 30-day risk-free money-back guarantee. Its master club starts at $89. Some of the themes that you may consider while using this tool are:
Ultra Theme — it is used by thousands of freelancers and site owners. This theme is a fat flagship theme due to its extreme power and flexibility. It has a variety of layouts starting from headers, photos, post layout etc.
Shoppe Theme – It is a must-have theme in order to build e-commerce sites. It includes a lot of layouts and a collection of skins, a.k.a. premade sites. You can switch your site to shoppe and custom create your own professional online shop.
Music theme — it is an all in — one theme for musicians. It includes a few custom post types in order to publish albums, galleries, events, videos and even press releases. Its highlight is that the music continues to play in the background. Visitors usually enjoy non-stop music while browsing your website.
HostGator Builder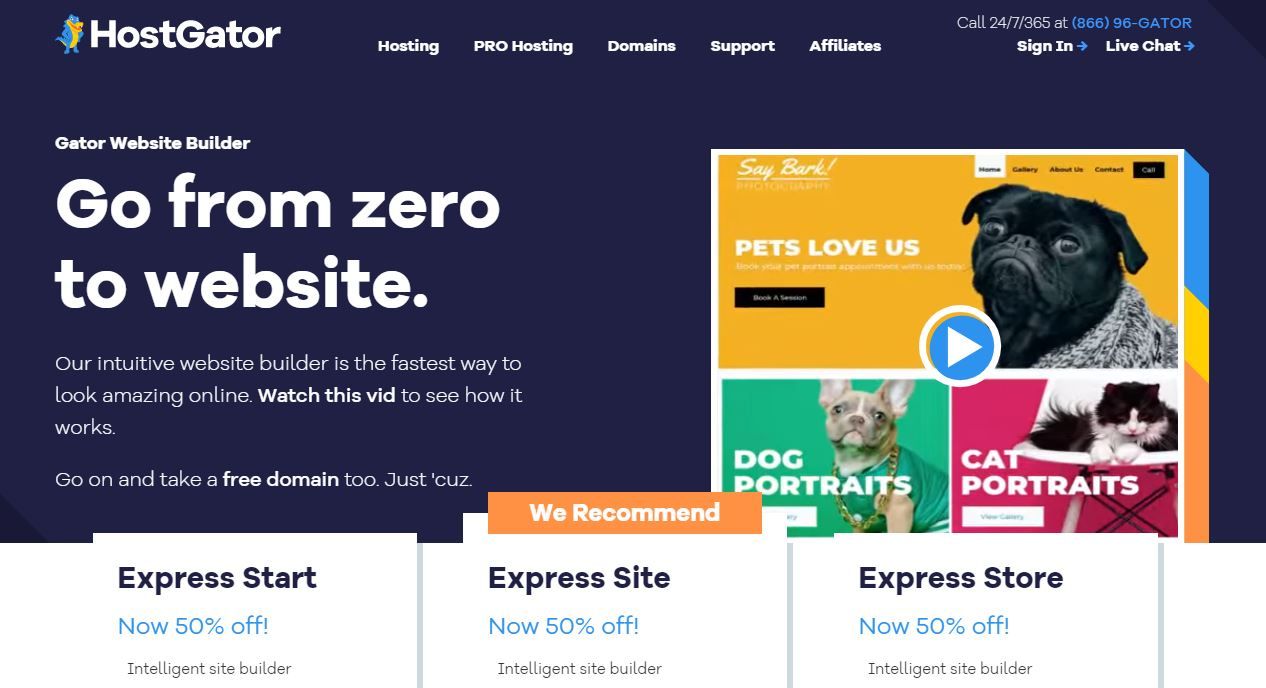 Gator is an intuitive website builder and is one of the fastest ways to look amazing online. This easy to use website page builder comes with a lot of features for you to use. Some of them are:
Answering questions — you need to give basic info about your site and the AI of this tool will convert it into a cool design.
Inserting logo — you can upload your own logo or use a logo maker in order to create a symbol. This feature can be used as an optional feature depending upon your needs.
Adding images — you can browse images through the image library and grab all the photos according to your topic.
Making some tweaks –Customizing your own ideas is often very helpful in creating a website the way you want it to look. Therefore, you get updated fonts, theme colours, images, navigation and a lot more.
Launching your site — without even making any effort, you can build this awesome site using this tool.
When you are developing your website, you often seek a website page builder that comes with a lot of benefits and is less expensive and gives you full support. What are some of the benefits that you will get by using HostGator?
Intelligent builder — it will help you to build smart and not hard. That means that you will not have to put a lot of effort into building your website.
Mobile responsiveness — The responsive design of HostGator will allow you to give your website an amazing look not only on the desktop, but on phones as well.
24/7 support — HostGator has great customer service and will provide you anywhere you are stuck and whenever you need it.
Logo maker — If you do not have a logo maker, and you have not designed a logo yet for your website, then this tool can help you to create a logo in no time.
Easy analytics — you can free metros and understand your visitor's behaviour in a way that is digestible.
Free Stuff — while using this website builder you will get free hosting, a free domain as well as an SSL certificate.
With the combination of all of these features and the support system of Host
Gator, it gives high competition to Divi Builder and proves to be a better alternative.
WP Bakery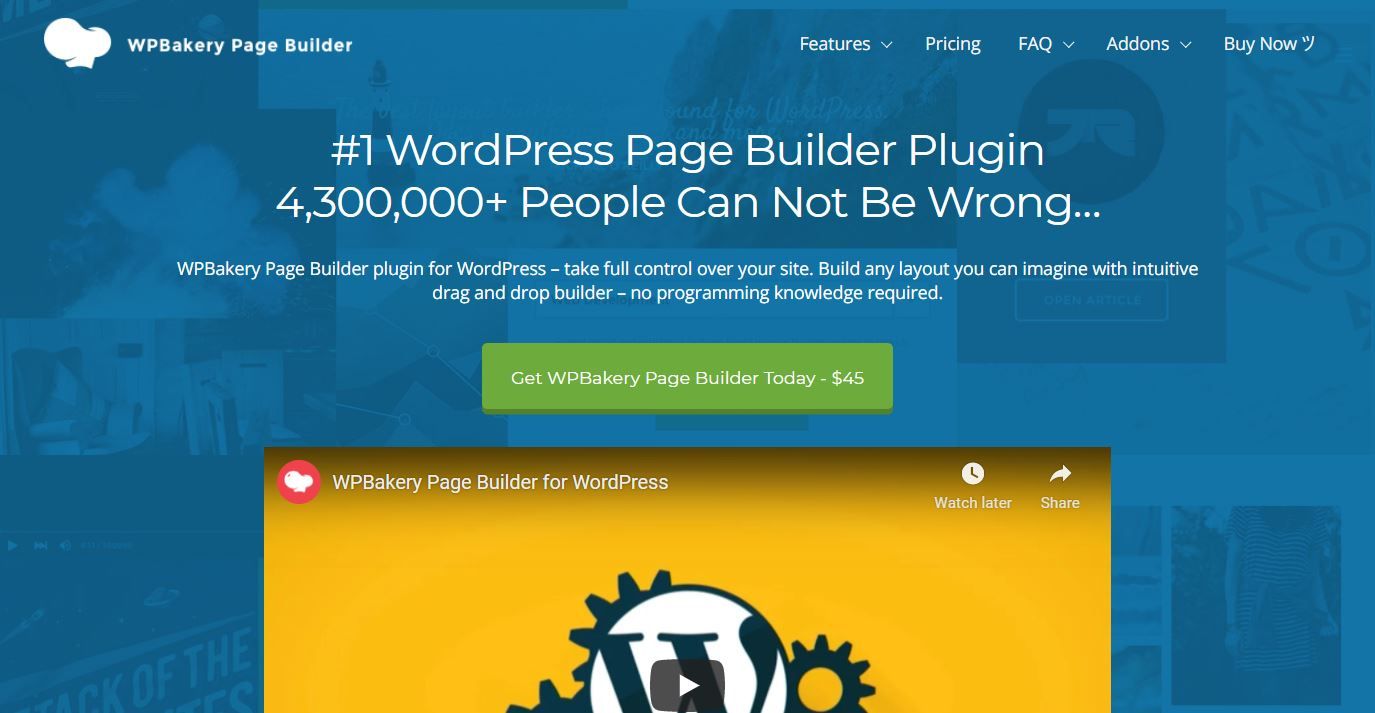 WP Bakery comes with a lot of designs and features which will help you to enhance your website page in no time. It allows you to create website content with a simple drag-and-drop system. With that, you can create as well as manage your WordPress content in no time.
Some of its features are mentioned below:
Front end and back end page builder
You can build a responsive website and even manage your content with ease using the intuitive WordPress front end editor. The best part about this feature is that no programming knowledge is required in order to create stunning and enhanced pages with the efficient drag and drop builder.
Content elements, templates and add-ons
Right from the beginning, WPBakery page builder allows you to use content elements. Just within minutes, you can build WordPress pages and layouts with the drag-and-drop interface without having to touch a single line of code.
With the help of this feature, you can roll your own colour theme. It allows you to use a built-in skin builder to tweak WP Bakery page build design options and element style. It will make a perfect match with your brand identity.
is its premium class feature which gives you templates through an online template library and allows you to build your pages in just a few seconds. You can download any template according to your choice and preference without any restrictions. The best part about this feature is that it gets updated and adds new templates.
Professional online support
WP Bakery gives you a high-quality and dictated support team that goes all week from Monday to Saturday. It will handle all of your requests and help you keep your productivity on track. With these features, this software is highly competitive with Divi builder.
Not only does it come with an advanced grid build bundle, but this feature allows you to display post, portfolios and any other custom post types or media in the grid or in a masonry grid.
You can choose from tons of options and 40+ predefined styles.
Site Origin Page Builder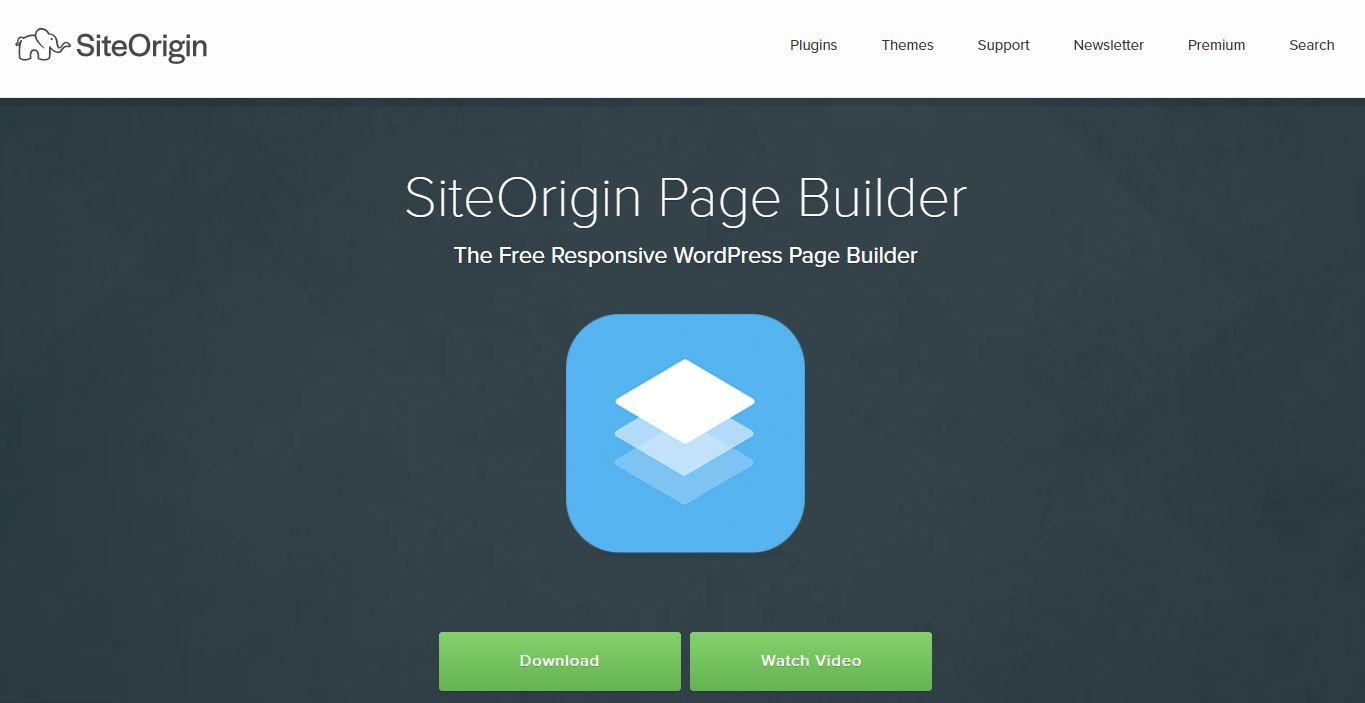 Page builder by site original is easy to build and responsive grid-based page content which is on mobile devices with pixel-perfect accuracy. It gives you a whole new dimension to creating content that will help you to create your home, contact, about us or any other page where a linear layout won't convey your message.
Let us look at some benefits that you will get offered by using this tool:
It has a simple drag-and-drop interface which allows you simpler work without touching any line of code. You can rely on the page builder in order to do the best and the most difficult work, generating lightweight SEO friendly code.
This page builder is not committed to a single theme or even a single theme developer; it provides you with many of the themes integrated with one another. It is capable of guaranteeing that your content will always come along with you and will change according to your taste in design.
You can use your favourite widgets and work according to your preference. This page builder integrates some incredible plug-ins given to you and even more.
Life editor gives you an exact preview of your content and allows you to edit it in real-time. With the help of having a preview of your content, you will know about its mistakes and how your content will be able to catch the eyes of your audience. You can use pinpoint sections and widgets to edit your content without having to leave the page.
The history browser feature allows you to rule forward and back through the changes and edit them according to your needs. You can preview changes and then roll back to that version without having to skip a beat.
MotoPress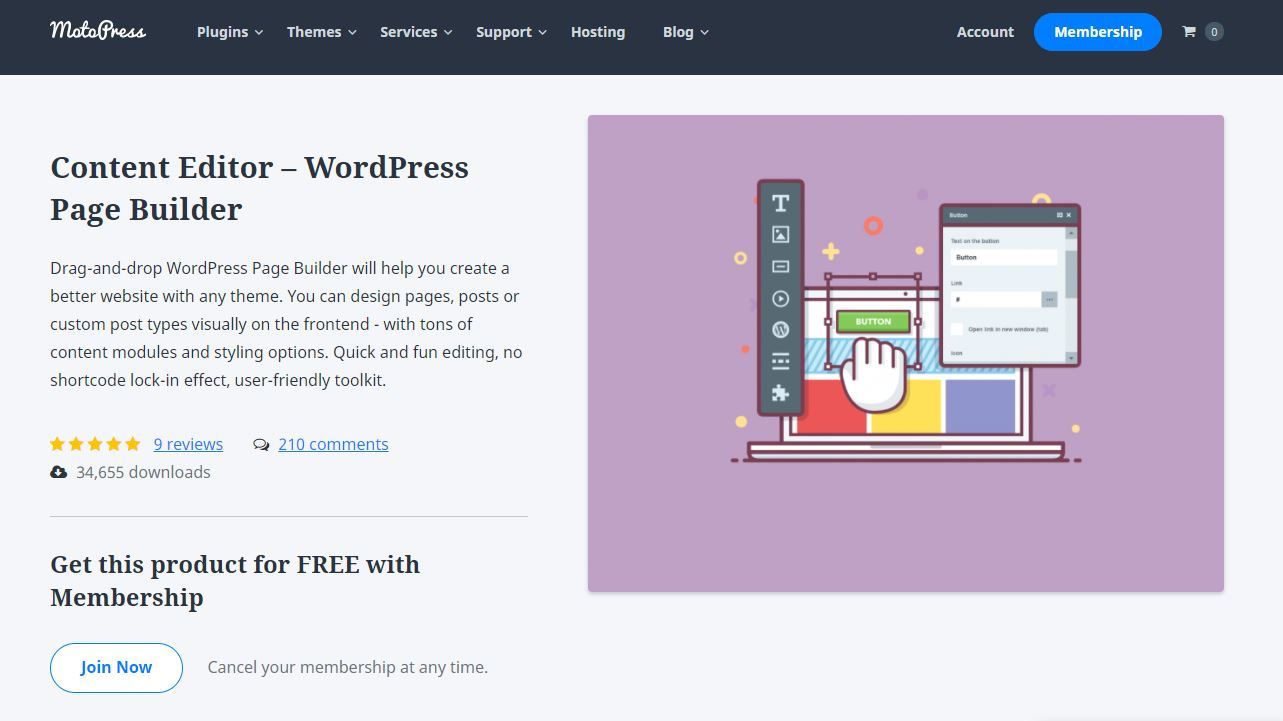 MotoPress has a team of professionals working hard to give the best results of the expected work placement in services that you require. It gives you unique content for your pages, all SEO tools along the vitally important plug-ins.
It is quick and effortless and gives you the best experience while developing your website page. It plays a crucial role in solving a lot of questions that you may come up with while altering, improving and setting up your website. You can save precious time and speed up the process of developing the site launching, increasing visitor attendance and security in personal data.
Some of the benefits that will come across while using this tool are:
WordPress website speed booster
On-page WordPress SEO optimization
Extended support
WordPress security
Website copyright
Google ad campaign creation
WordPress theme installation
WordPress GDPR compliance
WordPress website developer
Positive SSL certificate
Must have press plug-ins
Brizy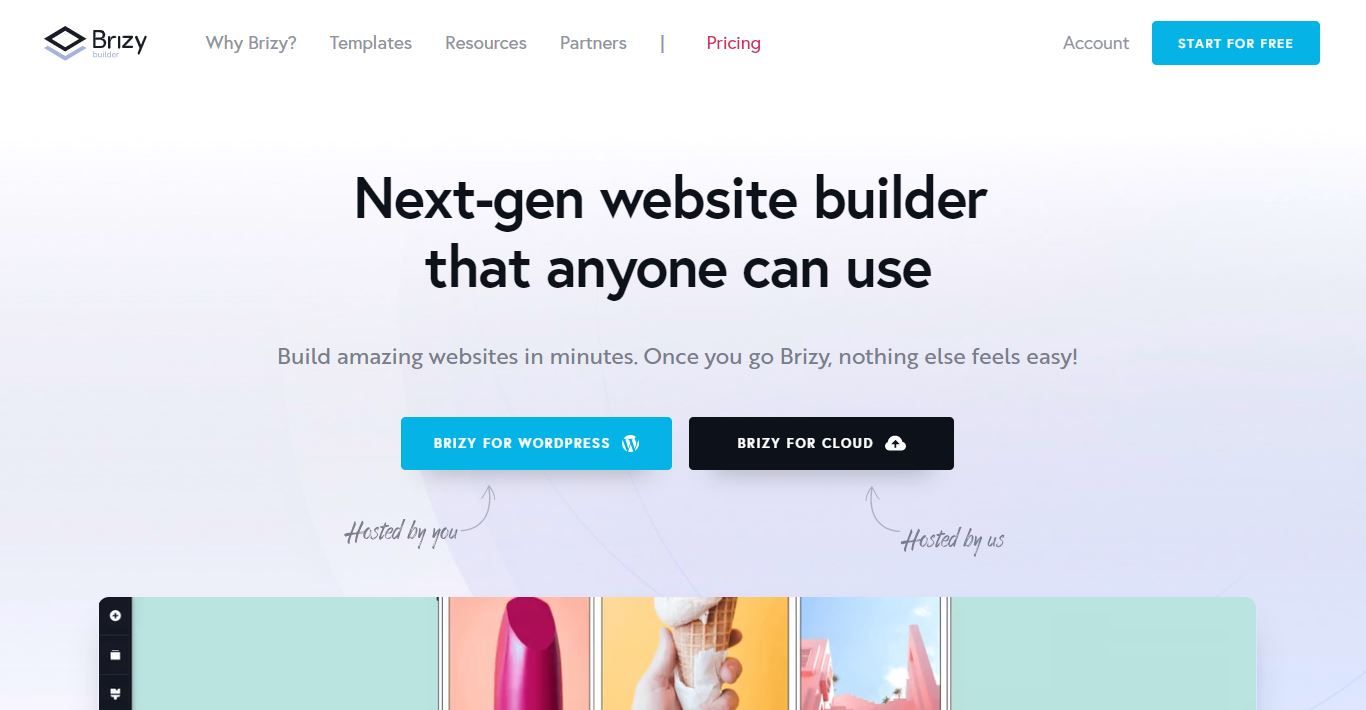 Busy is an easy-to-use software and comes with a bunch of features. You can start it for free, and it can be used by both iOS and Android users. It gives you benefits like real-time editing with new disjointed experiences and a drag-and-drop system which will allow you to arrange and move anything you see on the screen in simple motions.
Some of the most premium features are included for free in busy and can be used even by new website developers:
Undo/redo — it will help you to get to the previous state of editing with the undo functionality and lets you redo the steps to work faster.
Video backgrounds — you can use any of the videos from YouTube or VIMEO videos to play in the background of any block.
Shadows — you can add box shadows to any of the elements that include any columns or rows.
Padding and margin — it is an all — in — important web design tool that is easy to use and helps you to work efficiently.
Resizing — you just need to drag the handle that appears between two adjusting columns in order to resize the width.
Seedprod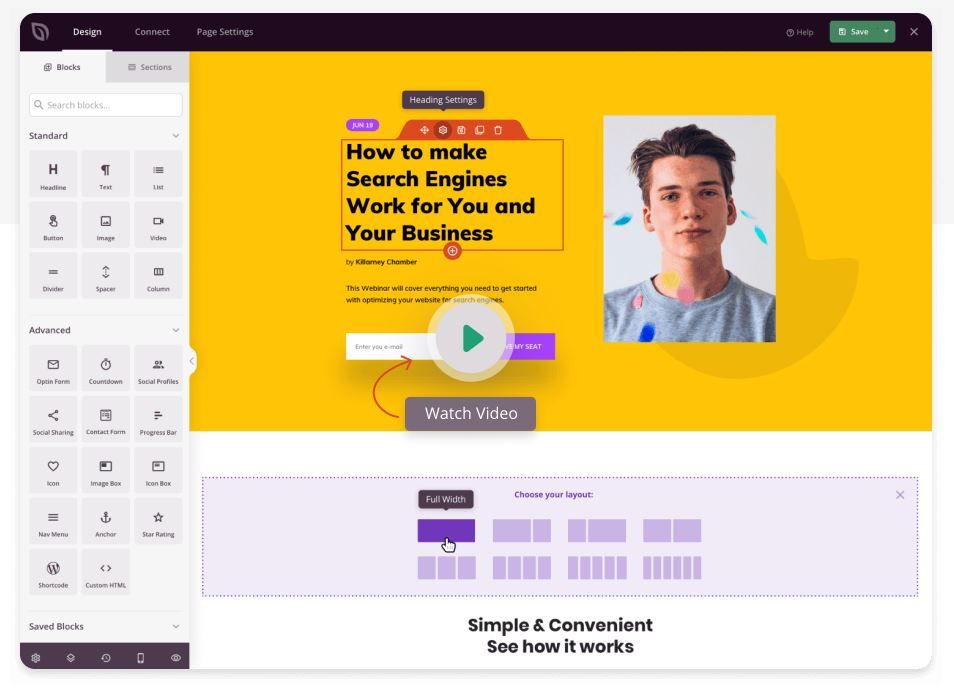 It is considered to be the number one landing page builder base. Over 1 million professionals have used SeedProd in order to create high—converting landing pages. It is one of the best WordPress landing page landing plug-ins.
Software is made powerful only by the high functioning of its features. Here are some of the most powerful features of SeedProd:
Spam protection — You can protect your landing pages from any kinds of boards, fraudulent submissions and spam with ReCaptcha. You get highly qualified leads and prospects in order to grow your business.
Landing page templates — It allows you to create a variety of landing pages that may include sales, often, coming soon, maintenance mode, login, thank you and webinar pages. The best part is that new templates are added regularly.
Smart sections — SeedProd creates professionally designed rebuild sections, for example, headers, call to action in order for you to get design and beautiful layouts.
Subscriber management — you can track every subscriber with the facility of not involving or even involving a third-party email provider. SeedProd helps you to get clear visual data per subscriber and new subscribers over the
Drag-and-drop page builder — the drag-and-drop page builder of SeedProd allows you to create good-looking pages and layout within no time and get your landing page without having any coding.
Visual Composer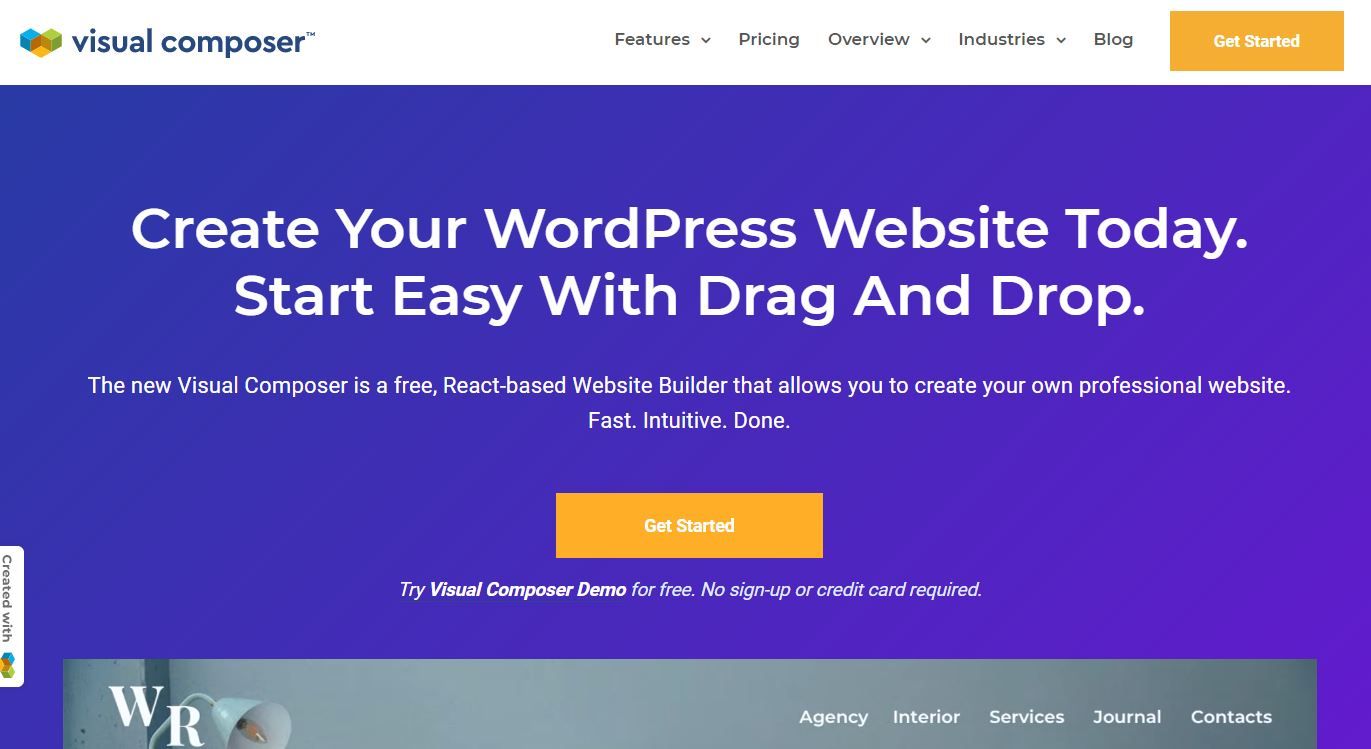 Visual composer is a React-based website developer which allows you to create your own professional website within no time. It is intuitive and highly efficient. Visual Composer gives you a free demo in order for you to get to know its works and features.
It is trusted by many well-known brands. Let us look at some features of visual composer that give it high popularity among users:
Drag-and-drop editor — it will help you to build your website in a simple and easy to learn the way. You can instantly see the results with a trusted what-you-see-what you-get front end editor.
Visual composer hub — you can download content elements, templates, stock images and add-ons from this feature. It is a free cloud marketplace and gets updated weekly with offers that you may need to create your website.
Rich content elements — you can create a webpage with a lot of layouts. You can choose from 300+ unique content elements that come with powerful designing options. It saves you time and gives you everything you need for website designing in today's time. The best part is that you do not have to be familiar with coding.
Professional templates — Again, you can choose from over 300 professional templates in order to create various industries and get your side up and running in no time.
These features are highly efficient and, therefore, the visual composer is a great alternative to Divi Builder.
Conclusion
Here we are at the end of this review and with a list of 10 of the best alternatives that you can find for Divi builder. They offer you a tremendous number of features with high efficiency and working process. In order to build your website, you may not need to have an expensive website page developer, and you can choose from a number of tools.
Some of these may vary according to price and features, but all of them provide high functionality and give you the best experience while developing your website.
Let us know in the comment section about your experience of these alternatives mentioned to you above. Choose from the stops listed and review alternatives for Divi Builder.