There is nothing new in competition analysis. It's been used repeatedly by businesses and companies to figure out the strengths and weaknesses of competition and provide companies with a clear advantage by knowing their opponent's next move. Competition is not something that instills fear anymore.
As a fact, the marketers are now upheld and supported by their competitors. The reason for this is because of something known as the validity of one's product. They have competitors in the same market space as your product portrays that the product is a necessity and highly in demand, thereby increasing its validity. Many such methods are at work now. You may, too, implement such strategies to increase the growth of your company.
Thus, we must familarize ourselves with the concept of Ad spy tools and delve into the details on which ones will suit you best.
It's a great thing, and I'm pleased that we have reached this stage. Also, I have been championing the use of competitor analysis for a long time now.
It Is imperative that you know, stalking your competitors will not assure a guaranteed win to success. Instead, it is not the data that will help you succeed; it is applying that data. Now that this is clear, it can be the single greatest strategy to get ahead of the competition.
So, no matter how competitive of a market space you operate in, don't lose hope. This article will help you in many ways! Keeping an eye on your competitor's progress will strengthen your position at the top.
Necessities: Why you need an ad spy or ad intelligence tool ?
There are, of course, many factors which we must consider for this. We must be clear on what we are looking for. We must figure out what the right tools are to mine the information and their correct methods? The third would be ways to implement this in your business strategies. This last one sorely depends on personal opinions and innovative ideas.
Through this article, you will learn to manage your business more efficiently and quickly.
As you are aware, multiple categories of competitor analysis exist. Let us focus on the most impactful regions and the most effective tools required to tackle them. Given below are the regions we must concentrate on to be able to overtake our competitors:
Web traffic and SEO
Ads and PCC
Social media
Blog content writing
Going through all the details and accumulating all the information will take days to do it. It's is tiresome and extremely hard. The reason being that information provided usually contradicts other information, and you would be stuck in a dilemma on what to choose and whom to believe. It gets overwhelming and very time-consuming.
But using this article, you will get crystal clear information on what to choose and how to go about it. We shall show you which add tools you require and what the best add tools are as of now.
Without further ado, here are the top add tools for spying on your competitors.
Best Ad Spy and Ad Intelligence Tools to Spy on Competitors 2021
Poweradspy

Poweradspy is the first and largest software of its kind. It ensures you run Facebook, Instagram, Youtube, GDN, and NATIVE ads that make you money right away. Poweradspy is a powerful Social Ad advertisement database that provides the best solutions to Media Buyers, Advertisers, Ad agencies, etc. spy on their competitor's ads. Poweradspy employs thousands of people worldwide who watch and submit several inspiring advertisements to its database every day. This collective database helps them to deliver an exceptional service for Ad planners, Media buyers, Publishers. Ad agencies see the resonate ad structures and meet their needs with a click of a button. Their ad examples are composed of attributes like demographic and location-based ad examples, suggest keyword-searching in case of difficulties, and increase the ROI of your business with running ads.
Adplexity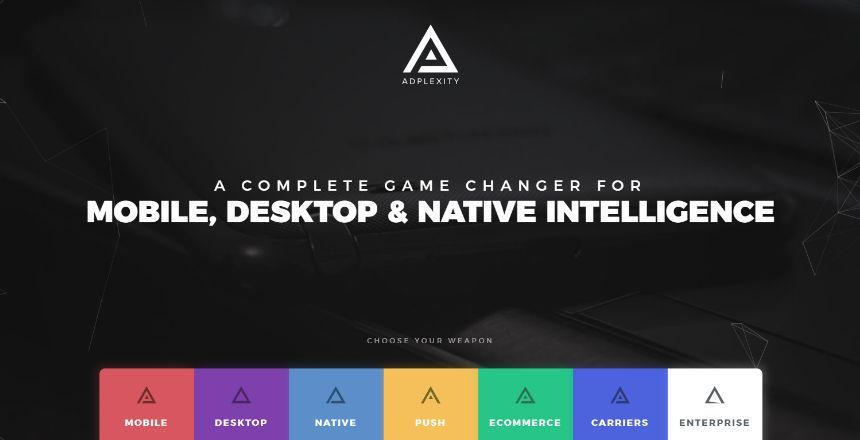 AdPlexity advertisers themselves as the game-changer of mobile, desktop, and native intelligence, and it enables its users to track their competitor's most profitable ad campaigns on mobile traffic sources. It uncovers profitable campaigns running on mobile pop up traffic sources and analyses in-app ads running on thousands of android apps that they monitor.
It finds ads promoting affiliates from 100 affiliates networks with a single click. It uses keywords, advertisers, publishers, and affiliate networks to find successful campaigns fast and easily. It also includes the ad trends that show the user how long a campaign is running and which part of the week shows the best results.
It also shows the devices targeted, like whether the campaign works better on an I phone or an android.AdPlexity also informs its users on traffic sources used to prevent major expenses.
Spyfu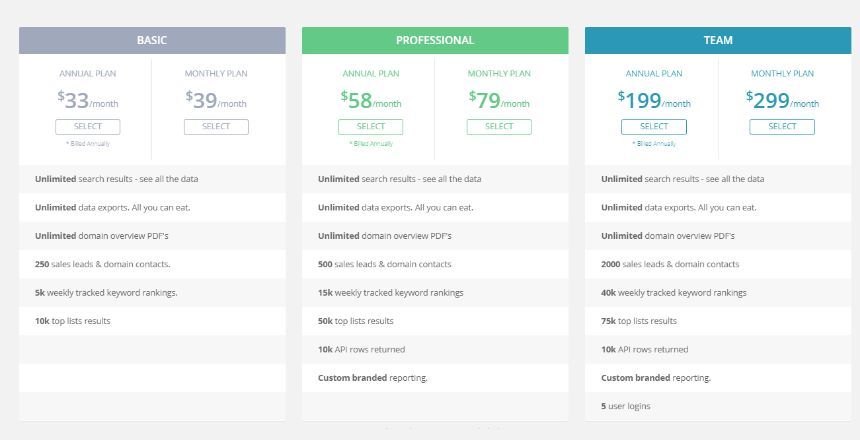 Spyfu is an incredible tool to see the competitors activities, PPC, advertising tactics, SEO strategies and lot more. With this tool one can fabricate own Adwords campaigns by analysing the competitor data. The tool offers great insights with accurate data which helps in decision making.
You can also export the data in order to further make any reports facilitating deeper planning and strategy building. Using spyfu one can increase website traffic, track your keyword rankings and make better connections.
SEMrush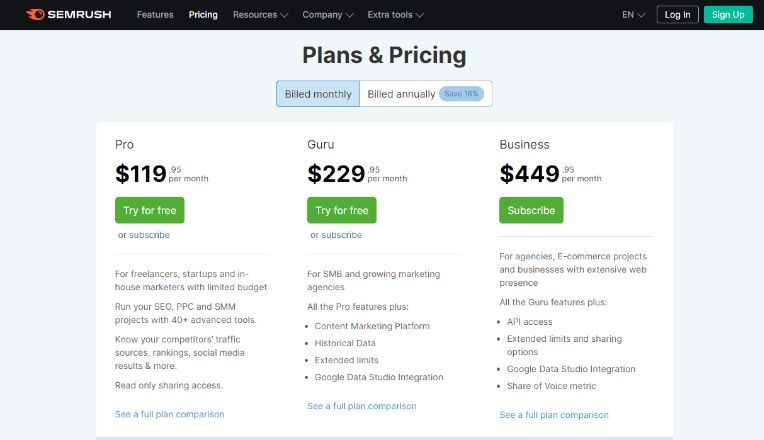 SEMrush is a top-rated SEO tool among digital marketers and is an all in one tool for competitive research on paid search campaigns, so much so that it can be used as the best tools as compared to others for spying on your competitors.
SEMrush offers great insights to your competitors website in terms of rankings and PPC. The data is very solid and can be used for implementing and executing own strategies. Millions of users worldwide use SEMrush for its incredible features and All-in-one flexibility.
Ad Vault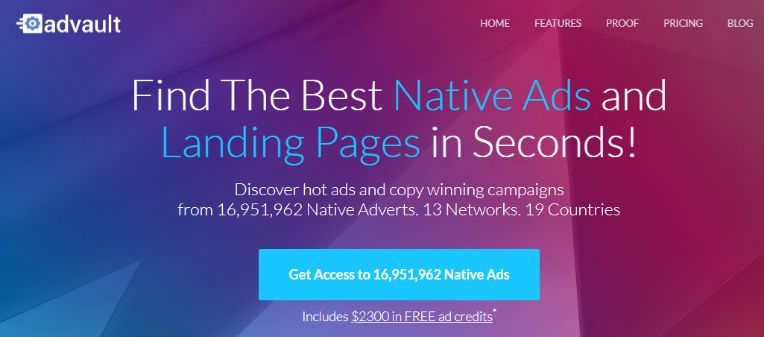 Ad vault is primarily involved in identifying winning native ads campaign. It is an impressive platform used by thousands of affiliates worldwide. It functions across thirteen networks in over nineteen countries. Like other spy tools, it also lets the user search by ad strength and popularity metrics, giving them every chance to discover trending creatives and offers.
Additionally, ad vault focuses on landing pages and funnels to identify their competitor's campaigns to their foundation and see how they are managed. It integrates software through which the user can easily find keywords, trending ads, and advertisers. One other notable feature hosted by Ad vault is the Lead Finder integration, enabling you to contact advertisers suitable for partnerships.
Ad Sector
Ad sector filters ads based on functions, target market interests, downloadable landing pages, all on a clean, simple interface. Ads get filtered based on the affiliate network and tracking systems and instantly view target market interests.
The ad sector gives its users a corporate advantage. It allows the download and landing of winning ads and pages within seconds. It then utilizes this information to launch the most successful campaigns. The ad sector lets you filter by affiliate networks.
The user can also filter by interests, which give more insight into the leads. The ad sector also finds images the resonate with consumers to make them emotionally connect with the product. The ad sector provides the most comprehensive analytics in the industry.
SpyPush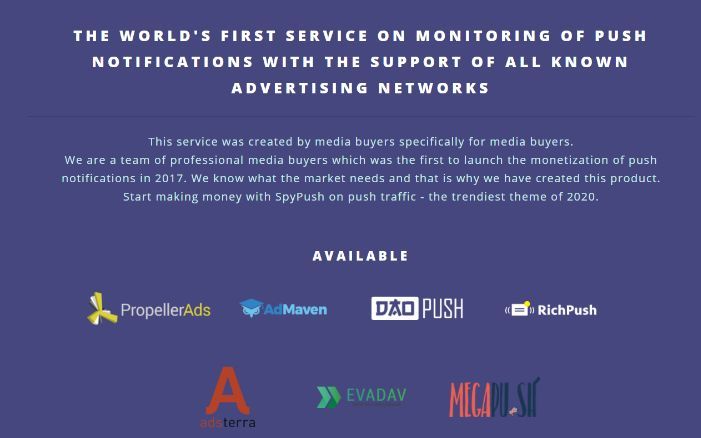 SpyPush is a very well-known push notification monitoring service with a sleek design. It upholds many ad networks, for example, PropellerAds, DatsPush, AdsTerra, EvaDav. Affiliate marketers and media marketers will be pleased with the platform for its clean interface and simplicity of use, plus its broad data from over 500,000 push ads.
There also exists offers for a free trial so that you can explore a limited version of the service at zero payment. Although this trial is restricted to a certain number of GEOs, in most cases, it will provide to be enough for you to get familiar with the features of the software.
The data is well-formatted and looks extremely user-friendly, and the title can be perceived with great ease, with a glamorous look to it. You can click through to the advertiser's different reference links and explore other creative styles, to give you a better view of what's trending in your genre. You can select the language, country, device, and network and sort by time and even save the ones of your liking.
Ad Spy
Ad spy is the largest searchable database of Facebook and Instagram ads in the world. It is a powerful software that keeps top advertisers innovating and holds social media organizations accountable for their content. Comprehensive data from social media sites put one in control of the fastest developing advertisement agency platforms on the internet.
Ad spy offers more than just keywords. It uses an Ad Intelligence tool so the user can find the data they want when they want. Ad spy is the only ad intelligence tool that incorporates data from all top social media platforms. Ad spy ensures a continuous expansion of their data to give the user's campaign the greatest success foundation. It promises that if there is ever a massive hot product in the market, Ad spy would already be informed of it.
Adsova
Adsova is an excellent paid tool that offers a trial version at only one dollar. It has an enormous collection of over five lakh ads. Adsova refreshes its database every day to provide its users with the latest ads used in business. It contains both visual as well as text ads.
Adsova allows its users to spot the newest and ongoing trends quickly. It hosts a powerful feature to spread the word about one's latest products through their mobile and network news feed ads. Adsova also includes right-hand ads that allow retargeting and creating awareness about one's brand. Adsova also has an active ads feature, which is relatively new from Facebook, and that shows all the ads the user is currently running on Facebook.
Social Peta
Social Peta is a massive database and powerful search feature with seventy-three ad networks. Intelligence with ads, markets, cost, app, audience, e-com, and brand helps their user develop their business in all marketing decisions.
It offers ad inspiration and optimizes the user's acquisition strategy by displaying ads, playable ads, feature search and filters, and audience insights and campaign analysis. Social Peta promotes the concept of learning from one's competition to drive business growth and maximize revenue. It covers Ali express and Amazon product analysis helping their users find hidden gems.
Bigspy
Big spy has the creative tool comprising complete premium software for media buying, art designing, advertising, ad agencies, user acquisitions, market niches, and product aspirations. It includes ads from over six social media platforms. Big spy has an intuitive database and continuous insight into over one billion ads.
It hosts a powerful search feature searching and filtering ads by types, countries, formats, industry types, and CTA. Their intelligence picks up daily trending ads. It tracks people through their new ideas and niches. Big spy displays product reviews to enhance the confidence of prospective while serving their users.
Spyover
Spy over is a native ad monitoring and analytics service. It analyses one's competitor's ads to be one step ahead of others. It is the most accessible tool for analyzing ads. It downloads ads and landings all in one click. It includes the translation of advertisements into English. It sorts the ads in its database by popularity, lifetime, and trend. Spy over consists of an opportunity to see the ads, which led to a concrete landing.
OTHERS
Other software that is not classified as spy ad tools but performs many functions covered by them is digital analytics software. An example of a digital analytics software is Google analytics. Google's free analytics service allows its user to provide depth data about the visitors to its website. It provides valuable insights that help companies shape their businesses.
Precautions:
There's no running away from it. You operate in a complex and highly in-demand marketplace. Spying on your competitors and analyzing their pattern isn't just an option anymore; it is now necessary. The only way we can stand at the top in this rat race is to use ad spy tools and get ahead of the competition. Use the tools in this article, and they will provide you an advantage over the rest. Make sure you are not using just one tool. We must be smart in the way we approach things.
Trusting one source is not enough, and we must be capable of seeing the bigger picture using multiple data collected from different sources. It will be most important that you do for your business. But be aware not to get fixated on the data.
After all, Data are just numbers and letters which are useless unless they are being applied properly. You have to set a goal to implement the new knowledge that you have received. Using these valuable insights will only provide you a position of strength. Most of these free spy tools will only limit the experience.
Conclusion:
They may limit various things, for example, searches or data or crucial information, etc. I advise you with great caution to trying them all out and then deciding to see what you like and pay for the one which suits your expectations because you will need all those features to be completely adept and get the full use out of the tool.
There are a huge variety of ad spy tools that can be used. Some are far better for AdWords and Bing. In contrast, others specialize in video, display, audio, social (Facebook Ads and Instagram Ads, or even Whatsapp and Twitter ads) or the other local and native ads.
A multitude of them also displays the land page that they use. There are even specific ad tools for certain particular workings and must be used with caution. Overall, we can see that ad spy tools have become a necessity in the market today and are a keystone to improving your company's position.