Are you looking for an LMS plugin or service to launch an online courses website? If so, you may be wondering if LifterLMS is the right fit for your business. In this LifterLMS review, we'll take a look at the features, pricing, and overall experience of this popular LMS plugin.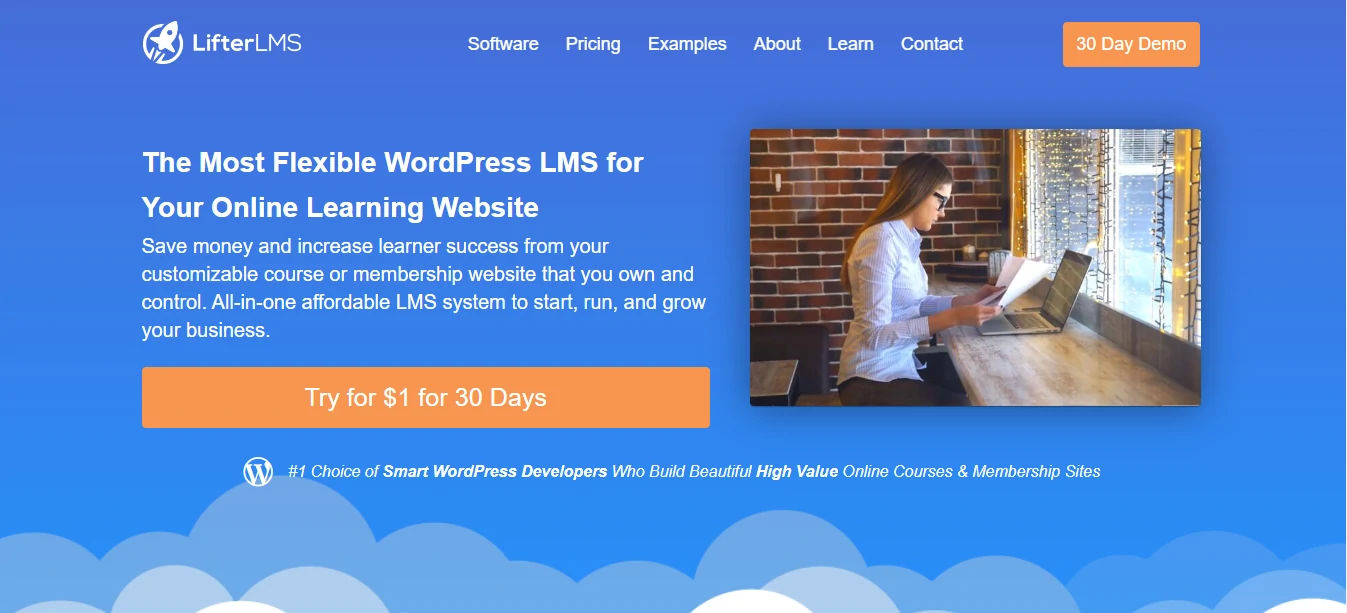 LifterLMS is a WordPress plugin that allows you to create, sell, and protect your online courses. With LifterLMS, you can create courses with lessons, quizzes, assignments, and more. You can also choose from a number of themes and plugins to customize your course site. LifterLMS is a popular online learning platform. It is enables you to create, sell, and manage your courses and memberships very easily. LifterLMS is available as a free or paid version.
The paid versions starts at $149 per year. LifterLMS has many features that make it a great choice for course management website. With Lifter LMS, you can easily create courses, lessons, assignments, quizzes and surveys in one interface without getting bored of opening thousands of tab. It is easy to set up payment plans, and integrate with other software. In this LifterLMS review, we will take a look at the various features, pricing & subscription plans, and various benefits of it. We will also look at the drawbacks and give you our verdict on whether LifterLMS is the right choice for you.
What is LifterLMS?
LifterLMS is a WordPress plugin that provides an LMS (learning management system) for delivering online courses. It may be used with an existing WordPress theme or integrated into a new one to create an online learning site. The core plugin is free, with package payments beginning at $149/year. It's easier than ever to become the next Udemy! Its paid features come as extra addons that can be installed such as Advanced Quizzes, Videos, Assignments, Custom Fields, Payment Gateway, Private Access and much more.
There are hundreds of websites on the internet that provide online training. To mention a few, popular websites include Udemy, Lynda, The Open University in the United Kingdom, The Digital College, Coursera, and edX. These are all dedicated to online learning and create a self-sustaining learning ecosystem. Other websites also provide online courses or training as part of or in addition to their products or services. These value-added features boost the likelihood of a purchase decision and have proven effective for many online firms.
You may also design or publish courses and establish a company around them. Whatever method you choose to integrate online learning, you'll need a platform that allows you to build a learning environment on your website. It integrates with your current WordPress installation to allow you to construct whole courses complete with lessons, evaluations, certificates, accomplishments, and social features.
An Amazing Course Builder Plugin with Drag and Drop Functionality
Advanced Lessons and Quizzes Creation Process
Easy to Use Course Builder Interface
Highly Accurate Certificate Builder
Monetise Your Knowledge and Skills by Creating and Selling Courses
Supports various Payment Options including Paypal, Stripe
Has a well managed documentation that solves plenty of queries
Academy, Podcast, Community Events to Stay Glued.
A scalable course management solution
Powerful Reporting and Statistics Feature
Create Memberships, Engagements and Achievements
LifterLMS Features
LifterLMS Course Builder
Creating an online course takes time since you must set up many distinct pieces of information and organize everything into a logical framework.
LifterLMS has a drag-and-drop course builder that allows you to simply set up the broad framework of your course and then dive into more granular portions as needed.
Creating a Course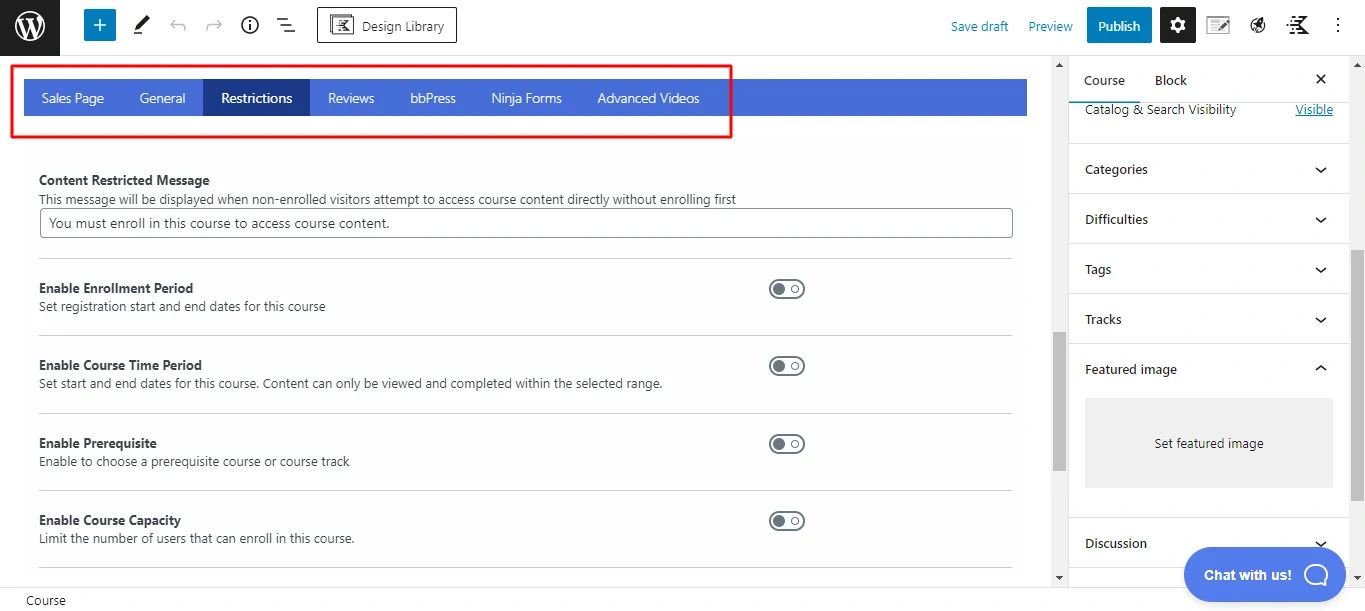 When you initially create a course, the native WordPress block editor appears, where you may configure the course overview material and basic parameters. This is not the course creator.
The usual block editor is at the top, along with certain LifterLMS-specific blocks. Below that is the Course Options meta box, which allows you to configure basic details such as:
Estimated completion time.
Prerequisites.
A featured video.
Scheduling.
Maximum capacity
This is also where you may configure payment choices, which I'll go over in more detail later. When you're ready to begin creating course content, click the Launch Course Builder button in the bottom-right corner.
Drag-and-Drop Course Builder
You get two tiers of material to structure your courses:
Lessons are the actual course content.
Sections divide teachings into distinct categories/units.
You may utilize the buttons and drag-and-drop in the course builder to establish the high-level structure of your course using lessons and sections.
The following diagram depicts the fundamental structure of a course: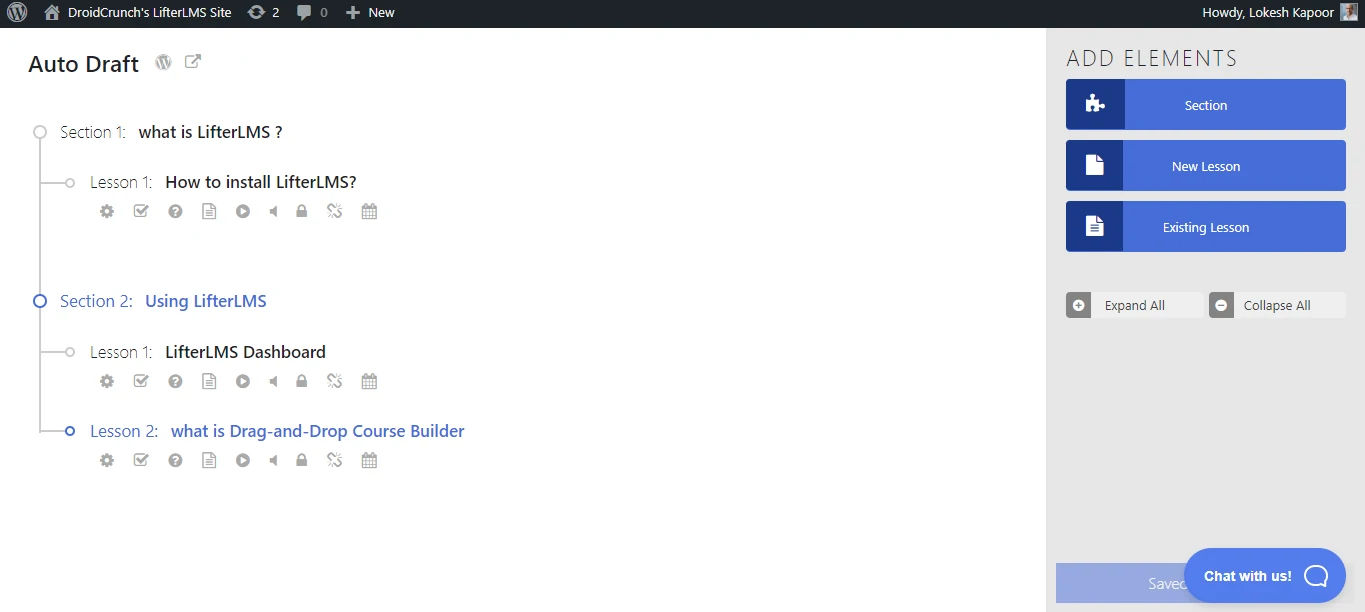 You may also group the lessons into sections, making it simpler to focus on a certain area of the course. Each lesson includes a series of icons beneath it, as you can see (as well as a different set of icons when you hover over it). These icons allow you to rapidly view/edit the content of a lesson. Some indicators indicate if a lesson has specific multimedia, such as video or audio. Other icons allow you to add a new quiz or assignment to the lesson or access the content editor in a new tab. By opening a slide-out and clicking the icon, you may alter fundamental lesson settings. To add text material, you must first access the entire lesson editor: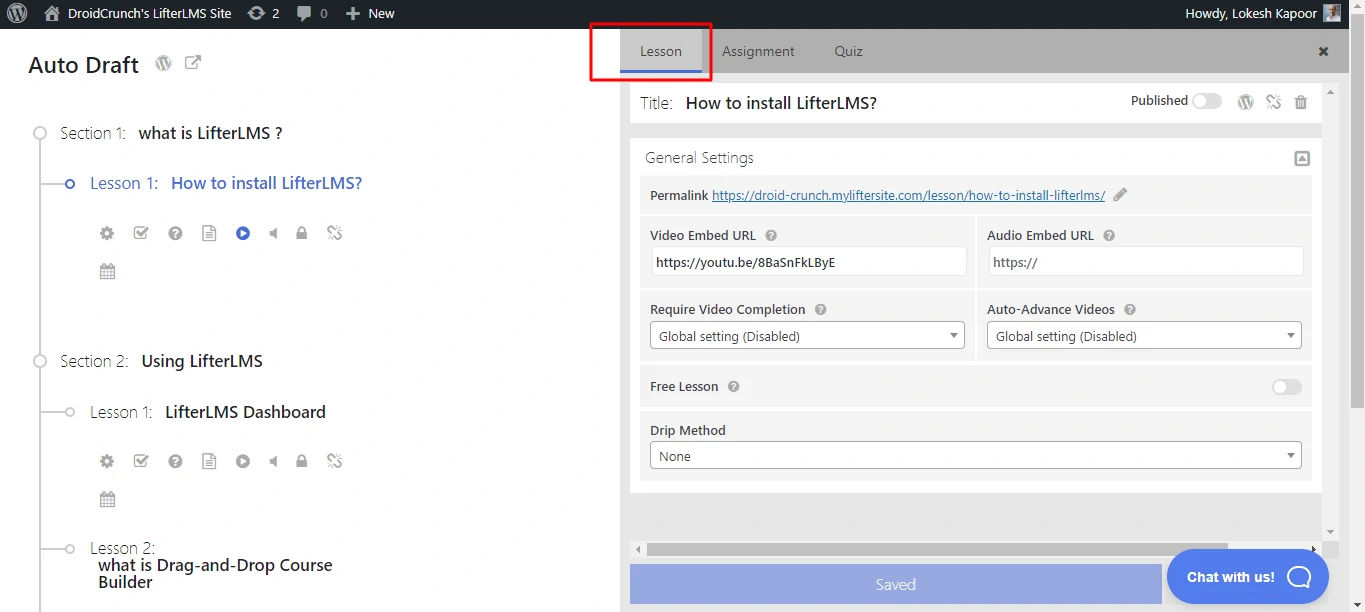 Adding Lesson Content
The lesson content editor provides access to the native block editor for adding text/image material, as well as a Lesson Parameters box for attaching a video or audio clip and controlling other lesson settings.
For example, if you're developing a video course, you may add the video to the Video Embed URL box and then use the content editor to add some companion text: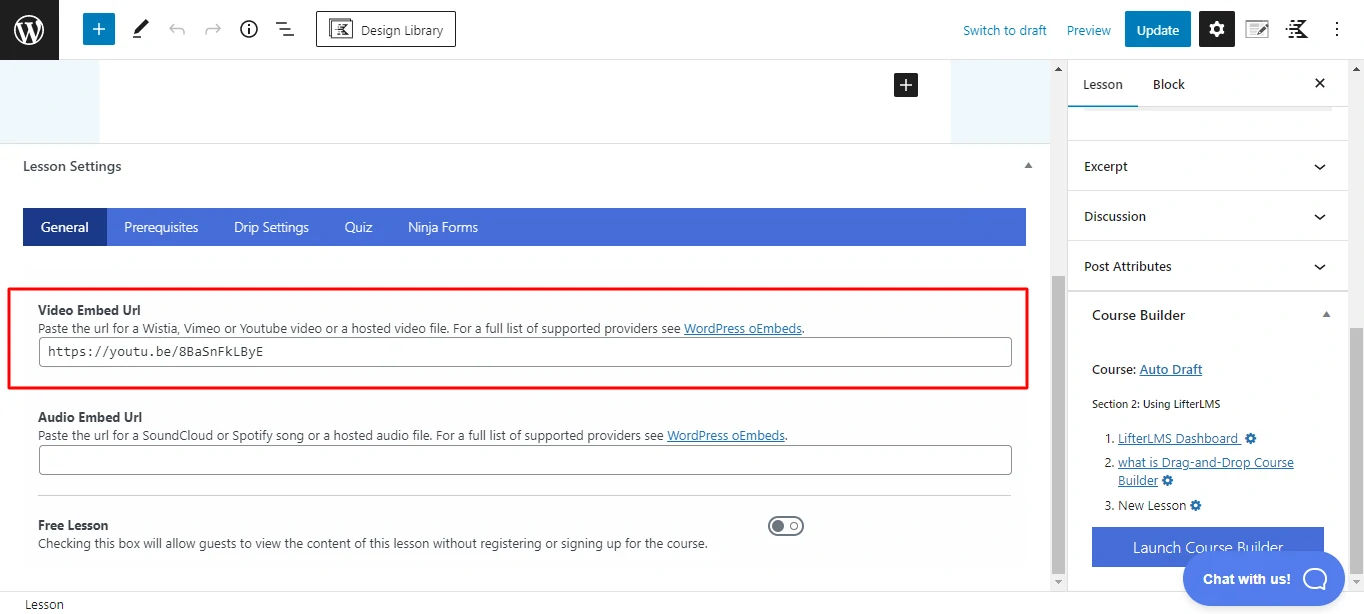 Prerequisites, a content dripping schedule, and other options are also available in the Lesson Settings box.
You can also check where a lesson fits in the course and instantly return to the complete course builder in the sidebar.
Creating Quizzes
You can create a quiz from within the drag-and-drop course builder by clicking the icon for the lesson to which you wish to add a quiz. When you click the icon, a slide-out appears where you may set up your quiz (or add an assignment):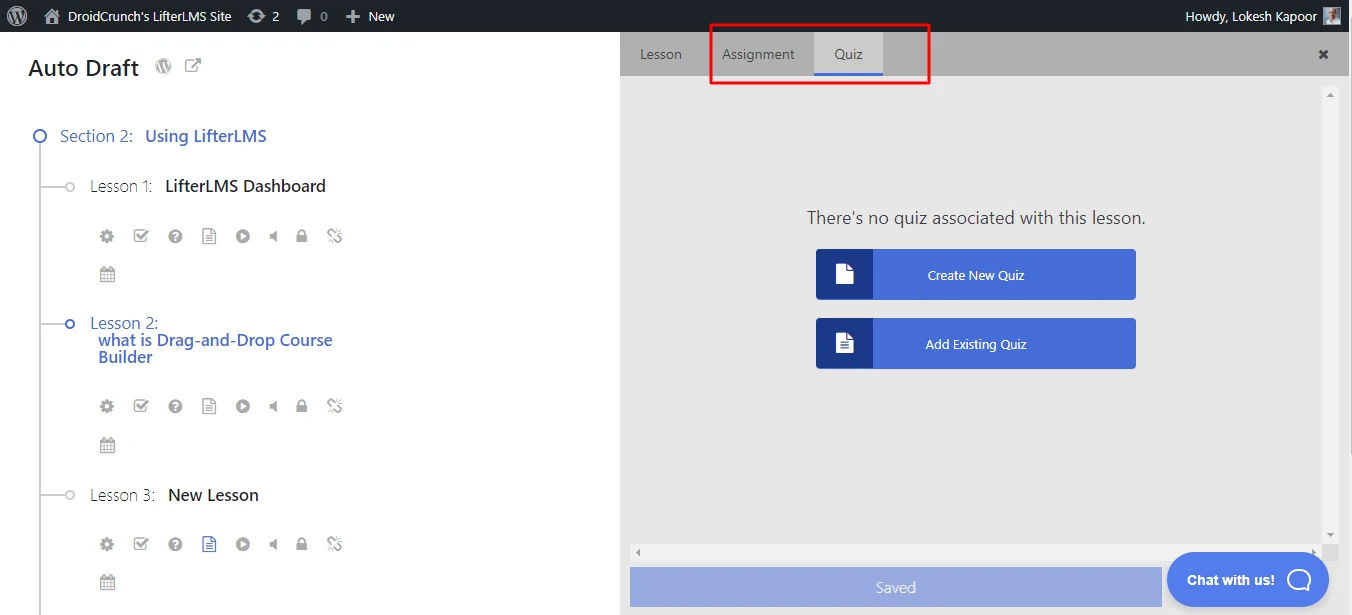 You may configure fundamental details such as passing grades, time limitations, attempt limits, and more.Then you may start adding questions using various question kinds. The Basic Questions are included in the free edition, however, the Advanced Quizzing add-on is required to access the Advanced Questions: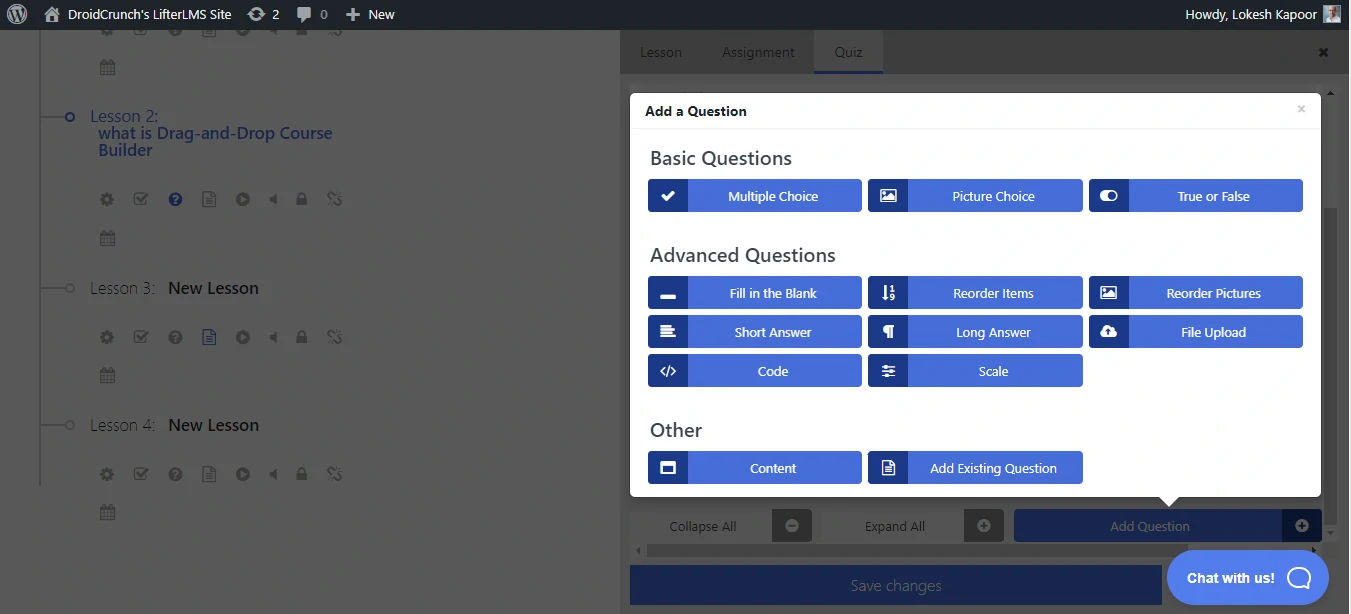 That's a brief overview of how to produce quiz material using LifterLMS.
LifterLMS Payment Options
If you're like most people, you're definitely producing online courses with the intention of selling them and making money. Here's how LifterLMS can assist…
Payment for Course Access
LifterLMS allows you to charge for course access by creating Access Plans while editing a course's parameters.
When you establish an access plan, you have three payment choices to select from.
Free
One-time payment
Recurring payment (on a custom schedule).
You can also specify whether access is lifetime or limited for a fixed amount of time. You may also set up a free or reduced trial period for regular payments. You may establish different access plans for a single course, giving you a lot of pricing options. You may, for example, offer monthly payments or a reduced annual payment. You may even have a prohibitively costly one-time purchase option that grants lifelong access.
Selling Memberships
LifterLMS allows you to sell subscriptions to your site in addition to selling courses. Memberships provide you extra price options; you may use them to:
Access to course packages can be sold.
Give members access to discounted course fees.
Make courses available only to members.
You get the same Access Plan capabilities that you saw above to manage access to memberships.
Sell Private Coaching Upsells
Selling private coaching upsells to your existing students is another option to monetize your courses. This is possible with the Private Areas add-on, which allows you to establish a private space for specific pupils in which you can:
Make specific material for them.
Hold private conversations.
Provide feedback tailored to the user. etc
Offering Coupons
LifterLMS has built-in capabilities for offering promotions, coupons, or vouchers for your courses to increase your marketing. When creating coupons, you may select a percentage or flat-rate discount. You can also restrict their use under certain conditions:
Specific courses or subscriptions are available.
Plans for one-time versus regular access.
Date of expiration.
There is a use restriction.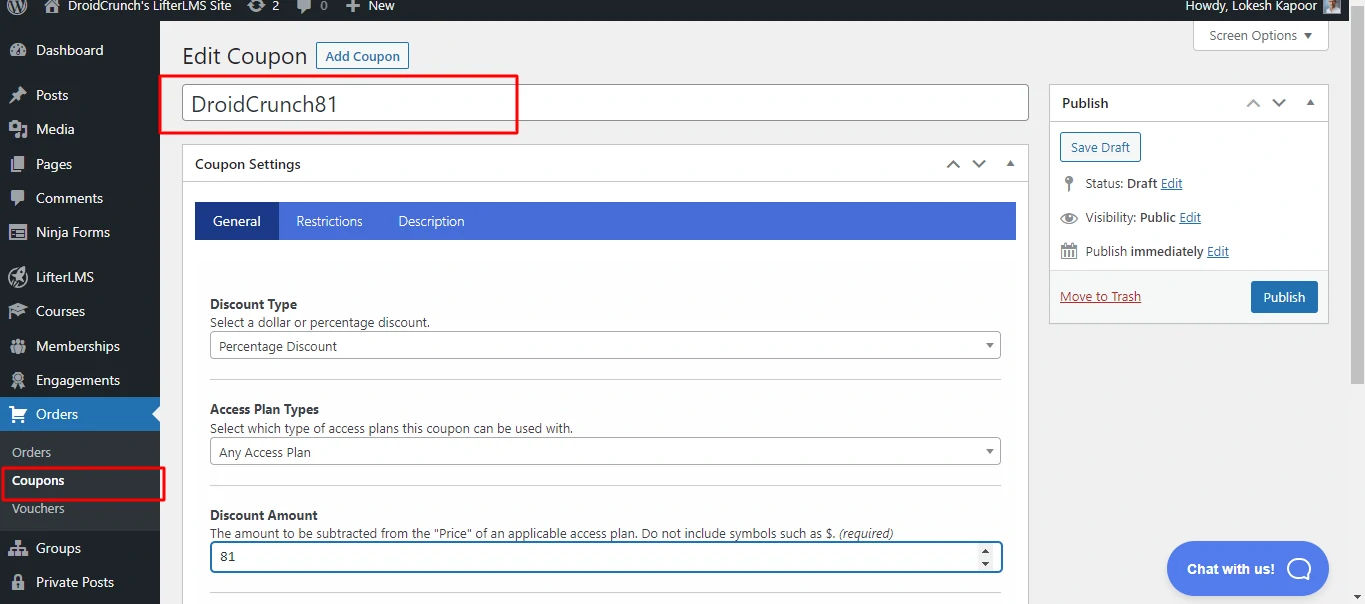 LifterLMS Pricing
PayPal, Stripe, and Authorize.net are the payment gateways. If you require at least three of these integrations, you may purchase the Universe Bundle of LifterLMS for $299 per year for usage on one website. Following that, you may begin accepting payments via PayPal, Stripe, and Authorize.net. You may also utilize your own personal merchant account with only one integration, Authorize.net. By purchasing the Universe Bundle of LifterLMS, you will additionally receive email marketing connectors for MailChimp and ConvertKit.
Private Posts, Social Learning, Advanced Quizzes, and Assignments are additional functionality plugins. They are available in a set as well as individually. Infinity Bundle includes all of the features of Universe Bundle as well as the functionality plugins. Again, the main plugin is free, but in order to accept payments through a single processor, you must spend at least $200 per year and connect it to an email marketing service. And the money is fairly affordable.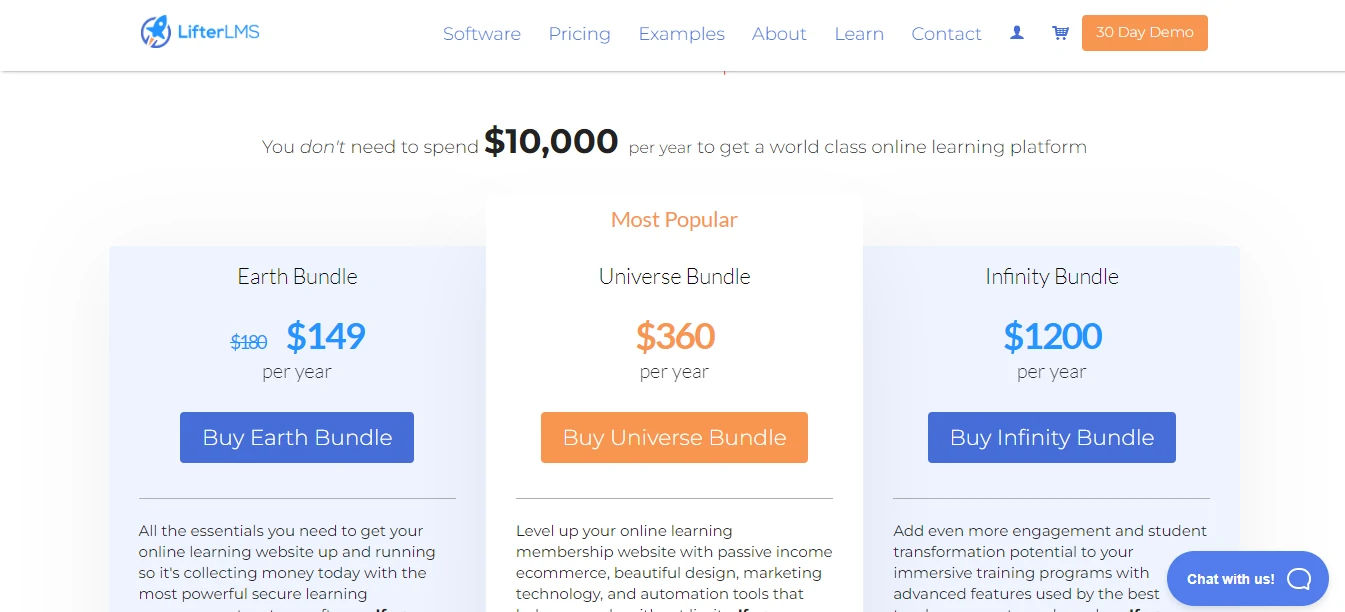 LifterLMS Pros & Cons
Pros
The drag-and-drop course builder is simple to use.
Lessons using multimedia are supported.
Drip material keeps students interested.
A useful student dashboard
Various price methods and payment options are available.
Upsells, bundles, and affiliate marketing solutions are also available.
The Core Plugin is available for free.
Integration with Beaver Builder and Divi is available.
Course Builder is a drag-and-drop software.
Integration with WooCommerce, PayPal, and Stripe
Cons
Free Version is very much limited.
Does not provide monthly billing
LifterLMS Alternatives
If you know where to search, there are always alternatives, some better than others. LearnDash, and Sensei LMS, are some of the most popular WordPress online course plugins.
LearnDash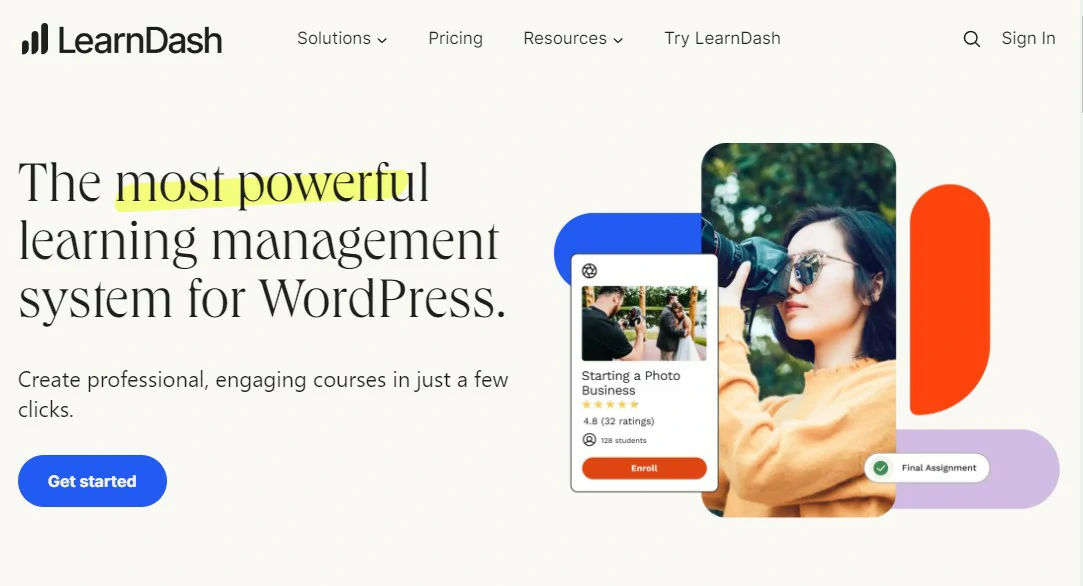 LearnDash is a forerunner in the Learning management platform utilized by the majority of Fortune 500 businesses, and it is the go-to platform for all education-related courses as well as the sale of all professional-related courses to users. Along with their great features, they also supply their clients with a variety of add-ons to make it a one-stop solution for all online learning-related activities. LearnDash interfaces with leading firms such as woo commerce, Stripe, Samcart, and others to expand the functionality of their website.
LearnPress
Payment methods, drip content, assessment tools, WooCommerce integrations, certifications, and other essential tools are available through the add-ons. There are also LearnPress-optimized themes that operate in tandem with the plugin and any extra add-ons to create a full-fledged eLearning website. LearnPress is intended to serve as an introduction to LMSs or as an addition for those looking to add a course or two to their website. It is not a full-fledged Learning Management System with all the bells and whistles like LearnDash, and it lacks a wide range of functionality. You can conduct a basic course with the free plugin, but if you want to expand your offering, you'll need some of these expensive additions.
FAQs
What is LMS?
LMS is a software tool that allows you to create, manage, and distribute e-learning courses, similar to how Word allows you to write papers or documents and Gmail allows you to manage your email. As a result, it is acceptable to state that the "source" that oversees electronic learning is known as an LMS.
Is LifterLMS a free plugin?
LifterLms is, indeed, a free WordPress plugin. However, in order to enable more features and addon you may need to upgrade which can be a deal breaker decision.
What are the finest WordPress learning management systems?
LearnDash, LifterLMS, LearnPress and Sensei are some of the great WordPress LMS plugins that anyone can use with confidence to create online course selling websites.
Is LifterLMS a decent product?
LifterLMS is unquestionably one of the best WordPress LMS plugins available. It offers a degree of functionality that most others do not, and it nails the membership parts of online courses, something few plugins can handle properly. It is very intuitive and easy to use when compared to other learning management plugins.
Is it possible to get a refund if I'm unhappy with my LifterLMS add-ons?
It is hard to digest that LifterLMS will disappoint you, and it isvery unlikely that you may dislike this plugin. However, If you are not satisfied with your purchase/subscription, you have 30 days to seek a refund.
Over to you with my LifterLMS Review
If you're thinking of making the switch to a digital learning management system (LMS), you can confidently take into account the LifterLMS platform. With its user-friendly interface and wide range of features, it can be a perfect decision for businesses of all sizes. By using the LifterLMS platform, you can easily manage and track your training programs, make updates as necessary, and track your students' progress.
Considering the outcome and use cases, LifterLMS can be a wise decision to invest in. With it easy to use course builder you can focus more on the content quality rather than the plugin. Once setup, LifterLMS can be a passive income generator for you. So, what are you waiting for?
The Review
LifterLMS
LifterLMS is a great learning management software that allows you to build and sell courses right from your WordPress website. It supports various builders, themes and plugins. Its interactive course builder allows you to create course modules faster. Management of courses and lessons is way superior to any other LMS plugin available in the market. It gives you satisfaction and value for money spent on the plugin.
PROS
The drag-and-drop course builder is simple to use.
Lessons using multimedia are supported.
Drip material keeps students interested.
An appealing student dashboard.
Various price methods and payment options are available.
Upsells, bundles, and affiliate marketing solutions are also available.
The Core Plugin is available for free.
Integration with Beaver Builder and Divi is available.
Course Builder is a drag-and-drop software.
Integration with WooCommerce, PayPal, and Stripe.
CONS
Free Version is very much limited.
Does not provide monthly billing
Review Breakdown
Easy to Use

0%

Features

0%

Integrations

0%

Support

0%

Documentation

0%

Scalable

0%

Value for Money

0%

Interface

0%