Canva is a user-friendly online graphic design software that allows users to create professional-grade appealing graphics using a wide range of tools and templates.
The straightforward interface of Canva makes it easy for anyone to create graphics of any type. It also has desktop and mobile applications available. It is very popular among business owners and individuals who want to create beautiful visual content for their websites, social media profiles, or marketing materials.
There are endless possibilities for creativity, thanks to its wide range of templates and integration options.
Canva is undoubtedly an impressive design software on the hand of any individual. With Canva, you can create any kind of graphics, animations, and videos. From a logo, business card, banner, and invitation card to a Resume, Flyer, Poster, Smartmockups,
You are however not limited to graphics now, thanks to the Canva team for bringing video elements and interface to create marketing videos right within the application. Canva is always an app whether you use it through a browser or mobile, tablet, or any device.
Canva makes the designing process quite easy, interesting, and fashionable. In this Canva review, we are going to discuss all the stunning features, pros, cons, pricing, and much more.
Creative Templates: With thousands of templates available for various designs, Canva makes it easy to create professional visuals quickly and easily. You can also customize each template with powerful editing capabilities to match it with your branding guidelines.
Easy sharing: Easily share your creations via social media platforms (Facebook, Twitter, LinkedIn), email addresses, and more. Or embed them on your website directly!
Team Collaboration: Canva allows you to collaborate with your team in real time. It saves you time while being more productive at work.
Adjustments: There are many interesting effects in Canva to use instantly for any selected element. Just select any image and click on the "Edit Image" option from the top bar, and here you can access all the available adjustments and effects to use. Some of the adjustments and effects are however restricted for pro-only users. From here you can adjust Brightness, Contrast, Saturation, Tint, Blur, X-Process, Vignette, Warmth, Clarity, Vibrance, Highlights, Shadows, and Fade.
Canva Photos, Elements, Audio, and Video Library: The huge library of Canva makes it possible to use any graphics of your desire without leaving the app. Whether you need an image, video, icon, or just a graphic, you can search and include it in your graphic right within the application.
Fonts Library: Canva allows you to use hundreds of exciting fonts for your graphics.
Brand Kit: With its brand kit feature you can upload logos, font, and color options for your various brands and use them wherever required in your designs.
Canva Features March 2023
1. Text to Image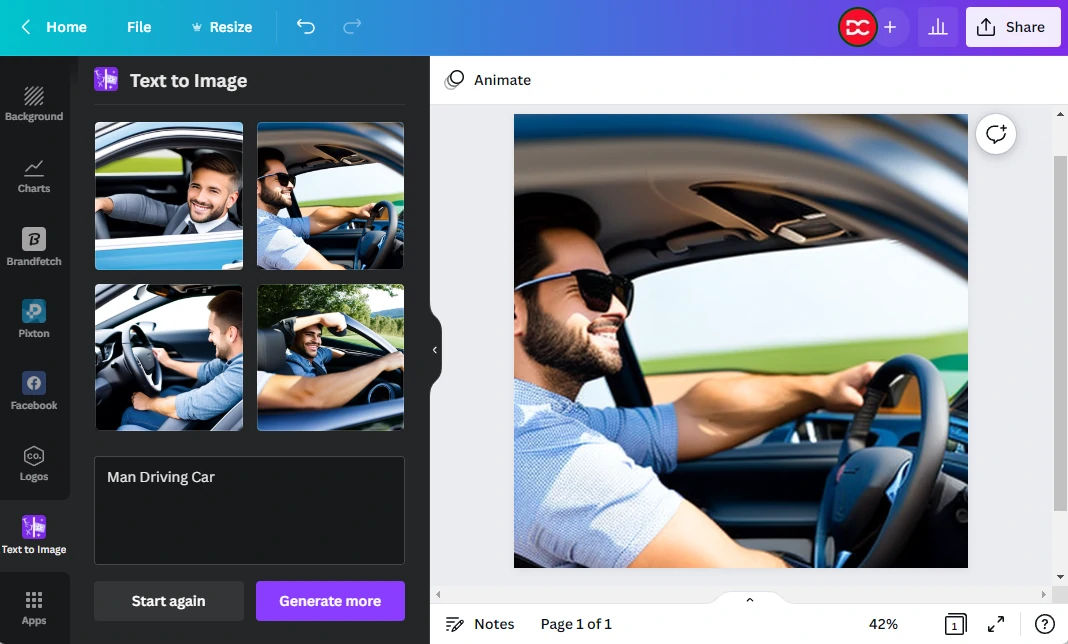 Canva has released a new Text to Image feature that allows you to convert text into an image in just seconds. This simple tool can be helpful for individuals who need to create flyers or other marketing materials quickly and easily.
Simply enter the text you want to convert into an image, and hit "Create." You will then have your image ready in minutes! Text to Image is another great way Canva continues its commitment to making creative content easy and accessible for everyone. The tool works in the same way that AI art generator tools do.
2. Create Videos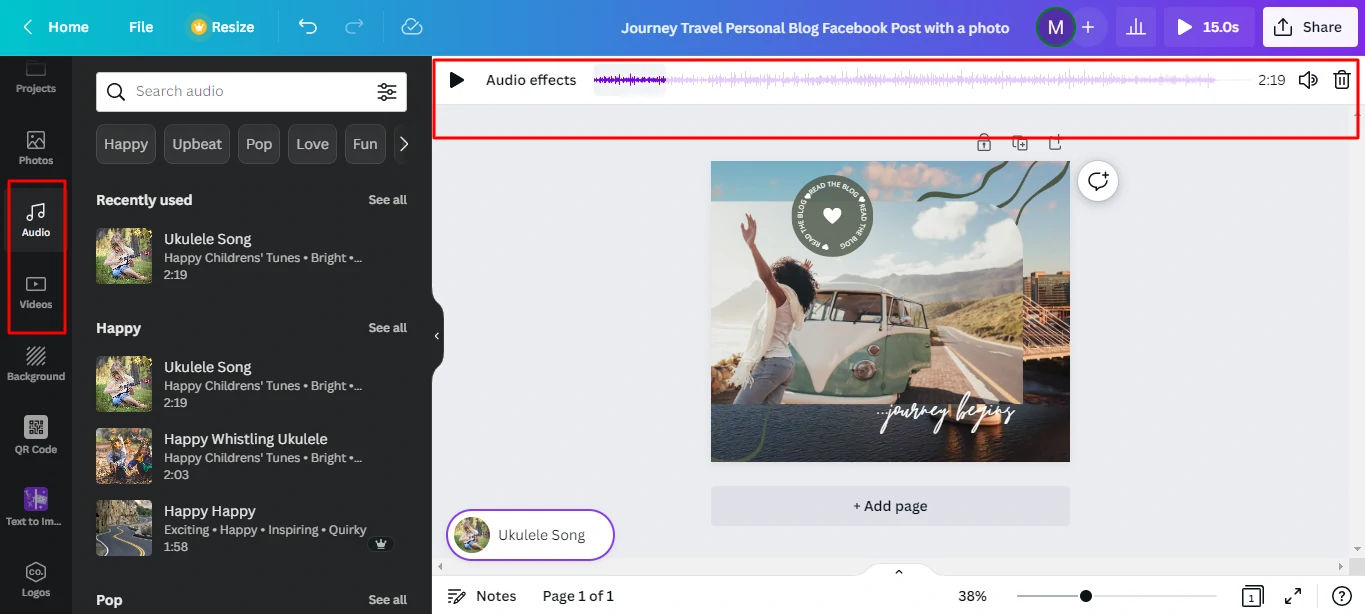 Canva also allows you to make high-quality videos and animations by combining your content with the high-quality stock videos that come with its Pro version. The video editor, like the design dashboard, includes a drag-and-drop builder. You get access to thousands of templates for various platforms.
You can easily animate, add transitions, add texts, change fonts and colors, add graphic elements, and more. Those in need of some creative assistance should look no further than the template videos for Facebook, TikTok, Instagram, LinkedIn, and YouTube. Transitions and music from Canva's library round out the look.
3. Canva Content Planner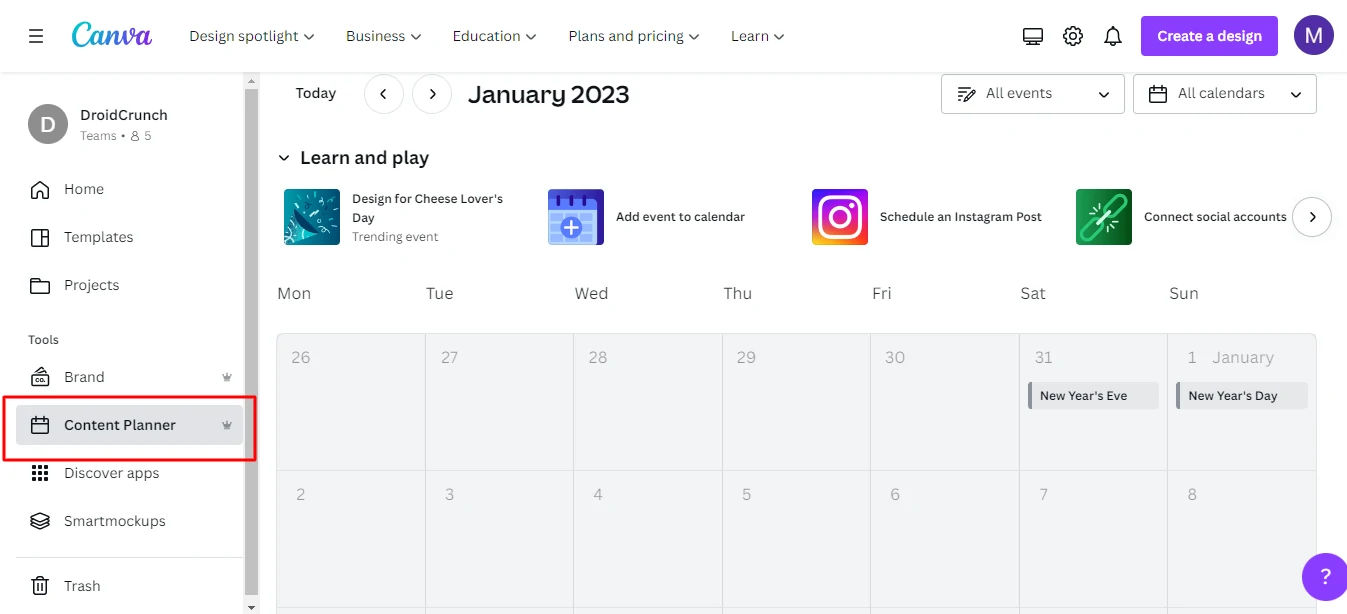 Canva Content Planner is an excellent resource for companies that need to keep track of important dates. You can use the planner to make notes about specific dates, which you can then link to your social media accounts and pages. This way, you'll always have up-to-date information when it's time to post about your progress or share news about those dates.
Any company that uses social media should be well-organized and follow a strict schedule. With the use of this planner, you'll be able to easily create designs on Canva and then share them across all of your devices.
4. Create Smartmockups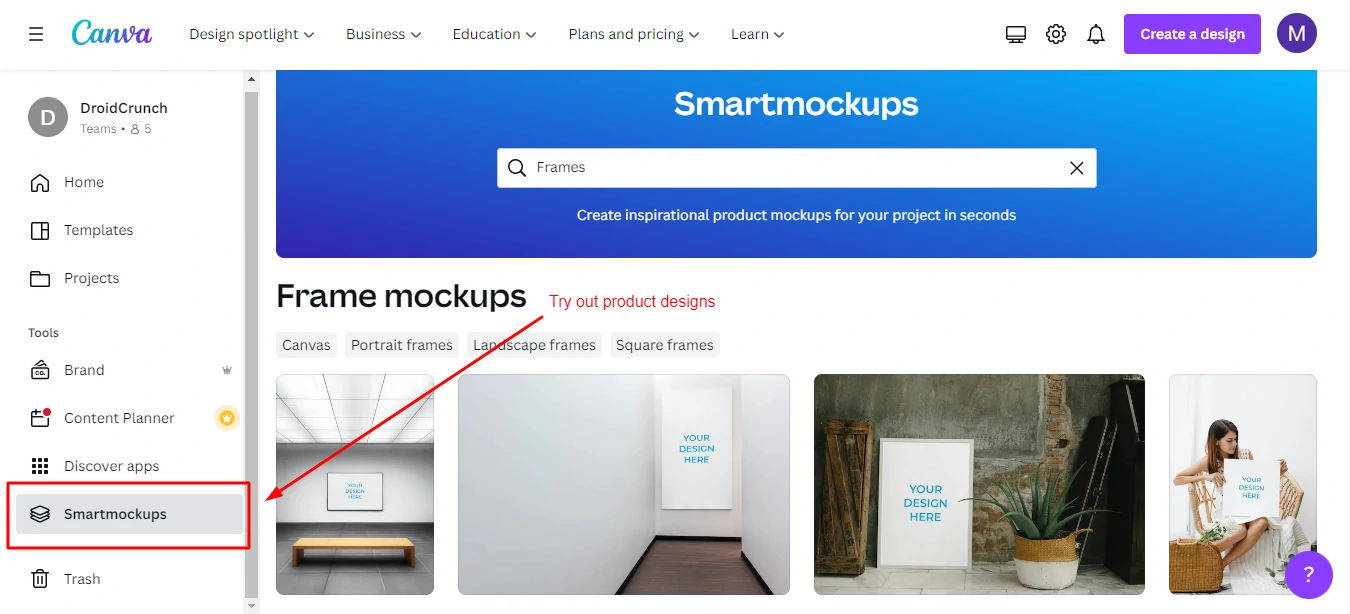 Canva is an excellent tool for developing virtual prototypes. You can use them not only to see how effective your designs are but also to test out different design ideas. For example, if you're designing food labels, using a Canva Smart Mockup will allow you to see how your designs look on various backgrounds and fonts.
There are many mockups available in Canva so you don't need to download mockups or prepare a mockup to be used in your design. You can easily create a mockup from your image within the Canva designing tool. You'll also be able to assess the effectiveness of your graphics and formatting before diving into the project. Canva Smartmockups is an excellent tool for gathering feedback on your product designs. They can be used to label ingredients or as posters, and they provide feedback on how effective your designs are.
Discovelters and icon collections. By exploring all the available options in Discover Apps, you'll be able to produce high-quality content that looks beautiful and performs equally well online and offline.
5. Templates & Elements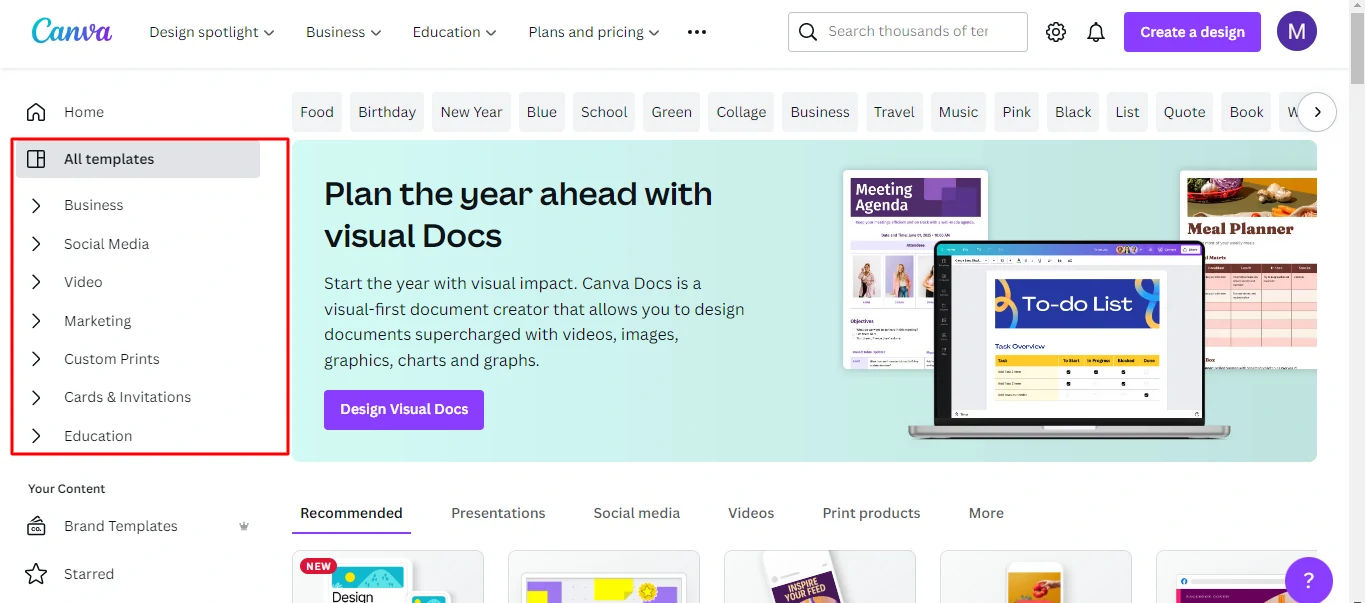 This is one of the most important reasons why many people use Canva. The built-in templates reduce the graphic creation time by 70% and some by 90%. As such, they play a significant role not only for beginners but also for advanced users. These premade templates are available for both paid and free users. Canva Pro users have however access to the pro-only templates also which are not available to be used by free users.
These templates are very well categorized; you can even search for any template of your choice. Just put in the keyword, for example, "sale" and you will find all the interesting templates with different typography, layout, and color related to the sale of any product or service.
You can easily change its styling, set the original images, and export the design to use. There are several filters available in Canva that you use with the click of a button. With the help of these available filters, you can instantly customize the look and feel of your image.
6. Canva Branding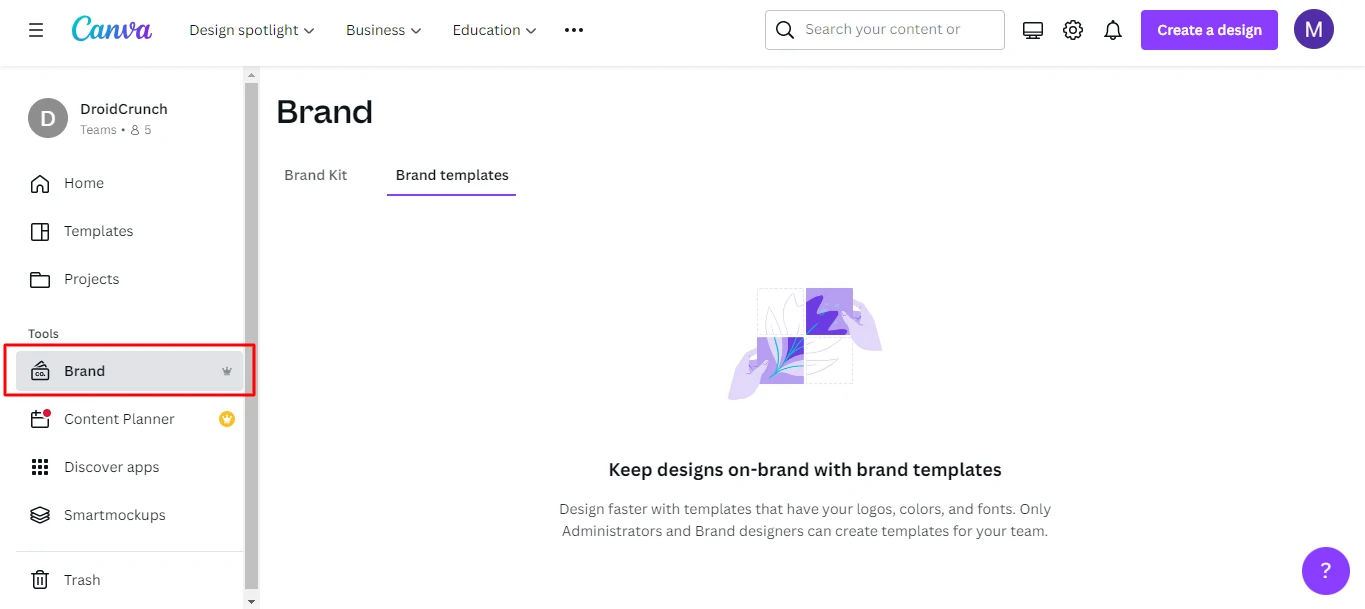 You have a brand kit option in your Canva Pro account where you can upload the logos, set branding colors, and set or upload brand fonts to later use in your design without much of a struggle. With these features, you don't have to search for the brand color hex code or download logos to use in design. Interestingly, you can set up more than one brand kit in your canva account.
How to setup branding
Navigate to your Canva Account > Tools > Brand Kit
Add Brand Logos by Clicking on the Plus icon
Set the Brand Colors
Set or Upload the Brand Fonts
7. Canva Integrations
There are many integration options available in Canva. As such you can integrate some popular apps with your Canva account such as Google Drive, YouTube, GIPHY, Brandfetch, Pixton, Draw, Pexels, Pixabay, Brandfolder, Hubspot, Bitmoji, Dropbox, and much more.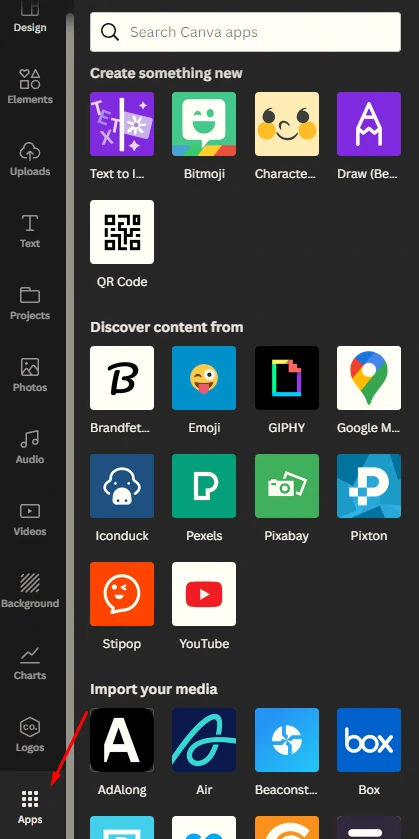 You can find these integrations from Tools > Discover Apps, as well.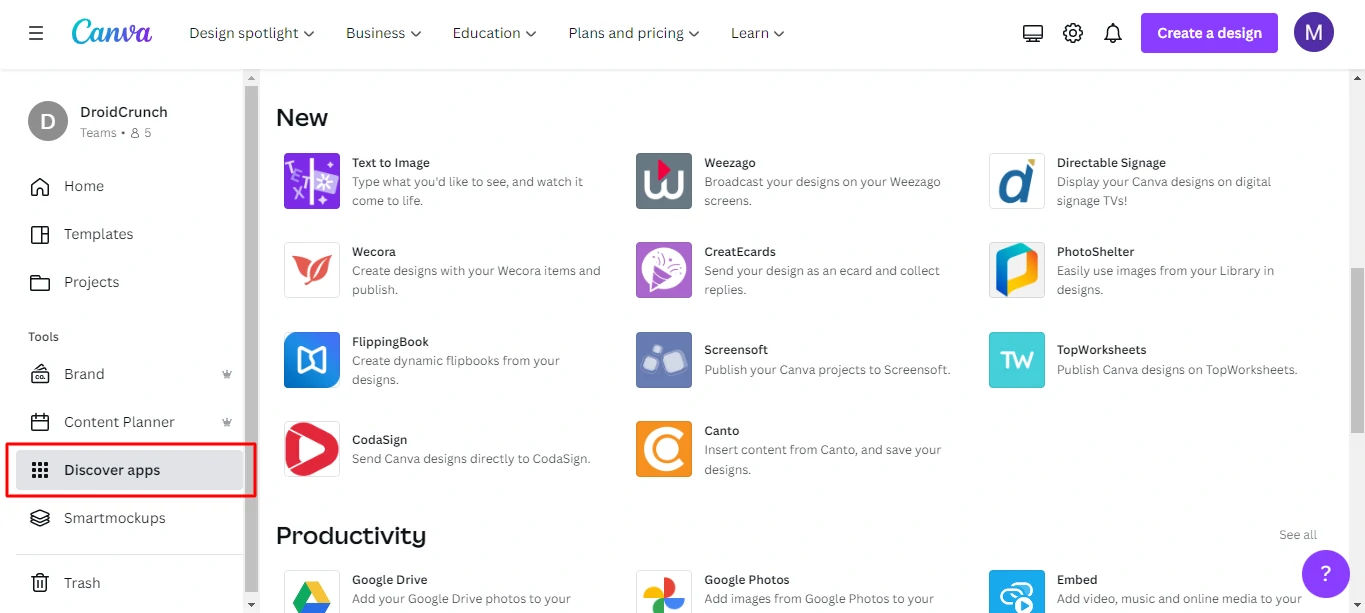 All the apps are categorized into various categories such as Productivity, Design Essentials, Photo Editing, and much more.
8. Assets Library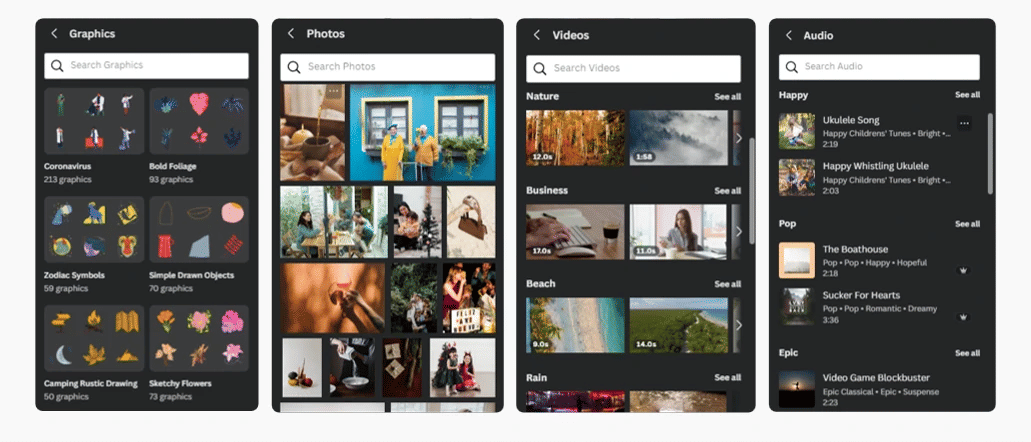 Canva has a great library of icons, graphics, stickers, photos, videos, and audio. The best thing about this asset library is that it is very well categorized. You can easily search and find the desired asset for your project.
9. Fun and Intuitive Interface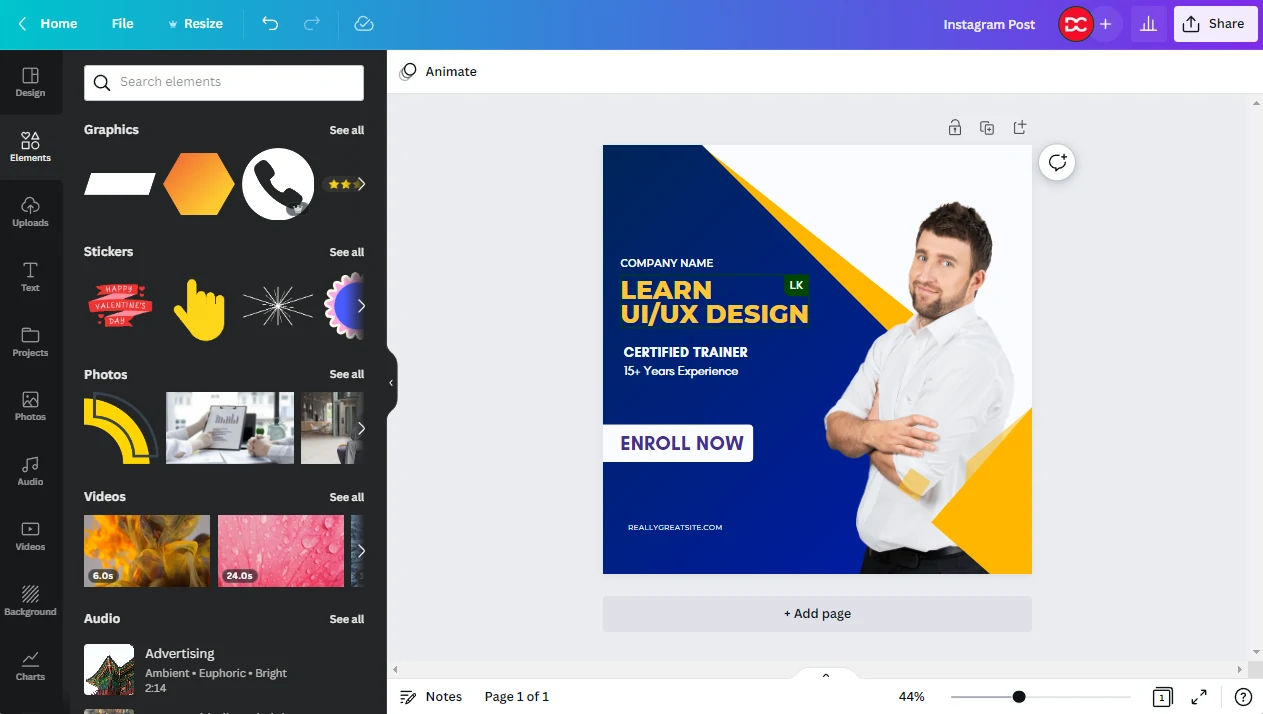 With its colorful buttons and simple drag-and-drop design toolkit, Canva is easy to use no matter how experienced you are with graphic design software.
10. Background Removal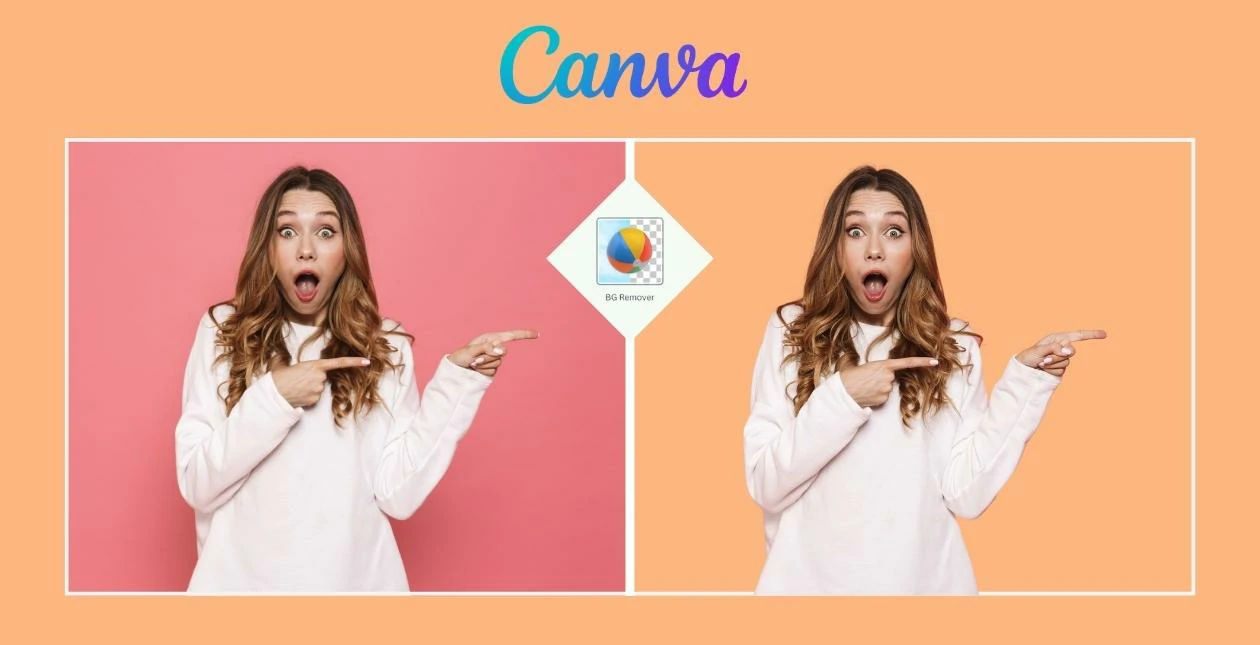 With Canva, you can easily remove the background of any image. The tool works perfectly and saves a lot of time when creating graphics. No matter how hard to removal task is, it removes the background with sharp details.
11. Resize Images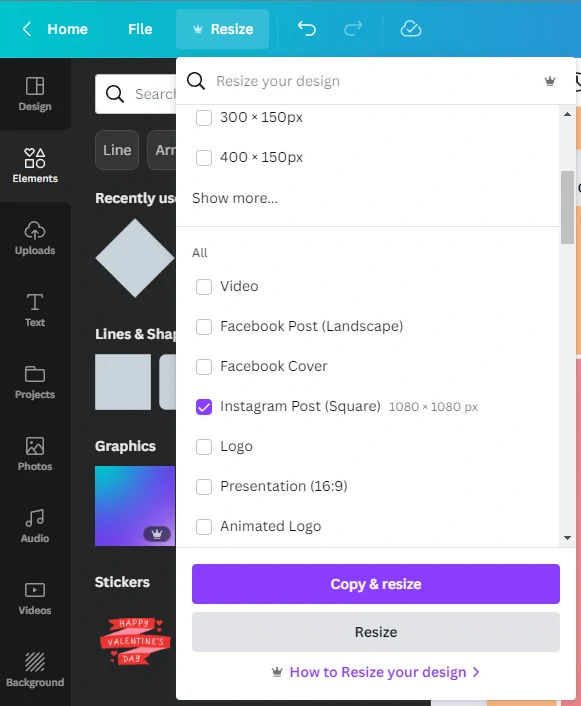 You can easily resize the current design to any design ratio. The best thing about this is the fact that you don't have to lose your current design.
Just click copy and resize button and it will open a new tab with the current design in the desired ratio. Your current design will remain untouched. Clicking the "Resize" button, however, changes the dimensions of the current design.
12. Custom Download Quality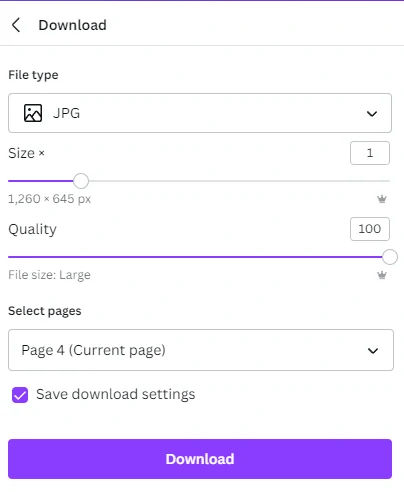 Canva allows you to download the graphics in the desired quality, file type, and dimension. You can opt to download either all, selected, or the current page at a time. You can also save the download settings so you don't have to set them again when you download.
13. Canva Reports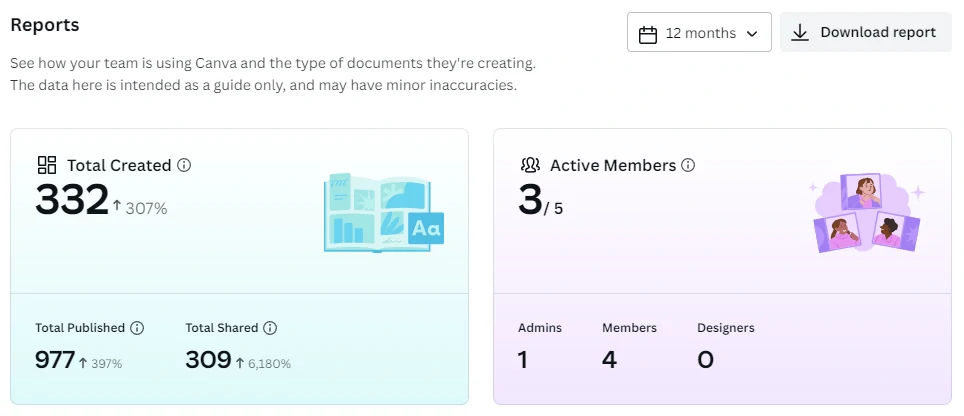 14. Team Collaboration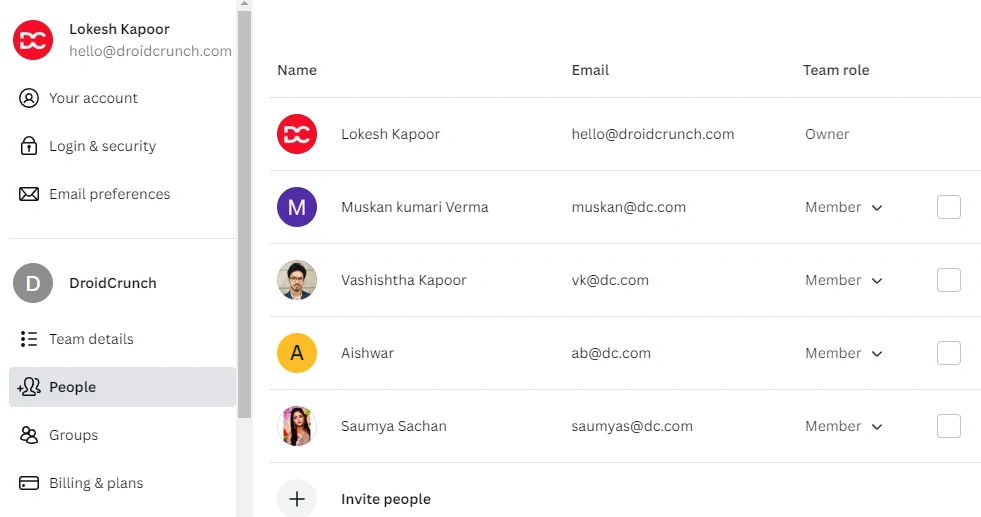 You can add members to your account and then share with them the templates, folders, designs, and brand assets, also mention them in comments, and whatnot to achieve great results.
15. Charts and Graphs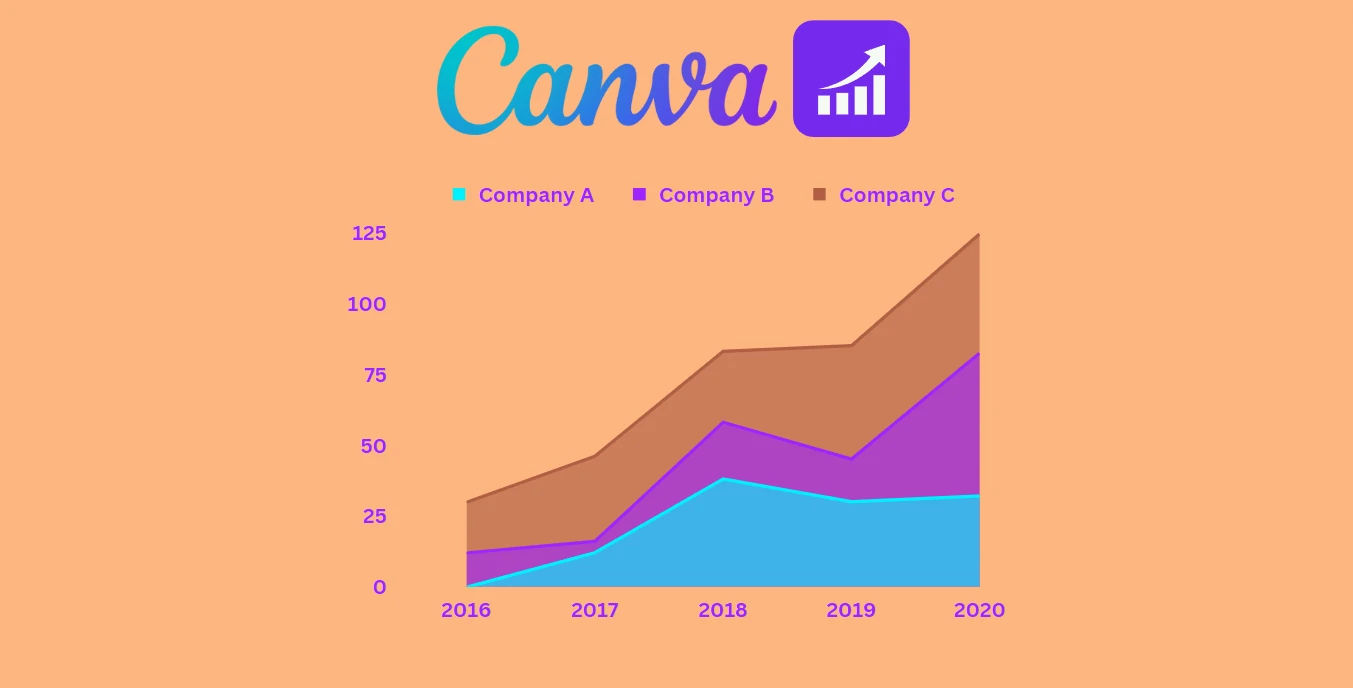 Canva allows you to visualize complex data via beautiful charts and graphs. It is very easy to enter and visualize the data. You can change the colors, and customize the graphs to your needs. You can easily create line charts, pie charts, bar charts, infographics, row charts, funnels charts, and whatnot.
16. Change Color in Vectors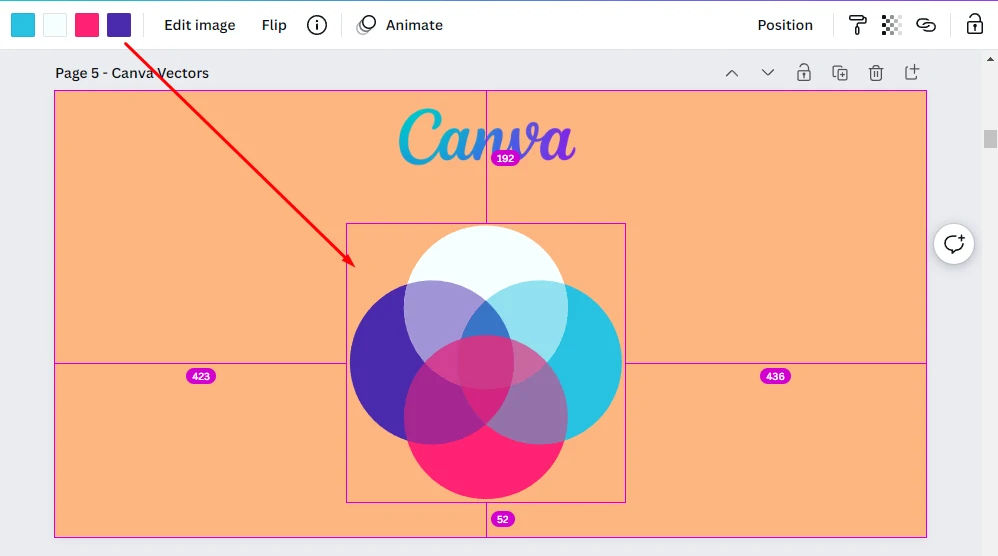 Canva gives you access to countless vector assets in Elements > Graphics. The best part about most of these graphics is the fact that you can customize the colors for them and make them look as your desire.
17. Gradients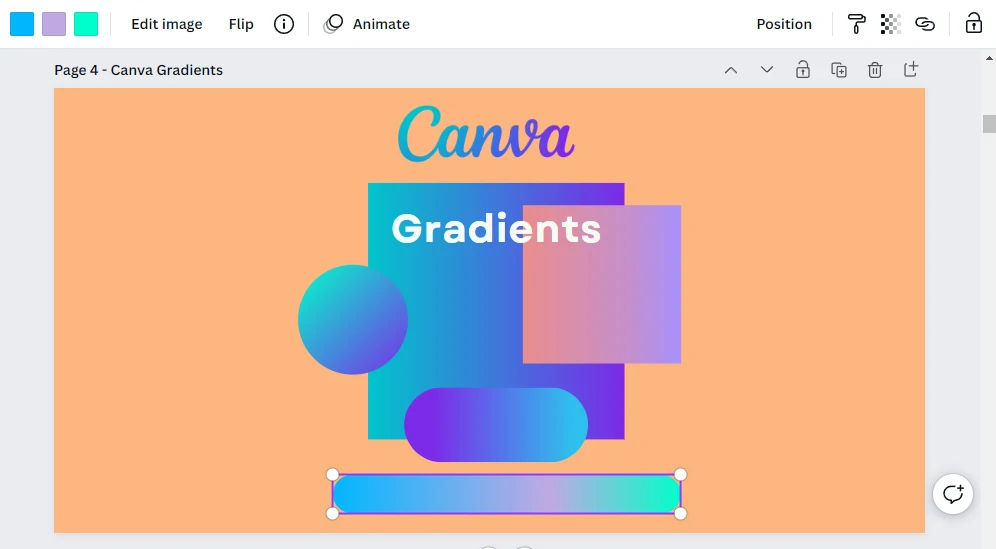 We are living in the modern era and gradients are the trend whether you believe it or not. Canva allows you to use Gradient shapes and elements in your graphics. It gives a vibrant style to the designs.
18. Presentation Recording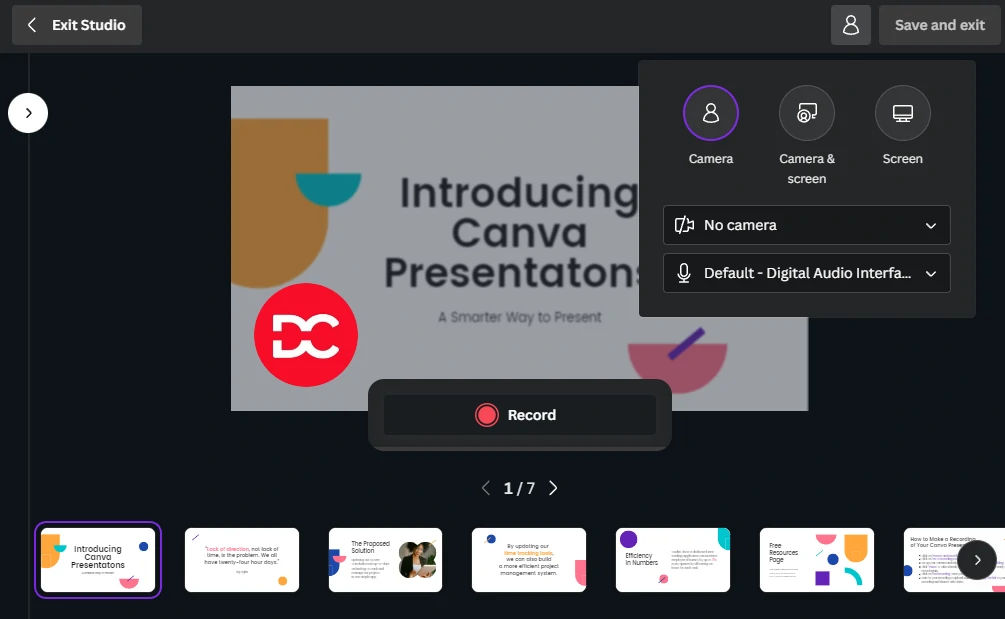 You can comfortably record the presentations using the camera and microphone. To record the presentations, simply navigate to Uploads > Record Yourself. Instead of camera, you can also opt to use the logo instead. This feature is not limited to presentation designs, however, It is a very helpful for recording the presentations.
19. Sharing Designs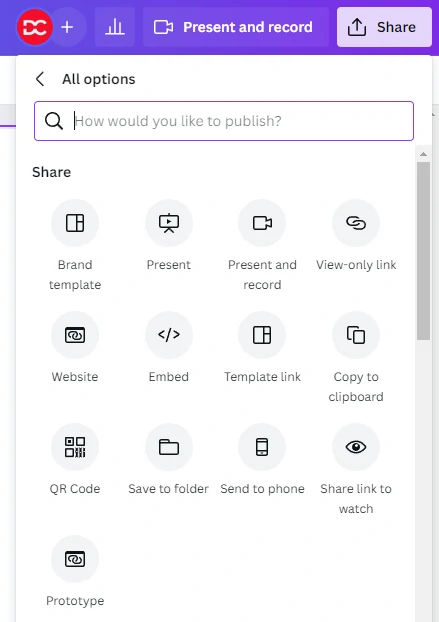 Sharing designs on Canva with anyone is really smooth. You are given plenty of options to share the designs. You can also create a view-only-link of your design to share.
20. Canva Courses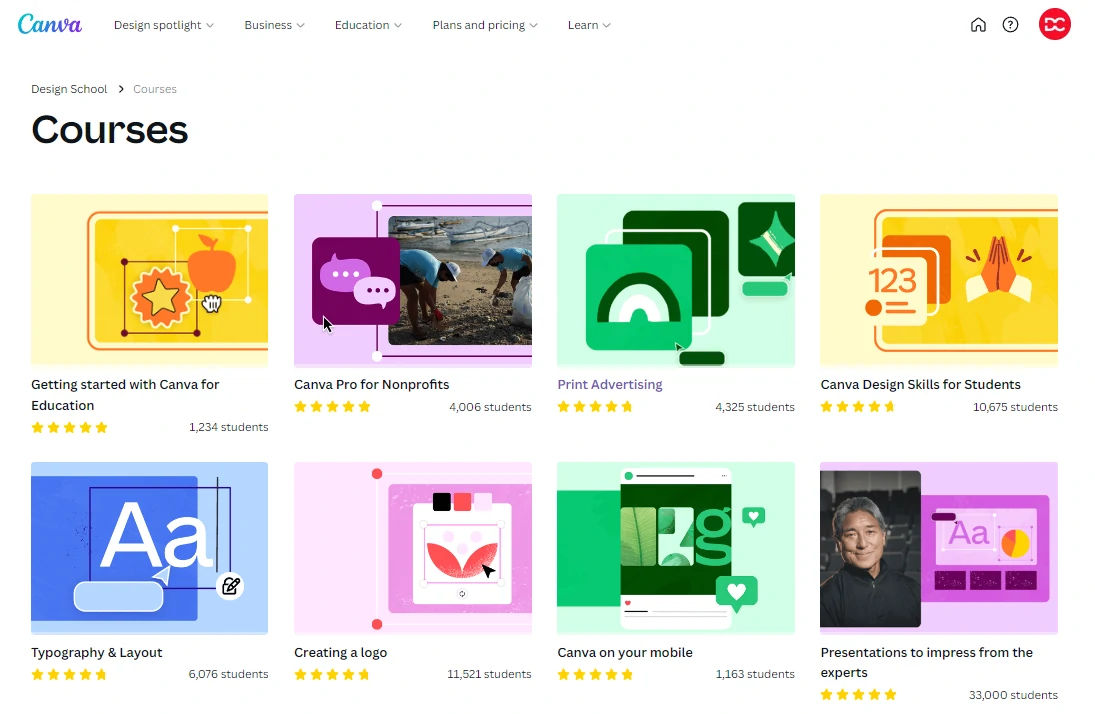 If you are new to Canva, then you can check out their courses page. Interestingly, anyone whether logged in or not, can watch and learn from their courses.
From creating a logo to presentations, a lot has been discussed in the video lessons. All the videos are professionally recorded so you end up becoming a pro in Canva.
21. Integration with LMS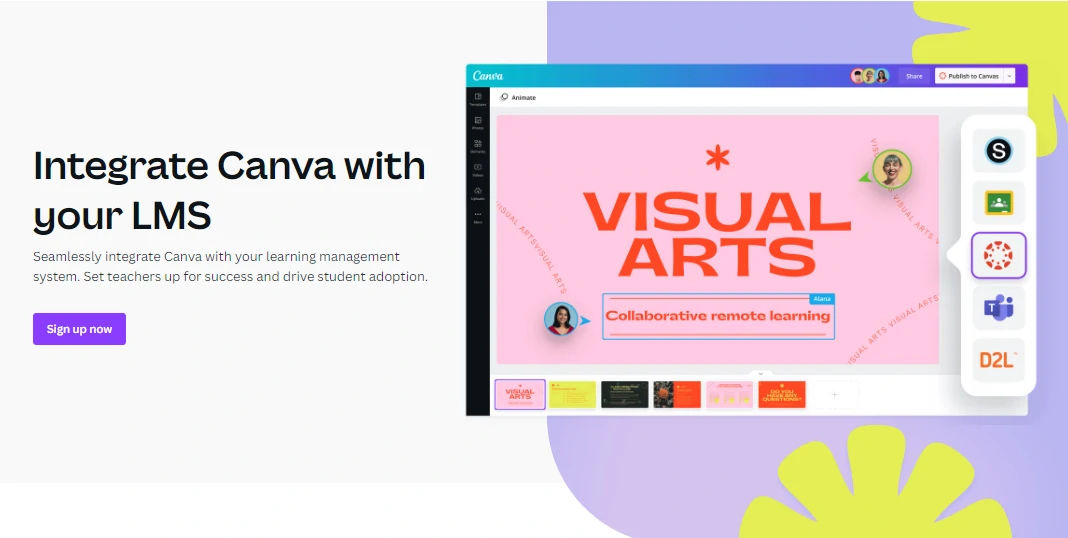 Canva can also be used by the educators to educate their students. One can easily integrate Canva with learning management systems such as Canvas, Schoology, Google Classroom, Moodle, Blackboard, D2L and Microsoft Teams.
22. Canva Animations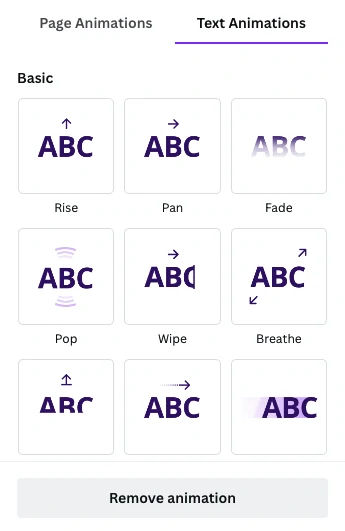 There are various text animations and page animations available in Canva. Text animations include Rise, Pan, Fade, Pop, Wipe, Breathe, Drift, Shift, Merge, Bounce, and much more. You can use these animations in your presentations and videos to make them more appealing and interactive.
23. Canva Mobile App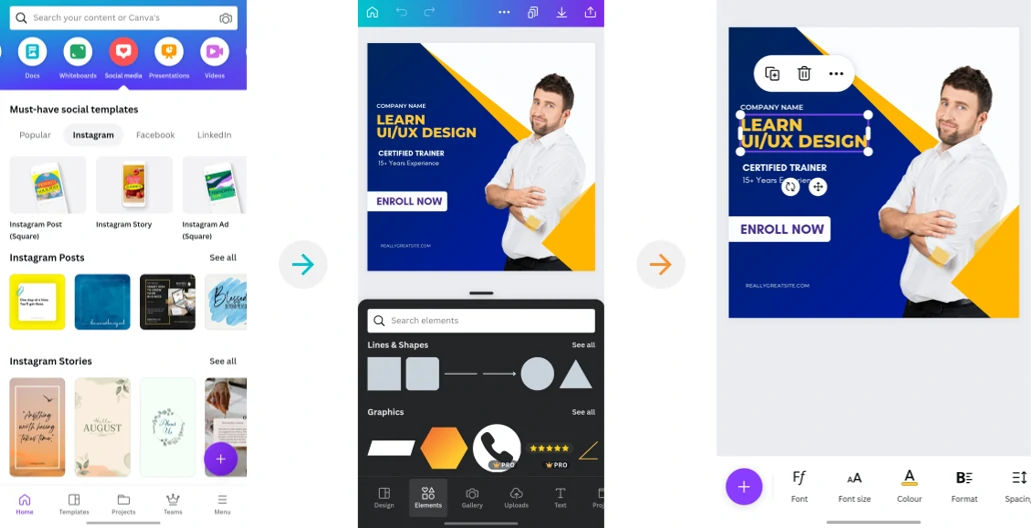 Canva has an impressive mobile application that allows you to create graphics using a mobile device. It is fully functional and you can use all the features as you are supposed to use in the web application.
However, it is always difficult to create complex graphics using mobile as they require high accuracy in terms of positioning and visibility.
24. Managing Projects and Folders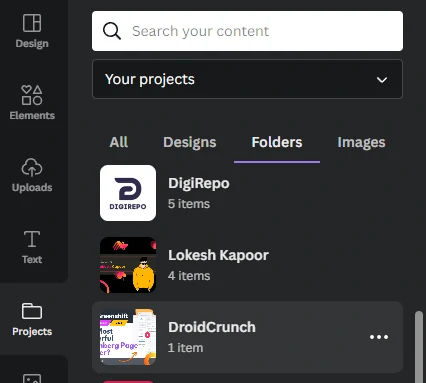 It is very easy to manage projects and folders in Canva. It gives you the capability to create to manage your designs and templates effectively. It is very useful when working with team members on Canva.
25. Autofocus for Images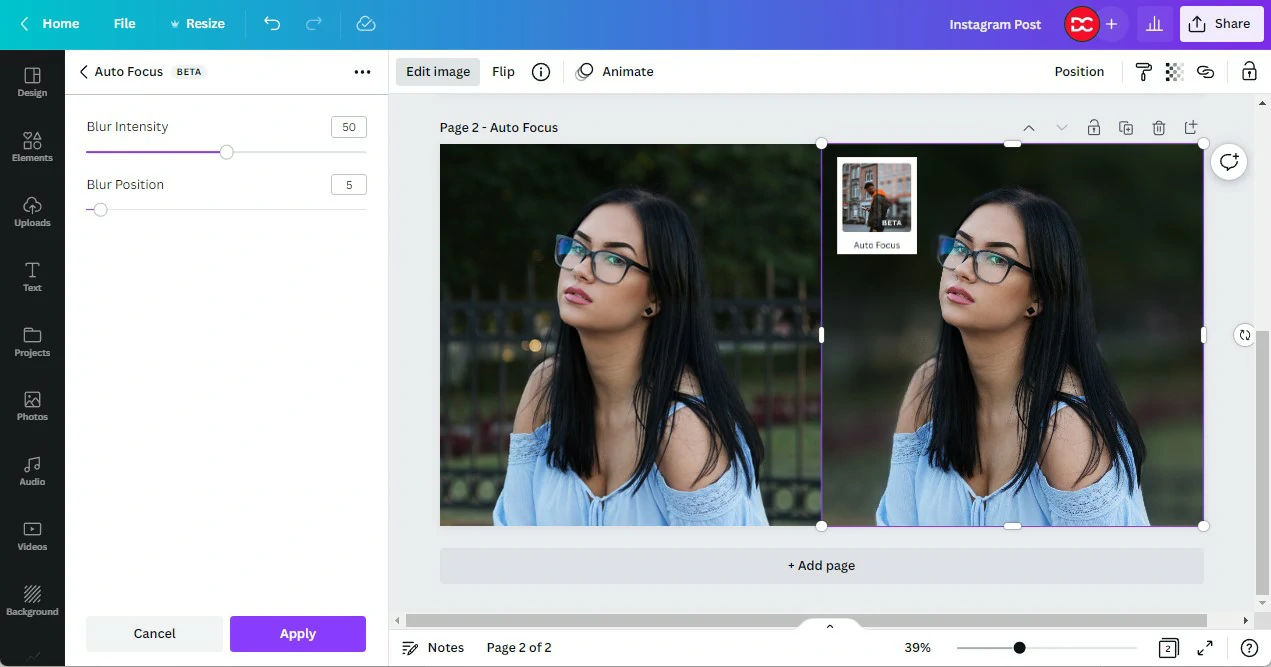 With the new autofocus feature in Canva, you can easily add an autofocus blur effect to the images. You can also set the blur intensity and position. This feature is very useful when creating portraits or designing posters, or YouTube banners or maybe LinkedIn Banners.
26. Image Frames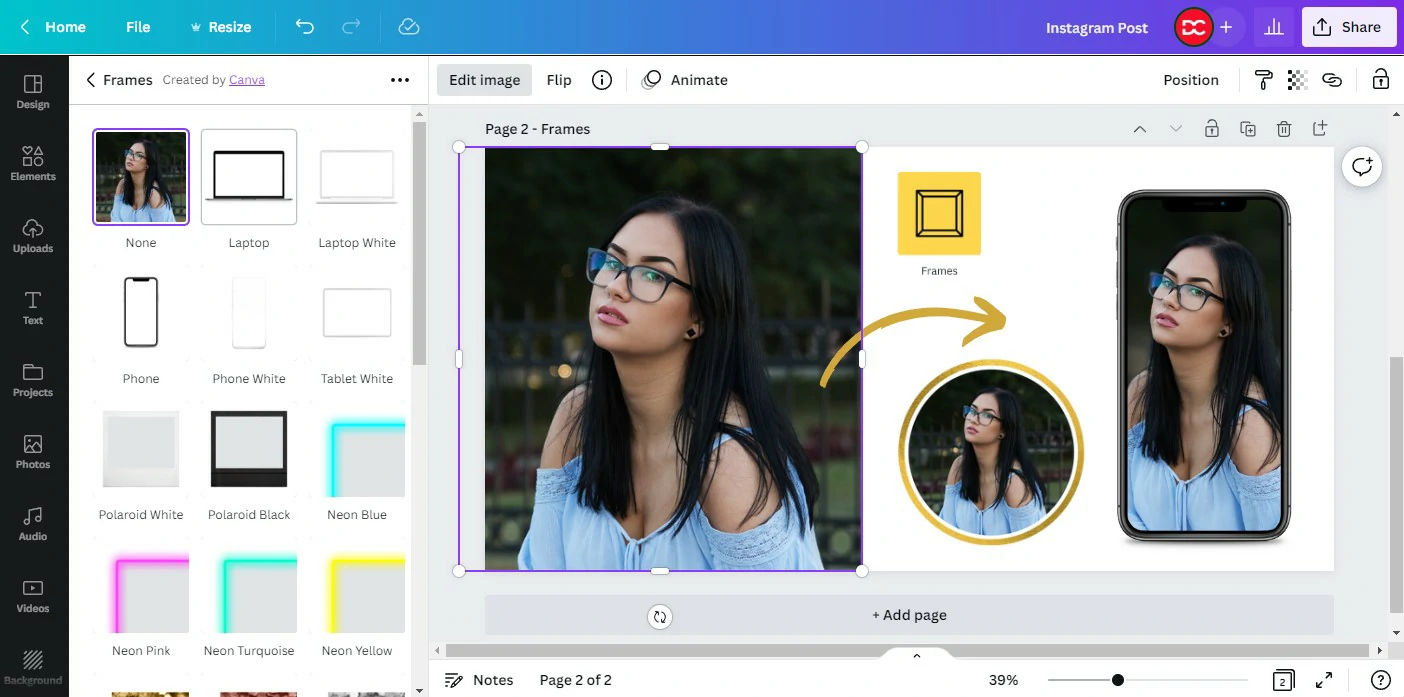 Using Canva you can instantly add frames to your selected images. There are various type of Frames that you can add to the image. You have can add Laptop or Phone frames easily to your images.
27. Character Builder
Building characters on Canva is really fun. This will help you add emotions to your graphics. You can select the faces, heads, body, skin tone and even hair color to design the characters. To design such characters, you will need to use the Character Builder app inside Canva.
28. Apply Colors to Images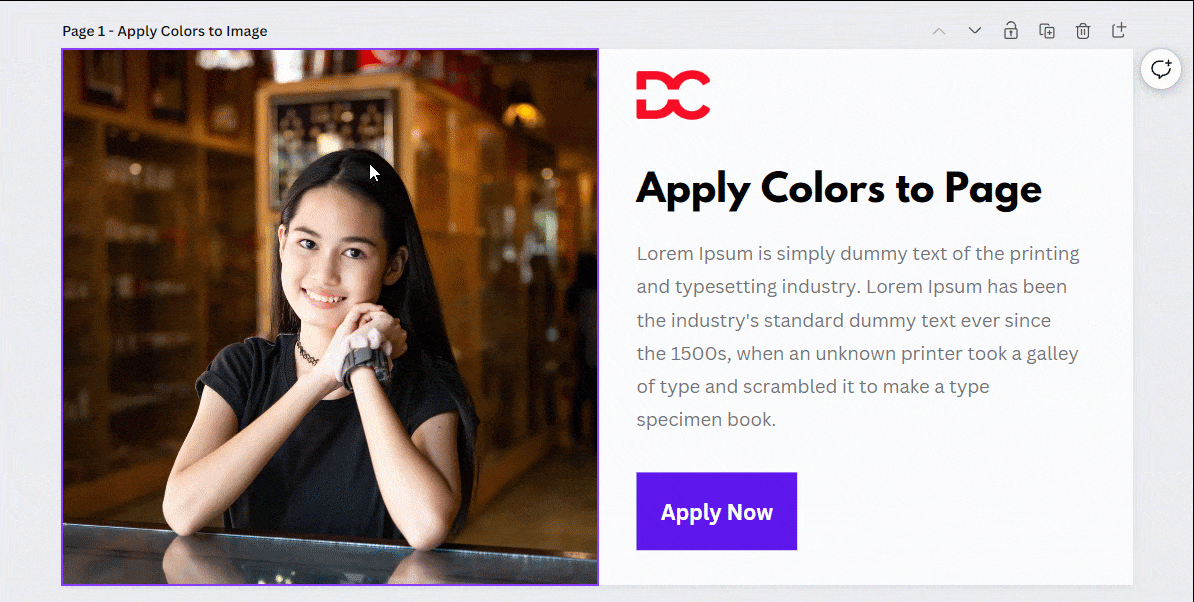 You can easily apply the Image colors to your graphic by selecting the image and clicking on the option "Apply Color to Page". You can randomly right-click on any part of the image to apply colors and choose what suits your needs.
29. Upload Files to Insert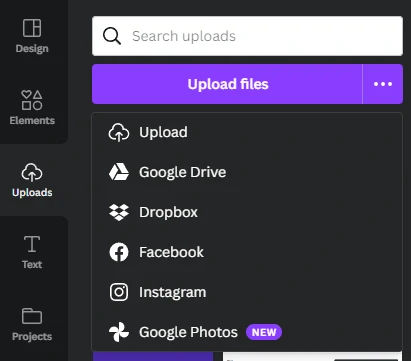 Canva allows you to upload any file type (.jpg, .png, SVG, etc.), so you can easily add images to your content. You can also connect it with Google Drive, Google Photos, Facebook, Instagram, and Dropbox to upload or insert the visuals to the design canvas.
30. Canva for Developers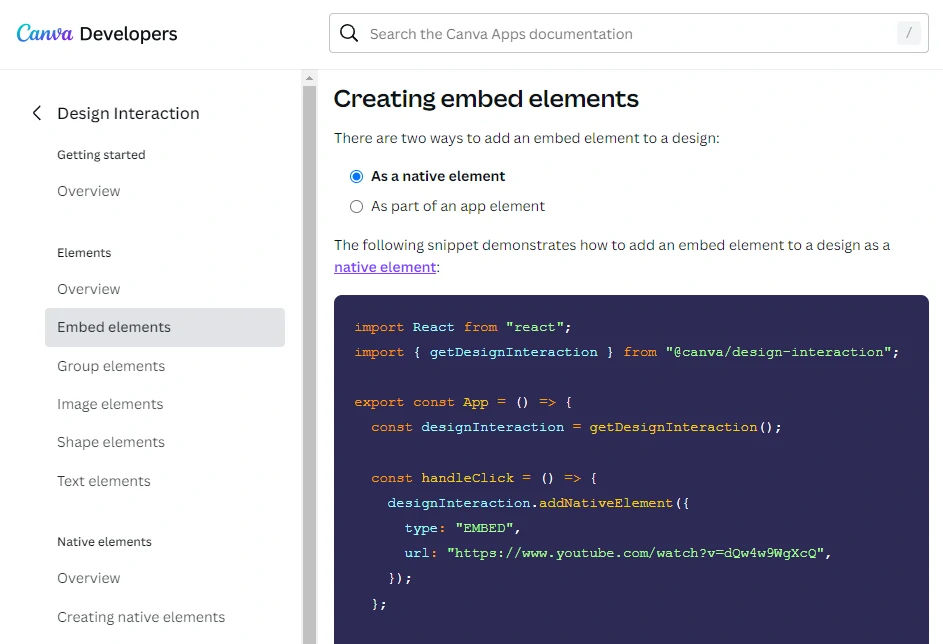 If you are a developer and want to create apps for Canva, you can do that by adhering to the official developer documentation of Canva. It is very well organized in sections so that you can get the most out of it.
Canva Shortcuts
There are many shortcuts available to you when you are using Canva for making your workflow faster.
You can move elements by 1 pixel using arrow keys
Use Ctrl + C, to add a circle on the canvas
Use Ctrl + R, to add a rectangle on the canvas
Use Ctrl + Shift + (L, C, or R) to left, center, or right-align the text
Canva Pricing
Canva has a free version that can be used indefinitely. You can create designs without spending a single penny. The free version, on the other hand, has limited functionality. Other than the free version there are two more pricing plans are in canva.
Canva Free:₹0.00
Canva Pro:₹499.00
Canva Free:₹659.00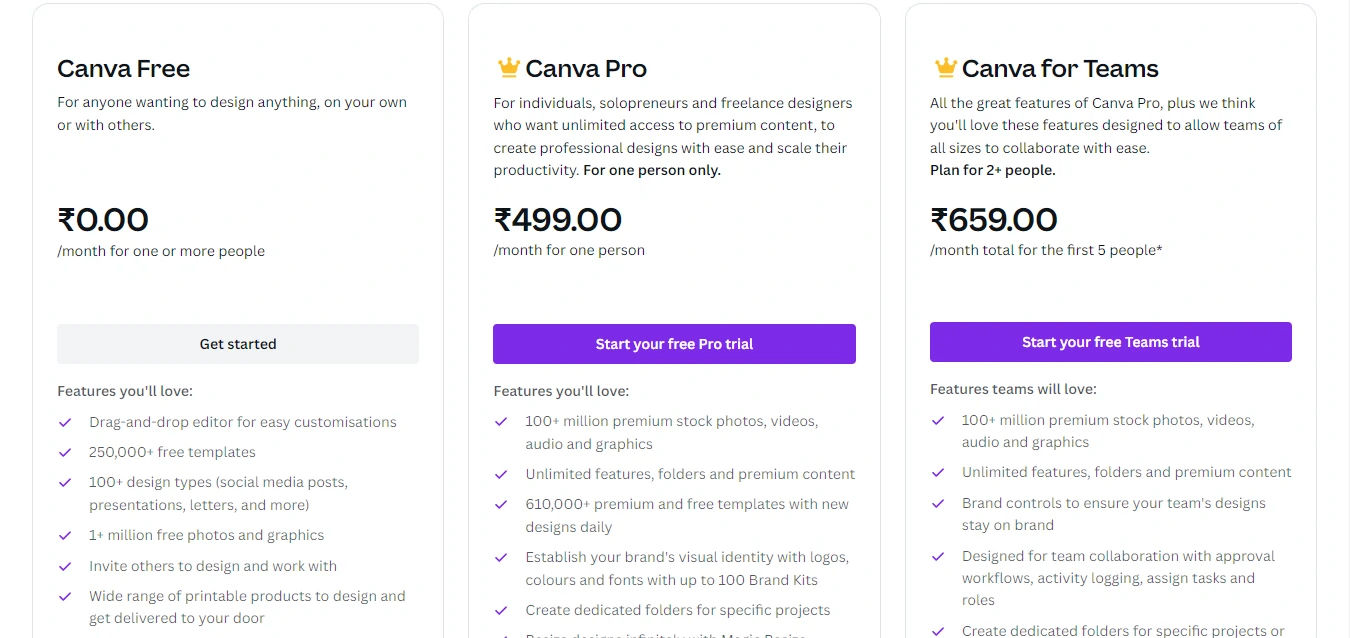 Canva Alternatives
Adobe Express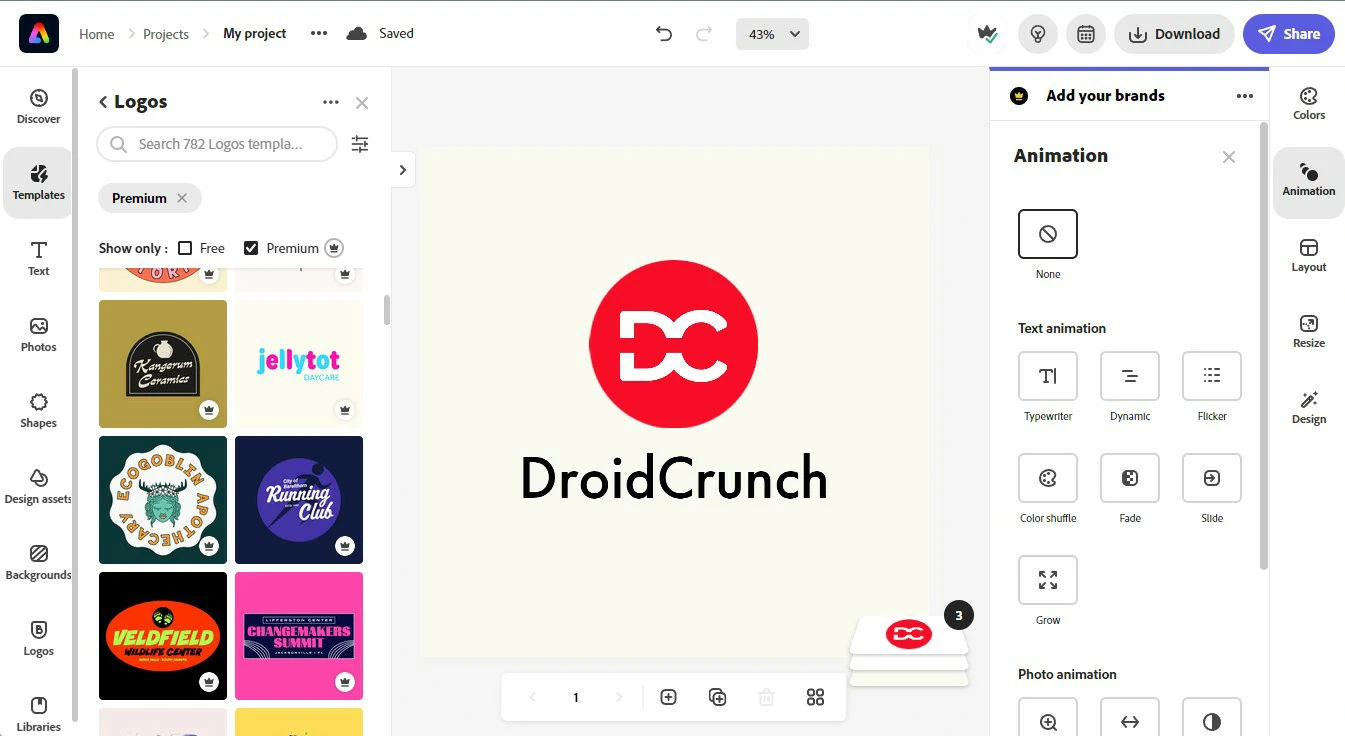 Adobe Express is a web-based online tool from Adobe that allows you to quickly create graphics for your social media, website, or other projects. It's ideal for small businesses that need a quick and easy way to create content, logos, and other graphics.
You can easily create high-quality visuals with Adobe Express without having to invest in expensive software or hire a graphic designer. Adobe express allows you to easily Resize Images, Remove Backgrounds, Crop Images, Trim Videos, Change Speed, Reverse videos, Convert PDFs, Combine Files, and much more.
Visme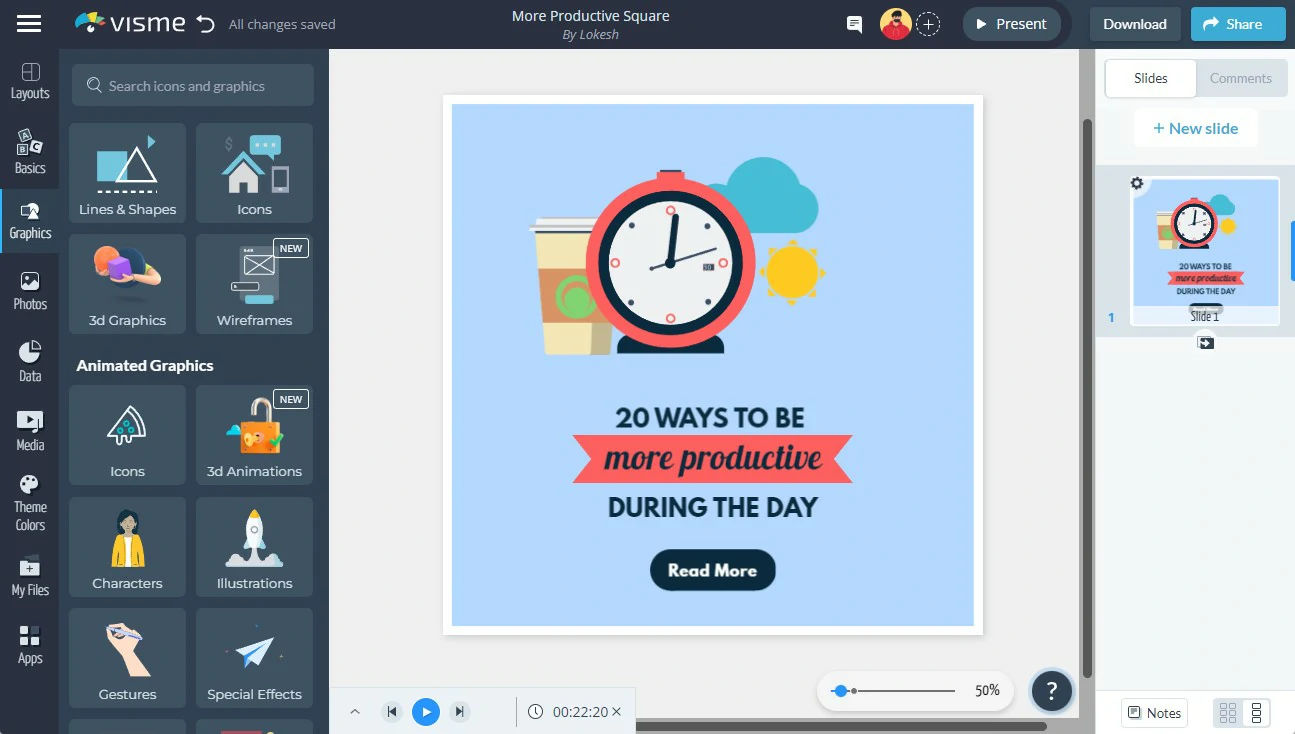 Visme is a beautifully designed platform that makes it simple to create beautiful content. It has templates for infographics, charts, and more, all of which are ready to use with the appropriate colors and layout. You can also easily import and export your PowerPoint presentation content. You can also hire a consultant from the team if you need assistance customizing your design or simply learning how to use Visme.
Visme is ideal for organizing data and securely sharing it with other team members in addition to creating stunning visuals. Visme is slightly more expensive than other Canva alternatives, but this is because it focuses on more complex designs such as infographics and marketing documents.
Visme is ideal for organizing data and securely sharing it with other team members in addition to creating great visuals. Visme costs slightly more than other Canva alternatives, but this is due to its emphasis on complex designs such as infographics and marketing documents. It's ideal for creating charts and widgets to share within your organization and working collaboratively with your entire team. These features will be especially useful for social media marketers.
Canva Pros and Cons
Pros
It includes a mobile version that allows you to create content whenever you want.
A powerful set of tools
Team-specific features are exceptional.
Create any type of design for a variety of use cases with ease.
Even with the free version, the support is excellent.
Even with the free Canva version, it enables excellent content creation.
The interface is intuitive and user-friendly, with no learning curve.
Even with the free Canva version, it enables excellent content creation.
Cons
It does not allow you to create unique elements.
There is no phone support for both free and paid users.
Canva FAQs
Why Canva is priced so high?
When compared closely to other alternatives in the market, you can find that Canva is not overpriced. It offers you so many features which most other tools don't offer you. If you use those less-priced tools, you may still feel that you need Canva. That is why Canva is priced as such.
Is there any free trial available for Canva Pro?
Yes, you can try out the Canva Pro plan for free for 30 days. Canva does provide its users with a free-forever plan. The plan is suitable for beginners, and you can always upgrade to a paid plan at any time.
Final Verdict
It is never a bad deal to buy the industry's best software for designing. With Canva, you are ensured of having the best features available. There is a library full of graphics, icons, and elements to create interesting designs and layouts. The more you use it, the better you are acquainted with the power of this tool. Features such as Team Collaboration, link sharing, and pre-made templates make this the best software to try as of today.
The Review
Canva
Canva is an impressive graphic designing software giving you countless features to edit your design to a great extent. It is easy to use and gives you complete freedom of using any photo, video, or icon from the library of millions of visual content. Canva shortens the time spent on designing graphical content. It can a great decision to go with the pro plan of Canva as it can unlock the future growth of your business.
PROS
A Mobile App that allows you to Create Graphics whenever you want
Powerful Design Editing Tools
Exceptional Team and Collaboration Features
Saves huge hours by allowing Plenty of Templates to Start with
Even with the free version, the support is excellent
The interface is intuitive and user-friendly
Using Canva is very easy and straightforward
Even with the free Canva version, it enables excellent content creation.
Many integrations to Save Time and Efforts
Huge Library to Instantly Use Graphics, Photos, Videos and Audio
Whiteboard Feature to Replace Figjam
Brand Assets feature to Instantly Use Colors, Brand Logos, and Fonts
CONS
Many Photos and Graphics Require Canva Pro
Many Features are limited in Canva Free
Can't save template to Edit in Another Application
Review Breakdown
Easy To Use

0%

User Interface

0%

Features

0%

Scalability

0%

Flexibility

0%

Integrations

0%

Support

0%

Brand Trust

0%

Value for Money

0%

Team Collaboration

0%