Scalenut is a content optimization and AI content generator tool that solves many content-related problems. This software is super useful and delivers copies that can be published with confidence. If you are wondering to buy an AI writing tool or optimization tool then this Scalenut review will definitely help you.
Scalenut helps you to create content that is easy to rank and provides you with an interface where you can easily collaborate with your content team. No matter whether you are a blogger, freelancer, or writing for your client, the software takes into account billions of data to assess the topic and writes the best content that is commanded.
We are living in an age where you can see a huge number of software providing similar services. Whether you are looking for hosting, SEO software, graphic designing software, or any. The list is big and so is the confusion.
Software A does the same thing but its UI is worst, while software B does the job but its pricing is high, and software C does the job but it has fewer integrations with no support. As such, it becomes vital to see with the naked eyes what the software is actually hiding from you.
To put it differently, we always look for a tool that does all the job without impacting the pocket.
It is necessary however to look for a content tool that is reliable, easy to use, user-friendly, does the job, and gives you the results. Because, as far as it gives you the ROI, the cost will no longer become a matter of concern.
Scalenut, Jasper, Surfer, and Rytr are the few tools that are capable of giving you the results you deserve.
So, let's look at how Scalenut can empower you with the next-gen Content Writing Weapon.
Before you make any haste, you can go through this review that will give you a detailed overview as to whether the software is able to match your needs or not.
What is Scalenut?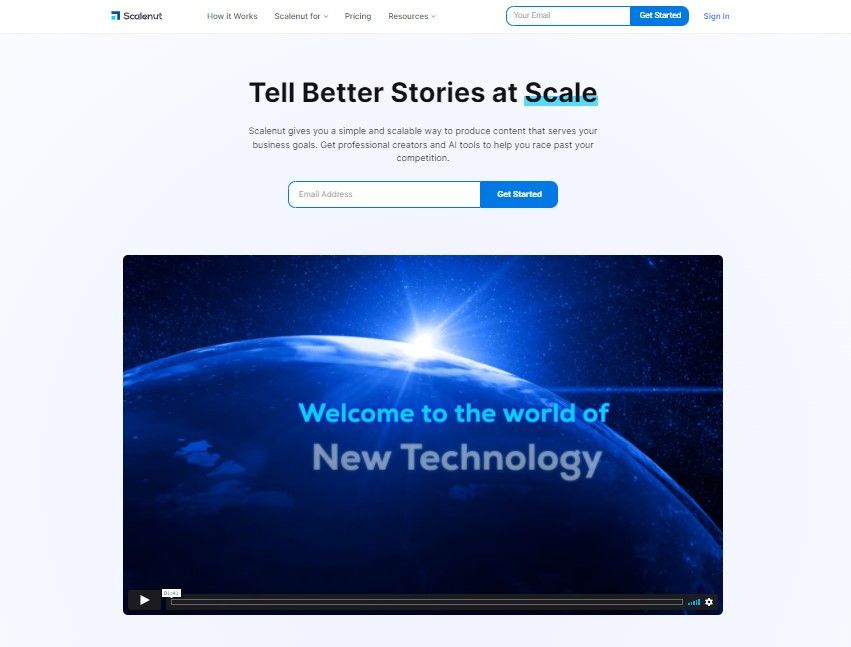 Scalenut is an AI Content writing assistant that will help grow your business by creating unique content for your website. It gives you simple as well as an ascendable path to bring out content. This will help achieve your business targets in no time.
With Scalenut you will get various features that will make your goal of ranking on search engines, easier to achieve. Here on Scalenut, you get highly qualified creators and also AI content writing templates that will help you to beat the competition in your business line.
Scalenut will help you to create more than just blogs, but a specific interesting topic that will help you generate more traffic for your website. Instead of simple case studies, it can help you to bring out your client's experience and success story of achieving their business goals epically.
How to Use Scalenut
Scalenut is helpful for both purposes whether you want to create long-form content or short-form copywriting.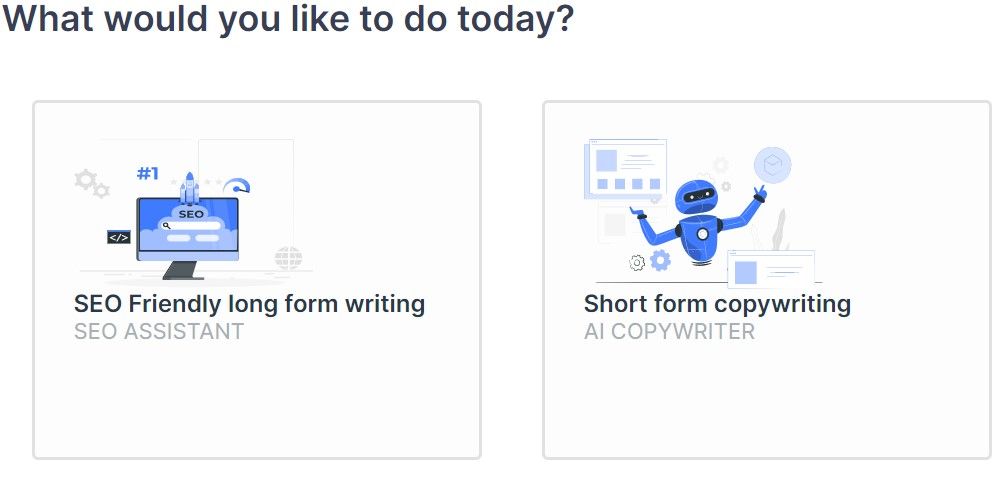 After signing up with your company name, email address, and contact number, you will see a screen that will give you two options. These options let you choose from SEO-friendly long-form writing with the help of Scalenut's SEO Assistant or choose Short form copywriting with Scalenut's AI copywriter tool.
Within its short form copies, there are many templates to choose from that are categorized in E-commerce, Q&A, Copywriting, Marketing, and Email.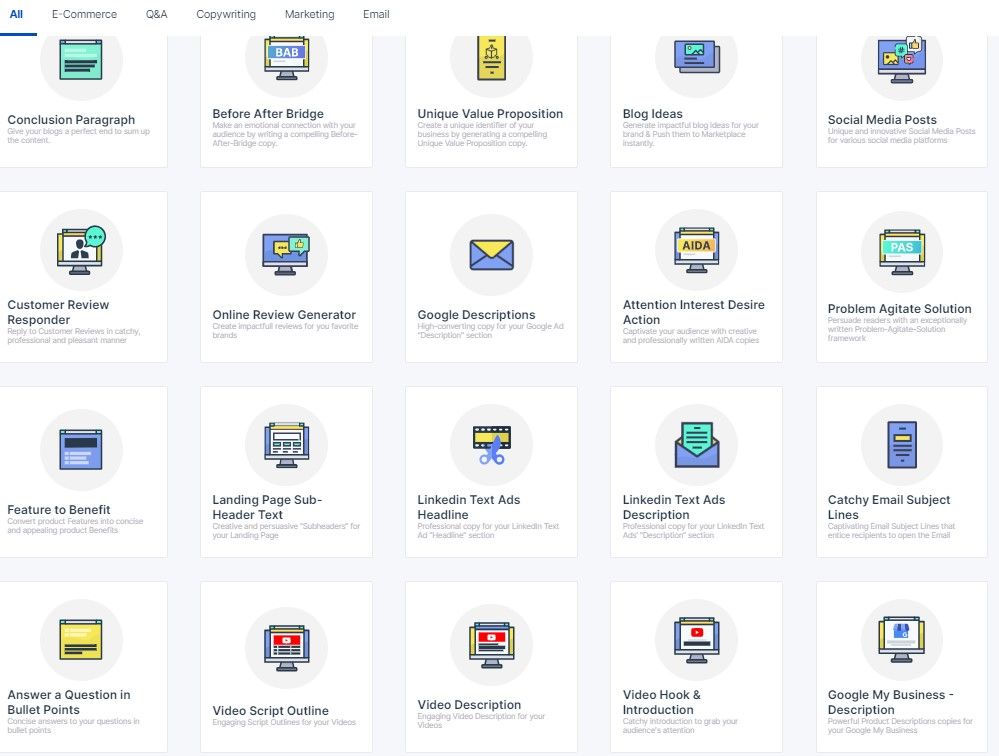 After choosing one of these tools you can easily start creating AI commended short-form content. Choosing the AI Copywriter will lead you to this page, where you can choose various templates to work with. These include different features of their own, that are specifically built to help you create different content according to your requirement. You can work on various topics and choose different templates including Blog ideas, Video Script Outline, Email subject lines, and a lot more! You name it and the ideas are here.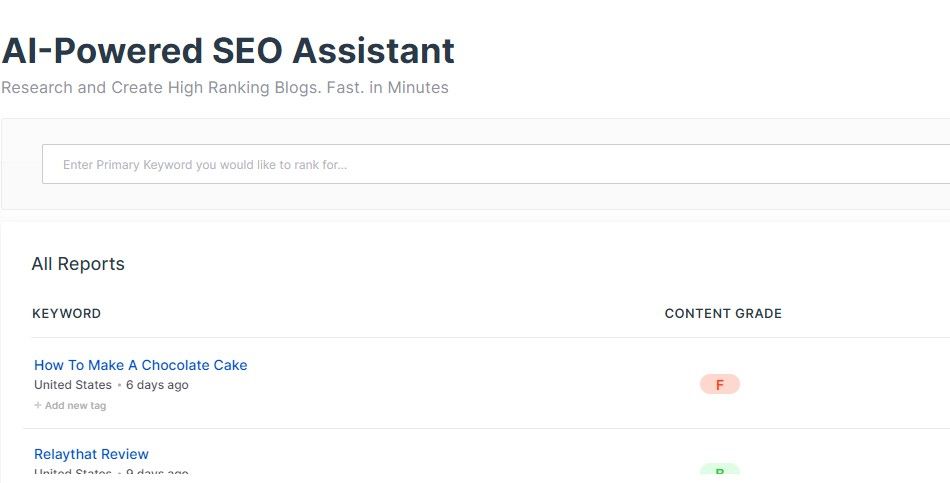 With the other option, you will see Saclenut's AI-Powered SEO Assistant, with it you can check for the chosen keywords and get absolutely all reports around the globe. By using these tools optimally you can create amazing content. With the red and the green indicators, you can know what keywords will be best for your website content.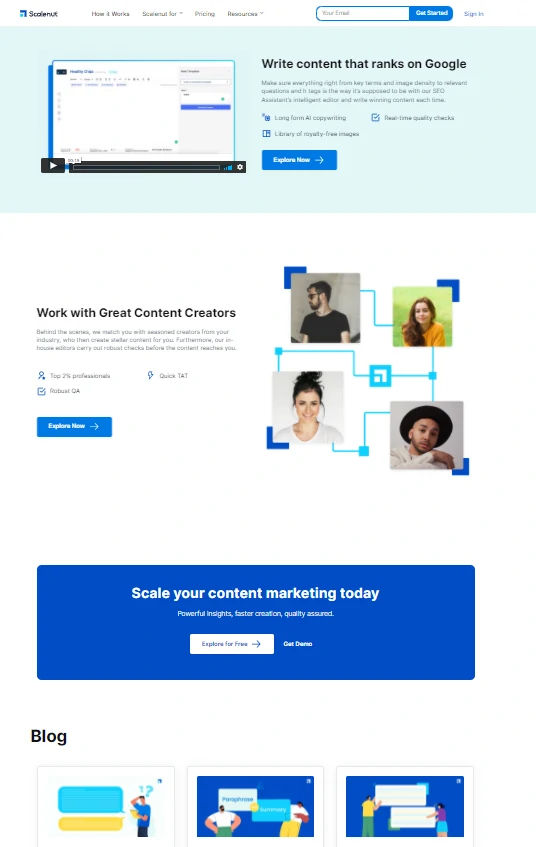 You get an easy yet efficient setup with Scalenut. With this, you can not only create content In a more enhanced way but plan your content with clear insights. You get a good number of benefits such as AI reports, insights from top 30 results, H tags with key terms as well as questions from Quora and also Reddit.
You also get amazing creative content ideas from the AI copywriter. Many types of content are included in this. These are blogs, email headers, ad copies, social posts, and multiple other content formats. With Scalenut you actually will write content that will help you to rank on Google. This can be done with features like Long-form copywriting. You get a great 24-hour available support service with Scalenut.
Scalenut Features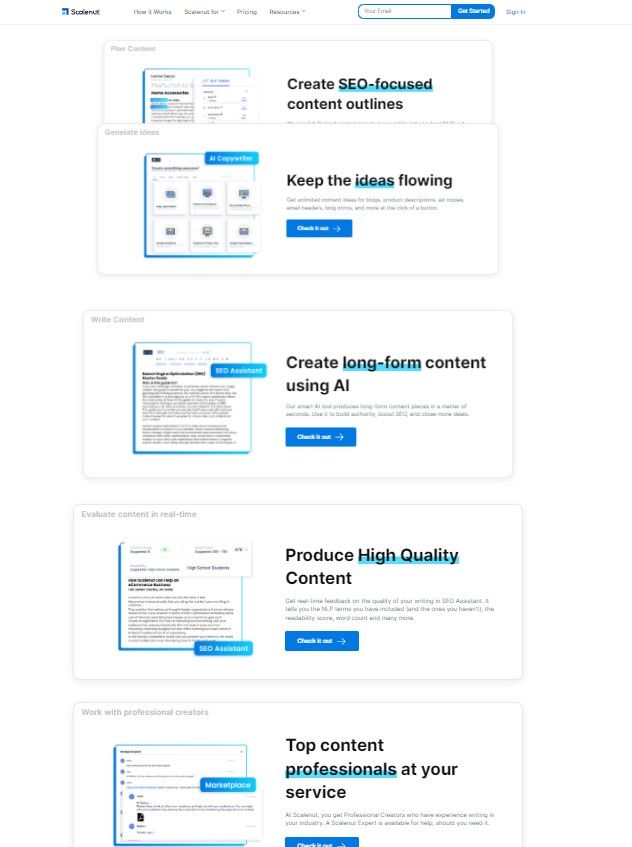 Plan Content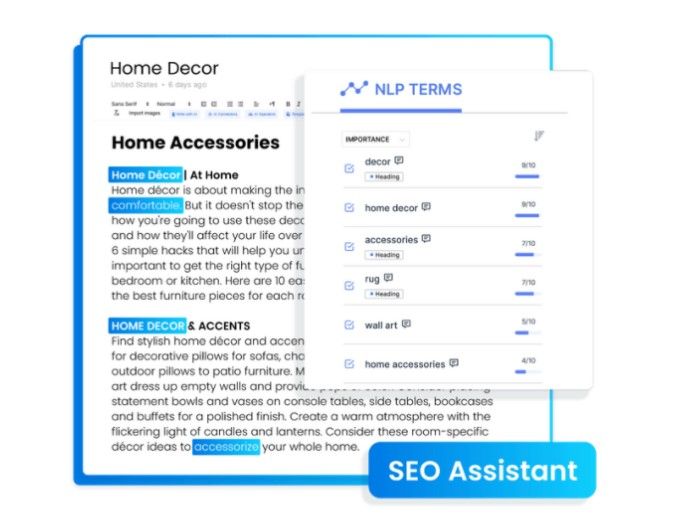 With planned content, you will be able to create an SEO-Focused content outline and therefore will get a better ranking. Moreover, you will get completely developed content reports as well as analyses. This all will be given to you by Scalenut with one single targeted keyword. It will provide you with a great SEO-friendly outline for every blog.
Generate Ideas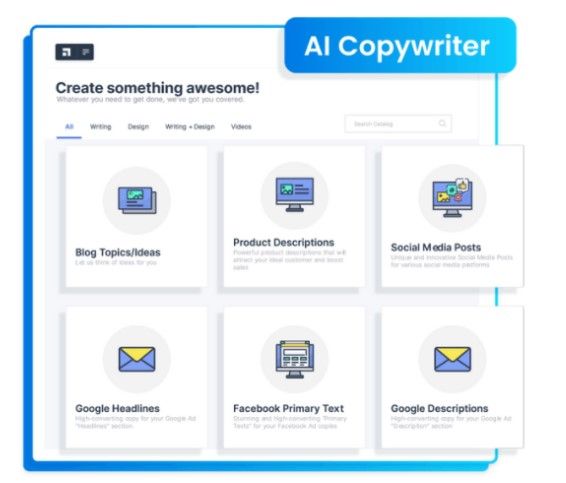 If you have a creative mind that provides you with a lot of ideas, then Scalenut is the right way to implement those in your business. Although, if you are out of ideas and want to get more of them in various fields then Scalenut will provide you with them. Starting from Product Descriptions, Email Headers, Blog Intros, and also Topics and ideas for blogs can be provided by the tools offered by Scalenut.
Write Content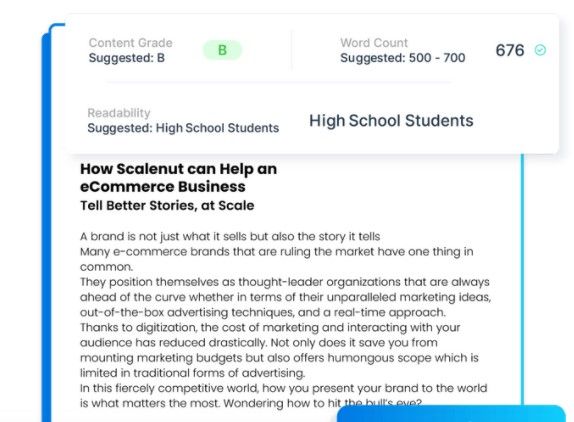 You are provided with an SEO Assistant that will guide you throughout the writing of your content. With the help of AI, you will be able to create long-form content. This can be done in no time and yet with high efficiency. With the help of the Scalenut AI tool, you can not only boost SEO and build authority but can also close a huge amount of deals.
Evaluate Content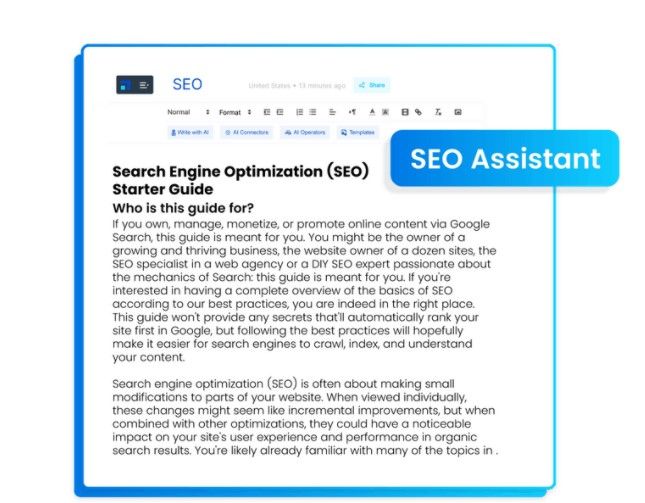 The SEO Assistant will provide feedback and changes you may need to do in the content. This will ensure a better score as well as a ranking among your competitors. It will tell you about the NLP terms that are included in your content and even the ones that are not present. This will make it easier for you to reach out for your mistakes and then correct them right away. Scalenut will also help you improve the reliability score as well as the word count is taken care of.
Work With Professionals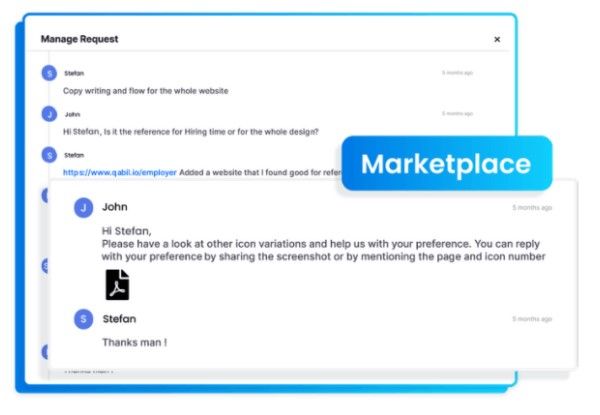 Scalenut has a team of professionals that will help you to establish as well as grow your content in online mode. You can relate to them as they have content creators for your industry and there is even a Scalenut expert present all time, whenever you require it.
Cruise Mode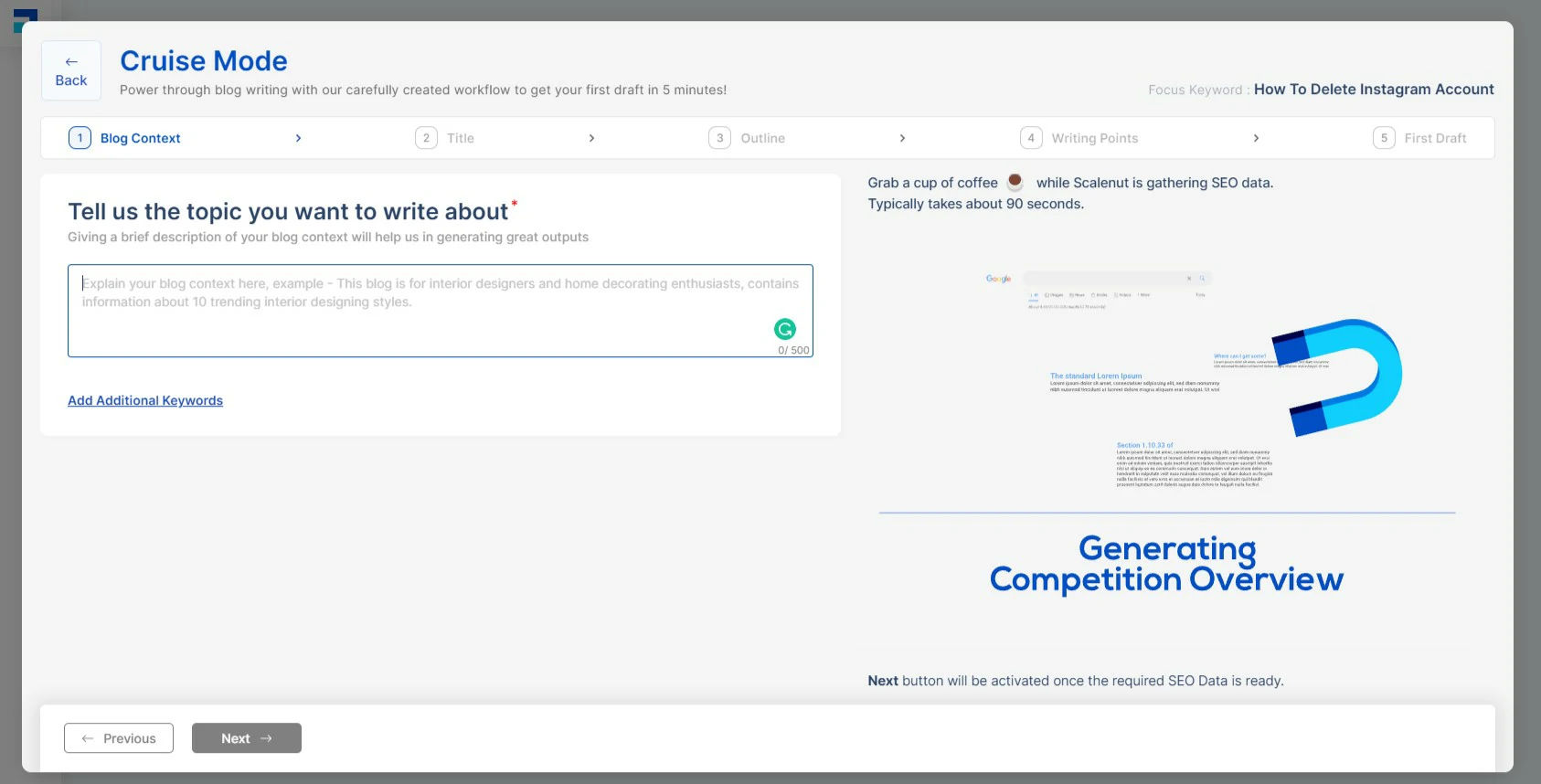 Scalenut has recently launched the cruise mode which allows you to write long-form SEO content more easily with a guided interface. With cruise it basically means a journey mode where you enter the topic, tell something about the topic that you want to write, scalenut generates reports and collects some data, now you choose the title, outlines out of the data it has generated and complete the article in the editor mode, finally export 😎

It is very easy because you don't have to go anywhere to research the outlines, introductions, specific titles, bullet points, FAQs, or anything. Scalenut does everything for you so that you can focus on further improvements and publish the content that your audience will love and Google will rank. 🙋‍♂️
Scalenut Google Chrome Extension
Its Google Chrome extension is a great way to improve, write and rephrase the social media copies, compose emails, and whatnot. This extension is literally very useful. You will get addicted. 😎
You just need to give it some input and it does its job to provide you with a copy that can be published with utmost confidence.
Easy to Use
Scalenut is very easy to use. The UI is simply amazing that allows you to make the best use of the software. They have also improved their UI in the recent updates which offer a more sophisticated experience.
Who should use Scalenut?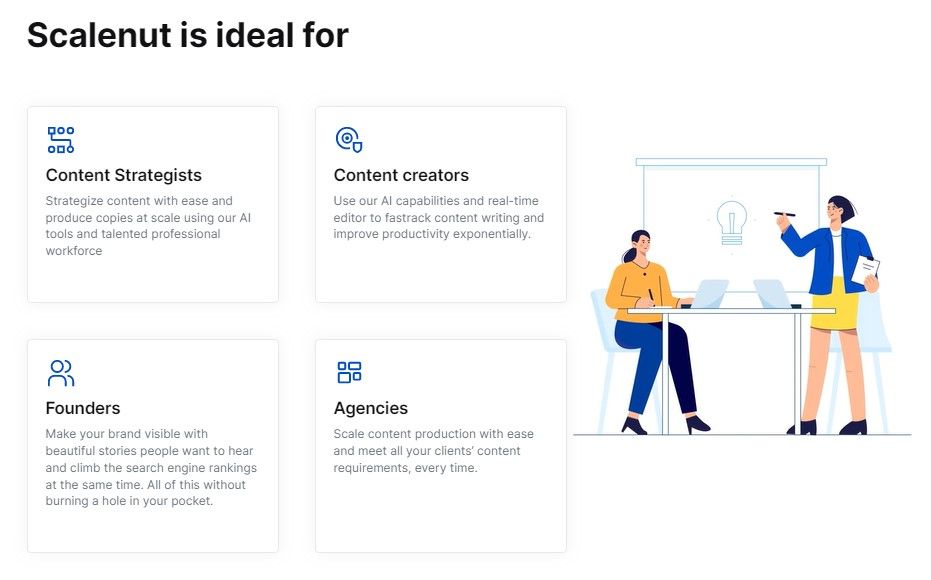 From a beginner to a professional, all can use Scalenut. It is affordable and worth every penny! Not only this but it also depends on the type of content one wants to create. These various content types can be created easily yet with full efficiency in Scalenut. The content will generate leads for your business by creating potential traffic to your website. Professionals as well as new in the field should use Scalenut to get a better idea for the working of SEO friendly content and avoid mistakes gradually. If you fall into the category of these listed below groups, then Scalenut is a must-have:
Content-Type:
Website Content
Social Media Content
Thought Leadership
Consummate Users:
Content Strategists
Agencies
Content Creators
Founders
Pros
Scalenut offers various benefits to its users that will help them to increase business in a matter of time, these are:
Responsive Team
24*7 available Support System
Reliable and Secure
Efficient. easy and systematic to work with
Good Quality Service
Affordable Price Plans
Cons
The AI of Scalenut does not provide you with customizable templates as well as a framework.
Scalenut Plans and Pricing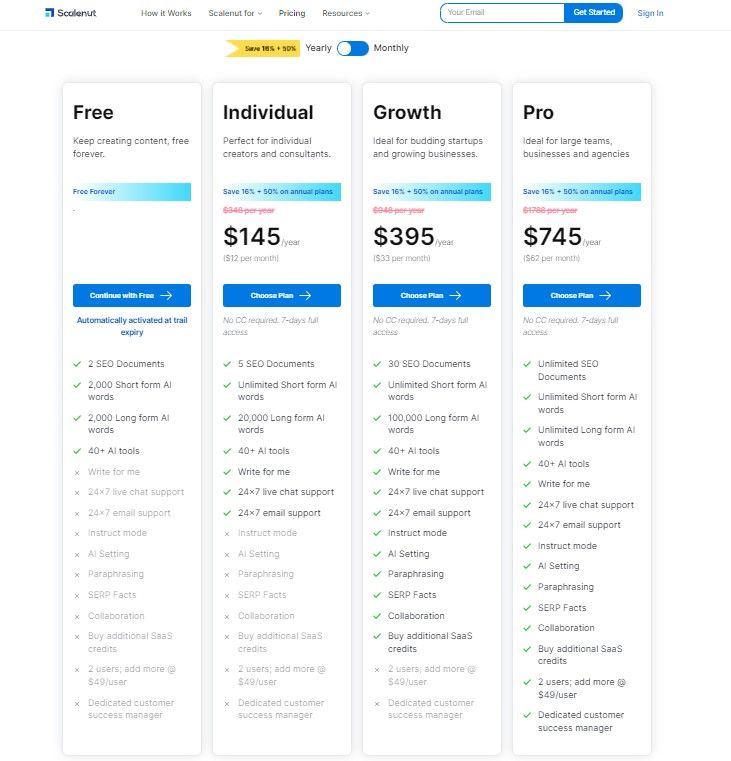 There are various plans provided by Scalenut that will help you to get a better variety of features. You can choose a plan that suits your business and will benefit you in various aspects. Scalenut also provides its users with a free trial where you can not only have access to the main software but can also analyze and use various tools offered by Scalenut. You can upgrade your chosen plan with the growth level that comes along with Scalenut. These plans include:
Free – ($0):
2 SEO Documents
2,000 Short form AI words
2,000 Long form AI words
40+ AI tools
Individual – ($145):
5 SEO Documents
20,000 Long-form AI words
40+ AI tools
Write for me
24×7 live chat support
24×7 email support
Unlimited Short form AI words
Growth – ($395):
30 SEO Documents
Unlimited Short form AI words
100,000 Long-form AI words
40+ AI tools
Write for me
24×7 live chat support
24×7 email support
Instruct mode
AI Setting
Paraphrasing
SERP Facts
Collaboration
Buy additional SaaS credits
Pro – ($745):
Unlimited SEO Documents
40+ AI tools
Unlimited Long-form AI words
Write for me
24×7 live chat support
24×7 email support
Instruct mode
AI Setting
Paraphrasing
SERP Facts
Collaboration
Buy additional SaaS credits
2 users; you can add more at $49/user
The dedicated customer success manager
Unlimited Short form AI words
Alternatives for Scalenut
Surfer SEO is a powerful tool that stresses genuine, quality, and rankable content. If you are good at writing and want to rank high on SERP then Surfer can make your dream come true. With Surfer it is no longer a dream to rank for highly competitive keywords even for low authority websites. Many users of Surfer have witnessed the competency of this tool. This content assistant tool allows you many integrations and features so that you can write the content by including all the valuable keywords your competitors are using in their content.
Rytr is also an impressive tool, however, it is more of an AI Content generator than an assistant. It helps you to write short and long content copies. So, if you are looking to generate copies for reviews, product descriptions for your e-Commerce clients, blog copies, social media copies, or ad creative copies then Rytr can do wonders for you by providing you with a variation of copies with the desired tone and language.
Writerzen is a content assistant tool with the help of which you can create some valuable content while giving priority to SEO and keyword terms. It is being used by many freelancers, entrepreneurs, and agencies. It gives you team collaboration and various assistive features such as a plagiarism tool, keyword explorer tool, and much more.
Jasper previously known as Jarvis is a well-known AI content generation software. This tool is super easy to use and allows you to create any kind of content without much effort. You can command the AI and it does the work for you. With Boss Mode of Jasper, you can unlock the commands feature and get the most out of the tool.
Marketmuse can be counted as one of the strong competitors to Scalenut considering the tools and features that it provides. Marketmuse however is very costly but does the best job. It is accurate and allows you to create content that actually ranks.
Frase
Frase is a powerful tool that lets you create AI content as well as optimize the content for search engines. It is more like Scalenut. Even you can see that their UI is inspired by each other. Both the tools however have their own strengths. Frase is easy to use and gives you complete freedom of creating content copies for your blog and social media.
Outranking is a powerful content writing tool where you can optimize your existing content and also write the new content by taking care of the optimization. It is pretty much similar to Scalenut. Outranking too allows you to write AI content and optimize the content for search engines.
SEMrush is a widely used SEO software that offers so many tools. It is preferred by entrepreneurs and agencies. SEMrush also allows its users to write SEO-guided content. SEMrush is a reliable, accurate, and very trusted software. With over a million users using SEMrush, you get complete control over your website's SEO success.
Writesonic is a popular content writing software. This tool is widely used and allows you to create content for the landing pages as well as social media and ad copies. This tool is super easy to use and the UI is quite appealing.
The crux of the Post
Here we are at the end of this Scalenut Review with various details that you require before investing in this platform. You have a load of features and tools to rely on for your business success! All you have to do is purchase a plan of your need and get started. My recommendation is however to get access to a free trial of Scalenut from which you can identify the usefulness of this tool. Later, you can make up your mind about whether to upgrade to a paid plan.
You will definitely see the success with time and also grow at a speedy rate. Scalenut content assistant features are quite amusing and therefore it is one of the best content writing tools to get quality and rankable content. Not only it will help you generate traffic but will also get you, potential clients.
Scalenut however doesn't replace the need for a human writer. You will always need a human writer to proofread or see where the optimizations are needed even if you use a tool like Scalenut. As such, I see this software as a tool for writers and not a tool for replacing writers.
If you are an existing user, feel free to let us know about your experience or success story with Scalenut in the comment section below.
The Review
Scalenut
Scalenut is an effective Content Assistant and Content generator software with the help of which you can write quality content that is sure to rank. The UI of this tool is very appealing. All the features are explained very well in the app dashboard. It is not too late to start using Scalenut, so what are you waiting for?
PROS
Team Collaboration Feature
24*7 available Support System
Reliable and Secure
Efficient, Easy and Systematic to work with
Quality Content Curation
Affordable Pricing Plans
CONS
Does Not Replace the need of Human Writer
Review Breakdown
Easy To Use

0%

Features

0%

Team Collaboration

0%

Support

0%

Value for Money

0%