WordPress plugins are a popular platform for building your website, and so there are many free and premium website builder WordPress plugins to help you do this. This list of best form builder plugins for WordPress makes it easier for users to view content on your site, manage users, add user roles, and more. In this article, we will look at some top form builder WordPress plugins that are a fun way to improve the user experience while managing content on your site.
This article will help you choose some of the best form builder plugins to serve your website's needs. You can use these top form builder WordPress plugins to create forms, take surveys and add e-commerce features to your websites. As a result, we have compiled a list of the best-looking, most functional, and easy-to-use WordPress Form builder Plugins that can help improve your website's user experience.
The list below contains some of the best and most popular form builder WordPress plugins that can add extra features or make your website more effective.
List of Best Form Builder Plugins for WordPress 2023
WPforms
If you're looking to add forms to your WordPress website, this is a great option. WPForms was built with a single goal in mind, to create a WordPress plugin that is both easy and powerful so that even an absolute beginner can create WordPress forms without having to hire a developer. WPForms is an excellent option for creating conditions because it is easy to use and doesn't require any coding knowledge. Plus, it offers a wide range of features to make your forms look great and function perfectly.
If you're a WordPress user, chances are you've heard of the WPForms plugin. WPForms is one of the most popular form builders for WordPress, with more than 3 million active installations. It's loved by users for its ease of use and its wide range of features.
WPforms features
Drag & Drop Form Builder
Form Templates
Responsive Mobile Friendly
Smart Conditional Logic
Instant Notifications
Entry Management
Payments Made Easy
Marketing & Subscriptions
Easy to Embed
Spam Protection
WPforms Pricing
Basic: $39.50/year
Plus: $99.50/year
Pro: $199.50/year
Elite: $299.50/year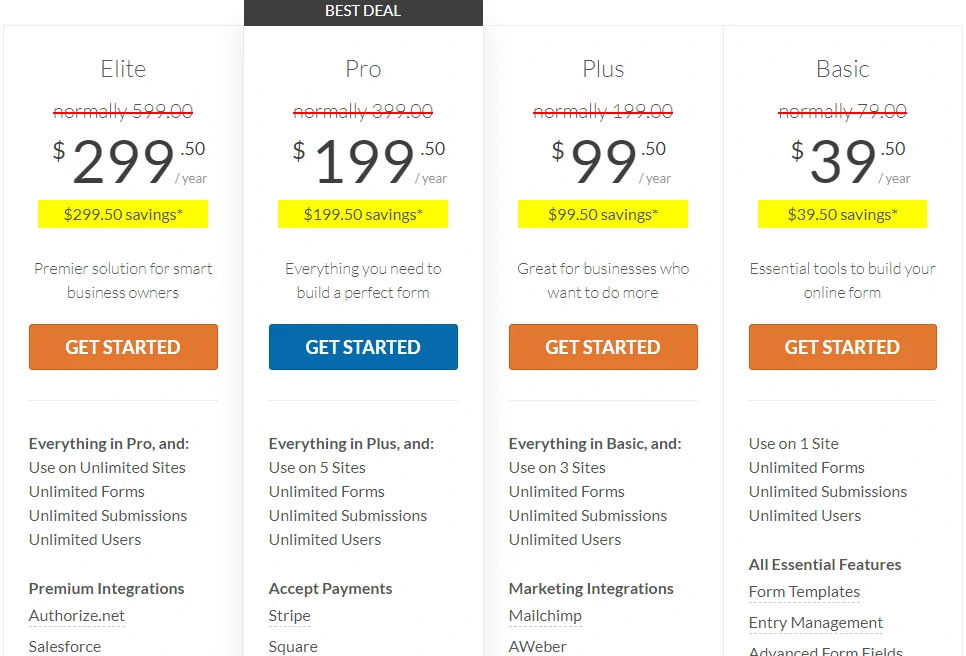 Formidable
Formidable Forms is a WordPress form builder plugin that helps businesses create simple-to-complex multi-page forms with file uploads, conditional logic, calculations, and various other elements. The plugin makes it easy for forms to be customized to fit the specific needs of any business.
A formidable form is a powerful tool that can help businesses streamline their data collection process and improve their overall efficiency. various other elements to help make forms completer and more user-friendly. The plugin is easy to use and doesn't require any coding knowledge, making it an excellent option for businesses of all sizes.
Formidable is a great plugin that enables users to design custom forms with colors, borders, padding, and other components. With this application, team members can collect multiple data sets such as graphs, text, and images. This plugin is easy to use and well-written.
Formidable Features
Build Forms
Style Forms
Get Responses
Collect Payments
Use Your Form Data
Powerful Integrations
3rd Party Integrations
Display Form Data
Calculated Fields
Polls & Surveys
Formidable Pricing
Basic: $39.50/year
Plus: $99.50/year
Pro: $199.50/year
Elite: $299.50/year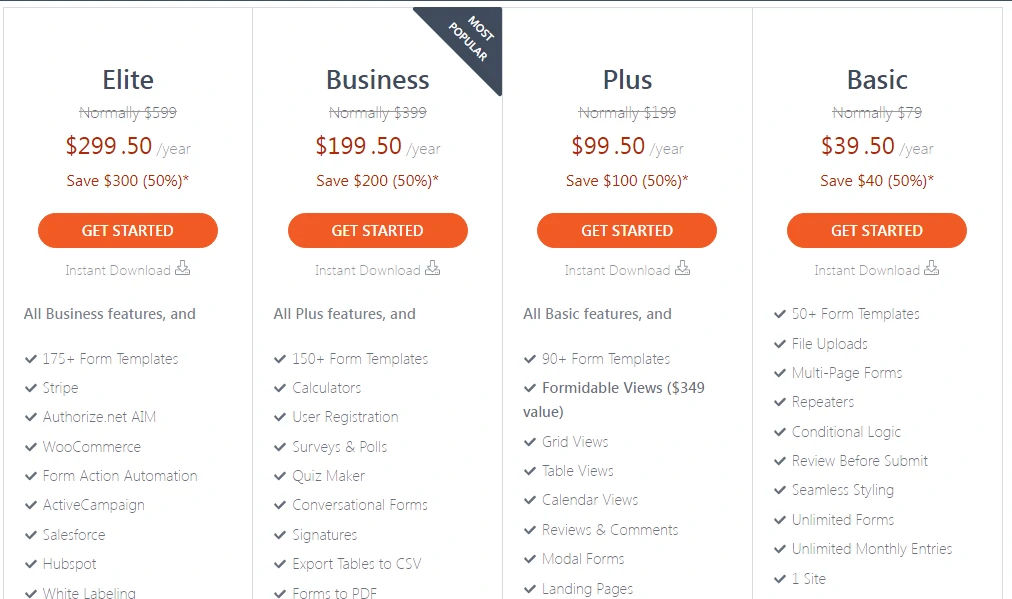 Gravity Forms
Gravity Forms is a comprehensive WordPress form plugin. That is, it allows you to construct almost any sort of form on your WordPress site. Solid and dependable. Gravity Forms is a well-established plugin with a solid reputation for stability and dependability.
This is critical in a form plugin since any faults or defects that affect an essential form might have profound effects. Gravity Forms can be used to construct almost any sort of form, from simple contact forms to payment forms, quizzes, surveys, and more. Robust automation. Gravity Forms' main plugin is already adept at automating tasks. If it isn't enough, third-party plugins are available to provide even more freedom.
Gravity forms features
Drag-and-Drop Builder
Accessible and Compliant
Form Import
Multi-Column Layouts
Save & Continue
Paginated Forms
Responsive Forms
Conditional Logic
Language Support
Custom Form CSS
30+ Form Fields
Merge Tags

The various plans' add-ons consist of the following:
Basic plans: GetResponse, AWeber, and HubSpot
Pro package: Freshbooks, PayPal Payments Standard, Dropbox, and Zapier
Polls, coupons, Stripe and survey elite plan
Pricing
Basic: $41/year
Pro: $111/year
Elite: $181/year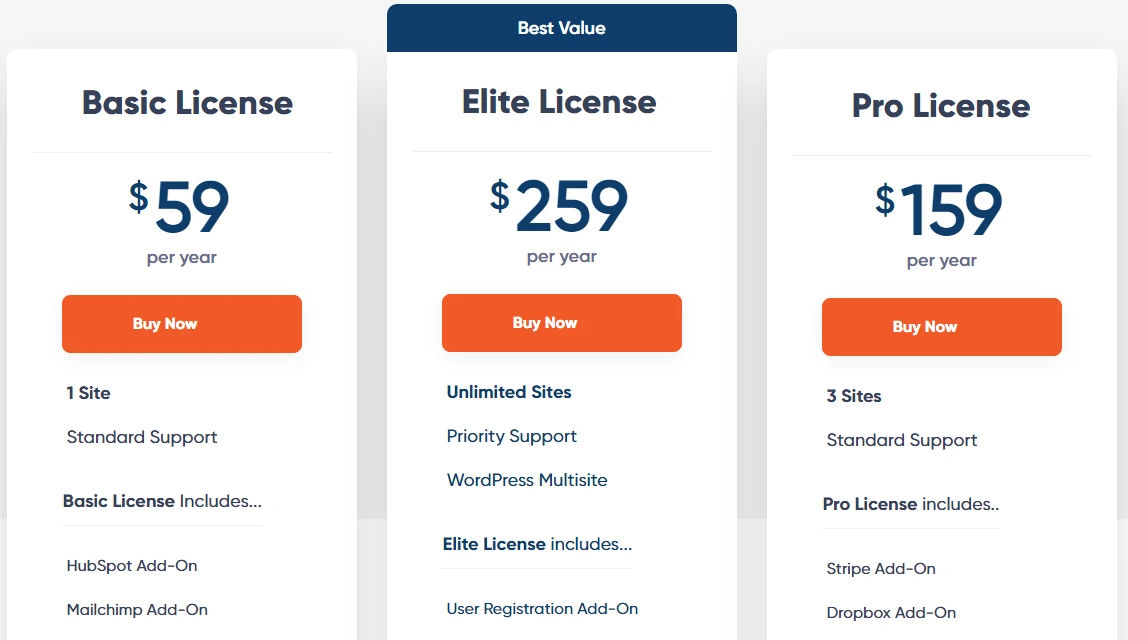 Ninja Forms
It is highly rated and known for being easy to use and having a lot of features. Ninja Forms also offers a variety of add-on plugins to extend its functionality and allow users to create more advanced forms. However, the user interface could be better for beginners.
For example, it's unclear whether submit buttons need to be added manually, and there isn't a default success message. A beginner could easily get frustrated and give up. When creating a form, a submit button is not necessary. Also, after a form is submitted, it is possible to make the form display a blank page. However, some of the other advanced options for form fields may not make sense.
WP Ninjas are created and maintained very well. Ninja Forms, a free contact form plugin for WordPress. The plugin distinguishes itself from competitors by offering extensions individually. That means you don't have to buy a costly bundle if you only want to use one or two add-ons. Instead, you may buy the necessary add-ons separately.
Ninja Forms Features
Drag and drop form builder.
27+ field types
Translated into 16+ languages
Easy WordPress GDPR compliance
Unlimited forms
Unlimited form submissions
Submission exports
Regular updates
Dedicated support
Customizable form templates
Fully responsive, SEO, & mobile friendly
Beautifully matches your theme's design decisions
Customizable email notifications from any form
Spam protection including Akismet and Google reCaptcha
Export and import forms
Shareable public form links
Developer friendly
Ninja Forms Pricing
Basic: $49/year
Plus: $99/year
Pro: $199/year
Elite: $299/year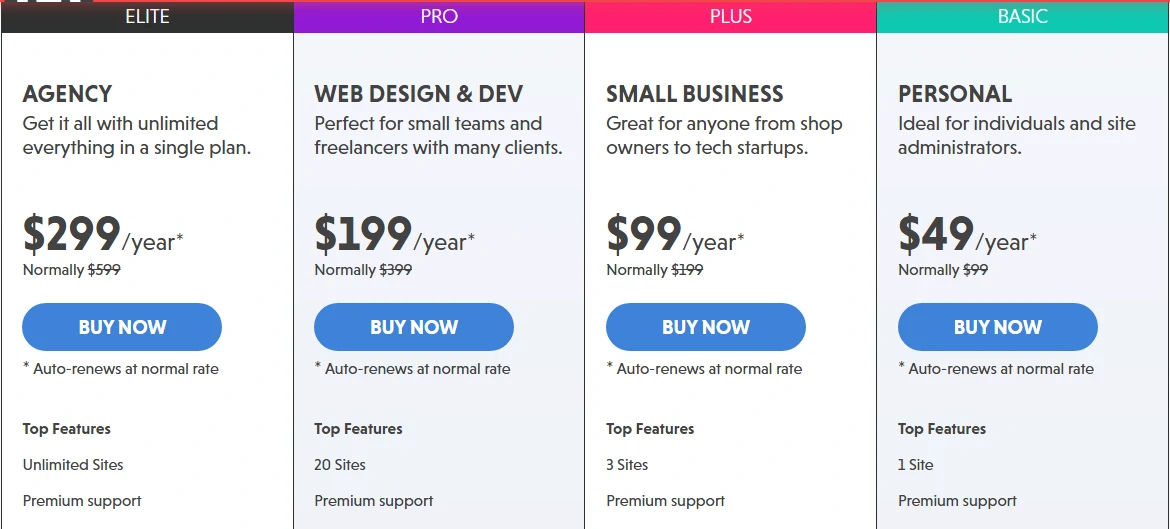 Contact Form 7
Contact Form 7 is a great way to allow your users to reach out privately. Email is the easiest and most private form of communication on the internet and adding a contact form to your website opens the door for users to get in touch with you easily and privately. This plugin is well-written, reader-oriented, and compelling, and it will help you communicate with your users professionally. It comes with extensive documentation and has good community support, which ensures that users can easily get started with it.
Contact Form 7 is an open-source plugin for WordPress that allows you to create forms and manage submissions. While it lacks some features that are found in other plugins, such as Gravity Forms, it is still a powerful and extensible tool. Many WordPress plugin authors have created add-ons and extensions that improve its functionality. Despite its shortcomings, Contact Form 7 is still a popular choice among WordPress users.
Contact Form 7 Features
Docs and support
Solitariness Notes

track users by stealth
write any user's data to the database
send any data to external servers
use cookies

Recommended Plugins
Translations
Conclusion
These Form Builder plugins make it simple to add extra features and functionality to WordPress sites for your forms. All you have to do is select the one that matches your needs. There is no limit to the number of Form Builder WordPress plugins that may be installed to develop a powerful website. However, for security reasons, you should always be very careful about the plugin and the number of plugins you use.
Listed above are some popular and most used form plugins for WordPress. Most of the form builder plugins are free. However, the premium features are restricted in the plugins. So, check wisely before you start using any plugin. Consider the scalability factor in mind while you decide on the form plugin for your WordPress site.
However, use caution when installing Form Builder WordPress plugins. Too many Form Builder WordPress plugins activated might cause poor load times and pose security threats. It is also crucial to choose dependable plugins. Check the number of current installs and user ratings in the Form Builder WordPress plugin directory at all times. Also, consider plugins that are often updated because they are more secure and less prone to compatibility difficulties.