Jasper.ai (previously Jarvis.ai or Conversion.ai) is an incredible AI-powered content generator tool that helps you create content on autopilot. Jasper is a platform that helps content creators worldwide to take the next step from copywriting to creating engaging copy for marketing editors, blog articles, social media posts, and more. Jasper.ai is trained by conversion experts and copywriters so, you can surely expect better-quality output from this AI tool.
Personally speaking, Jasper.ai is a life-changing tool for me. It took me a minimum of 20 days to write a blog post of about 4,000 words. But now with the help of this amazing tool, I'm pretty much able to complete my work in just 3 to 4 days. I can say it saves me lots of time that were getting wasted so easily only on writing. Now it's been a month of using this tool and I can say it is far better than many other AI writing tools. You can try using the tool for free as it offers free trials. And pricing starts at just $29 per month.
| | |
| --- | --- |
| Product Name | Jasper.ai (Conversion.ai) |
| Release Year | 2021 |
| Use Case | AI Content Writing |
| Pricing | Starts at $29/per month |
| Free Trial | 5 Days (Try Now) |
| Best For | Content Writers, Bloggers, Entrepreneurs |
| Money Back | 5 Days |
| Help Center | Yes |
| Support Email | [email protected] |
| Affiliate Program | Available |
| Alternatives | Surfer SEO, Rytr, Writesonic |
Jasper.ai Overview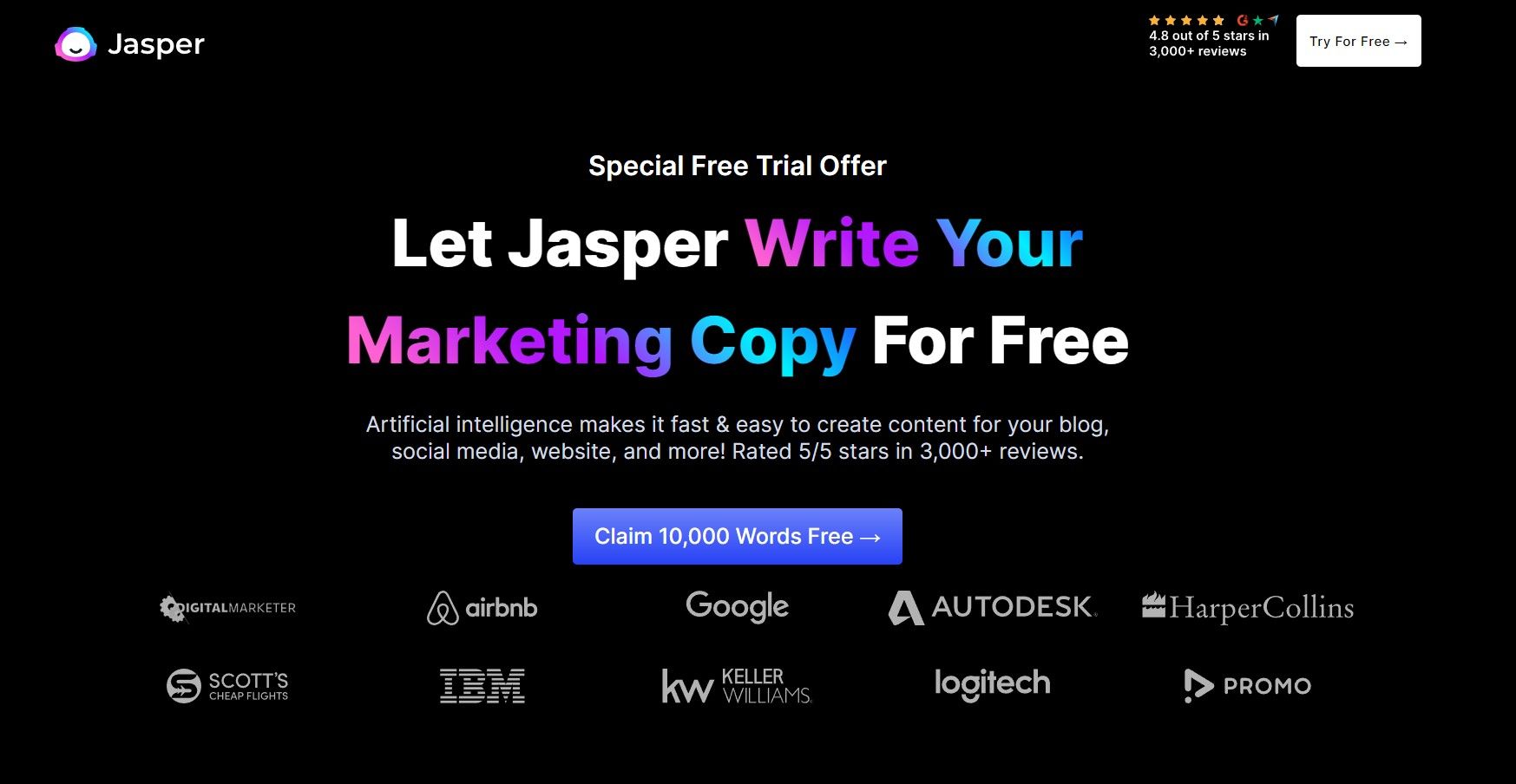 Jasper.ai is copywriting platform that uses artificial intelligence technology similar to Hubspot, Shopify, Salesforce, and many other companies. This tool helps to write high-converting copy for your landing pages, ads, emails, blog posts, website headlines, product descriptions, social media posts, listings, and many more things.
Jasper.ai is an amazing tool for anyone who needs help in writing copy or content. You can try using this software to generate proven marketing messages and high-converting sales in seconds. Jasper.ai is built for solving problems to make our life simpler and easier. In addition, it also provides the users with features that make collaboration easy. It helps you to break through writer's block and save a lot of time in getting the idea to write marketing copy by letting you generate an idea for your new copy in a few seconds, which means you don't have to spend hours of your day to get an idea. Jasper.ai also lets you translate your content into multi-language making it reach broader audiences.
Features of Jasper.ai
AIDA Framework — It is the oldest marketing framework that helps you to write actional descriptions for your company's services and products.
Email subject lines — Write compelling subject lines and get many more readers to open and see your message.
Long-Form Assistant — Powerful assistant helps you write books, essays, scripts, stories, long blog posts, or articles of 10,000 words in just a matter of a few hours.
SEO – Title and Meta Descriptions — A template to write SEO-optimized title tags and meta descriptions for your blog posts.
Problem-Agitate-Solution (PAS) — A framework that helps you with a new marketing copy idea.
Quora Answers — Template to generate amazing Quora answers. Use this and copy questions from the Quora platform input and get many solutions in seconds.
Sentence Expander — Expand your short paragraph into a large to make it interesting, engaging, and creative.
Video Description — Write unique descriptions for videos on Youtube that rank quite well in search. And save a long of time that's spent on writing long and optimizing YouTube descriptions.
Persuasive bullet points — Write amazing bullet points to convert visitors into customers for your products. Allot your company or product name and description.
Short Social Posts — Generate 400 characters of social media posts in a matter of seconds. And choose from the dozens of templates available.
Power Mode: You can switch to power mode to generate templated outputs alongside your document.
Rewrite & Format Content: It is super easy to rewrite and format the content using Jasper. You can easily rewrite the content which you don't like out of the generated content and get it again. However, it will consume more credits but it's helpful for quality.
Rephrase Content: You can highlight the content and click on rephrase icon to rephrase any piece of content.
How to use Jasper.ai?
Jasper AI is very simple and easy to use. It works on the following simple steps:
First, select a template from the 50+ options available.
Second, Describe the content you wish to create
Third, start creating the content
Step 1: Choose from 50+ Templates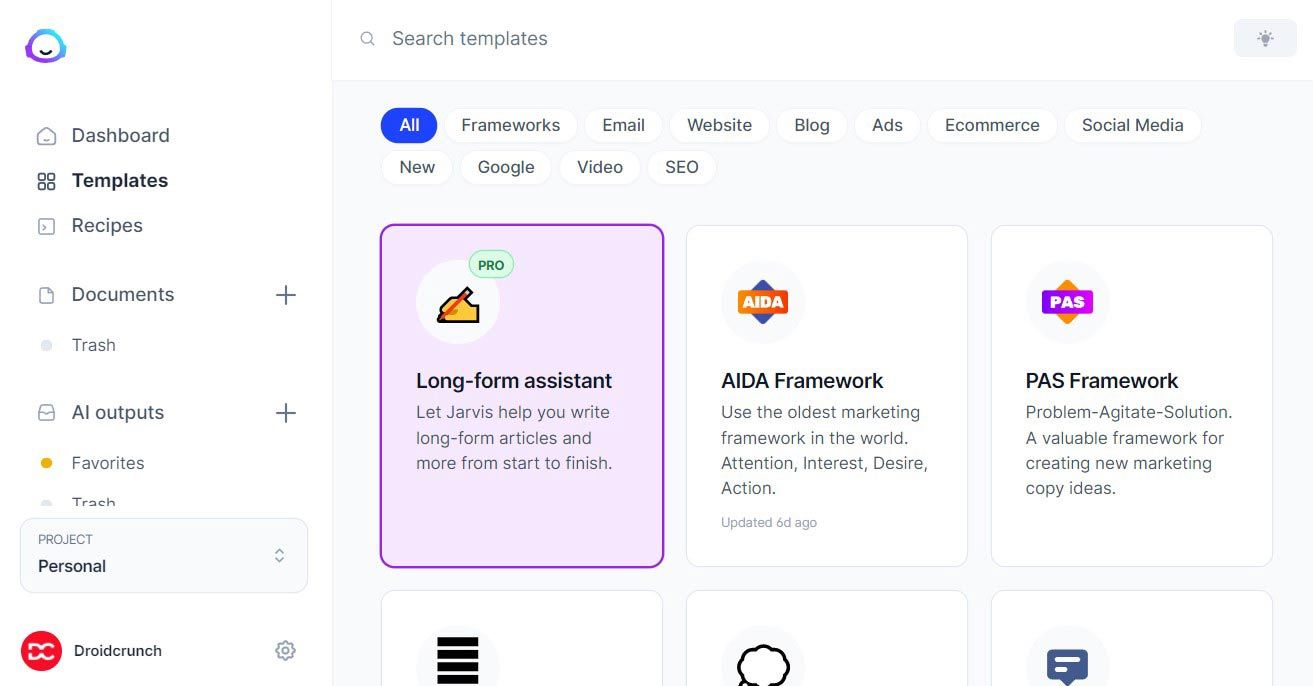 There are many templates to choose from such as Long-form assistant (best for writing blog posts and long copies), and AIDA Framework(This template works on a very old marketing technique. Its framework is Interest, Attention, Action, and Desire.), Facebook Ad Headline, Google Ad Description, Product Description, Creative Story and much more. Below are all the templates you will get in your Jasper Templates Dashboard.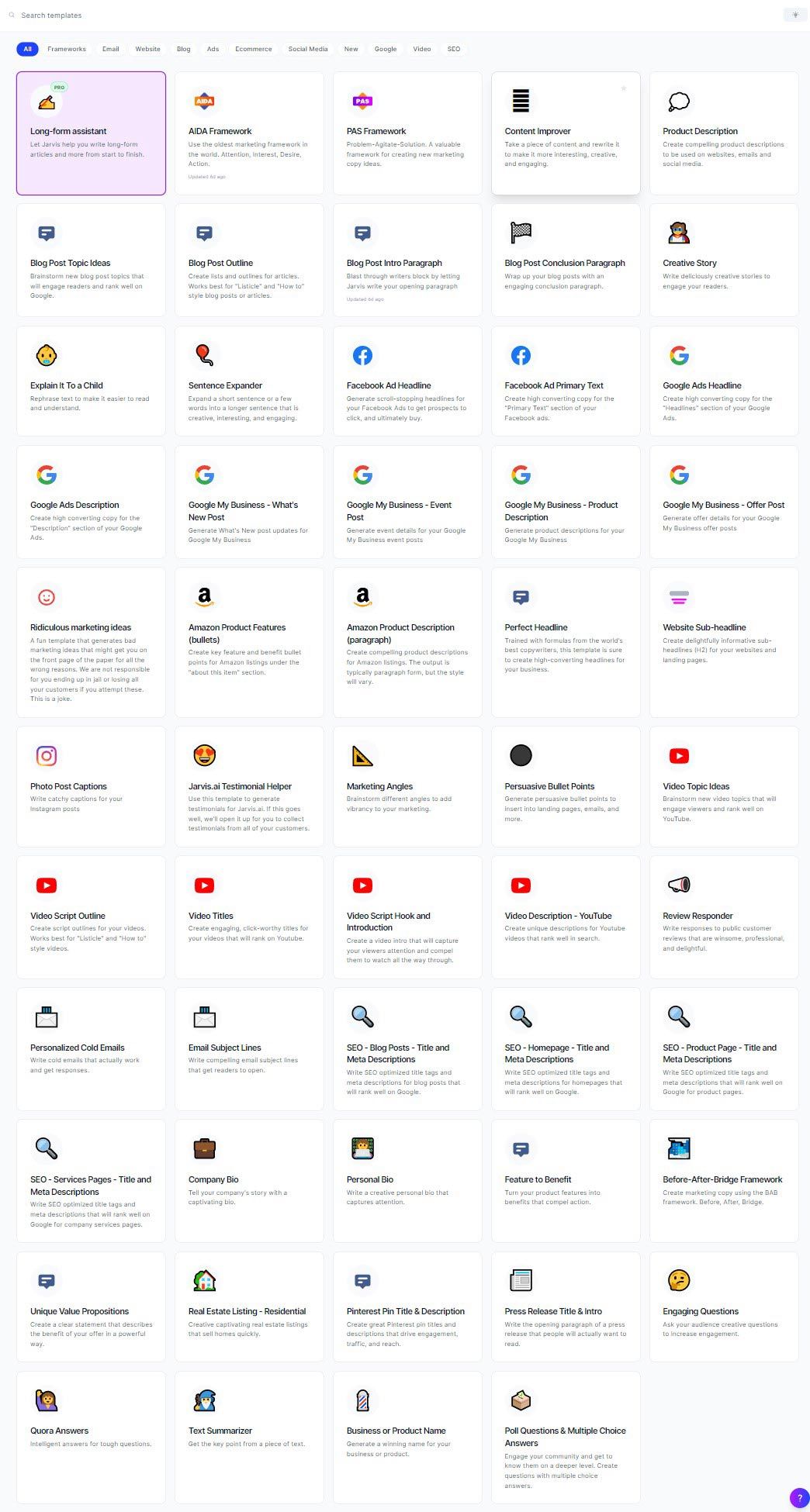 Step 2: Input the content you want to generate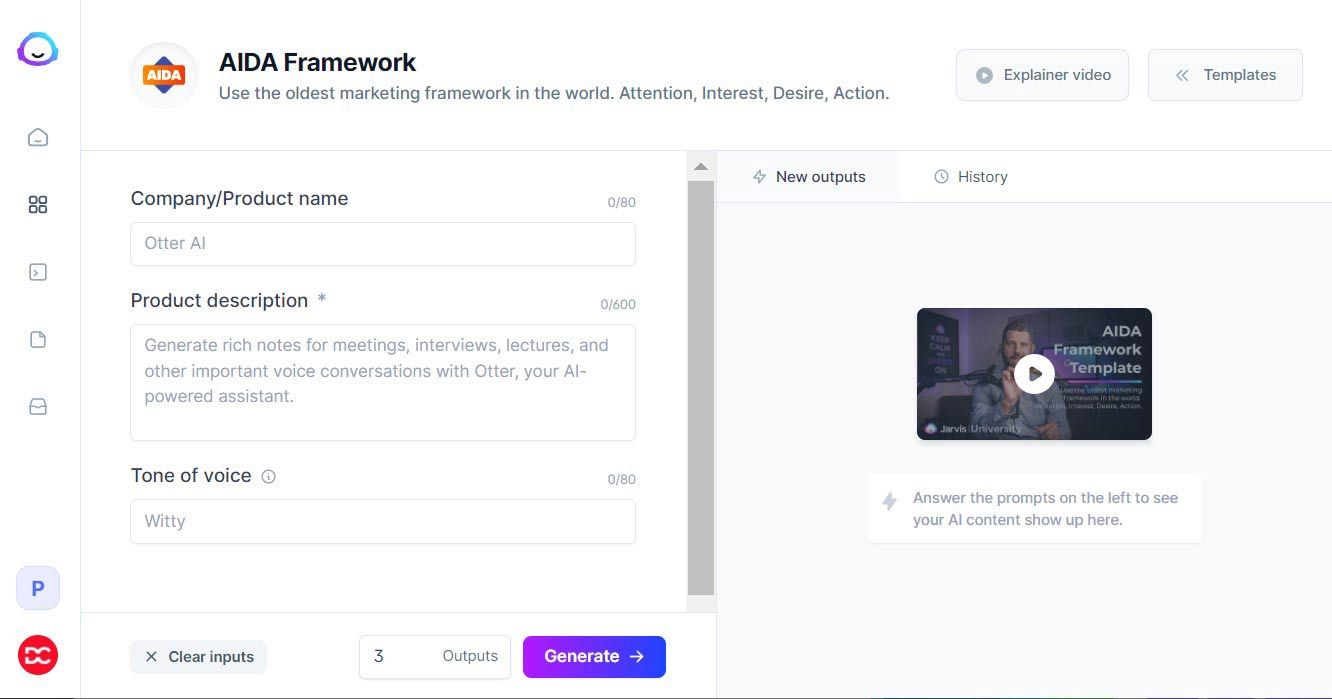 Then enter your description. That is the best way to get the content of your wish.
Step 3: Set the Tone of Voice
Many AI Software doesn't allow you to set the content tone, which is very abnormal. As we are moving towards the world of AI Content, it is valid to have content that is also tone specific. As such, Jasper lets you choose from different tones to write the AI content such as Professional, Funny, Conversational, Funny, Friendly, Angry, Polite, and more.
Step 4: Generate the Output
Once you are done with the other steps, click on Generate and Jasper will start generating the output for your content and will give you plagiarism-free, original content for your marketing copy. You can also write your headline. Tap on "Generate more ideas" and get many more headlines.
Alternatives to Jasper.ai
Writesonic provides Al-powered tools to generate writing content for blogs, landing pages, ads, and information related to the product. It is a feature-rich tool that lets the users share, copy ads, and launch Google and Facebook ads straight after they are created/generated. Its algorithms use the data from all brands' high-performing copies that are available online.
Rytr is an impressive tool for writing content more confidently. It can help you in writing any kind of content with precision. There are many exciting features of Rytr that make it one of the best suitable alternatives to Jasper.
Writerzen is more like a content optimization tool. Over time it has grown a lot and improved a lot. This tool can assure you of better content management and ranking. It makes your content writing work super easy and result-oriented.
Surfer SEO like Writerzen is more of a content optimization tool than an AI content writer. However, it also serves the purpose of content writing with perfection. Surfer can also connect with Jasper and you can write SEO-friendly content with the help of keyword guidelines offered by Surfer.
ContentBot is a tool that offers Al-based advanced content-creating bots, designed especially for bloggers, marketers, copywriters, and SEO specialists. It generates content in a very less period of 30 seconds. ContentBot is a multilingual platform that is capable to produce human-like text and generates content for copywriting formats such as blog topics, brand names, slogans, and sales emails.
LongShot is a long-form content-generating tool. It is an end-to-end Al-powered tool for long social posts, blogs, product reviews, essays, etc. Using this platform is very simple, you can simply research any topic of your wish that you want to write, and then accordingly create structured posts (no matter how long) while making it SEO friendly. LongShot makes your content free from errors.
SmartWriter
SmartWriter is an Al-powered platform that uses Al bots to generate some unique personalized email copies for creating outreach messages. It permits the users to verify email addresses and create content for blogs, landing pages, e-commerce copies, blogs, and social media.
Flowrite
Flowrite is a platform used for content writing. It uses Al-power to generate emails, ready-to-send messages, and personalized posts. It comes with a template feature that allows it to automate repetitive emails and tasks. It is best known for customization. Flowrite comes loaded with many curated templates.
Jasper: Excellent Customer Support
Jasper has outstanding customer support available with a satisfaction rate of 99%.
The Jasper expert customer access team and talented specialists are available all the time to help you. It never fails to assist you in any matters related to pricing plans or billing, Jasper's capabilities, and more.
You just have to visit its official page and get in touch with the Jasper customer support team.
For any type of guidance, Jasper's amazing support team is active 24 hours, a to resolve all your queries. Jasper contact support has a friendly customer support team in Austin and Texas.
On their website, the contact support page is extremely well done. Here you can freely search your questions to find answers in help docs fast.
If you need to share your feedback, get solutions to any of your problems, raise an issue, or even ask for a feature, then you can reach out to Jasper's amazing customer support service and get your work done quickly.
The support team of Jasper is just a mail away and you can get in touch with them almost instantly. That means, whenever you will need any guidance the support team will get back to you in 4 to 8 hours.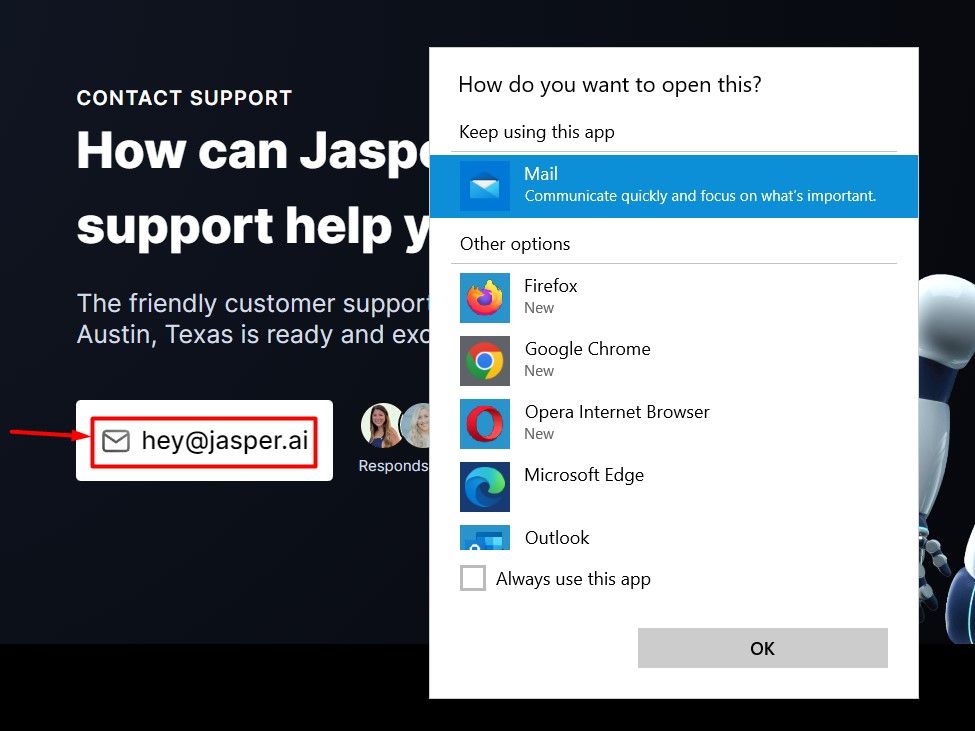 Jasper's team is always excited and ready to help you with any of your troubles, questions, doubts, or queries. Mostly all of my problems are solved within 2-3 minutes.
Use Jasper and put an end to all your troubles. The software is easy-to-use, reliable as well as scalable which can produce amazing-quality content. And provide your business with the needed edge by crafting interesting stories that your customers will love to hear.
Jasper: Review by the Existing Users
Jasper is used and loved by many professional writers, Marketing teams, eCommerce stores, Entrepreneurs, and so on. Including many talented tech-savvy and smart people, who use Jasper to embrace the latest tech and become even more productive and creative in their respective fields of work.
Some of these highly-talented people shared their experience of working with Jasper as shown in the screenshot below.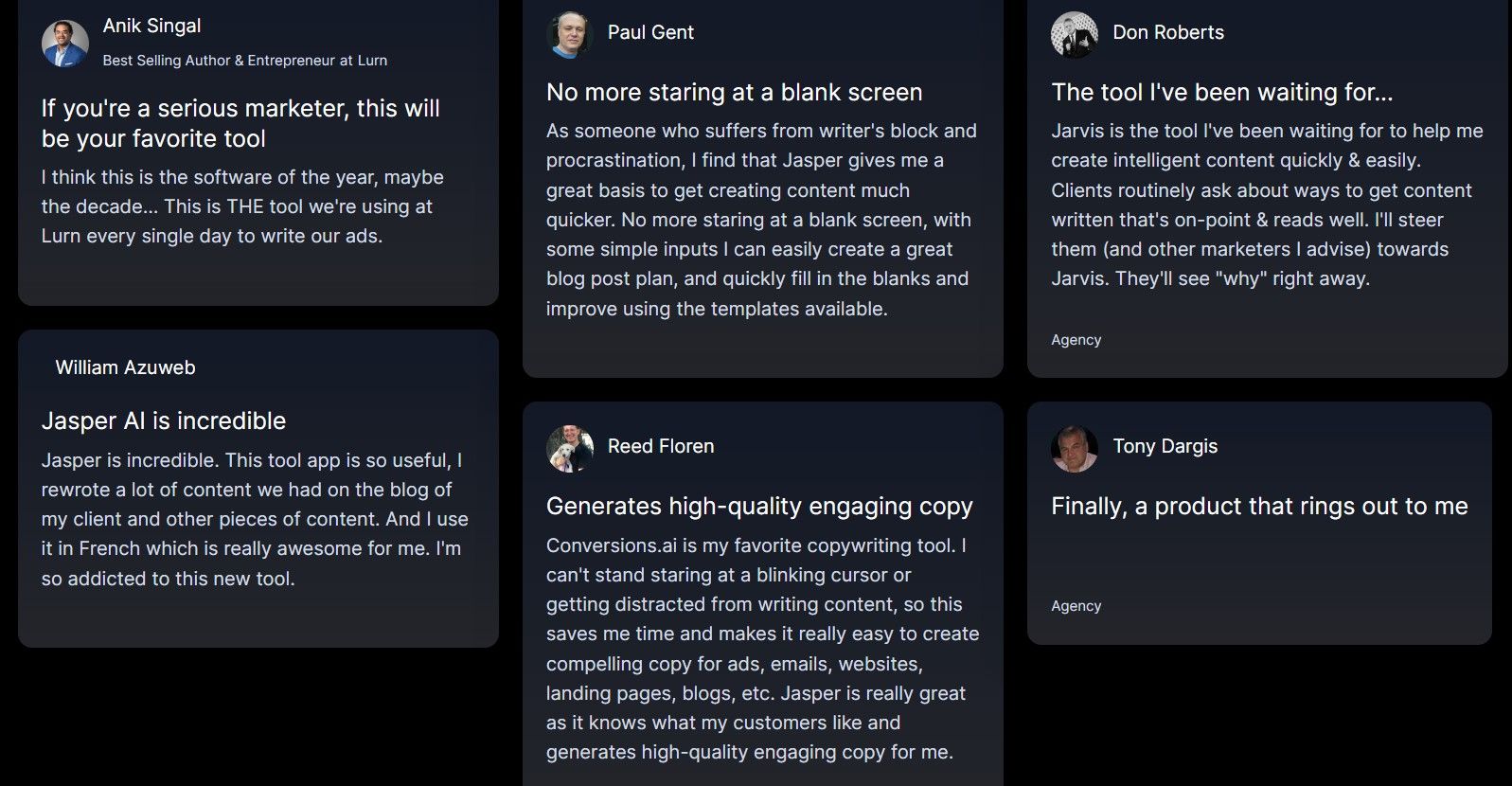 The AI-powered software is fast and makes it easier to create content for social media, blogs, websites, and more. It is rated 5/5 in 3,000+ reviews.
Many founders, Marketers, Content creators, Entrepreneurs, Agencies, and others are using Jasper for simplifying their content marketing.
Its expert professional workforce mission is to help people break through writer's block and finally get their content done.
With Jasper, many of the talented brands have become visible with their amazing stories. These stories have worked well to attract people who wish to climb the search engine rankings.
Many Agencies are using Jasper to scale their content production as well as meet their client's requirements well.
Jasper has 50+ templates and 25+ languages and is trusted by millions of agencies, marketing teams, and entrepreneurs worldwide.
Jasper: Online Community
Jasper has a community group available online. You can join this group that is filled with knowledge about the tool, and engage with many tech-savvy like-minded people, who have been using Jasper for a long time.
From the Jasper official community, you will get all the important people's reactions, notices, queries, information, news, updates, and even more. And all this information will help you amazingly at last in ranking your pages.
Jasper Official Community available on Facebook, is a global community of talented givers who share tips, wins, and helpful advice for generating amazing informative copy using Jasper among all the other AI writing tools.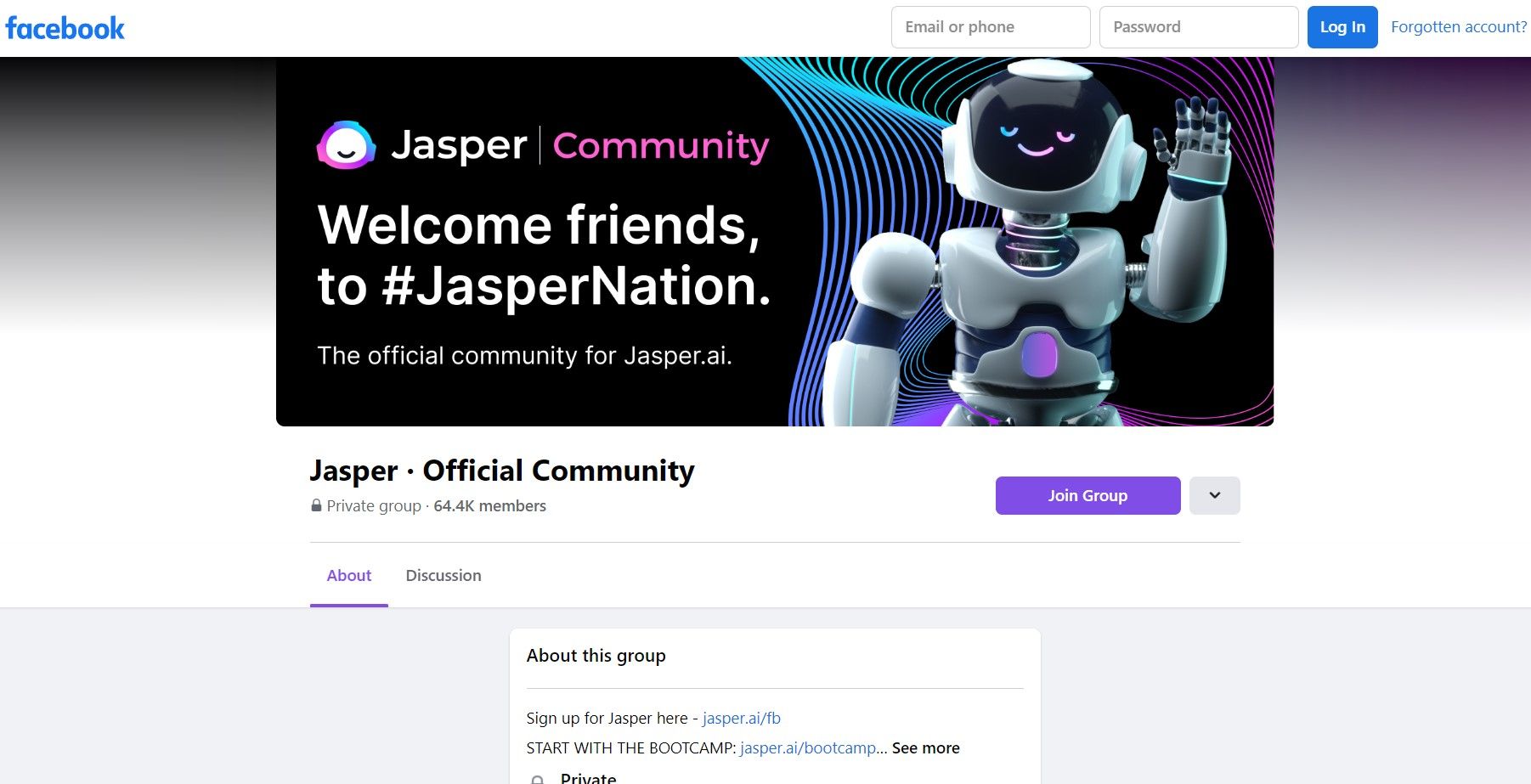 The Facebook page of Jasper is run by the admins and the moderators. And the page is private which means only the people included in that group can see who is part of the group and what they are sharing or posting.
The community of Jasper has come together to learn how to use the tool more smartly and accurately, share their perspectives and nice use cases, and most importantly put forward their experiences of working with Jasper.
You can join this Facebook Group that has over 50,000 marketers who are writing with AI.
Jasper: Short learning curve
Even if you are new and have just started with this amazing AI-powered writing tool, you can easily learn Jasper's work as it is very simple-to-use, and has an easy and short learning curve.
When you visit Jasper's official page you get a brief idea about the tool through a short video sharing the overview of the tool.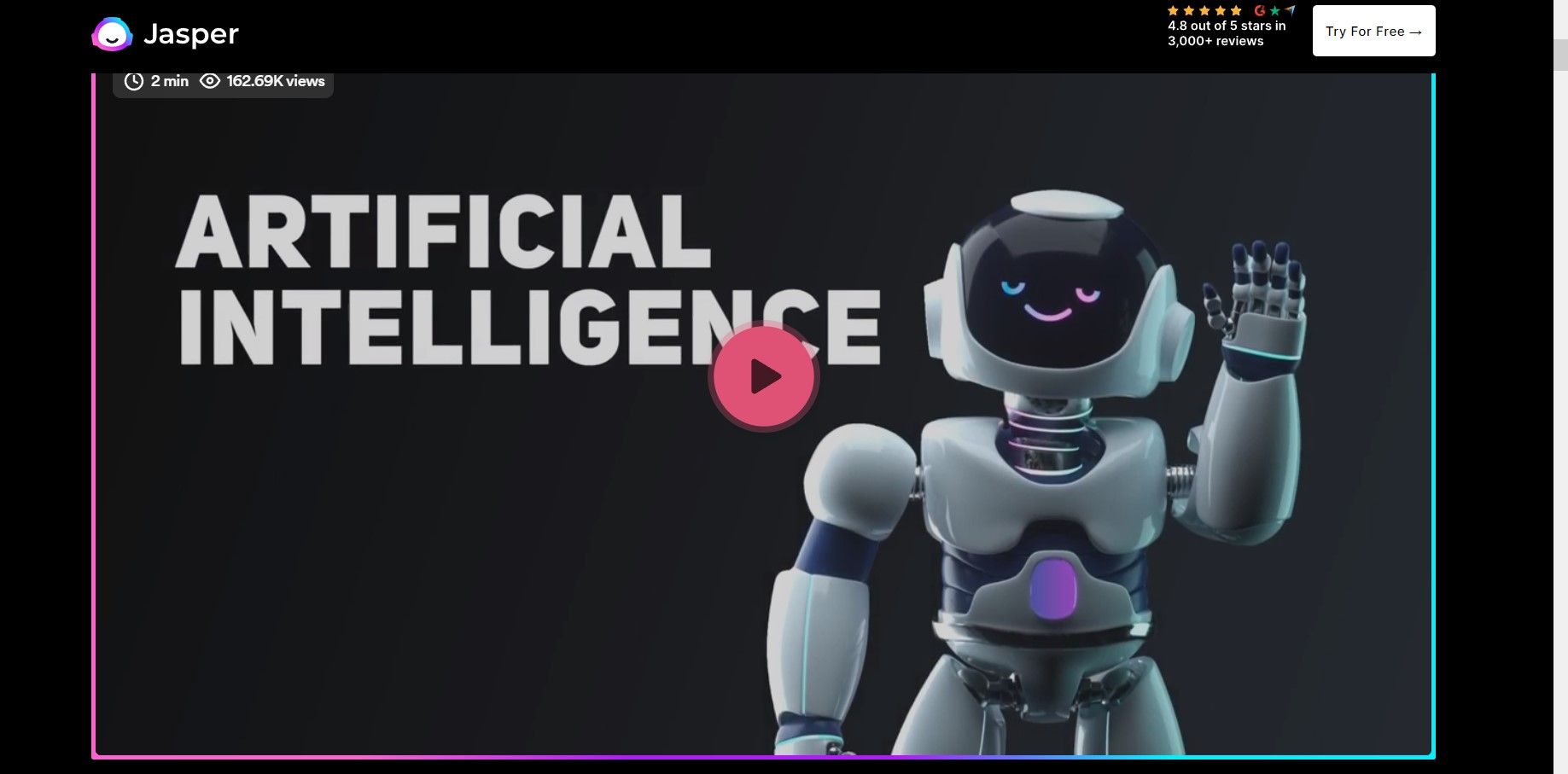 Its Facebook group Jasper is full of high-value information that works to provide benefits to all its users.
A wide array of informative online videos is also available on Jasper's official YouTube channel. These videos are full of knowledge and cover almost all the major aspects of the tool. That develops a better understanding of the working of Jasper.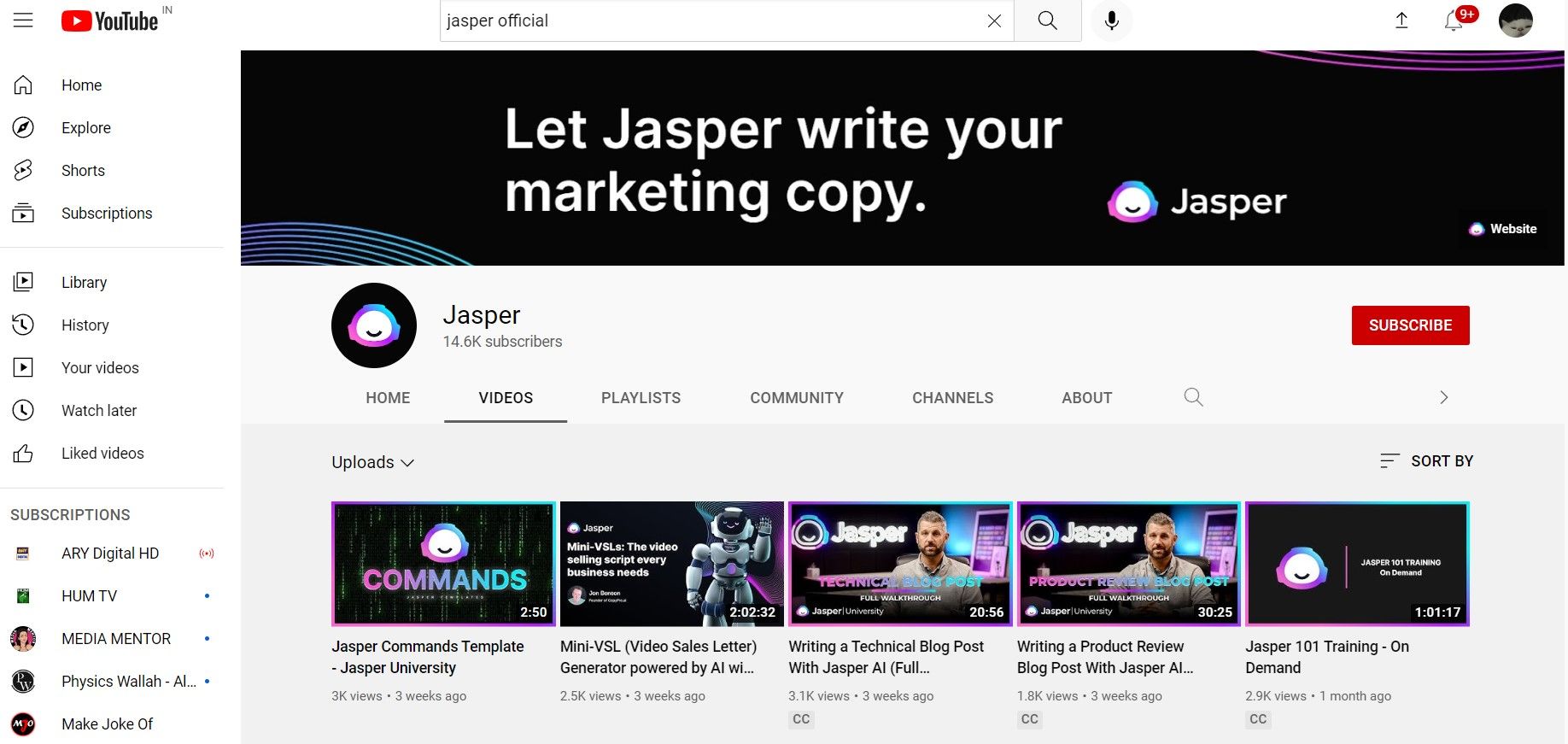 Jasper also has an Official Bootcamp, Live 101 pieces of training, Live Q & Sessions, FAQs, a Help Center, App Status, and other resources that make it even easier for you to learn the tool.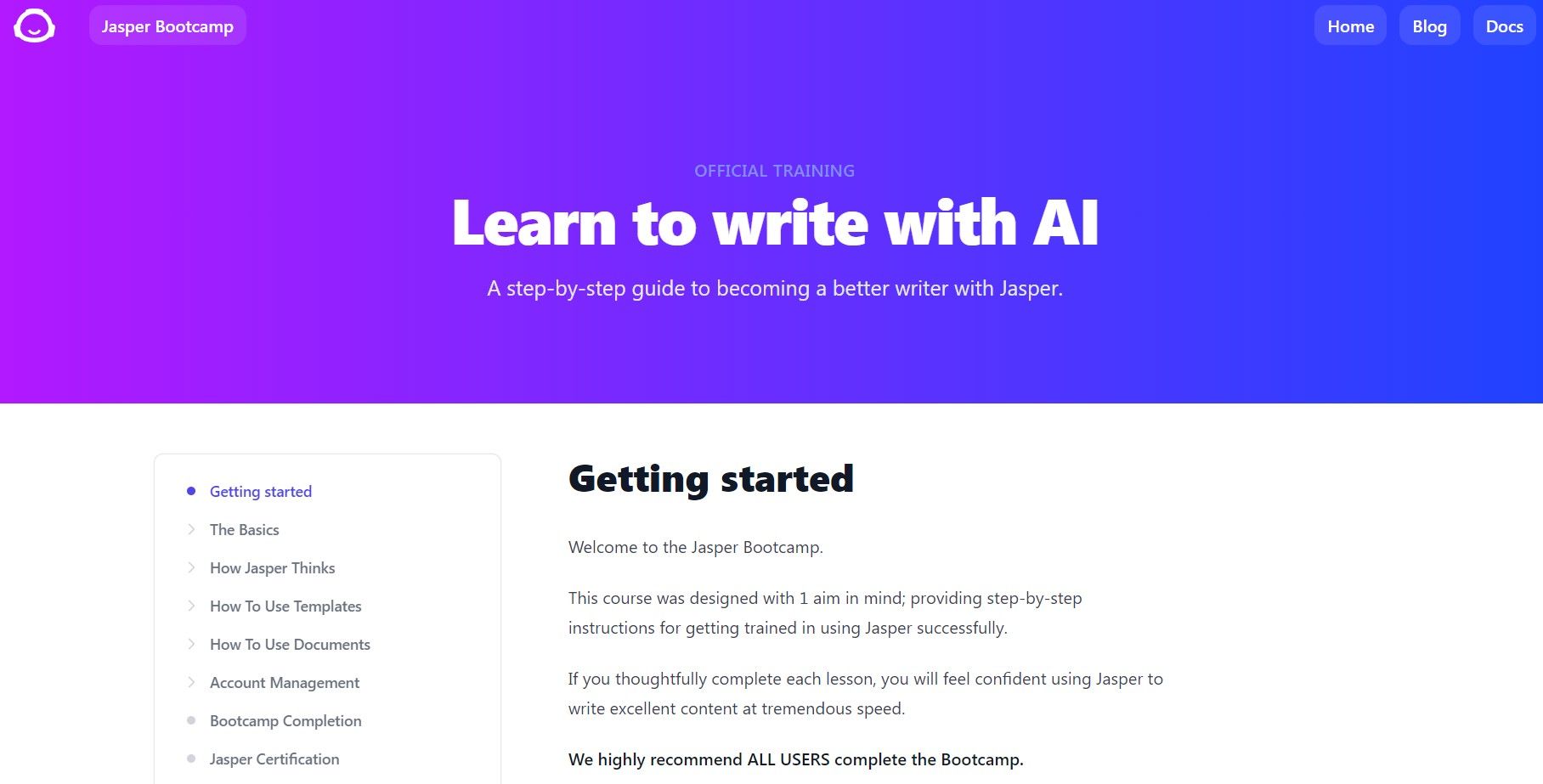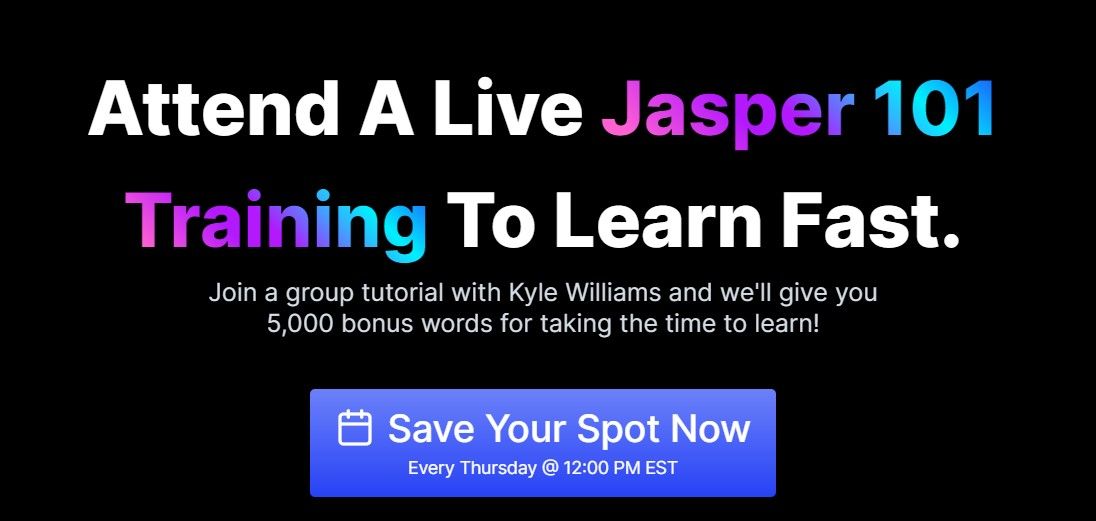 Jasper FAQs
Below are some frequently asked questions regarding Jasper.ai
What is AI copywriting?
AI stands for artificial intelligence. AI copywriting is a method of writing web content like blogs, social media posts, emails, articles, and more using the power of artificial intelligence.
The AI copywriting software is used to save a lot of site owner time while writing efficiently.
Can an AI Copywriting tool replace copywriters🤷‍♂️?
No. When compared to a machine-human always do a better job of creating amazing content. So, a human touch is always needed to make writing more effective.
However, if we reach the peak level of a dystopian-novelesque society where robots work to run the world. It is only then technically possible that an AI replaces human copywriters.
Does Jasper.ai offer free trials🙋‍♂️?
Yes, Jasper.ai offers free trials. It is for a period of 5 days.
What languages does Jasper.ai support?
Jasper.ai is multi-lingual. It can support about 26 global languages.
What is the pricing of Jasper.ai🤷‍♀️?
Jasper.ai's pricing plans start at $29 per month. This is for generating the content of about 20,000 words.
Who is Jasper.AI best for?
Jasper.ai helps in various copywriting works. It is best for bloggers, authors, copywriters, and anyone who wants to get out of writer's block.
Pricing of Jasper.ai
Starter- At $29 per month
39+ templates
20,000 words generated
6 languages
10 user seats
Support chats
Pro– At $109 per month
Unlimited words generated
6 languages
1 user seats
39+ templates
Support chats
Document editor
Long-form writing assistant
Boss mode– At $119 per month
Includes 1 user seat
Jasper Command
Unlimited re-generations
Maximum content lock-back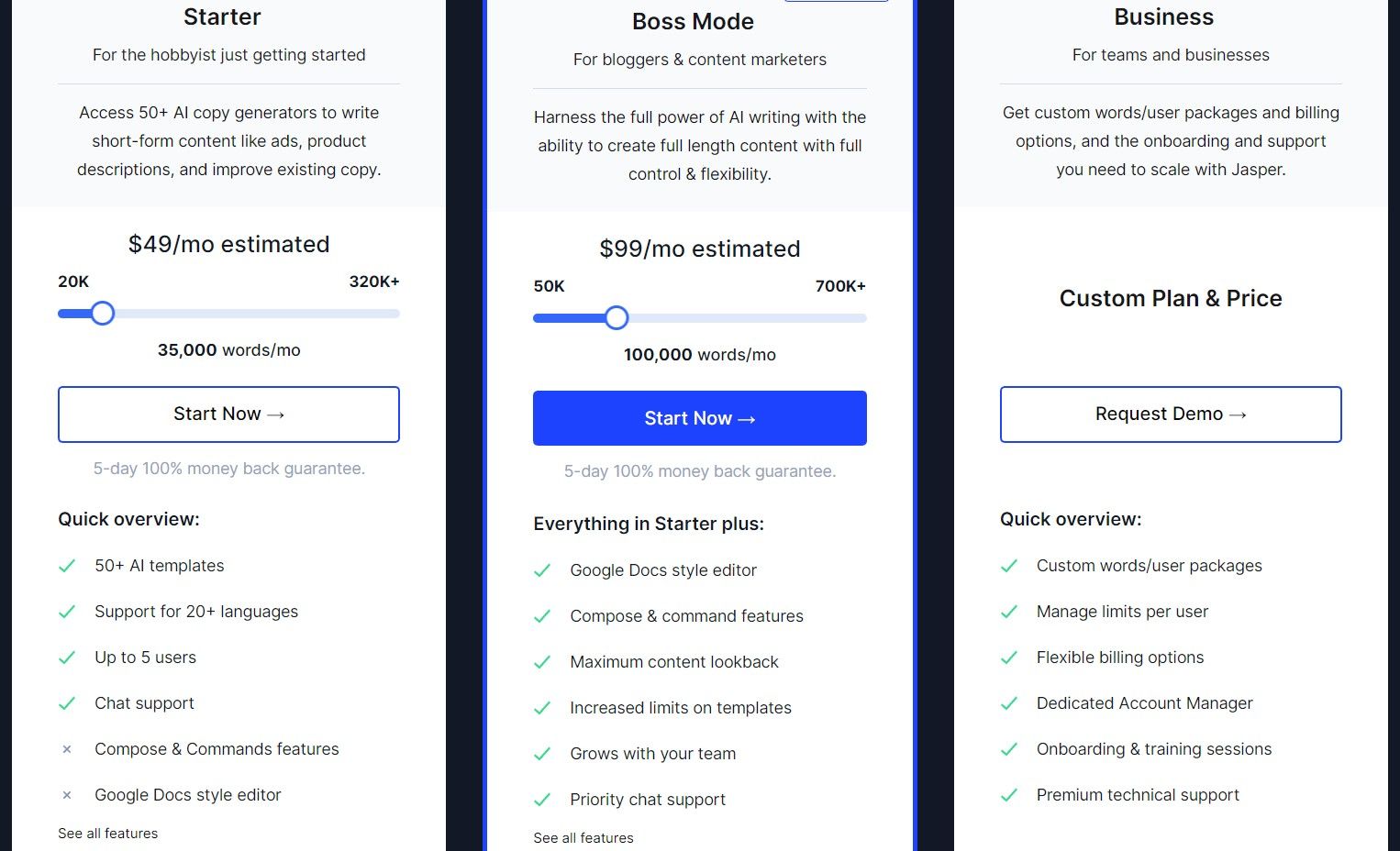 What makes Jasper.ai stand out?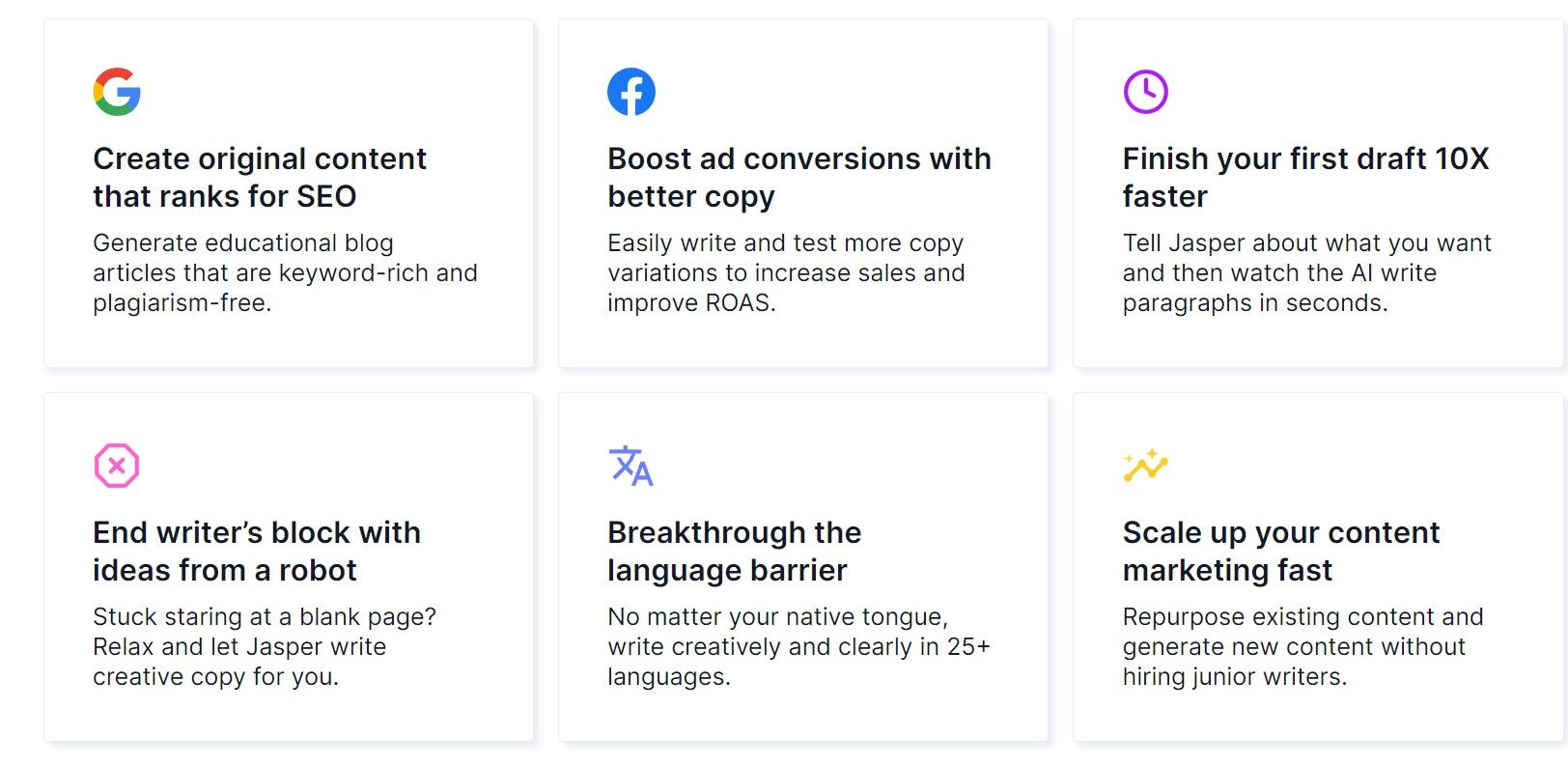 Jasper.ai is a tool that is used by copywriters widely. Almost every online marketer and digital entrepreneur require this amazing tool. However, online marketers have already access to many platforms which can help them to advertise and sell their products easily, but writing the original content is no doubt a very time-consuming process. At times copywriters suffer from writer's block. To improve their efficiency and effectiveness all copywriters need the right helpful tool. Jasper.ai is a tool that will serve its purpose and meet its requirements.
The algorithms that Jasper uses are designed by experienced conversion experts and copywriters to generate content. And more than 40 different channels of copywriting Jasper bot are generating long as well as short-form content. Jasper.ai provides a 7-days money-back guarantee while all other companies take an average of 30 to 90 days for doing so.
Why use Jasper?
Overall, Jasper is a software that is beautifully developed. The service doesn't fail to do what it promises to do. A few specific reasons that make Jasper worth using are-
Jasper is easy enough for absolutely anyone who wishes to use the tool. All that has to be done is put a small amount of information about the basic idea of what you wish to cover, and Jasper does the rest of the work.
Jasper is amazing for short-copy content creation. If you hung up on writing SEO meta titles and descriptions, social media posts, and things that need character limitations. Then the software works best at manipulating text in a way that fits these requirements perfectly.
For those topics that are written frequently, Jasper helps you to do a lot of heavy lifting. The AI-powered tool can build a solid base of content that you can easily add to your unique view to.
Jasper includes over 50 templates that you can use (e.g., YouTube, product descriptions, video descriptions, Facebook headlines, email subject lines, and more).
Jasper helps in overcoming the writer's block problem and provides creative ideas for blog posts and generates better outlines.
Jasper is quite inexpensive for even its most all-inclusive plans. The pricing plans it offers are budget-friendly.
Pros and Cons of Jasper.ai
Pros-
Jasper.ai enables users to write anything 10X faster and save a lot of their time.
It lets you generate 99% original content.
Great customer support.
Supports 26 languages.
A rich document editor is there that helps in writing long-form content.
Jasper has integrated Copyscape and Grammarly software.
It has 40+ short-skill copywriting templates.
Affordable for all kinds of users.
Gives a 7-days money-back guarantee.
Cons-
It has a steep learning curve.
At times it generates irrelevant content. This can be corrected by you with a little human edit.
Fact-checking is required but sometimes Jasper writes incorrect information such as data & statistics, events, and names.
Over to you: Jasper Review
Jasper is being used for instantly generating good-quality copy for Ads, Emails, Listings, Blogs, Websites, and More.
The software makes it easy to strategize content, generate high-quality blog posts, articles, landing pages, Facebook ads, product descriptions, Google ads, emails, and product descriptions, and produce copies at a large scale in a few seconds.
The tool is worth the price and is very reliable, with various amazing features that are great service for people who want to spend less time generating high-quality content or copy as well as lower their risk of making mistakes while doing so😎.
The Review
Jasper
Jasper.ai is a leading content writing assistance tool in the market. It gives you a super satisfying experience writing long-form content as well as short copies. Jasper is being used by marketers, bloggers, freelancers, agencies, digital agencies, and entrepreneurs at large. This tool is very sophisticated and offers the value of money. Most other software in the market try to copy Jasper but the quality of Jasper is unmatchable. It is still the best AI content writing tool as of today! If you are looking to buy a serious tool that is excellent, then Jasper can't be a bad deal at all !!
PROS
Jarvis.ai enables users to write anything 10X faster and save a lot of their time.
It lets you generate 99% original content.
Great customer support.
Supports 26 languages.
A rich document editor is there that helps in writing long-form content.
Jarvis has integrated Copyscape and Grammarly software.
It has 40+ short-skill copywriting templates.
Affordable for all kinds of users.
Gives a 7-days money-back guarantee.
CONS
It has a steep learning curve.
At times it generates irrelevant content. This can be corrected by you with a little human edit.
Fact-checking is required but sometimes Jarvis writes incorrect information such as data & statistics, events, and names.
Review Breakdown
Features

0%

Easy To Use

0%

Support

0%

Brand Trust

0%

Value of Money

0%