Elementor is one of the best visual builders today for making WordPress websites.  Elementor Free plugin restricts you with many things, of course. However, with the help of Elementor Pro, you unlock many possibilities. People have stopped looking at WordPress Themes, and with just Hello Elementor & Ocean WP installed they end up creating a great piece of work. This is all due to visual builders and add-ons, which empower the creators to get the most out of their websites. Elementor is doubtless the leader when it comes to empowering WordPress designers and developers.
Even after installing Elementor Pro, you may not fulfill most of the things that you might be looking to achieve. As such, you may need to install additional plugins and add-ons that give you extended functionalities such as Advanced Accordion, Mega Menu, Advanced Tooltip, SVG animations, Off-canvas menu, and a lot more. There are undoubtedly many add-ons available for Elementor as of today. Interestingly, you may notice similar widgets in most add-ons, like cross-copy-paste for Elementor, Image Comparision, Pricing Table, Team Carousel, and many more.
So, the question arises which should you opt and which is the best out of all?
The answer to this question lies in your requirements. Like if you are looking for better designs for your blog or magazine site, more dynamic controls on ACF fields, or something else. This post will discuss some of the best and trending Elementor toolkits and add-ons you can use on your website.
Best Addons and Toolkits for Elementor 2023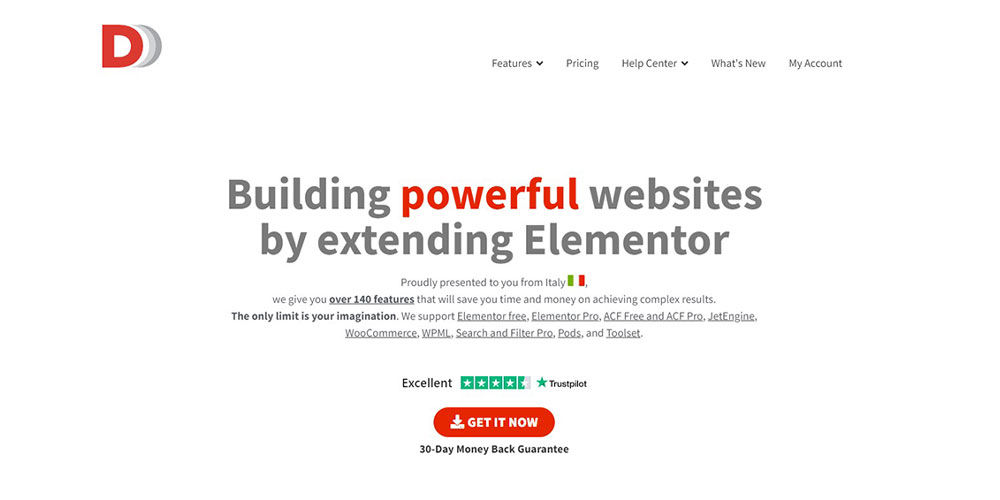 60 Widgets, 41 Extensions, 13 Template Items, 4 Page Settings, Posts Loop, Forms, ACF, Pods, Search & Filter, Repeater, SVG, Animations
Dynamic Content for Elementor or Dynamic.ooo is a wonderful plugin for advanced WordPress users who want to achieve a lot with their WordPress website. With over 60 Widgets and 41 Extensions, it ensures to extend the functionality of your website. With Advanced Elementor Form Controls such as conditions, PHP conditions, dynamic values, save & export for form, PDF Generator for form, Signature Field for form, Amount Field for forms, Dynamic Redirect for Forms, Regex Field for Elementor Pro forms, Telegram, Paypal field for form, it ensures you get most out of your forms.
There are certainly endless features of this advanced Elementor Addon. One can't list down all the features in one post. The continuous development of the plugin ensures compatibility with other plugins and quick fixes for any bugs. Whether you are creating a listing website or any basic website for your client or yourself, this plugin ensures you get the most out of your endeavors.
With the use of Dynamic Tokens of Dynamic.ooo you can easily pull various query values and set up your website while spending less time in development. Dynamic content for Elementor saves you a lot of precious hours of development.
Talking about support, the plugin offers you fast and reliable support. However, it is recommended to go through their documentation once before raising queries, which may save you extra time.
Now with the use of the search and filter pro plugin and dynamic posts v2 widget, one can easily create post loops that have search and filter(terms, taxonomy) options. Apart from that, there are some exciting extensions like the Amount field for Elementor Pro forms, Paypal and stripe for Forms, Dynamic Email Action for forms, Telegram for forms, and much more.
In short, dynamic content is our go-to recommendation if you are planning to create an advanced WordPress website now or anytime in the future.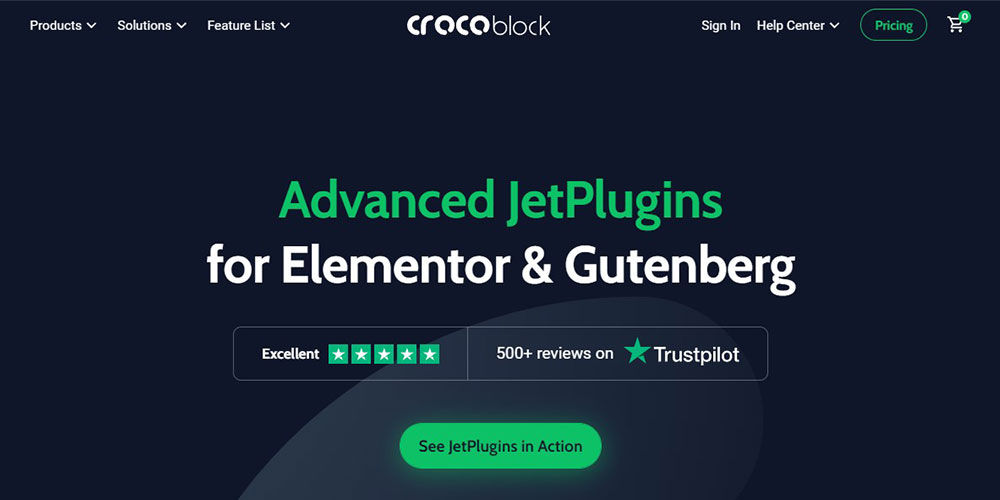 JetElements, JetBlog, JetWooBuilder, JetMenu, JetSearch, Mega Menu, Header & Footer builder, Widget Builder, Conditional Content
Crocoblock has some Advanced JetPlugins for Elementor & Gutenberg. The toolkit is highly used by WordPress professionals. It gives them advanced control over multiple WordPress functions. Crocoblock Jetplugins include JetElements, JetWooBuilder, JetTricks, JetBlog, JetMenu, JetReviews, JetTabs, JetAppointment, JetEngine, & JetSmartFilters.
With the help of Crocoblock Jetplugins, you can create full-fledged dynamic listing websites, e-Commerce websites, advanced websites with high-quality standards. Crocoblock is a complete solution for WordPress & Elementor that can give powerful control over your website. With Jetplugins, you can create Mega Menus, Posts Loop, Review Sections, Smart Filters for your posts loop, appointment tables, and much more.
Crocoblock is a complete solution for Dynamic Content, Conditional Logic, Dynamic Repeater, Dynamic Widgets & Rest API. They offer real-time zoom support and text chat. Over 470 reviews on TrustPilot, which average 4.8 stars out of 5, show how useful this toolkit is for them. Jet plugins have changed the life of agencies and freelancers who wanted to achieve more out of WordPress and Elementor for their clients. Definitely, Crocoblock can be one of the best Elementor Toolkit.

120+ total widgets, 35+ Free Widgets, 18+ Teplates, Custom Loop Builder, Age Gate, Special Backgrounds, Coupon Code, Advanced Search Filters, Ajax Search Bar, Morphing Blob Sections, Preloaders, Advanced Typography, Circle Menu Unfold, Protected Content, 300+ UI Blocks
The Plus Addons for Elementor or TPAE is a popular Elementor Addon. No matter whether you need to design rich web pages or fancy websites with dynamic content, filters, advanced tables, or advanced charts, TPAE is there for you. The addon is developed considering the needs of various stakeholders. Mega Menus, Popup Builder, Header Builder, Woo Builder, Blog Builder, Search, and Filters are some of the exciting features of plus add-ons.
The Plus add-ons literally offer you so much customization in their widgets that you can achieve what you desire without having to write even a single line of custom code. Their helpdesk is always there to help you when stuck, and they have some exciting video tutorials to help you start using some of their exciting features.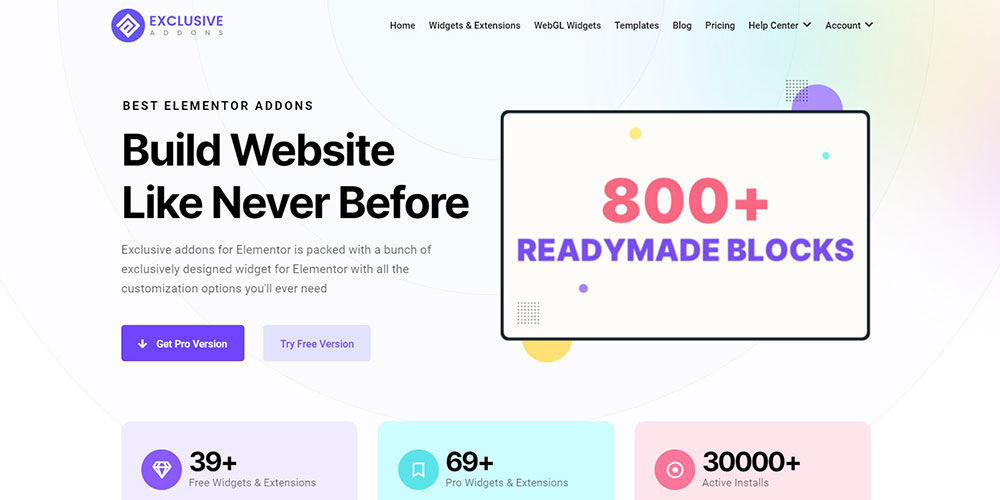 39+ Free Widgets & Extensions, 69+ Pro Widgets, Content Scroller, Cursor Follower, Magnetic Effect, Modal Popup, Progress Bar, Cookie Consent, Mega Menu, Post Slider, Post Carousel, 15+ WooCommerce Widgets
Exclusive Add-ons are one of the best add-ons for Elementor if you look at the widgets, extensions, and templates that it puts on the table. This addon is also available for free. So if you want to use their free widgets you can download their plugin from the WordPress Plugins library/repository. However, free widgets may not satisfy you much as most of the useful widgets are not free. The plugin offers you incredible customizations for the widgets like the Plus addon. Even there are many exciting features of this addon that may make you a fan of it.
Their WebGL widgets are highly popular. Not only widgets and extensions but it also offer many eye-catching and pixel-perfect templates. You can make use of these templates to create unique websites for you and your clients.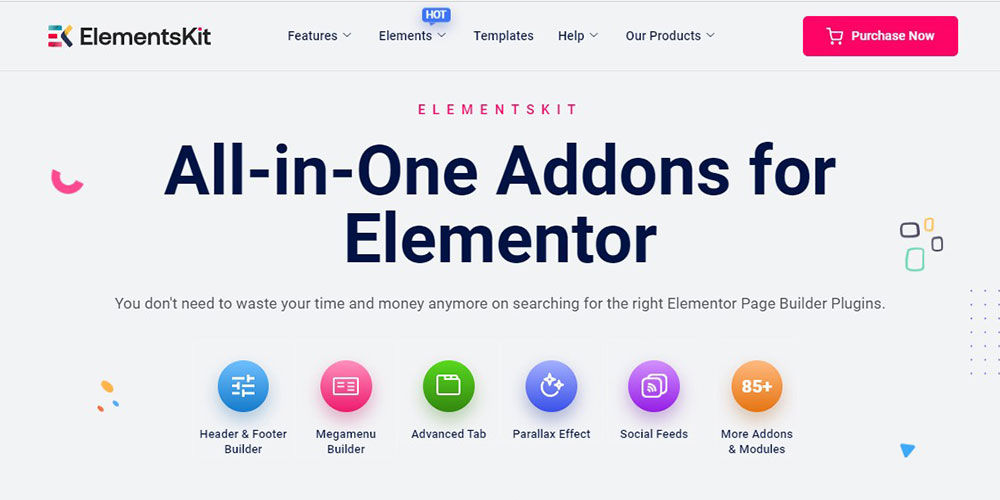 70+ Addons, 500+ Ready Blocks, 25+ Ready Homes Mega Menu, Header & Footer builder, Widget Builder, Conditional Content
Elementskit is another incredible toolkit/add-on for Elementor, which dramatically enhances your website's look and feel. With Elementskit, you can easily create Mega Menu and advanced header & footer that has a badge in the menu, icons, color, and all. Elementskit is primarily famous for its advanced mega menu builder. With this add-on, you can create a custom mega menu with the blinking of an eye. There are also ready-made templates for the mega menu, which allows you to save time while creating the design of your mega menu. 
More than 70+ widgets and hundreds of ready blocks make it a complete toolkit for Elementor. To avoid Elementor loading issues, one can easily disable the widgets they don't use from the dashboard. Its dashboard UI is impressive, easy to use, and can be configured easily for first-time users. 
Apart from Mega Menu, Header footer builder, and Widgets Builder, there are many other exciting features of Elementskit. These features include Copy Paste Cross-site/domain, conditional content, advanced sticky, advanced table, advanced parallax, advanced accordion, advanced tabs, dual button, off-canvas, hotspot, image comparison, FAQ, fun fact, Lottie, Team, Pricing, and many other widgets.
There are also Feed & Review widgets. Feeds widgets allow you to show feeds from social media channels such as Facebook, Twitter, Instagram, Pinterest, Dribble & Behance. Review widgets let you render reviews from Facebook & Yelp. Again, there are also some third-party widgets like Woo Product List, Metform, Caldera Forms, Contact form 7, weForm, Ninja Form, Table Press.
Essential Add-ons for Elementor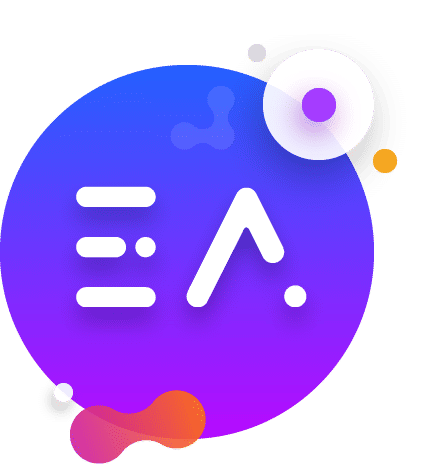 70+ Widgets, 7+ Extensions Parallax Effects, Protected Content, Image Hotspots, Advanced Tooltip
When it comes to having more control over various Elementor widgets like tables, accordions, pricing tables, and tabs, then mostly find essential add-ons as their free go-to add-on for Elementor. Essential Addons for Elementor is one of the renowned add-ons for Elementor. The add-on is available for free on WordPress Repository. 
The add-on adds many exciting widgets to your Elementor Widgets panel, such as Image comparison, Interactive Promo, Interactive Cards, Content Toggle, Protected Content, Parallax Effects, Advanced Tooltip, Image Hotspots, Particle Effects, Interactive Cards, Logo Carousel, Testimonial Slider, Advanced Google maps, Post Block, Instagram Feed and much more. However, most of the exciting widgets are restricted to the Pro version of Essential Addons, the pricing of which starts from $39.97. 
With Essential Addons for Elementor Paid version, you also get access to templates for 1-6 months, depending on your license. The template lets you use 1000+ modern design-ready made templates for Elementor. With millions of downloads, Essential Addons can be your go-to add-ons for Elementor.
Piotnet Addons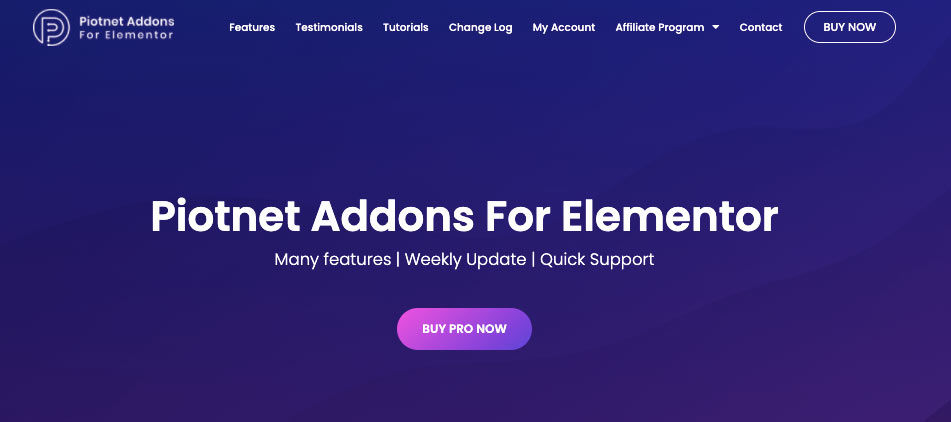 Piotnet Addons for Elementor or PAFE is a popular addon for Elementor. Like Dynamic.ooo, PAFE also offers many extensions so that you can do a lot with forms. For making dynamic forms, PAFE is 100% my recommendation. However, it is not very popular and offers many widgets like Dynamic. But some of the features of Piotnet are literally powerful and effective.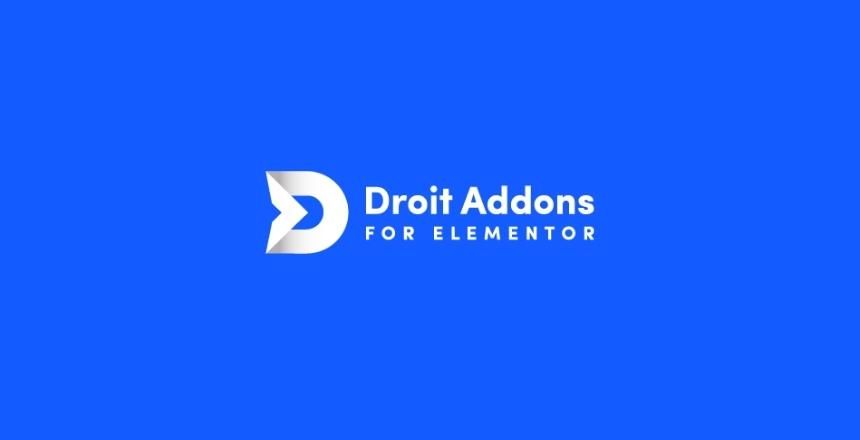 Droit Addons is very new and is very handy for creating a beautiful website without wasting much time. Its widgets are super useful and can be used for making any kind of website using Elementor. Droit addons can be installed for free, and it also has a pro version that unlocks some exciting widgets that are restricted for the pro users only. Some of the advanced features of Droit Addons are CSS Transform, Advance Popup Builder, Full Page/One Page Scroll, Header & Footer Builder, Mega Menu Builder, Cross-Domain Copy Paste, Advanced Parallax Effect, Exciting Templates & Blocks Library.
Oohboi Steroids for Elementor
OoohBoi Steroids for Elementor is a very popular and absolutely free addon for Elementor. This adds tons of features to your Elementor. With Oohboi Steroids for Elementor, you can do a lot of things. All of the features of Oohboi are pretty exciting and for the same features, other plugins charge monthly or yearly subscriptions. As such, it saves your pocket and time if you need features that this plugin offers. For various transitions, flipping, gradients, pagination, and more. Teleporter one of my favorites is an exciting feature with the help of which you can trigger an effect with a mouse click or hover. In short, this is worth a try and can definitely come in handy in many cases while saving you from subscriptions.
Master Addons for Elementor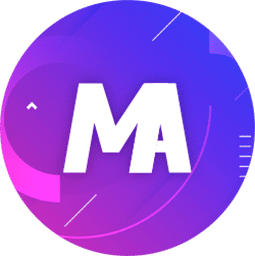 50+ Widgets, Pre-Made Sections & Pages, 50+ Header & Footer Blocks, News Ticker, Custom Breakpoints, Image Filter Gallery, Display Conditions
Master Addons for Elementor offer some really cool add-ons with the help of which you can boost your design creativity. There are endless features of this awesome addon for Elementor. 
News Ticker, Custom BreakPoints, Image Hover Effects, Mega Menu, and Particles Background are some of the exciting features of Master Addons. 
Apart from that, there are many exciting add-ons such as Image Filter Gallery, Display Conditions, Toggle Content, Dynamic Tags, Animated Gradient Background, Particles, Domain Search, Flipbox, Creative Links, and Table of Content. Interestingly, Master Addons are available for free for many widgets. However, some widgets are restricted for the pro version of master addons that starts from $29 at a yearly subscription.
Master Addons also offers 30 days guaranteed money-back refund. Their customer support is also very responsive to user queries of any type. With Master Addons, you can definitely boost your design creativity.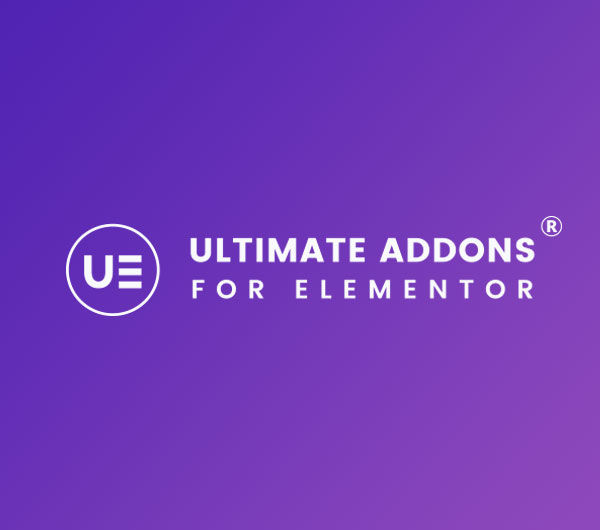 40+ Widgets, 100+ Website Templates, 200+ Section Blocks, Marketing Button, Content Toggle, Modal Popup, Hotspots, Timeline
Ultimate Addons for Elementor offer many widgets and extensions to help you build a design-rich website in less time. Like any other addons, Ultimate Addons also offer you some basic widgets like Navigation Menu, Off Canvas, Price box, Team Members, Cross-site copy-paste, and much more. So what is new? Yes, there are definitely some unique widgets in Ultimate Addons. These unique widgets include Login and User Registration form, Dual Color Heading, Marketing Button, Retina Image, Social Share, How to Schema Widget, and many more.
Nice reviews on online review portals and effective support is something that makes this product reliable and helpful for your various WordPress projects.
Happy Addons for Elementor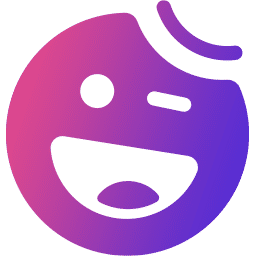 80+ Widgets, Presets, Unlimited Section Nesting, Display Conditions, Advanced-Data Table, Testimonial & Logo Carousel
Happy Addons for Elementor is a very popular plugin. It is available for free on WordPress Plugins Library. However, the free version does not let you use the functionalities which are only available for paid users. These functionalities, only available for pro users, include preset, live copy, unlimited section nesting, image masking, display conditions, particle effect, Cross-Domain Copy Paste, and more.
Happy Add-ons are one of the best addons for Elementor. With Happy Addons installed on your WordPress website, you can create an awesome website without the use of any premium theme.
One can create incredible design-rich landing pages with the help of various widgets available in happy addons for Elementor.
Happy Addons come with Annual and Lifetime pricing plans that start from $29 annually. You can also get a lifetime license of happy addons from Elementor if you don't like subscription-based pricing.
Powerpack for Elementor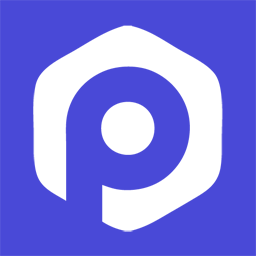 70+ Widgets, 100+ Section & Page Templates, Header Footer Builders, Advanced Display Conditions, Advanced Posts
PowerPack Add-ons for Elementor is offering some exciting widgets. They definitely have numerous features to offer. This is like a toolkit for Elementor that you can download for free as well as for some restricted features. Pro Version, however, empowers you with some additional widgets and templates which can be helpful in the fast creation of websites. 
Some of the exciting widgets & extensions of Powerpack Addons for Elementor include Dual Pricing, Restaurant Menu, Off Canvas, Image Hotspot, Tabbed Gallery, FAQ schema, Social Media feed, Popup Box, Review Box, Promo box, Display Conditions & Header, and Footer Builder.
Apart from that, there are also Woocommerce Widgets, Form Styler Widgets, and Background Effects. Background Effects of Powerpack Addons include NASA Animation, Waves, Fog, Dot Animation, Bubbles, and Birds Animation.
Mighty Add-ons for Elementor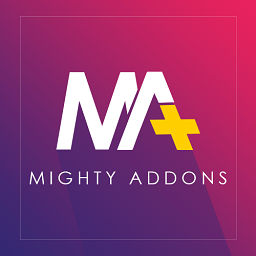 35+ Widgets & Extensions, 25+ Template Kits, 150+ Sections, Flip Box, Paypal Button, Content Toggle, WhatsApp Chat, Particles
Mighty Addons for Elementor is a great plugin for WordPress. They offer a range of widgets and extensions for achieving extra functions. There are more than 35 widgets and extensions and 25+ Template Kits in mighty addons. Some of their widgets are very helpful for any WordPress designer.
Mighty addons for Elementor is a free-to-download plugin. You can download the free version of this plugin from the WordPress repository itself. At the same time, the paid version of mighty addons starts from an annual subscription of $29. There are three plans, viz Starter, VIP, and Elite. You can subscribe to any of the plans either for a yearly subscription or a lifetime deal depending upon your requirement.
Some exciting widgets of mighty add-ons include Flipbox, Before After, Button Group, Link Effects, Paypal Button, Insta Gallery, Content Toggle, WhatsApp Chat, Particles, Advance Gradient, Section Slider, Reading Progress bar, and Cross-Domain Copy Paste. 
Livemesh Add-ons for Elementor

25+ Addons, 50+ Styles, Posts Block, Posts Carousel, Accordions, Progress bar, Clients, Services
Livemesh is one of the premium add-ons for Elementor that offer a number of exciting add-ons for Elementor. Livemesh is a free-to-use plugin with an impressive overall rating. 
If you want to create any essential website for your client that requires a client logo slider, service box section, team profile section, and testimonial section, then Livemesh widgets can help you make the task faster with its design-rich widgets for these types of sections. 
Live mesh Addons are easy to use, load faster, come with regular updates, and have proven support.
The crux of the post
So, these are some of the best add-ons that you can use with the Elementor Plugin. Definitely, you can do a lot with Elementor Plugin. But with the help of Addons, you can do more. Excitingly, if you want to create your own Elementor widget probably for a library that you like, then you can do that too using Elementskit Widget builder. To be honest, if you have a little coding experience, you can create add-ons yourself. Elementor Developer Documentation is open for you. However, it was all for this article, I hope you enjoyed reading and found your preferred addon for Elementor. Lets us know in the comments which addons do you prefer to use and why. See you in the comment section.