Ever wonder where and how you can create the perfect content for your clients and customers without much difficulty or spending much time on it?
Sometimes we come across that writers-block that prevents us from writing something to our full potential and hence, look for ways out to generate good content through these newly developed AI copywriting tools. One of the fastest-growing AI writing tools in the market is Rytr. With this tool, not only can you generate market-based works but blog posts such as story plots, songwriting, and youtube descriptions. Isn't that great? And if I tell you that you get to do this for free, in a trial, and then if you want to purchase it, the prices are also extremely affordable? Pretty cool right, let's see what else Rytr has to offer.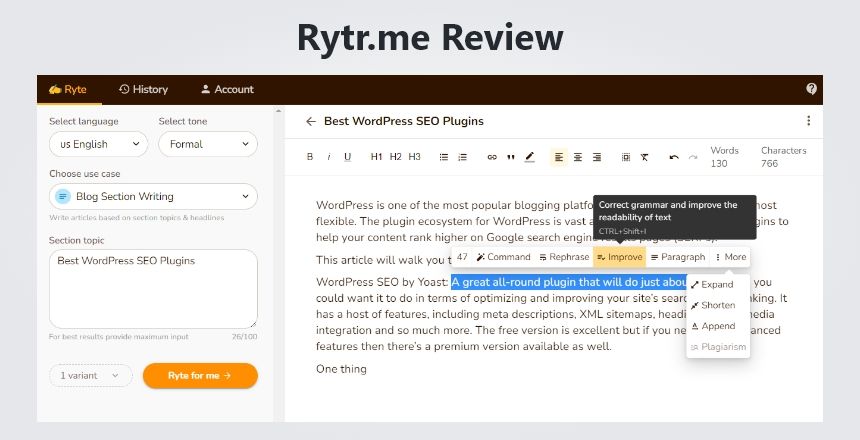 What is Rytr?
Rytr is a AI copywriting tool that is used to generate content for marketing-based networking sites, blog posts, content creations, etc. Developed to create highly engaging, relevant, and good quality content in just a few seconds, and that too for free!
With Rytr, you can get high-quality content in just a few seconds by providing only a few topics and suggestions. With the guidelines that you provide, it will do the work that will probably take you hours to do in just seconds.
It also comes with inbuilt layouts and outlines for your desired content and you get to choose for all the different kinds of variants of your liking and then pick one with your liking.
How to Get Started with Rytr
Sign Up for a Free-Trial
Select what kind of language and tone you want.
Writer down the type of post you want by adding certain keyphrases, paragraphs, and you can choose from several variants to start working on your desired content soon.
Click on 'Rytr For Me' and voila! Sit back and see the tool do its thing.
Use Cases of Rytr.me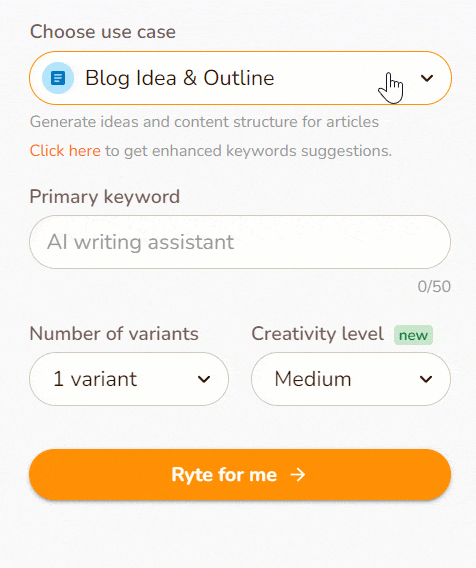 There are many possible cases where you can use Rytr and create content that users will love. The special thing about Rytr is the fact that it creates content that looks really genuine and there is hardly any room for further improvement in the generated content. Below are the possible use cases for Rytr.me :
Blog Idea & Outline
Blog Section Writing
Business Idea Pitch
Copywriting Framework: AIDA (Attention, Interest, Desire, Action)
Copywriting Frame: PAS (Problem, Agitate & Solution)
Facebook, Google & Linkedin Ads
Interview Questions
Job Description
Landing Page & Website Copies
Magic Command
Post & Caption Ideas
Product Description
Product Description(Bullet Points)
Profile Bio
SEO Meta Description
SEO Meta Title
Song Lyrics
Story Plot
Tagline & Headlines
Testimonial & Review
Text Editing: Append Content
Text Editng: Expand Content
Text Editng: Improve Content
Text Editng: Paragraphy Content
Text Editng: Reward Content
Text Editng: Shorten Content
Video Channel Description
Video Description
Video Idea
Best Features of Rytr.me
User Interface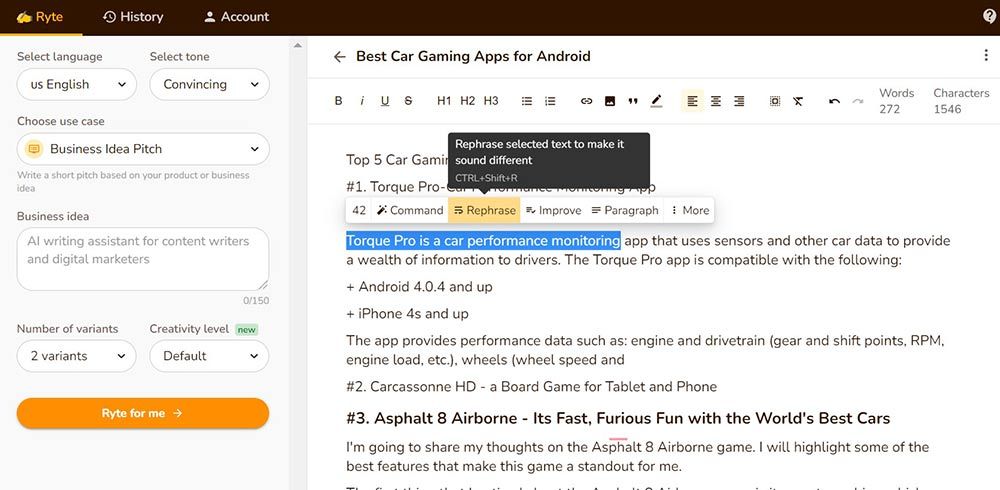 Rytr has such a clean UI that is easy to navigate. It is responsive and you can easily curate the content while using any of your devices. There is a popup and full-screen mode as well that lets you have a better and more fancy experience while you're writing.
Ease of Use

The clean, minimalistic and super different UI makes it very easy to use for anyone. Any person who has basic knowledge about online tools can easily use Rytr. There is nothing so different or difficult in the software that will take you through the learning process or join any academy or club.
Multiple Languages & Tones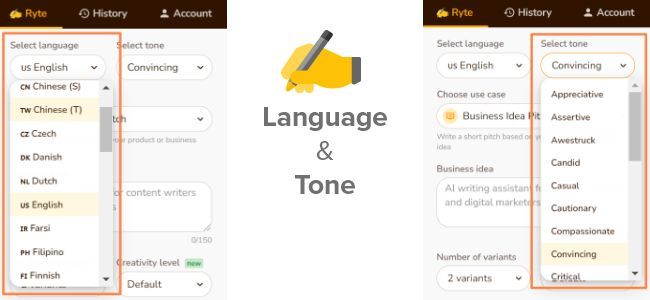 There are multiple languages and tones that you can toggle from while generating the content. As such, you can create the content in desirable language and any available tone.
Choose Multiple output variants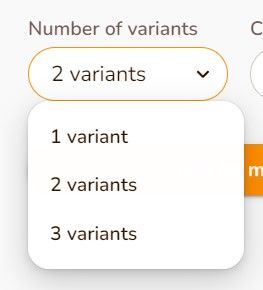 You can choose how many variants you want for your text. It will however cost you extra credits if you are using the free plan of Rytr. It is highly recommended to upgrade to the premium plan if you are loving Rytr. As it will help you feel complete freedom while you are working on the software.
Creativity Level
Creativity selection is a new tool introduced by Rytr where you can also choose the creativity for your generated text output. You can choose from Low, Medium, High, Max, Default, or no creativity level. It can be like a readability thing which you can set, for example, 5th grader, high school, or something like that. It is pretty useful for putting creativity in your content using AI.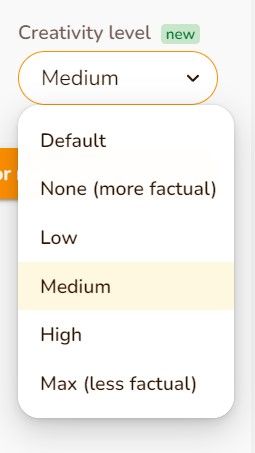 Team Management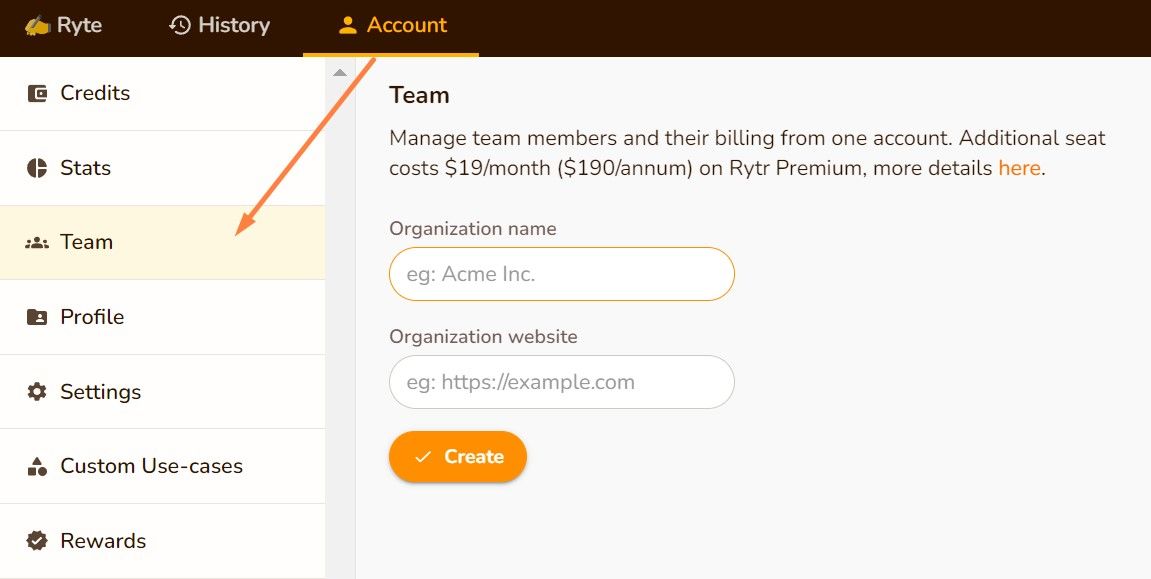 Collaboration in online tools is the fashion of the day. With the Team management feature of Rytr, you can add your team and collaborate on the content.
History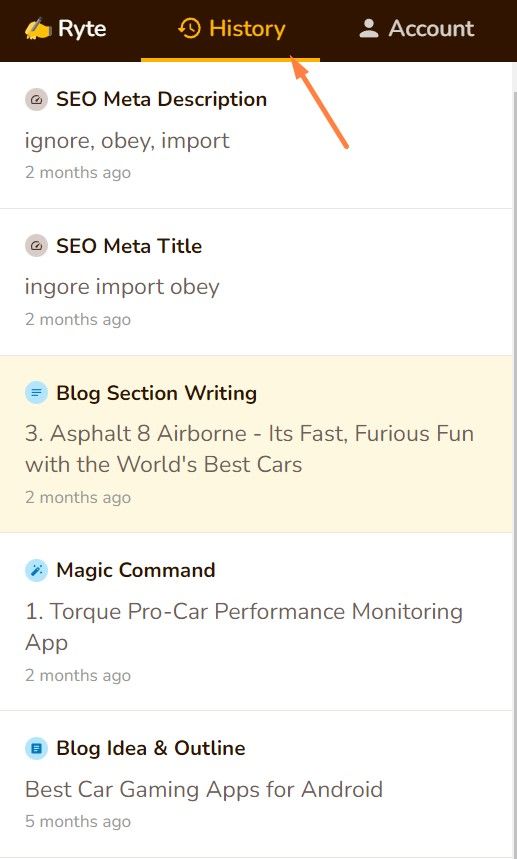 History ensures that whatever you are generating is always at your fingertips. As such, you don't need to worry about saving the content elsewhere in fear of losing it. All the generated content can be fetched from the history.
However, as you keep generating more and more content your history will grow and you may find a bad experience when looking for any specific history result. Keeping that in mind, there is a feature to remove the specific history result from the history.
Why You should try Rytr?
When in business, everybody's aware of the need for content for brand reputation and selling purposes. Not just any content but good, high-quality content that helps in increasing brand awareness, marketing, and business. In doing so, many people must feel that it is important to have either good content writers to create good quality blogs and content for your website or have enough money to get subscriptions for such AI Copywriting tools.
While most AI Copywriting tools are either too expensive to purchase or even if you do so, they might end up disappointing. They might come with credit issues, subscription cancellation issues, or other content writing issues, which is, by far the primary need.
With Tire, you can write content with free trials, and even after you run out of free trials (that is provided once a day), the pricing of this website is very affordable and open to small businesses with are starting from the bottom.
With Rytr's good quality content, the audience is bound to stay engaged and look out for your content more because of its great efficiency and excellent content.
Who can use Rytr?
With this AI Copywriting tool, there are no limitations to who uses it and for whatsoever purposes. For a content creator, this will help you built an outline and write your content more efficiently. For YouTubers, this is going to create a proper description for your video or page and thus, engage a lot of audience with your work. For Story writers or Creative writers, Rytr comes with an option of plot writing that helps you navigate your plot in a more captivating way.
And for the best part, it doesn't end here. Rytr comes up with new and alternative writing and tones options now and then to help broaden their platform and help out creators as much as possible. This website really offers content creation tools in all directions! Songwriting as well.
What are the benefits of using Rytr?
With its good-quality and newly generated content creation, it's very obvious why a lot of content creators might find it useful. Not only does it create new content with each try, but it also passes plagiarism checks on websites like Grammarly.
Though it will offer you almost everything that you want on a plate, you also need to know how to use the tools to their full efficiency. If you are unable to use the tool to your liking, you will automatically not like it and it won't just be for Rytr but with any other app that you are using to generate content.
But once you get a hold of the website and its tool, it will become your best friend for content creation and day-to-day use to write articles of help you in finding good outlines for your content. Since it comes with a lot many options such as emails, Facebook or LinkedIn and googles ads, on interview questions, post and caption ideas, with many others, it will become easy for you and your team to work on content creation daily.
Rytr.me Pricing
Rytr is available for free. In that sense, anyone can use Rytr. However, there is a credits system that restricts you to daily character limits that you can generate. As such, a Premium plan comes into play that allows you to generate unlimited characters and have the access to 20+ use cases & tones. With the premium, you also get a dedicated account manager, priority email & chat support with access to a premium community of Rytr. The premium plan of Rytr costs you $29 per month and the yearly plan lets you achieve months free as it costs $290 (yearly subscription).
Generals Questions asked about Rytr?
How accurate and original is the rendered content in Rytr?
Rytr creates new and unique content almost every time as it passes various plagiarism tests and other content website checks. For example, if you use the same phrases or titles 5 different times, the results will be different and unique almost all the time and equally engaging.
How does Rytr create content?
Just like any other AI Copywriting tool, it takes the data that you write and generates new content after adding the needed keywords, outlines, questions, tones, and various other tools that the website provides. After doing all the steps in the right ways, the AI tool will start working, and within seconds, you will have a fresh, new, and unique piece of content or blog that you can share with your team or post right away.
How can you purchase/cancel your subscription in Rytr?
After trying out the website and its offered free trials, you can easily purchase the subscription that will be based on the plan you choose. After paying for your subscription on a monthly billing cycle, the subscription will automatically end at the end of the billing cycle. After your subscription ends, the data and credits saved will also be removed.
Conclusion
Just like any other AI Copywriting tool, Rytr also comes with its limitations but if you can track and trace the use of the tool to its full potential, you will be able to create new and unique content will every click. This website is so versatile that you won't regret buying it or even using it as a free trial. With its unique and efficient content creations tools, you will be at top of your game!
The Review
Rytr
Want to write better& faster? Rytr is an AI-powered, mobile-friendly writing assistant that helps you create quality content for anything, in just a few seconds, at a fraction of the cost! Stop worrying about writer's block or hiring a content writer again. Join thousands of happy copywriters, marketers,& entrepreneurs who're using Rytr as an unfair advantage to grow their business.
PROS
Best for Copywriters and Content Writers
Easy to use content creator tool
Effective and Affordable Pricing Plans
Better Content Quality of the produced result
Better results at less efforts
Review Breakdown
Easy to use

0%

Value for money

0%

Brand trust

0%

Features

0%

Content Quality

0%

Support

0%