There are many AI writing tools today available in the market. These tools are super helpful in allowing us to create content for emails, blog content, social media ads, campaigns, landing pages, Youtube video descriptions, and even e-commerce product descriptions, and whatnot.
Ecommerce Product Descriptions have to be catchy and conversion ready. If the text shows lazy tone and an unattractive meaning, even the potential customers can bounce. As such, the product descriptions play one of the major roles in the ecommerce websites to generate the sales. However, it is not always very easy to write the perfect descriptions that can attract due to writer's block and some technicalities of product characteristics.
At such scenarios, luckily, now we've AI writing tools! These tools genuinely help you to write the product descriptions based on the USP of products, keywords, inputs or information that you provide. So, basically you command the AI with as much information as you can and it returns the text that can be utilized.
If you are looking to generate AI content for your e-Commerce products, then the tools listed below can help you. These tools have proven to be very helpful for many bloggers and content creators.
Best AI Writing Tools for E-commerce Product Descriptions – June 2022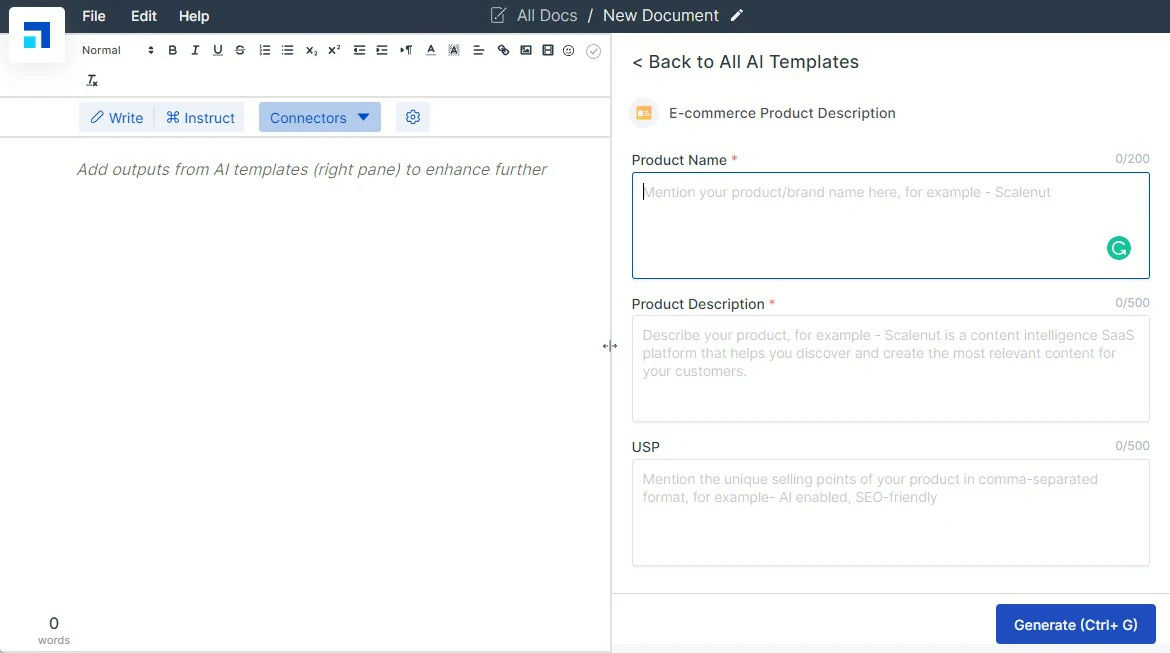 Scalenut is an Al-powered tool. It is a content writing and research tool for high-ranking, original, short and long-form content. It brings together next-generation technologies like NLP and Al and provides a seamless content creation process to help you create high-quality content that will outperform the rest.
Scalenut also enables you to improve the efficiency, readability, and overall yield of your content. It is surely a one-stop SaaS solution for marketing teams, content creators, agencies, and businesses for all the niches at all levels.
Scalenut is one of the most fantastic and authentic tools to get amazing blog ideas. It enables you to create high-ranking content. It assists marketing professionals all over the globe in leveraging technological developments such as natural language processing (NLP) and artificial intelligence (Al) to create great-quality content.
Scalenut Features
Plan Content- Scalenut lets you create SEO-focused content outlines. It gives a full-fledged content report (powered by industry best NLP) from a single targeted keyword.
Generate Ideas- Scalenut gives you unlimited ideas for ad copies, email headers, product descriptions, blog intros, and more with just a single click.
Write Content- Scalenut lets you create long-form content using the power of Al. Its smart Al tool takes just a few seconds to produce long-form content pieces in few seconds. You can use it to boost SEO, build authority, and close more deals.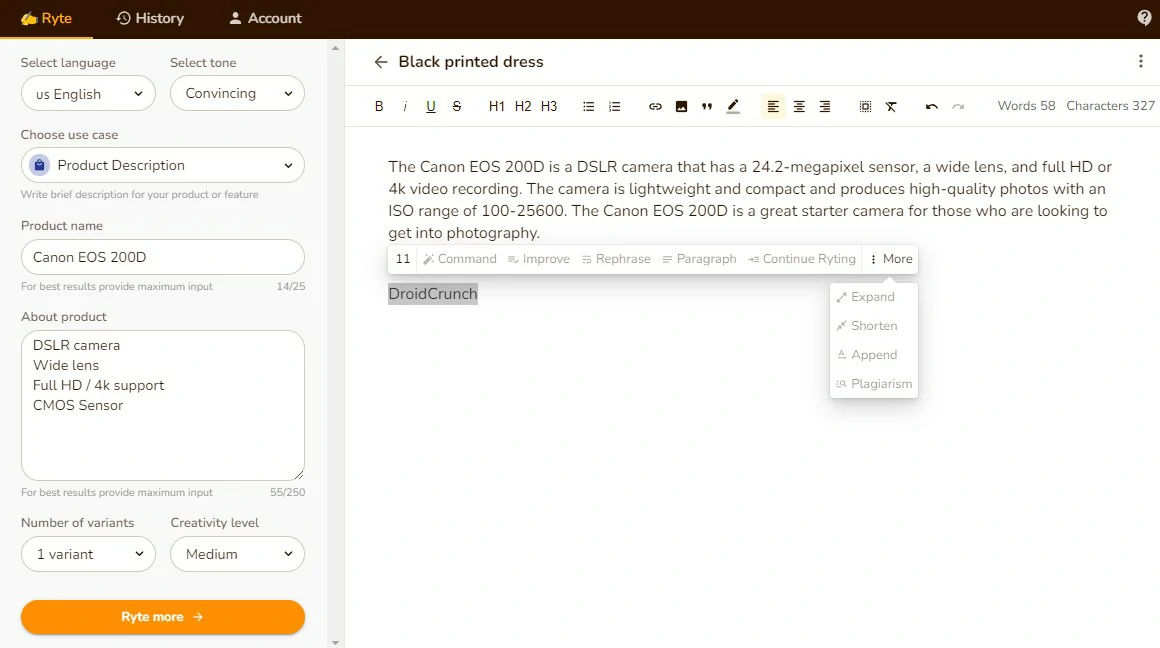 Rytr is another powerful Al writing tool that generates great-quality content for you. It was launched back in April 2022 which means it is not a very old tool. This writing tool helps you to generate high-quality Al content for emails, landing pages, social media posts, YouTube videos, ads, and a lot more.
Rytr supports many languages and tones. It is based on the GPT-3 Al model which proves to be a great reason for generating new and plagiarism-free content in a matter of minutes.
Rytr is a newcomer in the world of Al-writing content but it has proved to have strong potential. It is easy to use and having a GPT 3 model in place, it can surely become the future of Al copywriting in the industry of content writing.
Rytr features
Languages- Rytr supports 20+ languages which are amazing for creating content simply in your native language. Some the languages like Hindi, Malay, Bulgarian, Arabic, Czech, and Finnish are some of the languages recently added to it.
Tones- While drafting the content tone plays an important role. With the right tone, you can convey the right and required emotion to the reader, or maybe persuade them to buy your products.
Use Cases- Rytr works to create different content types for meeting the needs of different purposes. It offers 20+ use cases covering different areas including- copywriters, YouTubers, bloggers, Businessmen, Creative writers, and more.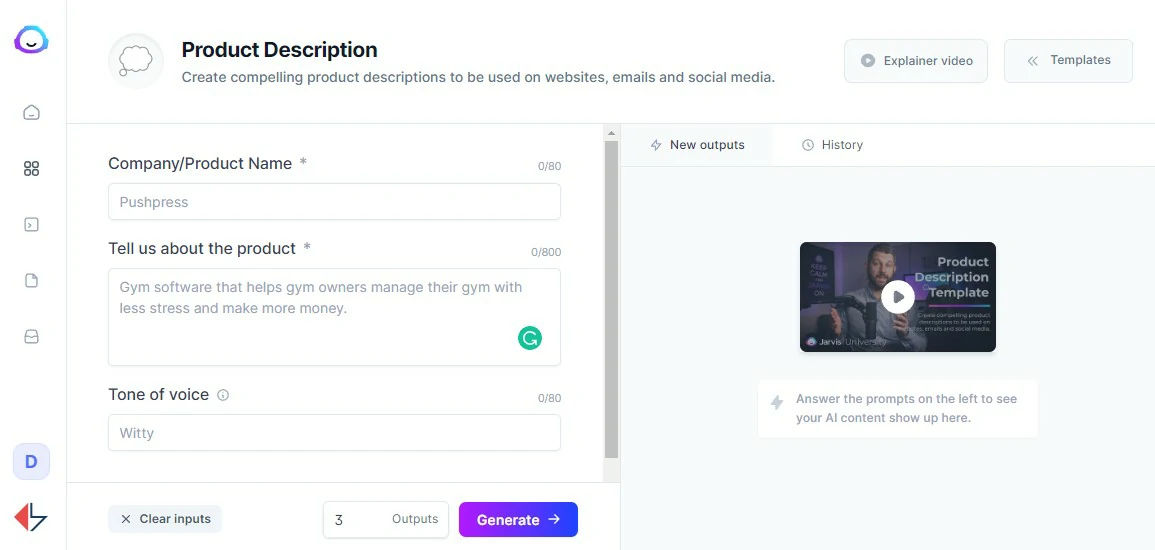 Jasper is one of the most popular GPT-3 based Al content writing software that excels in long-form copies (USP).
Jasper offers many useful content templates. It also includes a long-form assistant that helps you in writing long-form sales copies, long-form blogs, and video scripts quickly.
Jasper has features that are well thought out, keeping real-life use cases in mind. It supports over 25+ different languages and comes with a plagiarism checker, content simplified, and a grammar fixer.
Jasper has an active Facebook community of 57,000+ members. It has made them able to crowdsource ideas, create a content writing job board and roll out a "community recipes" feature.
Jasper Features
Unlimited Workspace Documents and Project Folders- The Boss mode of Jasper gives you unlimited workspace documents and project folders which simply means that you can keep your account organization clean and nice between all your websites and clients.
50+ Short-form copywriting templates- Jasper offers over 50 short-form copywriting templates which permit you to achieve a variety of everyday copywriting tasks. These include the Al templates to write content for the following categories- social media, SEO, Blog, Email, and more.
Write Long-Form content- Jasper lets you write up to 3,000 characters/output with its Boss mode, you gain access to a long-form editor which has further tool integrations than the other copywriting templates and is more open-ended for usage.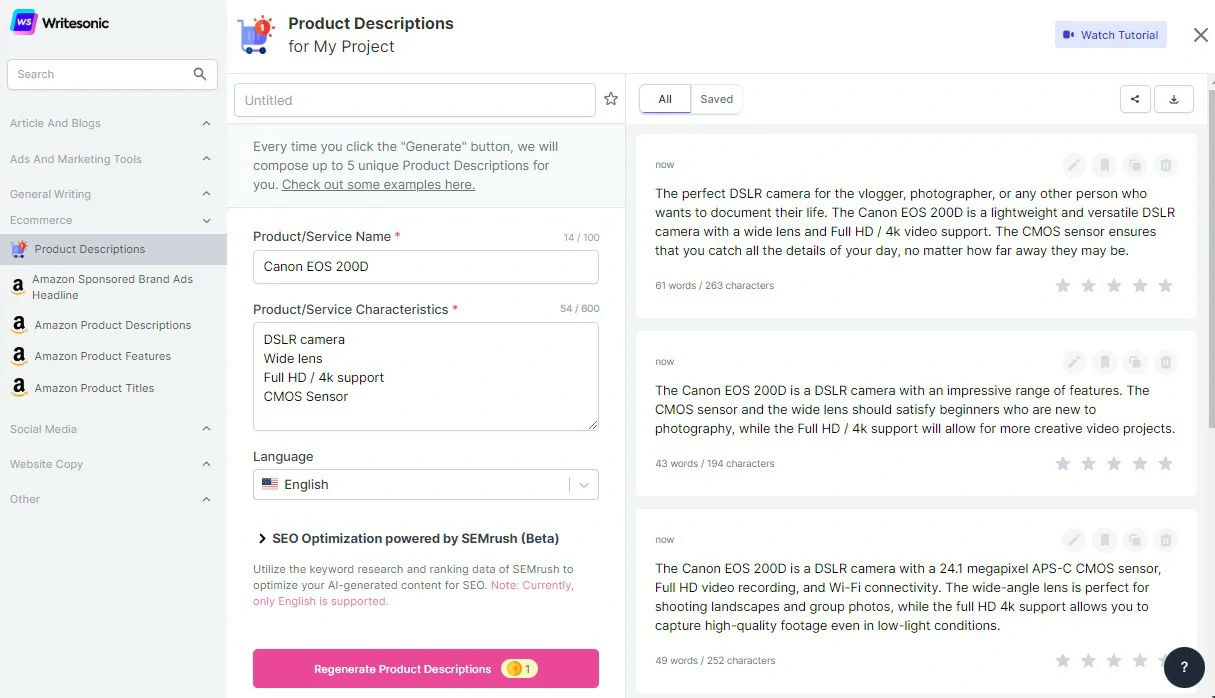 Writesonic is a content writing tool that works to help anyone generate text for a social media post or a website. While using it you just need to give it some keywords and a short product description, or simply some phrases to work with, and then it will return different types of computer-generated results.
While starting a project with Writesonic you just have to type in your initial idea right away once you have already picked from a range of templates. The available templates include- articles, ads, landing pages, and more.
The Al system takes these ideas and generates an outline. Then your software further generates more copies for you. You can hit the regenerate button if you didn't like the first copy. You can also edit the copy within the tool if you wish.
Writesonic Features
Website copy- It allows you to create headers, SEO meta descriptions, and landing pages.
Digital ads copy- This includes adding copy for Google Ads, LinkedIn Ads, and Facebook ads. And very soon the users will be able to generate Instagram ads and copy for Twitter as well.
Article/Blog Copy- The Al article writer is a fast way to generate intro, blog ideas, and outlines. You can also expand or rephrase the previously written contents. This feature also includes a grammar correction and a readability score.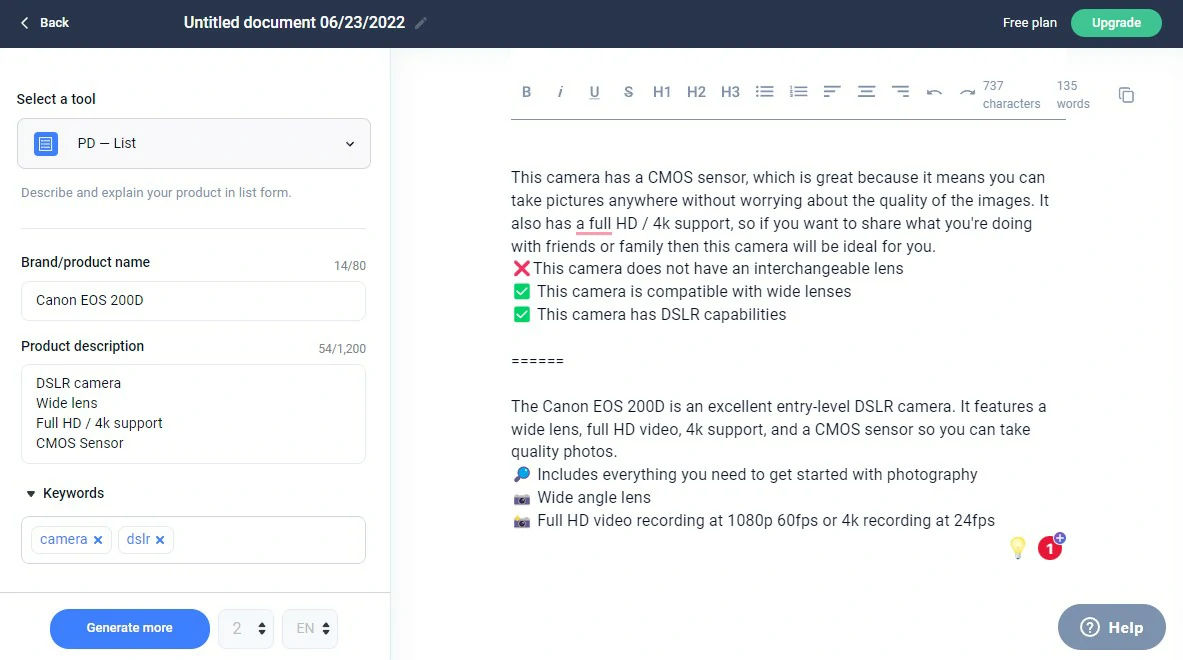 Anyword is another great copywriting tool that uses the power of Al. It works to help businesses to present the focal points of their services and products by using unique keywords.
Anyword can attract more clients and improve the conversion rates with its Al's copywriting predictive model. Its A/B testing and Predictive Performance Score enable the clients to observe how by using different keywords the sale of different items can be affected.
Anyword saves resources, money, and time. It creates various choices for the marketing copy that the users may use and implement while defining the products.
Anyword Features
Text personalization- You can create various versions of the material that already exists to find out the phrase that receives the best response.
Original text suggestions- You can create as many text variations as you want simultaneously. These are mostly created with the purpose to generate consumer interest and help convert the clients.
Custom keywords- The Al is capable of using relevant keywords that are included already in your text ideas.
Ad account integration- In this, you can receive optimization and prediction suggestions that are particular to your current advertising.
Over To You
So, these are some of the best AI writing tools with the help of which you can easily generate content for your e-commerce products. Just provide some information about the product for which you want to generate the text, set the tone, choose the number of variations you want, and the tool will do its job.
It is always recommended to scrutinize the content that is generated before you publish it. Because one can't trust the AI 100%. Sometimes, you may need to provide more inputs and keywords to help the AI writing tool to give you the best options.
In my personal opinion, Jasper and Scalenut are one of the best writing tools when it comes to short-form AI copywriting. If you're not in hurry, then you can check the links above to test their free trial account(most often available) to see which works best in your case. Thanks for your reading 🙂