Writing content is easy, but writing SEO-optimized content is not a piece of cake. It takes hours to write content that genuinely grabs people's attention. Most people say that they have quality content without plagiarism, but the ranking is yet not there. The answer to this is straightforward. They underestimate the SEO optimization in their content.
But in the thirst to write SEO-optimized content, most overdo SEO. That is what we call over-optimization. As such, good content quality, SEO optimization, and user-friendliness go hand in hand. One can't compromise the content quality for on-page SEO.
You might be wondering what the connection of all this with the Surfer SEO review is and why I am sharing something which you probably already know.
The reason is the tool itself. It gives you an environment where you can write content that Google loves. Surfer SEO is a cloud-based SEO Tool that improves your content for search engines. It does the complete job for you, from finding the right keywords to writing the perfect content. So, In this post, we will discuss the following:
Best Features of Surfer SEO
How to use Surfer SEO
Alternatives to Surfer SEO
Is it really worth buying Surfer SEO
How content writers can make use of Surfer SEO
Like this, you will get an answer to many questions in this review of Surfer SEO.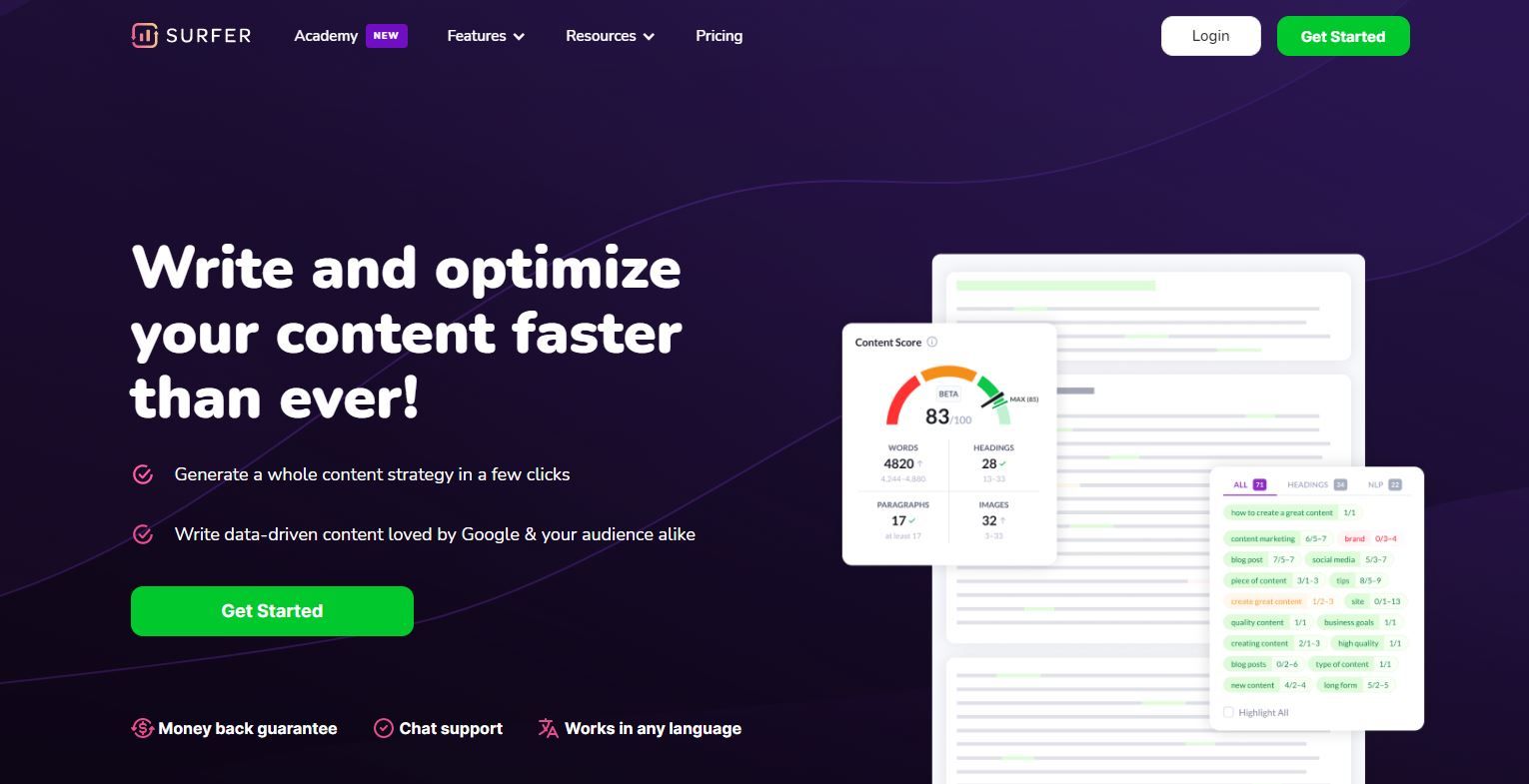 In this post, I've covered in-depth details about Surfer SEO, Its Benefits, features, and Pricing Plan. So, sit back, take a cup of coffee and enjoy reading.
What is Surfer SEO?
Surfer SEO is an incredible tool for content creators, bloggers, agencies & freelancers that helps you analyze your pages, compare your pages with other websites ranking on Google, plan and create SEO optimized, and a lot more.
The tool helps you in writing content, researching the keywords, and a lot more which we are going to discuss in this post.
Surfer SEO Review Highlights: (Key Features)
Let's discuss Some marvelous features of Surfer SEO and how you can benefit from using them for your organic growth.
Keyword Research in Surfer SEO
There are many keyword research tools in the market that can help you with keyword research. But, it is magic to have Surfer SEO for keyword research. Surfer is completely packed with all the data you may require for the research of your desired keyword.
With Surfer SEO, you can analyze the keyword for the desired location and language.
You can manage the keyword research you did in the past very easily. You can tag down your keyword queries for better sorting and even delete those which you want to.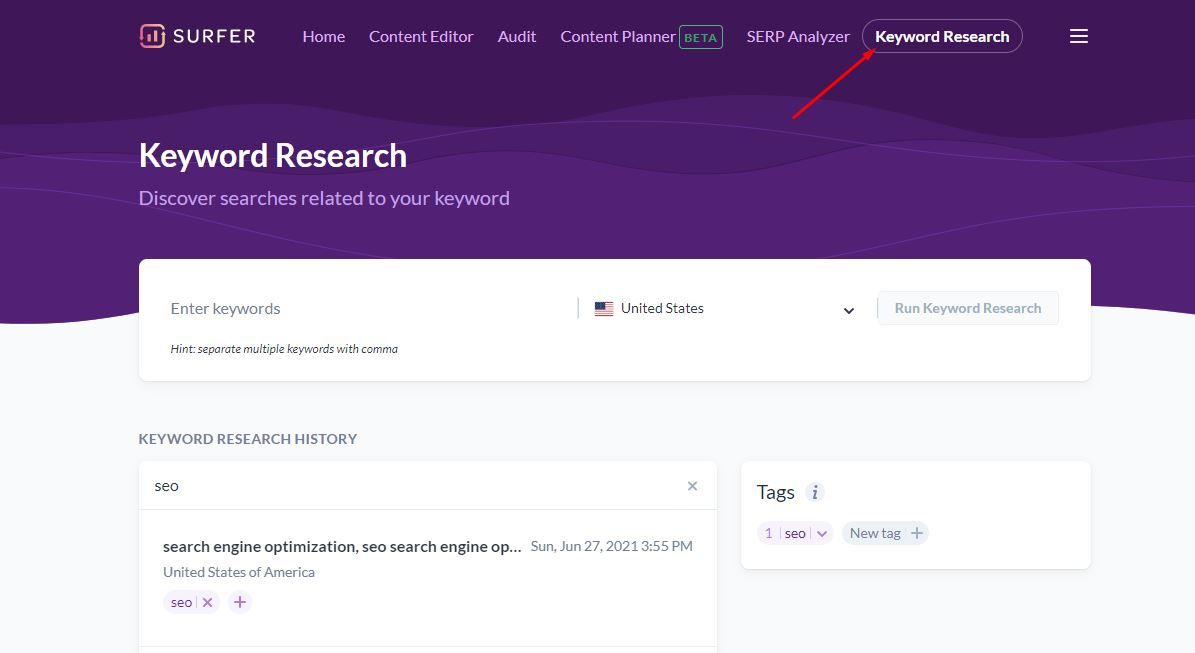 You can instantly run the keyword research and see a whole bunch of data.
Surfer SEO lets you find similar keywords, with max SERP similarity and search volume.
You can add similar keywords to your clipboard on the left sidebar.
Within the keyword research dashboard, you can also find "having same terms" and "questions".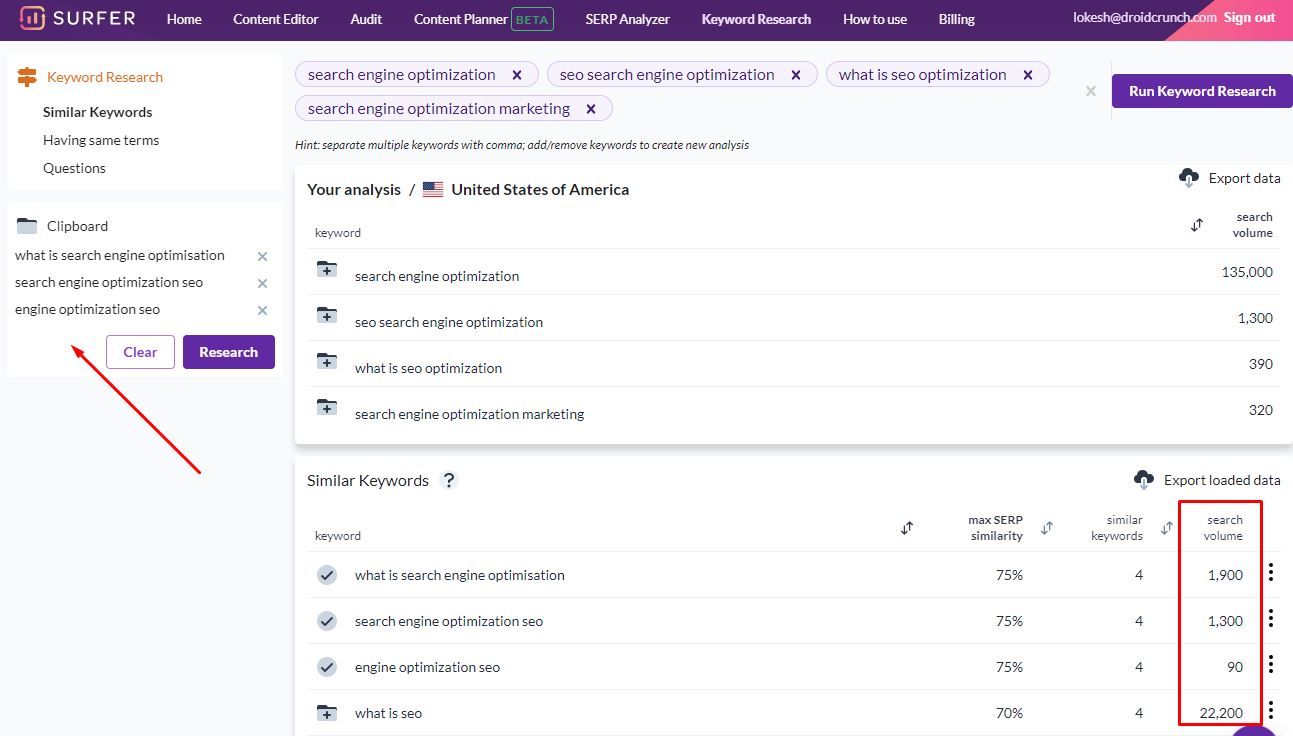 Under the same terms, you can notice all keywords that contain all of the terms of any target keyword in any order.
Interestingly, you can also export the keywords data in CSV(comma-separated values) format which then can be accessible using spreadsheet software.
You can also find the questions which are also being asked or they are ranking on Google. With the help of SERP similarity and search volume of individual keywords, you can easily decide which questions can better rank your content.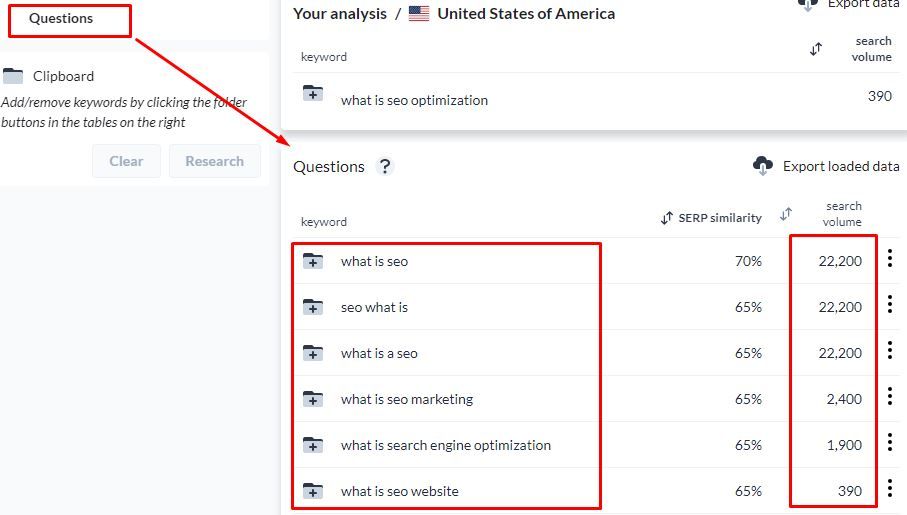 Surfer SEO Audit Feature
In Surfer SEO, the Audit feature is truly impressive. You can make use of this feature to outrank your competitors for the desired keywords.
To run the audit in Surfer, you just need to provide single or multiple keywords and the Page URL in question for the audit.
Then you can choose the location, device, enable or disable NLP and manipulate other settings for the audit.
Note: To add multiple keywords, just hold the shift key and enter. In the example below, you can notice the keyword "product review" and a demo domain page.

After running the audit, Surfer SEO takes time to give a detailed audit report.
Below is what Surfer SEO tells you in the audit report it prepares. By default, Surfer will decide the competitors by its own algorithms. You can, however, review them and select your competitors at your own discretion.
There are multiple factors that impact the selection such as content score, authority, and words. However, you have to be very careful here. Choosing the right and most relevant competitors for the audit will not only show you a personalized audit report but also will help you rank higher on the search engines.
Content Score
The audit report highlights the main actions in red, yellow, and green color. And very obviously, red is a kind of warning, yellow when it is neither bad nor good, and green when it is good or there is no action required.
Below you can see that Surfer SEO is showing me the current content score. It is suggested to improve the content score by at least 11 for the best results.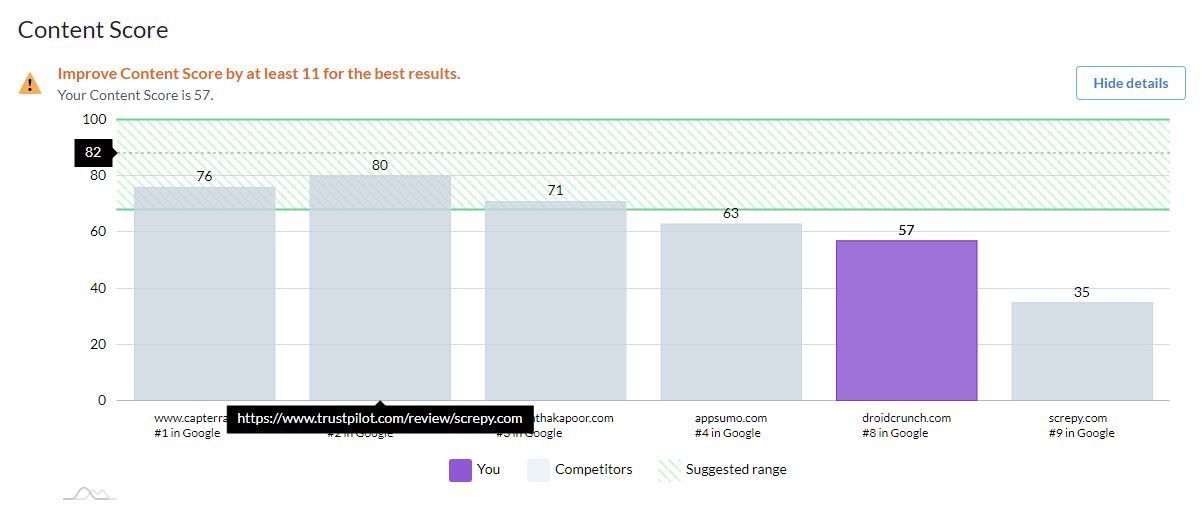 Missing common backlinks
Common backlinks are domains that are linking to at least 3 selected competitors from the TOP 20 competitors. Surfer will review the list and guide you to acquire about the domains where you can get backlinks for better ranking. Depending on the keywords, it generally sorts out the high authority websites like Reddit, medium, Linkedin, Github, etc.
Obviously, these websites help your competitors to rank so why not you should take advantage.
Internal links
Surfer SEO detects the relevant pages on your website that you can use as internal links. Hovering on the link icon will show you right fragment for the link consideration.
It is useful for the on-page optimization of your page.
Terms to use
Under this audit section, you can review the list of important terms and apply offered suggestions by Surfer SEO, if it makes sense. In the below screenshot you can notice the actions suggested by Surfer. Carefully following the suggestion will help you improve the overall page optimization.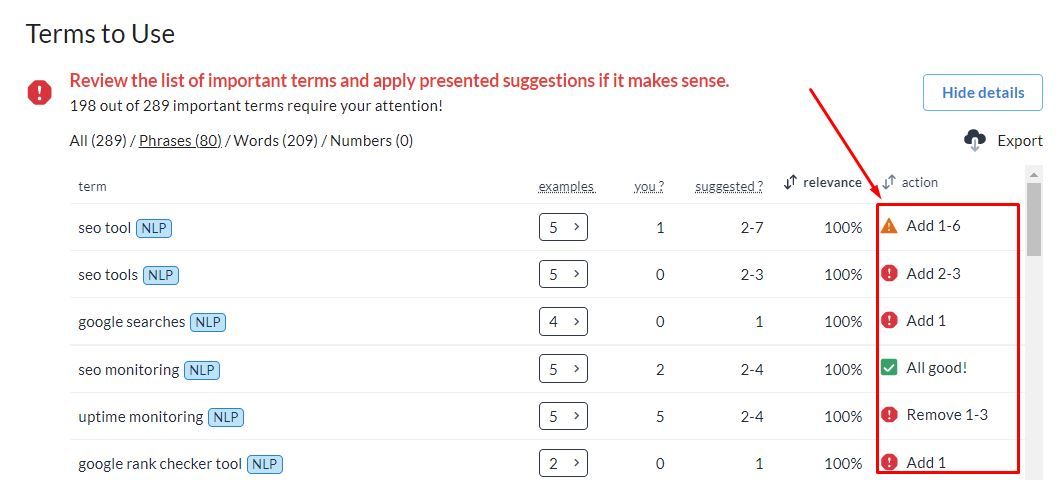 Word count
Surfer SEO tells you in detail how many words can be optimum in your body, paragraphs and headings.
It also shows you suggestions for the words in strong or b tag.
The suggestions are based on the selected competitors. Clicking on show details will display the complete graph to you.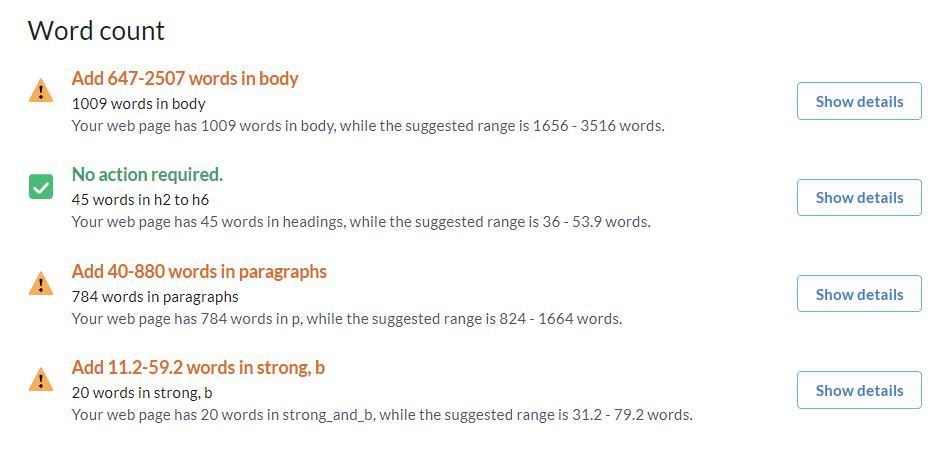 Exact Keywords
Surfer SEO Exact keywords and partial keywords audit section are pretty confusing, but obviously, it's helpful for the optimization.
For example, it will suggest you add an exact keyword in your title, body, h1 so on and so forth. Depending on the competition, it will suggest how many times you need to add the exact keyword in your body and so on.
Ultimately, the tool will allow you to identify what mistakes you have done and what improvement you can do to rank.
Partial Keywords
Partial keywords are those keywords that match some part of the exact keywords. As such, they are equally important to give proper emphasis.
Surfer SEO shows you all the warnings in your web content related to the partial keywords in the audit report.
By rectifying or working upon those suggestions, you can update your page/post and beat your competition.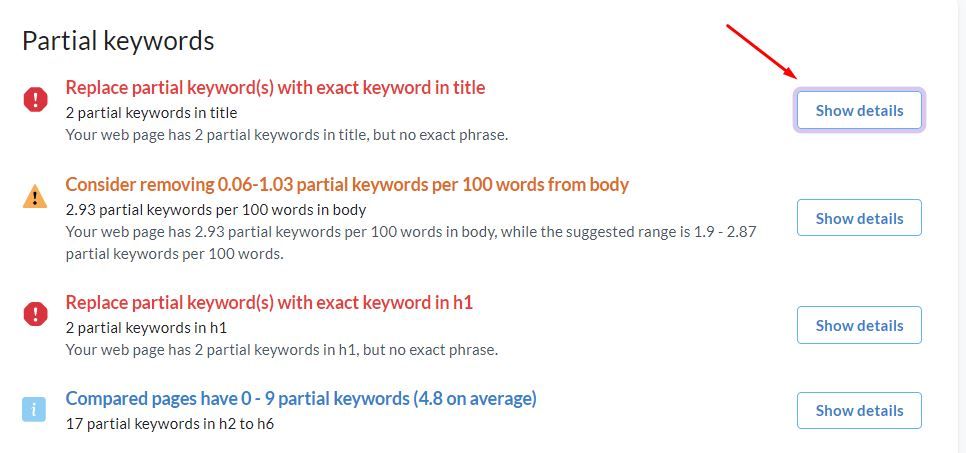 Page Structure
As you scroll down to your audit report, you can find a Page structure section that tells you some suggestions regarding your page structure.
This will tell you about the number of times you have used h1, h2 to h6 elements, paragraph elements, image elements, strong and b elements. By this, Surfer will compare your elements with the competitors and will suggest the optimum amount of elements you can use for better ranking.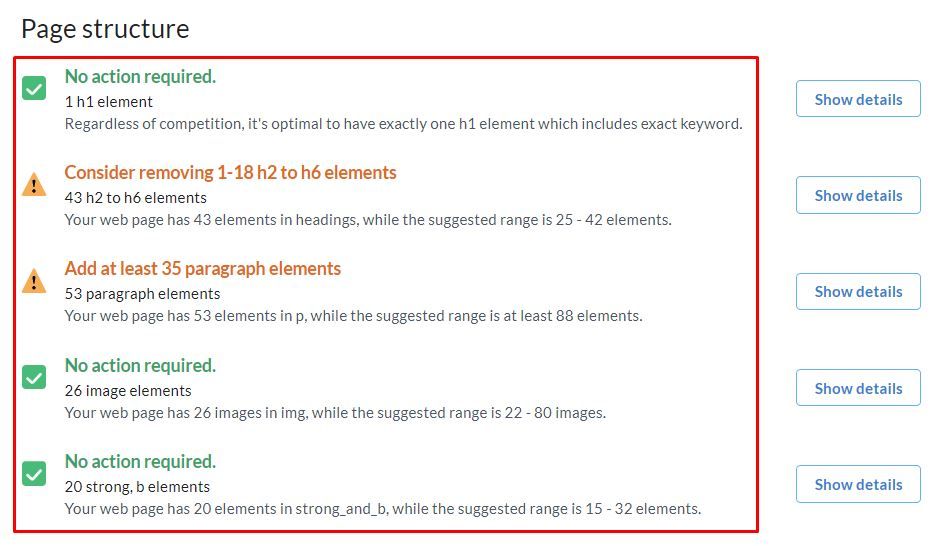 Title & Meta Description length
This will show you the characters you have in your page meta description. As such, it will suggest whether you are at the optimum level by comparing it with your competitors' meta.
Regardless of what is meta length of competitors' keywords, there is also an optimum range of keywords for Title and Description, which will also be taken into account for the audit.
Time to first byte
Time to the first byte or commonly pronounced as TTFB is a significant parameter for your website ranking. Although it is more related to performance but is correlated with SEO eventually.
The less time it takes, the better it is for your ranking.
Comparing the TTFB of competition websites, Surfer SEO will suggest the recommended amount of TTFB in milliseconds you need to reduce for optimizing your page.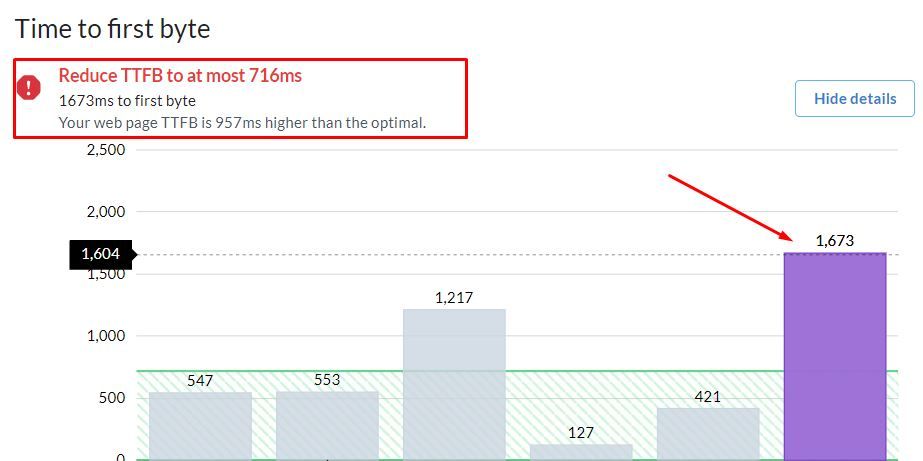 Load Time(ms)
Load time is very much related to TTFB. However, it is the overall time your page takes to load on the client browser. Load time also differs based on the client location because of the location of your host server.
Surfer SEO scrutinies the overall time your page takes to load and suggests the amount of time you need to reduce for outranking your competitors.
Surfer Content Planner(Beta)
Surfer SEO content planner helps you to write more effective content in the Surfer content editor.
With the use of Content Planner, you can achieve a cluster of keywords that can be further used for Content creation. However, the Content planner is currently in beta mode and thus under development. But you can still use most of its features.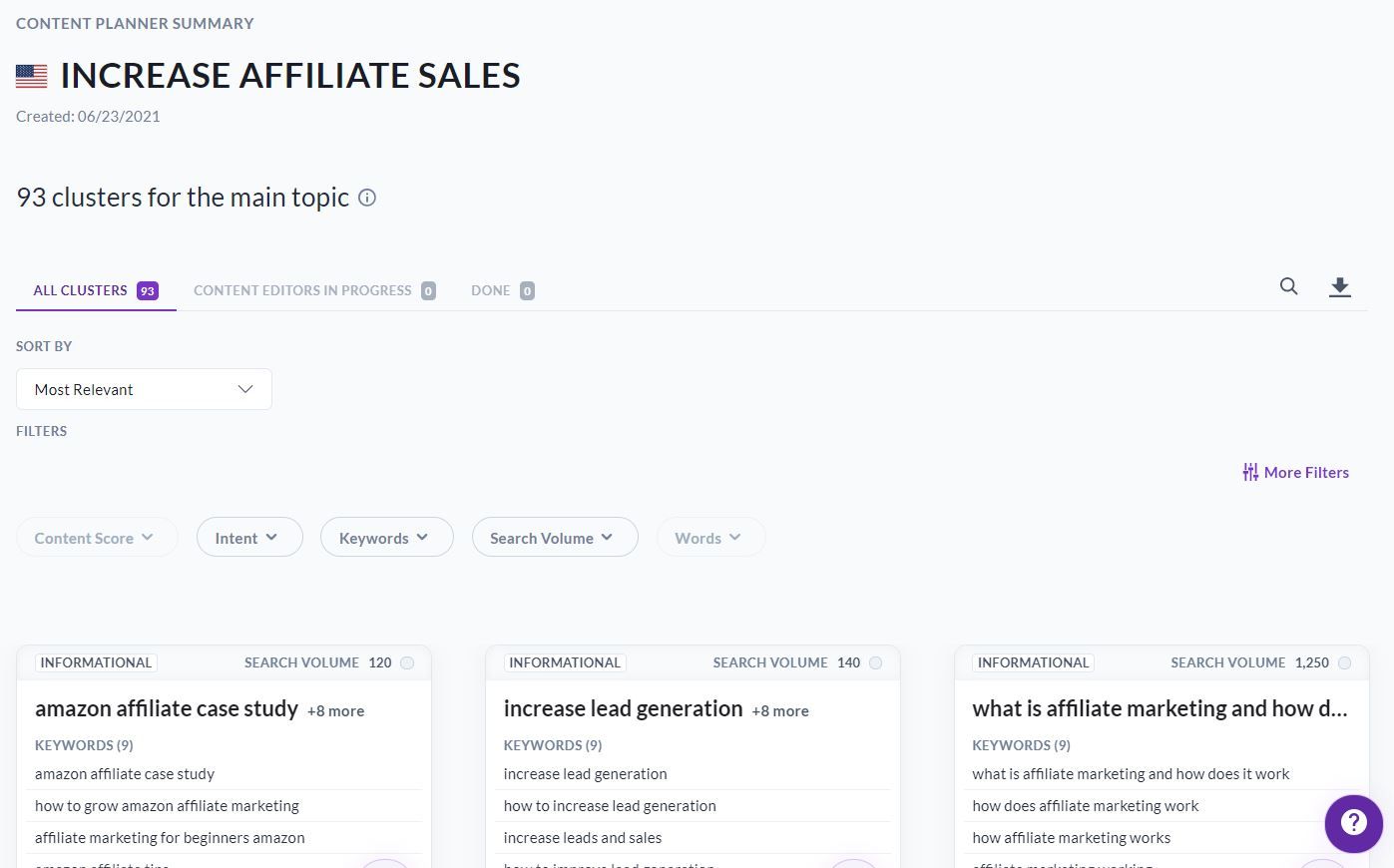 Surfer SEO SERP Analyzer
Surfer SEO SERP analyzer is honestly one of the best features of Surfer. SERP analyzer in Surfer SEO lets you discover the keywords, compare your page with the competition and find link-building opportunities.
Surfer SEO takes into account hundreds of different factors to present you the data which can be further utilized for rank gain.
In the below screenshot you can see, I have searched for "Upcloud review" in the SERP analyzer.
The resulting interface is insane. You can sort the chart by using the filters on the left-hand side which allow you to filter based on Search Visibility, Backlinks, Structure, Quality, & Media.
Even, underneath the JS chart, there is a whole bunch of data.
Search Results: on this tab, you can find the competitors ranking for the given keyword, with their individual content score, domain score and other options such as quick audit, screenshot, content outline and paste HTML. There is also an eye button in front of the ranking pages from which you exclude the page from the chart & audit.
Keywords: here you can find all the common ranked keywords with their search volume and relevancy score. You can update the competitors and thus keywords by clicking on the "select keywords" button. You can also export loaded data in a CSV file format.
Questions: on this tab, you can find similar questions fetched from the top pages ranking for the keyword.
Popular words: on this tab, we have all the competitors horizontally scattered. For each competitor, you can see up to 30 popular words which occurred at least twice. Apart from the words, you can also see their count and density. So, this is a very nice view from where you can get enough keywords details to implement on your blog.
Popular Phrases: on this tab, you can find the popular phrases (not more than 4 words) that are used on the page. Here too you can see the only phrases which occurred at least twice on the competitor page.
Common words: here you can find the words which are common on the top 10 pages.
Common Phrases: here you will get the phrases that are common on the top 10 pages.
Prominent words & phrases: all the words and phrases related to the main keyword which have high frequency and prominence.
Common backlinks: here you can find the Common referring domains for the TOP 20 pages for the query.
Content Editor in Surfer SEO
Content Editor is one of the best features of Surfer SEO. With the help of this, you can write SEO-friendly content very easily.
You can manage your content editor history as well. So, you can pick up from where you left. This is actually the benefit of using cloud software.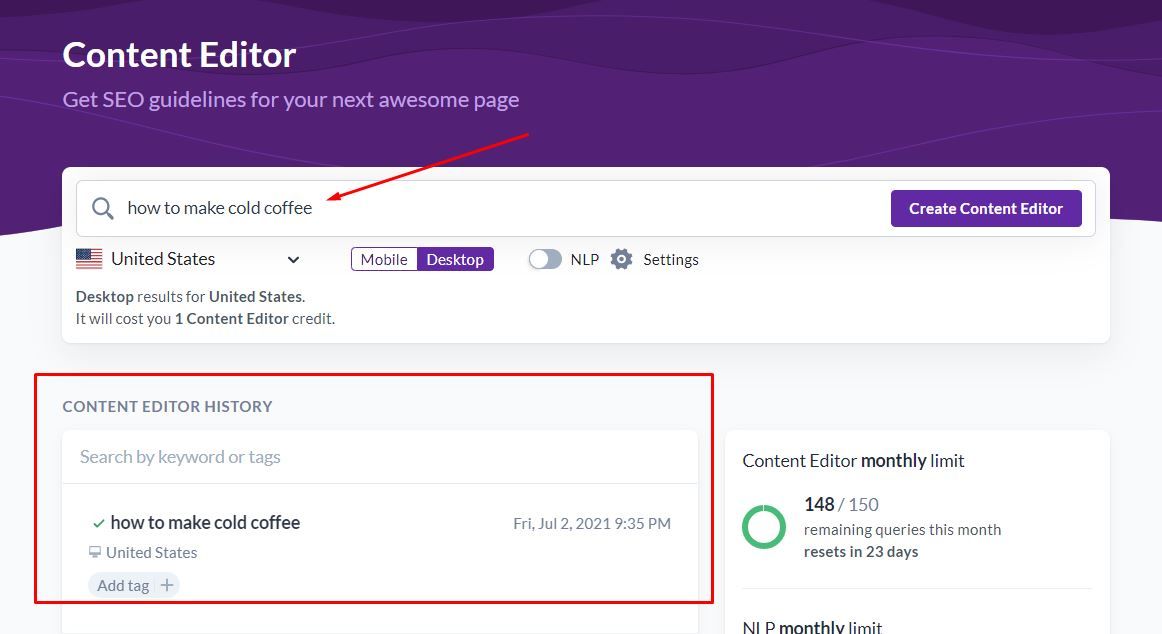 Once you click on "Create Content Editor", you will notice progress underneath content editor history. You can click on that when it is finished and the below interface will open.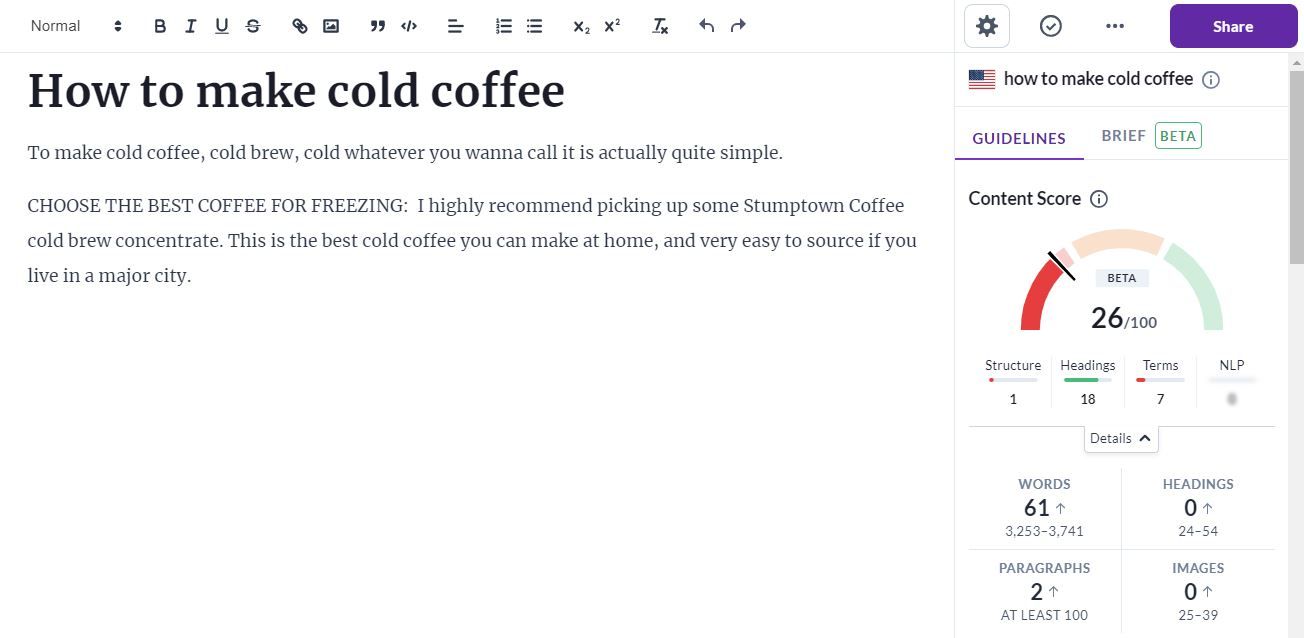 On this content editor, you can find the guidelines on the right panel and editor with formatting features on the left side.
In the guidelines, you can see the current content score based on the content you have written.
You can see that Surfer SEO will suggest the recommended words, headlines, Paragraphs and Images. So, as you begin writing and add your content, the content score meter will improve.
Underneath the guidelines, you can also find the keywords with their current and expected occurrence in your article for rank. As you add your content the keywords change to green from yellow and red.
Clicking on any specific keyword also shows you Examples of use. However, sometimes there is no result in this case.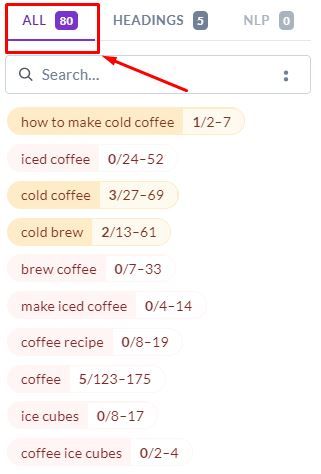 Adjacent to all keywords, you can also find headings and NLP.
NLP will be active only if had enabled the NLP toggle before writing the content on Surfer SEO Content editor.
You can also click on settings to customize your preferences for the content editor in Surfer SEO.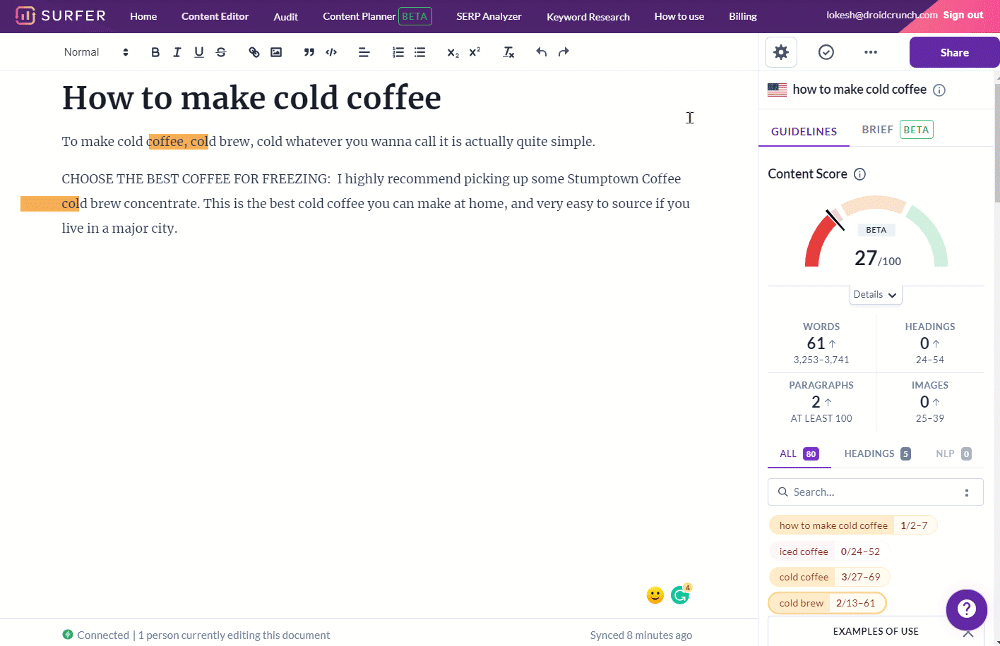 You can also export and share your content.
Structured Data Analysis in Surfer
With Surfer SEO structured data analysis becomes really easy. Making the best use of the analysis you can shake the google results by storm.
On Surfer you'll se an In-depth Report with All suggestions for better Improvements in structured data:
Content Structure
Total Words Required
Heading
Paragraph
Bold Words
Links
URL
Images
Meta description
FAQs
And Many More… Factors
Surfer SEO 100% Free Chrome Extension
Surfer SEO chrome extension is 100% free for all users. Their chrome extension allows you to see the search volume, CPC for the keywords as you search something on google. It also shows relevant data on the right side of the google search page.
Apart from that it also shows you estimated monthly traffic for a domain, the number of words in the article and the number of times exact keywords used on the page.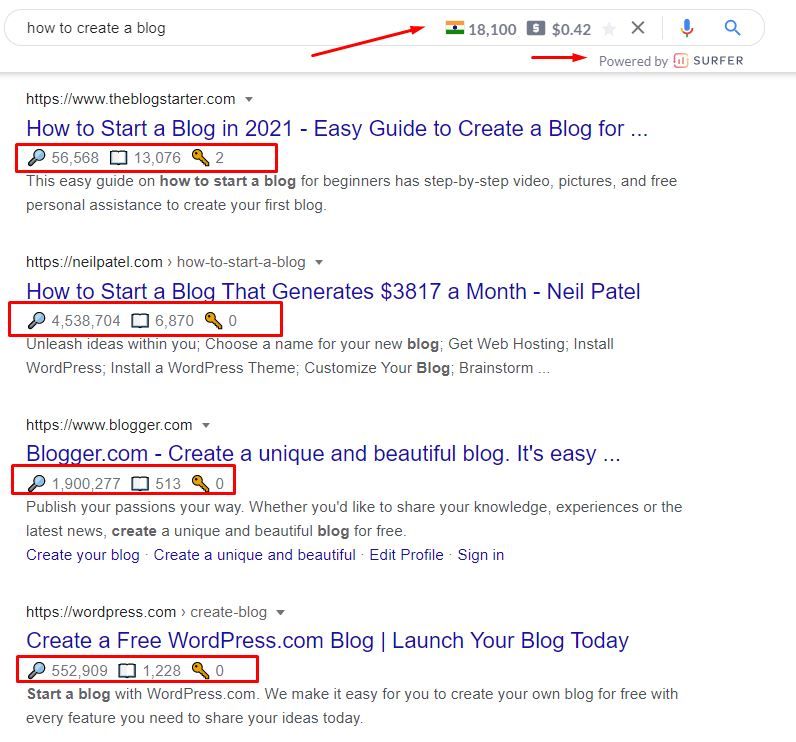 NLP(Natural Langauge Processing) Analysis in Surfer
Before we see NLP on Surfer, let's discuss how NLP came into existence.
Google as a responsible search engine understands that search is about understanding language. Considering this as their job they worked on machine learning algorithms so it may display the most relevant results. No matter how users spell or consolidate the words in the search queries.
As such, BERT(Bidirectional Encoder Representations from Transformers) came into action that allows bots to understand the context and search intent of users better.
BERT, our new way for Google Search to better understand language, is now rolling out to over 70 languages worldwide. It initially launched in Oct. for US English. You can read more about BERT below & a full list of languages is in this thread…. https://t.co/NuKVdg6HYM

— Google SearchLiaison (@searchliaison) December 9, 2019
BERT is part of NLP. It takes into account the sentiment of queries and user intent.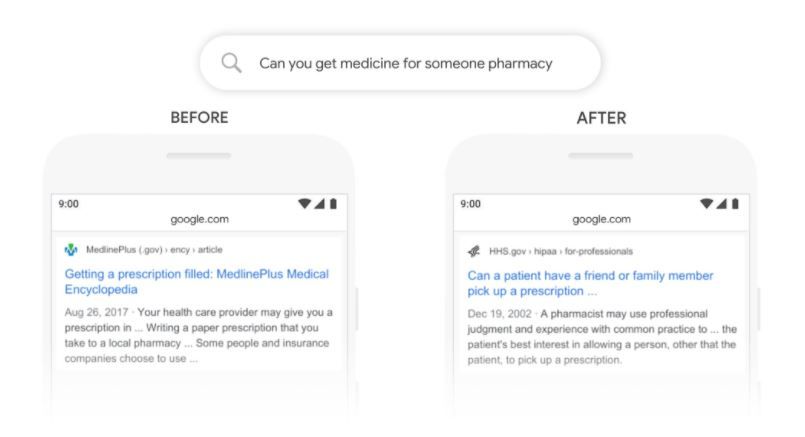 Surfer SEO gives a lot of stress to NLP because of its usability. It uses Google NLP API for serving the users with the ideas following which they can rank better.
Surfer SEO Team Collaboration Feature
Team collaboration is one of the most awaited features of Surfer SEO. It lets you add team members via an invitation link. By adding team members, you don't have to share the credentials with all the team members. It facilitates better collaboration and productivity.
You can anytime revoke the access of software for any team member.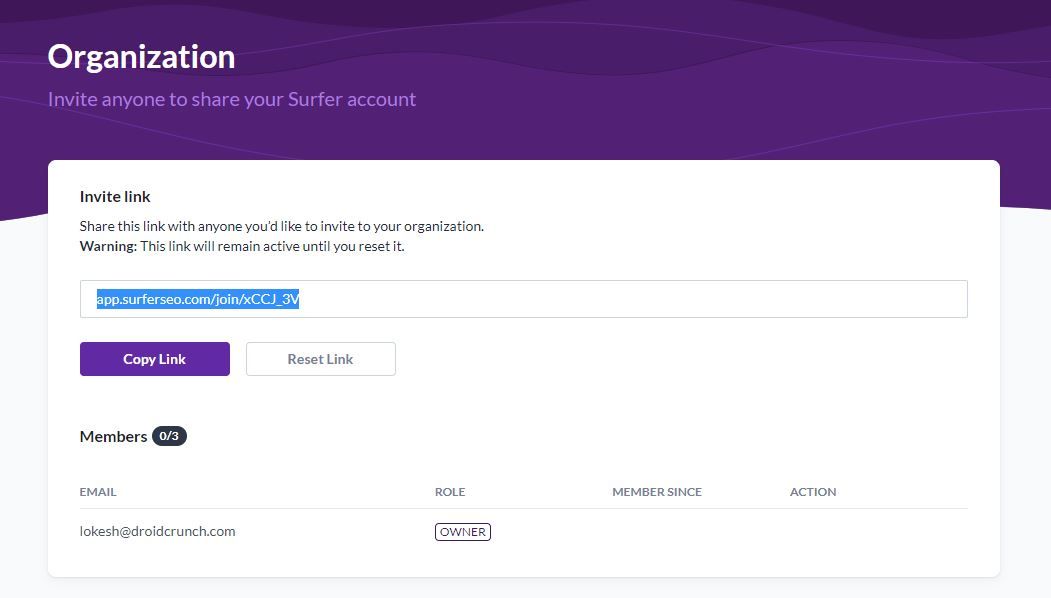 Excellent Surfer SEO Support
Moving on to Surfer SEO support, it's literally unexceptional.
You always have access to their valuable resources where there are video training, weekly walkthrough and you can also join their Facebook community.
Resources are basically to learn and have a better understanding of Surfer SEO.
If you have questions then you can either find a solution on their knowledge base.
However, if you don't find the answer over there, then you can message the support which is literally pretty fast.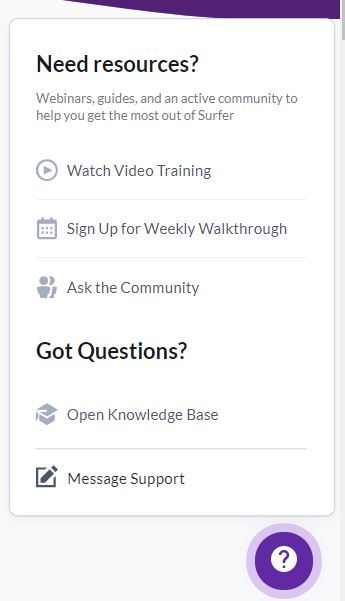 Well Nurtured Surfer SEO Academy
You can take advantage of Surfer SEO academy to learn tips and tricks. At the Surfer Academy, you can find training videos and live sessions. By this, you can also increase your money-back guarantee to 30 days.
You can register for their live training sessions for learning Surfer.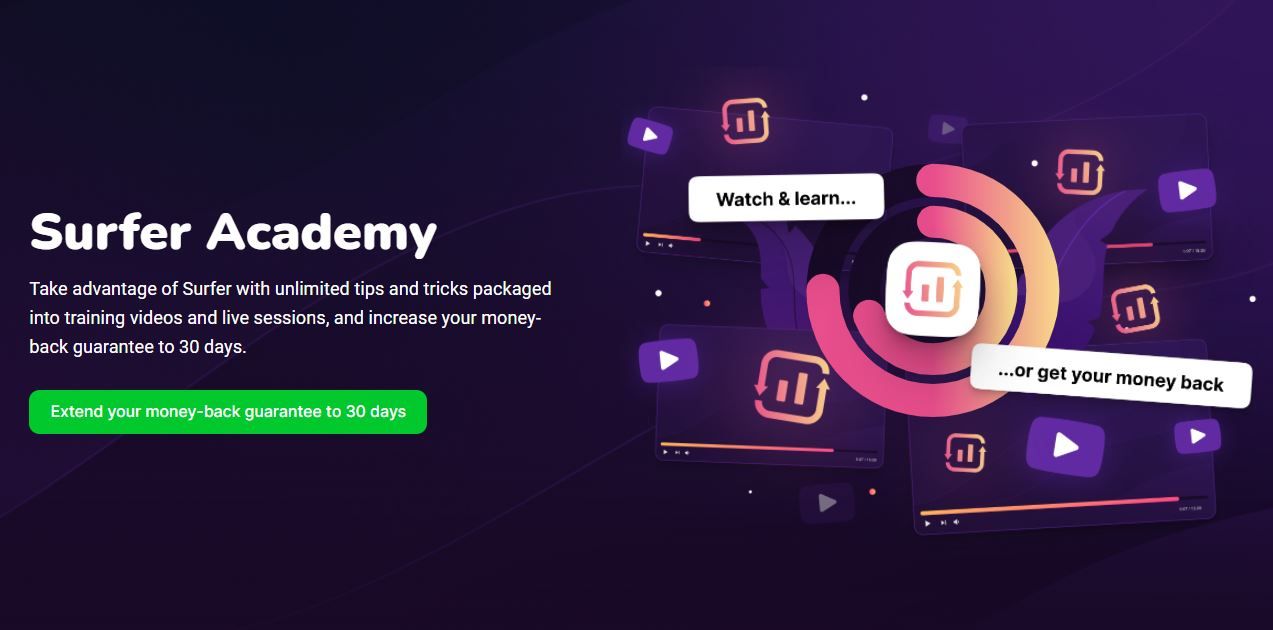 Surfer SEO Review by Existing Users
Surfer SEO is being used by many bloggers, entrepreneurs, content marketers, SEO agencies, and so on.
They have shared their experiences with Surfer SEO as shown in the screenshot below.
Interestingly, Matthew Woodward deleted thousands of words from his page body and got the number 1 position.
Like this many other users have their own stories and experiences with Surfer SEO.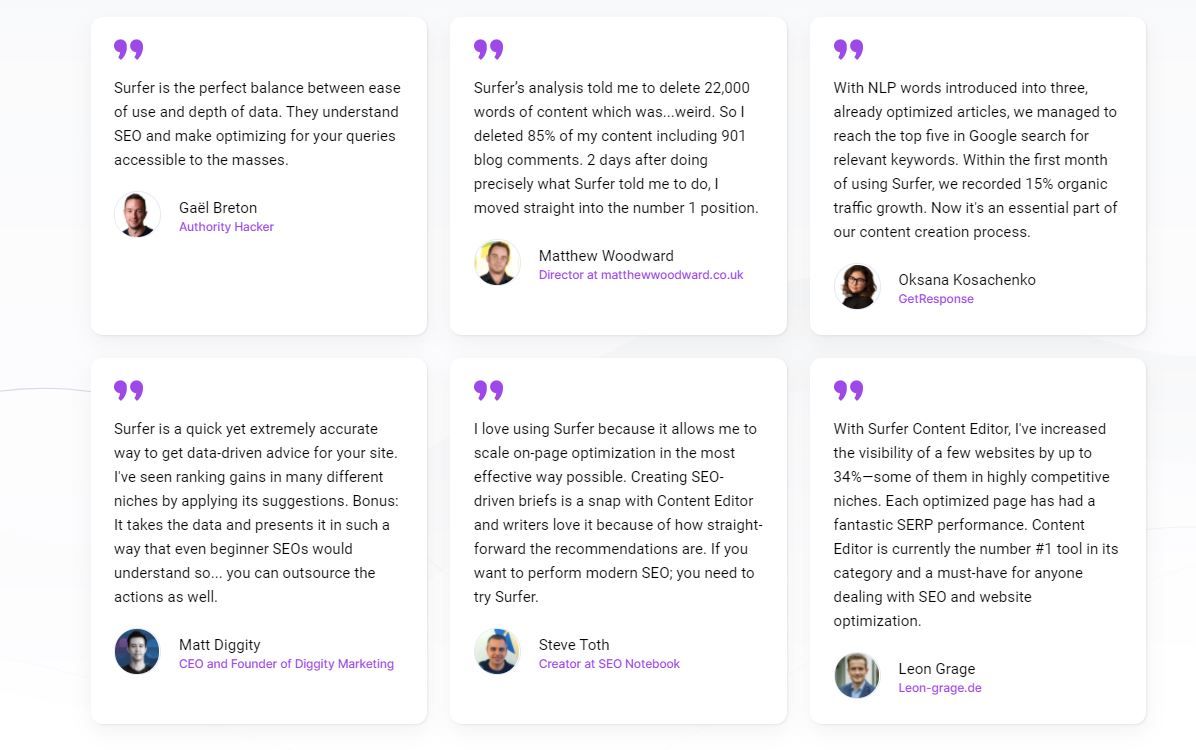 Surfer SEO Community
Surfer SEO has a community group on-page that you can join to engage with like-minded people who are already using Surfer SEO. They call it SEO Surfers.
From the community, you can notice major updates, people queries, and a lot more that can help you eventually in ranking your pages.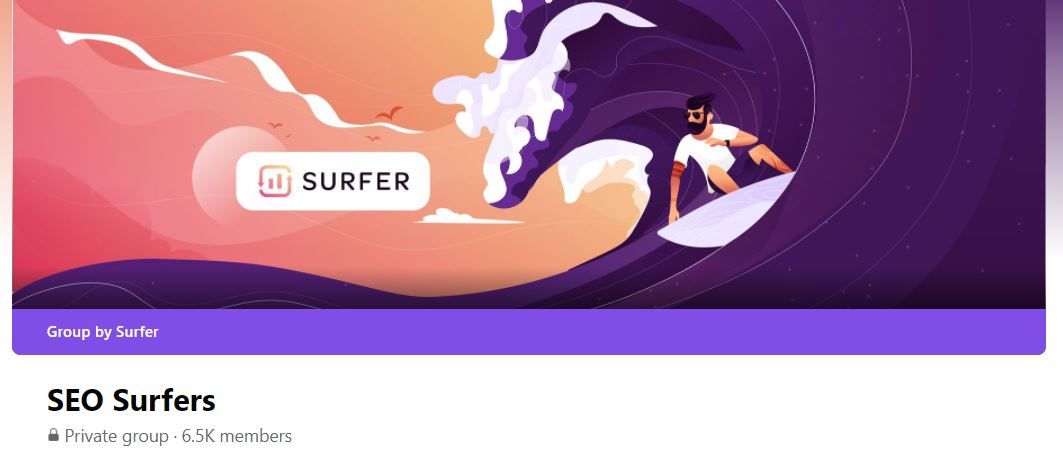 Short Learning Curve
Even if you are a beginner, the learning curve is very short. Using Surfer SEO is easy and their Facebook Community, Academy and support make it a lot easier for you to learn.
If you already have used other SEO tools then you will definitely love to see how interactive it is compared to most of its alternatives.
Surfer SEO Knowledgebase
Surfer SEO knowledgebase is the place where you can learn most of their features. It is very well categorized and consists of questions that usually users ask.
To get there, just head over to https://docs.surferseo.com/ and you will enter their well-managed documentation.
Here you can easily know about their key features whether it is NLP, SERP Analyzer, Content Planner, or Chrome Extension.
Try Surfer SEO for FREE
Surfer SEO Pricing
Surfer SEO offers three pricing plans viz. Basic, Pro, and Business.
One can opt for either monthly or annual pricing. If you opt for the annual pricing plan, you will get a discount.
The basic plan, Pro Plan, and Business plan cost you $59, $99, and $199 respectively per month. For the annual pricing, it becomes $49.2, $82.5, and $165.8 respectively after discount.
On the Surfer SEO Pricing page, you can get a whole insight about all of their plans apart from three major plans.
Hobby ($25/Month)
Basic ($59/Month)
Pro ($99/Month)
Business ($199/Month)
Business+ ($649/Month)
Enterprise(Custom Pricing)
If you want to use their NPL analyses then it is recommended to use the Pro plan as in the Hobby and Basic plan you don't get access to that feature.
For the starters or beginners, a Hobby or Basic plan can suffice what they need.
If you are a blogger, content writer, or freelancer, Pro or Business plan is most recommended for you. For the agencies, Business+ or Custom Enterprise plan can suffice the needs.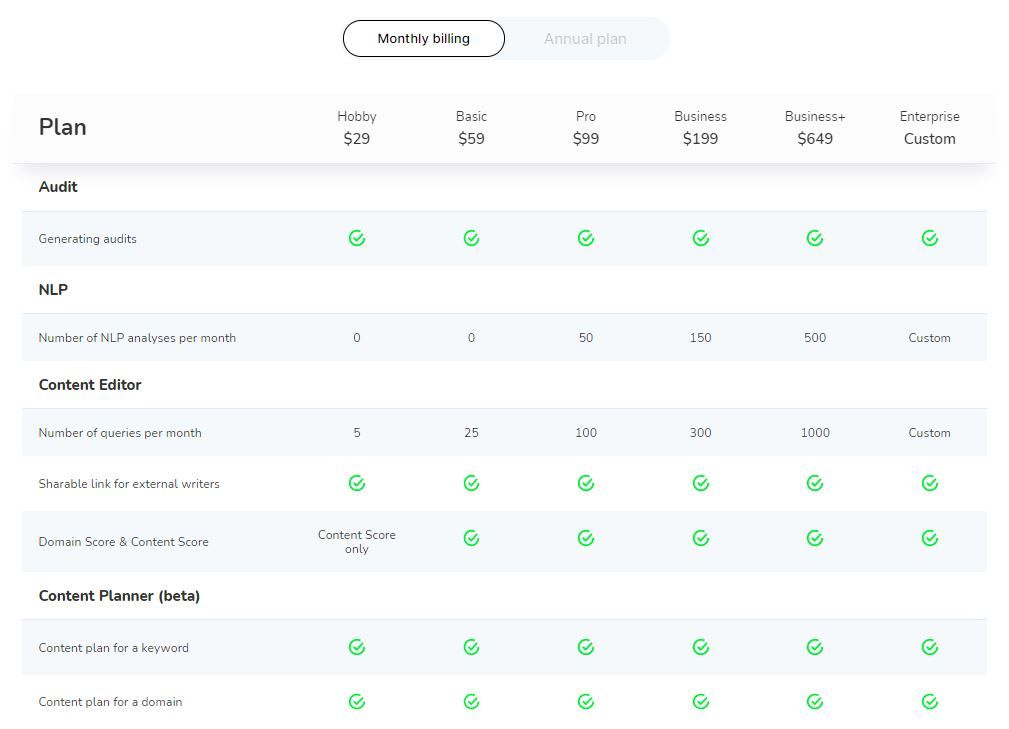 7 days money-back guarantee is there with Surfer SEO. So, if you don't get the results that you expected or you change your mind then you can get a refund.
Best for Agencies, Copywriters & Even Freelancers
Surfer SEO is best for agencies, copywriters, Freelancers, bloggers, SEO analysts, Digital Marketers, and growth hackers who want to outrank the competitors. Surfer helps you in the most intuitive way so that you can research, plan, optimize and rank.
Surfer SEO & Conversion.ai Integration
If you are using conversion.ai for curating content, you can integrate surfer inside of it to have all the SEO guidelines so as to better optimize your AI-based content.
If you using a long-form assistant in conversion.ai, you can notice the Surfer SEO icon on the top as shown in the screenshot below.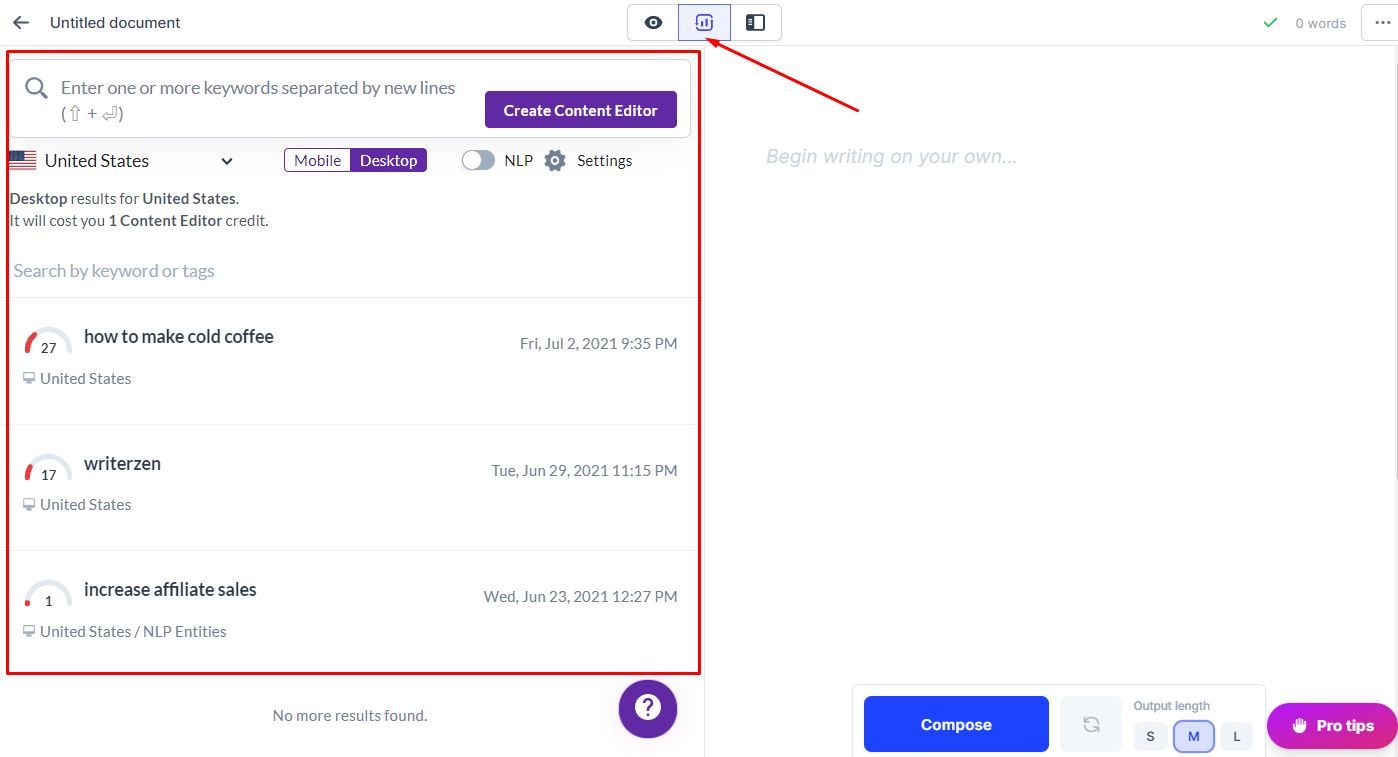 Once you click that button, you will be able to log in to your surfer account on the left panel and have suggestions for your content writing right within the conversion.ai content editor interface.
Alternatives to Surfer SEO
There are a couple of strong competitors to Surfer SEO.
Surfer SEO vs Clearscope
With the amazing content editing interface and powerful features, Clearscope stands as one of the strong competitors to Surfer SEO.
Clearscope is also a data-driven tool for creating content that possesses the strength to outrank competitors. Clearscope also allows Google Docs and WordPress integration. But in terms of pricing, Surfer SEO is pretty much better. Clearscope pricing starts from $170 per month.
Surfer SEO vs Frase
Frase is another alternative to Surfer SEO. Frase lets you write content with some additional features such as automated content briefs, automated paraphrasing and much more. Frase lifetime deal was available on Appsumo but now you may either have to wait for Black Friday or get it at its original pricing that starts at $44.99 per month.
With AI Content writing tools, end to end workflows Frase is definitely a tough competitor to Surfer SEO.
Surfer SEO vs Marketmuse
Marketmuse is another powerful competitor to Surfer SEO. Marketmuse lets you optimize content. There is also 7 days free trial available for Marketmuse. However, when it comes to pricing, again Surfer SEO wins as the starting plan of Marketmuse starts from $179/mo.
Constant Development & Expert Masterclass
The constant development of Surfer SEO makes it a powerful tool. The makers are very much focused on their product and they do regular webinars and put extra efforts to educate the users about their tool. Tomasz Niezgoda who is co-founder of Surfer SEO is very active and responsive. He is a full-stack marketer and possesses excellent knowledge about SEO. They also have an SEO Writing Masterclass available where he himself with Karolina Gawron and Marta Szyndlar will be teaching you the depth of SEO.
Michał Suski from Surfer SEO takes live training sessions that are actually very helpful. So, it is all like a great community you are gonna love and reach your ultimate goal that is to rank high and earn.
Surfer SEO Free Trial
There is no free trial available with Surfer SEO as of now. However, you have a 7-day money-back guarantee. The software is really worth the price and you won't regret the price spent. So, before your competitors outrank you, quickly get Surfer SEO and boost your organic conversions and sales.
The Review
Surfer SEO
Surfer SEO is the perfect tool for ranking high on SERP by comparing the competitor pages and utilizing the data. It helps you with all the data you need to outrank your competitors. Surfer does an excellent job for content creation, SERP analyzing and keyword research.
PROS
Easy To Use
Well Documented
Surfer SEO Academy to learn
Accurate data for decision making
Best for SEO Content Writing
Content Writing becomes really easy
Awesome support with chat and knowledgebase
CONS
Needs improvement in loading time
App Design can be improved
Review Breakdown
Easy to Use

0%

Well Documented

0%

Value for Money

0%

Excellent Support

0%

Competitive Features

0%
Surfer SEO DEALS
We collect information from many stores for best price available
Best Price
$29