Writerzen is a revolutionary AI-based SEO content writing tool for content creators. Automatically generating high-quality, original content in your niche will help you attract more visitors, customers, and sales!
With Writerzen, you will find keywords, explore topics, compare your competitors and rank for the highly competitive keywords. With Writerzen, you can write more SEO optimized content. With the help of AI and machine learning, you can create better content faster with fewer efforts.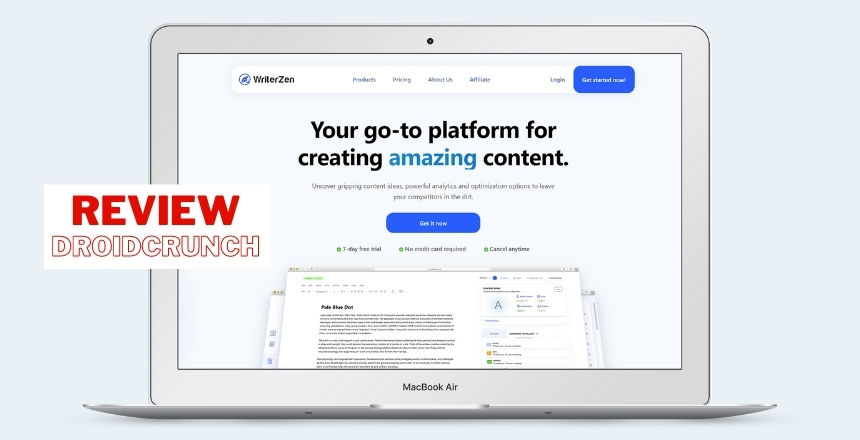 Stop worrying about writer's block or hiring a content writer again. Join thousands of happy copywriters, marketers, and entrepreneurs who are using Writerzen as an unfair advantage to grow their business.
In this review, we are going to discuss how you can make the best use of Writerzen as a blogger, entrepreneur, or content creator.
Features Highlight: Writerzen Review
Keyword Explorer
The keyword explorer tool of Writerzen helps you research the keywords you want to rank for. Just choose the desired keyword, set the location, choose the language and you are ready to begin the exploration for keywords. You can enable the "Check Allintitle" and "Clustering Keywords" feature so as to get more deep insights and clusters.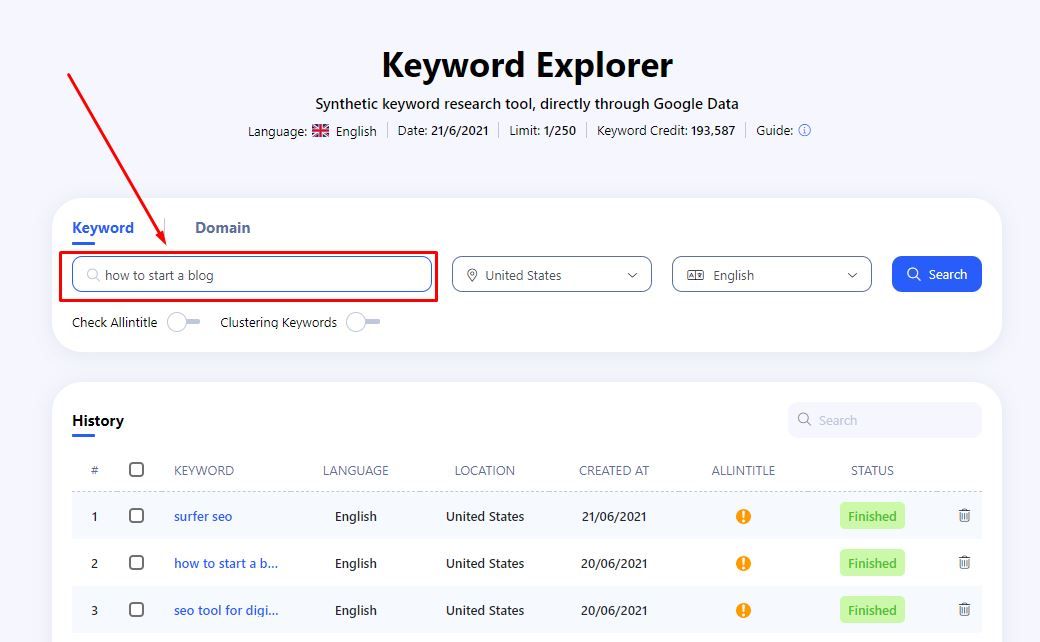 Once you hit the search button, Writerzen will show you the search volume for that keyword, SERP overview, CPC, Keywords Ideas, Overview Chat and Total search volume.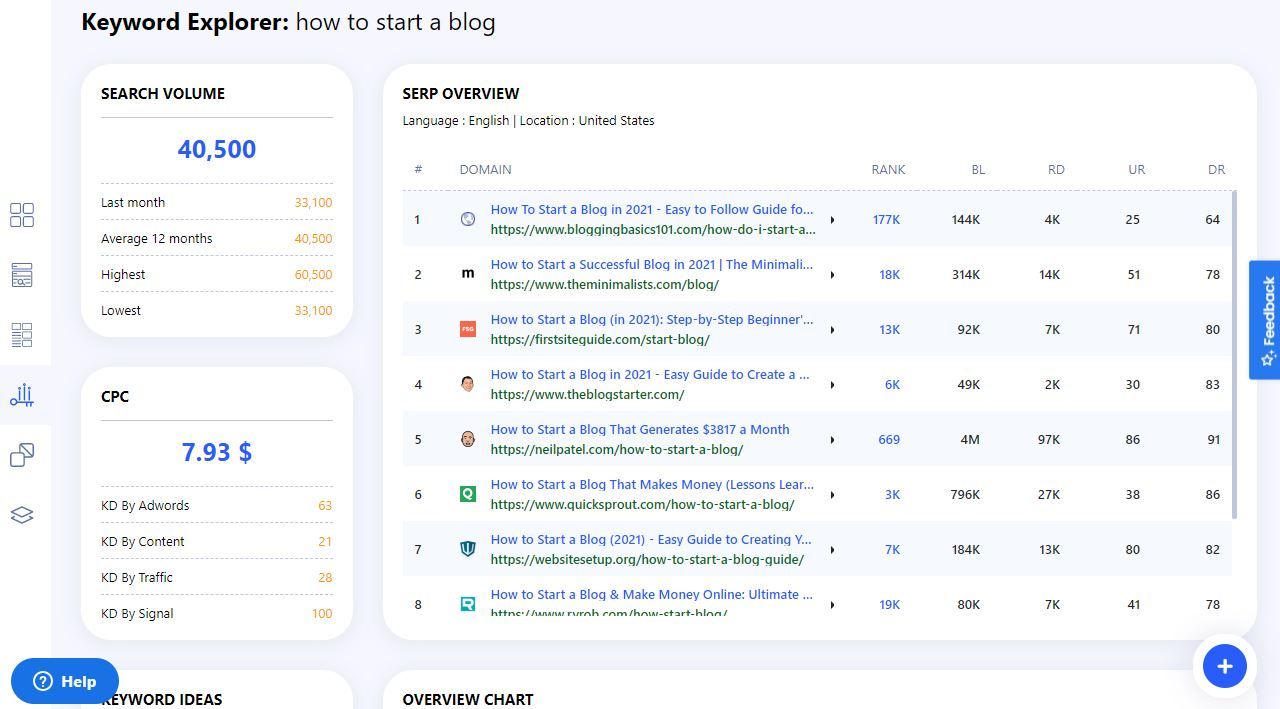 Underneath that, you will find valuable keyword data, insights and clusters. Keyword data can be filtered so as to get the best possible results. Keyword data can be filtered based on volume, CPC, Word Count, Inclusion or Exclusion of any term etc. You can easily select the keywords and make a list out of them. Keyword Clusters will basically give you a bunch of keyword clusters. Each cluster will have some keywords and it can also be used in your keyword list.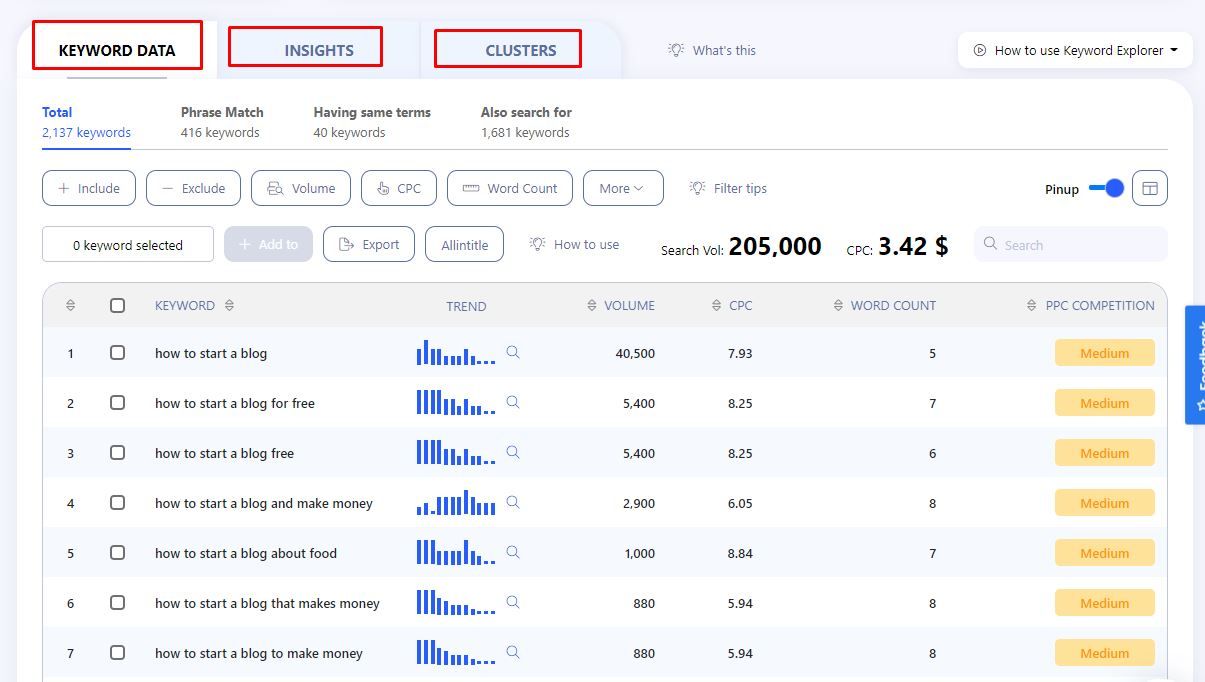 By making use of this keyword data, you can easily move on to the next steps for generating high-quality SEO optimized content.
Topic Discovery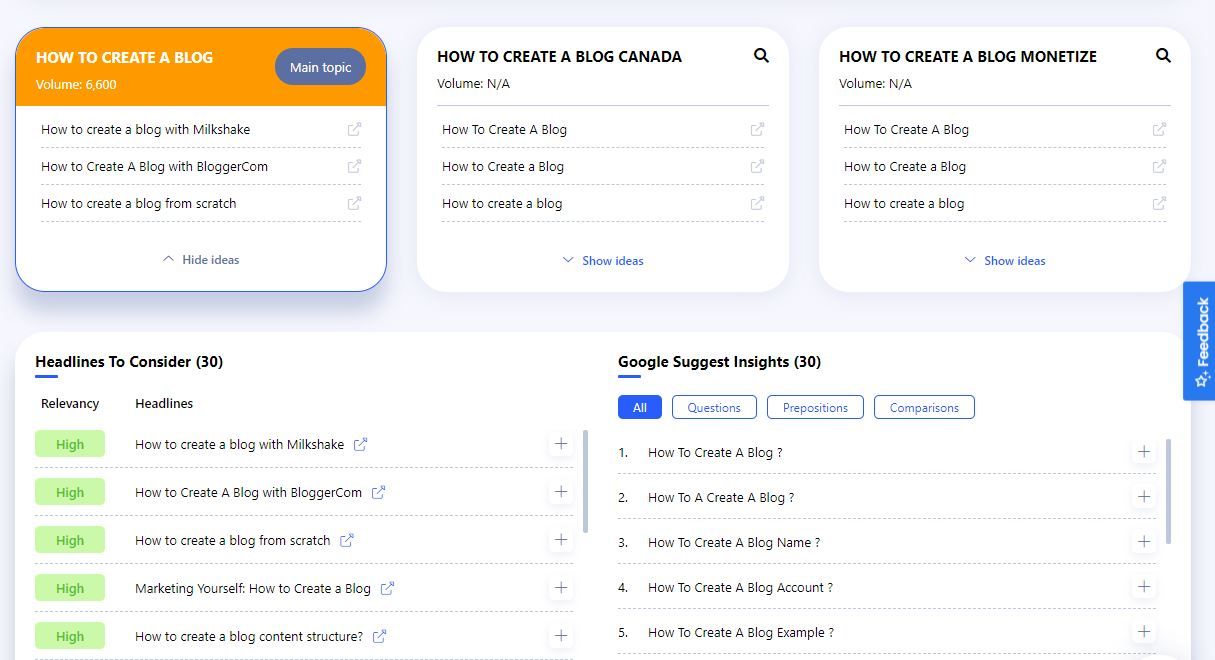 Topic Discovery lets you discover the topics for your posts. It shows you various clusters that contain many headlines to consider. You can choose any based on relevancy. It also shows you google suggested insights for questions, prepositions and comparisons. The decision goes with your discretion. You can choose the topic that is most relevant for your audience and is having a good search volume. It's quite very easy to add any headline to your existing or new keywords list.
Keywords List
Keywords list is a convenient feature in Writerzen. You can easily group a couple of desired keywords and then add them to your existing or new keyword list. You can manage your keywords list in your profile. It is possible to delete them or add new ones anytime.
Content Creator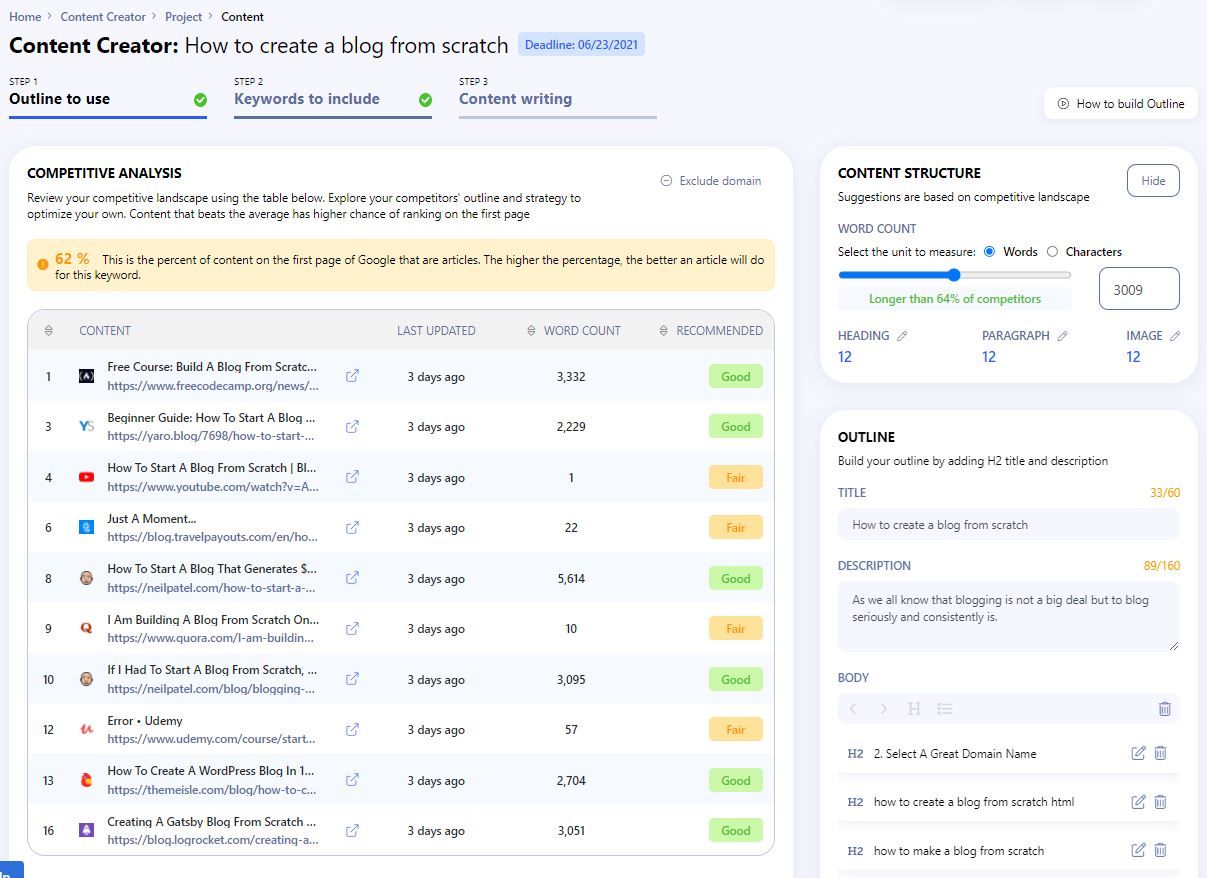 One of the best features of Writerzen is its content creator wizard. The content creator tool of Writerzen helps you in fabricating the outline for your content as the first phase to content generation. Under "outline to use", which is the first step, you can see the competitors content and decide which outline you want to use in your content out of their content. You just need to hover over the outline and click, and this will add the outline for your content which then you can easily paste/use in the content writing step 3.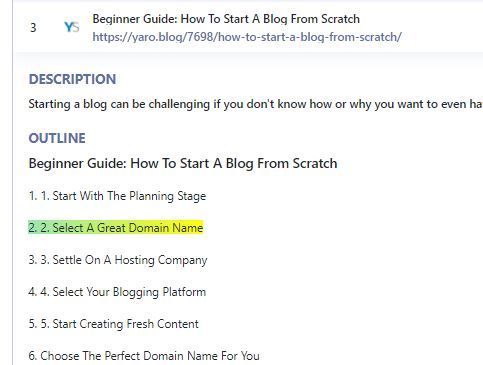 Underneath the outlines from competitors, you can find the google suggested insights. You can also select the outlines from that insight as well.
Once you are ready with your outlines, you can move to the next step which is to select the keywords to include in the content.
Here you can find the competitor's keywords and opportunities keywords. Just click on the keywords which you want to include based on their volume, usage and relevancy. Now, these keywords will be added to your content writing wizard, later on, to help you write content based on the chosen keywords.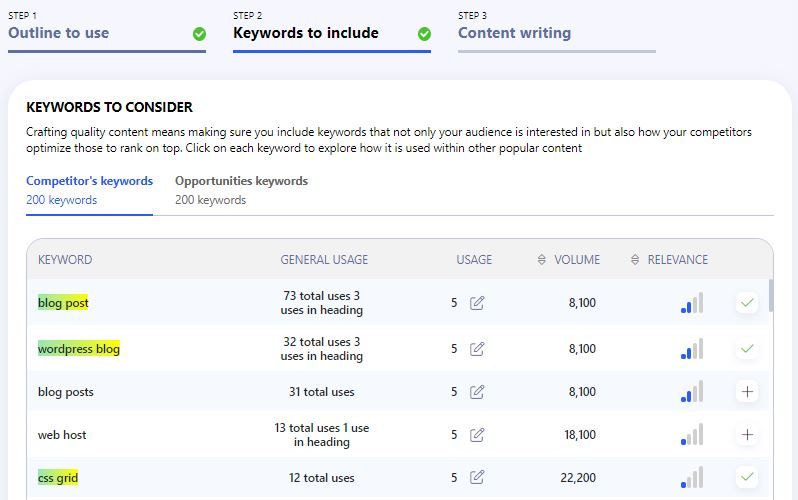 Once you have chosen the keywords, you are ready to start writing the content and move to step 3.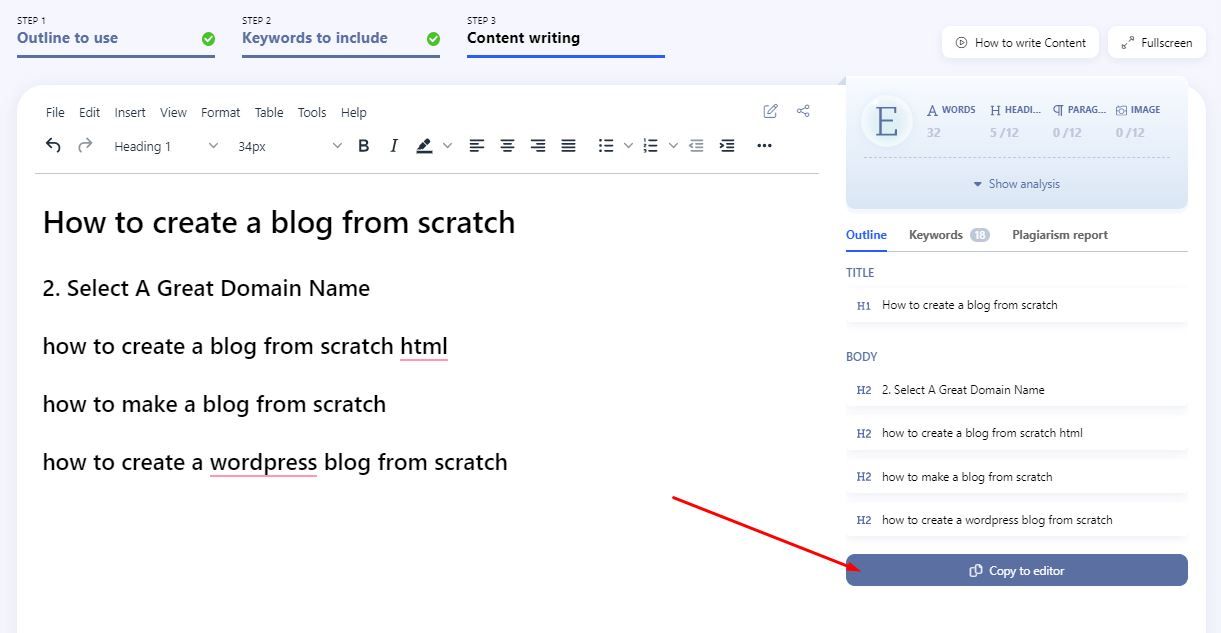 Here you get an option to copy the outlines to your content wizard which you generated in step 1. You can see the keywords that you had chosen and also see the plagiarism report alongside. Writerzen shows you current and recommended words, headings, paragraphs and images for your content. As you progress in your writing your parameters which are initially red, start getting green.
You can also create a share link and create the note. The UI of this tool is simply mesmerizing. You will definitely love writing on this tool with all these helpful features which will make you insane.
Writerzen Pricing
For Writerzen, 7 days free trial is available. If you go to their main website, you can find the premium Writerzen plan for $49 and for the Platinum, it is gonna cost you $70. However, the software is available on Appsumo with a lifetime deal so you can grab the opportunity and buy it from there to avoid monthly or yearly subscription.
So, this is my short review of the Writerzen content writing tool. Let me know in the comments what are your opinions about Writerzen. If you have not yet used Writerzen I would really recommend you to try it at once.