In the world of content creation, having a highly optimized piece of work is as important as having a good amount of food in the pantry. That's just a metaphor to explain the need, for any company or start-up, to have content that is specifically focused on advancing the reach of the website, attract a number of customers and remain high in search engines in order to reap the benefits of social media and content creation platforms.
Being able to create high-quality content is a difficult task because coming up with great ideas is difficult if needed to be done on a daily basis and many a time, writers tend to feel writers or creative block that might hinder the speed of content creation and making the job a bit tiresome. This being a tedious task, a helping hand is often required and that's where Outranking.io is going to help you.
Let's get started with the basics and learn about Outranking and why you should use it.
What Is Outranking.io?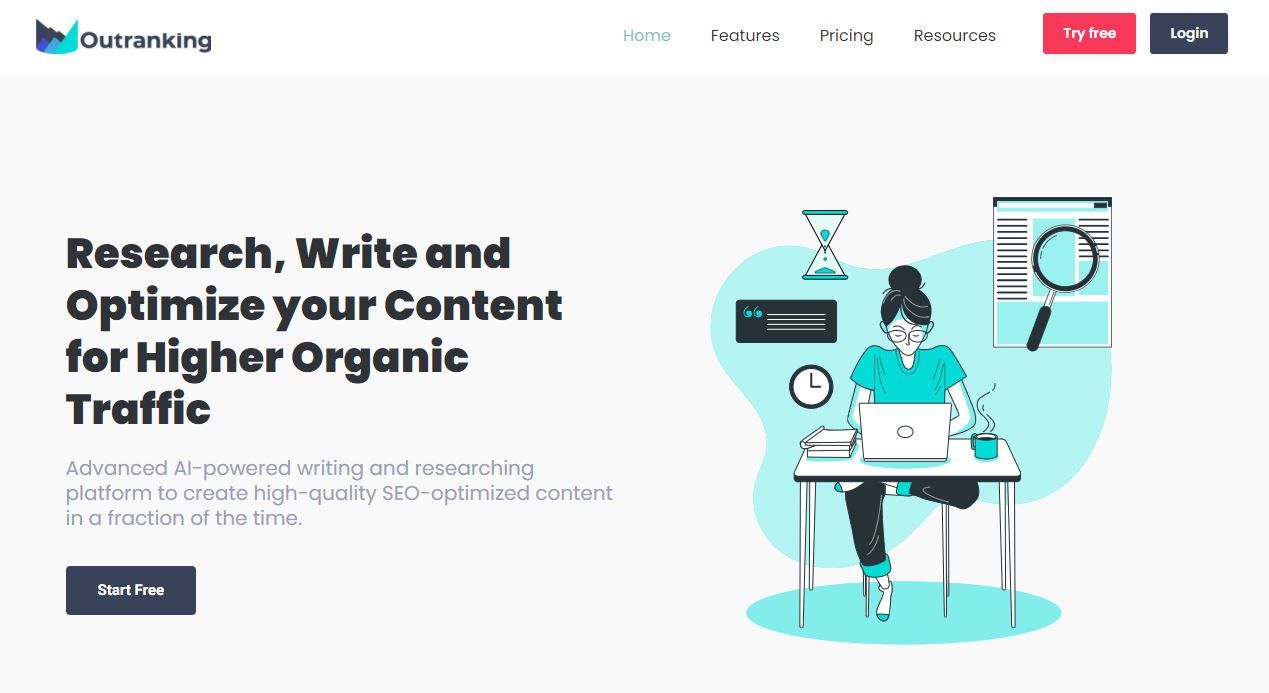 Outranking is an SEO-based content creator that takes up content optimization to a different level by creating good quality content with all the required keywords, phrases, and material for it to rank high on search engines. Outranking is a platform that, which its comprehensive abilities, provides you with deep analytical insights about your content and how to create it in the best manner, step-by-step.
Outranking takes in information and then research creates and optimizes the content in a way that your content gets a higher range of organic traffic. It's the best solution for agencies that focus on SEO content and webmasters, along with anyone who wants to rank higher on Google.
How to get started with Outranking.io?
Sign-Up for Free Trial With your Email or Google account
Select either 'Create New Content' or 'Optimize Existing Content
Enter all the required information like keywords, titles.
After you enter, the dashboard will be visible with various options
You get to enter the Title, Keyword, Meta Description and Section
After doing so, you can add additional options from the taskbar
Once done, you can do over and press 'create'
Wait for a few seconds and you're done.
It's really easy to create content on this software but you need to be clear about what you want so that software can create highly optimized content for you without you seating much or hovering over different platforms to look for research material.
How to use Outranking.io?
When logged in you can find the option to create SEO Content whether new or polishing existing ones, do SERP analysis, or research the questions.
SEO Content
This is the most important function of outranking and this is the soul of software. With outranking you can either create a new content from the scratch or update the existing content, just like Frase.io software.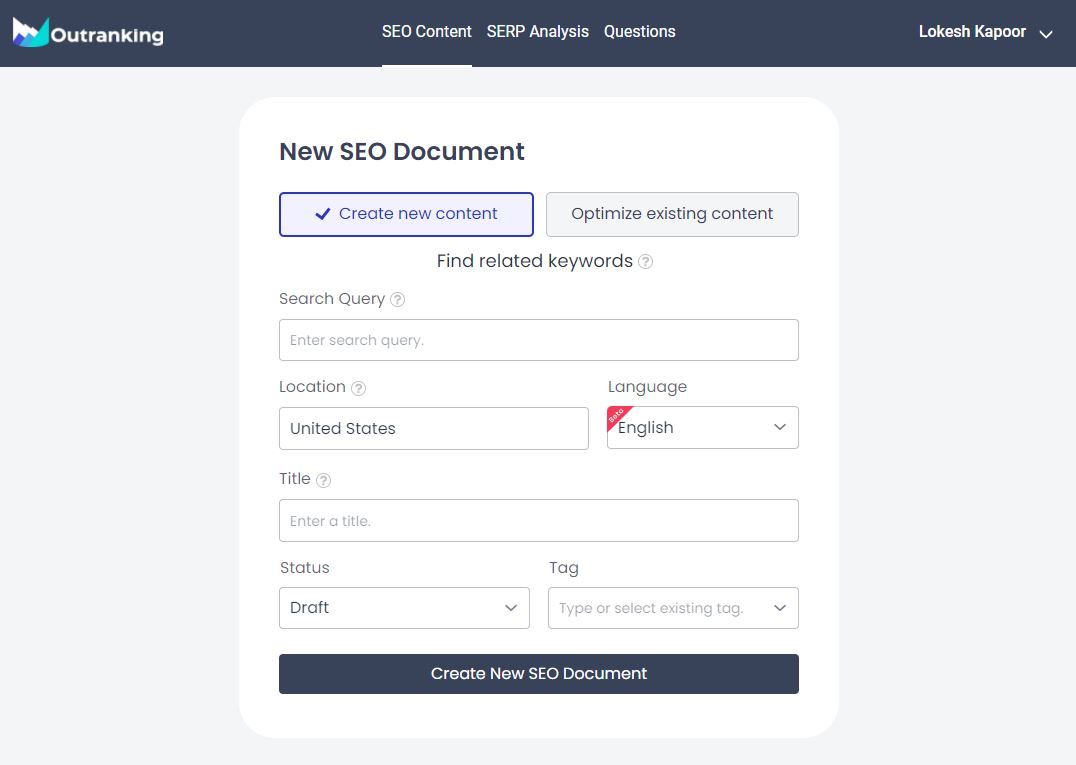 Let's start with new content with search query and title "How to do Email Marketing" while keeping the language, status, and tags to default.
AI Wizard
As you progress to create the content, the AI wizard will guide you in generating and choosing the title, meta description, and various sections of your content.
Step by Step Instructions
As the AI Wizard guides you in creating important sections and meta for your content, the step-by-step instructions allow you to see your progress over various steps as shown in the screenshot below.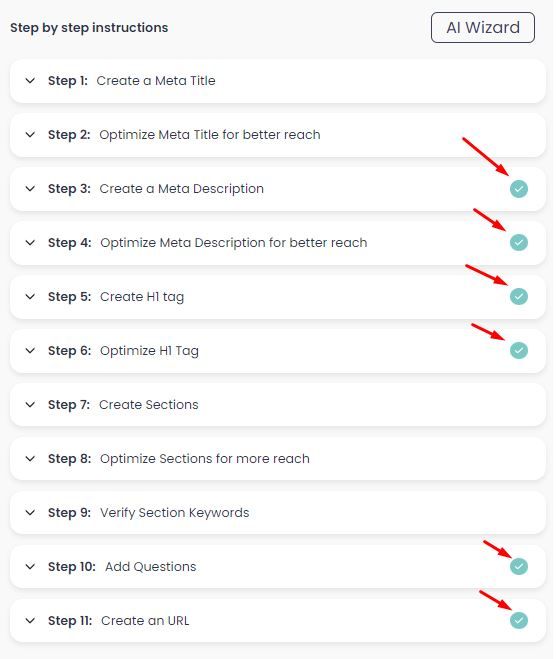 Progress Checklist
You can also see a checklist on the right side of your content editor. It will show the SEO score, title efficiency, description, heading, sections, questions efficiency, and much more. By looking at it, you can easily know your content strength and weaknesses. As you keep on writing the content, you will find the checklist getting improved. You can click on them to navigate through various sections of your content.

AI Content Generation
By navigating to sections, you can easily write the content inside of your content sections with the power of AI. There are several options for writing the content under heading such as writing summary, answer, or use the "writer for me" feature. You can also have a custom command option for this purpose.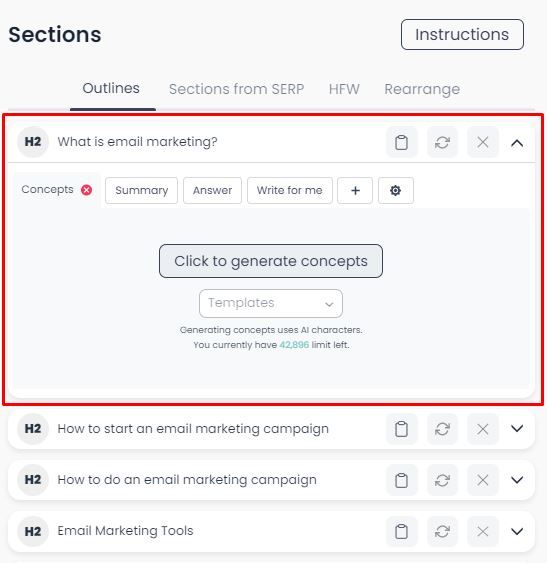 Who can use Outranking?
A lot of new start-ups and websites are rising in the modern global world and in order to make your website stand out in search engines and perform well in the global market, it is extremely important to have an assistant with you that is going to help you achieve these goals.
Anyone who is interested in creating content, begin a start-up, or boom their business can use Outrank. There are no set criteria for who can use Outranking because it can be used by writers, blog creators, business personals, freelancers, or tech companies. You can use Outranking for the best product descriptions and advertisements, to get traffic, equally.
The main aim of the platform is to create highly optimized content for anyone who is using it so that they can rank high on search engines and have a good amount of organic traffic on their website or page.
What are the best Outranking.io Features?
Like many other AI content-creating software, Outranking also has its features like mentioned above. SEO- based content creation, optimization of write-ups and other basic features that are the highlight of the software but what makes it stand out? Let us dive into it:
High-Quality Content in seconds
Outranking uses its advanced analytical skills to find SERP and organize the best content briefs for the writers. These are created right in the editor, this allows you to relax and have the day to yourself without having to worry about the customers' review because the end result is high-quality work that is jotted out just for their interest, giving them an excellent reading experience.
Optimize Content for Better Ranking
The most important aspect of any content is to rank high on search engines and with Outranking, this is exactly what you can do. The AI is going to use SEO strategies and analytics to make your content rise higher in the result pages. The AI is going to look into whatever it needs to add in the blog, like important keywords, phrases, and related queries by doing in-depth research and present you with the best result. You can rely on Outranking to outrank your work!
Link Knowledge with Outranking
This feature lets you focus on all the important aspects of your content and helps you create the best for yourself by focusing on targeted content that is based on SERF research and user intel. This is going to assist the AI to focus on SEO optimization of your content and create it in a way that targets the traffic you want in your platform. This also is able to identify the possibilities of ranking at a faster and easier pace without much effort from your side.
Benefits of Outranking.io
Create outlines and briefs in seconds
Step by step content optimization
Relevant sub-heading suggestions
Detailed improvement in SEO-scoring
Real-time content run-through and scoring
Research analysis of Google SERFs
Find keywords for organic traffic
Rewrite descriptions, paragraphs, and more.
Get to know your competitors' SERFs
Identify link gap for ranking purposes
More benefits about Outranking.io:
Step-by-step instructions
Detailed instructions about optimizing and creating content, using SEO tools and SERP data analytics.
Enter the key/query you want to analyze.
Give Outranking the time to do its job.
Next, click on the instruction feature.
Follow the steps instructed to create SEO based content.
Rewrite/review the content until you reach a high SEO score.
Questions
Find out user intent behind Google's most searched queries; measure out the most asked questions based on your keyword and phrases and answer5 those queries to make Google appreciate you more.
More than 50 questions on SERFs.
Queries based on PAS (People also ask) on Google.
Select out relevant PAS questions.
Provide the needed guidelines to those questions.
Use the given information and queries to back your content as well.
AI Writing
It is a tiring job to rephrases the content and write it in a more intuitive, interesting, and creative manner. With Outranking, you get to find out the most appropriate content briefs and phrases to write and keep the customer invested. These are a few things Outranking can help you with:
Rewrite/ rephrases product descriptions, introduction paragraphs, headings, and much more.
Identify and correct any grammatical errors.
Improve the structure of sentences and paragraphs.
Research Time
No need to get into manual labor or expensive research tools because Outranking got your back
Use Outranking for SERF analysis.
Create Domain profile.
Find Backlinks.
Keyword finder and software editor.
Everything will be visible on the dashboard, no more hovering around.
Get detailed SERF analytics reports.
Outranking.io Special Tools
There is a set of tools that Outrankinh provides you while working with them that is going to help you create a good level of content in less time. These features are extremely helpful because it is focused on a certain target and skill that you need to include in your content to make it stand out and it is important to involve these items in your content.
Questions People Ask
A powerful tool that helps you in finding out the queries related to your content and how you can improve it by including the things listed in these queries. While you get to know how and what kind of difficulties the audience has, you also will be able to involve these criteria in your content beforehand so that, once you get good traffic on your platform, you won't have to worry about a lot of queries or audience pin-pointing out certain things in your content.
Topic Outline Builder
This is yet another free tool on Outranking that is going to help you built the perfect outline for your content and you don't even have to worry much about having it look pleasing because the AI is going to do that for you.
Content Optimization
All you need to do here is to enter your domain name and let the optimizing feature of Outranking do its work and improve your content's reach to a different level.
SERP Analysis
Lastly, the SERF analysis free feature helps you find the best content based on data-driven analytics and reports.
Outranking's amazing free features are going to help you create the best content to put out in the market that is eye-pleasing, detailed and perfectly tailored for your choice!
Outranking Pricing
Outranking has a free trial period for its users where they can check out the platform and decide if they want to buy their paid plans. Outranking has three plans namely Starter, Professional, and Bussiness. The price differs based on the number of searches, the number of users, and rewriting benefits.
| Starter – $29 /m | Professional – $99/m | Business – $199/m |
| --- | --- | --- |
| 1 user | 1 user | 3 users |
| 30 searches | 75 searches | 200 searches |
| SEO editor | Topic Modeling | SERP analysis |
| Document Research | Related Keyword Mapping | Outline Builder |
| AI Rewriting 10,000 characters | AI Rewriting 50,000 characters | AI Rewriting 150,000 characters |
| Get Now | Get Now | Get Now |
You can look into all the plans and decide what's best for you. While the difference is only based on a few criteria, the remaining features are present in all types of plans.
Outranking.io on Appsumo
Appsumo has a large variety of deals present when it comes to these paid plans.l The deals present on Appsumo is a lifetime plan for only $69 that you should definitely get if you're looking for a good deal while purchasing a paid plan on Outranking.
Why you should try Outranking.io: Final Verdict?
When indulges in content creation, it becomes extremely important to create good content that is able to reap the benefits of your hard work, and sometimes, the human mind can lack in those spaces. In order to fill these spaces, it is important to find a reliable resource to help you create the space you might be lacking in and this is where Outranking is going to help you.
With its amazing features such as quick content creation, optimized content, and SEO based blogpost that is going to find out the best keywords and phrases for you to rank higher in SERP and search engines by creating good and organic traffic and attracting the right kind of crowd to your platform, it does a lot more than just content creation.
Outranking.io is going to help you create some good quality content with its excellent features that are not only beneficial right now, but with its amazing and affordable plan, you can always rely on it to boost your platform and grow even more.
The Review
Outranking
Outranking is a powerful data-driven content optimization tool that lets you generate content with GPT-3 AI Based technology. Its intuitive layout and smooth workflow lets you write, optimize and rank for your desired keywords on SERP.
PROS
Clean and Inituitive Layout
AI Based Content Generator
Easy to Optimize Existing Content
Shows SEO checklist and Assistant
Ease of Navigation
Best for Agencies, Marketers and Copywriters
Cutting-edge Features
Affordable Pricing for everyone
CONS
Use smartly to get effective output
Review Breakdown
Easy to use

0%

Features

0%

Brand Trust

0%

Support

0%

Value for money

0%