PUBG is the top royal battle game after the Fortnite. On Android, PUBG Mobile enjoys like the complete monopoly because Fortnite is yet not available on Google Play store. However, there are other games like Rules of survival which show devil smile face to the PUBG, the beast. Still, Rules of survival lacks such popularity that PUBG is possessing right now. PUBG Mobile is the game which has made many streamers within just span of an year. The game looks very real when compared to rules of survival & Fortnite.
Although, the gamers and content creators who already used to make regular content got more success. No matter, the new gamers too have got huge engagement only because of PUBG Mobile game. If you are the one looking forward to join the list of top YouTube or Twitch gamers then you are on the right page. With the medium of this post I would share with you the top ways to stream PUBG Mobile on YouTube, Twitch & Facebook.
Before we start I let you know that I will segregate this post in two divisions, viz. Steaming PUBG mobile via mobile & Stream PUBG mobile via PC. So, without further a due let's get started.
How To Live Stream PUBG Mobile Via Mobile
The immense success of PUBG is because of its availability on all major platforms including Android, iOS & Windows. The cross platform functionality let's it affect huge crowd unlike Fortnite. There are more users of Android than any other OS. Thus, the application is immensely popular.
If you have a good smartphone cabaple of running the streaming application alongside the PUBG game then you are good to go. Low configuration smartphones can not handle the tasks running simultaneously with huge game.
In order to enjoy streaming PUBG through your phone, you need to have some streaming applications. Below are the streaming applications with which you can stream the game very easily and get popular on YouTube, Twitch and even Facebook.
Omlet Arcade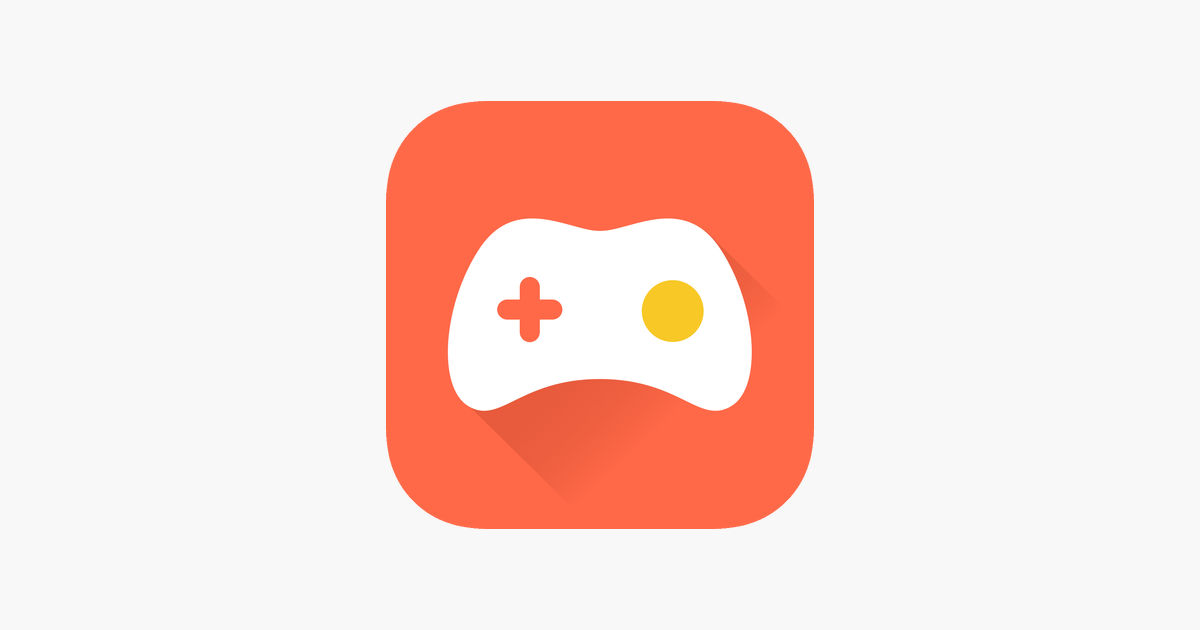 Omlet Arcade is a very popular app in terms of Streaming games. The app has it's own website and server where you can stream too simultaneously with YouTube & Facebook.
Omlet Arcade provides you with extra features which can increase retention for your live stream. All you need to do is install the application, sign up and login to your account, hit the plus button and choose to stream. Allow it the required permissions like Draw over other apps & usage access to let this run smoothly.
If you want to live stream PUBG Mobile on Facebook & Twitch then Omlet Arcade can help you in that. However, the network speed is needed to be pretty excellent or the stream can lag or stop in the middle. Many twitch games use Omlet Arcade Application for live streaming.
StreamLabs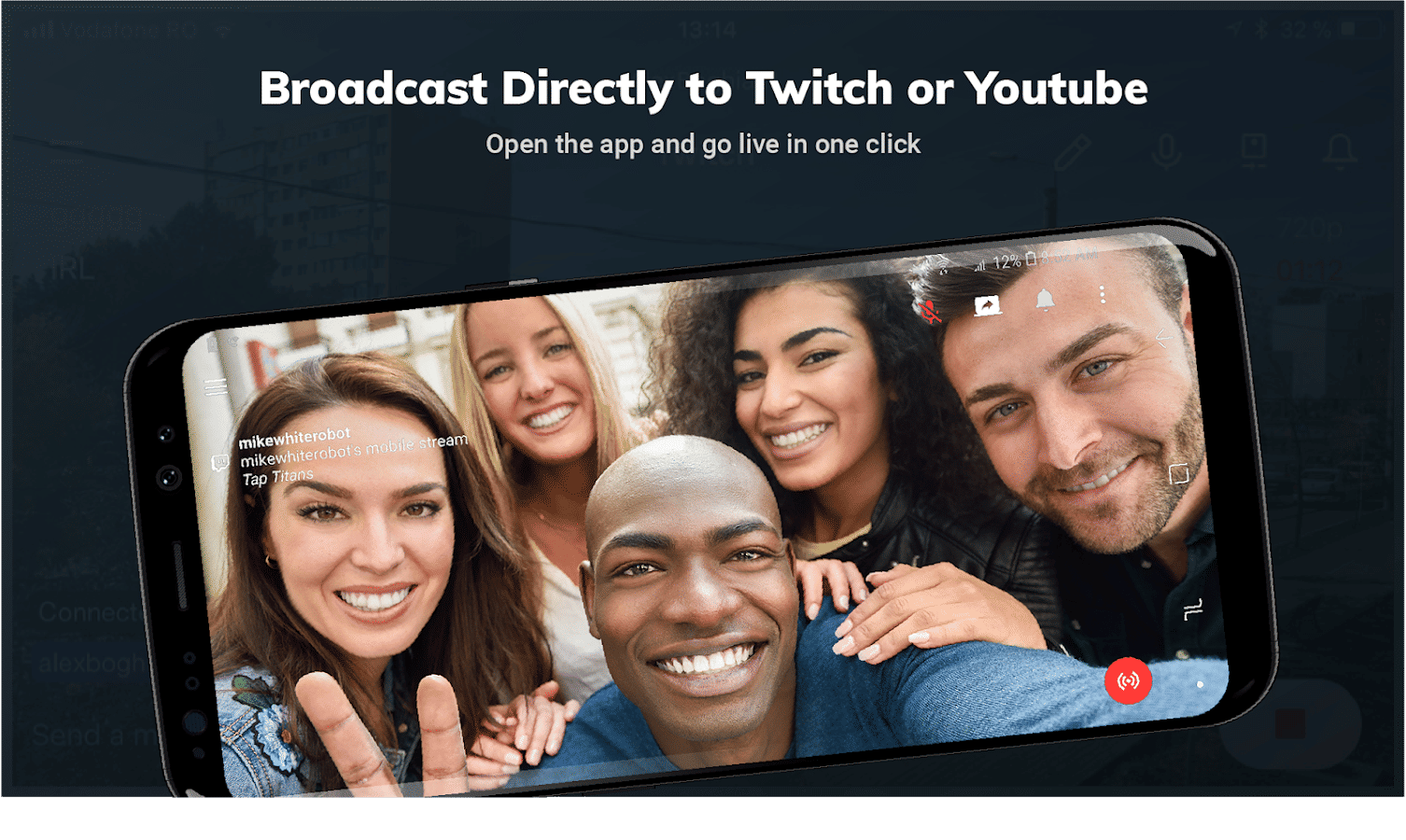 Positively Reviewed by thousands, Streamlabs is undoubtedly a great application for streaming PUBG Mobile with Smartphones. Streamlabs lets you use features & widgets like Donation Ticker, Followers Goal, Alert Box, Chat Box, Event List & more.
One can easily edit the Editor Screen to control how the stream will look to the users. It is great application to boost your streaming insights and have an edge over the other streamers. But believe me how you play matters more than how you stream.
So, if you play better then Streamlabs can be the cherry on the cake.
YouTube Gaming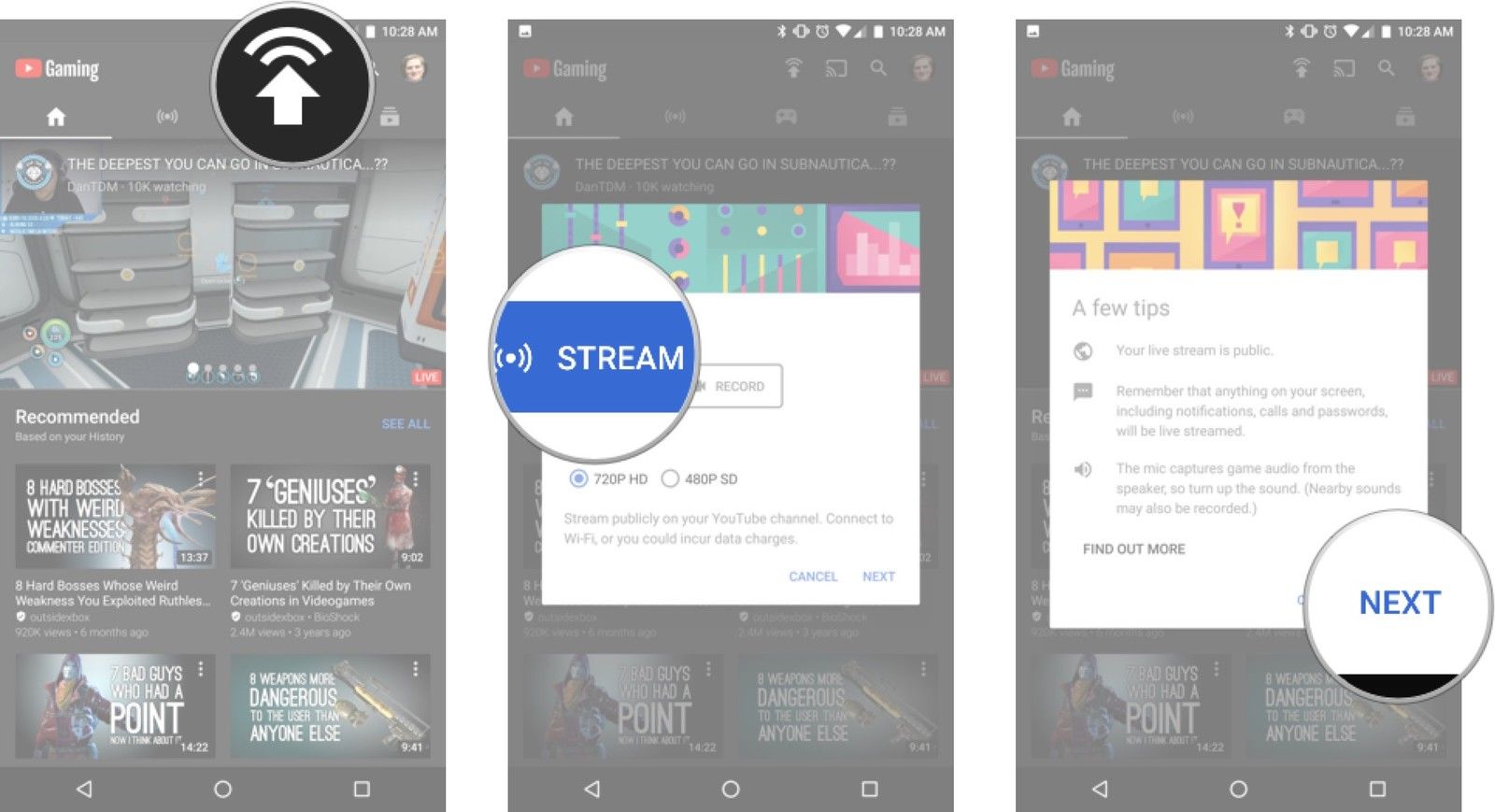 YouTube Gaming is the official application of YouTube LLC. Many users including kids and adults like to use it for watching live videos and game play videos. The application allow to stream and record. People find it best for streaming videos. The applications is very short and works pretty find in the low end smartphones as well. Ste[s to record & stream with YouTube Gaming app:
Login to your YouTube Account that allows live stream
Allow it for the necessary permissions.
Click the Go Live button next to the search button
Click next, Choose whether to record or stream, select the resolution and click next.
Choose the Gaming Application (PUBG Mobile in this case) then click ok.
Add the streaming information like Title & Description.
Your PUBG Mobile live stream will start if your channel is eligible for the live stream.
How to Live Stream PUBG Mobile Via PC
To live stream PUBG on PC is pretty more easier and convenient. PCs are better in handling multitasking. If you are planning to live stream the games with your PC then you should have first a PC with robust specification of course. An i5 Processor, 8GB (16GB if possible) of RAM and graphics above GT 1030 are minimum recommended to live stream PUBG on PC while playing.
You can use OBS software to live stream the PUBG game on your PC. Below are some OBS(Online broadcasting software) that you can use for such purpose.
StreamLabs OBS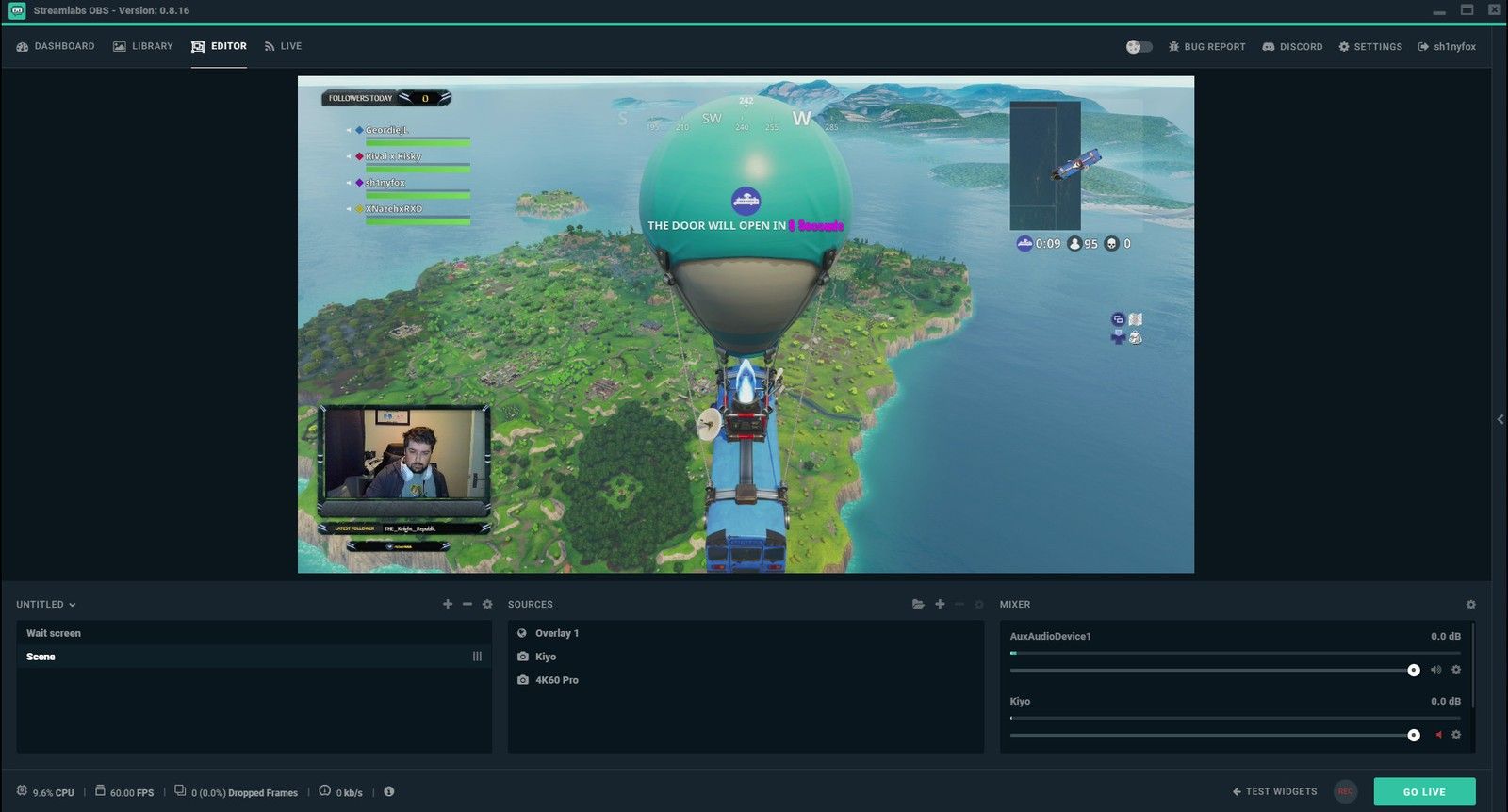 Majoity of Streamers find Streamlabs to be the recommended software for live streaming the PUBG mobile game. Streamlabs has like amazing features that every gamer wants. Donation ticker, follower goals, subscribers count, new subscriber notification, welcome the new subscriber, event list, chat box, alert box and more are the features that entice every gamer.
The software is very smooth and works like a charm for streaming PUBG online via PC.
Player.me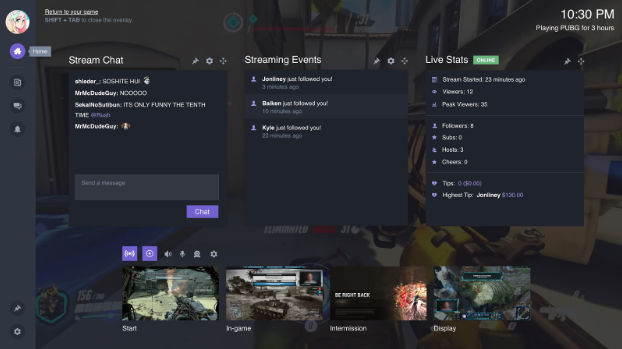 Player.me is another piece of streaming software which lets you stream live the game you want. It works smooth and many gamers trust this software after Streamlabs OBS. It user interface makes it pretty ease to use and navigate for the newbies. With Player.me streaming PUBG to twitch is also possible like Streamlabs.
Bebo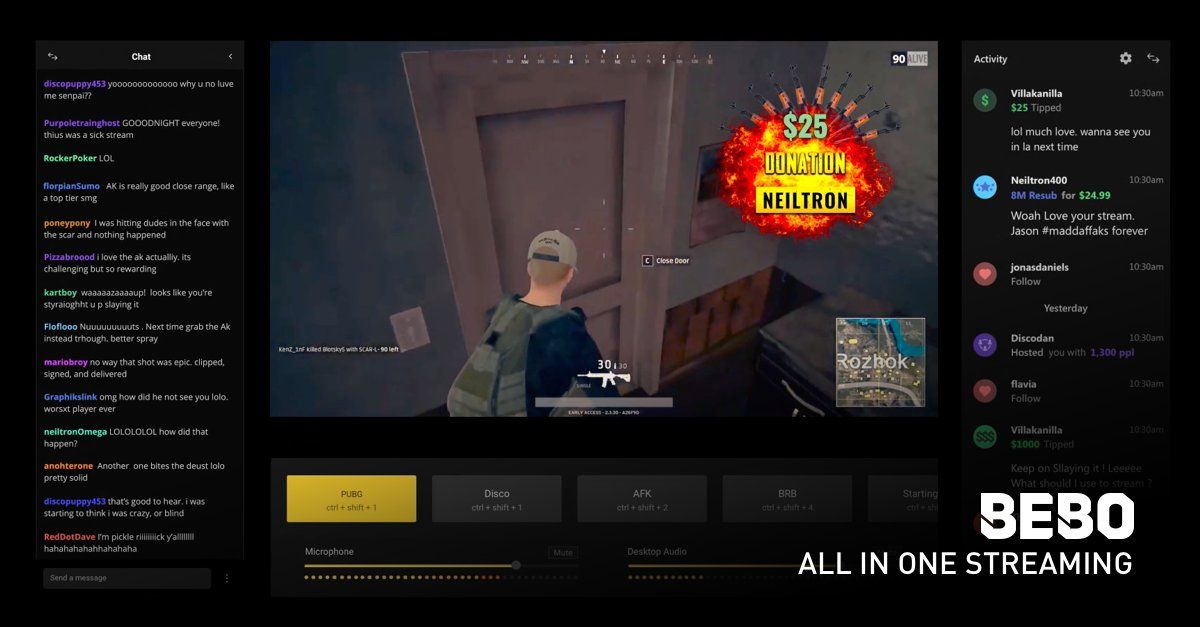 Bebo is a renown streaming software for PC. It is very unique in it own and is pretty similar to Player.me. The software lets you live stream the games with few actions.
Also Read:
Conclusion
So guys this is how you can stream PUBG mobile live through your Smart phone and PC to YouTube, Twitch & Facebook. You can use any software at your comfort. It is advised to stream with PC as it is more stable and provides you extra features to build a successful gaming channel. On the other hand, however, if you have a smartphone with high end configuration then you can surely give it a try to live stream PUBG with it.