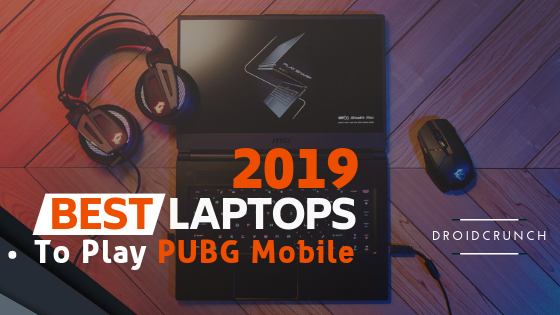 Are you looking for the best laptops for PUBG mobile for streaming or playing in high graphics and FPS? Then surely I have got your intention. Many PUBG players are not happy with the kind of satisfaction they receive from the usual laptops because of fewer graphics and processing. Bare with me throughout this article and I will share the top laptops where you can play PUBG very smoothly.
PUBG(PlayerUnknown's Battlegrounds) is a high-end game which works perfectly fine on smartphones and PCs. The game requires high graphics, storage, and performance to give you the best experience. The games like PUBG have already been in existence since long but the main reason for immense popularity for PUBG game is because of its availability on Smartphones and PCs, Voice Chat Multiplayer capability which is additionally free to play.
Many people love to play PUBG on PC and Laptops because of its controls. Playing PUBG on laptops lets you enjoy the controls at its best. On Mobiles, many people have to struggle with the controls, especially with the player movement. On Laptop the player movement becomes very precise with A, W, S, and D keys.
Before we begin with the best PUBG laptops list, Let's talk about the advantages of Playing PUBG Mobile on the PC emulator.
Advantages of Playing PUBG on Laptops
Better Controls
Perfectness in PUBG game is all about the perfectness in the gaming controls. If you can peek, crunch, move with the ease at the right time only then you can be Pro in PUBG. Laptop PUBG controls are way better than that of mobiles. Your left hand four fingers and one thumb all are indulged to support better gameplay. Your taps are just 0.1s away. There is no denying the fact that people love to play PUBG mobile on Laptops because of having better controls.
Widescreen
Widescreen helps to detect enemies early. Your success to have the chicken dinner depends on the timing you detect enemies. You win if you detect the enemies before they detect you. Widescreen laptops are capable to show you the enemies locations, even in low resolutions.
Streaming
PUBG mobile given streamers a life. People love to do their own streams and watch others streams online. Laptops open doors for the streamers because of the flexibilities. Mobiles sometimes are not able to give the efficiency needed to stream as the network connection is used simultaneously by the streaming app and game itself. This makes it pretty hard to handle by most mid-range mobiles. Also, the streaming apps for mobiles do not that many features which streaming software for PC possesses like donation tickers, follower goal, subscribe widget, super chat notification, and lot more. Streamlabs is one of the popular streaming software online that people find easy and comfortable for streaming PUBG via laptops and PCs.
What you need to consider for buying laptops to Play PUBG mobile
You must consider a few aspects before you get ready to take the laptop home or accept the delivery online. Your laptop should not focus on the minimum PUBG mobile system requirements but recommended system requirements. The minimum requirement is capable of just running the game on PC, however, if you need good performance, graphics and satisfaction from your laptop then you can wait a lil bit and buy a laptop that contains recommended or even more of the recommended system configurations.
Below are Recommended system requirements to Play PUBG mobile on PC:
OS: 64-bit Windows 10
Processor: AMD Ryzen 5-1600 / Intel Core i5-7600K
Memory: 8 GB RAM
Graphics: Nvidia GTX 1060 6GB or better
DirectX: Version 11
Network: Broadband Internet connection
Storage: 30 GB available space
Now let me show you some better laptops that you can buy now or in the future to PUBG mobile better. It recommended buying only better laptops. If you can't afford one for now then you can wait or you will lose your money and will not get the satisfaction you were looking for.
7 Best Laptops to Play PUBG Mobile 2019