pCloud is your personal cloud space where you can store all your files and folders. By installing the pCloud on your computer (though it's desktop application pCloud drive), the app creates a secure virtual drive that expands your local storage space. pCloud allows users to upload files of any size including HD videos, and access this data at any time. Media files are accessible on the cloud directly, with a built-in audio player, video streaming, and more. They can be accessed offline, and when connected to the internet each change is updated in seconds between the cloud and any linked devices.
File versions can be stored and accessed for up to 180 days back, and deleted files can be accessed in the Trash folder for a set period before permanent deletion. Users can invite their contacts to share their pCloud folders, with the ability to control and modify access and editing permissions at any time. Upload and download links can also be generated and provided to anyone without sharing folders.
pCloud Crypto is offered as an additional subscription service, and provides client-side encryption of files, with encryption keys only available to the user. pCloud drive creates a secure virtual drive on your computer. The only difference from your physical drive is that pCloud does not take space on your local device. File uploaded in the drive will be kept safe in the cloud. Users can use Drive to edit their files directly. Deleted files are stored in the Trash folder for up to 180 days, and can be permanently deleted at any time.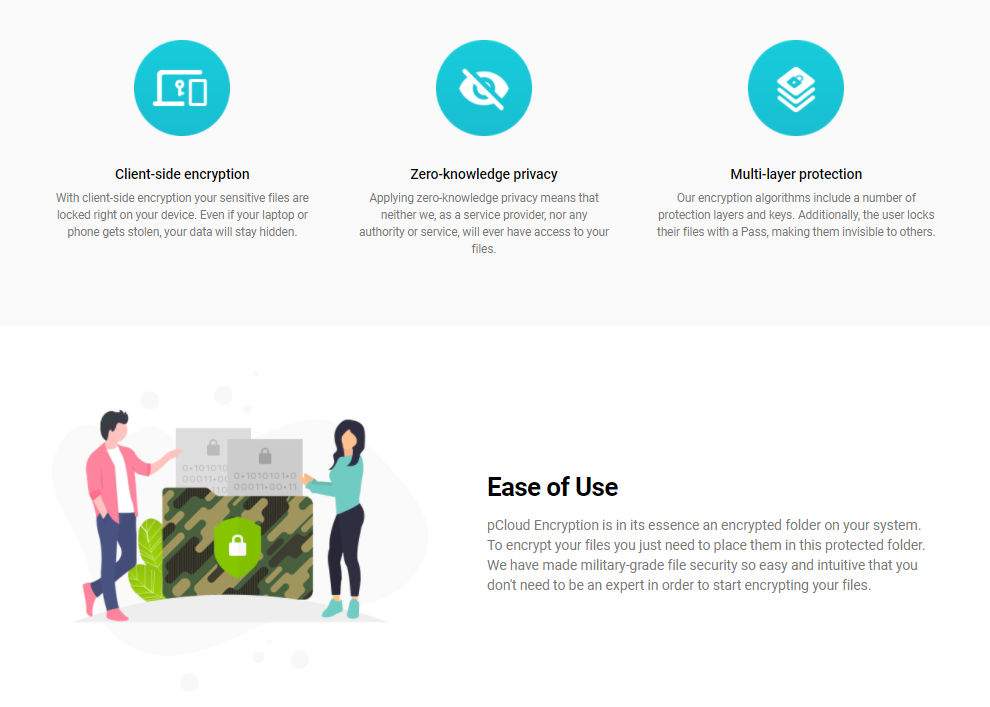 pCloud Overview
pCloud is a secure and easy-to-use service that lets you store up to 10GB for free, offers lifetime plans for up to 2TB, and generally will make storing files easier than most of the competition. If you are looking for cloud storage that has the ability to choose which files are protected with zero-knowledge encryption, then pCloud is an excellent choice. It is your personal or professional cloud storage. All your photos, videos, and documents are stored in one place and they are accessible on any device, wherever you go.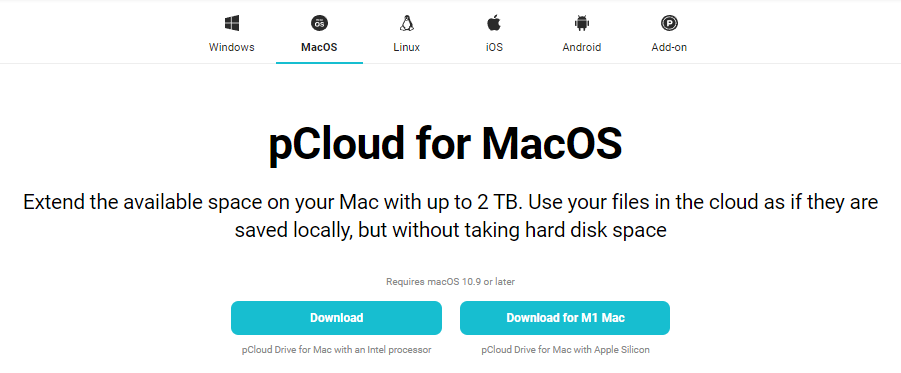 It's also the only one of the many cloud storage services that let you decide which of your files you want to protect with zero-knowledge encryption. On top of that, it's easy to use, provides speedy sync, and comes at a very affordable price.
pCloud makes it super easy to receive large files online because of the Upload link. On top of that, sharing, uploading, and downloading files have never been easier. Real-time changes can be seen on all your devices. Every change you make in your pCloud can be seen immediately on your computer, phone, or tablet.
Features of pCloud
File syncing– pCloud does incredibly well File syncing.
pCloud Rewind– this feature allows you to recover files from previous data if, for some reason, you delete your files or they become corrupted.
pCloud Save– pCloud also extends into your browser with pCloud save, an extension for Opera, Firefox and Chrome. This extension allows you to save images directly to your pCloud account with a simple right-click on any images you want, with these images being saved in a special "pCloud Save" folder.
Invite to Folder– Allows users to share folders with their contacts, and control whether individuals can edit or only view content, with the ability to modify permissions at any time.
Automatic Upload– Continuously upload new videos and photos from user's mobile devices to their pCloud account, and users can also select folders to backup from their computer.
Embedded music player– You do not need to install additional plugins to play your files directly from the cloud, create playlists and share it with others.
Branded downloaded links – You can customize your download links when you share files with your Brand's logo, style and description and show your professionalism.
Unlimited Upload and Download Speed– The file upload and download only depends on the speed, achievable by your internet provider. When you use pCloud Drive, the synchronization speeds can by specifically limited by you, if you wish so. The web platform and the apps do not, in any way, limit your upload or download speeds, regardless of whether you are Free or Premium user.
Unlimited File Size– With pCloud you can upload any type of files, regardless of their size, directly to your account. You can even store your HD video collections in the cloud. Most of the other cloud storage services impose serious limitations, especially when it comes to uploading files in web.
How to use pCloud?
To use pCloud Drive first you need to install it. Following are the steps for installing pCloud-
Step1- Register a free pCloud account (no card details required)
Step2- Download the pCloud Drive application for Mac, Windows, or Linux
Step3- Install the application on your computer. By default, it will be installed on your C: /, but you can change the installation location by selecting "options". Select "install" to proceed.
Step4- The installation will be completed a few moments later. Select "launch" to start configuring it.
Step5- Log in using your pCloud account login details.
Step6- Drag and drop files into your pCloud folder to upload them to its cloud servers.
Step7- The virtual folder is not synced to your local computer. Sync folders in pCloud to your local computer in the "sync" tab of the application, select the "sync" tab and then "add new sync". You can then work on files in synced folders even when you're not connected to the internet.
Step8- Choose a specific folder in your pCloud that you want to keep synced with somewhere on your computer.
Step9- Choose where you want these synced files to be stored on your device. Select "choose local folder" and pick the folder that should be synced.
Step10- All that's left to do is confirm this by selecting "add sync".
Step11- Now that these files are synced any changes made within one of these folders will be mirrored in the other. This means that if you delete files in a local folder that is synced with pCloud, then it will also be deleted from the cloud.
Alternatives to pCloud
1Box
Box lets you store all of your content online, so you can access, manage and share it from anywhere. Integrate Box with Google Apps and Salesforce and access Box on mobile devices.
Dropbox
Dropbox brings your files together, in one central place. They're easy to find and safely synced across all your devices so you can access them anytime, anywhere. No more wasting the day tracking down work.
Microsoft OneDrive for Business
With Microsoft OneDrive you can store any file on your SkyDrive and it's automatically available from your phone and computers. No syncing or cables are needed.
Apple iCloud
iCloud does more than just store your content. It lets you access your music, photos, calendars, contacts, documents, and more, from whatever devices you're on.
Nextcloud
Nextcloud offers file sync and share combining the convenience and ease of use of consumer-grade solutions like Dropbox and Google Drive with the security, privacy, and control business needs.
pCloud Queries Answered
Is pCloud really secure?
pCloud sends all data to its servers using TLS/SSL encryption. We checked the service using Qualys SSL labs and found that it scored an A+, which means that your data should be secure in transit (even if you use a free account with no end-to-end encryption).
How does pCloud Drive use the cache storage?
When you upload (copy/ cut and paste) files in pCloud Drive, the app temporarily uses some of the free space on your computer to cache this efficiently and ensures it doesn't suffer if your internet connection gets interrupted.
How much does pCloud cost?
pCloud is reasonably priced and a good value for money.
⦁ Pricing model: Free, Subscription
⦁ Free Trial: Available
How does pCloud Drive use the cache storage?
When you upload (copy/ cut and paste) files in pCloud Drive, the app temporarily uses some of the free space on your computer to cache this efficient and ensures it doesn't suffer if your internet connection gets interrupted.
How much does pCloud cost?
pCloud is reasonably priced and a good value for money.
⦁ Pricing model: Free, Subscription
⦁ Free Trial: Available
Personal plans:
Basic: free up to 20GB storage.
Premium: $3.99/month or $47.88/year- 500GB storage
Lifetime Premium: $ 125-one-time payment
Premium plus: $ 7.99/ month or $95.88/year-2TB storage
Lifetime Premium plus: $250-one-time payment
Business: $7.99/user/month-includes 1 TB storage and pCloud Crypto.
Can I pay with Bitcoins?
Yes, now pCloud accepts Bit coin payments.
NOTE- Bitcoin payments are not subject to refunds.
How long has pCloud been in Business?
pCloud was founded in 2013, so has been in business for eight years at the time of writing.
Can pCloud see my Files?
Yes, pCloud can see what files you have, but if you sign up for the zero-knowledge Crypto add-on, nobody at the company will be able to do more than peek at file names.
Pricing of pCloud
You can sign up for pCloud and download our mobile and desktop application for free. Basic pCloud accounts (Free Forever) come with up to 10GB of free space.
If you ever run out of space, you can upgrade your account with a monthly or yearly subscription to a pCloud Premium (500GB) or pCloud Premium Plus (2TB) plan.
| | |
| --- | --- |
| Premium 500 GB | Premium Plus 2 TB |
| Annual | Annual |
| $49.99 | $99.99 |
| 500 GB Storage | 2 TB Storage |
| 500 GB Shared link traffic | 2 TB Shared link traffic |
| Fair Share | Fair Share |
| Shared link branding | Shared link branding |
| 30 days trash history | 30 days trash history |
| Buy here | Buy here |
| | |
When you opt for the lifetime plan, the price becomes $175 or $350 for Premium 500 GB and Premium Plus 2 TB plan respectively.
The rates above are in USD. Keep in mind that pricing depends on your billing country. Prices apply in GBP for the UK (United Kingdom) and EUR for countries in the EU (European Union).
What makes pCloud stand out?
pCloud serves as both an excellent backup and work-sharing tool. You can use it on any digital device and secure your files to the max with manual encryption. Best of all, you can pay a one-time fee for a lifetime subscription. pCloud has proven their cloud storage is the optimum versatile solution for both personal and business users. pCloud uses a virtual hard drive to extend your drive space by up to 2TB or allows you to sync any folder on your computer without needing to mess with your folder structure.
At pCloud, the team is providing the World with a comprehensive easy-to-use cloud storage solution for individuals and businesses alike. Their approach incorporates the technical point-of-view with the end-user in mind. Other cloud services are either too technical and are not user-friendly, or they are not comprehensive enough for users to get everything they want out of cloud storage.
Pros and Cons of pCloud
Pros-
Super easy to set up.
Great service and great integration.
Simple to access and use.
Affordable.
Easy payment option.
Data integrity and security.
Sync really fast.
Store your files from other online platforms with ease.
Easy access to your file.
Availability on different digital platforms.
Cons-
Sometimes the software does not sync very well causing the file to be corrupted.
Ads to upgrade plan and promotions running are slightly annoying.
Extra cost for pCloud Crypto & extended file history (EFH).
The Review
pCloud
pCloud is a powerful cloud storage solution that is more secure and reliable. It is very affordable when compared to its competitors. pCloud offers you to sync your system files on the cloud and access them whenever you want. It ensures that your data is not lost and you are always on the safe side. Its utmost security and encryption make it a strong option to Mega, OneDrive, and Dropbox at the moment.
PROS
Super easy to set up
Great service and great integratio
Simple to access and use
It is very Affordable
Easy payment option
Data integrity and security
Syncs really fast
Store your files from other online platforms with ease
Availability on different digital platforms
CONS
Sometimes the software does not sync very well causing the file to be corrupted
Ads to upgrade plan and promotions running are slightly annoying
Extra cost for pCloud Crypto & extended file history (EFH)
Review Breakdown
Features

0%

Security

0%

Encryption

0%

Reliability

0%

Brand Trust

0%

Support

0%

Compatibility

0%

Value for money

0%