Do you want to stay fit and work on that summer body of yours? Look no further than your Android device! With the help of apps, there's never been an easier way to keep up with a workout routine. Whether your goal is shredding fat and sculpting muscles, or just getting toned for beach season, we've rounded up some of the best fitness and bodybuilding apps available right now on Android phones. Check out our list and take your workouts to the next level this summer!
We use our smartphones for most of our activities today, whether it is for music, gaming, education, entertainment, business, productivity, or lifestyle. As such, It would not be an exaggeration to say that it is your best friend and you can not live even for 24 hours without it. Health and Fitness are vital aspects of anyone's life; you can take them seriously by using one of these fitness and bodybuilding apps.
With Fitness applications, you can get to know your lifestyle. You can improve your lifestyle, make healthy habits, stay connected with your goals, make reminders, set a goal, and learn some better crunches, cardio, and exercises with live GIFs and videos. Some of these fitness apps are paid, and some are free.
You're sure to find something that suits your needs, from cardio-centric apps to weightlifting and Crossfit apps. No matter your fitness or bodybuilding level, we're confident that one of these apps will suit your needs! So, download them and start a healthy lifestyle today!
List of Best Bodybuilding and Fitness Apps in September 2023
MyFitnessPal: Calorie Counter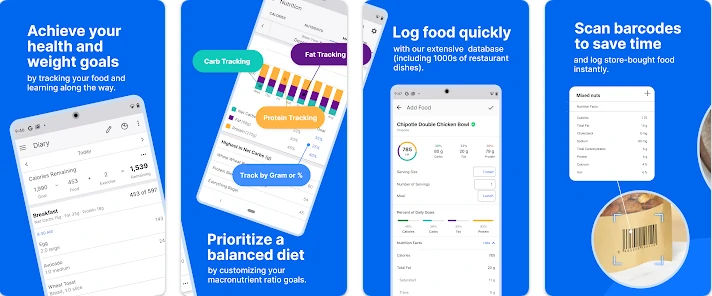 MyFitnessPal is a popular app that helps people track their diet and exercise. It has a wide variety of features that make it easy to stay on top of your fitness goals. With MyFitnessPal, users can create a personalized profile with specific calorie, macronutrient, and micronutrient goals.
They can also track their calorie intake and activity levels with the app's extensive nutritional database, which includes over 6 million foods in its library. Additionally, users can log their workouts, set reminders for meals and access detailed progress reports to monitor their progress.
MyFitnessPal also offers community support by providing access to members who have similar goals or experiences with the app. This feature allows users to ask questions, get tips or find inspiration within the community. With all these features combined, MyFitnessPal provides an effective tool for reaching health-related goals.
Write down what you eat and what you do – One of the best ways to keep track of your diet and help you lose weight is to keep a fitness and food diary.
Set Goals: Make your own goals for losing weight, gaining weight, keeping your weight steady, and getting fit.
Track Your Progress: At a glance, you can see how far you've come today, analyze your nutrition, count calories, and keep a close eye on your macros.
Learn From Experts: With guided Meal Plans, you can improve your diet and reach your health goals faster.
Stay Motivated: More than 250 healthy recipes and more than 150 workouts will keep your routines fresh and fun.
Daily Yoga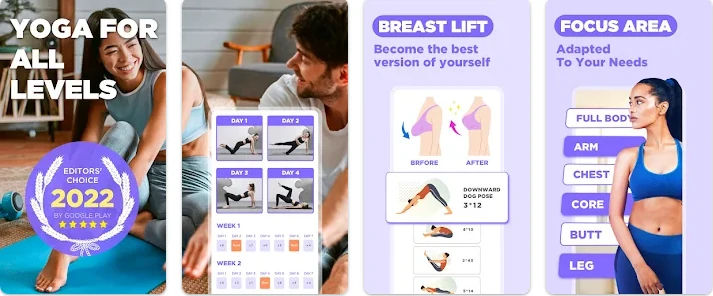 Yoga is a great way to start your day, and there are many great yoga apps available on the market today. Some of these apps offer varied challenges and routines, while others include features like timed workouts, meditation, breathing exercises, and more. If you're looking for an effective fitness routine that takes little time to complete, yoga is a great option!
Not to mention, yoga is one of the oldest forms of exercise and is a great way to improve overall health. Daily Yoga app is an impressive application to help you do yoga at pace.
The numerous yoga postures, courses, and weight reduction challenges available on the Daily Yoga platform contribute to the user's mental and physical well-being. Doing yoga first thing in the morning is a great way to maintain good posture, strengthen core muscles, increase mobility, and enhance overall health and fitness.
Powerlifter- 531 Weightlifting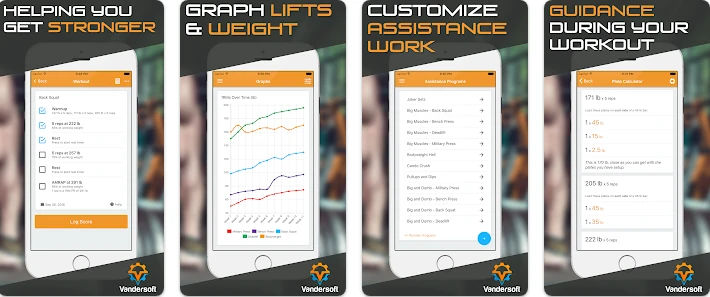 If you're looking to build strength and muscle mass, powerlifting is the perfect workout for you. Powerlifting offers an intense and challenging workout that will help you build strength and size.
There are many different apps available that can help you with your training regime, so find the right one for you. Whether you're a beginner or a more experienced powerlifter, these bodybuilding and fitness apps can help you get started in the right direction.
Pro Gym Workout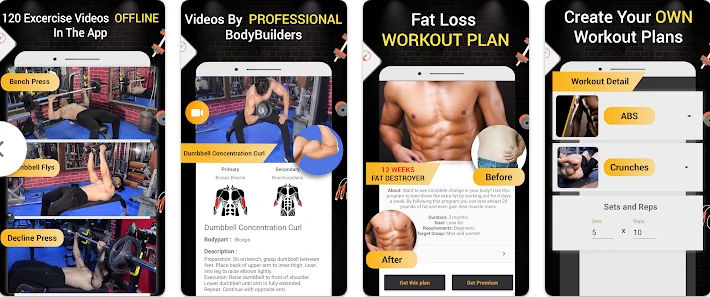 Getting in shape is essential for maintaining a healthy body weight, but it can be a bit of a hassle to work out regularly. That's where bodybuilding and fitness apps come in handy! Some of the best apps available today include Crossfit Games, P90X Plus, and Insanity Max Trainer.
These apps offer a variety of workouts that can help you achieve your fitness goals quickly, and they are designed to be supplemented with your regular routine. It's also important to consider what type of bodybuilding and fitness app is best for you. There are many great options out there, so it's important to choose one that fits your needs.
StrongLifts Weight Lifting Log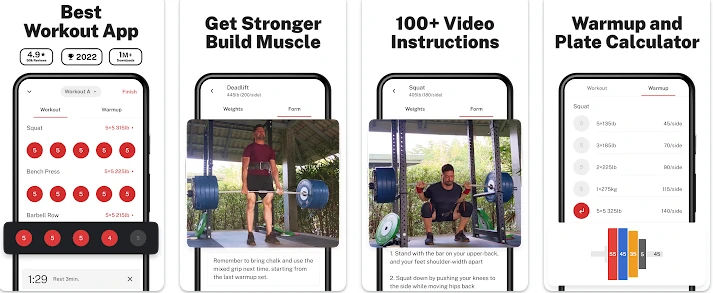 There's no doubt that bodybuilding and fitness apps are on the rise. This is thanks to the growing trend of fitness enthusiasts who are looking for more personalized and in-depth workouts. One of the best bodybuilding and fitness apps available today is the StrongLifts Weight Lifting Log.
It has a variety of features that make it a great choice for anyone looking to improve their workouts. From training plans to weightlifting records, this app has everything you need to take your fitness routine to the next level.
Whether you're a beginner looking to learn from experts, or an experienced fitness enthusiast looking for new training techniques, the Strong Lifts Weightlifting Log is the app for you!
JEFIT- Workout Plan & Gym Log Tracker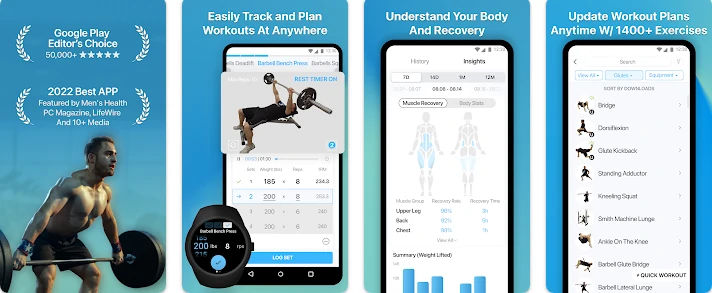 There are a lot of apps available on the market today for bodybuilding and fitness enthusiasts. But which one is the best? JEFIT is definitely one of the best. It includes features like a workout plan and gym log tracker, making it super easy to track your progress.
Additionally, the app is popular for its meal planning features, which make sure you're consuming the right nutrients during workouts. JEFIT has over 1 million user reviews on Google Play, which speaks for itself! If you're looking for an app that will help you achieve your fitness goals, then download JEFIT today!
Cross Training WODs For Beginners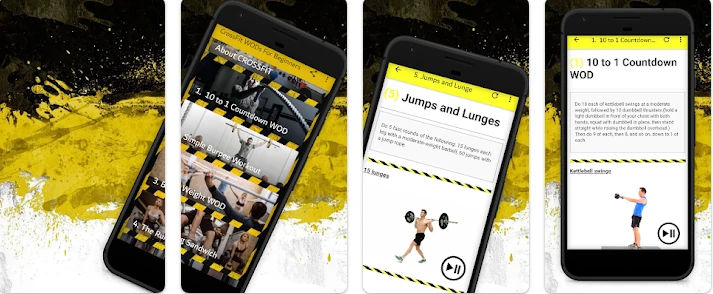 If you're looking for a way to add variety and intensity to your bodybuilding and fitness routine, cross-training may be the perfect solution. Cross-training includes exercises that work for different muscle groups in different ways, which helps you work on all of your muscles in a single workout.
Some of the best bodybuilding and fitness apps available on the market today include Cardio Trainer, Bodyweight Circuit trainer, and more. With so many options to choose from, it's easy to find the perfect app for you. Best of all, with apps like these, you can easily track your progress and stay motivated throughout your workouts.
Fitness Point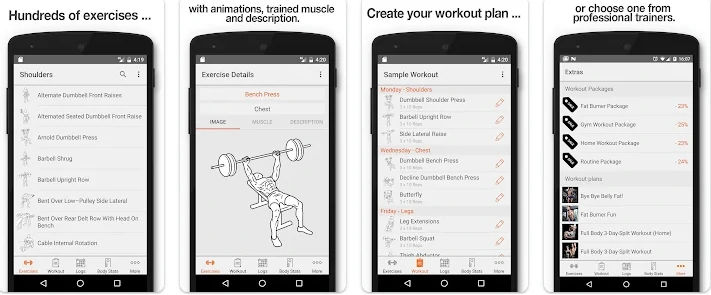 Bodybuilding and fitness apps are a great way to stay on track and achieve your fitness goals. Fitness Point is one of the best apps on the market today, for a number of reasons. Firstly, it has personalized workouts that are designed to fit your specific needs.
Secondly, it has easy tracking tools that make it simple to follow your progress. Thirdly, motivational videos are a great way to keep you on track, and the community feature allows you to connect with others who share your interests in fitness.
Additionally, Fitness Point offers monthly challenges as well as exclusive discounts on new content and products! So, whether you're a beginner or an experienced fitness-goer, download Fitness Point today and start seeing results!
Strong: Exercise Gym Log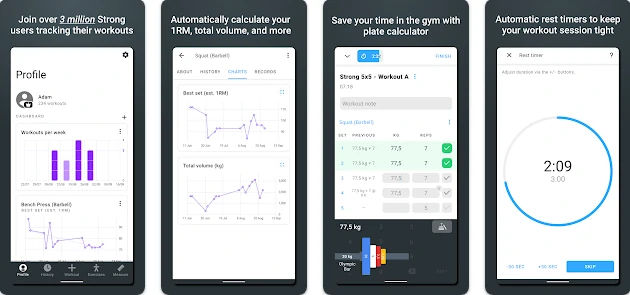 There's no doubt that fitness apps have revolutionized the way we exercise. One of the best fitness apps on the market today is Strong: Exercise Gym Log. Not only does this app offer a variety of different workout plans for all levels of intensity and experience, but it also allows you to track your workouts, food intake, and moods in order to improve overall fitness.
The user interface is easy to use, so even beginners can start incorporating exercise into their lives immediately. Additionally, it provides scientifically backed advice on how to achieve weight loss or muscle gain goals. So if you're looking for a great fitness app that will help you achieve your fitness goals, Strong: Exercise Gym Log is definitely a must-have!
Workit- Gym Log, Workout Trac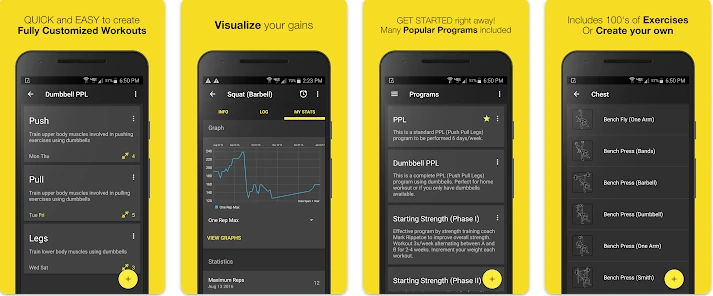 Working out can be a daunting task, but with the help of the best bodybuilding and fitness apps available today, it can be a lot easier. These apps allow you to connect with other users to talk about exercises, tips, and advice. Best of all, these apps are free!
So, there's no excuse to start your workout routine today! Some app options include Workit- Gym Log, Workout Trac, and HealthifyMe. Each app offers various exercises and routines, so you can find the one that's best for you.
And, if you ever get stuck, the apps offer built-in tutorials that will walk you through the exercises step-by-step. So, whether you're a beginner or a seasoned fitness enthusiast, these apps are a must-have in your arsenal!
Workout for Women: Fit at Home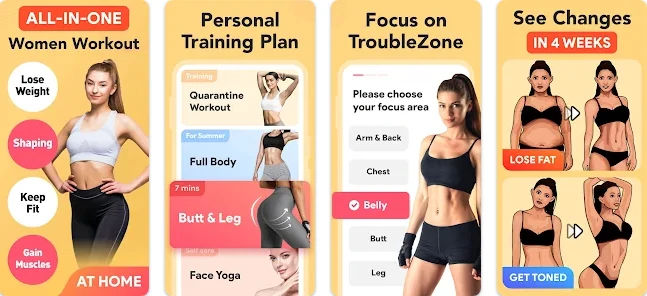 Women who want a workout that can be done at home without equipment will enjoy Fit at Home. This workout app offers a variety of workouts for all ages and fitness levels, plus each workout comes with instructional videos. Each video is only about 5 minutes long so it's easy to do one on the go or squeeze them in when you have time. It's also possible to mix and match different routines depending on what your day looks like.
5×5 Workout Logger

5×5 Workout Logger is the perfect app for anyone that's looking to get stronger, build muscle and burn fat with this simple and effective 5×5 weight lifting program. Choose from 8 different weight-lifting workouts, log your sets and reps, add your weight and calculate your progress. The app also includes a counter that measures how long you've been working out. (Touch ID protection)
Gym Workout & Personal Trainer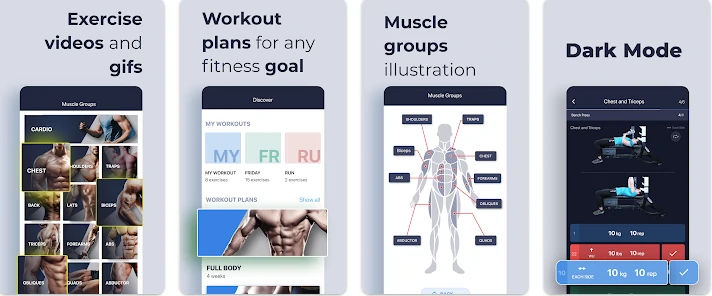 This app provides a 7-minute workout that you can do anywhere. It is an efficient, effective way to burn calories. This app is great for those who are short on time or have limited access to a gym. This app provides workouts for all levels of fitness, which makes it perfect for everyone from beginners to experienced lifters. Plus, it can help you track your progress over time with the graph function.
Gym Fitness & Workout Trainer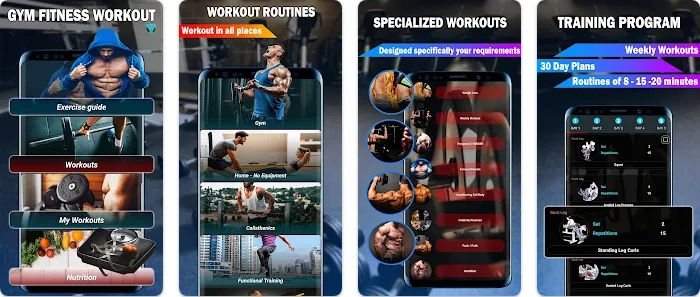 Gym Fitness & Workout Trainer is an excellent app for those who are always on the go. It combines some of the best training apps into one, with over 100 different exercises and workout routines. It offers free workouts from top trainers worldwide, as well as personalized workout activities based on your fitness level. You can also track your progress online or share your success with friends through social media.
Home Workout – No Equipment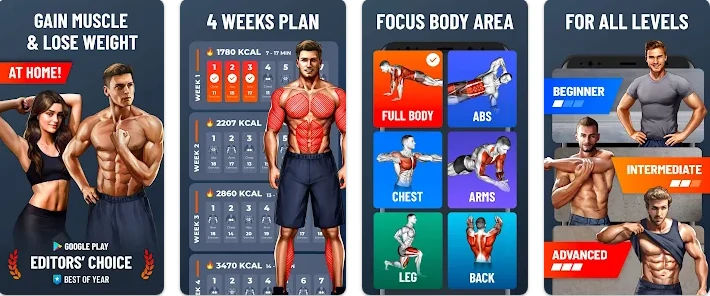 If you're looking for an exercise routine that doesn't require any equipment, try these exercises. You can do them anywhere, anytime. You don't have to join a gym or pay for expensive equipment. Work out at home & save time & money! Home workout – no equipment app These exercises use your body weight for resistance, so all you need is an open floor space with plenty of room for exercise movements. This routine comprises five different types of exercise that you repeat once before taking a 15-second break between each set.
Gym Workouts Fitness Training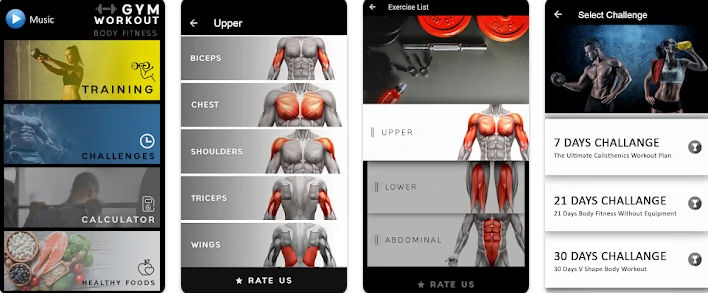 Gym Workouts Fitness Training is the perfect app for those who don't have time for a full workout. Choose from one of their many workout sequences, or create your own. You can customize how long you want your workout to be, the duration of each exercise, and the difficulty level. Fitness Training is a great way to keep track of your fitness goals by letting you input what exercises you want to do and how many sets/reps you want per exercise.
Fitness & Bodybuilding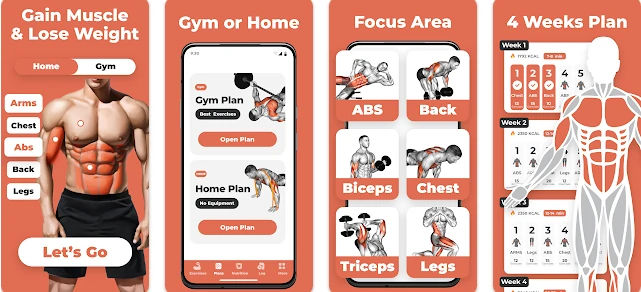 If you are looking for some of the best fitness apps that will help you get into shape, these apps will definitely do the trick. Whether you want to lose weight or build muscle, this list of the best fitness and bodybuilding apps is guaranteed to be a great help. These apps range from easy-to-use calorie counters and activity trackers to challenging full workout videos for every kind of training need. Our list includes an app for every type of diet plan – from keto, vegan, vegetarian, and gluten-free diets – as well as programs like Nike Training Club and P90X Workout that have been scientifically proven to help you reach your fitness goals.
My Workout Plan – Daily Workout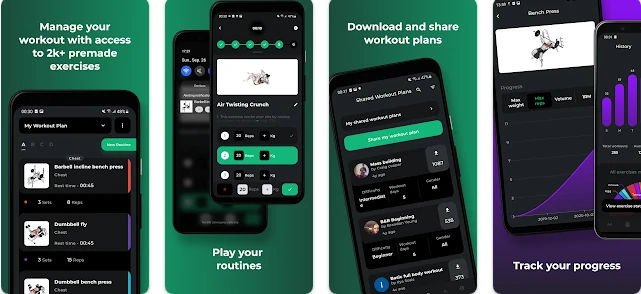 Strongway5x5 is a free app that makes it easy for you to work out at home. Unlike most workout apps which require you to pay a monthly subscription fee, this app is completely free. You can build your own workout plan by selecting from the different exercises that are included or selecting one of their pre-built programs.
7-Minute Workout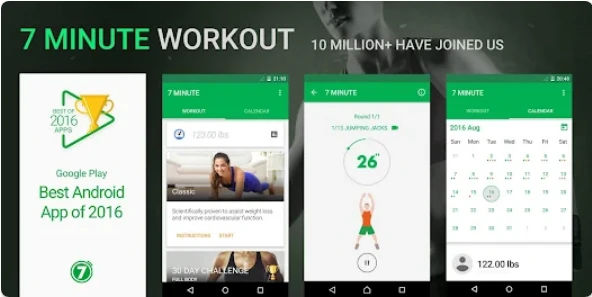 There are many fitness apps out there that can help you get fit, but 7-Minute Workout is one of the best. It's designed to get you in shape fast, and at only 7 minutes, it doesn't take up much of your time or energy. The app also allows you to create your own workouts so that you don't even have to do the same thing twice. In addition, there's no equipment required for this workout app, only your body weight and a chair.
Running App – GPS Run Tracker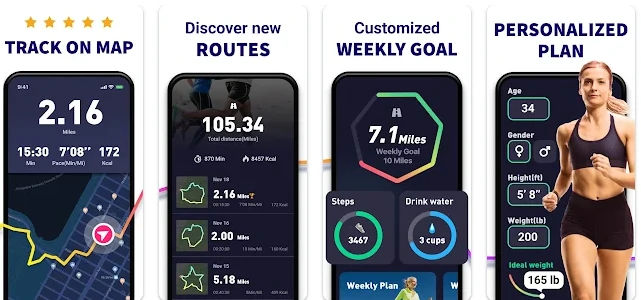 If you're looking for a running app, the Nike+ Running App is a good choice. You can choose from three different training plans (beginner, intermediate or advanced), and create your own as well. One cool feature of this app is that it offers audio coaching on a variety of topics like breathing techniques and race strategies. As you run, this app will keep track of your time, pace per mile or kilometer, how many miles or kilometers you've gone so far and the total distance traveled.
Gym Trainer

Whether you're trying to lose weight, build muscle, or just maintain an active lifestyle, Gym Trainer is one of the best apps for fitness. The app includes over 2,000 exercises with detailed step-by-step instructions and 3D animations that can be viewed from multiple angles. You can also track your workouts by specifying the type of exercise and the equipment required so you never forget what you need for your next training.
Runkeeper – Run & Mile Tracker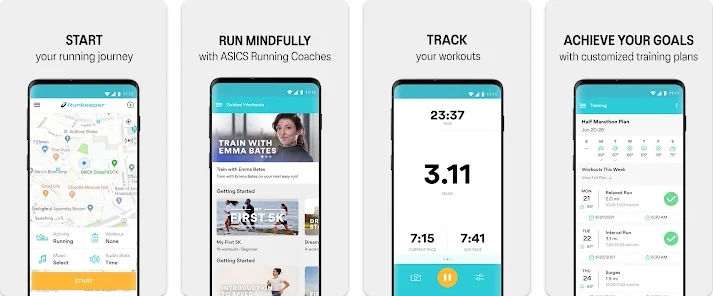 Runkeeper is an excellent app for people who like to run or jog. Whether you're training for a marathon or just want to track your distance and speed, this app has everything you need. There are various maps that can show your route, the weather conditions at the time of your run, and how long it took you. You can even set goals for yourself!
Fitvate – Gym & Home Workout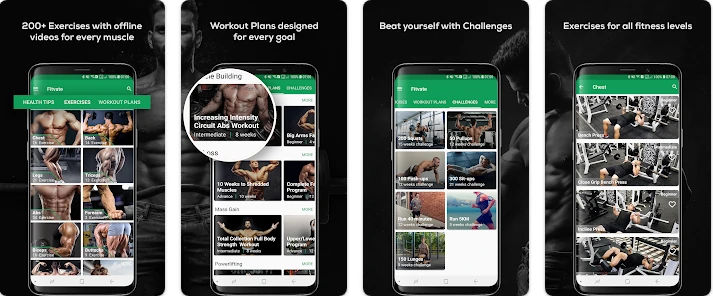 Fitvate is a fitness app that helps you stay on track with your fitness goals. It offers personalized workouts that are tailored to your individual needs, whether you're just beginning or an experienced exerciser. The app lets you choose from three different workout levels for customized intensity: beginner, intermediate, and advanced. There's also a quick start option for beginners who want something more simple.
Gym Workout & Fitness Trainer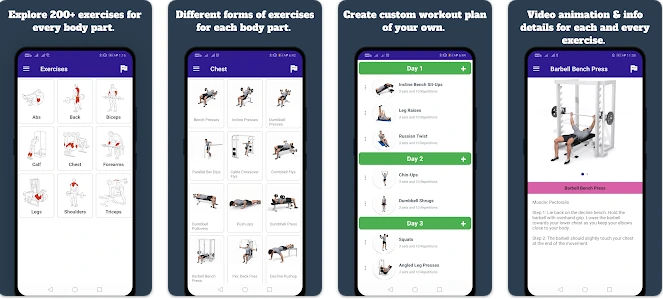 The Gym Workout & Personal Trainer app allows you to work out with your own body weight or with a gym workout. The app has over 60 workouts, but it does require an internet connection for the videos. The free version of this app only includes six workouts, which is more than enough for people who are starting out.
Gym Workout Planner – Weightli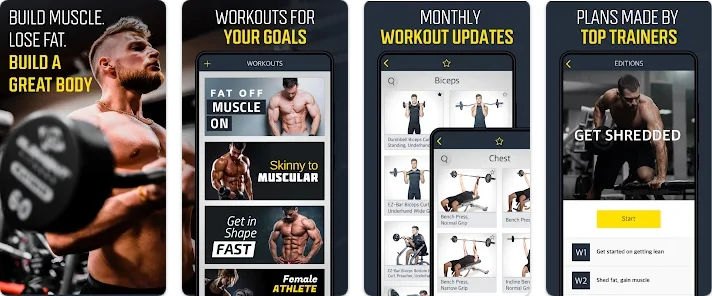 If you're looking for the perfect app to help you make the most of your workouts, this is it. Gym Workout Planner allows you to track your exercises, sets, reps, weight used, and rest time all on one device. With a simple interface that's easy to use, it'll be hard not to get fit with this app by your side.
Over to You
Including fitness in your daily routine should be a must; it's not just about bodybuilding but maintaining your fitness contributes to a considerable part of a healthy lifestyle. Finding consultants and gyming can be expensive for a lot of people.
So, if you're looking for apps to help with your fitness routine, you'll love our selection! We've covered you, from weightlifting logs and workout plans to yoga apps and cardio exercises. So, what are you waiting for? Start working towards your fitness goals today with our top picks!