Writersonic is an AI-powered content writing tool that helps you generate any kind of write-up, from blog posts to marketing copy. It's like having a permanent copywriter in your pocket. You can use it to generate articles for Google and Facebook ads and other blog posts as well.
It provides the users with several areas to choose from before starting to generate the content. It even helps in creating headlines and generating new and innovative topics that one can focus on while generating content on Writersonic.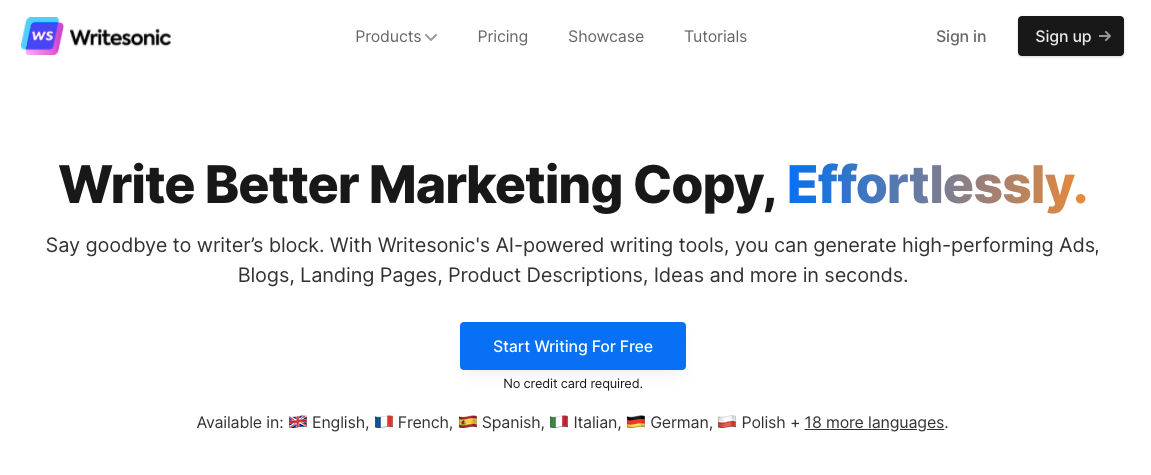 Writesonic is a marketing-biased platform but it gives you various options when it comes to its expanded area of expertise in creating articles from mere keywords, phrases, or short descriptions about the product or topic you want to create the content upon. It is best for Business-related content, Marketing for start-ups, E-commerce, and Agencies.
Writesonic Overview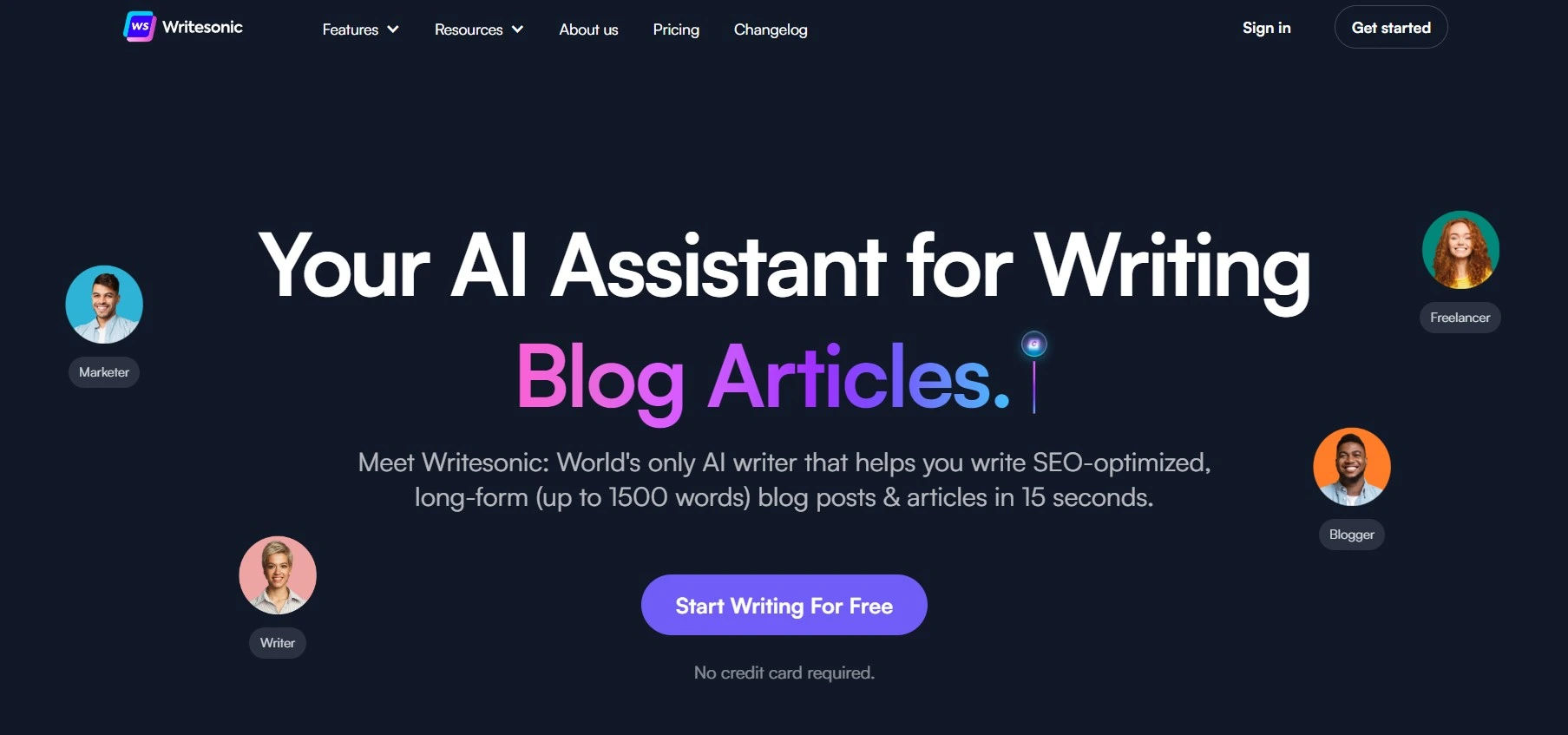 Writesonic is not a very old product but it holds its amazing place against many intense competitors and other AI content writing tools.
It is undoubtedly a solid product that you can consider to see how perfectly it fits into your content marketing strategy.
Even for day-to-day use, Writesonic provides plenty of credits that serve your needs perfectly. And in case if you need to purchase more, the tool comes at a budget-friendly and reasonable pricing. The content generated using Writesonic servers is a great draft that can be edited later.
Use Writesonic and put an end to all your worries. The tool is reliable and scalable, producing amazing, good-quality content. It can give your business the needed edge by crafting great stories that your customers will love to hear.
Its expert professional workforce and over 60 powerful features make it easy to strategize content, generate high-quality blog posts, articles, landing pages, Facebook ads, product descriptions, Google ads, emails, and product descriptions, and produce copies at a large scale in few seconds.
Features of Writesonic
There are many things that a blogger looks for before creating content for his website to publish or for the firm you are working for, there are always certain criteria they are looking for, and with Writesonic, you can identify almost all these criteria to help you ease your work and create content that is up to the mark
Data Accuracy
With Writesonic, for the articles that you desire to work on, you can type in the details and phrases in short, and it will quickly give you accurately on-point descriptive articles and blogs to write and work upon. Unlike writing the content that you have to look through and research before compiling it, which is excruciatingly time-consuming, Writesonic will present you with accurate data and topics that you can add your own changes and adjustment if needed.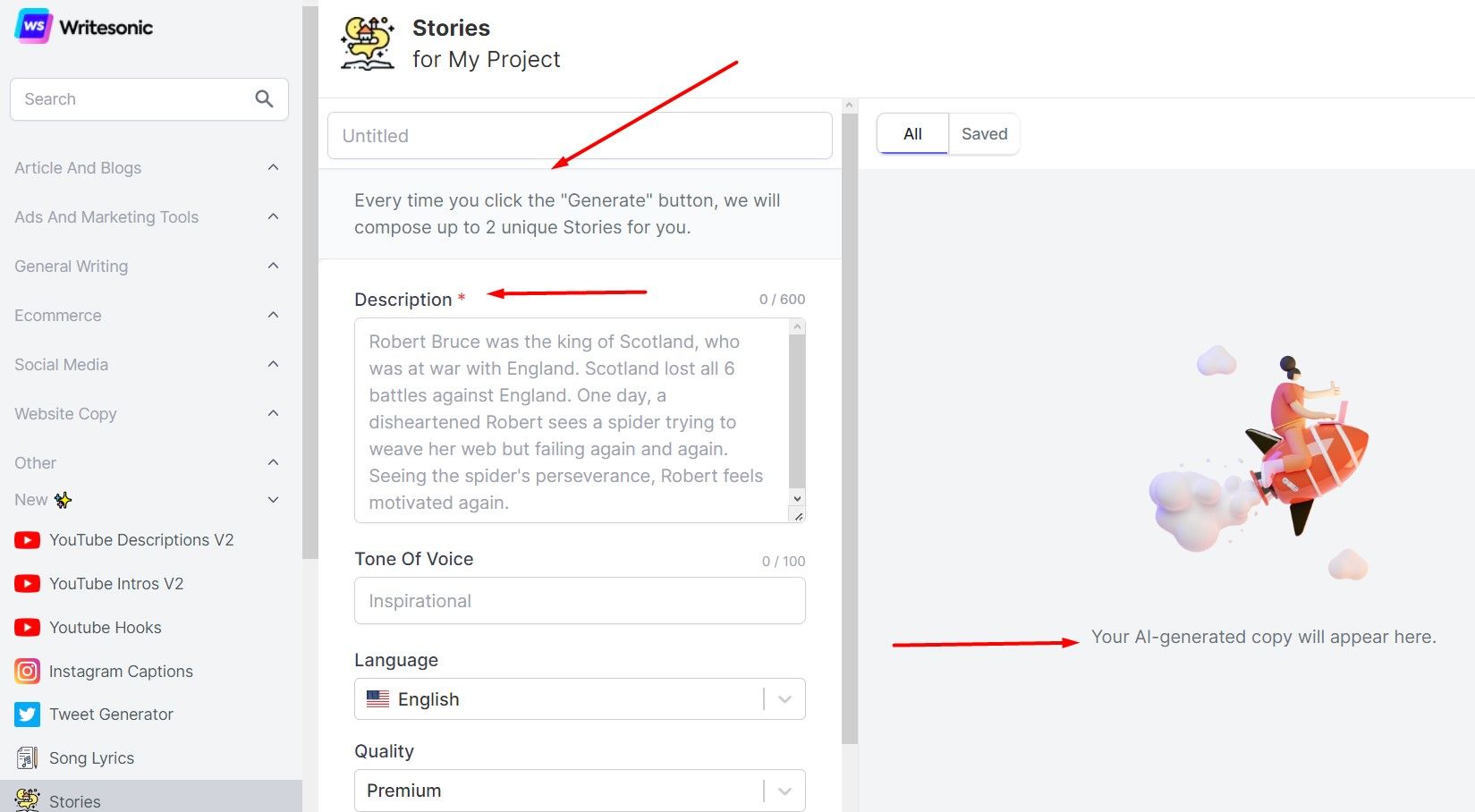 Identify Keyword
Find the appropriate keyword to generate the article that you desire, and with this, it generates 10 topics for you to focus upon. Of course, you can change it to your desire, but the accuracy of the app will most probably pick point the best topics and headlines for you to look after. Then with the details enlisted, it will take up to 30 seconds each to generate the appropriate subtopics and the article of your desire.
Categories of Content Creation
Unlike any other site that focuses on either one or two niches, Writesonic focuses on almost all kinds of areas like Digital Ads, Writing Tools, Social Media Copy, etc. Along with that, it also provides you with various other categories to work upon, which require you to have credits or a membership. Credits are easy to earn and you can do so by writing a review source, and a review experience on verified reviewer sources. These write sonic reviews help you gain credits that you can use to generate your content.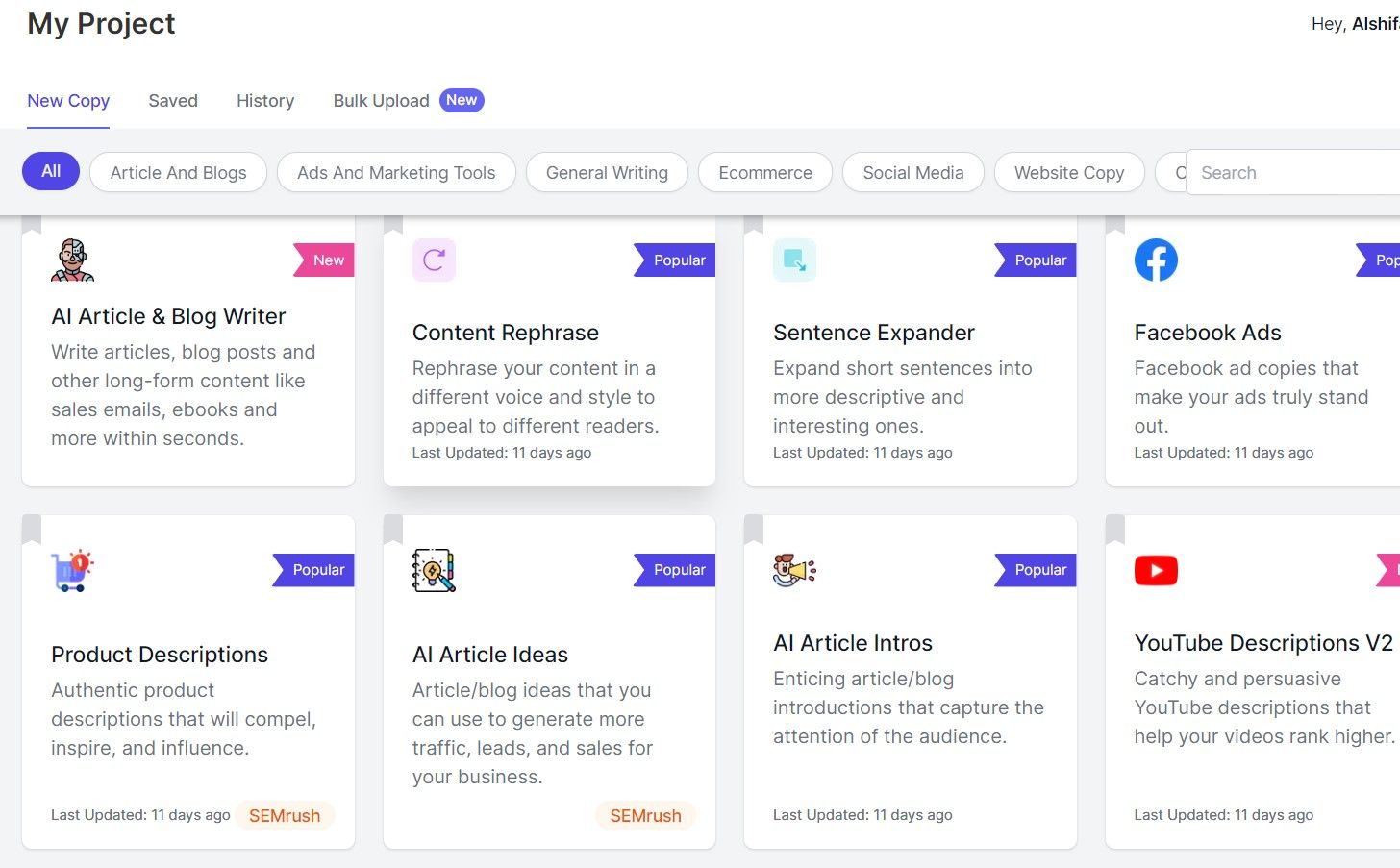 Advertising
With Writesonic, you can advertise and monetize your articles via Google ads, Linkedin Ads, Facebook, and many other sites that help you reach a large audience who might feel like engaging in your work and hence, with a variety of ads that your articles attract, you can easily start monetizing your work.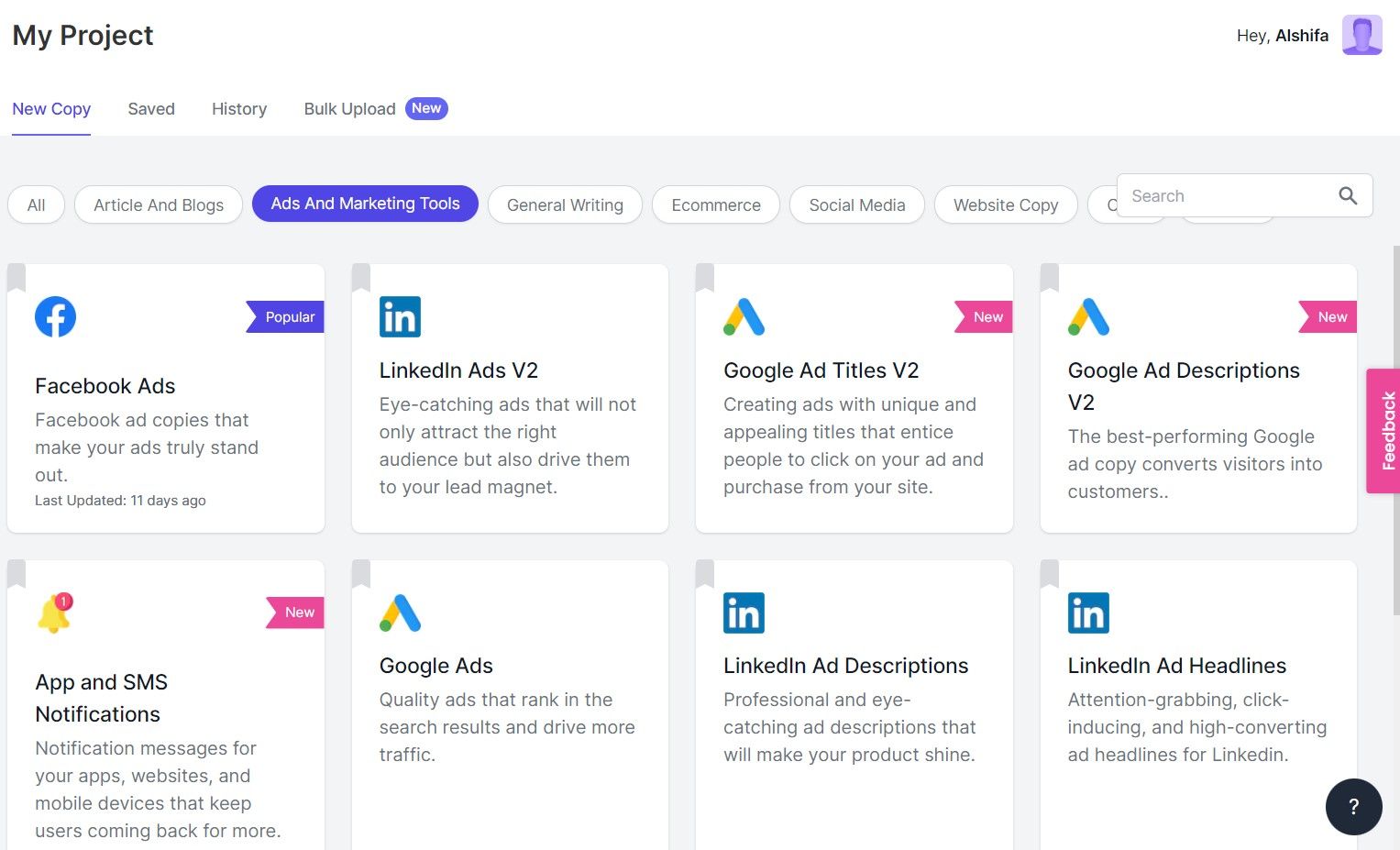 Time Consumption
With Writesonic and its fast topic-generating mechanism, you can easily create an outline of your liking and hence, start working on the choice of your headlines and subheadings. Its quick and accurate representation of AI-generated articles and blog is what makes it so efficient.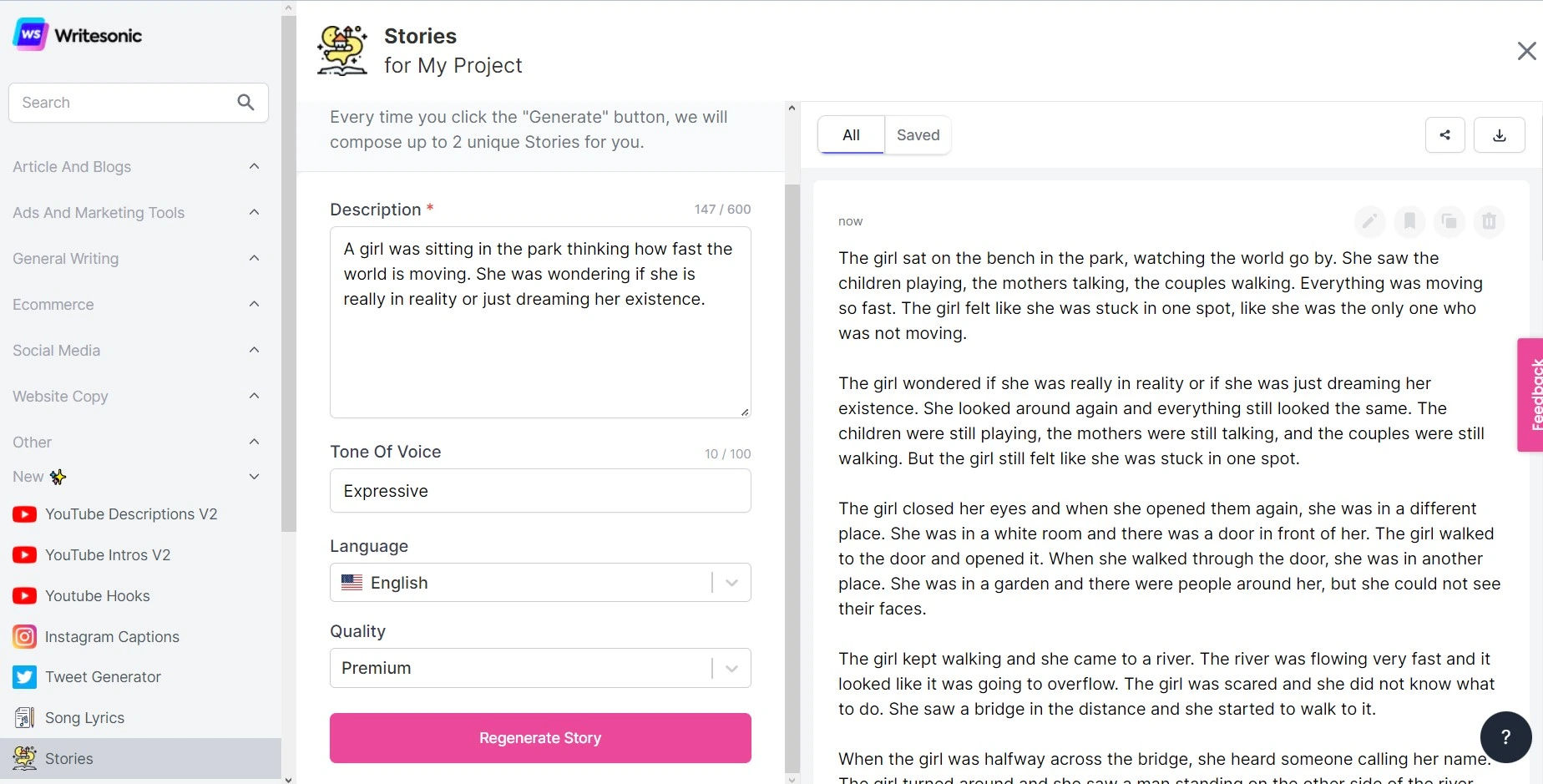 User Interface
The experience regarding Writesonic's user interface is so much better in comparison to other AI Copywritering apps. This platform allows you to create your own article with easy steps and a user-friendly interface. Writesonic allows you to organize your text generations step-by-step, which makes the work of a content creator easy.
Shareable Links
Writsonic gives you shareable links for any content you created on their platform. This feature will be great if you are trying to generate any content when working in collaboration with others quickly and have to show some content ideas to your clients.
Most of the other AI writing tools don't allow you to do so but with Writesonic, it is extremely easy. And they also come up with great and original ideas, so that is a plus point about Writesonic!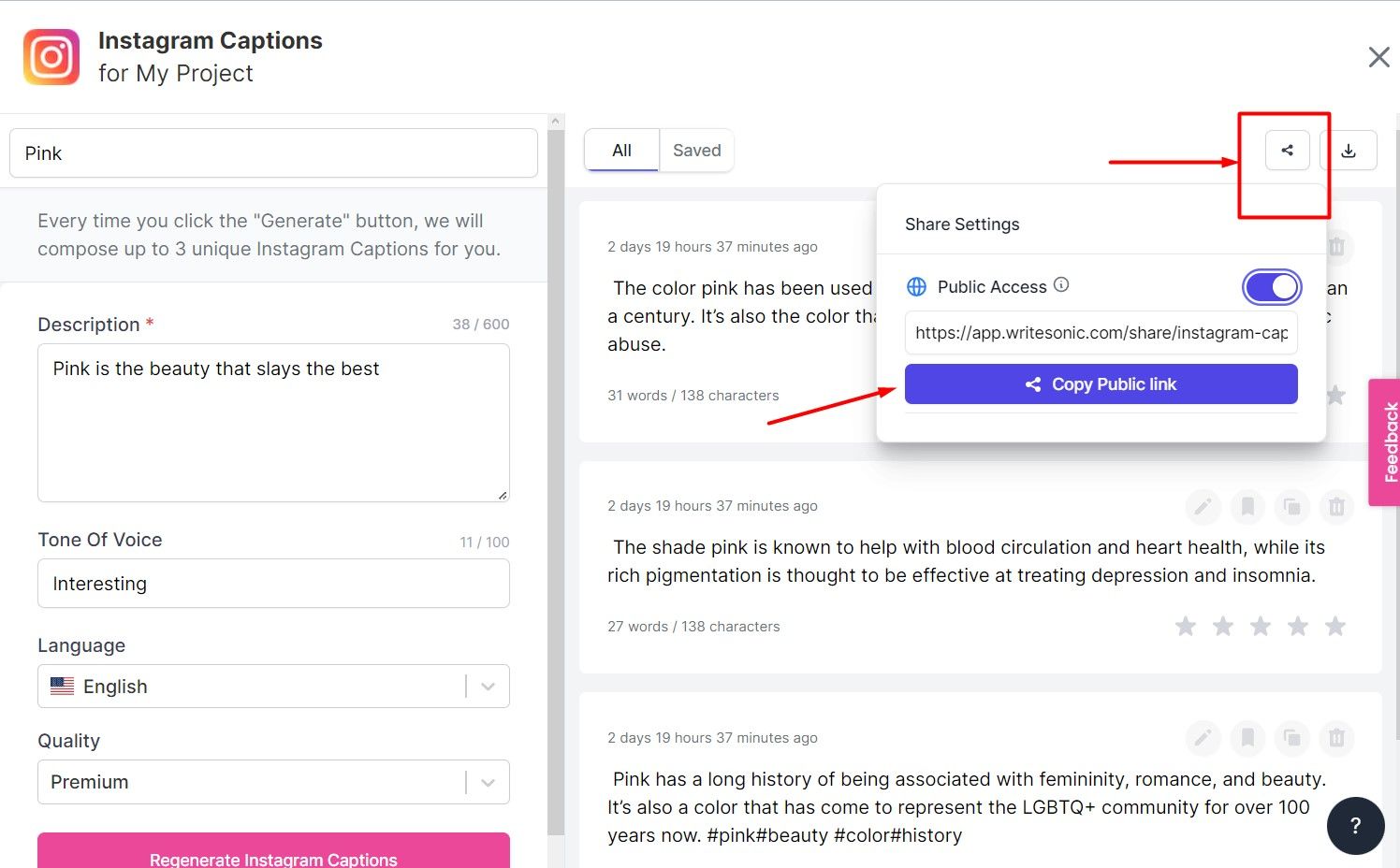 Writesonic Use Cases
Writesonic can write marketing copy for websites, landing pages, social media, emails, articles, and more! With additional updates and features added to the website, you can also write copies that involve blogs. The options provided on Writesonic are given below:
Website Copy – Landing Pages, Features to benefit, Headers, SEO Meta Descriptions
Landing Pages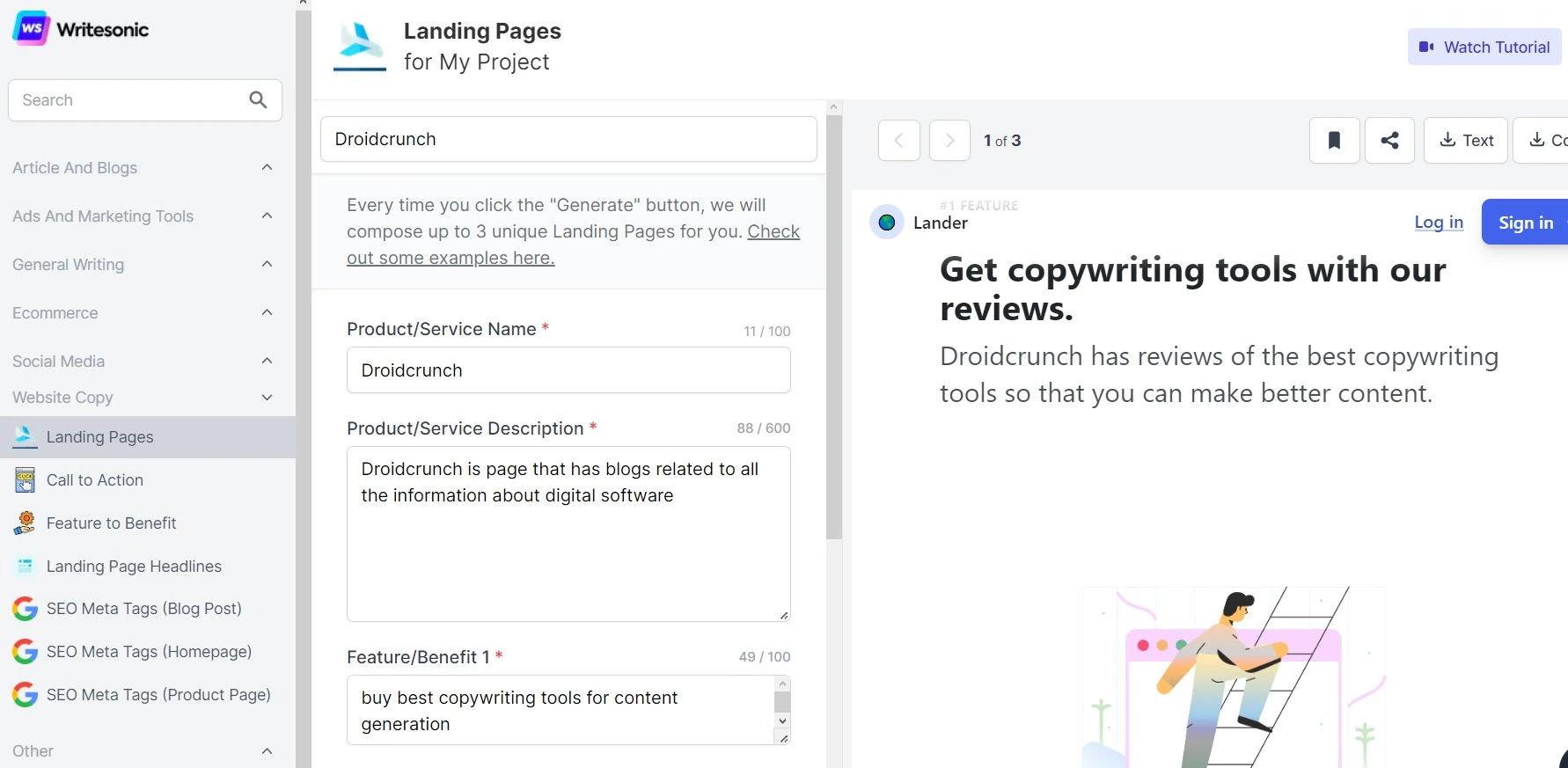 SEO Meta Descriptions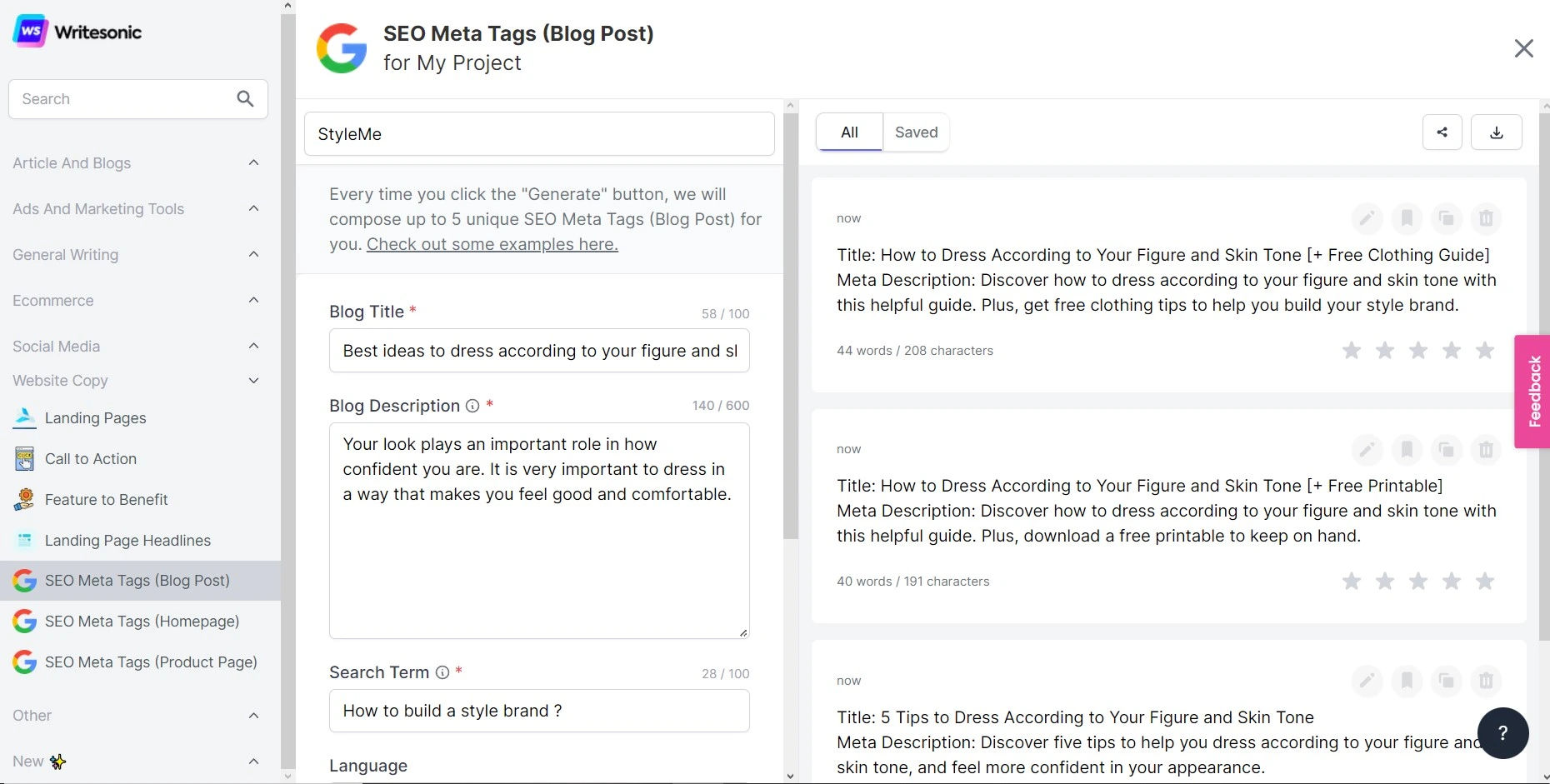 Digital Ads Copy – Facebook Ads, Google Ads, Linkedin Ads, Instagram Ads, Twitter Ads
Facebook Ads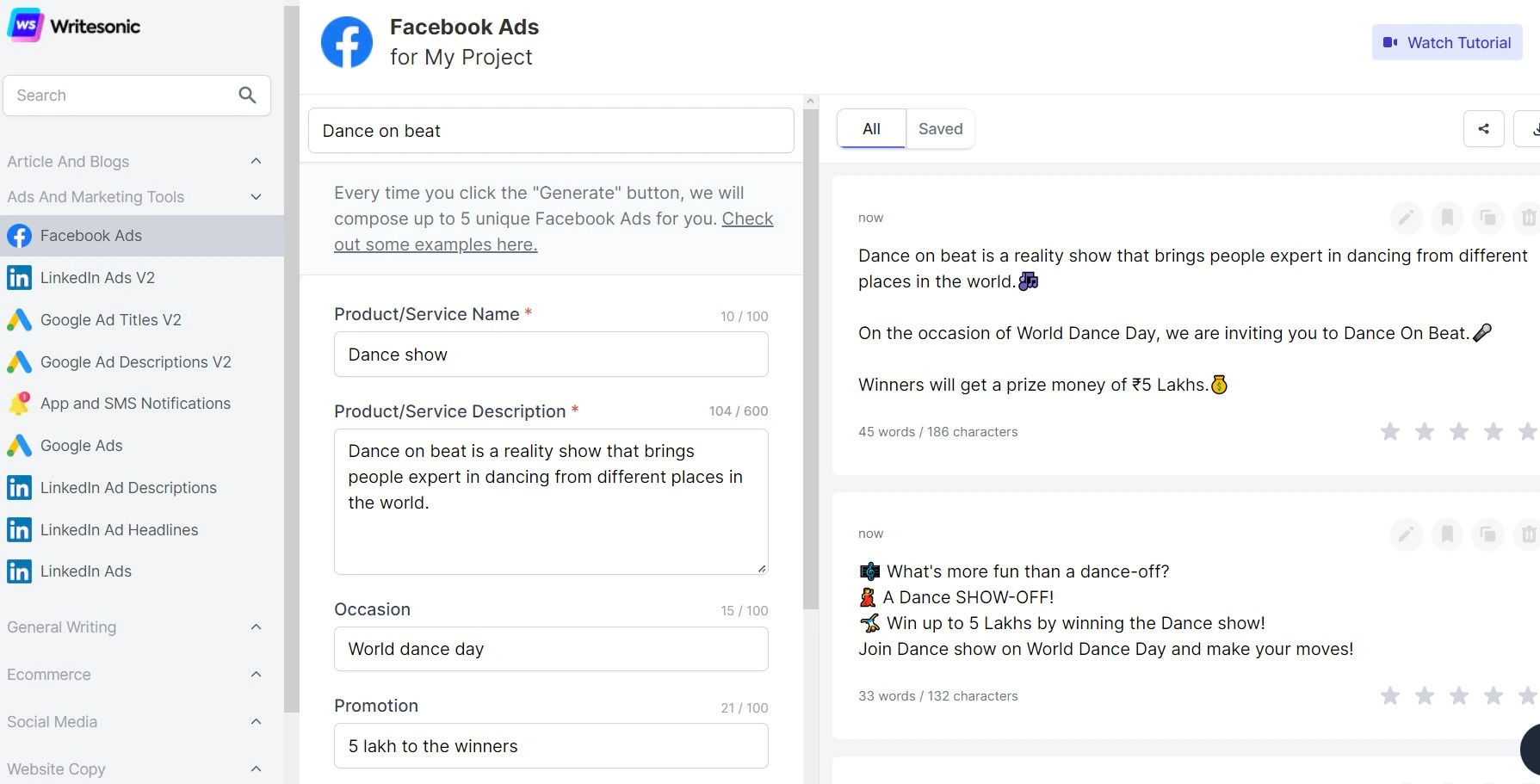 Article/Blog Copy – Blog Ideas, Intros & Outlines, Content Rephraser & Expander, Article Summaries, Grammar Fixer, Readability Checker
Content Rephraser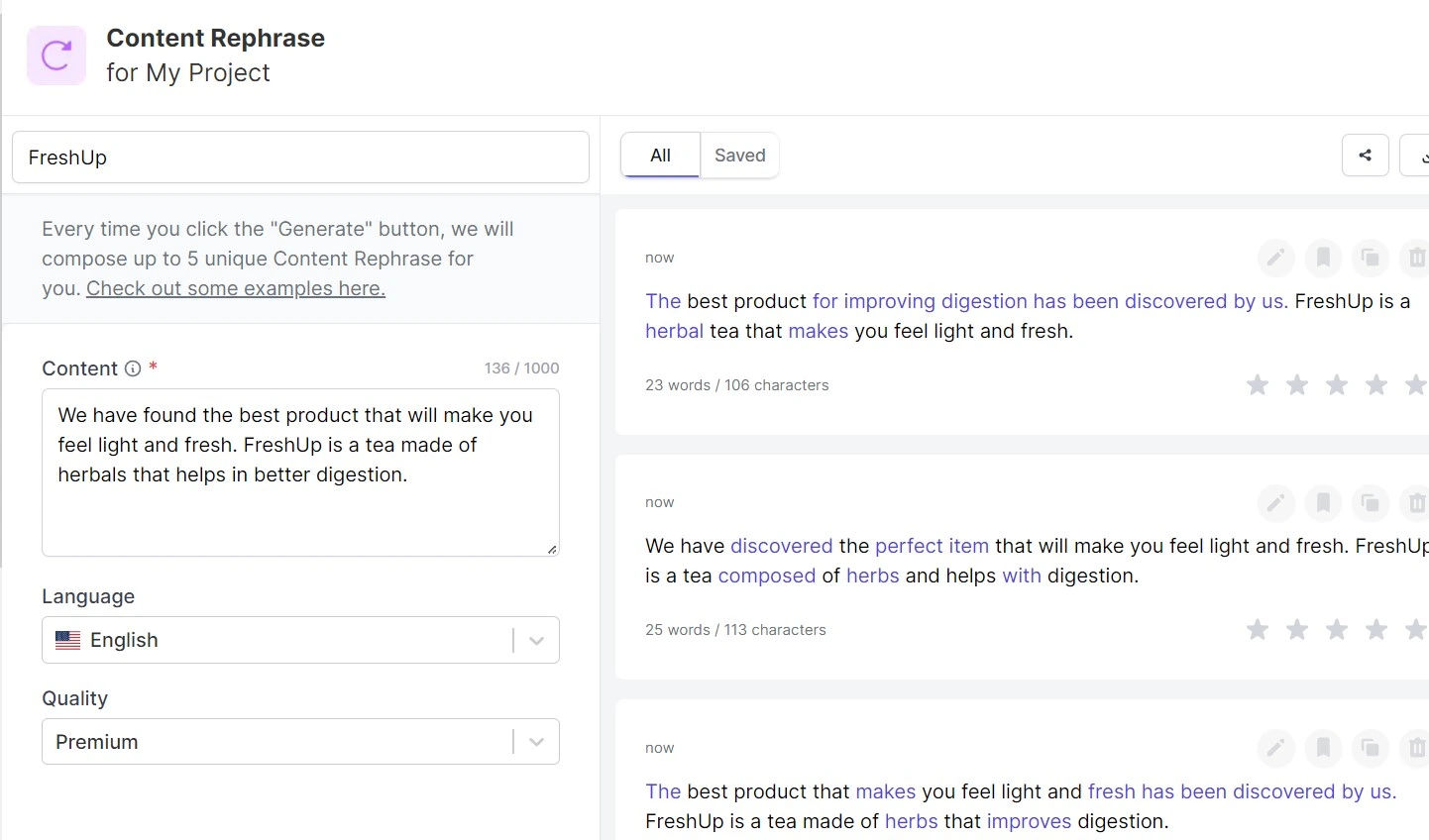 eCommerce Copy – Amazon Product Titles, Amazon Product Descriptions, Amazon Product Features, Amazon Sponsored Ads, Sales Emails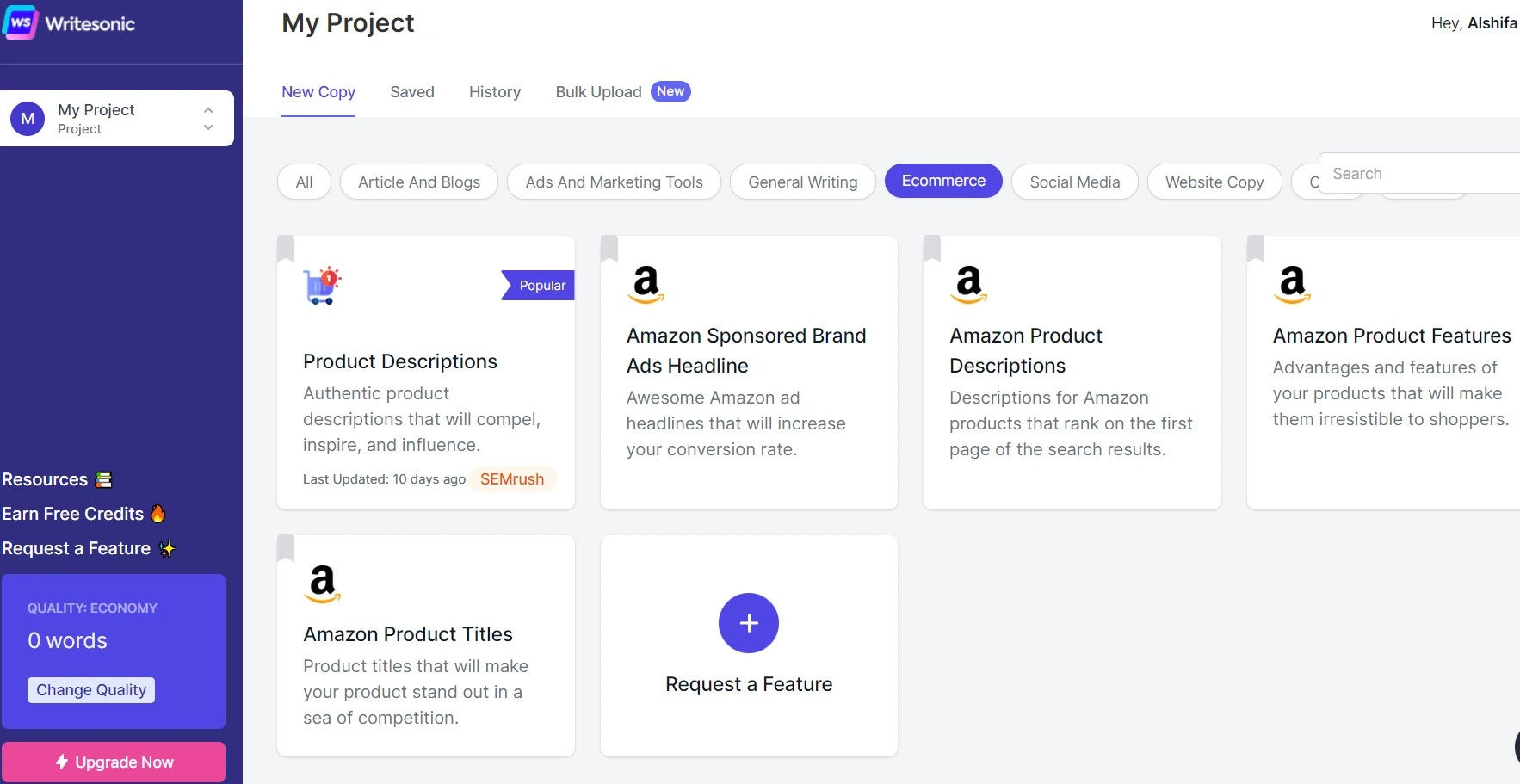 Amazon Product Descriptions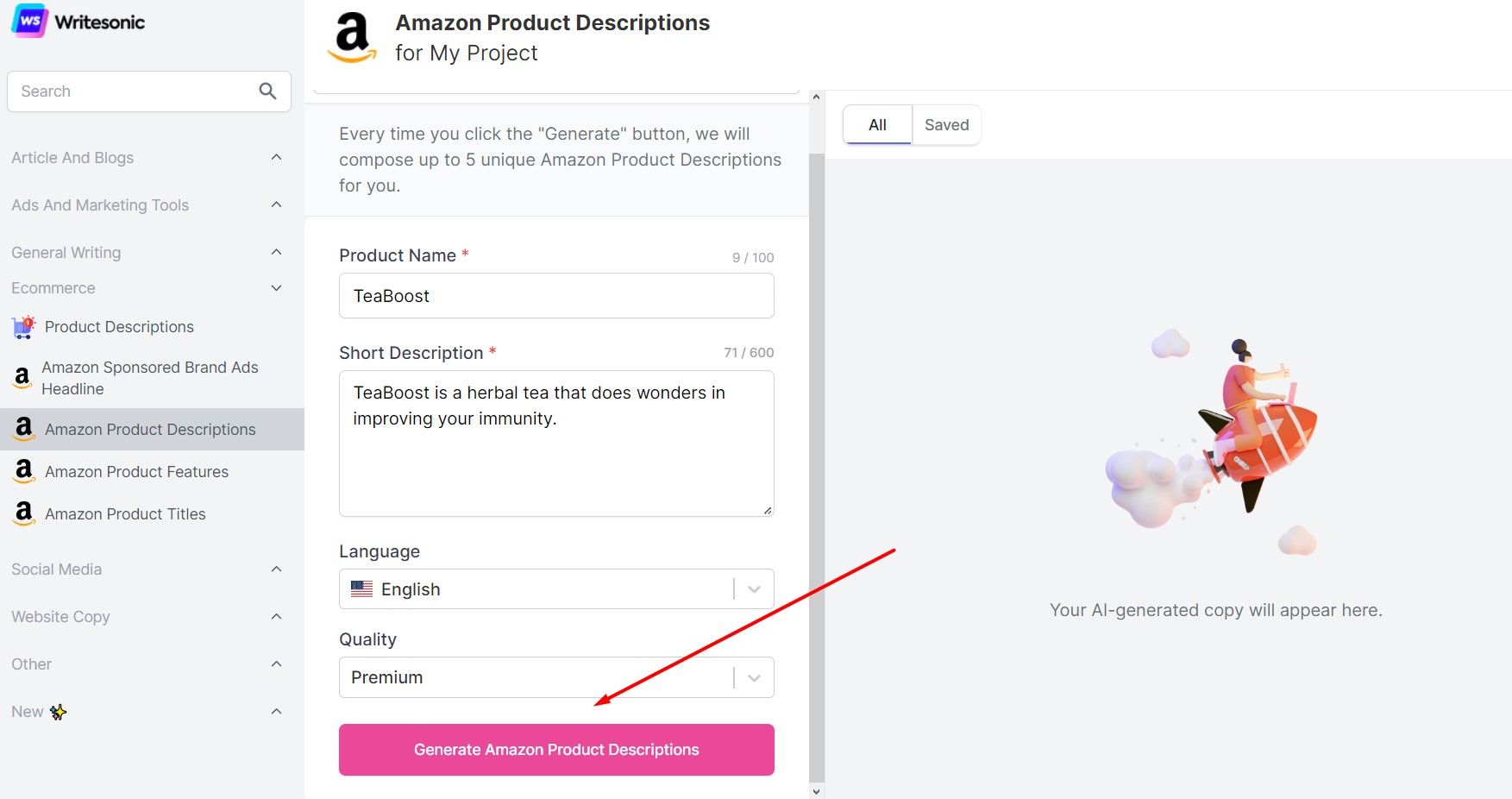 Copywriting Formulas – Pain-Agitate-Solution, AIDA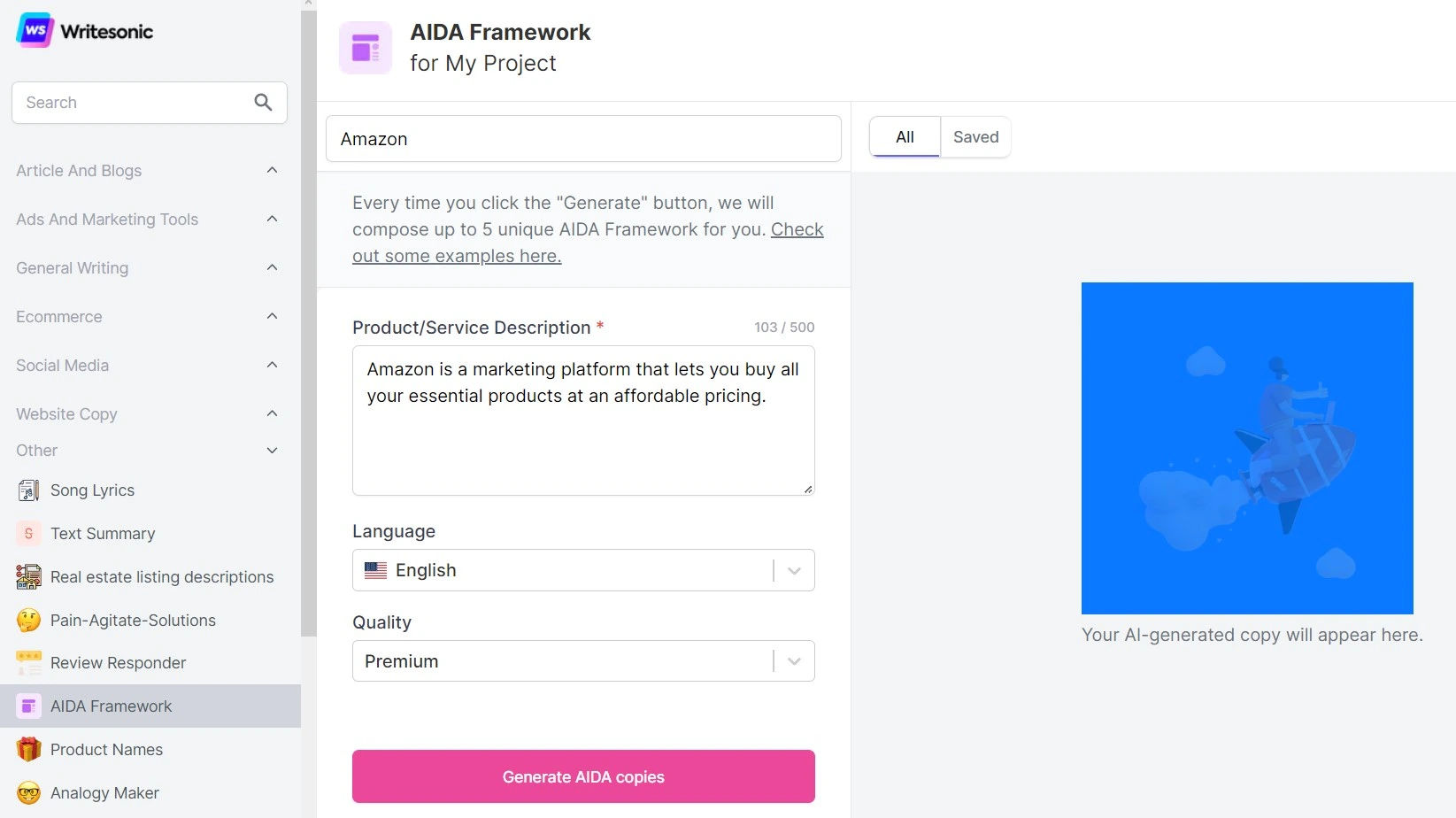 Some other uses cases are-
Bullet Point Answers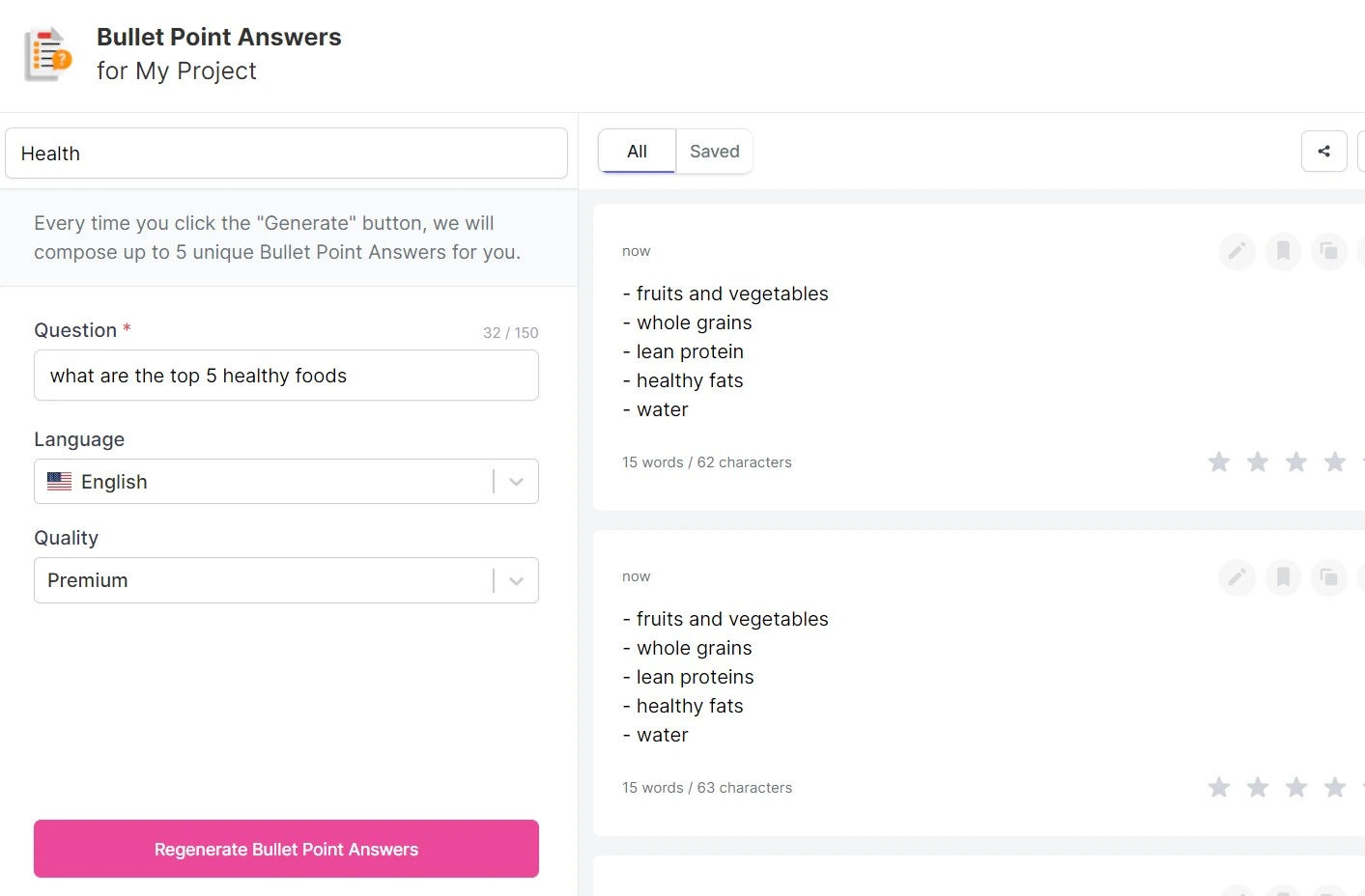 Definition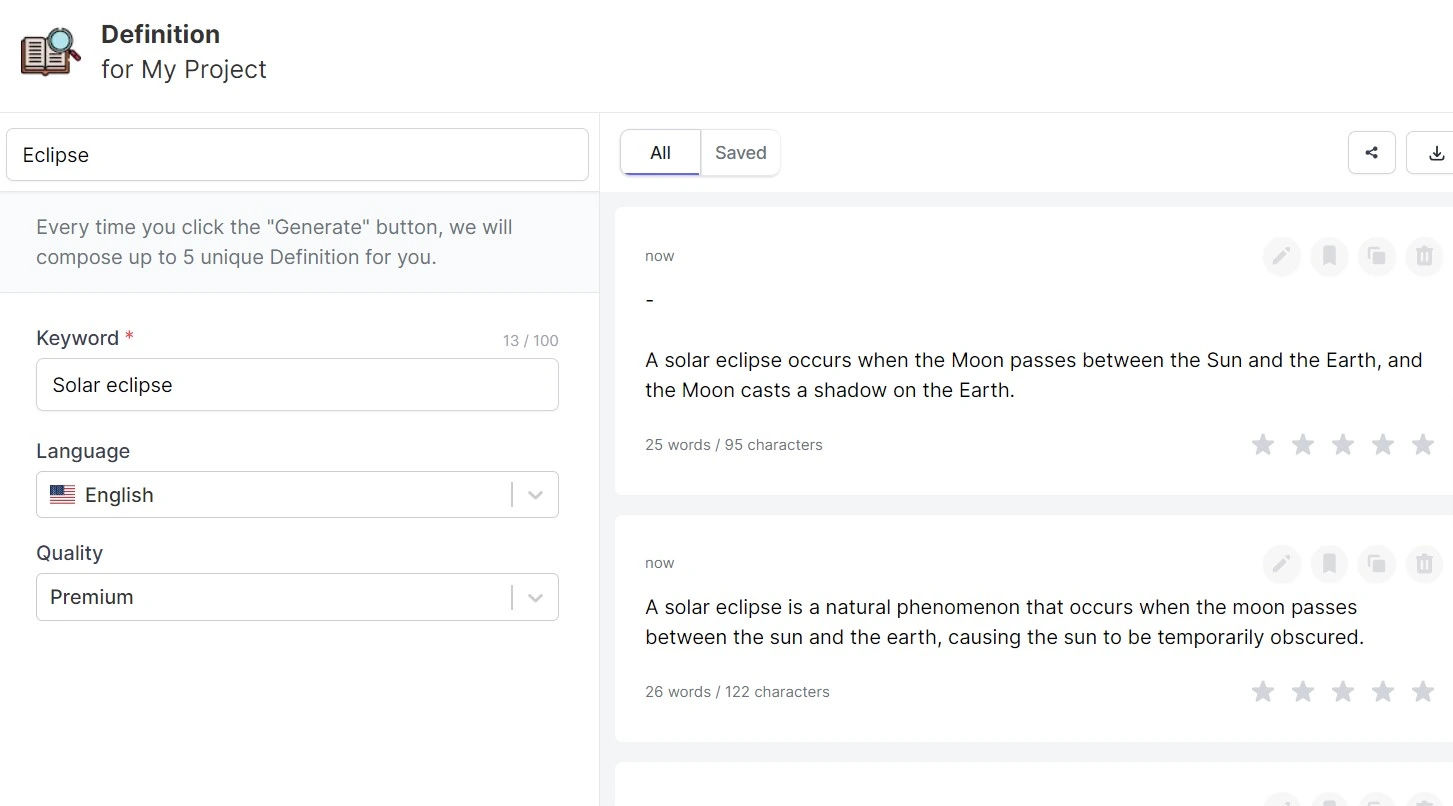 Instagram Captions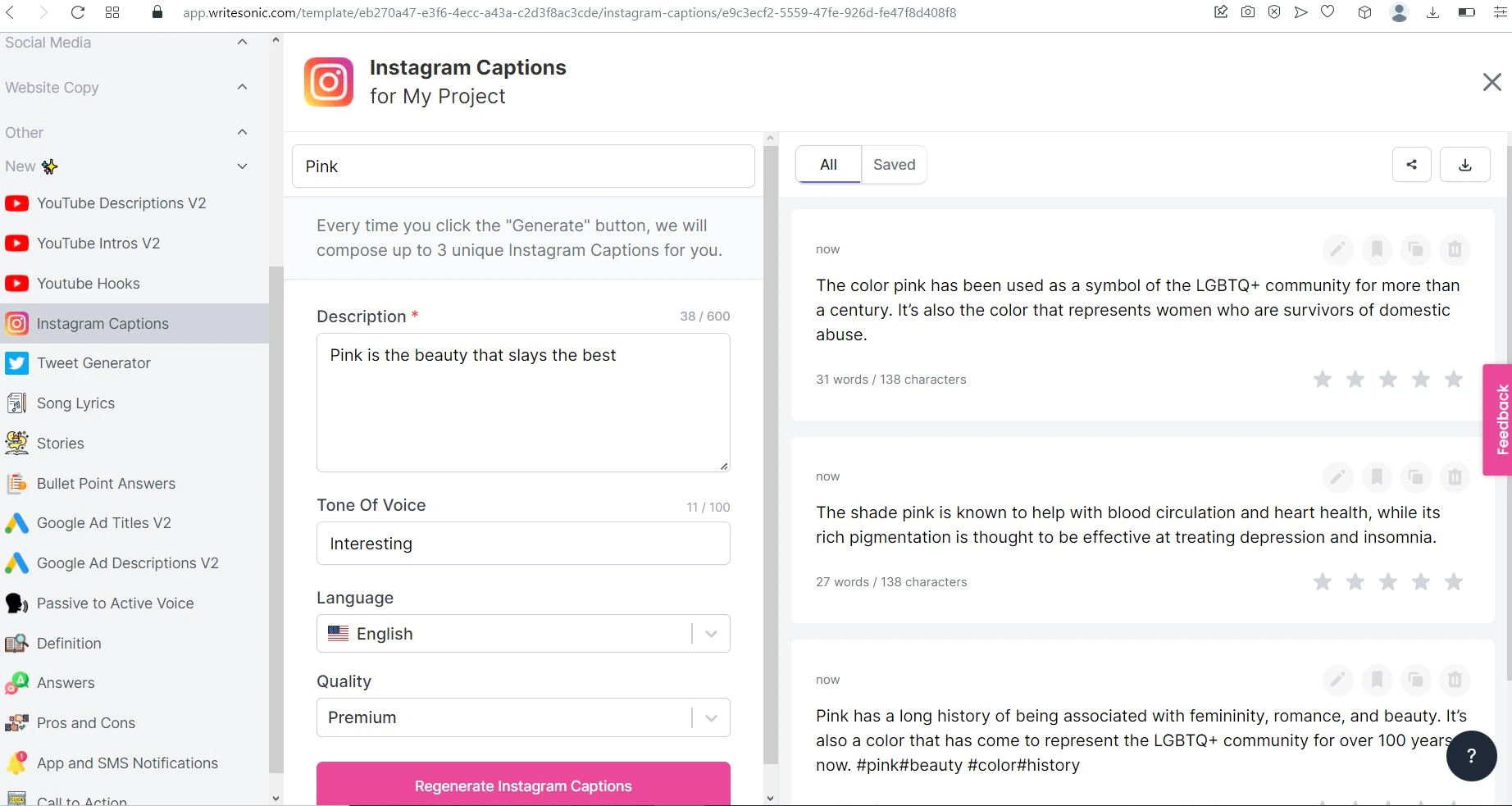 Song Lyrics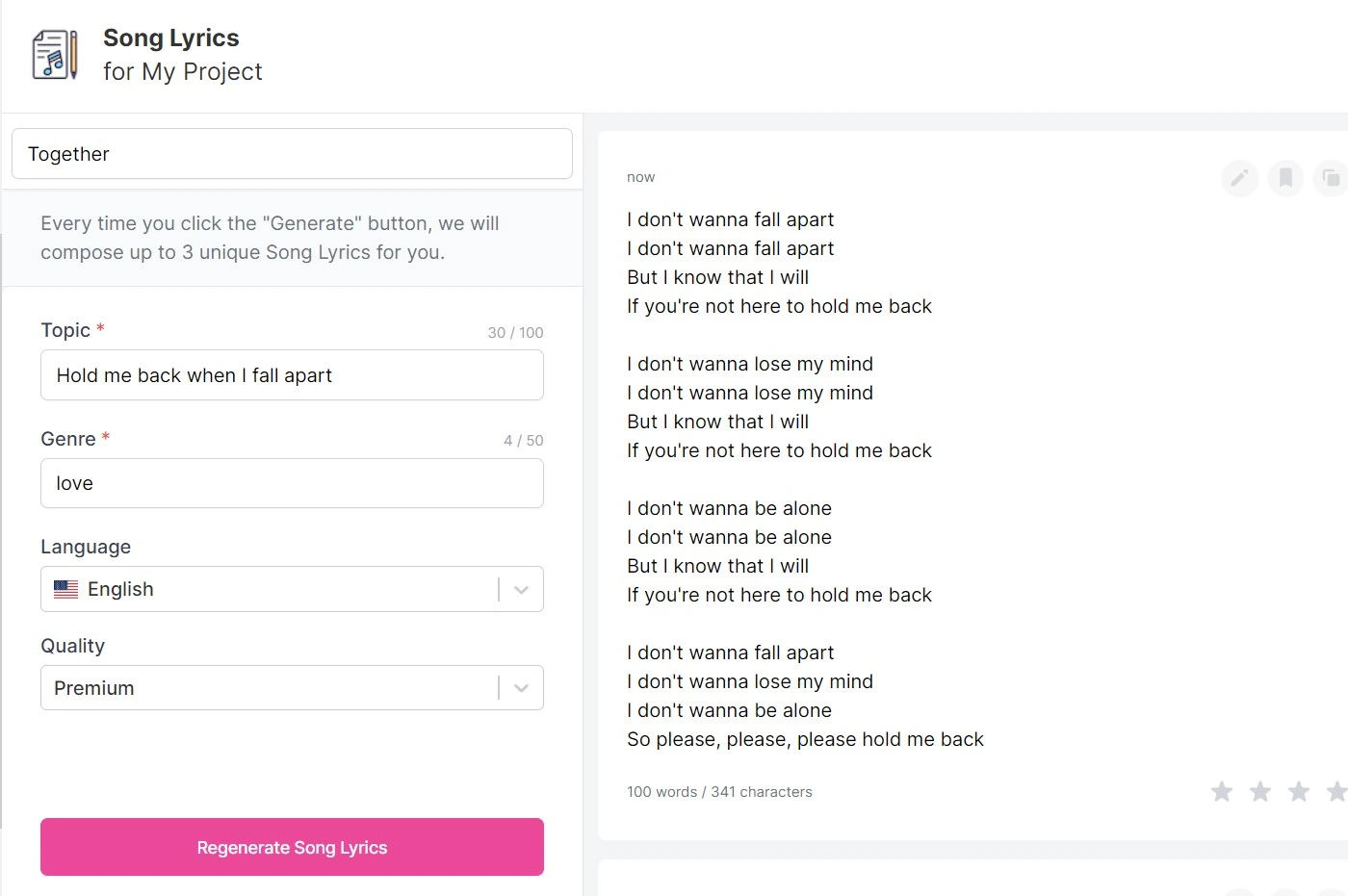 YouTube Descriptions V2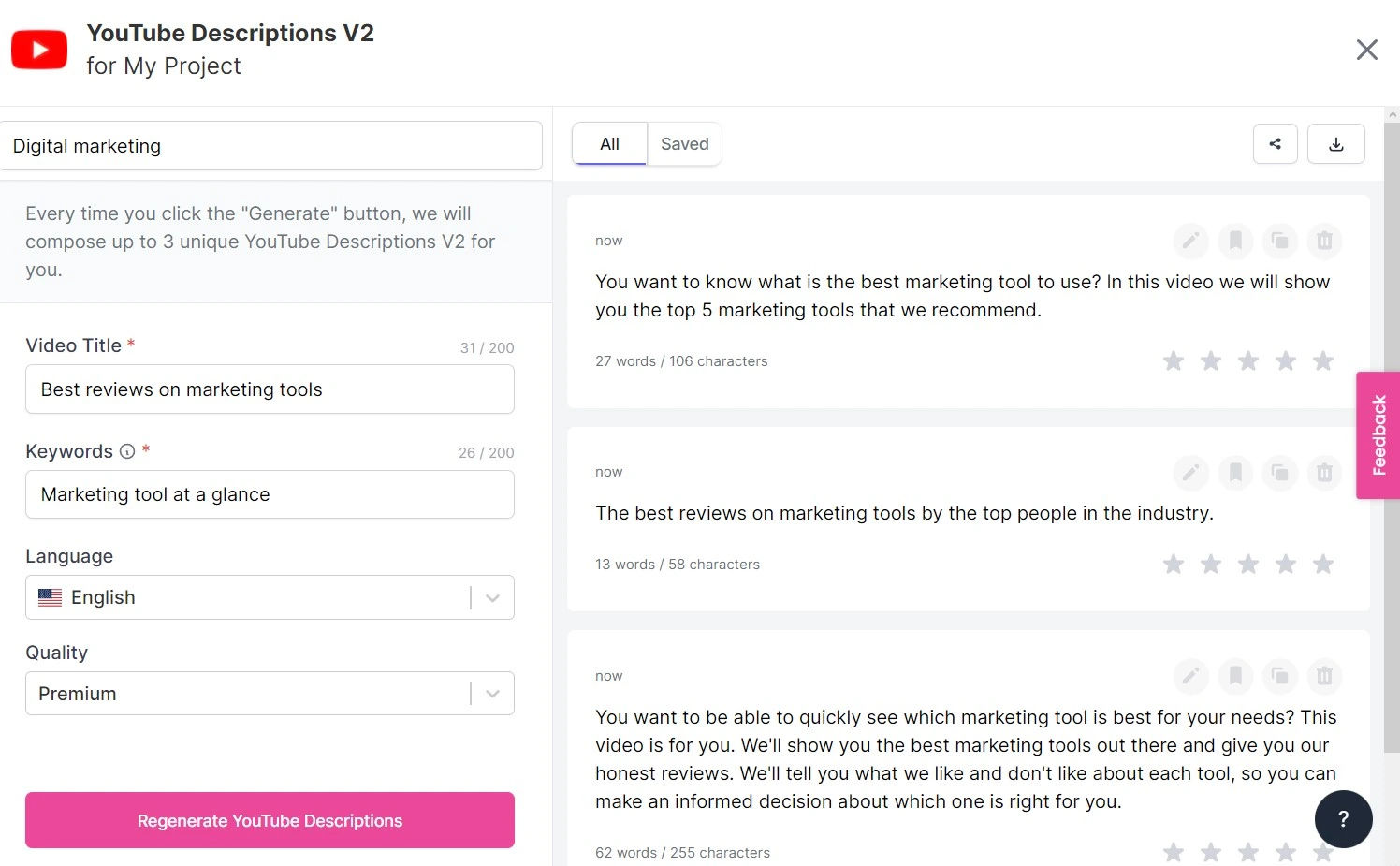 Other – Press Releases, Company and Personal Bios, Startup Ideas, YouTube Video Copy, Growth Ideas, Product Names
How Does it work?
Well, as stated above, it takes up the requested phrases and topics to pick out the best sources to formulate a typing and outline for your desired articles. After adding the headlines and a description of your content or blog and potential outlets, it will not take more than five minutes for the app to crank up a well-articulated article for the writer to publish.
How to use Writesonic?
Step1- Describe your topic and specify the keyword
Step2- Generate high-converting copy by hitting on "generate"
Step3– Publish your generated content on your desired platform
What is the cost of Writesonic?
Unlike other websites that might need some kind of credit details to start writing, on Writsonic you can start a free trial with 10 credits that you get after signing in. Doing so makes the website a lot more favorable to content creators because they get a chance to try out the website first before investing in it.
The website offers a 10 credit limit and once you can test it out and are satisfied with the results, you can go ahead and purchase any plans that the website has to offer.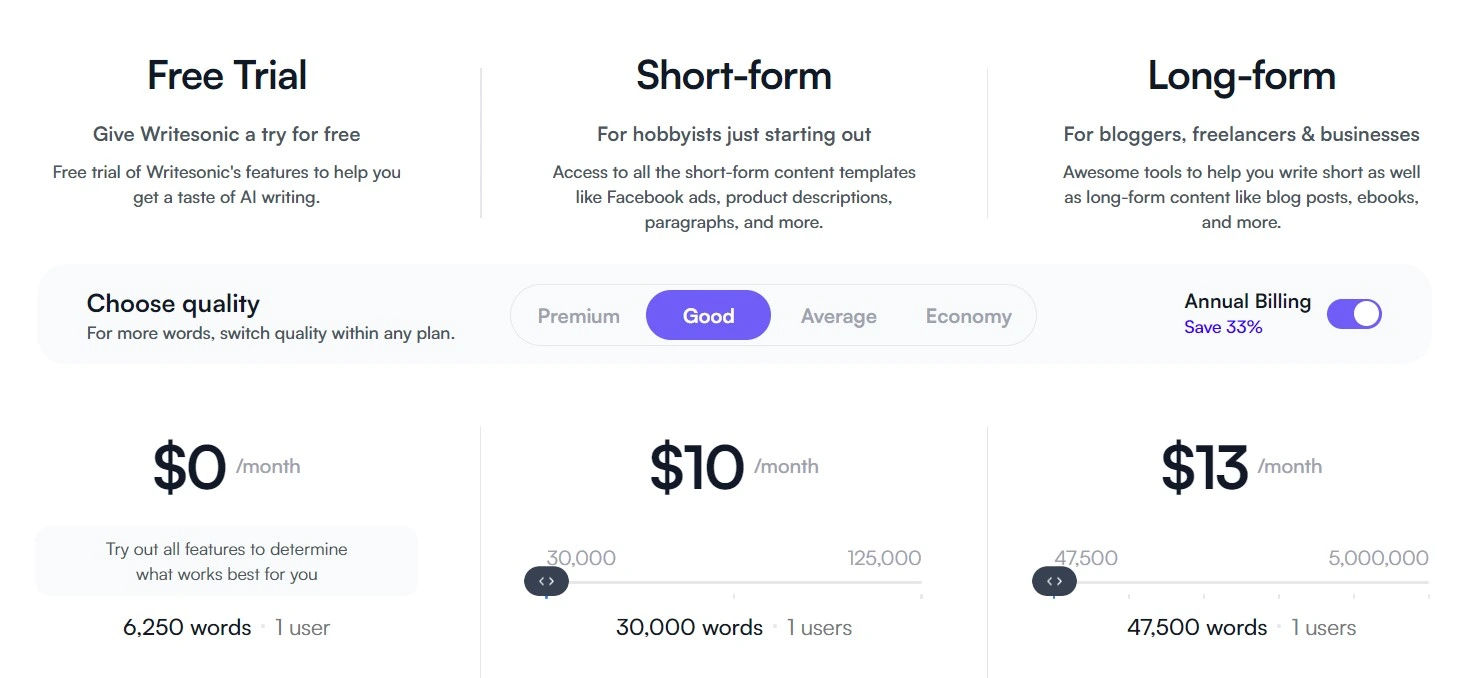 With Writesonic, you can choose a monthly plan or a yearly plan, based on your needs. It also provides a choice between professional plans, business plans, and starter plans. Based on the wide range of choices that are provided to the users, Writesonic automatically becomes a creator's first choice.
Apart from the regular plans, there is also a lifetime deal you can avail the benefit of for a limited time.
Writesonic Alternatives
Writesonic is a great AI writing tool, but if you are curious about knowing some of the other AI writing assistants, then we have listed below some of its best alternatives.
Jasper is an amazing AI-powered tool. It is one of the top tools in the market used for content generation. It may be a lot more features than present in Writersonic.
Using Jasper, you can freely generate any kind of content you wish to. It also mimics and analyses your writing style. It helps you in writing authentic and engaging content with ease.
Rytr is an AI tool that doesn't overwhelm you with many features you'll never need. It's simply an AI content generator tool that generates captivating content in seconds for you, analyses your text, and smartly delivers your personalized marketing material in real-time.
CopyAI
CopyAI comes with more than 70 tools. It has a much more extensive library of features; using CopyAI, you can generate content from scratch or draw from its extensive library of features.
It is an amazing alternative for creating landing pages, sales emails, blog posts, digital ad copy, and more.
Writesonic: Review by the Existing Users
Writesonic is being used and loved by many Writers, eCommerce stores, Marketing teams, Entrepreneurs, Professionals, and so on. All of them are brilliant tech-savvy and intelligent people, who use Writesonic to embrace the latest tech and become more productive and creative in their respective work roles.
A lot of verified reviewers of Writesonic have shared their review experiences on different platforms such as g2, Capterra, & Theuseropinion. All these review sources are verified and available on Writesonic review pages as well on the official site.
Some of them have shared their experience of working with Writesonic as shown in the screenshot below.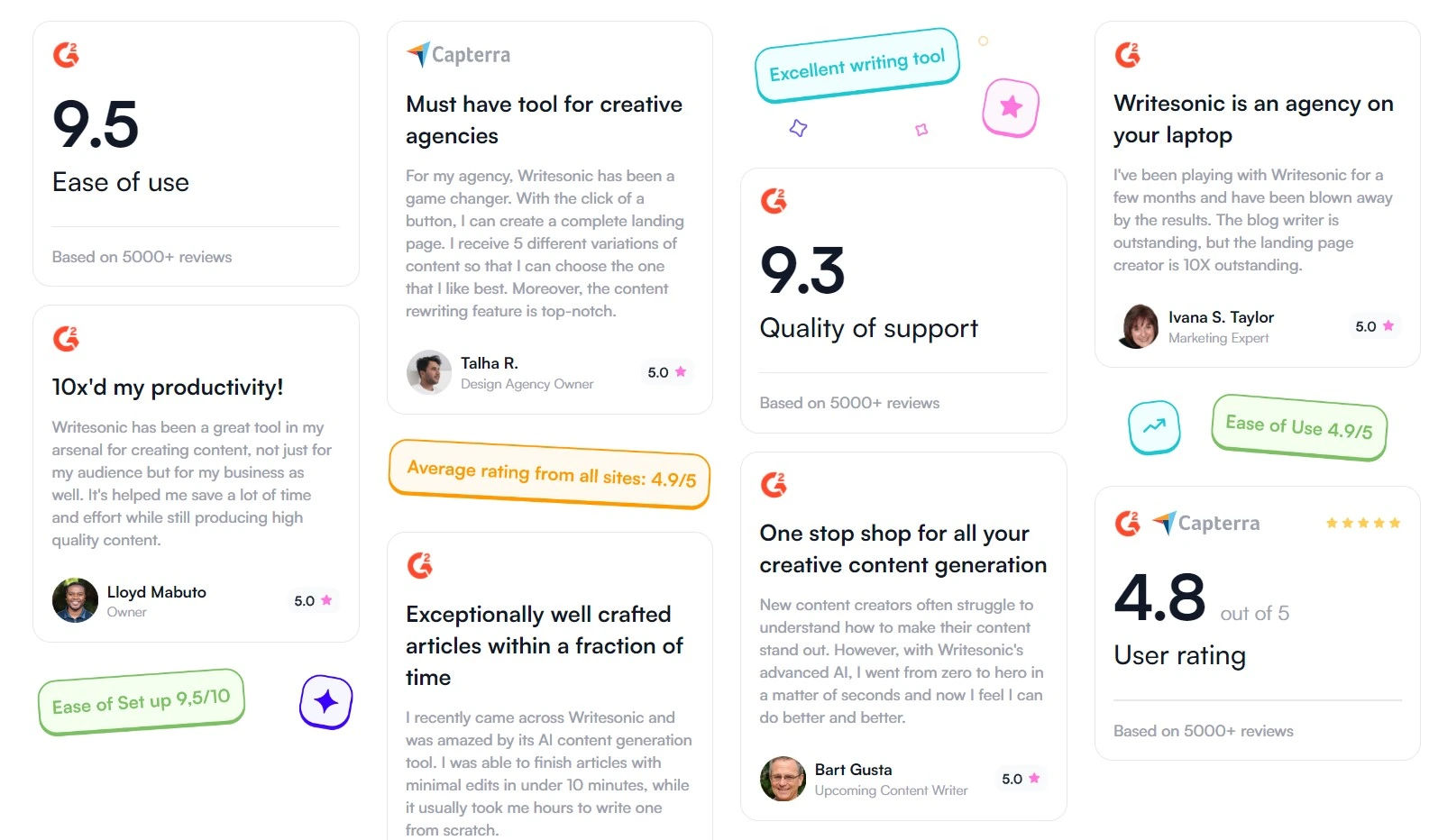 The AI-based software is now widely loved by many content creators, founders, Entrepreneurs, Agencies, and others for creating website content, social media content, and more that simplifies their content marketing.
With Writesonic many of the brands have become visible with amazing stories. These stories attract people who dream to climb the search engine rankings. Many Agencies also use Writesonic to scale their content production as well as meet their client's requirements.
Writesonic is trusted by over 300,000+ agencies, marketing teams, and freelancers.
How is Writesonic helpful for Content Creators🤷‍♂️?
Anything that helps an individual to lessen their workload will be the way to go for them and when it comes to creating content, the same goes for bloggers and writers, in any field. Writesonic helps create highly articulate blogs and articles with only certain keyphrases, Headings, and Basic ideas about the topic you want to write upon.
It picks out several good headlines and ideas for you to go through before generating your content automatically. It is an easy and user-friendly app that helps beginners or advanced content creators make their highly professionalized and intuitive articles.
Should you Buy Writesonic🤷‍♀️?
With everything said and done, Writsonic is an excellent writing platform that will help you create the content you desire. It comes in competition with a few of the best and biggest AI copywriting websites and is constantly preferred by most now because of all its amazing features that are easy to use and the great accuracy it writes. Nonetheless, it has its drawbacks but then again, which website doesn't? It is recommended to many because of its potential to perform really well and make content creating less tiring and greatly unique. If you want to try it, it is linked below. Who knows? You might find it exciting too!
Go to Writesonic Official Website to create your first piece of content with a free trial!
Writesonic: Online Community
Writesonic has an online community group available. You can join this informative group and engage with many like-minded people who have been using Writesonic for a long time.
From the Writesonic official community, you will get all the important people's notices, queries, news, updates, and even more. And all these updates will help you immensely at last in ranking your pages.
Writesonic Official Community is there on Facebook. It is a global community of talented content writers who are using Writesonic among all the other AI writing tools.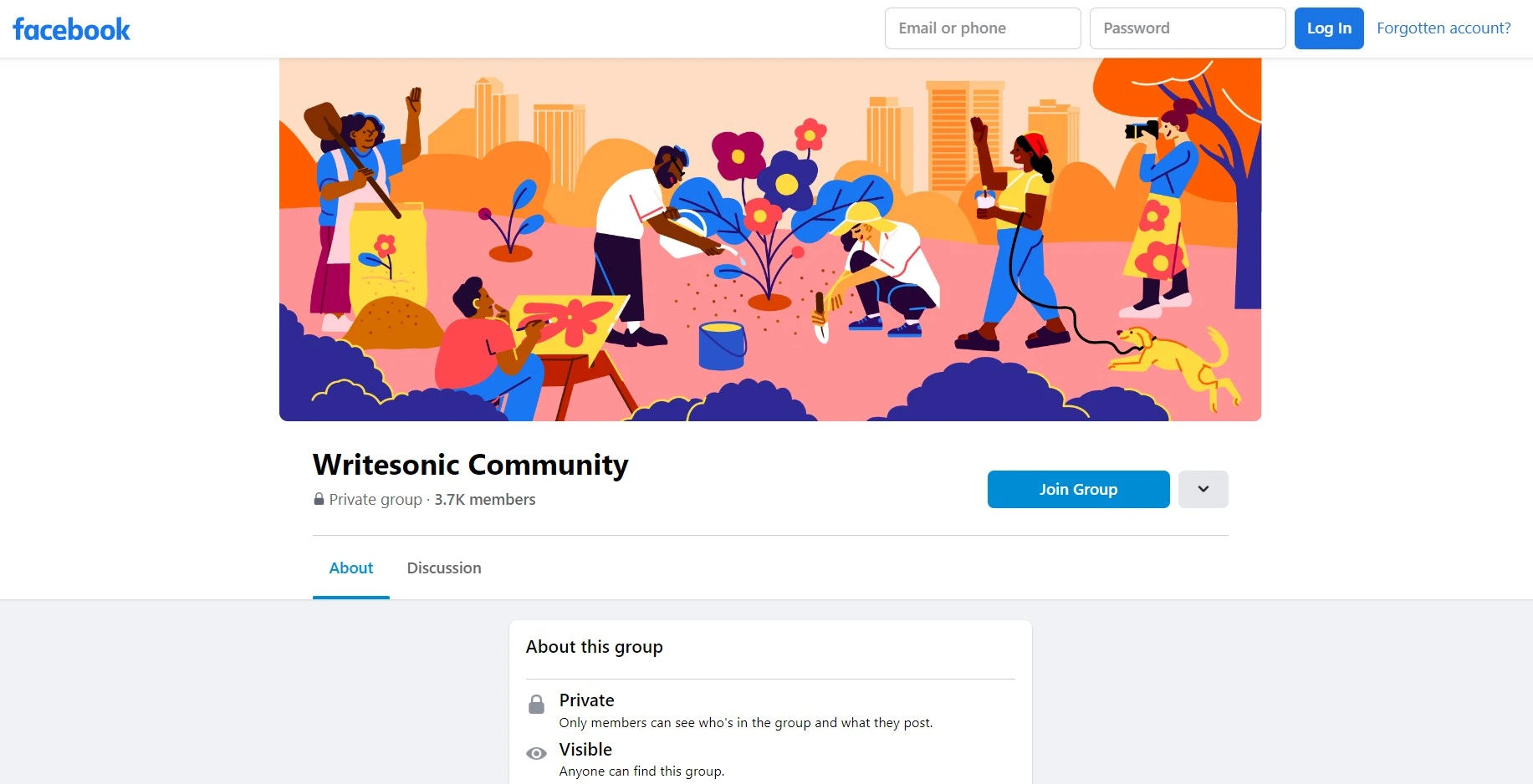 The admins and the moderators run the Facebook page of Writesonic. And the page is private so, only the members included in the group will be able to see who is part of the group and what they are posting. The community of Writesonic has come together to learn how to use the tool more accurately, share their perspectives and use cases, and put forward their experiences of working with Writesonic.
Writesonic also has a community group on Instagram and Twitter.
Writesonic: Short learning curve
Even if you are new and have just started using an AI-powered writing tool, you can easily learn Writesonic's work as it is very easy-to-use, and has a simple and very short learning curve.
When you visit Writesonic official page https://writesonic.com you get a brief idea about the tool.
A wide array of amazing online videos is available on its official YouTube channel. These videos are very informative and cover all the major aspects of the software and develop a better understanding of the working of Writesonic.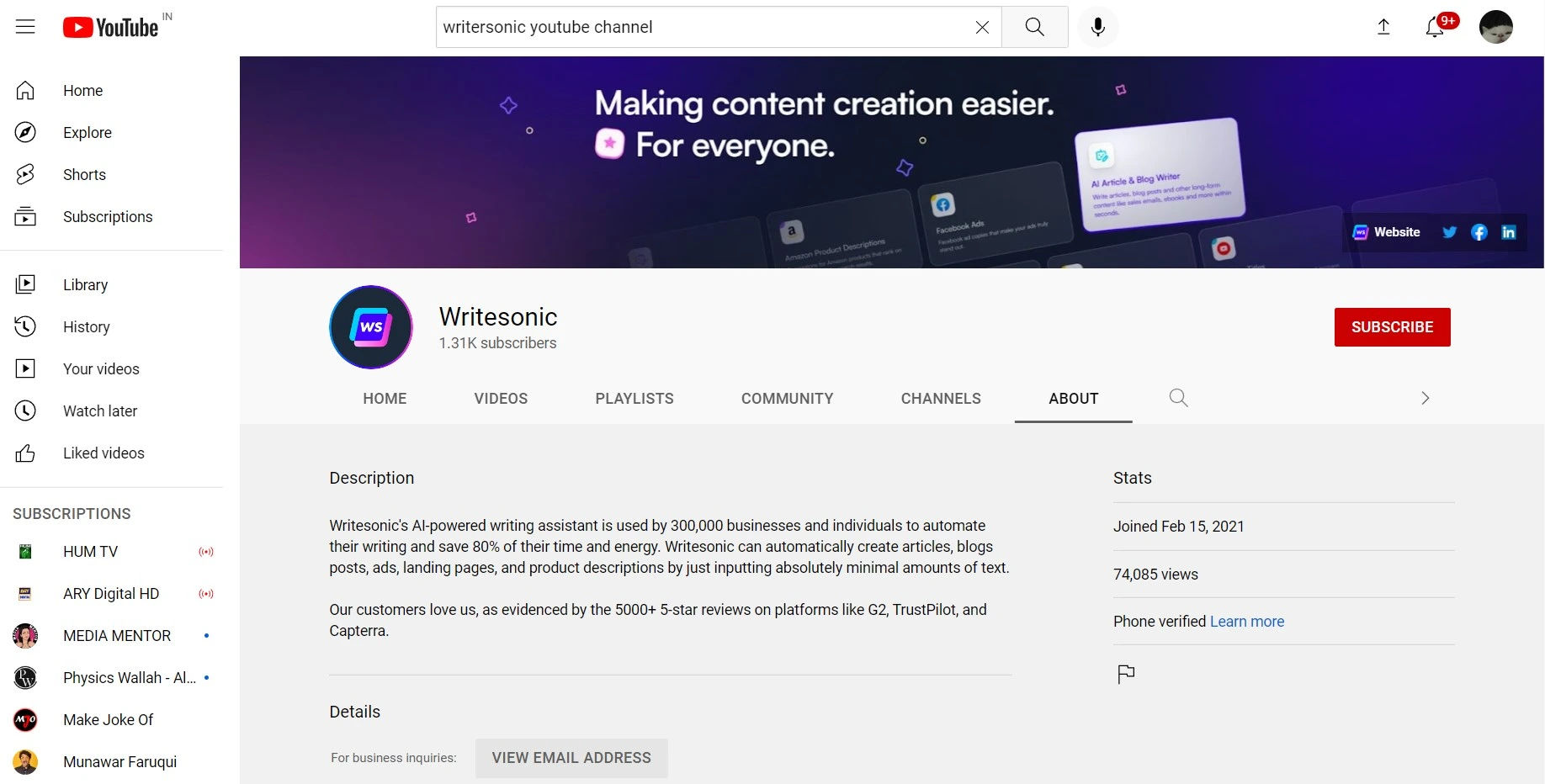 Writeronic also has a Facebook Community, Guide and Tutorials, Blog, and other resources that make it even easier for you to learn the tool.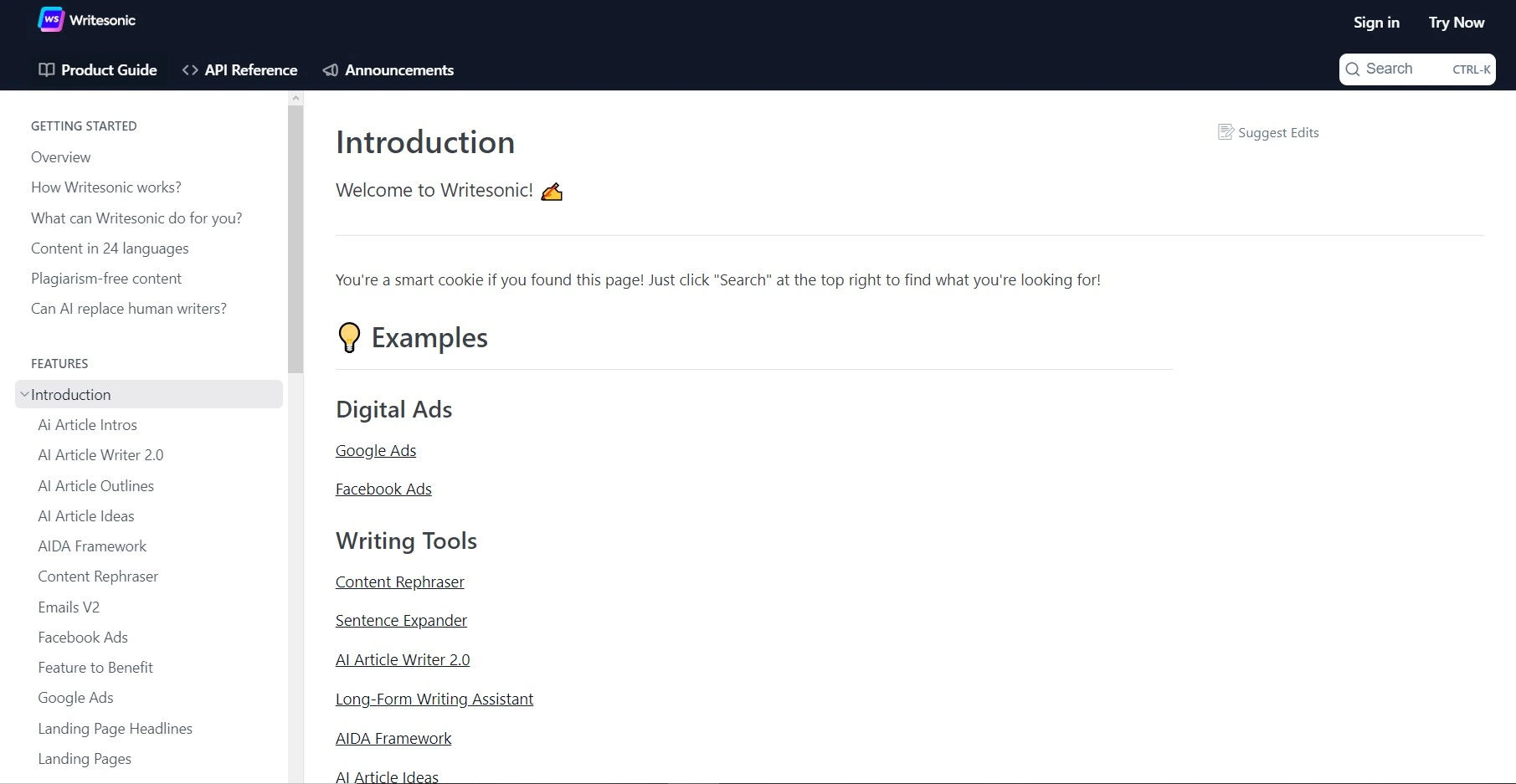 Writesonic: Excellent Customer Support
Writesonic provides brilliant customer support. It has amazing customer support with a satisfaction rate of 99%.
A Writesonic expert customer access team and fantastic specialists are available all the time to help you in scaling your customer needs. The support team never fails to assist you in any matters related to pricing and billing, Writesonic capabilities, and more.
You just have to visit https://writesonic.com/contact-us and get in touch with the Writesonic customer support team.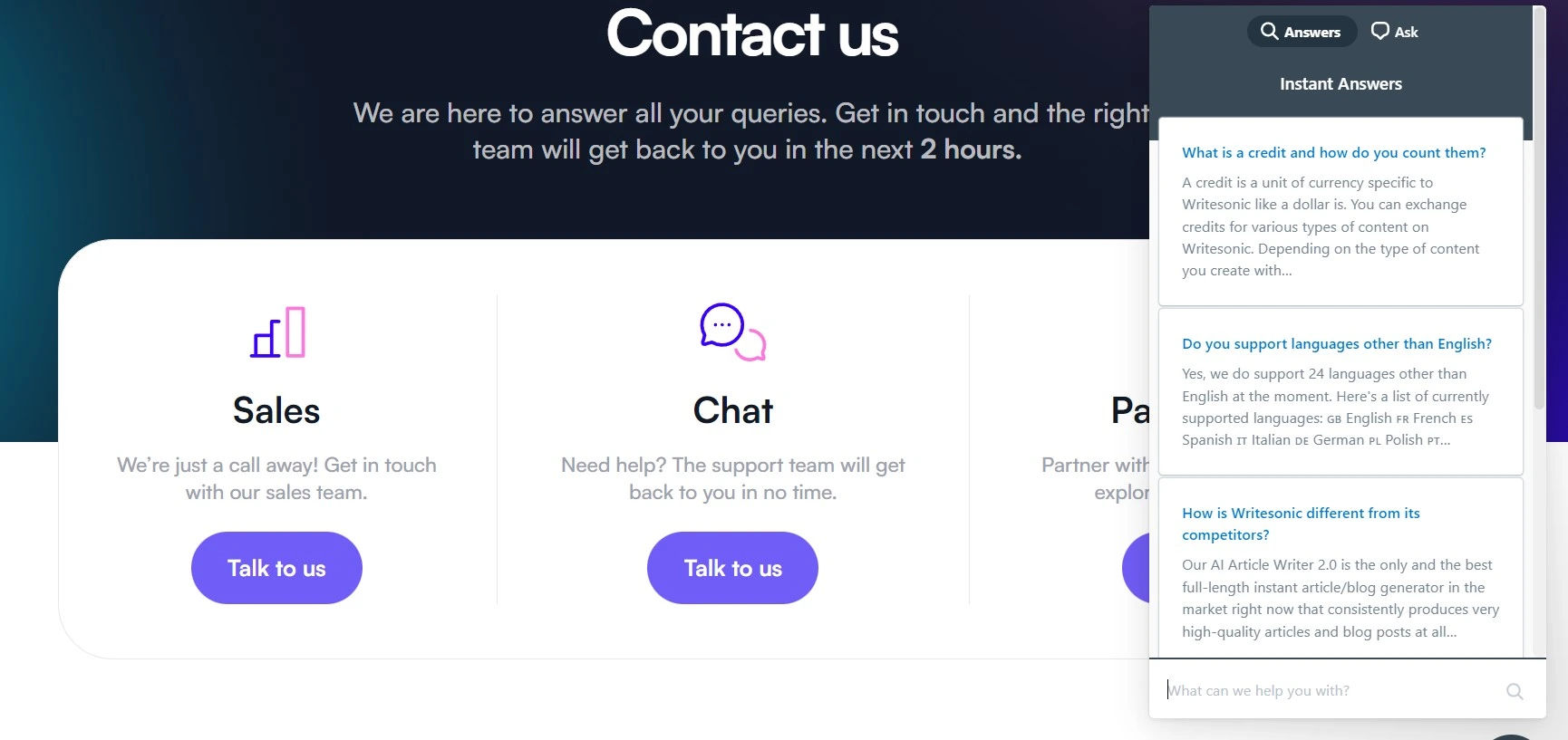 You can simply get on a chat with the Writesonic expert support team and do chatting to get your doubts cleared. For any type of guidance, its amazing support team is available 24 hours to resolve all your queries.
Writesonic's tutorials and troubleshooting pages on their website are extremely well done. Writesonic is always around to help you with any questions, doubts, or queries.
If you need solutions to any problems, raise an issue, share your feedback, or even ask for a feature, then you can reach out to Writesonic customer support service and solve your problems quickly. Mostly all of my problems are solved within 2-3 minutes.
The sales team of Writesonic is just a call away. You can get in touch with them almost instantly. That means, that whenever you need any help, the support team will get back to you in no time.
You can also contact Writesonic amazing customer support team through an email message at [email protected].
What makes Writesonic stand out?
The user interface of Writersonic is user-friendly. Its powerful features are enough to let you create content for blogs, articles, websites, social media posts, and much more.
Writesonic is budget-friendly, cheaper than most other AI-powered content generation tools, and no matter how you slice it, Writesonic is very affordable.
The software is largely plagiarism-free. The content you generate using the tool appears to be plagiarism-free.
Writesonic comes with a free trial, which makes it a plus point for you to use the tool without any risks. It doesn't even require you to submit any credit card-related information.
It has a strong community and protective customer support. From many of its reviews, it is clear that 98% of its users think Writesonic is excellent.
The ease of use of Writesonic is 10/10, which makes the tool's learning curve extremely mild and also cuts any expensive training time.
Conclusion: Is Writesonic Worth the Price?
Since it is a writing tool that is used for blog post purposes that could be market-based, business-based, or just a simple article blog post, it can help content creators to lessen their burden and create top-notch content without much hard work and hence, be able to do their job more efficiently. With Writesonic, you can always hope for good work at a small price or for free. This is your destination for any content writer looking for a place to start!
Writesonic is an amazing tool for structuring your written content perfectly. I have spent some time using the tool and tried out its various features that have met my expectations perfectly.
I used this AI-generated content for YouTube titles, landing pages, song lyrics, and Instagram captions. I also gave it a good run-out regarding intros and blog outlines and creating an entire article.
Overall, Writesonic performed surprisingly great😎, with only a few minor issues here and there.
The Review
WriteSonic
Forget wincing at the word overworked. When you write with Writesonic, writing never has to be a laborious task again! Lighten your load and save time by letting this cutting-edge AI-powered tool do the heavy lifting for you. You just might find yourself doing more work in less time or maybe even deciding that happy hour doesn't feel so necessary every week anymore because you're just so darn productive!
PROS
Easy to Write Marketing Copy
AI-powered writing tools
Easy to Generate Landing Pages
Quality Output
Short Learning Curve
CONS
Can't rely for high research based content
Review Breakdown
Easy to Use

Features

Value for Money

Support

Brand Trust
WriteSonic DEALS
We collect information from many stores for best price available
Best Price
$59