Writersonic is an AI-powered content writing tool that helps you generate any kind of write-up, from blog posts to marketing copy. It's like having a permanent copywriter in your pocket. You can use it to generate articles for Google and Facebooks ads and other blog posts as well.
It provides the users with several areas to chose from before starting to generate the content. It even helps in creating headlines and generate new and innovative topics that one can focus on while generating content on Writersonic.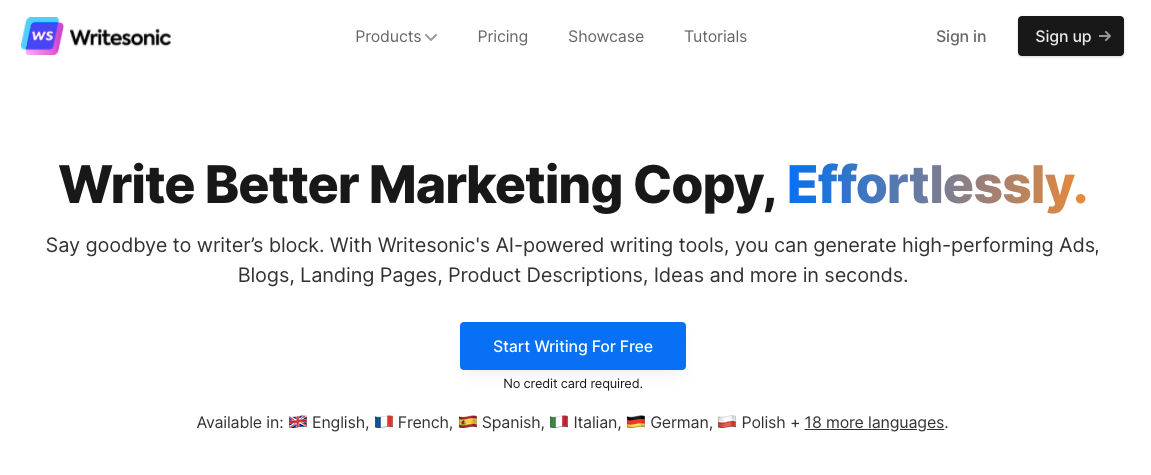 A lot of verified reviewers of Writesonic have shared their review experiences on different platforms such as g2, Capterra, & Theuseropinion. All these review sources are verified and available on Writesonic review pages as well on the official site.
Writesonic is a marketing biased platform but it gives you various options when it comes to its expanded area of expertise about creating articles from mere keywords, phrases, or short descriptions about the product or topic you want to create the content upon. It is best for Business-related content, Marketing for start-ups, E-commerce, and Agencies.
What Kind of Marketing Copy can Writesonic generate?
Writesonic can write marketing copy for websites, landing pages, social media, emails, articles, and more! With additional updates and features added to the website, you can also write copies that involve blogs. The options provided on Writesonic are given below:
Website Copy – Landing Pages, Features to benefit, Headers, SEO Meta Descriptions
Digital Ads Copy – Facebook Ads, Google Ads, Linkedin Ads, Instagram Ads, Twitter Ads
Article/Blog Copy – Blog Ideas, Intros & Outlines, Content Rephraser & Expander, Article Summaries, Grammar Fixer, Readability Checker
eCommerce Copy – Amazon Product Titles, Amazon Product Descriptions, Amazon Product Features, Amazon Sponsored Ads, Sales Emails
Copywriting Formulas – Pain-Agitate-Solution, AIDA
Other – Press Releases, Company and Personal Bios, Startup Ideas, YouTube Video Copy, Growth Ideas, Product Names
What is the cost of Writesonic?
Unlike other websites that might need some kind of credits details to start writing, on Writsonic you can start a free trial with 10 credits that you get after signing in. Doing so makes the website a lot favourable to content creators because they get a chance to try out the website first before investing in it. The website offers a 10 credit limit and once you can test it out and are satisfied with the results, you can go ahead and purchase any plans that the website has to offer.
With Writesonic, you can choose a monthly plan or a yearly plan, based upon your needs. It also provides a choice between professional plans, business plans, and starter plans. Based on the wide range of choices that are provided to the users, Writesonic automatically becomes a creator's first choice.
Apart from the the regular plans, there is also lifetime deal you can avail the benefit of for limited time.
How is it helpful for the Content Creators?
Anything that helps an individual to lessen their workload will be the way to go for them and when it comes to creating content, the same goes for bloggers and writers, in any field. Writesonic helps create highly articulate blogs and articles with only certain keyphrases, Headings, and Basic ideas about the topic you want to write upon.
It picks out several good headlines and ideas for you to go through before generating your content automatically. It is an easy and user-friendly app that helps beginners or advanced content creators make their highly professionalized and intuitive articles.
How Does it work?
Well, as stated above, it takes up the requested phrases and topics to pick out the best sources to formulate a typing and outline for your desired articles. After adding the headlines and a description of your content or blog and potential outlets, it will not take more than five minutes for the app to crank up a well-articulated article for the writer to publish.
Points to Focus on Writesonic
There are many things that a bogger looks for before creating content for his website to publish or for the firm you are working for, there are always certain criteria they are looking for and with Writesonic, you can identify almost all these criteria to help you ease your work and create content that is up to the mark
1. Data Accuracy
With Writesonic, the articles that you desire to work upon, you can type in the details and phrases in short and it will quickly give you accurately to on-point descriptive articles and blog to write and work upon. Unlike writing the content that you have to look through and research before compiling it, which is excruciatingly time-consuming, Writesonic will present you with accurate data and topics that you can add your own changes and adjustment if needed.
2. Identify Keyword
Finding the appropriate keyword to generate the article that you desire, and with this, it generates 10 topics for you to focus upon. Of course, you can change it to your desire but the accuracy of the app will most probably pick-point the best topics and headlines for you to look after, and then with the details enlisted, it will take up to 30 seconds each to generate the appropriate subtopics and the article of your desire.
3.  Categories of Content Creation
Unlike any other site that focuses on either one or two niches, Writesonic focuses on almost all kinds of areas like Digital Ads, Writing Tools, Social Media Copy, etc. Along with that, it also provides you various other categories to work upon which requires you to have credits or a membership. Credits are easy to earn and you can do so by writing a review source, a review experience on verified reviewer sources. These write sonic reviews help you gain credits that you can use to generate your content.
4. Advertising
With Writesonic, you can advertise and monetize your articles via Google ads, Linkedin Ads, Facebook, and many other sites that help you reach a large audience who might feel like engaging in your work and hence, with a variety of ads that your articles attract, you can easily start monetizing your work.
5. Time Consumption
With Writesonic and its fast topic generating mechanism, you can easily create an outline of your liking and hence, start working on the choice of your headlines and subheadings. Its quick and accurate representation of AI-generated articles and blog is what makes it so efficient.
6. User Interface
The experience regarding Writesonic's user interface is so much better in comparison to other AI Copywritering apps. This platform allows you to create your own article with easy steps and a user-friendly interface. Writesonic allows you to organize your text generations, step-by-step, which makes the work of a content creator easy.
7. Shareable Links
Writsonic gives you shareable links for any content that you created on their platform. This is a great feature that will be great if you are trying to quickly generate any content when working in collaborations with others and have to show some content ideas to your clients.
Most of the other AI writing tools don't allow you to do so but with Writesonic, it is extremely easy. And they also come up with great and original ideas, so that is a plus point about Writesonic!
Should you Buy Writsonic?
With all things said and done, Writsonic is an excellent writing platform that is going to help you create content that you desire. It comes in competition with a few of the best and biggest AI copywriting websites and is constantly preferred by most now because of all its amazing features that are easy to use and the great accuracy it writes. Nonetheless, it has its drawbacks but then again, which website doesn't. It is recommended to many because of its potential to perform really well and make content creating less tiring and greatly unique. If you wanna try it, it is linked below. Who knows? You might find it exciting too!
Go to Writesonic Official Website to create your first piece of content with a free trial!
Conclusion
Since it is a writing tool that is used for blog post purposes that could be market-based, business-based, or just a simple article blog post, it can help content creators to lessen their burden and create top-notch content without much hard work and hence, be able to do their job more efficiently. With Writesonic, you can always hope for good work at a small price or free. Any content writer who is looking for a place to start, this is your destination!
The Review
WriteSonic
Forget wincing at the word overworked. When you write with Writesonic, writing never has to be a laborious task again! Lighten your load and save time by letting this cutting-edge AI-powered tool do the heavy lifting for you. You just might find yourself doing more work in less time or maybe even deciding that happy hour doesn't feel so necessary every week anymore because you're just so darn productive!
PROS
Easy to Write Marketing Copy
AI-powered writing tools
Easy to Generate Landing Pages
Quality Output
Short Learning Curve
CONS
Can't rely for high research based content
Review Breakdown
Easy to Use

Features

Value for Money

Support

Brand Trust
WriteSonic DEALS
We collect information from many stores for best price available
Best Price
$59