With the ever-evolving market of content creation by various business platforms, to boost their reach and traffic on big players like Google, LinkedIn, Facebook, etc., it becomes extremely important to create top-notch content and descriptions to attract clients and collaborators to invest in your business.
Since content is the king of WWW, you need the right equipment to create the best content you can. The right content management is essential to make your presence impactful online. It does not perish and remains immortal while creating consequences that can make or break you.
But creating and coming up with new and unique ideas can become hectic, and often, writers come across issues like writers-block. When that happens, it becomes a sudden stop, and you can't get over it.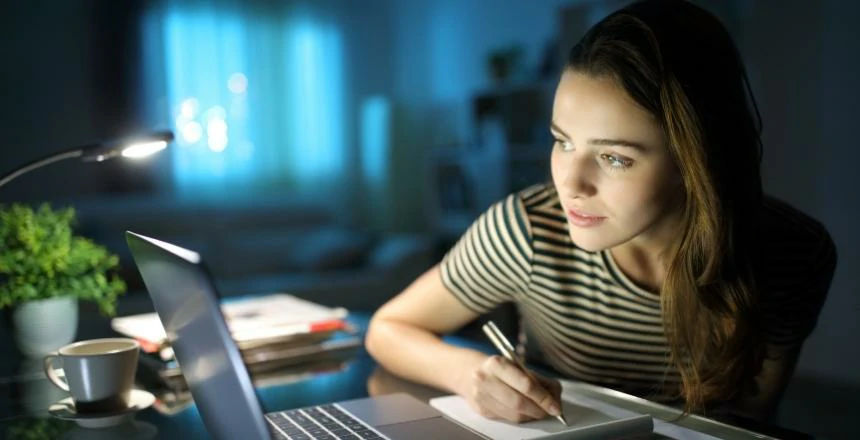 With the help of Artificial intelligence, it is now possible for articles to be written, texts to be summarised, blog posts to be published and content to be created in just a few clicks.
So, if you are looking for AI writing tools to help you generate more text, write facts, and write well-researched content, then you are on the right page.
Don't you worry, my little writer? Say 'Goodbye' to writer's block forever with these ten amazing and quick AI-based content-creating software and tools that will help you generate high-quality and good content every day within seconds.
If you are a super beginner and don't know about what these tools do and how they help you write content, let me give you a little glimpse.
For example, you are writing an article about "How to make Butter Chicken" and want to include the benefits of Butter Chicken in the copy. With the help of the AI writing tool, you can say/command "write 3 benefits of butter chicken," and the tool will write the benefit for you in bullet points. You can even re-generate the content or rephrase it if you want to further improve the text generated by the AI tool.
You can also use the AI writing tools while composing emails, as we know how hard it becomes sometimes to send professional emails where you have to take care of the message and tone. With many tools, you can set the tone of the generated text and create perfect emails. You can even give a few inputs/keywords to the tools and get variations of emails that you can utilize.
You can use AI writing tools to generate copies of your social media posts. The AIDA, PAS, and many copywriting features enable you to write catchy and click-driven copies for social media.
List of Best AI Content Writing Tools in September 2023– (Paid & Free)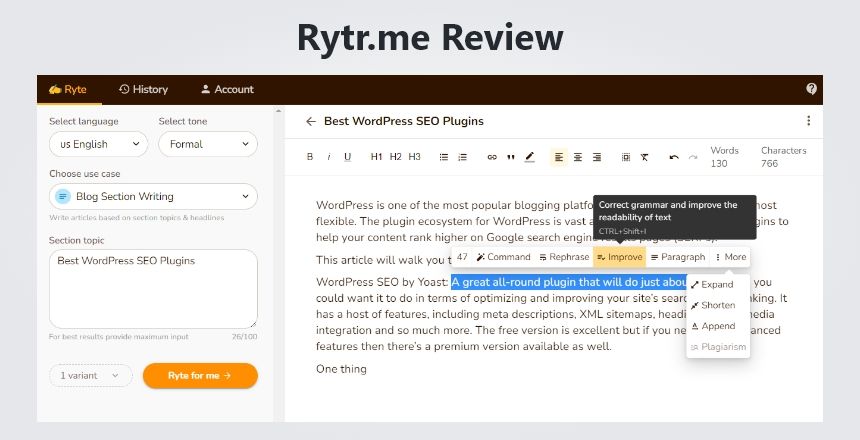 My favorite, Rytr is a writing tool that'll not disappoint you.
Rytr is a free article writing and content-generating tool that produces high-quality content that is extremely human-like when read. Not only that, it comes with options that aren't limited. We're talking about blog posts, captions, video descriptions, emails, story plots, and so much more.
Rytr uses GPT-3 technology which makes it equipped with deep learning and researching stuff before creating content according to your need. Adjusting the tool according to your requirements is all you need to do
Features of Rytr
Provides a wide range of content types, from emails to blog outlines, and with additional features like story-writing as well.
Customize the kind of tone you want your article to be with a wide range of languages
Helps you pick up keywords that will make your content help on landing page descriptions
Creates various kinds of advertisements for Facebook, Google, and LinkedIn
Comes up with new features every now and then, making it an ever-increasing platform in the game
Extremely user-friendly and good to use for amateurs as well as professionals
Rytr Pricing
Rytr is affordable when it comes to its plans and pricing. It allows you to access 5000 characters per month when using it for a free trial. This helps you explore the tool before investing in it. Even the pricing plans are way too simple compared to any other plan.
Saver Plan – $9/month or $90/year (50k words per month)
Unlimited Plan – $29/month or $290/year (unlimited words)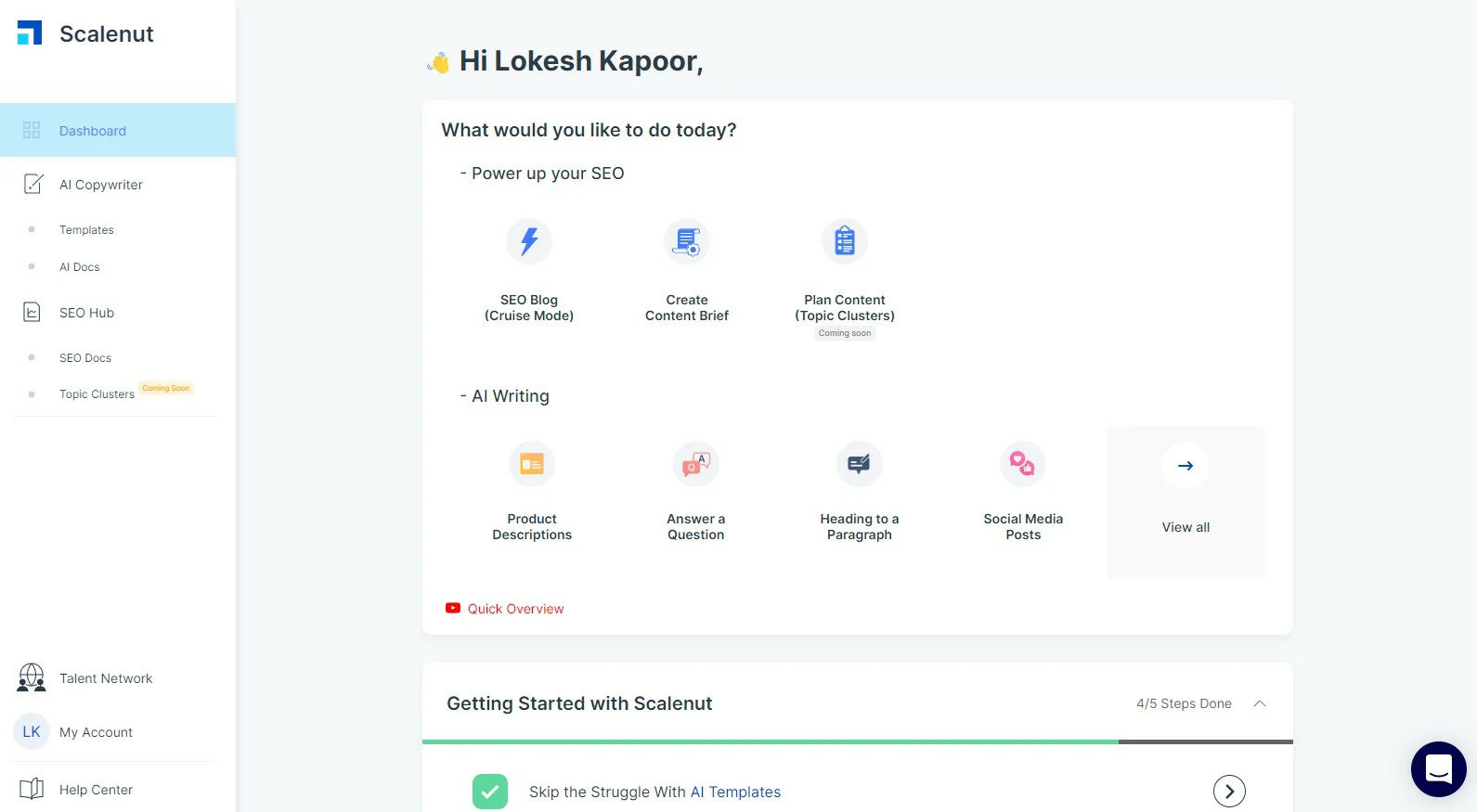 Scalenut is an impressive content writing and optimization software for those who are serious about content. With the help of Scalenut, one can write SEO-optimized content that possesses a high chance of ranking. Scalenut allows you to implement and include the relevant keywords in your content that contribute to the ranking. It has also launched the cruise mode that allows you to create long-form content in a guided form. Precisely, it lets complete checklist for creating the content. Scalenut shows you the NLP terms that should be included in the content to achieve a better ranking.
After all, the goal of online content writing is to rank. However, always make sure that the content being written keeps the readability and relevancy at its high. In a search to rank, you may overdo SEO and lose in the long run. Talking about the tool, it also gives you Google Chrome extension that further enhances your productivity in writing emails, social media copies, and whatnot.
Features of Scalenut
AI Content Generator
Unlimited Words Plan available at an affordable price
AI Templates
Team Collaboration
Google Chrome Extension available
Content Optimization to Rank better on SERP
Pleasant interface & Awesome Support
Pricing of Scalenut
There are three pricing plans available with Scalenut. All the pricing plans include Write for me, content grading, competitive research, social listening, content brief, and chrome extension.
Individual – $12/mo with 5 SEO Reports & 100,000 AI words
Growth – $33/mo with 30 SEO Reports & unlimited AI words
Pro – $62/mo with unlimited SEO Reports and AI Words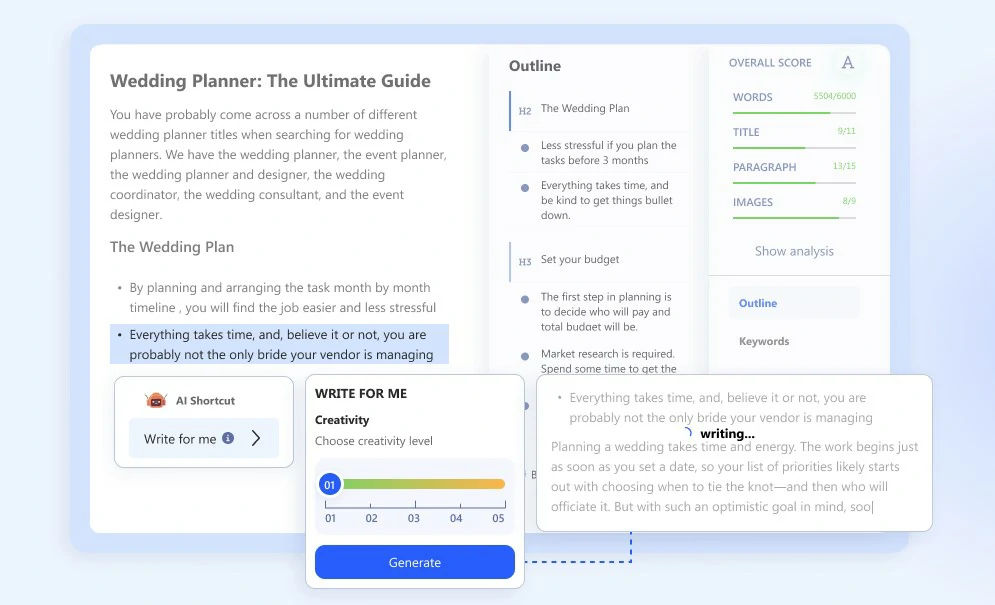 Writerzen is a robust tool for marketers. It has many features built-in such as AI Assistant, SEO Optimization, Plagiarism checker, Keywords Research, Content Editor, and much more. From awesome UI to accurate analytics, Writerzen is a complete solution for freelancers and business owners to write valuable content.
Its AI assistant however is not built-in and comes with an additional cost as an add-on. While with so many features apart from AI writing, the tool is no less than a wonder. Those who bought the early lifetime deals from Appsumo are blessed.
Features of Writerzen
GPT-3 Powered AI Assistant
Plagiarism Checker
Topic Discovery
SEO Content Creator
Keyword Explorer
Personal Keyword List
Sophisticated UI/Interface
7-day Free Trial
Pricing of Writerzen
Apart from a 7-day free trial of Writerzen, below are some paid plans that you can opt for.
Basic: costing $27/month is great for solo users handling single project work
Standard: costing $47/month is ideal for small teams working on multiple projects
Advanced: costing $69/month is best for agencies & big digital marketing firms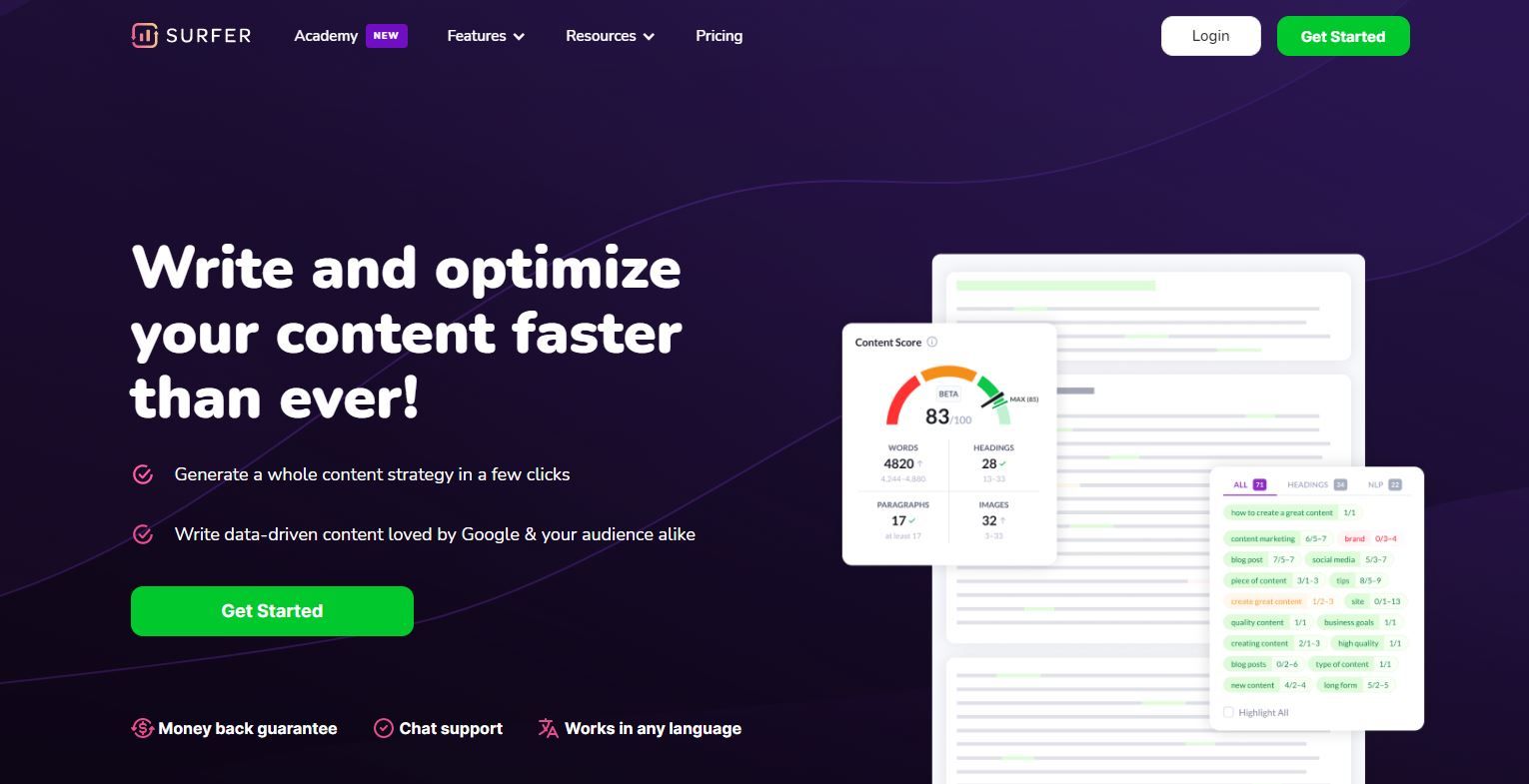 Surfer SEO is professional writing software that allows you to write mind-blowing articles that can rank high search engine result pages. This content writing tool is also very popular and gives you confidence in writing rankable content. You can add your team members are collaborating on the content optimization.
Features of Surfer SEO
Content Guidelines
SEO Audit
Content Planner
Optimize Existing Content with Enthusiasm
NLP Based Algorithms
Amazing Support
Keyword Surfer Extension – (Free)
Surfer Academy to learn
Pricing of Surfer SEO
Basic: $49/month, 10 Articles /m, Audit 20 pages, 1 team member
Pro: $99/month, 30 Articles/m, Audit 60 pages, 3 team members
Business: $199/month, 70 Articles/m, Audit 140 pages, 10 team members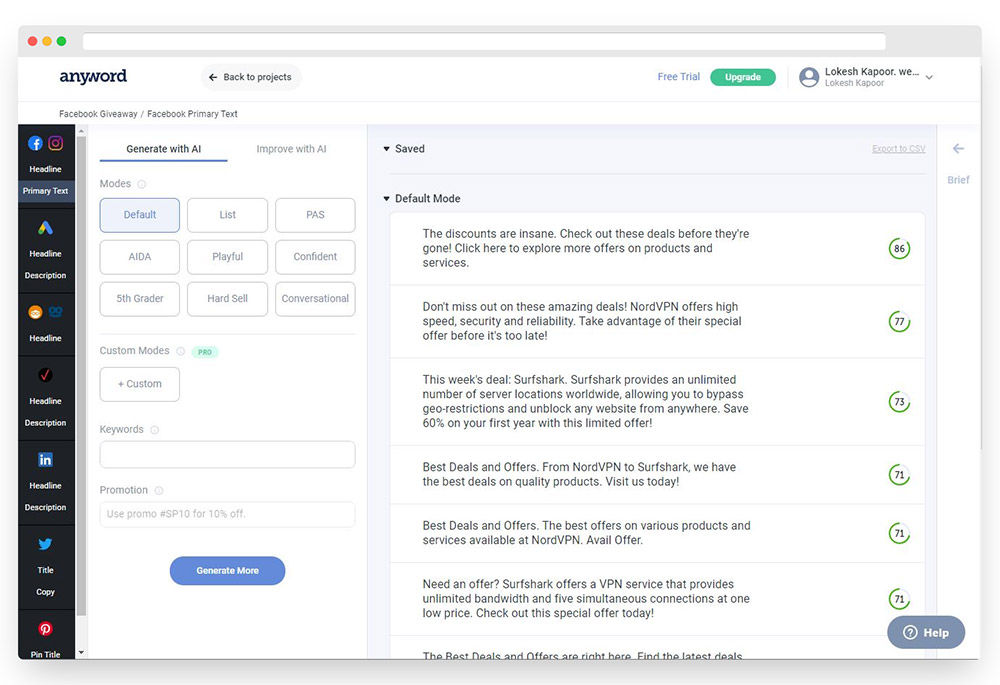 Anyword is one of my favorite content writing tools. If you are looking for a writing tool in 2023, that has the potential to give you quality content, then Anyword is surely one of these tools. Anyword has a unique and pleasant interface. There are a lot of features in the tool with the help of which you easily get the desired copies.
You can easily optimize your existing content using Anyword's advanced content optimizer.
Features of Anyword
Data-Driven Copywriting
Best for Landing Page, Email, Social media, E-com Product description, and blog copies
Instant scores and analytics
Data-driven projects that help you improve your copy
Awesome Support
Pricing of Anyword
Data-Driven – $83/month, 30000 credits, 1 seat
Data-Driver Unlimited – $266/month, everything in the data-driven, Unlimited credits, copy personalization, connect to landing pages, success manager, 5 seats
Enterprise – $999/month, everything in data-drive unlimited, API access, Brand Guidelines Filter, Custom Models, Custom Number of Seats (you can book a demo for this plan)
Writesonic helps you write effortless and high-quality copies. Writesonic is a source of various AI-powered programs that help in building both startups and large agencies with their marketing copy.
Using the GPT-3 language model, Writesonic uses its very own Artificial Intelligence platform for creating good-quality content. Its greatest ability is to generate blog posts automatically.
Features of Writesonic
Comes up with blog titles, ideas, copies, and landing pages for you.
Fully automated content according to your need and tone, that you get to customize
A wide range of options to generate the content of your liking
Let's you create copies for the ads for Facebook, LinkedIn, and other big platforms
A large variety of templates and layouts to choose from
Comes with languages aside from English like Chinese, French, German, Japanese, Polish, etc.
Writesonic Pricing
In the beginning, it lets you create content by offering 10 credits which you can use to test out the software for trial purposes.
After that, there are three kinds of plans that Writesonic offers that you can also cancel with a full money-back guarantee if the tool doesn't meet your expectations.
Started – $11.25/month with a yearly subscription
Professional – $40.05/month with a yearly subscription
Business – $202.05/month with a yearly subscription
This isn't Tony Stark's Jarvis, but it's still a Vision for all the content creators out there.
Powered by GPT-3 technology, Jasper previously Jarvis.ai helps you craft High-quality content and copies for all kinds of services. Whether it's ads, web copy, blog posts, emails, and more, you'll find this copywriting assistant extremely helpful.
The AI-based article writer had been trained in a way, by expert copywriters and conversation masters, with rules to follow and models to mimic.
Features of Jasper.ai
Jasper works on the AIDA Framework, which is used to catch the 'attention' of any potential customers, piquing their 'interest', followed by 'desire' which ultimately yields in 'action' from them.
The software offers you an option to translate your content into 11+ languages which have been grammatically corrected as well.
If you're working in a team, Jarvis offers team member access that allows you to add your saved content from different folders.
Jasper enables users to seamlessly integrate Surfer with one click (SEO Software). This lets you create Blog content that is SEO Optimized.
It allows you to not only create short-term or long-form content but also generates marketing copies, YouTube video titles, Facebook headlines, Google Ads descriptions, etc.
5 days money back guarantee.
Jasper.ai Pricing
Jasper.ai offers a Starter and Boss mode plan. In order to test out the software, you get to create an account for free and write up to 10,000 words.
Starter Plan – $49/month for 35,000 words
Boss Mode – $99/month for 1,00,000 words
Kafkai
Kafkai is one of the first automated article writing software to land on the AI market. Unlike other content generators, this content writing tool creates everything out of scratch in just a few clicks.
Using machine learning algorithms, the program can make a full-length article out of a few words, paragraphs, or sentences.
This is the best choice for SEO-based writers and marketers because it will make your work stand out, taking in all the information from algorithms.
Features of Kafkai
Extremely easy to use which comes with an easy-to-navigate interface
Offers 19 different categories to suit your niche like health and wellness, business, financial, fashion, etc.
Produces textual-based content on a sentence or paragraph you provide. It's general information-based content so you can add the desired changes.
Advanced niched writing which created more specific and optimized content for the subject you have.
They have a Kafkai plugin for WordPress users that you can download to start creating content
Kafkai Pricing
Kafkai provides a 3-day free trial period that lets you generate up to 25 articles for free. The plans offered cones with a 30-day money-back guarantee.
Writer – $29/month for 100 articles monthly
Newsroom – $49/month for 250 articles monthly
Printing Press – &129/month for 1000 articles monthly
Industrial Printer – $199/month for 5000 articles monthly.
Copysmith
Yet another AI content-generating tool that is developed by marketing experts. It is among the best because it provides on-the-spot original copies for your brand.
They take a step further and not just create articles but come up with ad ideas, metadata, product descriptions, landing pages, etc.
If we get into more detail, you'll be delighted to know how many growing agencies and businesses use this writing tool for e-commerce marketing purposes.
Features of Copysmith
Similar to other websites, it also uses artificial intelligence to write ad copies, landing pages, etc.
Copysmith also is one of the only software that offers a Chrome extension.
The software offers a content rewriting module to rephrase any content you find appealing
Uses the AIDA Framework for product descriptions and content creation
Provides branding solutions and event press releases etc.
Gives a great framework for advertising on big sites like Facebook, Instagram, and LinkedIn.
Copysmith Pricing
Copysmith provides three plans with a 3-day unlimited free trial with no credits or word limit.
Started Plan – &19/month
Professional Plan – $59/month
Enterprise Plan – $499/month
The starter plan gets you 50 credits to use the tool as well as 20 plagiarism checks.
Zyro AI Writer
If you're looking for a free article generator, Zyro AI Writer is for you. It isn't the top of the most amazing article-generating software available in the market right now but it will definitely assist you in getting started with producing content for your website.
It was founded in 2019, by a very popular hosting provider company, Hostinger.
Along with that website building, Zygro AI provides seven AI tools, namely, AI writer, AI Heat map, AI Blog title generator, AI slogan generator, AI background removers, AI Image Upscale, and AI Business name generator that anyone can use for free.
Features of Zyro
An extremely easy and simple generator to create articles and blog posts.
By following three simple steps, selecting A category, a sub-category, and then clicking on the continue button you can create various amounts of text.
You don't have to have a preferred niche, the option 'Go Wild' will help you.
All you need to do is describe your brand in a few sentences
The AI content-generating software ensures that your work is SEO friendly.
Zyro AI Writer Pricing
It's a completely free platform for you to use without any payments or sign-ups.
Article Builder
Yet another gem when it comes to content creation. Created by the team behind Prosperative, the software is true to its original ideas which is article marketing software based on niche.
Article Builder is a great app because of its efficient content-generating features. And, like other article generation software, this tool also allows you to create content for multiple niches.
Features of Article Builder
It creates new content with the help of the Super Spun Article Mechanism, which means, no two people will get the same content
It can provide content for up to 145+ different topics and business niches
The software claims to create content that will pass the Copyscape test.
It packs an extensive set of APIs so that you can use them for the site or different apps.
It covers a wide range of niches and tries to provide the best with every click
Article Builder Pricing
It doesn't come with complex plans but only offers one premium plan for $127 a year. Besides that, it gives you access to a number of high-quality pictures for free.
SEO Content Machine
This is the best place when it comes to getting to top places on search engines. Even if your content lacks comprehensiveness, link builder, or SEO experts, you can still land on the first page with this machine.
In a way, it's a fully automated article writer that is loaded with cool features. It provides you with instant textual content using any language, which means the platform is highly universal.
Features of SEO Content Machine
The software also provides you with appropriate pictures and headings for your text.
The web scraper and spinner tool is a feature that will help you find existing articles in various online databases.
It also finds powerful URLs in order to display top-ranking pages that contain all the related content you need.
You can also find articles without much knowledge by using the auto-generated keywords the website has to offer.
It has a step-by-step article creation so even though the interface is a bit complex, you won't lose your way.
SEO Content Machine Pricing
SCM is a paid website generator. It has only one plan variant but you can choose from three different payment schemes. It also provides you a five-day free trial to explore it.
Monthly – $27/month
Yearly – $118/year, with three months of free access
Perpetual – $147 one-time fee, plus one year of free updates.
Article Forge
Article Forge is one of the top software names when it comes to article generation. It operates with artificial intelligence in creating articles that are advertised to have a human-made quality level.
The best feature of this tool is its high-quality content. It encapsulates the entire idea of current content and comes up with a new one that works to attract better rankings for the website at the same time.
Features
With the help of technology, research is about your keyword, read articles about it and come up with new content.
It is also known to pass plagiarism checks with flying colors.
The content produced by the software is also SEO friendly.
It can also help you with the posting schedule as per your preferred time.
It can produce a bulk of content with the same keywords within a limited amount of time.
It can generate SEO content in 7 languages, including English, French, German, Italian, Portuguese, etc.
Article Forge Pricing
It comes with 2 premium plants with a 5-day free trial. But if the software does not fulfill your requirements you can ask for a refund within a 30-day time period.
Monthly Plan – $57/month
Yearly Plan – $27/month with a yearly subscription.
Articoolo
Articoolo is the best NLP engine to create content. It is a simple and easy-to-use tool that will help you complete your work in simple steps.
With Articoolo, all you need to do is indicate what kind of peace you have to produce by adding a few words and its text generator will give you all that you need.
Features of Articoolo
With its Create Article toolset, you can use the software to write from scratch for you.
With its Rewrite Article toolset, you can right aur come off with new output for existing content.
You can use its WordPress plugin to create high-quality content.
It provides a summarization of articles and generates titles for you.
It comes in five global languages including Spanish, Japanese, French, Chinese, and German.
It can write and rewrite your story the way you want it to be.
Articoolo Pricing
You can get started with the free account which comes with some limitations, apart from that, the tool offers paid plans that you can choose as per your need.
Pay Per Use – it won't expire
10 Articles – $19
50 Article – $75
100 Articles – $99
Subscription
30 Articles – $29/month
100 Articles – $49/month
250 Articles – $99/month
PostPace
PostPace is a subject-oriented content writing device that is used by writers, bloggers, entrepreneurs, and others by giving a full overview of the subject by going through top outcomes on google with the help of the given keyword.
It saves a huge amount of time within studies by automating statistics by scraping, analyzing, and recommendations.
Features of PostPace
It only takes a certain keyword to create a good amount of articles on PostPace
The content generated is highly based on the topic and revolves around it in the perfect manner
Gives a detailed outline of your content for changes and feedback
Helps in creating study-based content via picking out top competitors
Word length and keyword research, along with readability degree
Fetch a large amount of relevant information from more than one resource
PostPace Pricing
PostPace offers an excellent range of pricing that includes a lot of features. Depending upon your demand, you can pick one that's best for you.
Basic
Monthly – $17
Yearly – $170
Growth
Monthly – $27
Yearly – $270
Business
Monthly – $57
Yearly – $570
Peppertype.ai
Peppertype is the best solution when it comes to helping businesses create good automated content and ideation. It uses advanced machine learning and artificial intelligence to go through your brand's demands, and the audience it's willing to target and then create the perfect work for you.
It gives you a wide range of templates and layouts to work with in order to create the best content for your customers and to boom your business.
Features of Peppertype
Can be used by freelancers, large and small businesses equally
Comes with training options like videos, live online, webinars
Creates high-quality ad copies for social media
Improved quality of work that can pass plagiarism checks easily
Ideation of content and creative outlets for your brand
Uses GTP-3 technology in order to research in-depth for your work
Peppertype Pricing
This AI tool comes with a simple range of plans that you can choose from after a certain trial period. You can always look for the features and go ahead with the one suitable for you. The pricing on Peppertype varies based on the number of seats.
Starter Plan – $25/month (billed yearly)
Growth Plan – $165/month (billed yearly)
Enterprise Plan – Customer
Benefits of Using AI Writing Tools and Services
Saves time and Money
When you're a growing company I need to create articles and blog posts for business every day, this software comes in handy and saves time by helping you create multiple write-ups.
Fresh and New content
It becomes hard for anyone to create fresh and SEO-based content every day so these content-generating tools help you to create blog posts that are relevant and use all the keywords that you want.
SEO friendly
With AI content writing services, you can never go wrong when it comes to SEO-friendly generated articles because it is going to pick up all the relevant keywords from the best and the big players in the market in order to make your content stand out.
Conclusion: Do you Really Need Content Generation Tool?
All the mentioned AI writing tools in this list have a number of features in order to generate AI create content according to your need. You can check them out by doing a free trial and see whatever is the best option for you. The question of whether you really need an AI writing software can be satisfied if you look at your requirements.
Due to current competition, it is hard to rank if you ignore the competition. These tools surely help you to have an edge and eliminate the risk involved in publishing normal content. The cons are however attached with these tools as you have to actively fact-check and scrutinize the content before you make them live.
Since all the above-mentioned AI writing tools have a very hard time deserving a place in this blog so you can obviously check them out.