If you are a content creator, blogger, or even an SEO expert running a business, you want to generate content that will rank higher along with the advancements for search engines. Writing quality content, however, is not that easy. Especially when you also want to rank the content.
AI writing tools provide us with great features to rank the content. They show us guided instructions about Meta, Headings, Outlines, FAQs, Keywords & Terms, and whatnot. This eventually helps us write more useful content for the users that solves their problems.
NeuronWriter is an AI writing tool that provides a good content editor and an interface to write perfect content in less time. You can invest your saved time in other sections of your business. NeuronWriter is a complete solution for your content writing needs, and here you can generate accurate and SEO-optimized content. You can also use it to keep a record of your competitors on Google so that you can make notes of what important section you need to focus on to engage more customers resulting in an increment in your sales.
However, we all know the market for AI tools has increased significantly. Choosing a tool over others is not easy. In this article, I will compare NeuronWriter with other writing tools such as Surfer SEO or Writerzen.
NeuronWriter Overview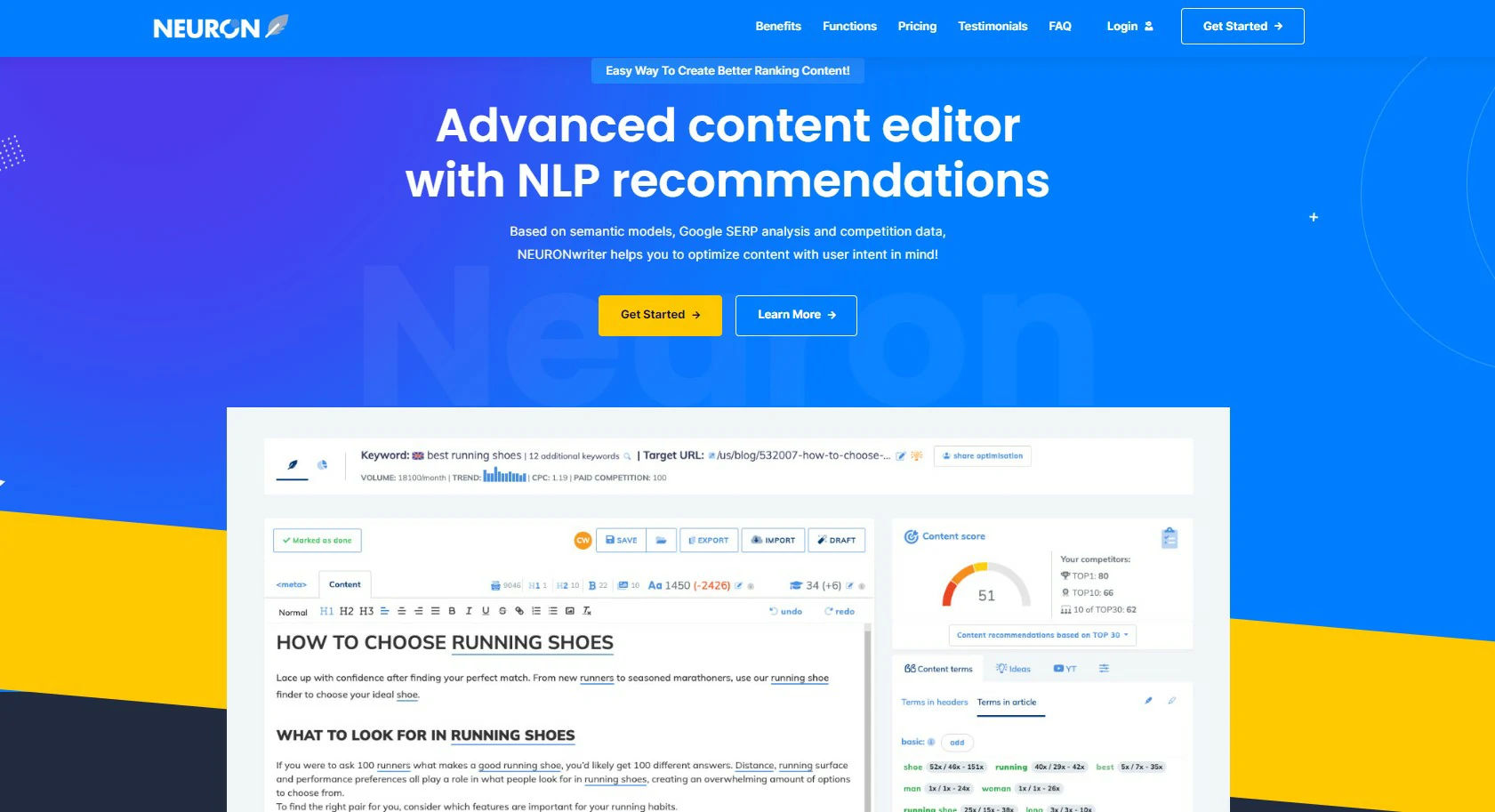 NeuronWriter is a modern content editor that includes NLP recommendations in terms of semantic models, Google SERP analysis, and competition data. It considers your needs and aids you in optimizing your content. You can start fast research just by mentioning the intended keyword.
Neuronwriter then estimates your competition's good content, advises you on the schemes to include, and informs you about what Google users are searching for. An integrated draft generator is available to build article layouts.
You can add the schemes at a fast rate to your content draft and reorganize them as per your requirements. With the help of 3rd generation Generative Pre-trained Transformer and Artificial Intelligence, you can begin the paragraphs. You can also search for good keywords related to your topic and develop well SEO-optimized content. Give invitations to your group members to collaborate on a project. Connect with any number of co-workers you need as a team. Your content is delivered here quickly, so you can easily publish it or export it to the desired area.
NeuronWriter Features
Easy to Use
It is very easy to use Neuronwriter. They have also shared some great videos to help you learn how you can have better hands in the software. You can easily use this content writing tool, even if you haven't used any content writing software before.

Clean Interface
The application UI of Neuronwriter is very clean and sophisticated. It is one of the reasons as to why it is so easy to use. With such a clean UI you are bothered much about the workflow.
Experienced SEO Optimization Method for Top-Ranking Content
It makes you research articles according to your niche to deliver the content you want by following simple recommendations. It performs an estimation on competitors' high-rated content, YouTube blogs, or suitable Google SERPs and lets you select the preferable competitors with the best content scores. It provides estimation on data like content score, page title, content length present in character, word count, language, and so on. All the data detailed information about the competitor's performance based on on-page and off-page SEO. Keywords for each section are available here so you can attach headlines and queries into an attractive story and, after properly estimating the queries that readers have, answer them to solve their problems. Improve your content using NLP and SERP recommendations and build content with GPT-3 to get enhanced rankings among your competitors.
It also gives access to a content optimization checklist in case any user wishes to check how optimized their page is running overall. It can also provide a particular visualization of the data through the 'Competitor's breakdown' tab on a graph representing all of the SERP competitors to meet the needs of correlation estimate.
Simple Process of Document Management to Schedule and Tag All your Task
You can assign priorities using the content library regarding market trends, tag, and team analyses and further share them with outside copywriters. After finishing your task, tick your content as done and export analyses with the help of custom columns that forms a simple reporting. You can also apply filters here.
It comes with a user-friendly interface for analytics purposes and notifies you about the sections your content is missing. Observe the latest content your competitors have generated in the market and optimize it further by making relevant changes that need to be updated in the market for better performance. Support start-ups and even big companies by providing a powerful AI tool that serves best for content and SEO.
Simple Content Scheduling and Optimization Methods
Just begin with a single keyword, perform content analysis, generate a document draft, and then clear instructions are given in each step using that you can simply schedule content and make any changes in your content to suit your requirement.
NeuronWriter has many interesting features when it comes to editing content for great optimization. Some of its best options include:
Calculation of the number of H1 & H2 tags
Particular suggestions for paragraph keyword
Particular suggestions for H1 & H2 keyword
Suggestions for NLP keyword
Record of queries to answer
Record of competitor's H1s
Record of competitor's H2s
AI writing tools for generating content
Extra options such as Save, Export, Import, and Draft during the content optimization process
How To Use NeuronWriter
Using NeuronWriter is quite easy. First add a new project. Navigate to Dashboard > Create New Project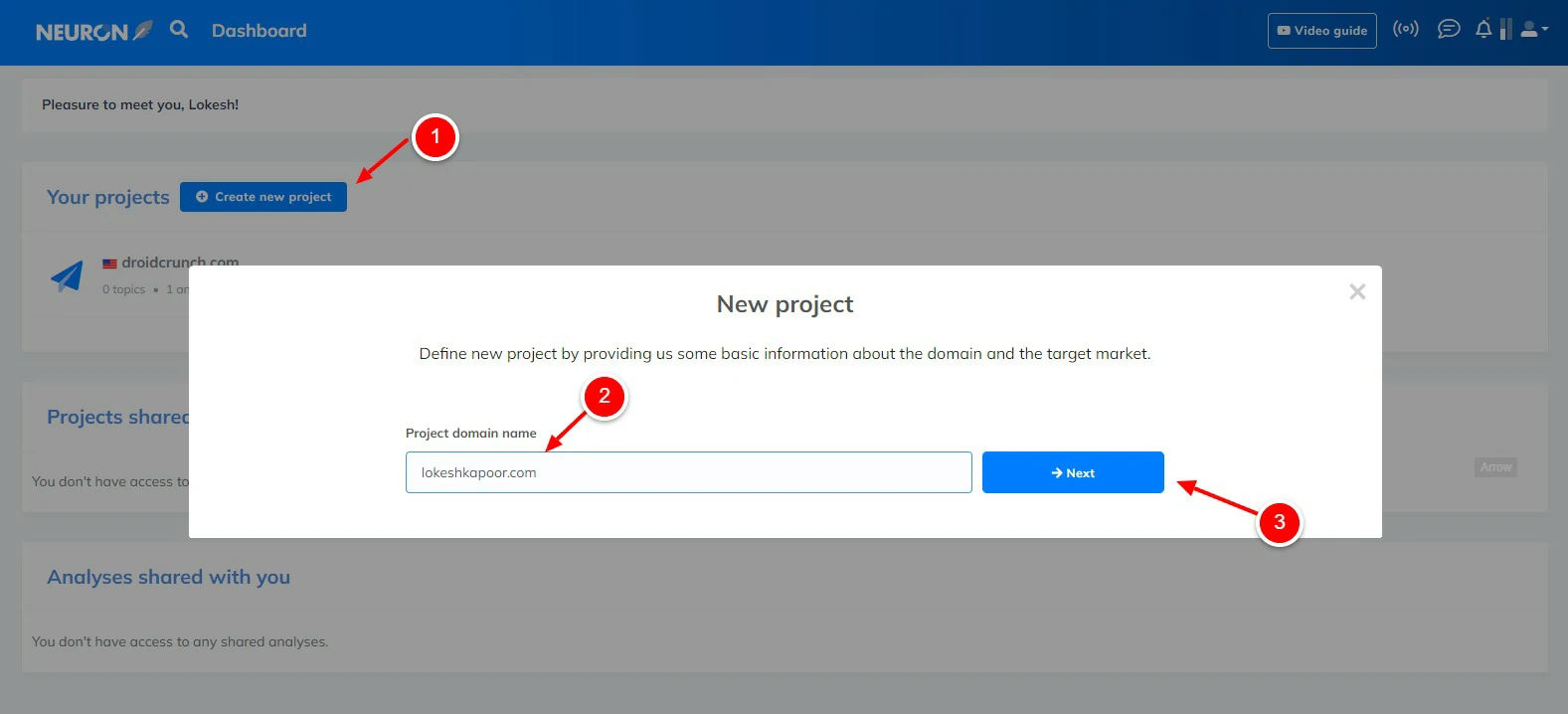 Now give information regarding Project, including the Homepage URL, Default Search Engine, and Default language. For example, If you want to target the audience in the US, then choose the United States as the Default search engine and English as the default language and click the create button.

When you are in your newly created project, simply create a new query.

Now you will find the queries on your query manager page. You can also set it to hide or show various columns in this table. Here you can see that we now have our newly created Content Writer Query "Best SEO Plugins for WordPress".

Now, let's click on our query and progress to creating the content. You will be asked to choose the competitors from the list of various competitors. Selection of the right competitors is crucial for better SEO and term recommendations. Here the rule is to choose the content-rich sites that have a better Content scores. These sites will help you to fabricate the perfect guidelines.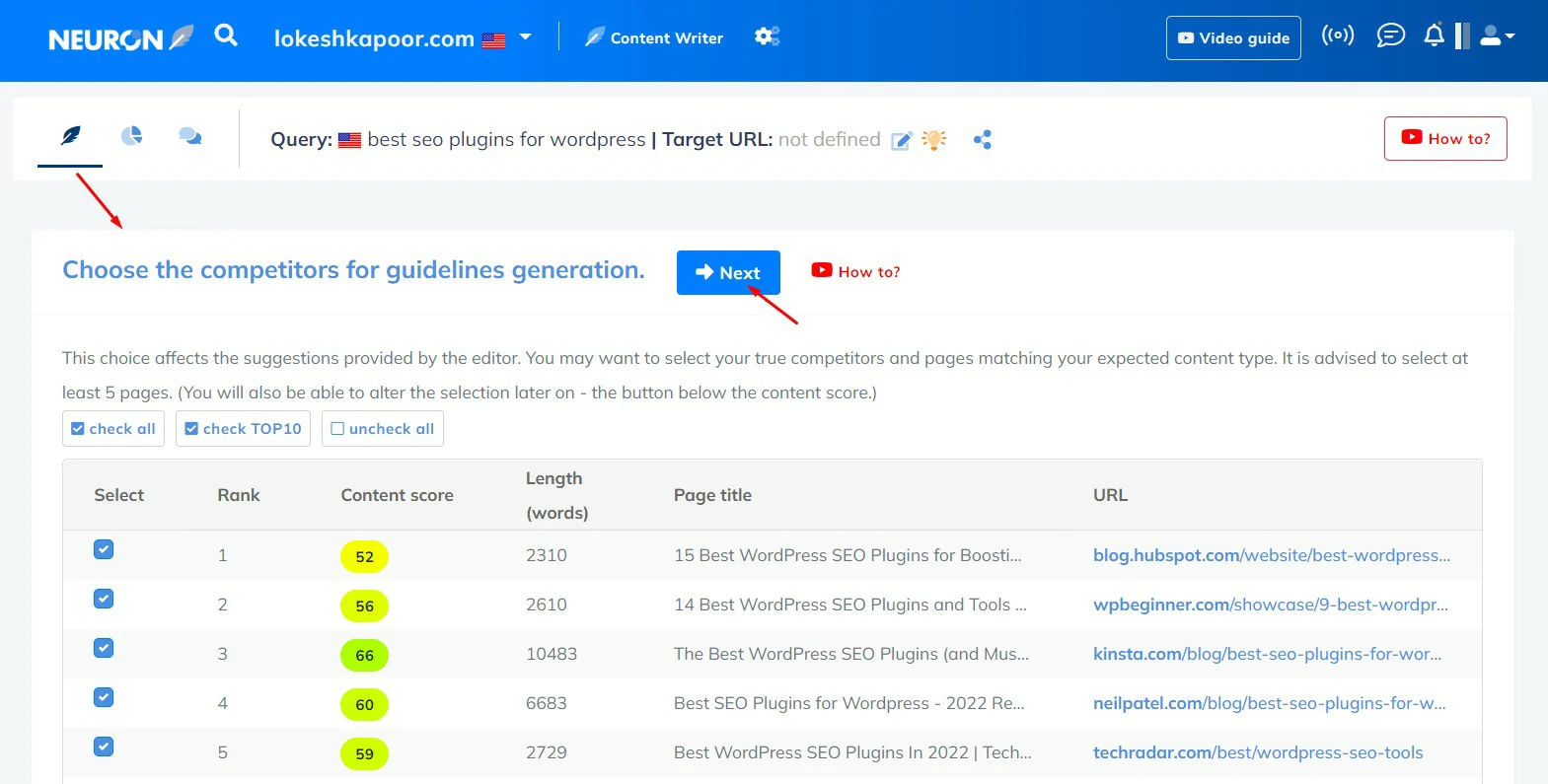 As you click on the next in the above step, you will be redirected to the "content editor" page of Neuronwriter. At this point, your competition preference and content terms, and ideas have been saved.
When you start writing the content, you can first write the meta part, the title, and the description.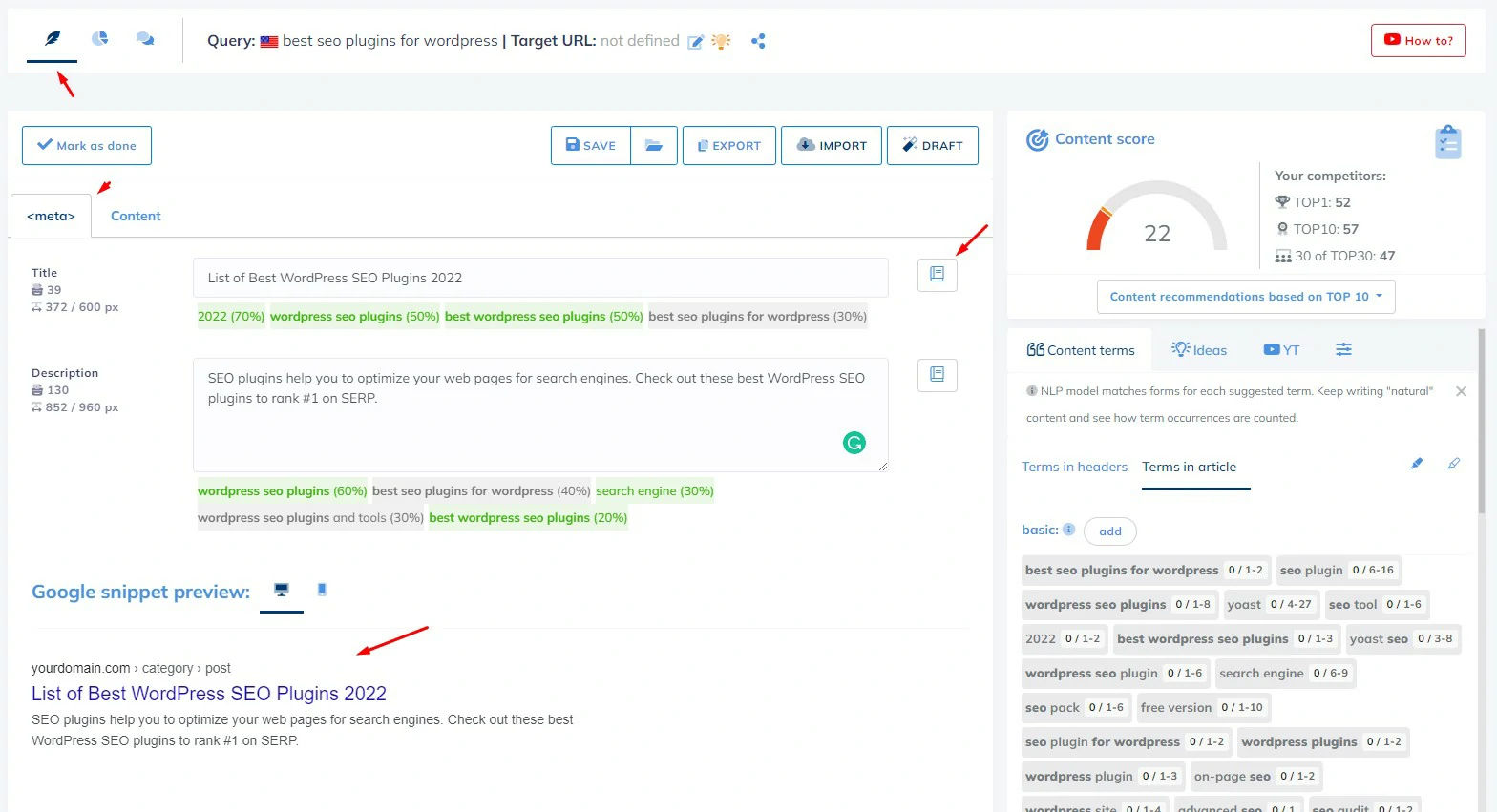 You can also see the meta of other competitors by clicking on the "show usage info" button next to the Textarea field.

In the Content tab, you can now write the content while considering the terms that can be used.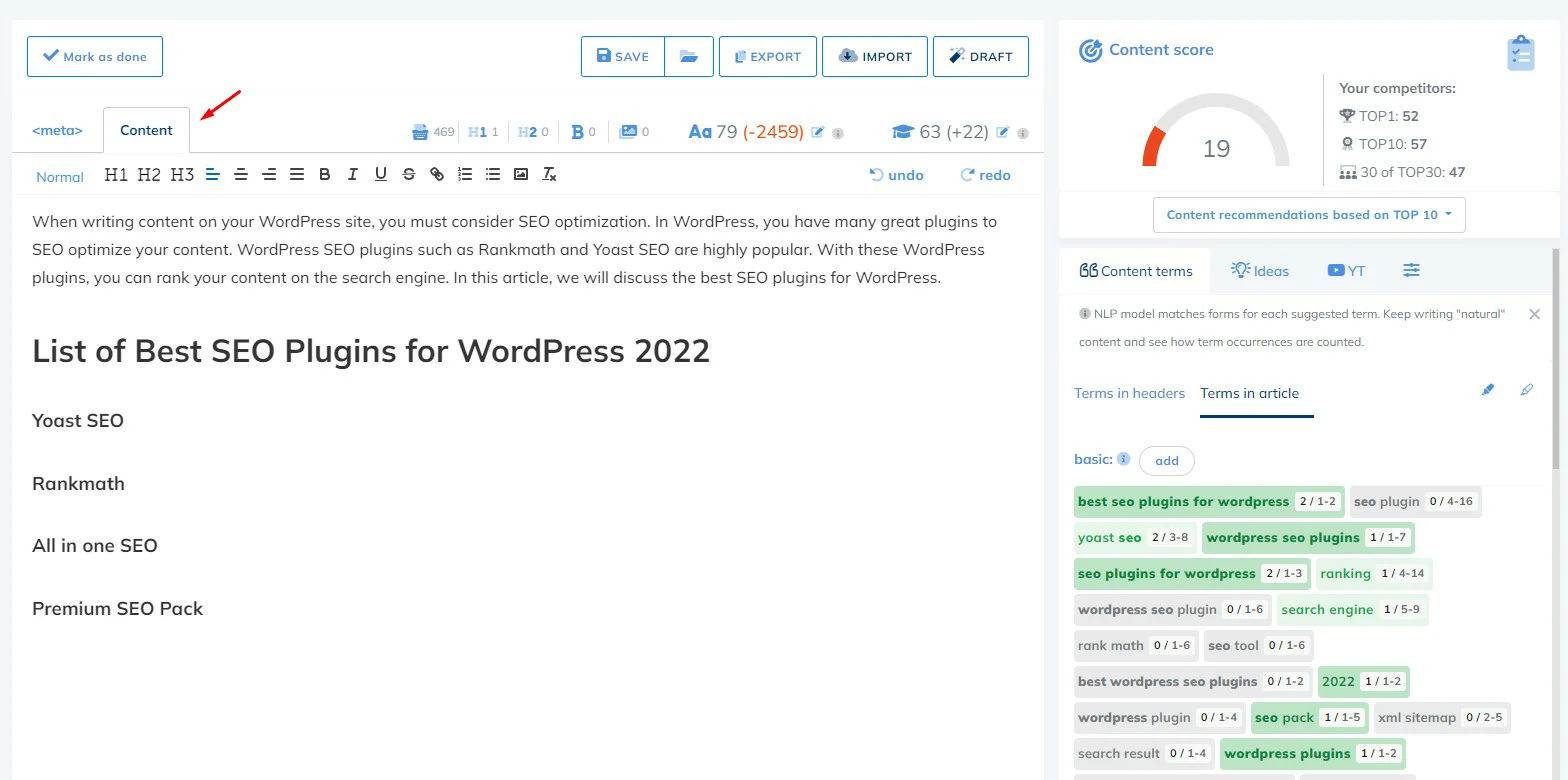 You can also use the AI Writing feature in Neuronwriter to Expand, Rephrase the content or even start the paragraph.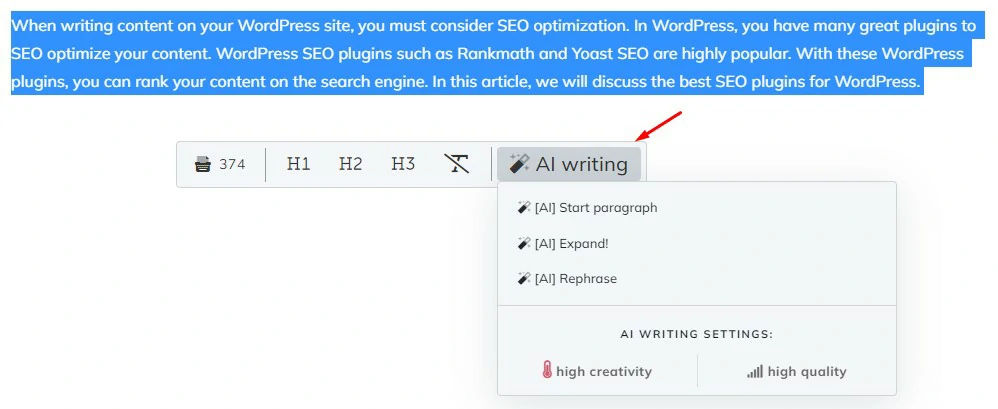 Below are the results of the rephrased content. One can see the differences, use the rephrased text in the content editor or generate the text again if not happy with the results.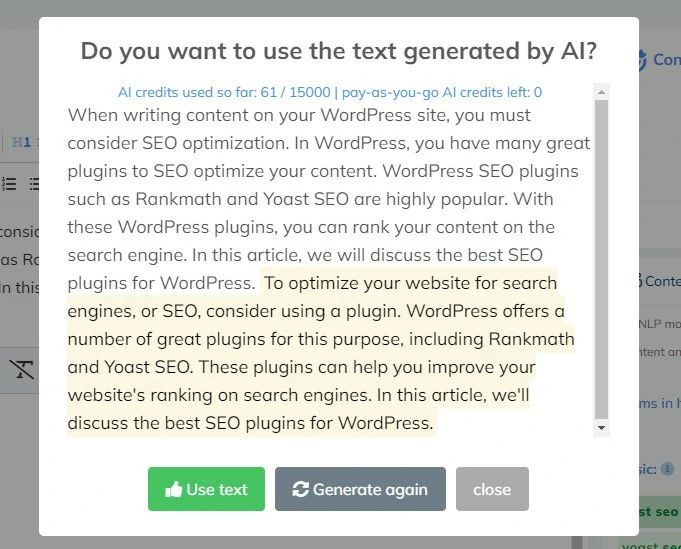 If you are stuck writing the content you can navigate to Ideas tab on the right sidebar. Here you can get some ideas based on what your competitors have written in their H1, H2 or H3.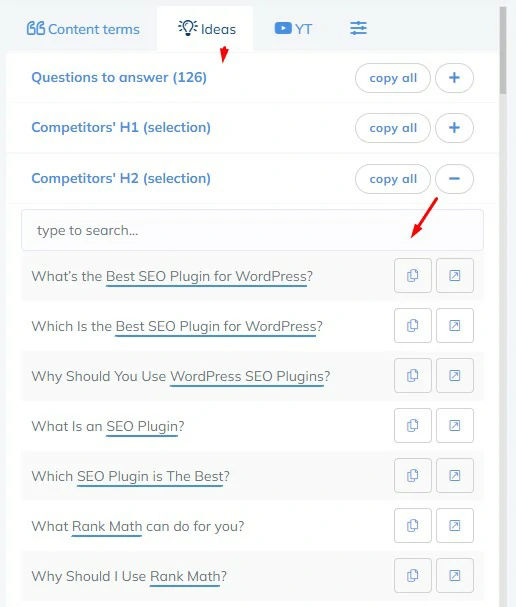 You can also find the ideas from Youtube Videos.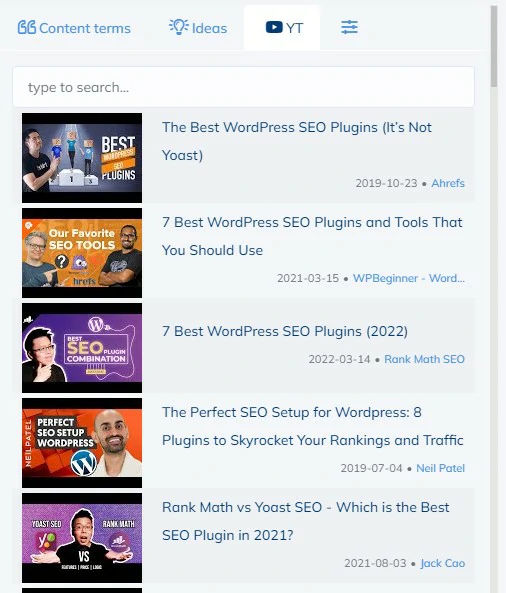 If you have any queries regarding the software, you can simply click on the message icon on the navigation bar, which will open the live chat window for you. Here you can discuss your problem with one of the representatives of NeuronWriter.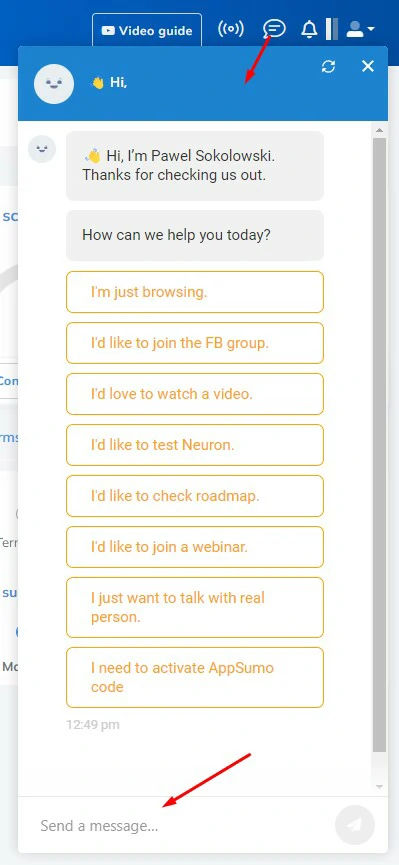 NeuronWriter FAQs
When do my account limits get renewed? 🤷🏻‍♂️
It gets renewed every 30 days from the date of registration. In terms of text generation limits, you can purchase additional limits.
Are credit card details required at the time of the trial period? 🤷🏻‍♂️
No, NeuronWriter does not ask for any credit card details during the trial period.
Is there any restriction on the number of users in NeuronWriter? 🤷🏻‍♂️
No, there is no such restriction for the number of users. You can give invitations to any number of people to edit a particular analysis.
Which search engine is provided in the NeuronWriter for analysis? 🤷🏻‍♂️
Google search engine is provided here as the data analysis performed here works on Google SERP and data from keyword planner.
Is sharing access to a project or analysis available in NeuronWriter?
Yes, you can share access with other co-workers through link sharing or by giving email invitations in NeuronWriter.
What number of monthly content analyses is provided initially?
Initially, it is 25 analyses provided in the basic plan.
NeuronWriter Pricing
NeuronWriter offers you five plans to choose from.
| | | | | |
| --- | --- | --- | --- | --- |
| Bronze | Silver | Gold | Platinium | Diamond |
| $19/month | $37/month | $57/month | $77/month | $97/month |
| 2 Projects | 5 Projects | 10 Projects | 25 Projects | 50 Projects |
| 25 Content Analyses | 50 Content Analyses | 75 Content Analyses | 100 Content Analyses | 150 Content Analyses |
| Plagiarism Checker | Plagiarism Checker | Plagiarism Checker | Plagiarism Checker | Plagiarism Checker |
| Internal Linking | Internal Linking | Internal Linking | Internal Linking | Internal Linking |
| Email Support | Email & Chat Support | Email & Chat Support | Email & Chat Support | Email & Chat Support |
| | Schema Data Explorer | Schema Data Explorer | Schema Data Explorer | Schema Data Explorer |
| | | GSC Integration | GSC Integration | GSC Integration |
| | | Content Management | Content Management | Content Management |
Lifetime Deal on NeuronWriter
On Appsumo, a lifetime deal on NeuronWriter is available to enhance SEO along with the NLP-driver editor.
To reveal this offer, you have to redeem your codes for the duration of 60 days of purchase.
If you want to end your subscription at any time for any reason, you get a refund. As it comes with a 60-day money-back guarantee.
One-Time Purchase is available for
$59.00 $750.00
Access to 2 projects
15,000 AI credits available monthly which includes 15k-75k words based on quality
Provides 25 Articles (monthly content writer / editor / optimisation)
Provides draft creator (creates semi-automated content outline)
Access to content templates & internal attachments to be introduced soon
Stacking Info:
Stack 2 codes to get all of the above features along with these upgrades:
Access to 5 projects
Provides 50 Articles (monthly content writer / editor / optimisation)
30,000 AI credits available monthly include 30k-150k words based on quality
Stack 3 codes to get all of the above features along with these upgrades:
Access to10 Projects
Provides 75 Articles (monthly content writer / editor / optimisation)
45,000 AI credits are available monthly including 45k-225k words based on quality
Access to endless team members & sharing (with various access levels)
Get team comments on article level
Provide multiple analyses (up to 10 at once)
NeuronWriter Alternatives
Some of the best alternatives for NeuronWriter are given below:
Surfer SEO is undoubtedly a perfect tool for writing content that can rank high in search engines. This tool is highly popular and has a big community. Its UI and editing features are outstanding. One can easily create the articles following the recommendations that Surfer offers based on the selection of competitors. Neuronwriter and Surfer SEO are very similar tools to the content editor. You get SEO recommendations to write rankable articles in both of these tools.
Scalenut is a great alternative to NeuronWriter. This tool is an excellent example of classic software that does the job. Scalenut offers you short copywriting features, cruise mode for long-form content, a Google Chrome extension, and a beautiful UI. With Scalenut, it becomes very easy to write product descriptions, social media posts content, video descriptions, compelling bullet points, email copies, and much more.
Jasper is a leading AI content writing software. This writing tool is exceptionally the best one for AI writing. The boss mode offers you commands to write faster. Jasper has an in-built plagiarism checker that helps you write plagiarism-free content. It also has a Surfer SEO extension to write SEO-guided AI-based plagiarism-free content.
Anyword
Anyword is also a powerful tool that can be used as an alternative to Neuronwriter. Its features are super effective, and this tool allows you to create long-form content uniquely and compellingly. Anyword is an expensive solution, but it is worth the price. One can create landing page content, product descriptions, email copies, blog content, and much more with Anyword.
Writerzen is a complete solution for Keyword research, topic discovery, AI writing, SEO optimization, and Plagiarism Checking. It has a vast community of users on Facebook. This software is very useful for writing rankable content.
Conclusion
NeuronWriter is one of the leading software in creating factual and quality content to increase your organic traffic and conversion rate. Comparing it with Surfer SEO, you get 30 articles in the Pro plan that cost $99 per month. On the other hand, Neuronwriter gives you 25 content analyses in its Bronze plan, which costs €19 per month only. At the price of €95/m, you can even buy the diamond plan of Neuronwriter, which allows 150 content analyses and 50 projects.
Compared to its other competitive software in the market, it is cost-effective. So if you are looking for a cost-effective writing tool that serves your SERP analysis and NLP content enhancement needs, you can surely go for NeuronWriter.
The Review
NeuronWriter
NeuronWriter is a great tool to write SEO optimized content for the blogs. It is affordable and gives you a perfect interface and SEO guidelines so that you can rank high. It also allows AI writing to help you avoid the writer's block. Neuronwriter is efficient writing tool to outrank the competitors. So, what are you waiting for? Give it at least a try!
PROS
Easy to Optimize Content for Web
Write Perfect SEO optimized articles
Plagiarism checker
Avoid Writers' block
Advanced Content Editor
Outrank Competitors
SEO growth hacking with AI based Content
CONS
Lacking Content Templates
Review Breakdown
Easy to Use

0%

Interface

0%

Features

0%

Support

0%

Brand Trust

0%

Content Quality

0%

Value for Money

0%