Elementor is the best page builder plugin for WordPress as of today. You can use this and build a website in just a few clicks. It is easy to use and supports dynamic add-ons, letting you make a multi-functional and dynamic website. The question is- which is the best Elementor addon plugin?
Choosing the best addon plugin is challenging, as Elementor has many of them. All of the add-on plugins are an excellent way of expanding your Elementor options. But the one which provides all the aspects, giving tons of premium add-ons, is the best. And after going through the Elementor Pack Pro's features and pricing plans, we concluded it was one of the best add-ons plugins available for Elementor.
Element Pack Pro is also one of the best add-on plugins if you possess a WooCommerce store, as the plugin comes with more WooCommerce widgets than any other plugin does.
Element Pack Pro: Overview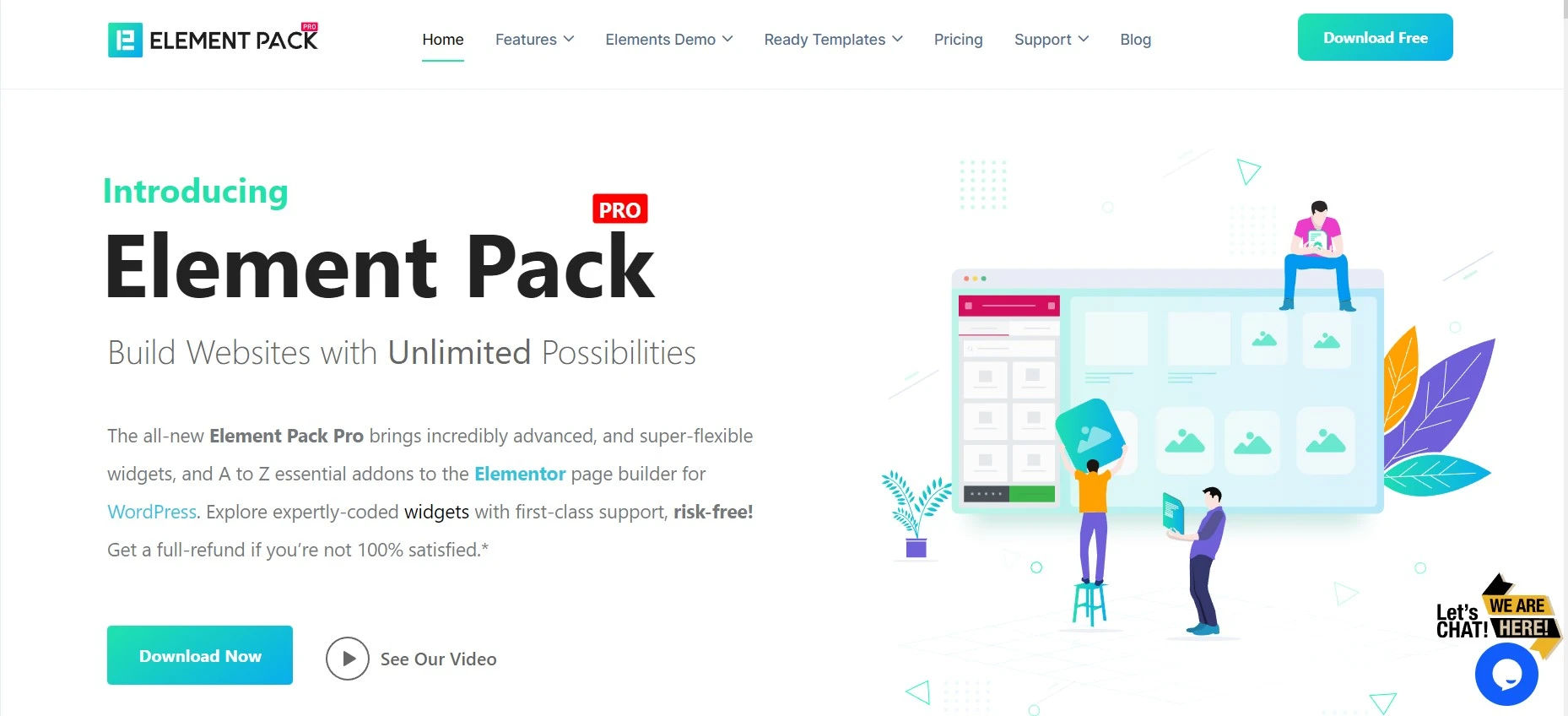 Element Pack Pro makes the process of building a website easy. It has many good features, and you get tons of add-ons using the plugin. If you are a fresher to WordPress or a developer with a lot of workloads, then get access to this add-on plugin and ease your work.
With its ready-made templates, you will be able to create a website in just a few clicks effortlessly. Simply copy and paste the template and then customize it in your way with an entire control.
Element Pack Pro provides unique widgets and offers a massive library of premade pages, block layouts, headers, and footers, saving you a lot of your time when building a website.
It also offers more integrations with other WordPress plugins and other apps and tools like the scheduling app.
Element Pack Pro Features
Widgets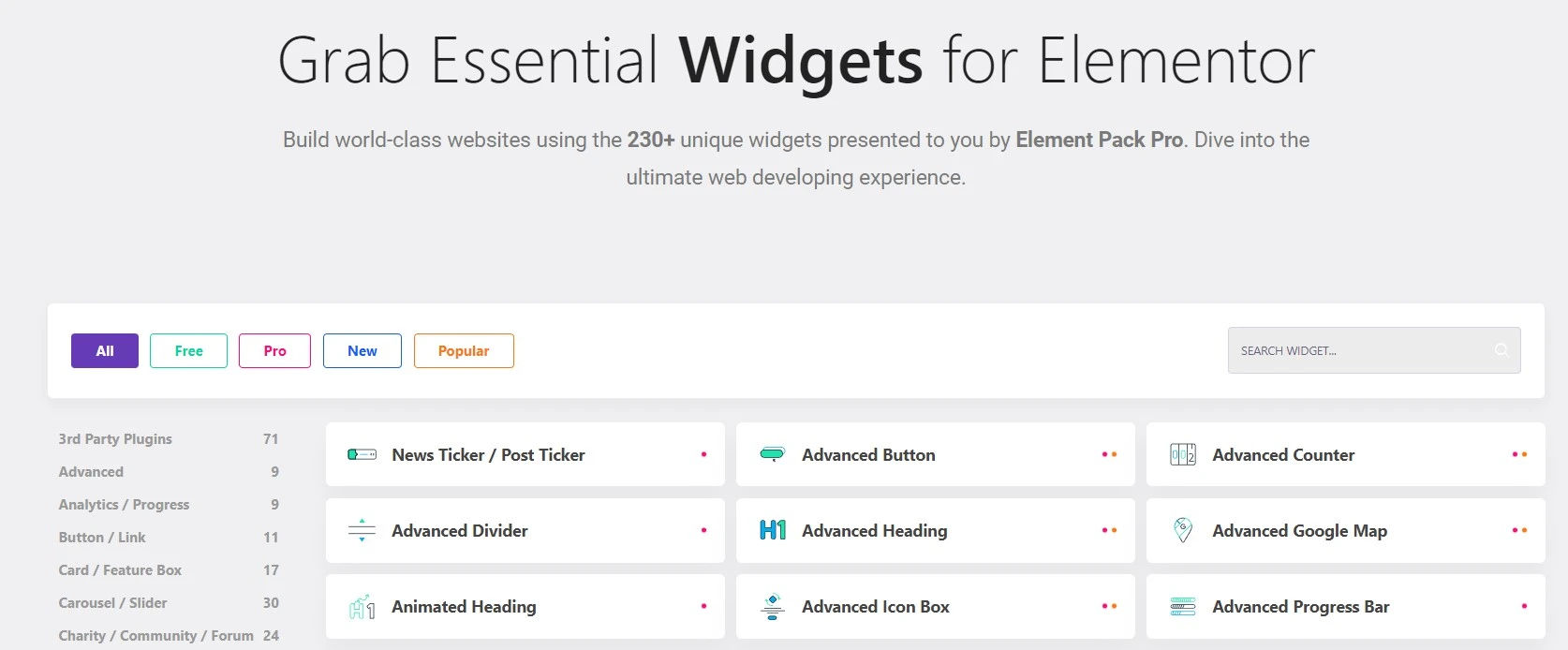 Element Pack Pro has over 130+ widgets that permit developers to make top-notch websites for having a great-quality user experience. From carousel to form styling, heading to button styling. Element Pack Pro brings various options.
It allows 9 different types of carousels, WooCommerce carousels, etc. Elementor itself has a grid widget. The plugin has many different slider designs. It also has its Gallery widget, and the most crucial gallery widget is Video Gallery.
Element Pack Pro also has several forms. The most attractive styling Widget is Circle Menu. There are also a few other widgets like buttons styling, dark mode, pricing table, buttons styling, search box, crypto card, and the list goes and goes.
Ready-made Blocks
With Element Pack Pro, you don't have to build your website from scratch. The plugin has a huge inventory of custom pre-built blocks. Element Pack Pro has over 1500 ready-made blocks that can be used effectively on your WordPress website.
It also had a pricing table, dual button, Contact Form 7, Mailchimp, countdown, etc.
Page Library
Element Pack Pro has a large inventory of ready-made templates. It has 300+ pre-built pages that you can use to make the website in a few clicks.
All the pre-built templates have various designs for specific niches. Element Pack Pro also provides templates for various niches like portfolio, e-commerce, travel, gym, and many more.
Built-in Header and Footer

Element Pack Pro has an inventory of various types of headers and footers. All of them are responsive, attractive, and unique, easy to customize. Here, you will get over 250+ built-in headers and footers with its pro plan.
All you are supposed to do is pick up the right design and copy & paste it to your website.
WooCommerce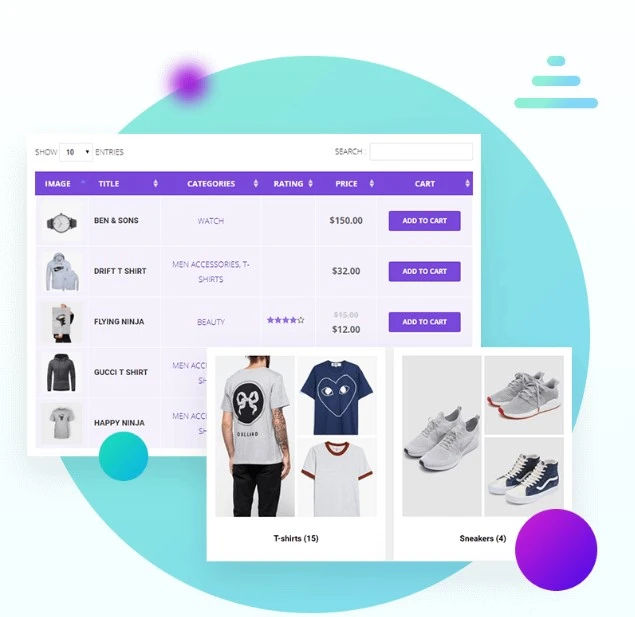 Element Pack Pro is a great Elementor WooCommerce addon as it is a nice fit for e-commerce brands. All of the built-in templates and widgets are designed for e-commerce businesses.
The plugin has over 22 pre-built pages. All of them are designed amazingly. You just have to copy it into your site, then customize it with your identity. The header and footer also have an e-commerce design. And the best feature you will get is the 360 Product Viewer.
Third-Party Plugins
Element Pack Pro supports over 60 third-party plugins. This includes Contact Form 7, bbPress, Download Monitor, Calendly, Ninja Forms, Mailchimp, etc.
How to use Element Pack Pro?
Like most of the other plugins, Element Pack Pro is an easy-to-install plugin. Download the plugin from its official site or find it in WordPress under the plugin section.
Step1- Go to WordPress dashboard> Plugin>Add New> Element Pack Pro> Install. Then click "Activate."
Step2- There will appear a section in the right menu named Element Pack Pro; click on it and see a page with different tabs. Here, you can control all the add-ons
Step3- Test run by creating a new page. Go to Pages> Add new> Click on the "Edit with Elementor." 
Step4- Create a basic row, and insert desired widgets by using simple drag-and-drop.
Step5- Configure and customize its settings according to your preference.
Other than that, use its different sections effectively. These sections include- Core widgets, third-party integrations, Elementor extend, API settings, and some other settings.
Element Pack Pro Alternatives
Great alternatives to Element Pack Pro includes-
Ultimate Post Kit
Stratum Elementor Widgets
Master Addons for Elementor
Jet Plugins
Plus Addons for Elementor
Element Pack Pro Pricing
Element Pack Pro is available in free as well as paid versions. The paid version has 3 different plans-
Personal package- $29 per year (1 site)
Business package- $69 per year (5 sites)
Developer package- $179 per year (unlimited)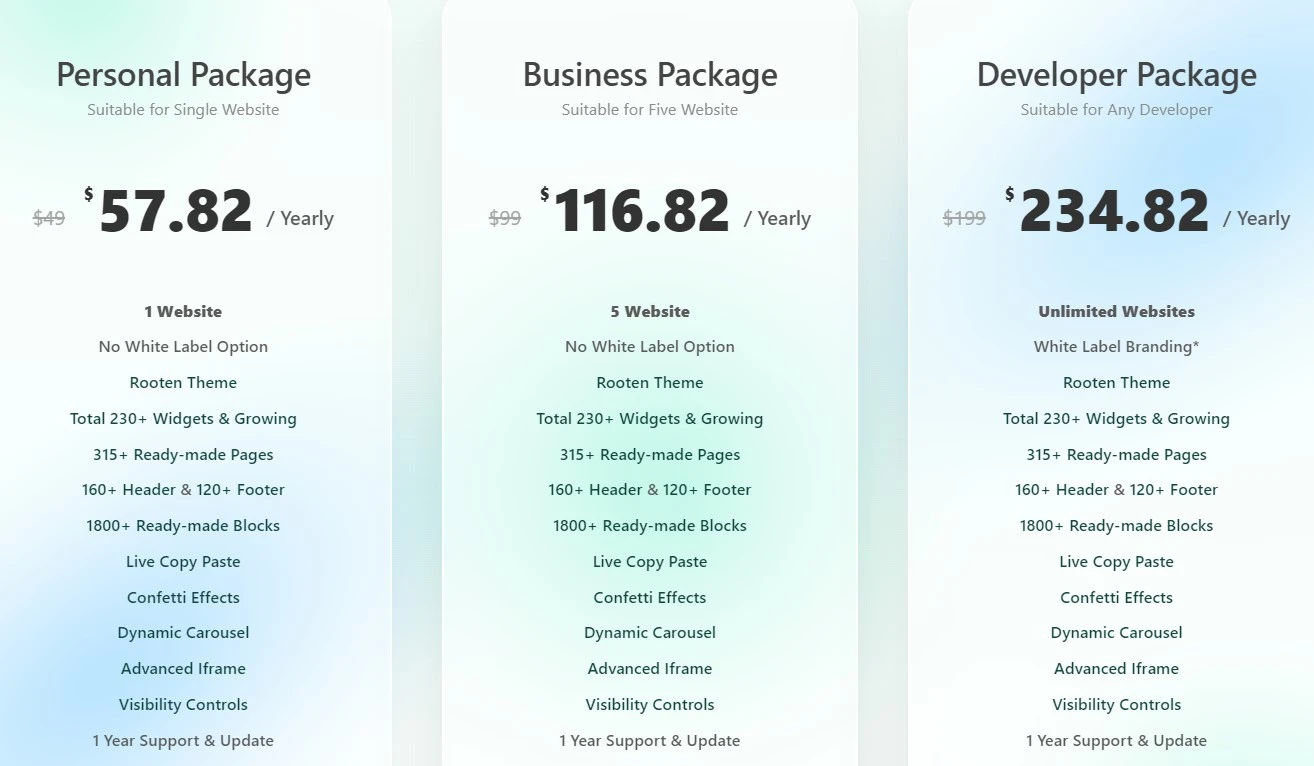 You can even purchase a lifetime plan for Element Pack Pro. It allows you to pay in one go (one-time pay), and then you can use this entire plugin with the support of a lifetime.
What makes Element Pack Pro stand out?
Element Pack Pro is easy to use and makes it simple for you to build and customize your website. You don't even have to have any coding skills or knowledge for doing so. Freely use the plugin without any technical knowledge or experience.
You must drag and drop your desired element, and a top-notch website will be generated right before you.
Element Pack Pro is the right plugin to choose for increasing your Elementor library. This addon plugin has over 130+ widgets, 250+ header and footer, 1500+ blocks, and 299+ built-in pages, which makes Element Pack Pro worth using.
All things considered, Element Pack Pro is an excellent plugin if you regularly work with the Elementor plugin.
Pros and Cons of Element Pack Pro
Pros-
Extremely fast
Premium support for its customers
Video tutorials
Detailed documentation
Beautifully designed backend layouts to on/off different functionalities
Quick action mode
No coding required
Widget transforms
Live copy-paste
24/7 customer support
Cons-
Don't have advanced buttons.
Over to you: Element Pack Pro Review
Element Pack Pro is an excellent add-on plugin that delivers top-notch features. Some of its most used and best features are discussed in this article. You can visit the Element Pack Pro site to check out all of them.
The plugin comes for free as well as paid. The free version is ideal for you if you require just a few of its add-ons. But if you are a fresher and wish to make your website captivating, responsive, and clean, then we highly recommend you to go with its pro plan.
In the end, I liked the Element Pack Pro. The pro plan is fast and provides you with more widgets, features, and excellent graphics.
I hope you liked this article and it helped you understand Element Pack Pro better.
The Review
Element Pack Pro
Element Pack Pro is the most powerful add-on plugin for Elementor Page Builder. It comes with terrific, easy-to-use, and advanced widgets in its pro version. And includes over 10 Elementor extended widgets, 107 core widgets, and up to 37 third-party widgets.
PROS
Extremely fast
Premium support for its customers
Video tutorials
No coding required
Detailed documentation
Beautifully designed backend layouts to on/off different functionalities
Quick action mode
Live copy-paste
CONS
Don't have advanced buttons
Review Breakdown
Features

0%

Easy To Use

0%

Documentation

0%

Support

0%

Brand Trust

0%

Compatibility

0%
Element Pack Pro DEALS
We collect information from many stores for best price available
Best Price
$57