Kajabi is an all-in-one web-based platform that can provide a full range of capabilities within a single platform to sell online courses, membership, and communities.
Kajabi can replace your email marketing, sales funnel, hosting, affiliate, CMS, and LMS software. It gives you all the services under one hood. With this selling digital products and courses becomes very easy and fun to do. You not only save costs that would have been spent on various different services but also save a lot of time for yourself. For example, if you have an issue with hosting and your affiliate software, you may have to contact the support for both of them. But here, all the services are centralized and focused and you get an easy resolution to everything.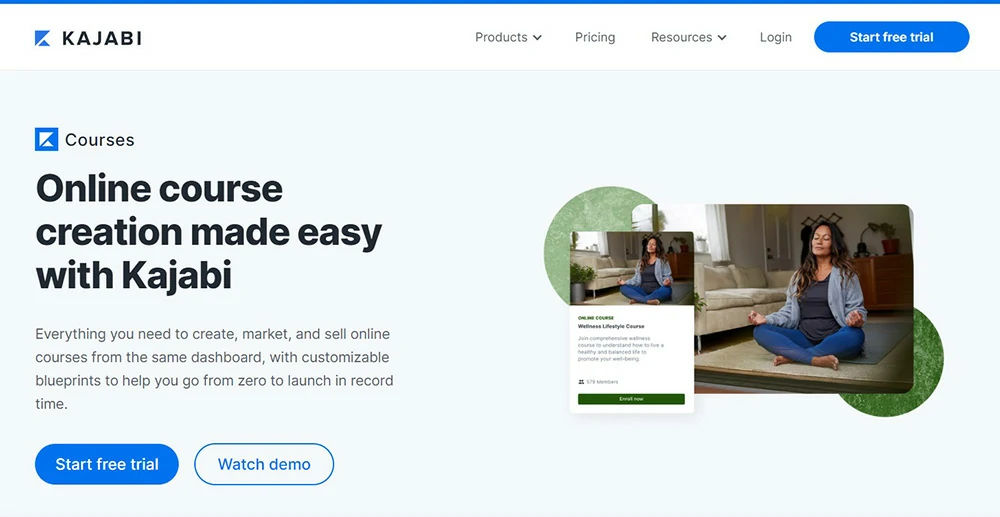 Using Kajabi you can very easily create a professional, attractive-looking course selling website. You can choose a theme of your choice and start customizing every part of it. Even Kajabi is now allowing developers to turn their skills into revenue by building themes and apps for Kajabi, which will allow more theme options available to you.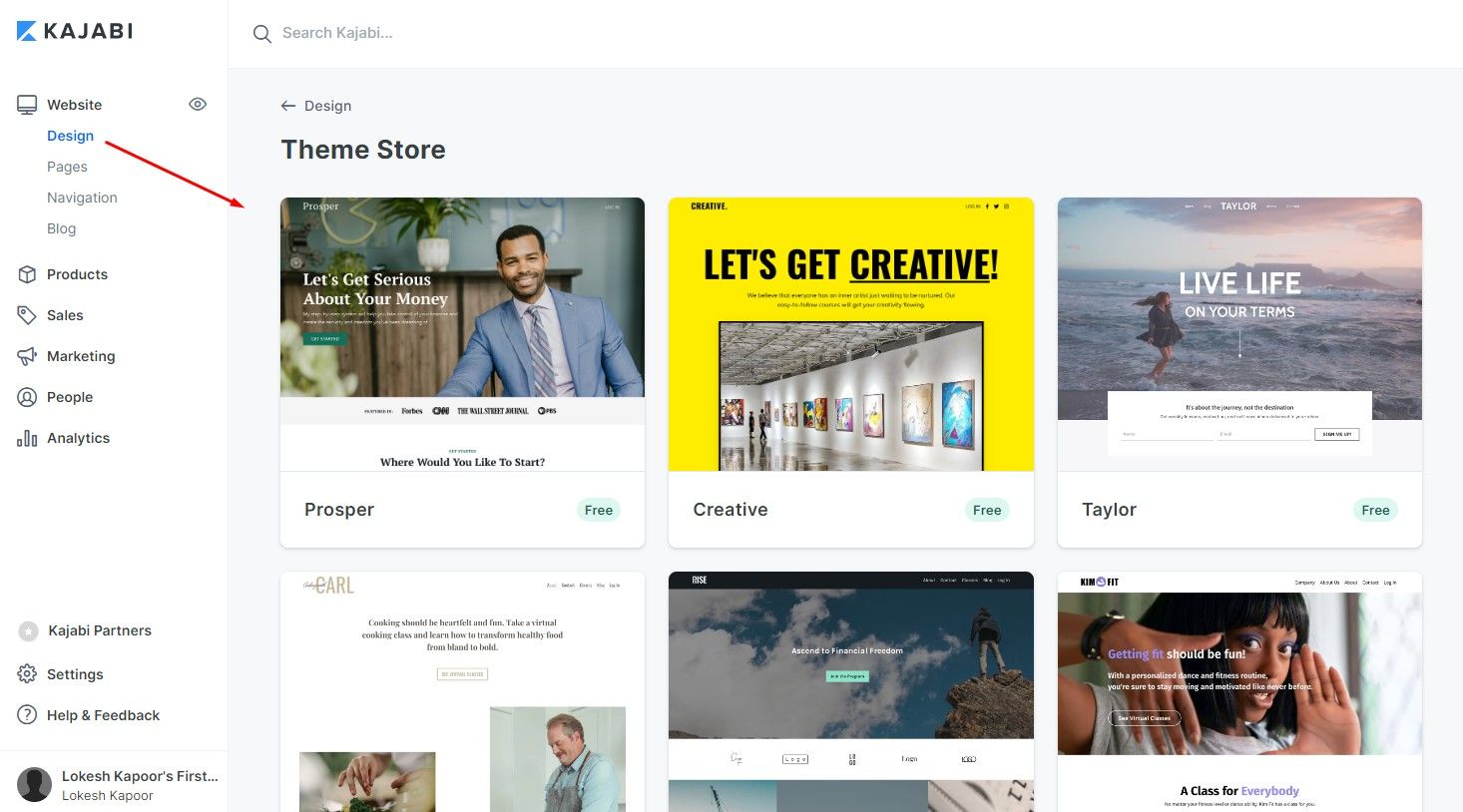 Kajabi's website editor is quite sophisticated and retains many customization options. Within the editor mode, you can customize all the necessary elements of your website. You can easily customize the sections, add new sections, insert blocks in your sections.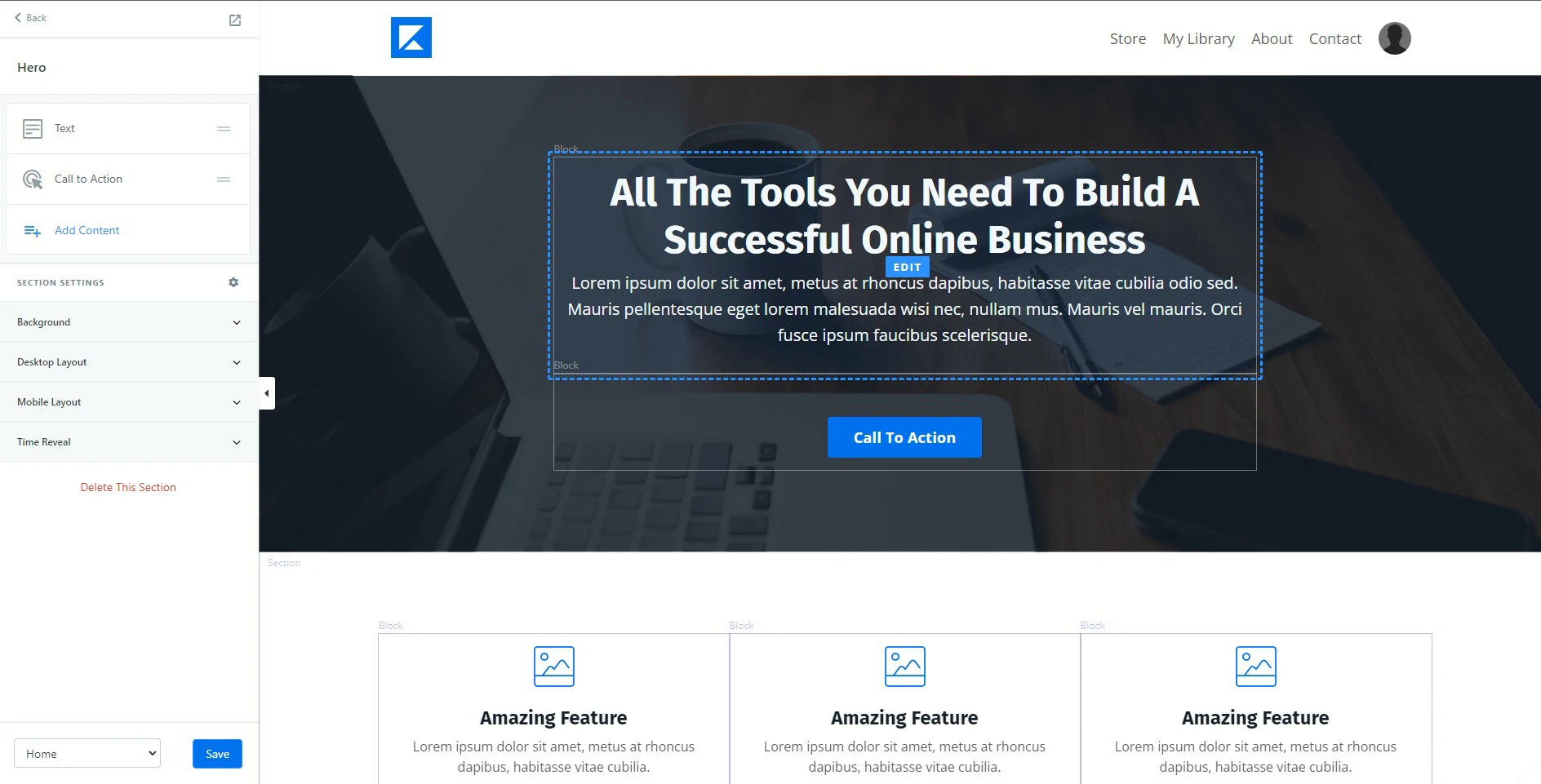 There are many blocks that you can add to your sections.

With Kajabi you can create a wide range of digital products from online courses, and memberships to coaching programs, design sales funnels and sales pages to help you sell your products, and manage and send e-mail campaigns to attract people to your landing pages as well as sales funnels.
With Kajabi you can also accept the online payments for selling your products at prices that you determine including the ability to change one-time fees and break fees into multiple payments or sell the subscriptions.
The e-learning industry is growing very fast and people are more interested than ever in learning new things. Information is available readily at their fingertips and online courses are making a lot of money.
Kajabi is just a recent addition to this field of immense knowledge. It holds the promise to offer everything that an infopreneur may need to market, design, and sell off its products.
I have been using Kajabi for a quiet time and I am very happy with its working. It has never given me any kind of problem instead it helped me eliminate the need for most of the other software I was using. I loved the functionalities it offers for end-to-end course content creation. I used it to develop my course pack and the result was exceptionally good and professional. Every time I wish to add something new to my business, I look for it in Kajabi and there is always a template or a built-in there. I liked the way how so many tools in Kajabi are packed into one package. Using it, I can handle webinars, sales funnels, email marketing, and course content all in a single place.
Kajabi Overview

Kajabi is an LMS means a web-based learning management system that is used to provide educational content and training courses in both video and written format. It comes through if the subscriber wants to build the courses from scratch. With Kajabi the course creators can very easily make their landing pages where all of the critical information will be stored. In a library, there are readymade templates present that streamline the entire website designing process as well.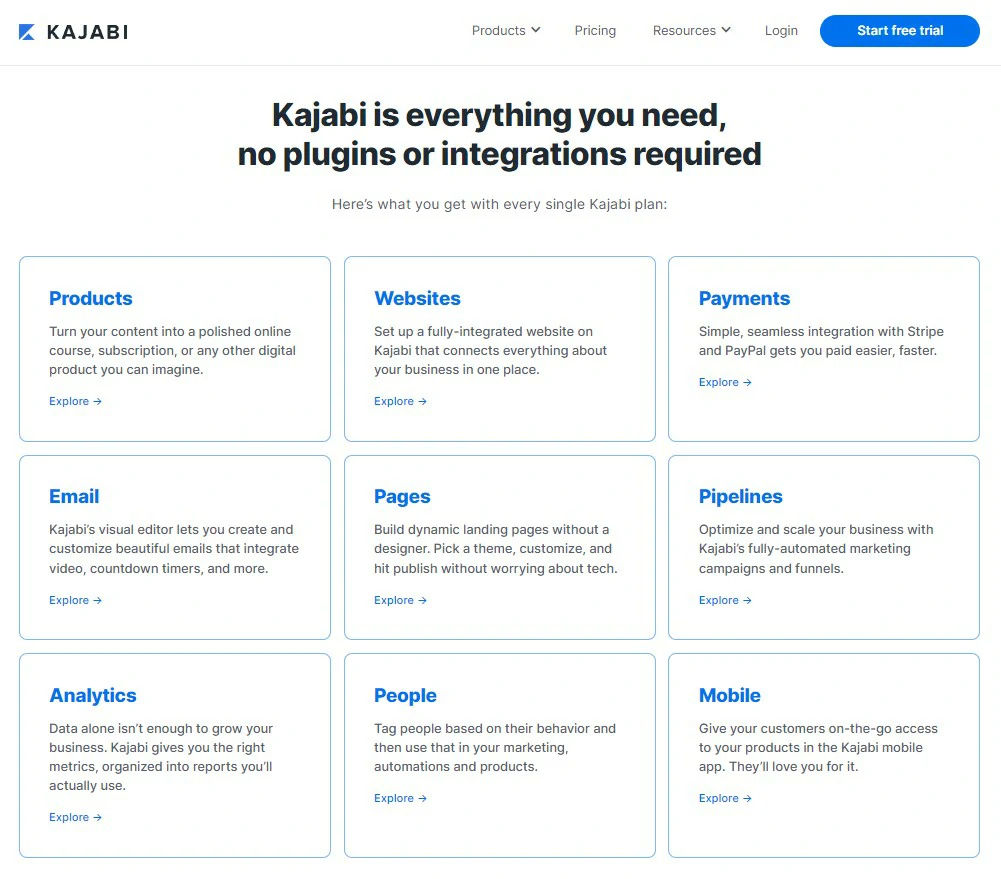 Kajabi is a web-based software that provides a way to "productize" the intellectual property and then turn it into an additional- commonly much more scalable form of income. There is no doubt many other ways to productize the IP but something that unites the users of this software is that they all may have some limited technical skills or they may just feel there are better methods of spending their time. Kajabi can give you much more power than most of the other course platforms over creating a website where you can offer courses and manage the entire web presence of your business.
It is a platform that will stop you from setting up a separate Web site on WordPress or any other platform. This means a Kajari site can simply be your home base. Its overall interface is very simple to use and you can choose from its available templates to create a beautiful website that will fit your business. Kajabi can host courses that you can sell, it is a great fit for coaching programs and online courses. Every plan in Kajabi comes with a course creation tool that enables you to create videos, classes, and other forms of digital educational content.
Features of Kajabi
Coaching
The Coaching feature of Kajabi empowers you to run your coaching business through it and connect it with any other digital offerings like memberships and courses.
Complete Online Presence
The course creators will find their accounts with a wholly hosted site. It includes dynamic templates that are installed with a single click. Further customization is done on the existing template by the drag-and-drop editor. A blogging feature is built there on the site and subscribers can upload SEO-optimized media easily.
Convertible Landing Pages
Course creation needs landing pages that can convert as well as capture traffic. With Kajabi's optimized templates, users can customize and get the best results or suit their branding style.
Automated Marketing Pipelines
For a better user, experience marketing pipelines can be used all thanks to automation. The subscribers get timed reminders, emails, and confirmations about registrations. And these pipelines can be customized as per the user's email list, live webinars are included as part of the pipeline.
Upselling and Customized Checkout Pages
There are tools for upsells to maximize revenue, many of them are integrated post-purchase. Even the checkout page is made to handle the conversions.
Personalized Email Marketing
With the help of Kajabi's marketing tools, the course creators can broadcast information and news related to new courses to their entire mailing list or even audience segment via personalized emails.
Quizzes, Membership, and Assignments
There are membership sites in Kajabi that allow educators to grow their audience base while providing excellent service. The teaching process also becomes easier since the students can be assigned homework and tested simply.
How to use Kajabi?
Getting Started with Kajabi
Step1- Start Kajabi by diving into your settings.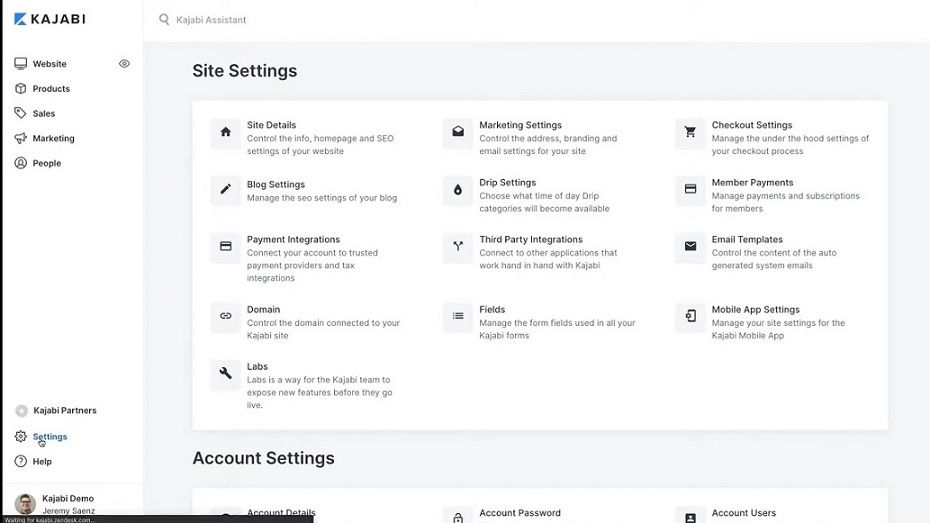 Step2- Under setting and payment integrations link your PayPal and Stripe accounts.
Step3- Set up your domain and email settings. Also, go into the settings and fill out the marketing settings.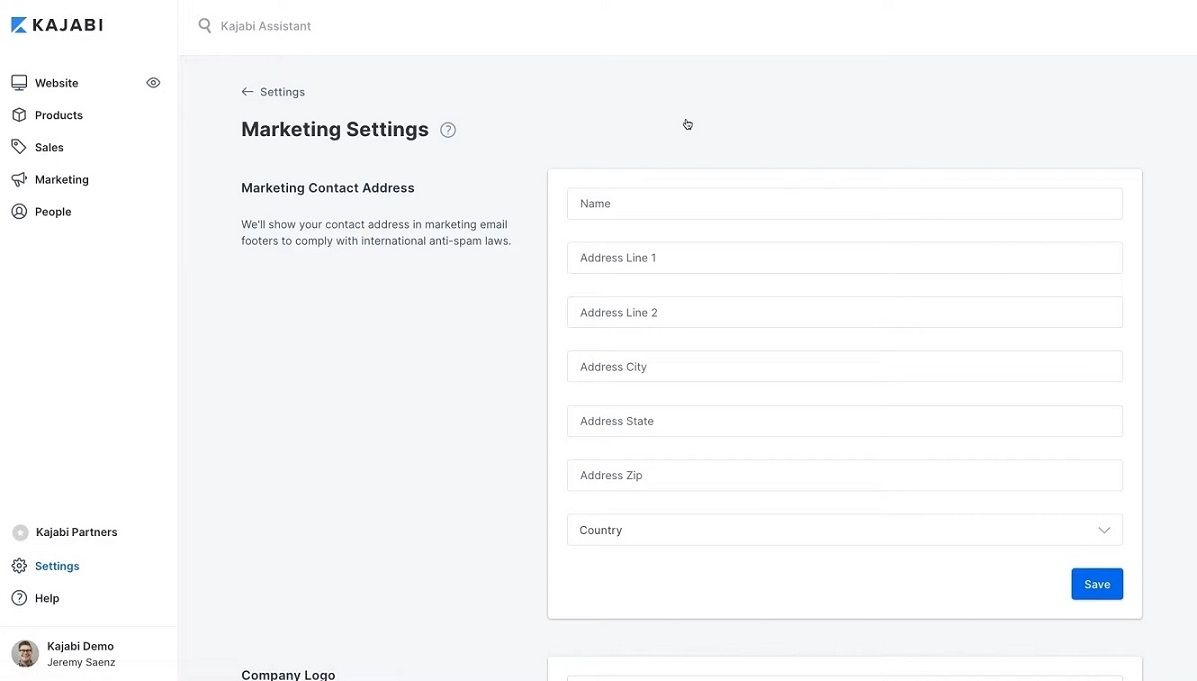 For sending emails to promote your business put in your physical business address to comply with anti-spam laws. Under this section, you can also add your company logo to your emails and set up your default email settings for what business name you wish to have your emails come from
Step4- Under the settings set up your site details You can add a specific logo branding and specific colors.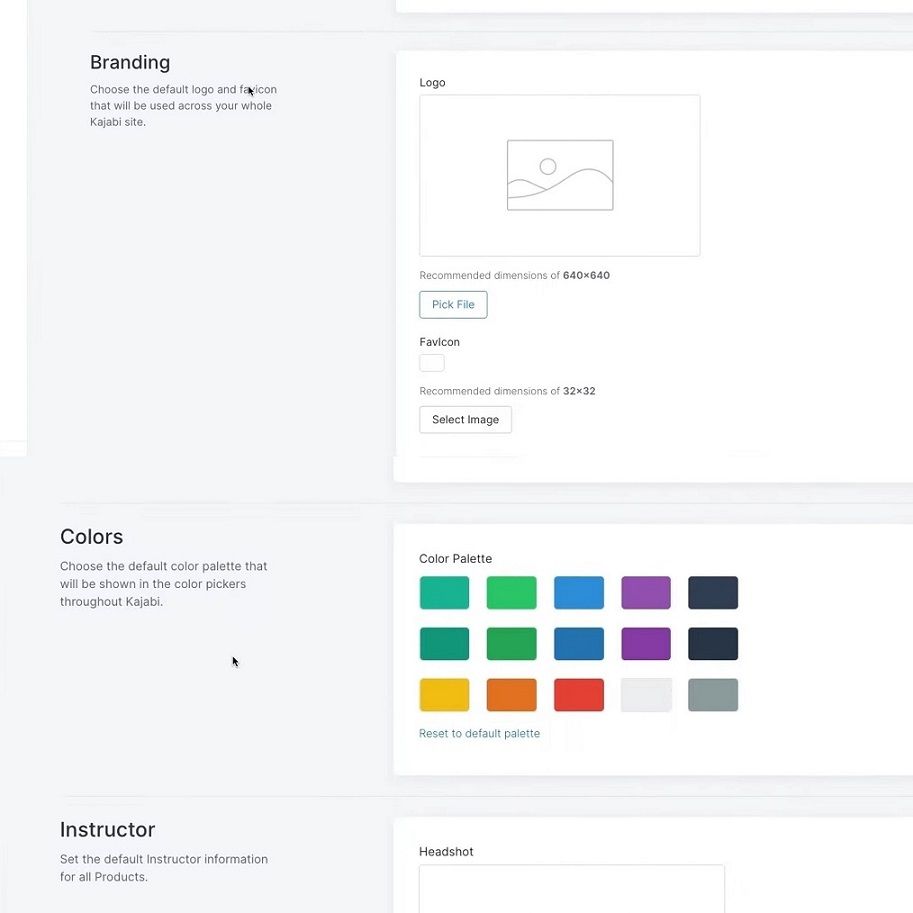 Use Kajabi to create and sell your product.
Digital Product Creator– Kajabi can turn your knowledge into an outstanding product that you can sell. You can create an online course, a membership site, a coaching product, a community, and more.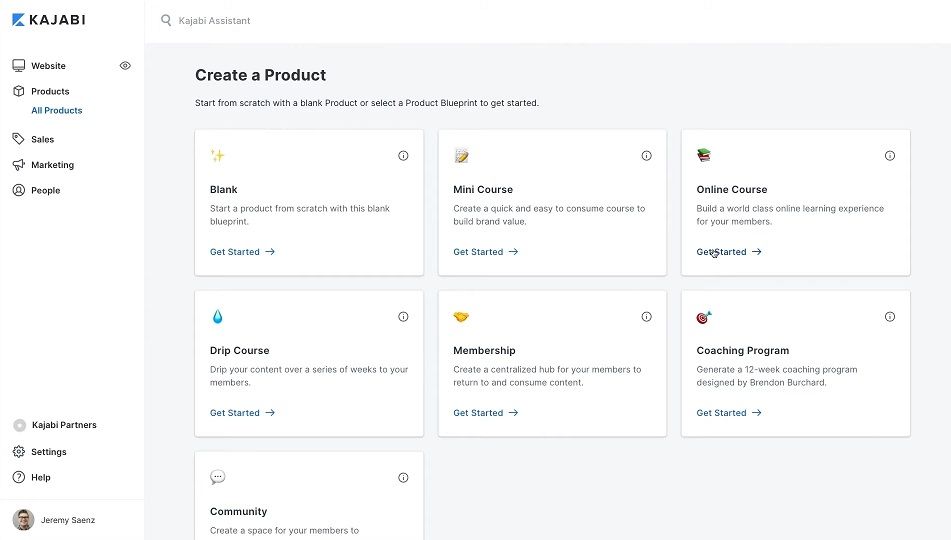 Bring great content and knowledge and use Kajabi's proven templates for organizing your products.
Website Builder- After you create a product you need a place to sell it. Kajabi lets you build your website quickly without any coding knowledge with the help of its website builder. It has a variety of gorgeous templates called themes.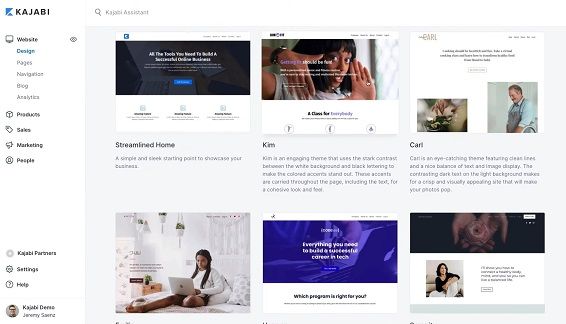 You can also create a website from scratch by using Kjabi's powerful website editor, where you can add elements based on your preferences.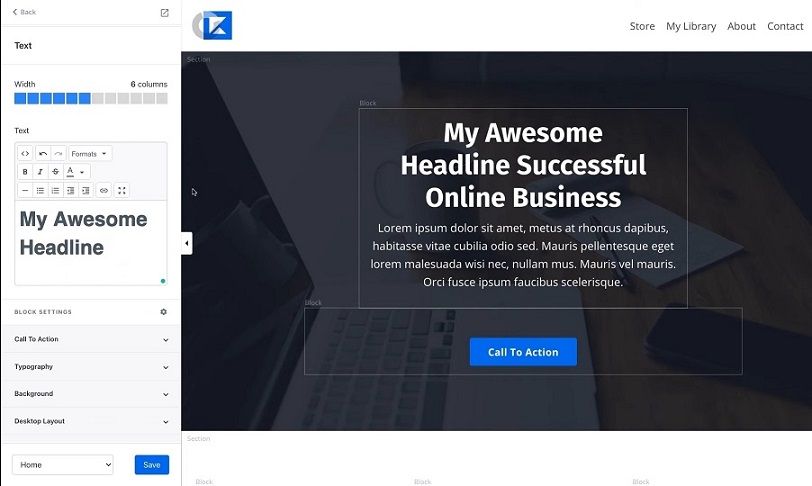 Landing Page Builder– Kajabi offers a landing page builder to support your business when you need specialized pages for specific campaigns.
Step1- Dive into the page builder under the website tap and see a bunch of proven templates that include high-performing sales pages, lead generation pages, sign-up pages, policy pages, and more.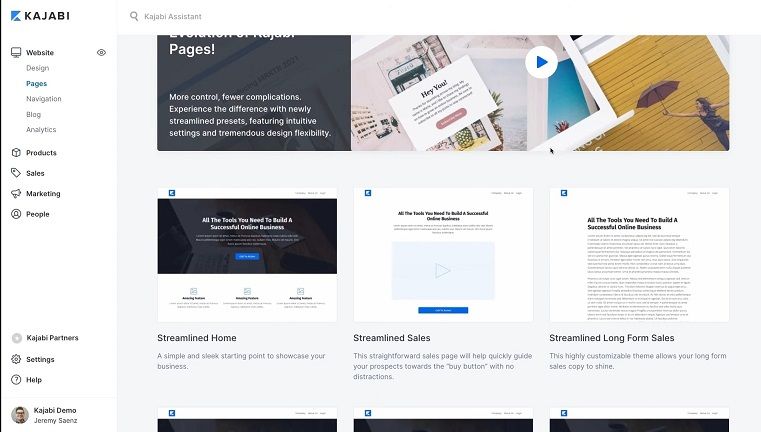 Step2- Just click on a sales page template and add details then start selling right away.
Use Kajabi to sell and market your product with email.
Kajabi's email marketing helps you convert leads into new customers and re-engage your existing customers.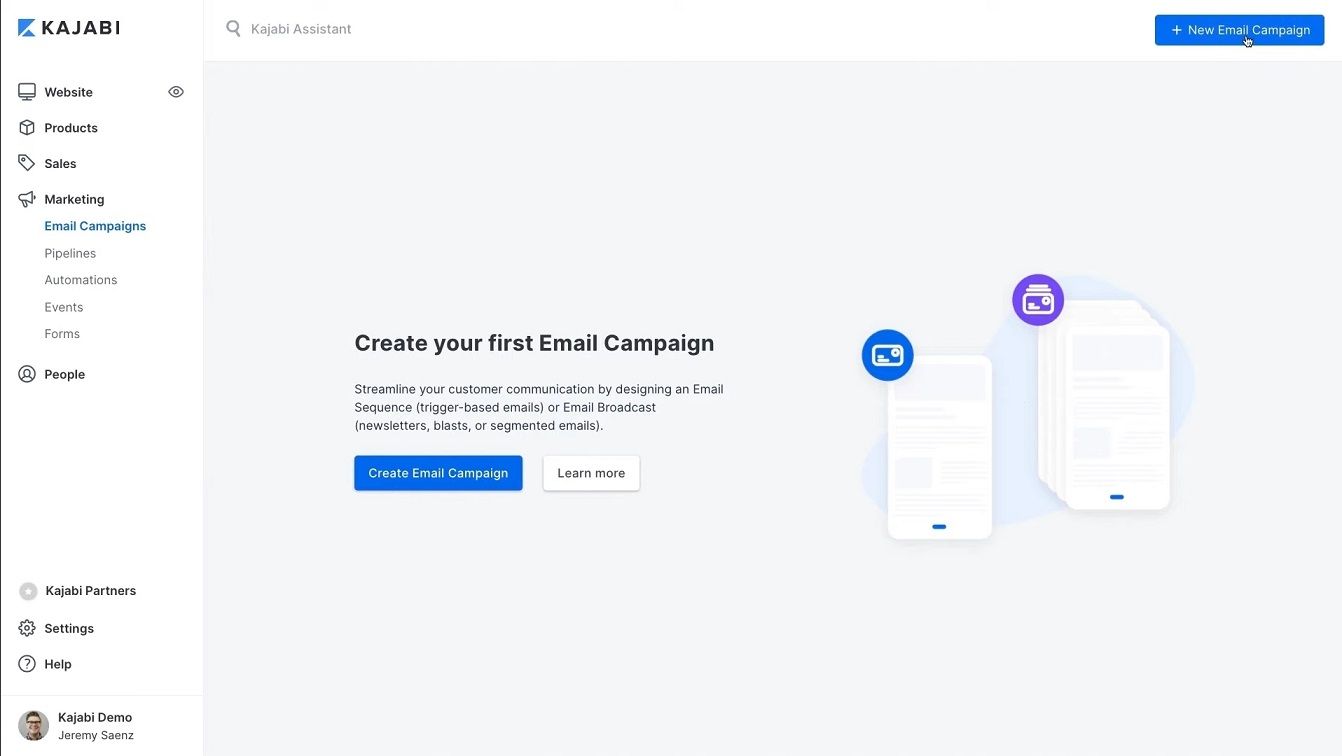 Step1- Go to the marketing section, where you will see email campaigns from there choose an email broadcast or an email sequence.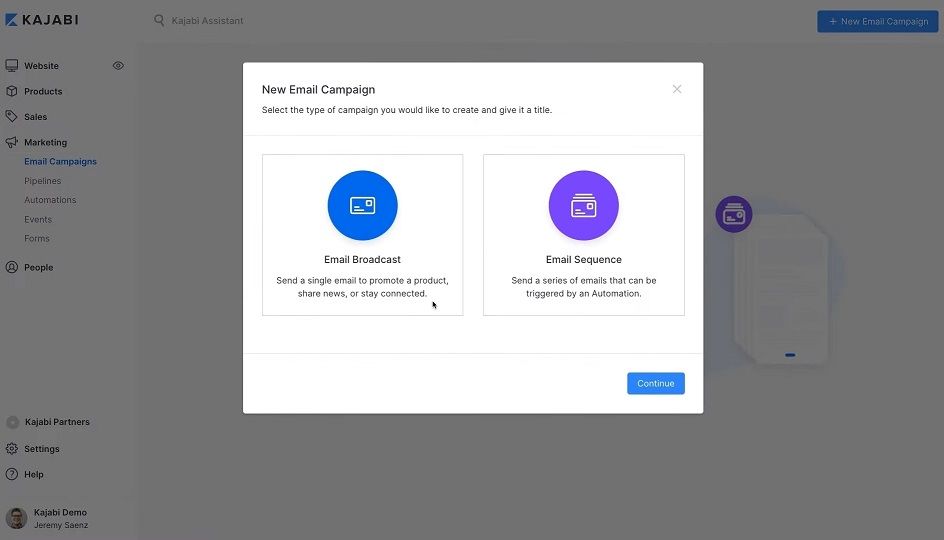 Step2- Then choose how you want your email to look. Kajabi offers a variety of stunning email templates.
Step3- Choose the people you wish to send it to and you are all done.
Kajabi's Pipelines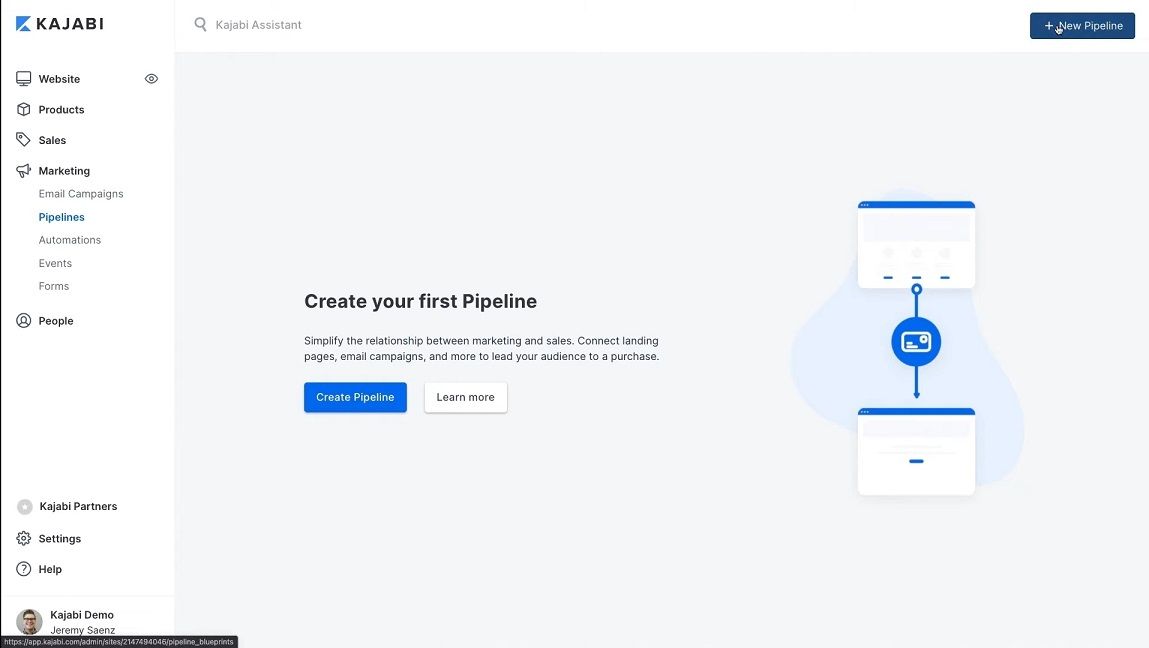 Pipelines give automated sales funnels that can help you in getting more leads and sales.
How does Kajabi Save your Cost?
Kajabi helps save your monthly cost that could spend on many other tools and software. If you compare it to having an LMS on WordPress, you tend to pay the below monthly cost:
| | | |
| --- | --- | --- |
| Sales Funnel Software | ConvertFlow | $99 |
| Email Marketing Software | Mailerlite | $10 |
| Web Hosting | Bluehost | $10 |
| Marketing Automation | Hubspot | $45 |
| Affiliate Platform | Affiliate WP | $25 |
| | | |
While on Kajabi, you pay $119/m and get everyone in one place which is easy to manage and guarantees more results.
Alternatives to Kajabi
Podia is a platform that lets you sell and market courses, digital products, webinar access, and memberships. It also offers tools for messaging, email marketing, and affiliate marketing. The custom website builder has customization capabilities and limited editing with no custom CSS options. It is software that is popular among content creators who are looking to increase their income with another platform.
Teachable is designed for selling online courses and it too offers all-in-one services for the people who want to sell courses and make communities. This is a very trusted software for making and selling courses to students online and monetizing your skills and passion.
Systeme.io
It is an all-in-one software platform that offers digital product selling and course creation. The founder of System.io Aurelian Amacker has been selling online courses with huge success since 2010. It has everything that is needed to launch a profitable online course.
Thinkific
Thinkific is an easy-to-use software that can be used without any knowledge in coding. It has drag-and-drop capabilities and the dashboard is straightforward. It is a great choice for anyone who is looking for a bit of variety in their design options. Thinkfic allows the users to create quizzes to test their students but does not allow them to give the quizzes a time limit.
FAQs of Kajabi
What does Kajabi mean?
According to Travis Rosser (one of the founders of Kajabi), it is an aboriginal word that means "to take flight".
Who uses Kajabi commonly?
Kajabi is commonly used by people who have important valuable knowledge and educational content they wish to package and sell via Web or mobile devices. This means consultants, writers, speakers, coaches, and a few others who have made their living off of the intellectual property they created and their expertise. It is used by about tens of thousands of individual course creators and accessed by 33 million students.
Does Kajabi require a third party?
No. Kajabi does not require any third-party email provider as it has built-in marketing tools. However, it lets you integrate it with popular email service providers like MailChimp, ConvertKit, Aweber, Drip, and Active Campaign.
What are some of the Kajabi capability that makes it best?
Kajabi's capability includes- Shopping cart/e-commerce, Communities, E-service provider, Landing pages and funnels, Subscriptions, courses, memberships, and more.
What is the method of payments offered by Kajabi?
Kajabi offers payment integration via PayPal and Stripe.
Does Kajabi offer a free plan?
No. Kajabi doesn't offer any free plan.
Does Kajabi offer a free trial?
Kajabi offers a free trial of 14-days, but the service is not free.
Is there a money-back offer in Kajabi?
Yes. Kajabi offers a money-back guarantee that means you get ample time to test the software and determine if it fits your needs. And if because of any reason you are not satisfied within 30-days of your first payment, you can very easily cancel your subscription and request a refund.
Does Kajabi change any fees for the transaction?
No. There are no transaction fees.
Is Kajabi mobile-friendly?
Yes. Kajabi is mobile-friendly. Its courses are fully mobile responsive and render smoothly on any tablet, phone, or computer.
Does Kjabi integrate with WordPress?
Yes. Kajabi integrates with WordPress.
Pricing of Kajabi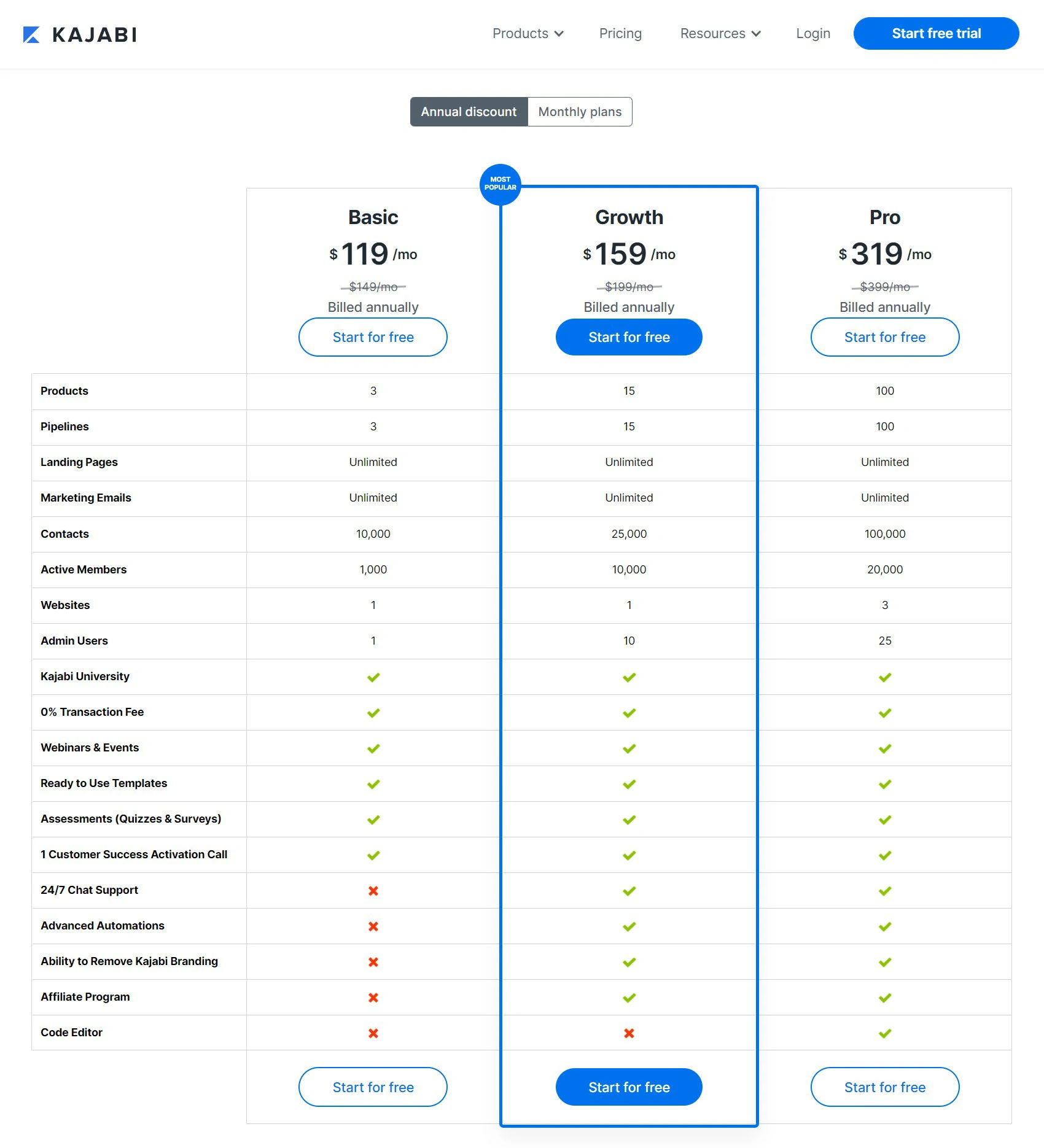 Pricing of Kajabi is done keeping in mind the tremendous range of features this software provides for managing your full Web presence and e-mail needs, not just hosting the online courses. It offers three plans- Basic, Growth, and Pro. The Basic plan comes at $119 per month, the Growth plan is at $159 per month, and the Pro plan is at $319 per month. But before you wish to try out this software go to the company's website and check for the latest plans as Kajabi pricing changes from time to time.
What makes Kajabi stand out?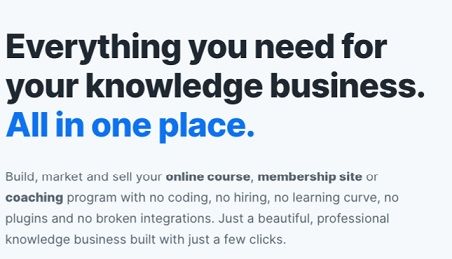 Kajabi has amazing tools and functional templates for creating attractive sales funnels and landing pages, and converting visitors into customers on the site. Also, you don't need any third-party platform as you can manage all your e-mail marketing within Kajabi itself. It provides variations on a core Web site theme that look professional and modern.
Other than that, the blogging capabilities offered by Kajabi are way better than those offered by other platforms and this helps in attracting traffic to your site and products. Kajabi has Wista which is an all-around video hosting platform integrated for streaming and uploading your videos which makes sure that each of your videos is delivered to all the individual learners irrespective of what screen or bandwidth they are using.
Kajabi provides amazing templates for mini-courses, drip courses, and fully online courses that open up access to new parts of the course automatically over time. In Kajabi, you can create communities, memberships, and coaching programs. It provides templates for all these options, with pre-loaded content. You can also modify the content and structure, by removing things that you don't need and be off and running in no time.
Using Kajabi you can simply set up a Zoom webinar and even better build out a pipeline around it that includes your e-mails, post-event offer page, and a checkout page. All you need to do is modify text and drop it in your Zoom link. The same approach can be used to set up virtual conferences/summits or even place-based events. Kajabi is investing a lot in building out its global support team. There is also a university named Hero University that provides online training and community to support platform users. Kajabi is overall head and shoulders above the majority of the other online course platforms and is continually striving to achieve its goal by adding new capabilities and improving them. It has empowered thousands of users to create an online presence that can reflect them and build life-changing businesses.
Pros and Cons of Kajabi
Pros-
Kajabi is a feature-rich platform.
Very easy to use and set up.
Has amazing blogging capabilities.
Possess strong video streaming capabilities.
Very organized and easy to navigate its courses and modules.
The support it offers is very strong.
Help to promote and sell the course.
Amazing for selling big-ticket courses.
No need to pay extra. Sales funnel builder, marketing automation, and email marketing all are included.
Built-in email marketing and sales funnel tool
Ability to customize.
Allows you to offer students payment options.
Cons-
The pricing of Kajabi at the surface level seems to be a little more than its other potential alternatives.
There is no free option.
The Review
Kajabi
Kajabi is an outstanding one-stop-shop platform for selling online courses. It is a software using which users can market, distribute, craft, and get paid for their custom classes without switching to any other programs.
PROS
Kajabi is a feature-rich course selling platform.
It is easy to use and set up.
Has amazing blogging capabilities.
Possess strong video streaming capabilities.
Very organized and easy to navigate its courses and modules.
The support it offers is very strong.
Help to promote and sell the course.
Amazing for selling big-ticket courses.
Ability to customize.
Allows you to offer students payment options.
CONS
The pricing of Kajabi at the surface level seems to be a little more than its other potential alternatives.
There is no free option.
Review Breakdown
Features

0%

Easy to Use

0%

Scalability

0%

Value for money

0%

Integrations

0%

Support

0%

Brand Trust

0%