I personally work on too many tabs on Google Chrome, be it for shopping, research, work, social media or what not. If you are a guy like me, you might have also faced difficulty when too many tabs are open in front of you. As and as the number of tabs are increased, the title of each tab that shows starts contracting. The squeezing of these tabs makes it hard to switch among them as you can see the only favicon, however, some websites haven't that too. Huh, and that moment we sometimes try to prioritise them and delete the ones which are no longer beneficial for the time being.
What, if you don't want to delete them or even after delete some of them your problem exists. That's the time you really need to manage your chrome tabs to use them like a pro. Majority of people get irritated with too many tabs. The solution is to use the tools to manage these tabs in a way so that the accessibility of these tabs become facile.
Chrome Tab Manager Extensions
OneTab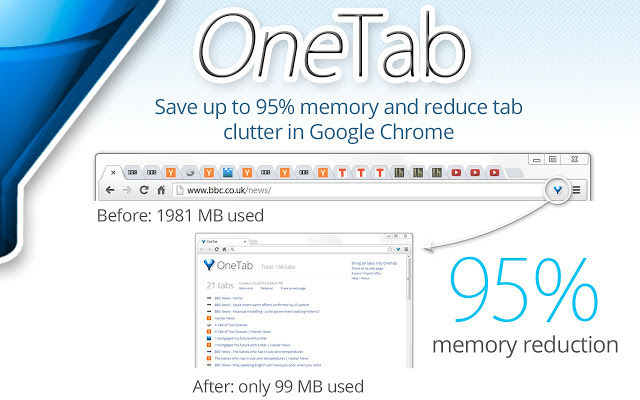 With the use of OneTab, you can easily turn all your chrome tabs into OneTab that is "OneTab". You just need to click on the extension icon to bring this change whenever you feel that it is becoming hard to switch. Now on this particular tab, you can find all the tabs you were using. Even you don't need to register in order to use this Extension.
You can also Share your tabs as a Web page by simply clicking on the "share as web page" link on the top. Now a new window will open immediately providing you with the QR code. You can scan the code in other device and easily continue your work in that device. I personally love this thing.
Also Read: How To Use Chrome Extensions on Android Smartphone 
Toby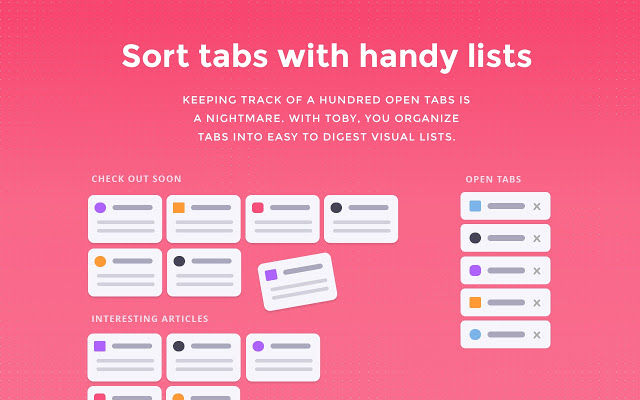 You can also use Toby for the purpose of making your browsing experience even more better. With Toby Chrome Extension you can manage your tabs by categorizing them according to your preference. This facilitates ease of understanding while analysing them. You can easily concentrate individual tasks efficiently when they are categorised. Like if you want to do some shopping you can check your shopping collection and use those tabs for that time being. You can also edit the title and description of any tab for your ease of understanding and convenience purpose. It is feasible in toby to save the session.
However, you will need to signup in order to use Toby. Once you are done with that you will find a quick tutorial as to how to create a collection, name them and assign tabs to them.
Also Read: Delete History From Google Chrome [how to]
Final words
These two are the best chrome tab manager extensions that you can use and simplify your browsing experience. Your one valuable share can simplify others browsing experience as well so please don't resist to share.
For more tech news, tips and tricks, gadgets reviews and more just be our friends on our [icon name="facebook-official" class="" unprefixed_class=""]Facebook Page and [icon name="twitter-square" class="" unprefixed_class=""]Twitter. Also, watch us making some cool videos on our [icon name="youtube-play" class="" unprefixed_class=""]YouTube Channel.