If you are about to set up a business and get a lot of queries about the technicalities that come with it, you can select an online platform that offers suitable tools that do not require much knowledge about coding and all. Dukaan is a great alternative to Wix, Shopify or our famous WooCommerce.
Dukaan serves as the best solution to market and sell products. It makes you begin, run and grow your online business. You just have to add your products and fix the price of your choice, and your online store is all set up to go.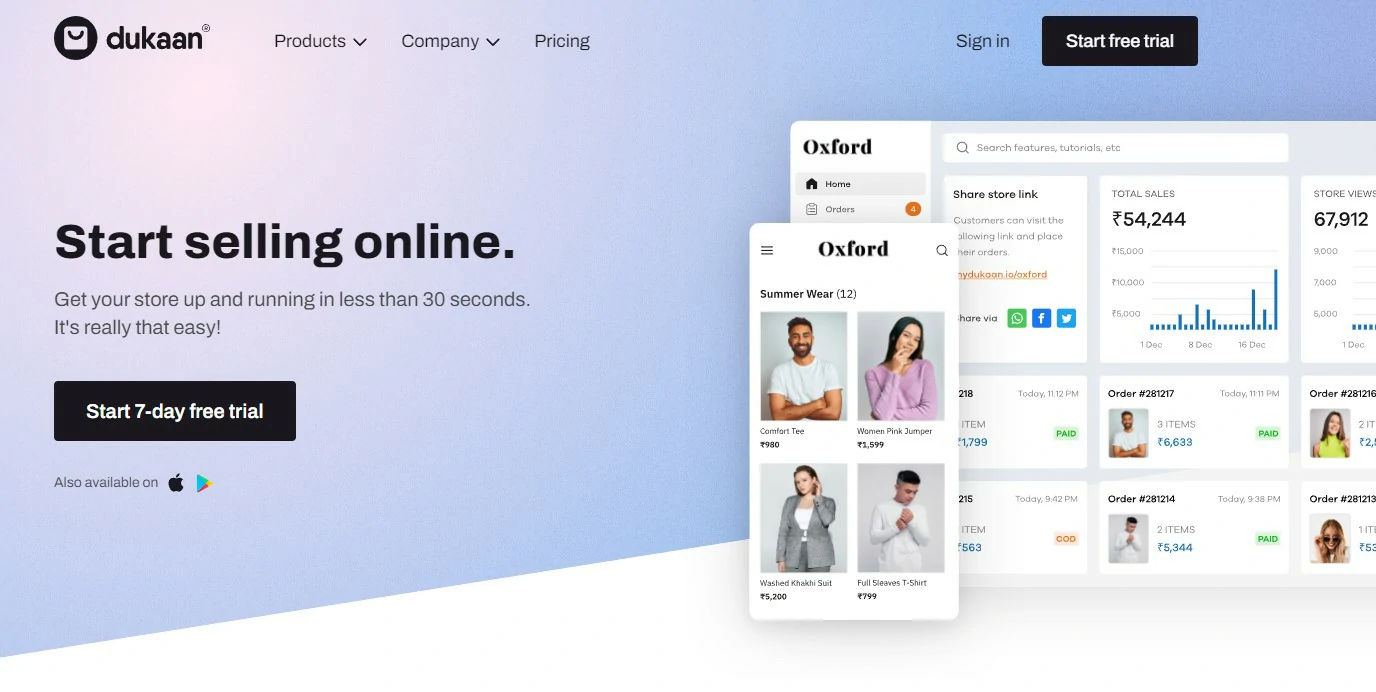 You can no doubt make your store stand out among your online competitors by selecting different looks from a list of amazing themes and templates available on Dukaan. It attracts more customers to your business and engages them with your products as when the presentation is best, who will resist not giving it a chance?
You can also improve your online store by publishing custom pages and using simple templates. This will help you in increasing your orders and expanding your business quickly.
The best part is that Dukaan provides a mobile application also so that you can keep an eye on your ongoing business all the time, no matter wherever you are. You just need to have an internal connection on your mobile.
Dukaan Overview
Dukaan comes under the Growthpond Technology group; which has built a variety of other innovative technology tools and systems that covers: Product Hunt, Cred, Razorpay, Oyo, and Bewakoof.
Dukaan was designed with the view to let users build their store easily and effortlessly. It provides all the tools required to build a proper online store.
Even if you don't have any knowledge in the technical field or any experience in coding, you can go for Dukaan, which provides easy-to-use tools. It allows you to set up your account faster and serves effectively in case you don't want to spend much time or money in various stages of the development of your store.
You just have to select your store name, upload your inventory, and auto-generate product descriptions to set up your store without investing much time. And you don't have to wait also to sell your products.
After that, you can link to a third-party payment gateway to accept online orders from the international level, and it costs no extra transaction fees.
Highly trained, designed and customizable eCommerce website templates allow you to take charge of your store's design and branding.
You can use plugins to grow your site by adding new features that will help improve checkout conversions, observe analytics, organize delivery and shipments properly, and develop strong email lists.
Payments are accepted through Stripe and PayPal, which lets your customers opt for their desirable payment options.
You can also provide a cash-on-delivery payment option to allow your shoppers to use an alternative payment method.
The most attractive thing is that Dukaan charges zero transaction fees.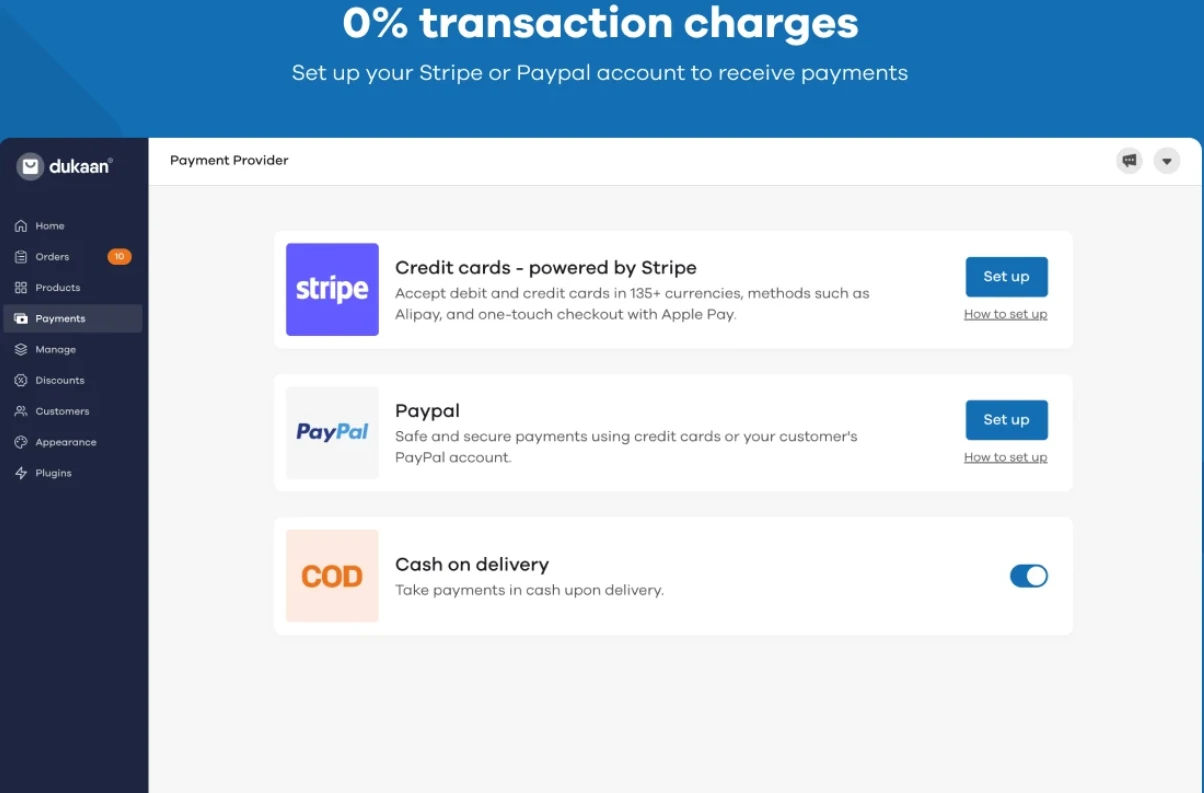 You can anytime transform your online store into a white-label Android App in a few minutes to give comfort to your customers to shop from anywhere they are.
Dukan allows you to download an AAB file for your store to publish your eCommerce app in the Google Play Store.
And if you wish, you can also download an APK file that can be easily shared with customers through messaging apps.
Dukaan Features
Design Tools for Marketing
Design interesting marketing products with easy-to-use templates of Dukaan and make your store famous.
Restaurant Dining
You get a simple table booking service for your restaurant here that helps you gain more customers for your business.
Special Themes
With the selection of different special looks through a list of amazing themes and templates in Dukaan, you can make your store more attractive and unique.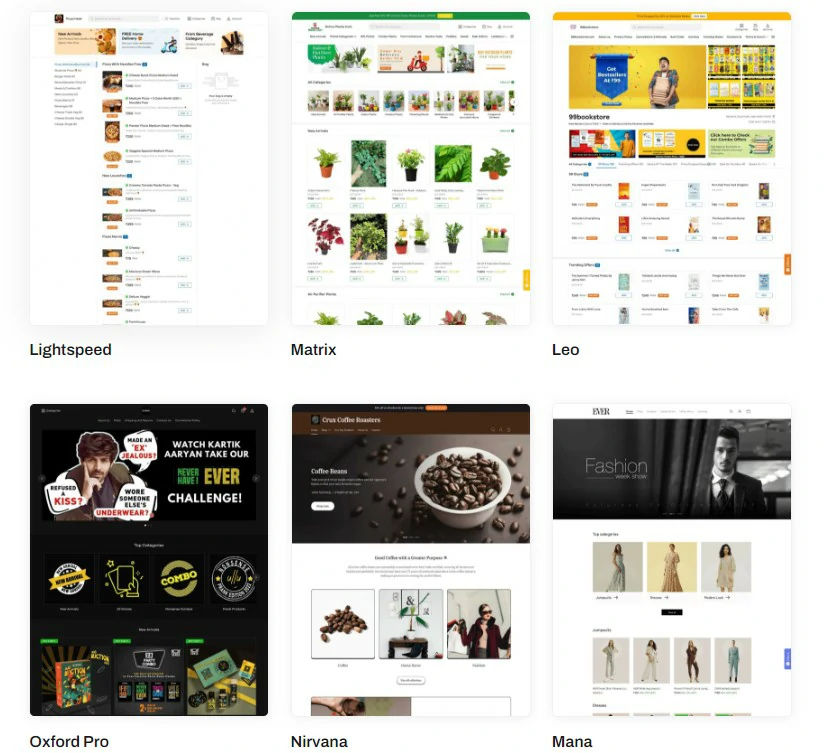 Easy Pages
Dukaan lets you publish custom pages with the utilization of simple use templates that serves to expand your online business.
Custom Domain
With your custom domain, you can make your store stand out in the online market.
Online Payment Option
By offering simple payment options in Dukaan, sales of your online store rise.
Addon Plugins
Select effective features and proficiency from a list of pre-built plugins to improve your online store.
Build Your App
Building your app will help engage loyal customers to your store as the mobile app is the best and easy for purchasing products directly from anywhere.
Customer List
Check out the prebuilt lists to build a customer list. So that you can make your store productive and grow sales with the involvement of good customers.
Dukaan FAQs
Which payment methods are accepted on Dukaan?
You can accept payment from your Dukaan customers directly via Dukaan Pay or by integrating it with Razorpay.
Dukaan pay provides various payment options to your customers, including UPI, Credit/Debit card, or PayPal and Stripe, to make payments easy for users apart from India.
Is there any auto-debit policy on Dukaan once the subscription ends?
No, once the subscription ends, your amount for the subscription does not deduct automatically.
But if you wish, you can opt to upgrade your Dukaan plan by accessing the Account details section in Dukaan. Then you can upgrade your existing plan to the Gold or Platinum tier for the preferred period.
In case you need any assistance, you can write at [email protected].
What are the features of Dukaan Credits?
Dukaan Credit is a wallet-based solution that helps you in organizing marketing campaigns, making use of Dukaan Delivery, and RTO Optimizer, and sending automated order updates from your verified Whatsapp account effortlessly and without any stress. 1 Dukaan Credit = Rs. 1.
What delivery partner integrations are provided on Dukaan?
You can export at the top rates with Dukaan's delivery contribution – Dukaan Delivery.
Dukaan has partnered & negotiated great rates with super courier companies that let you get the best budget-friendly shipping and resolve your tension of dealing with various providers, manual payment reconciliation, and uncertain processes of filling up order information from Dukaan into the provider's interface, etc.

Dukaan Pricing
3 pricing plans are available for Dukaan
If you go for a yearly plan, you can save extra
Silver Plan
It is good for new business and influencers
Rs.433 Rs.333/month
Billed yearly at Rs.3,999
Charge 2.99% Transaction Fee on Dukaan Pay
Android + iOS Partner App available
Access to additional Pages
Dukaan credits available
Dukaan delivery available
Allows Dukaan marketing
Access to discount coupons
Gold Plan
It is good for agencies, D2C brands, and growing businesses
Rs.1,000 Rs.750/month
Billed yearly Rs.8,999
Charge 1.49% transaction fee on Dukaan Pay
Charge 0% additional fee on other payment providers
Provides Web Partner App
Store APK File
Access to premium themes
Access to a custom domain
Store analytics available
Provides COD RTO Optimizer
Platinum Plan
It is good for growing businesses that includes a prime set of features
Rs.3,500 Rs.2,550/month
Billed yearly Rs.29,999
Charge 0.99% transaction fee on Dukaan pay
Store AAB File
Access to free white labeled WhatsApp subscription
Access to free abandoned cart automation messages
Provides account advisor
10 Multi-Warehouse assistance available
Dukaan Lifetime Pricing Deal
A lifetime deal on Dukaan is available on Appsumo.
License Tier 1
$59 $2,050
Access to 1 online store
Allows 5 staff accounts per store
License Tier 2
$129 $499.99
Access to 10 online stores
Allows 10 staff accounts per store
Access to store AAB file (Play Store)
License Tier 3
$289 $2,499.99
Access to endless online stores
Allows 10 staff accounts per store
Access to store AAB file (Play Store)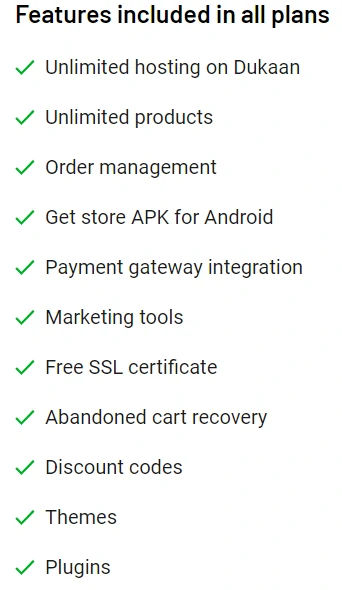 Terms And Conditions on Lifetime Access to Dukaan
It includes
All future Entrepreneur Plan (Tier 1) or Agency Plan (Tiers 2 & 3) updates
No codes or stacking. You can opt yourself the plan that suits all your needs
It gets compulsory to activate your license within 60 days of purchase
Capacity to upgrade or downgrade between 3 license tiers
Accessible to only those Dukaan users that have made their new account and do not have any previous existing accounts
Note: It provides a 60-day money-back guarantee policy that lets you try it for 2 months to ensure it is suitable for you.
How to set up account on Dukaan?



Dukaan Alternatives
Cin7
Shopify
BigCommerce
WooCommerce
Rain POS
Sana Commerce
Maropost Commerce Cloud
Conclusion
So, if you are looking for an online platform where you can sell your products and market them, Dukaan serves as the best choice.
With Dukaan, creating a store gets simple. You can sit down and relax just by running your business on your mobile device. It only takes less time to set up your account on Dukaan and start selling your product.
It provides a clear interface and user-friendly tools. It is responsive, loads faster, and has been designed especially considering the user's needs.
The plus point is signing up on Dukaan is free, which comes with a 7-day free trial period to analyze Dukaan posts, which you require further to opt a plan to continue using Dukaan.
So, you can surely give Dukaan a chance if you want to grow your business by developing an online store for your products.
The Review
Dukaan App
Dukaan is an ideal solution for creating online stores and selling products. It comes as a great alternative to Shopify or Woocommerce. Targeting Indian audiences, Dukaan accepts major Indian payment processors allowing great services to both marketers and consumers.
PROS
Convenient Solution for eCommerce
No Coding Knowledge Required
Sell Products at large
Publish Own Store App on Playstore
Various Payment Integrations
Very Clean and Attractive UI
Outstanding Support
CONS
Not as popular as Shopify or Woocommerce
Review Breakdown
Easy To Use

0%

Features

0%

Scalability

0%

Integrations

0%

Brand Trust

0%

Customer Support

0%

Value for Money

0%