The Google search engine is no doubt the most powerful service in the online world. From basic cookbook recipes, and medical insights, to home remedies. The Google algorithm behaves as a gateway for people to search and obtain information on the web.
As technology has advanced with the passing years, online entrepreneurs have been searching for other ways to publish, produce and rank their site's content in a short period. While maintaining the efforts that have been spent on working on their site.
Here comes the role of AI-generated content. Artificial intelligence is a technology that has gained tremendous popularity and is continuously improving over the years. And now, it has been projected that by the end of 2030, AI will surely lead over $15.7 trillion in the global GDB.
There are a lot of benefits of using the power of artificial intelligence, but it has yet to do a lot to reach full capacity when compared to the type of content produced by real humans.
AI-generated Content – An Overview
The content generated by artificial intelligence is also known as Natural Language Generation (NLG). According to Automated Insights, the "NLG is a software process that works to turn the data into a human-friendly prose automatically."
The technology has been commercialized for nearly 30 years, but it has only recently made great advancements in becoming a better resource. All thanks to machine learning.
Older generations of AI processors and the word scramblers give you results that look a little over-computerized. Now the new models are producing far greater results than a human could produce. Thus, making it easier for the reader to understand.
However, the content generated using artificial intelligence does not just appear out of thin air. The main need for the Natural Language Generation software to work is a structured dataset.
For any NLG tool to produce human-ready prose or a very understandable text for the human eye. The format of the content generated much be outlined and fed as structured data points for the process to start.
The AI content gives its users a writing assistant that produces new content when the creatives run stale. Those business owners who wish to stay ahead of the curve in optimizing their business to its best performance should look at artificial intelligence as a resource.
Effect of AI Content on your Site Ranking
The AI lets you find more creative approaches for creating content. When your mind runs blank, it gives you the nudge to produce new creatives. Other than that, AI keeps your brand's voice consistent; some AI-powered tools even let you produce a well-optimized piece of AI copy that can rank on Google.
But despite creating great quality content. The AI Content can still affect your site ranking negatively.
AI Content is not very much Optimized. The idea of producing content with hundreds of pages for a niche site sounds quite intriguing to those simply discovering AI content. The fact remains that the result always needs a human hand.
Artificial intelligence is not able to generate more than a few paragraphs before needing any additional data input from a human source. This led to a loss of context within the content itself, needing additional edits to give your results a meaning and story.
Also, AI lacks thoughts. The AI-generated content cannot create original thought. It simply takes the existing content and then formulates it in some other new ways. It is much more sophisticated than article spinning as it can have more esoteric patterns and even hide its source.
Another drawback of NLG software-generated results is that- the short-form results will be hit and miss on whether they make any sense. Ultimately leading to the manual polishing required for even a half-decent result. 
Even with the semi-passable text, you must finesse the right message for your brand's voice, persona, and audience to use the full potential of AI-generated content.
Factors that Affect your Site Ranking
The ranking of your content depends upon the factors that Google uses to analyze thousands of pages per second.
Content Quality
Content that is in-depth and covers a broad range of information and topics within a particular niche ranks high. And to gain a better ranking, the content you are creating must provide real value to the user.
Your website should include engaging visual content that can complement your written content to keep the reader staying longer on your page.
Good-quality content always outranks quantity, so the aim should focus on the value, not the word count.
Backlinks
One of the strongest ranking signals in the Google search algorithm is backlinks. The more the backlinks point to the site from a high-authority domain, the better your chances become to rank for your target keywords.
The AI content can be created with little effort on the writer's side, while any content published without edits will keep the other site owners from wishing to link to the content.
Brand and Domain Power
Those who search for your brands directly give a much stronger signal to Google's algorithm when you have made yourself an authority in your niche. The higher a website gets traffic from the branded searches, the higher the algorithm will recognize it.
Sites that have spread their brand power across many SEO channels show a better chance of increasing their search visibility, and this is something that cannot be provided by the AI content alone.
Mobile Friendliness
Google announced the mobile-first indexing on November 4, 2016. This means that the compatibility of a website with mobile devices directly affects its search rankings.
Previously, web designers built their site's desktop versions and then added their mobile counterparts. But currently, mobile usage is outpacing desktops, the website prioritizes the mobile versions to give a better user experience (UX).
Page Speed
Page Speed is very important since Google has adopted the mobile-first indexing approach. Websites with a slow page speed face a harder time ranking up in the top results since this harms the entire UX.
Google's aim with these updates is to provide its users with search results that include in them the sites with the best UX.
Some Popular AI Writing Tools 2022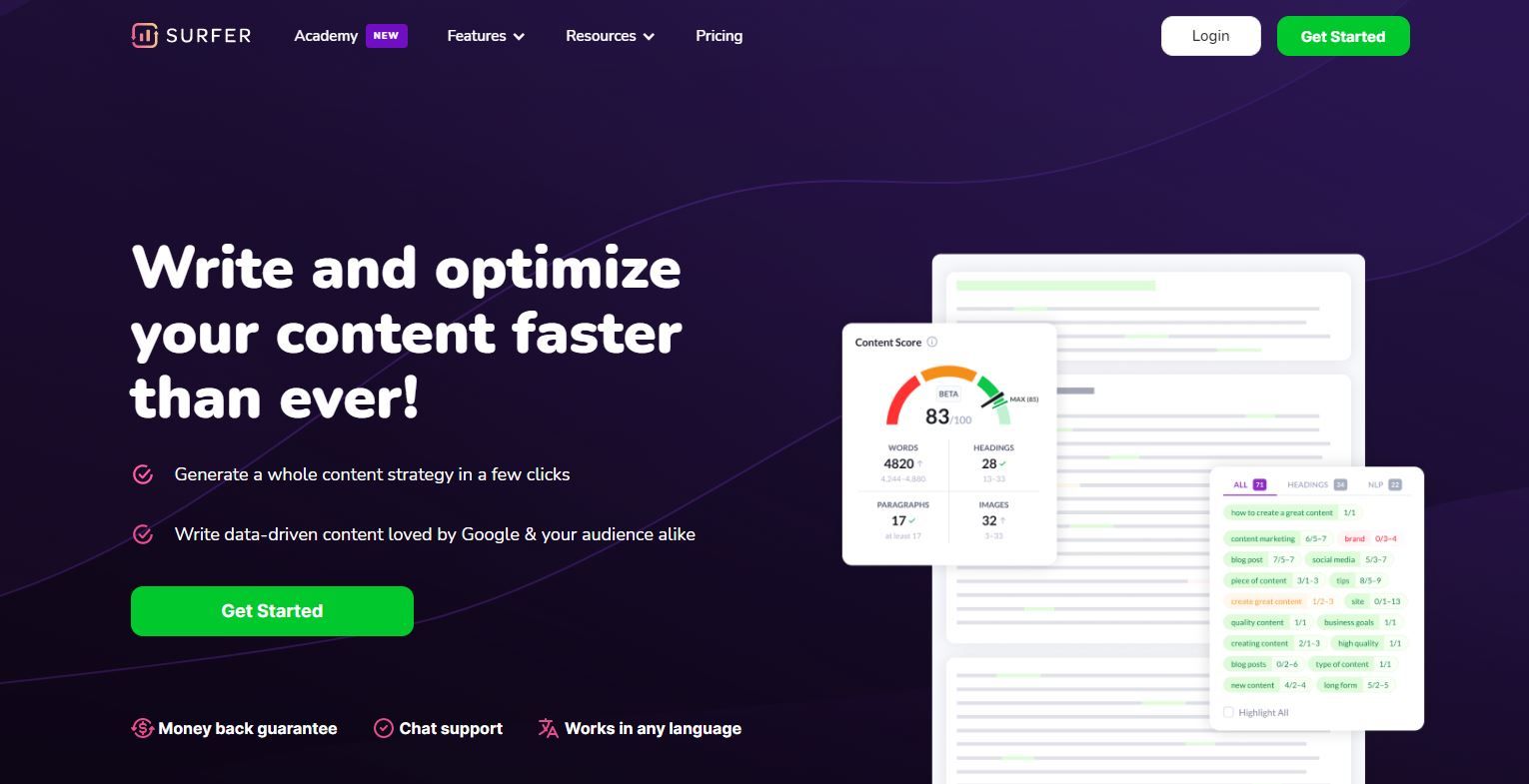 Surfer SEO is an ideal tool for people looking for data-driven analysis software with a user-friendly interface. It makes optimizing your content an easy process. It allows you to search for exactly whatever you need to change to your page to make it rank higher for your target keywords.
The software doesn't try to guess what Google likes to rank. Instead, Surfer SEO offers data-driven analysis of exactly what is missing from your page.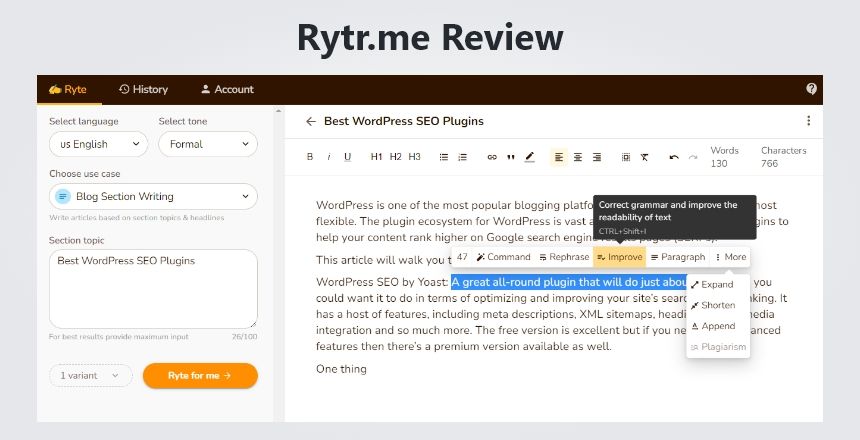 Rytr is an artificial intelligence tool that helps you pump out the content faster. It can greatly help the editorial process, especially for the short-form content. Also, Rytr is a very budget-friendly software. So, this is a perfect choice if you are on a tight budget.
You can use Rytr and make the most of it when you need help while creating short-form content– think of social media posts, emails, or even video descriptions.
It is an AI writer that values simplicity and speed in execution.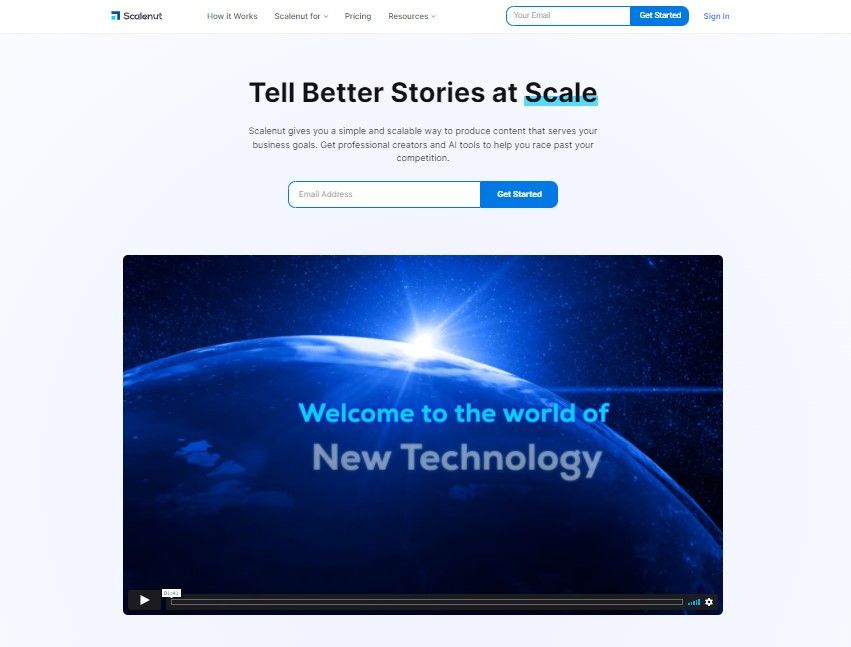 Scalenut is a leading software that works using the power of artificial intelligence. It changes how content is produced like it lets you create high-quality content that perfectly meets your business goals.
The software has been developed to help companies produce content for websites, blogs, social media, and more. Scalenut also has a user-friendly interface that lets you easily produce good-quality content.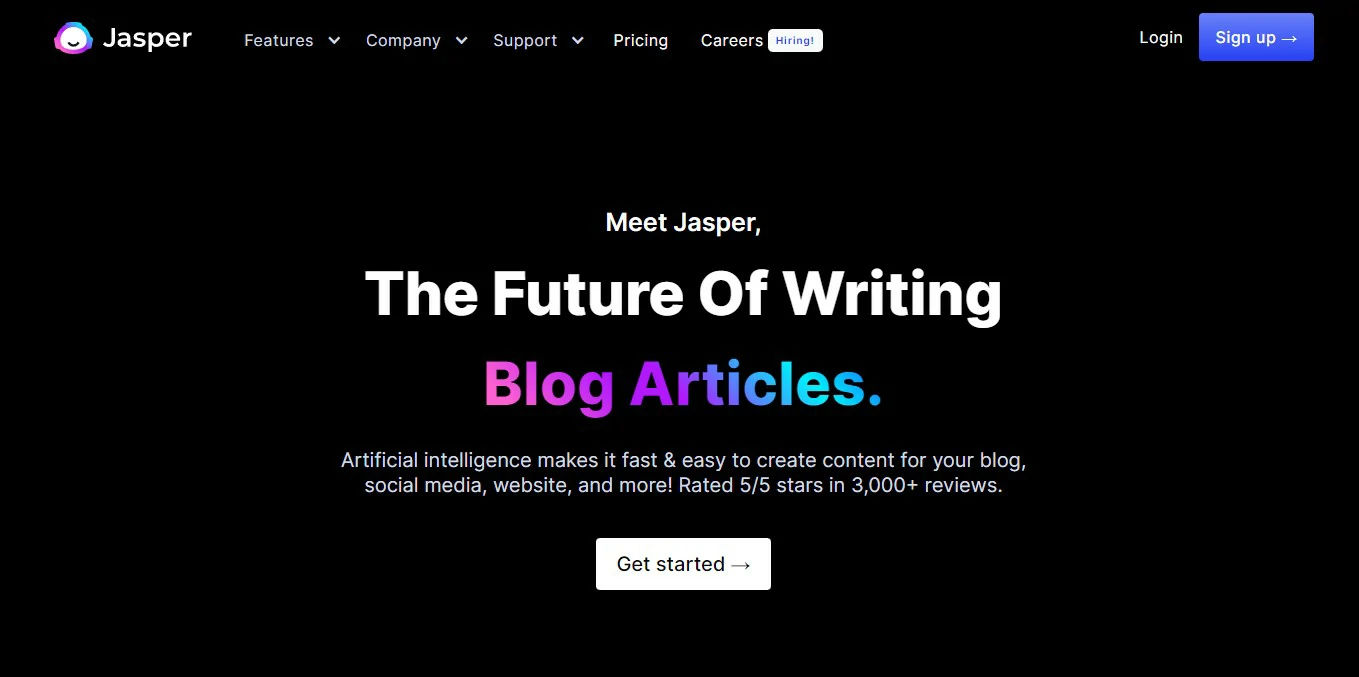 Jasper is a very popular content creator tool. It is an AI product that saves a lot of your time and money by outsourcing your content. The software helps you produce great-quality copy with few or no mistakes. All while reducing any risks of making errors when you write.
The tool offers over 50+ amazing content templates and is the perfect solution for bloggers and business owners that need any help while writing SEO-friendly content.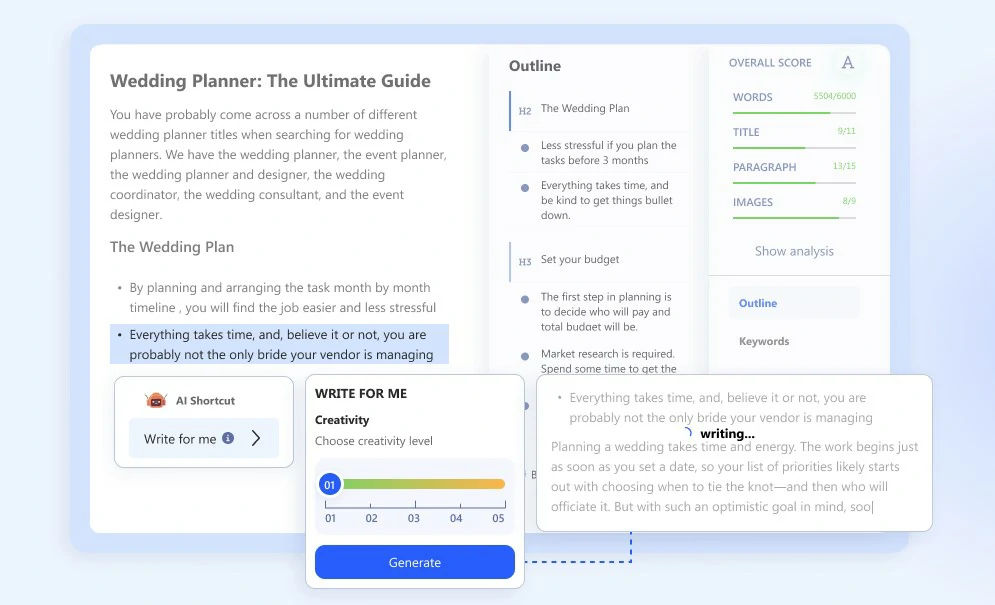 Writerzen is a content generation tool that uses artificial intelligence's power to create amazing content. Other than that, it lets you do topic research based on specific keywords and more.
The tool also offers a plagiarism checker, keyword data, keyword explorer, topic discovery, and more. The content created by using this tool can rank higher on search engines.
WordHero is another popular content creation tool. It is a tool powered by OpenAI/GTP-3, a first-of-its-kind autoregressive language model with over 175 billion parameters.
The software is a must-have tool. It is one of the finest contents creating tools. WordHero is where AI is used to plan, solve the problem, do knowledge representation, reasoning, manipulation, perception, and more.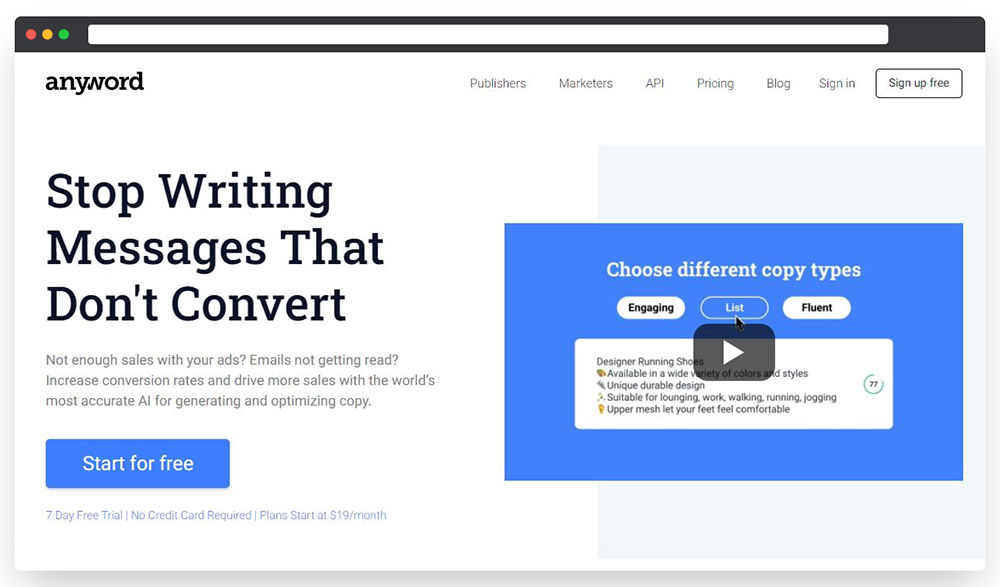 Anyword copywriting tool is based on artificial intelligence. The software helps businesses to present focal points of their services and products by using certain unique keywords.
The tool is used by major freelancers, entrepreneurs, marketers, and advertising agencies. And it helps in creating blogs, ads, or articles. Even lets you manage social media and marketing ad campaigns may be a few others.
Writersonic
Writersonic software is capable of generating high-quality human-level landing pages, blog posts, product descriptions, emails, and more, within a few seconds. It simplifies content creation and is a great tool for those users who aren't technically savvy.
The tool is best for writing short-form marketing content like social media posts, Facebook ads, memorable copy for websites, and more.
Marketmuse
Marketmuse is another software that AI powers. It uses machine learning to show some personalized suggestions for your domain. And it produces very relevant and effective results. It covers almost every aspect like- topic research, content creation, relevant keywords, competitor analysis, FAQ generation, internal and external linking of articles, competitor analysis, and more.
It is a very popular and powerful tool designed to assist you in your content creation and optimization step.
Outranking
Outranking is an AI-powered tool that saves a lot of your time in content creation. Usually, it takes months or even years to produce good-quality content with all the right keywords, but with Outranking by your side, you can do the job in minutes.
The software is growing fast and has enabled SEO managers and content marketers to outrank their competitors by writing well-researched, optimized, and engaging content.
Clearscope
Clearscope is another amazing content optimization and on-page SEO tool. The tool was designed while keeping AI content marketers in mind so that they can create optimized content easily. It also helps you create an outline and plan content; The software uses IBM Watson services to automate content optimization and SEO research.
The tool has a beginner's friendly interface that can be navigated easily. And Clearscope helps your content rank on the very first page of the search engines with its content optimization feature.
Over to you- AI Content affecting the site ranking
Yes, there is no doubt that AI content is fine-tuned and used for making compelling copies, but Google has admitted that the written content alone is no longer the only factor determining where your content will rank for a given search term.
When ranking your site, Google considers content quality, backlinks, mobile friendliness, page speed, brand, and domain power.