SleekBio helps you set up your social bio link within minutes. It is a social bio link management tool that enables social media account holders and businesses, to create a unified web page where they can showcase multiple services in an organized way. SleekBio allows businesses to connect their TidyCal (a powerful calendar app) and proceed to accept bookings and meetings directly from their generated business page on the go.
Moreover, users can also proceed to carry timely updates and make sure that their audiences are getting access to the latest information from time to time.
Influencers can even grow their email list and collect email leads directly from the page. With SleekBio's detailed analysis and reports, businesses get to keep track of the performance showcased by individual pages and embedded links. Get more followers, & more clicks on the content you care about. Plus advanced link click analytics, Facebook Pixel, integrations, & much more.
SleekBio is World's simplest bio link for creators, writers, YouTubers, & podcasters. SleekBio is a simple bio link tool that lets you embed a wide variety of content all at one personalized, branded URL. From basic links, to natively embedded YouTube videos, podcasts, & tweets, to all your social media handles. Whenever someone clicks on the particular bio link, they get to see everything that influencers have embedded within the page. By adding the best content from YouTube, Spotify, TikTok, and other platforms, the tool enables users to attract the maximum audience over their official social media account.
SleekBio Overview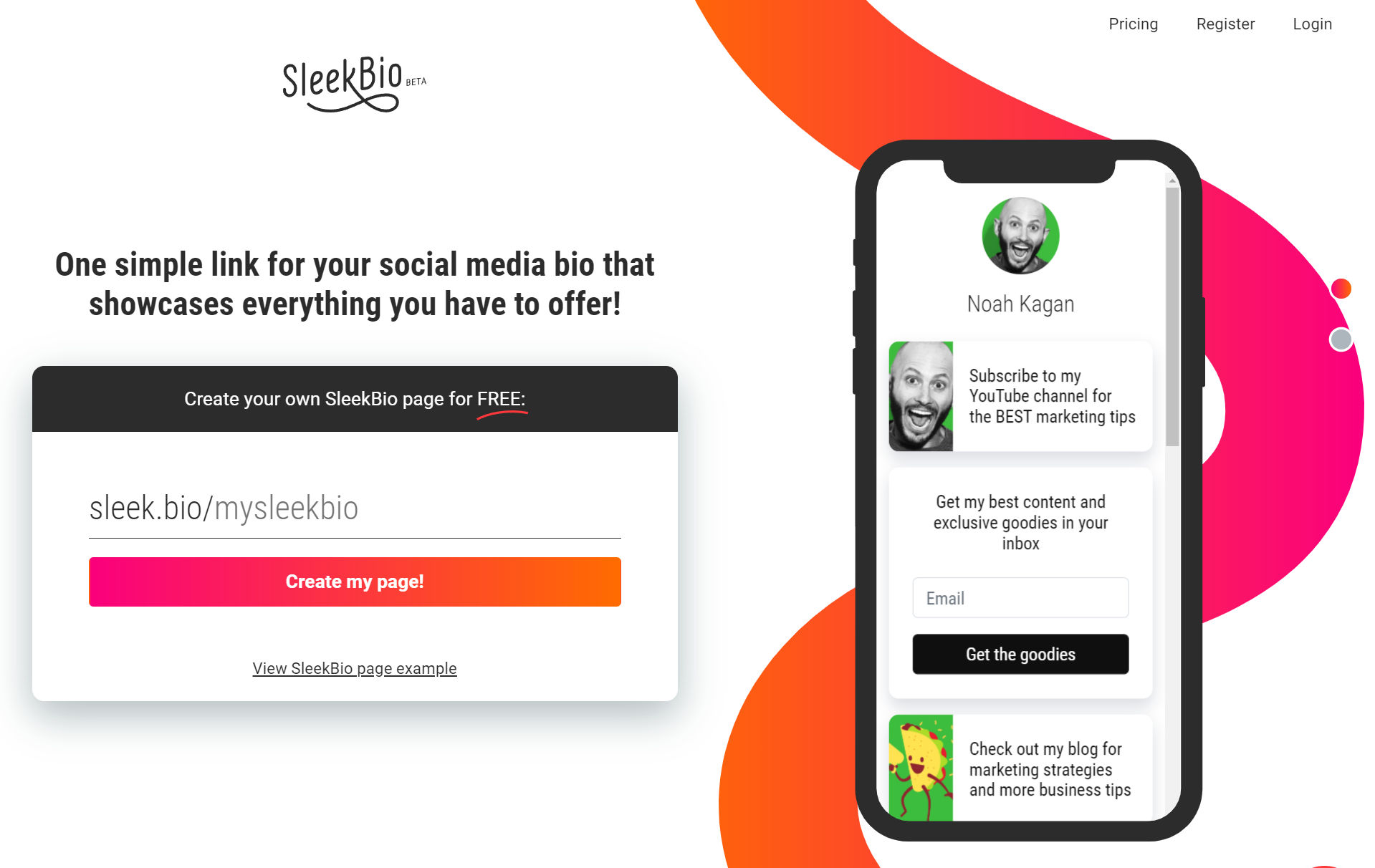 SleekBio is a social link solution that generates more traffic and clicks to your best content and products. Using SleekBio you can create your own personal social media bio page in minutes and customize it to match your brand. Add all types of content including your best videos, blogs posts, products, and links-so you never have to manually update your social bio link again. It integrates with the service its users already use to post content, making it fast and easy to use. Creators who are looking for a tool that will help them create one social media bio link to promote their content and to increase their following can use this.
SleekBio lets you pick a simple username for your profile in order to make sure that it will be enticing enough for the visitors and once you are done with the basics, you can now build your SleekBio page to match your brand. There is a content feature in SleekBio that allows you to add all types of content to the SleekBio page. You can also set up simple links or make your content stand out by showing content previews.
Alternatives to SleekBio
Minty Link
The one link to get hired and sell your visual content. Drive followers from Instagram and other networks to buy your images & get job offers. It is perfect for illustrators, photographers, artists, visual storytellers, etc.
Linktree
Linktree is the market-leading linking platform that was the first of its kind. Linktree helps brands, influencers, small businesses, activists and everyday creators carve out their place online and monetize via Commerce Links.
SayHey
SayHey is a mobile application that enables its users to introduce themselves to other users. It adds structure, organization, and layouts designed to convert, no matter how many things you want to promote. Create on-brand links in bio pages that give you more context-less links.
Tapkit
Tapkit is an all-in-one creative link tool to build microsites and QR codes perfect for social, packaging, and QR campaigns. It helps businesses sell more with links that rock. Perfect for Instagram, Twitter, TikTok, SMS and QR.
Sleekbio FAQs
What is SleekBio?
SleekBio is a service that allows you to create a single page for all your social media profiles. With a single click, you can show off new content embedded into the page, have links to all your social media accounts and even add new contacts to your SendFox email list.
What are the SleekBio Pro plan features?
SleekBio pro Plan features are as follows-
⦁ Facebook Pixel Tracking
⦁ 50 block items per page
⦁ Reduced branding
⦁ Full analytics to measure data and results for your page and links
Who is SleekBio for?
SleekBio is for creators, social media influencers, and marketers who want to improve their social media presence by establishing one social media bio link.
What are the plans and features of SleekBio?
SleekBio comes with the following plans and features-
⦁ Lifetime access to SleekBio Lifetime plan.
⦁ All future Lifetime Plan updates.
⦁ No codes, no stacking-just chooses the plan that's right for you.
⦁ 60-day money-back guarantee, no matter the reason.
Pricing of SleekBio
SleekBio comes with the following pricing plans-
A Free Plan
A lifetime plan- one-time payment at $19.
What makes SleekBio standout?
SleekBio gives you one simple, beautiful link to use in your social media bios. It is best for creators who want a single social media bio link to promote their best content and products. It just takes minutes to set up your social media bio link. Instead of updating all your social media bio individually use SleekBio to be your one social media bio link featuring your best content. SleekBio integrates with other AppSumo Originals products like SendFox and TidyCal, letting you embed SendFox and TidyCal booking pages.
Using SleekBio you can also add other block types to the page, such as links, embedded content, and social media buttons. All the other tools out there don't have captivating layouts like SleekBio they cost too much and don't even work well whereas; SleekBio comes only at a $19 Lifetime plan. In all, SleekBio is an easy-to-use social sharing service that allows users to passively promote their content and drive more traffic and clicks to their best products on whichever site they wish.
Pros and Cons of SleekBio
Pros-
Easy to use and very user-friendly.
Clutter-free minimalistic design.
Easy access to analytics.
SleekBio comes with a 60-day money back guarantee.
There are templates for every occasion.
Very effective at generating leads and increasing sales.
Cons-
There is no click to call button which could be useful for businesses.
There is no way to reset the view count in the analytics sections yet.
Limited customization options.
The Review
Sleekbio
Sleekbio is an amazing tool to help you get more conversions, subscriptions and leads from your social media engagements. Use the smart links in your social bios and optimize the funnel from a single link that leads to other important pages your want to promote.
PROS
Easy to use and very user-friendly
Clutter-free minimalistic design
Easy access to the analytics
SleekBio comes with a 60-day money back guarantee
There are templates for every occasion
Very effective at generating leads and increasing sales
CONS
There is no click to call button which could be useful for businesses
There is no way to reset the view count in the analytics sections yet
Limited customization options
Review Breakdown
Features

0%

Easy to Use

0%

Brand Trust

0%

Integrations

0%

Value for Money

0%