Typli.ai is a new writing assistant, the future of writing content. It has a built-in SEO checker that makes your content top tier. So far typli.ai has developed some of the best practices that guide the users to write the ultimate content. Using Typli.ai you can finish your blog post assignments in just a for long-term success in search engine optimization. As machine learning is growing with each passing day, this Al-powered tool is made in a manner that it recommends what to write about next, which simply means you continuously get some fresh ideas while working on it that make your article rich in quality. You can use Typli.ai for link building, marketing, SEO, and PPC campaigns.
I have used Typli.ai and as a digital marketer, I can say this tool is a great help for generating ai articles for publishing at websites or blogs. And for a fact, it was developed while keeping the digital marketers in mind as they are the ones who have to create a huge number of articles or contents daily and it is very difficult for them to manage the quantity as well as the quality at the same time. So, anyone in the digital marketing industry must try this amazing AI-writing software to boost up their business productivity and save their valuable time.
Typli.ai Overview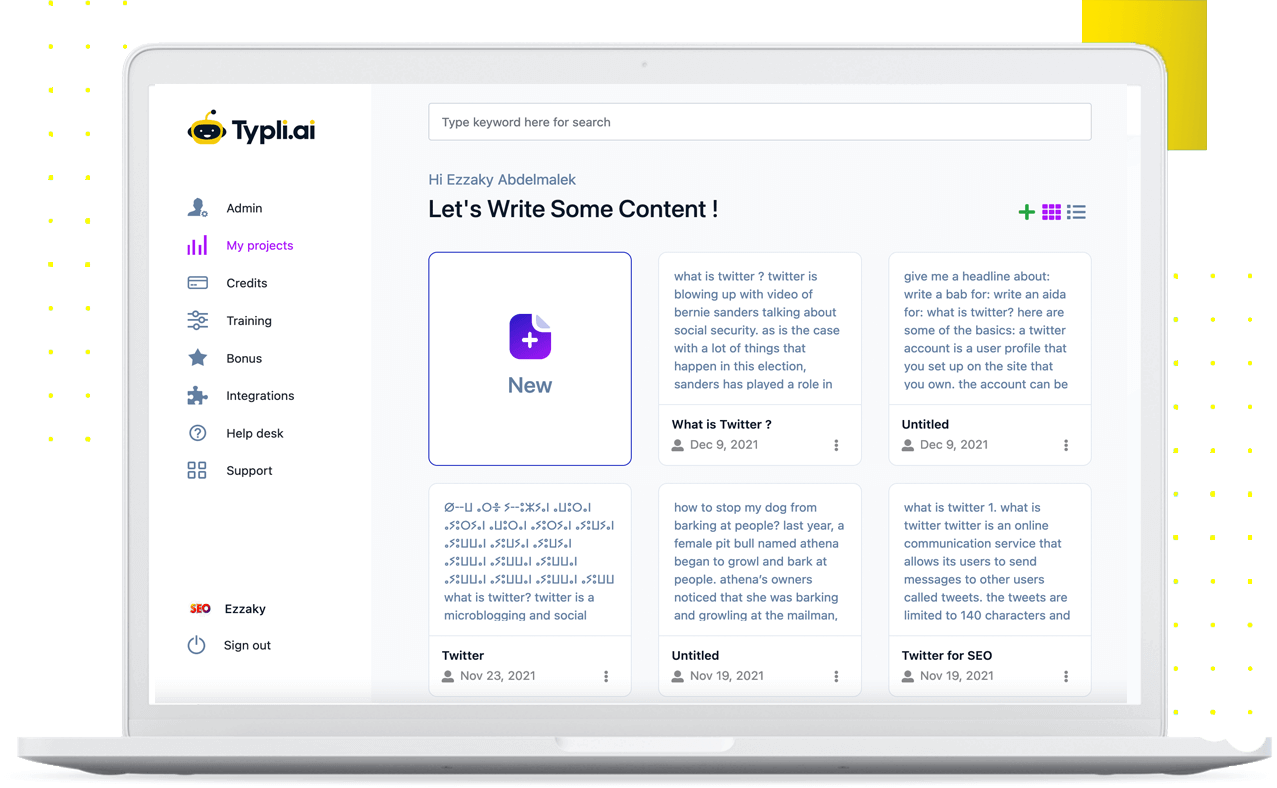 Typli.ai lets you generate better content. It is an Al-writing assistant along with a built-in SEO checker that is widely used by students, marketers, copywriters, content creators, businesses, and anyone that needs to create amazing content using the help and power of Al. And it is used for Grammar checking and Sentence formatting which ultimately enhance the content.
Typli.ai is used by a large number of people for creating a huge number of articles. That's the reason why Typli.ai is often called an article rewriter and article spinner tool. It rewrites the articles to make them better and enables people to understand the contents more simply. Typli.ai is the best solution for both small business owners and content marketers for doing their daily work. It has helped a huge number of marketers to increase their website ranking and its authority even further.
Features of Typli.ai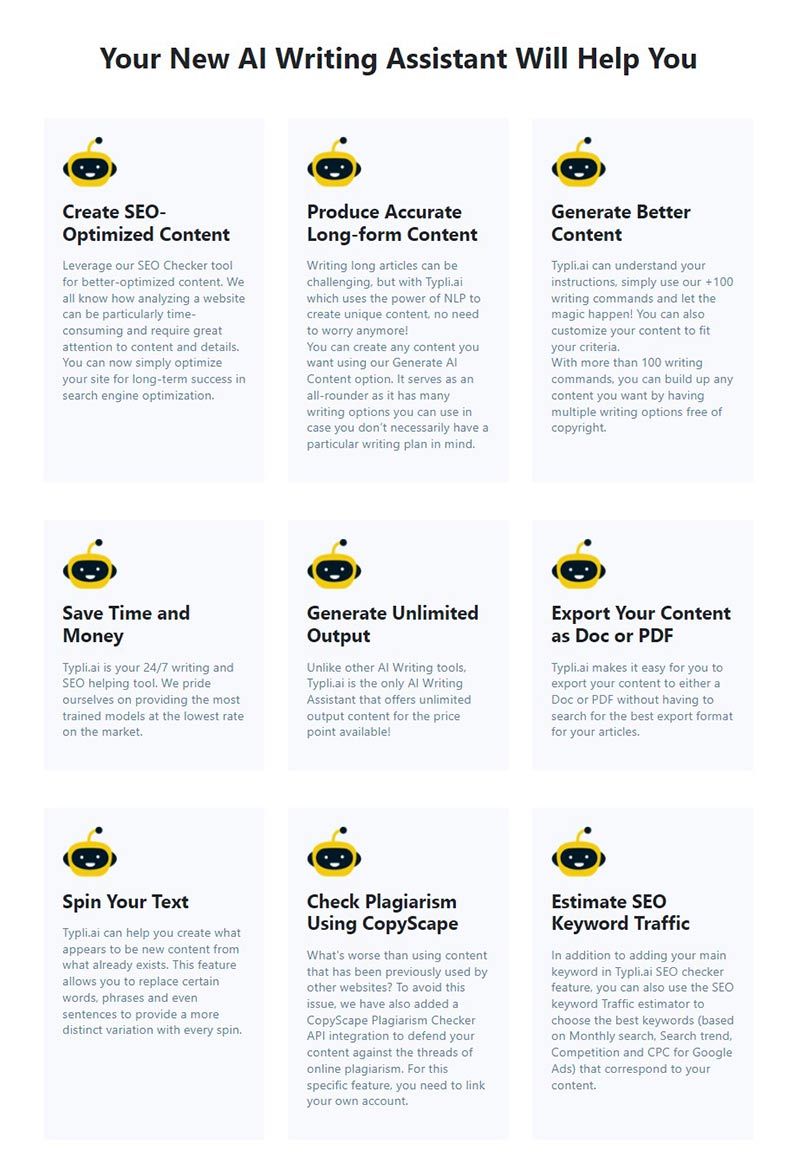 Produce Long-form Content
Typli.ai lets you write accurate and long articles using the power of NLP. Using its Generate Al Content option you can create any content you wish to. If you don't have any particular plan for writing your content use this to get many writing options.
Create SEO-Optimized Content
Typli.ai has an SEO Checker tool that can be used for better optimizing the content. Usually, analyzing a website is one the most time taking works but using Typli.ai you can simply get your work done, it lets you optimize your site for long-term success in search engine optimization.
Generate unlimited output
Typli.ai lets you generate a lot number of outputs. It makes it simple for you to export your contents either a PDF or Doc without searching for the best export format for the articles.
Spin Your Text
Typli.ai lets you create what appears to be very new content from what was already existing. This is a feature that allows you to replace certain phrases, words, and even sentences to make a more distinct variation along with each spin.
SEO Checker
Typli.ai estimates SEO keyword traffic. Use this feature or the SEO keyword traffic estimator to choose the keywords that are best (based on Search trend, Monthly search, CPC for Google Ads, and Competition) that correspond to your content.
Alternatives to Tyli.ai
Grammarly Business
Grammarly Business helps about 30,000 teams in improving their communication at work. It offers detailed and real-time suggestions to help refine tone, improve word choice, fix grammatical errors and make sentences clearer. Whether your team is writing articles, emails, or something else entirely, it helps your team members to produce work that reflects your business with professionalism and polish. Grammarly Business has a centralized administrative dashboard, using which your team leads can easily track team performance and manage their subscription.
Peppertype.ai is an AI-power software to help you write better content. It does so by enabling you to build a library of your favorite styles for writing, such as Inspirational, Simple, or Confident. You pick the style and choose a topic relevant to your subject matter and then your content is written in a few seconds. Peppertype lets you create persuasive and engaging content on your own – you just have to choose the topic, click and write.
It is an online visibility management software-as-a-service platform. With over 50 products, add-ons, and tools across online visibility management, including tools for content, search, market research, and social media, seamless integration with Google, data for more than 140 countries, and task management platforms, Semrush is the best solution for all companies who are serious about their online presence.
Jarvis is one of the best AI copywriting assistants that was previously branded as Conversion.ai. Jarvis enables you to finish writing high-quality content 2-5X faster. It helps you to write your social media posts, marketing emails, blog articles, and more. It is multilingual as it knows over 25+ languages, so whether you want to translate your content for multiple languages or you're not writing in your mother tongue, you can do it using Jarvis.
Using Rytr you never have to face writer's block again — from ad copies to blogs to emails, auto-generate original, catchy, and high-converting copies in popular languages and tones in just a matter of a few seconds. You just have to pick a use case, enter some context, and then your copy is ready.
Typli.ai FAQs
What type of support options are generally offered by Typli.ai?
Typli.ai offers live support and online 24/7.
What is the pricing of Typli.ai?
Typi.ai pricing starts at 29 per month.
What is the pricing supports available for Typli.ai?
It offers supports included with the purchase.
Does Typli.ai offer a free trial?
Yes. It offers a free trial. It is a 7-day trial account.
What languages does Typli.ai support?
Typli.ai supports English.
Pricing of Typli.ai
Typli.ai offers the following plans-
Free trial– At $0 for 7 days.
Subscription plan- starting at $29 per month.
Features included are-
24/7 Email Support
Generate Unlimited Characters
Access to Newest Features
Unlimited SEO Checker
Unlimited Projects
What makes Typli.ai stand out?
As we all know how time-consuming analyzing a website is. It is work that requires a lot of attention to detail and content. But Typli.ai has solved this problem, using Typli.ai you can simply optimize your site for long-term success in search engine optimization. Typli.ai understands your instructions very easily, uses its +100 writing commands, and waits for the magic to happen. Using Typli.ai you can also customize your content according to your criteria. There are more than 50 writing commands, you can build up any content of your wish by having multiple options.
Typli.ai is not only used by a handful of people but a lot of content marketers have instilled their trust in this Al-writing tool. Now developers have started building their AI-writing tools to help themselves in winning the competition. As by the going time, traditional writing skills are becoming obsolete in the present technologies- digital marketers from every corner of the globe are looking for a suitable tool to help them be on the top of their SEO as well as content marketing. Typli.ai is one such tool, it is a very powerful tool that generates in seconds very unique and amazing writing pieces. It is thus, perfect for people who are trying to gain an edge over their competition.
Pros and Cons of Typli.ai
Pros-
Has a clean user interface.
Easy and simple to use.
Saves time and lets you write smarter.
Produce high-quality content.
The best tool to generate long-form and SEO-friendly content.
Cons-
After a few spins, the output is bad sometimes.
Only supports one language i.e., English.
The Review
Typli.ai
Typli.ai is a an amazing writing assistant. It is the future of writing content. Typli.ai has a built-in SEO checker that makes sure that your content is top tier. This al-powered software application has developed some of the best practices that directs the users to write a content that is rich in quality and quantity both.
PROS
It is a very easy to use software that will save a lot of your time.
Easy and simple to use.
Produce high-quality content.
One of the best tools to generate long-form and SEO-friendly content.
Review Breakdown
Easy to Use

0%

Features

0%

Content Quality

0%

Value for Money

0%

Support

0%

Brand Trust

0%