In the year 2016 at the University of Cambridge, a team of technology entrepreneurs founded Tactful. Tactful Cognitive Helpdesk lets life agents manage all live conversations on Facebook comments, Facebook Messenger, and their website from one unified desktop. The agent dashboard shows a 360-degree view of the customer interactions across channels by tracking all information that is needed by you to understand the customer journey nicely. By doing this, you become able to uncover the intentions of your customers and help them with better solutions and recommendations.
Tactful Cognitive Helpdesk is an all-in-one, AI-powered omnichannel customer support platform with CRM, ticketing, help desks, and automation technologies. It is poised to transform the experience of customers and workplace collaboration by using unique Al technology. Tactful Al personalizes, automates conversations between customers and employees with their organizations. Tactful Cognitive Helpdesk includes features like Omnichannel live support dashboard, unified agent desktop, Customer engagement analytics, Customer profile management, Live engagement monitoring system, Customizable web chat plugin, Knowledge base, content management, and ticketing systems.
Tactful Cognitive Helpdesk Overview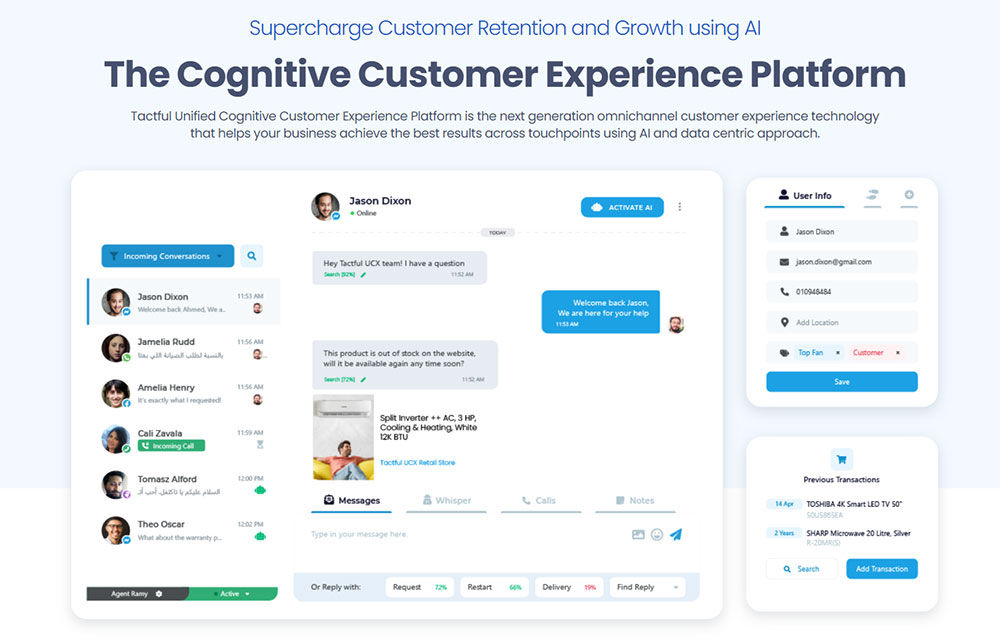 Tactful Cognitive Helpdesk is a completely integrated customer support platform with facilities like help desk, ticketing, CRM, and automated support technologies it manages all Facebook messengers and comments along with your website. You can also keep a track of all the activities of your customer's past purchase or from their present purchase by tracking their journey on the agent dashboard. It helps you understand your customers and build a strong bond with them.
You can keep all the support tickets at one location with an integrated ticketing system that is integrated into the same user interface. It allows you to place tickets for customers and then assign and manage requests to teams or agents. Tactful Cognitive Helpdesk is best for startups, E-commerce stores, and small businesses looking to deliver efficient and best-in-class customer support. In short, Tactful Cognitive Helpdesk is a feature-rich platform that can work effortlessly.
Features of Tactful Cognitive Helpdesk
Al Help Desk
Al Powered Customer Support Platform. Tactful Al Helpdesk redefines the customer support software by using comprehensive omnichannel customer support, CRM capabilities, and ticketing blended with advanced Al and automation technology for increased customer retention, reduced costs, and optimized operations.
Al Ticketing System
Advanced and Feature Rich Ticketing Solution. It is used to streamline customers' requests, personalize and boost their loyalty.
Al Chatbot
Smart and Self Learning Virtual Assistants. Now, the best self-service conversational experiences can be built using smart self-learning virtual assistants powered by advanced multilingual artificial intelligence technology.
CX Analytics
Customer can review their support experience after support, and you will get the entire chart of their satisfaction. From which you can improve your supporting system. Customers can communicate through multiple channels, but you need analytic in one, and Tactful i-Sight is an omnichannel analytic technology that can do it effortlessly.
Alternatives to Tactful Cognitive Helpdesk
Zoho Desk
Zoho Desk pulls all your customer interactions from across multiple channels into a clean, single interface thus allowing you to seamlessly continue these conversations and help your customers easily.
Freshdesk
Freshdesk is cloud-based helpdesk software. It streamlines customer conversations across multiple channels including phone and email. It enables a faster collaboration with the support team to facilitate quick responses to your customers. 150+ integrations make it simple for businesses to provide superior customer support.
Zendesk Support Suite
Zendesk Support Suite provides customer support by email, social media, mobile phone, and voice with complete data reporting. It allows you to have a natural conversation with your customers. You can contact and interact with your customers at any channel and keep the entire relevant context in one place for your agents.
Tactful UCX Platform
Enterprise Scale Customer Experience. It is an all-in-one platform for enterprises looking for scalable and capable modern software that can boost customer retention, maximize sales, optimize operations, and have deep insights into their customer journey.
Livechat Customer Support
From the live chat, you can connect anywhere with your WhatsApp, Facebook, Web chat, and others, after this your agents will be able to chat and reply to users via any of these channels.
Tactful Cognitive Helpdesk FAQs
At what price you can get a Tactful Cognitive Helpdesk?
Tactful Cognitive Helpdesk comes with a monthly plan starting from $39 and an LTD plan starting from $69.
How many channels are included in the Tactful Cognitive Helpdesk deal?
Following are the channels that are a part of the Tactful Cognitive Helpdesk deal in all tiers:
Webchat, Instagram, SMS, Twitter, Email, Facebook Messenger, Facebook Comments, WhatsApp, iOS/Android SDK
What languages do Tactful Cognitive Helpdesk supports?
Along with English and Arabic, there are 25 more languages to be added, including many European and some African languages as well.
Pricing of Tactful Cognitive Helpdesk
Tactful Cognitive Helpdesk offers the following plans-
Digital Care– at $39/month/agent. Omnichannel customer support.
Channels included- Facebook Messenger and Comments, WhatsApp, Website Integration, Web SDK, Email, and iOS/Android SDK.
Features included- Omnichannel Unified Agent Desktop, Knowledge base, Analytics, Call Center Integration, Content Management System, and Customer Profile Management.
Al Chatbot– at $49/month. Intelligent Self-service.
Channels included- Facebook Messenger and Comments, WhatsApp, Website Integration, Web SDK, Email, and iOS/Android SDK.
Features included- Knowledge base, Analytics, Content Management System, Chatbot Engine, Multilingual Al, Built-in Ecommerce Automations, Outbound Campaigns, and $39 per 1000 connections per month.
Lifetime Deal– Only for new Tactful Cognitive Helpdesk users who have existing accounts.
Features included- 2 seats. Lifetime access to Tactful Cognitive Helpdesk Care Plan, all future Cognitive Care Plan updates, No codes, no stacking-just choosing the right plan for you, Activate license within 60 days of purchase, 60-day money-back guarantee irrespective of the reason, 300,000 database records, Ability to upgrade or downgrade between 4 license tiers and Al chatbot and FAQ: Up to 20 intents and 500 CMS searchable items.
What makes Tactful Cognitive Helpdesk Standout?
Managing customers across channels is quite challenging for any business. If you fail to answer your customer's inquiries or questions in time, then you can run the risk of losing them. Tactful Cognitive Helpdesk solves this problem, it helps you to manage customers across channels while creating and managing ticketing all at one place. It gives you a centralized dashboard to manage omnichannel communication and ticketing, so you never lose track of any customer request.
Tactful Cognitive Helpdesk allows you to complain or cancel about products automatically without contacting the agent. By using self-service options, you can even eliminate repetitive tasks and free your team from many complex requests. Al-enabled routing technology enables you to intelligently assign requests and conversations to the right agents or teams. Once you are connected with the customers using Tactful Cognitive Helpdesk, you'll be able to communicate with them across channels and keep track of requests and conversations.
Pros and Cons of Tactful Cognitive Helpdesk
Pros-
Al Chatbox
Self-Service
Live Support
Ticketing
Omnichannel
No-code Al management
Outbound Campaign
Zapier Integrations
Sales and Marketing
Cost-effective
Flexible Deployment
Cons-
No API access
One Workspace per code
The Review
Tactful Cognitive Helpdesk
Tactful Cognitive Customer Platform is the next-generation customer experience technology that helps your business achieve the best results across touchpoints using AI and a data-centric approach. It is an impressive tool with the help of which you can engage with your clients and customers to serve them the best possible way.
PROS
Al Chatbox
Self-Service
Live Support
Ticketing
Omnichannel
No-code Al management
Outbound Campaign
Zapier Integrations
Sales and Marketing
Cost-effective
Flexible Deployment
CONS
No API access
One Workspace per code
Review Breakdown
Ease of Use

0%

Features

0%

Support

0%

Value for money

0%

Brand Trust

0%

Integrations

0%

Compatibility

0%