There are plenty of proxy providers and VPN services available in the market. Both VPN and proxies do the job of connecting you to a remote computer and serve the same fundamental purpose yet they are not the same. A proxy is the one that hides your IP address and sends a new IP address to the website instead of tricking the system or bypassing the restrictions.
They work in three ways- HTTP proxies that reroute the web traffic, SOCKS proxies work for streaming and gaming app software, and transparent proxies are used mostly to control online antics. Whereas a VPN also reroute the traffic through a remote server and hides your IP address but they work on any operating system and app-level-redirecting all the traffic from browsers and the background applications.
Out of the wide range of proxy services, it is a tough job to pick any one specific tool as all of them work their best to meet your demands. However, to make your job a little easier in choosing the right tool we have picked two amazing proxy providers- Bright Data and Soax.
Bright Data vs Soax: Which is an effective Proxy Solution?
Bright Data
What is Bright Data?
Bright Data is the leading proxy provider in the world. It works with four types of IP networks- Data center Network that is used for mass crawling of non-sophisticated target websites, Static Residential Network used for cases that need payment, non-rotating IPs, and a small amount of residential IPs, Residential Network that is used for accessing sophisticated target websites whenever you wish to see, be seen and crawl as a real user, lastly comes the Mobile Network that is used for targeting websites that are highly sophisticated and for collecting mobile-specific web data. Bright data provides a variety of proxies like- Residential proxy, Data Center Proxies, Mobile Proxies, and Static Residential Proxies (ISP).
The residential proxy service is quite similar to a VPN in a way of transferring information. But like a VPN sends your request directly down the road to a different IP, Bright Data doesn't do that, instead, it connects you to a network of thousands and millions of alternatives IP addresses. The data center proxies of Bright Data include both shared as well as dedicated IPs, they are located all across the world making it easier for you to find an API anywhere easily.
The mobile proxies also cover mostly all parts of the world, they come from the devices of end users so they rotate invariably, bright data offers 7 million IPs from 4G and 3GB powered mobile devices. And then comes the last, Static residential proxies. To set up with these proxies, you have to create "Zones" which is a combination of a plan and a sub-user which is done by first selecting the proxy type, then the pricing plan, and adding the additional permissions.
Lastly, you need to name the zone created and confirm its creation. In all, Bright Data is a complete package with amazing proxies and great features that can meet your needs perfectly. It is mostly used by companies who are looking to collect data from the web.
Pricing of Bright Data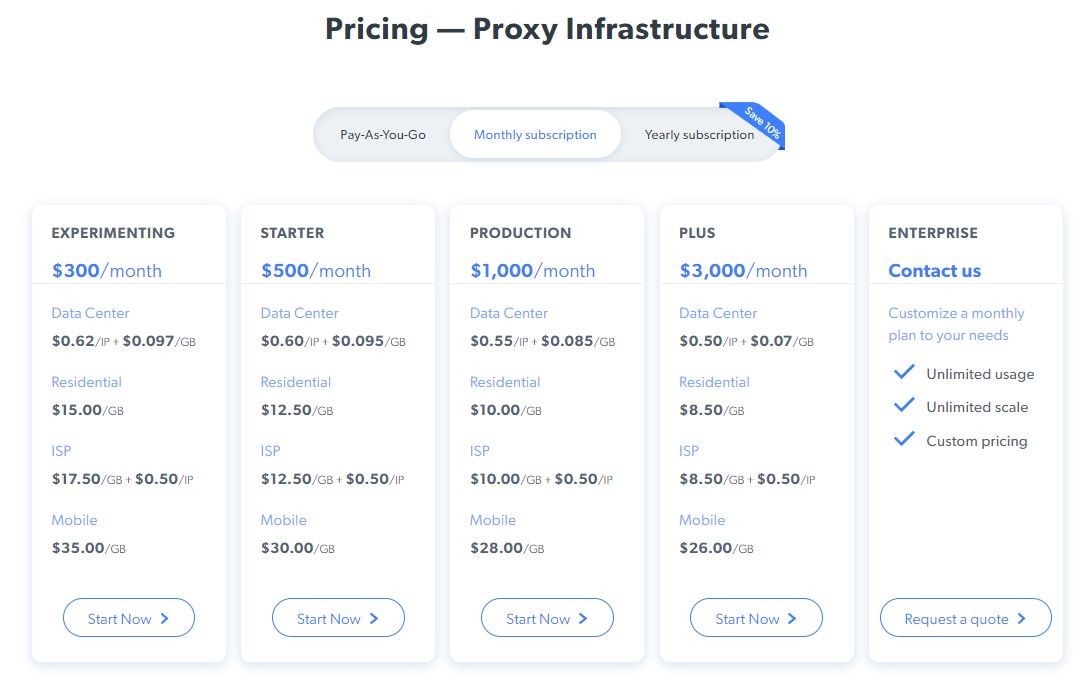 The pricing plans included in Bright Data are different according to the different proxies that it offers- for Pay-As-You-Go the Residential proxies are at $25.00 per GB.
For Data center proxies- based as per the IP it is $0.90 and based as per GB it is $0.12, Mobile proxies have pricing of $60.00 per GB, and the ISP comes at $12.00/GB+$0.50/IP. Their monthly and yearly subscription plans are also available.
Why choose Bright Data?
Bright Data is a great choice as it delivers a very stable connection, is free to integrate with the proxy manager, and allows you to send any number of concurrent requests hence increasing the speed, efficiency, and cost-effectiveness irrespective of the scale.

Also, the Bright Data support team is excellent that makes sure to provide the customers with 24/7 professional support in addition to this, the service provider coverage of Bright Data runs through every country covering almost the entire globe.
Bright Data has a search engine crawler tool that is used to extract the public data that is focused on the search engine in an automated process. While using the Search Engine Crawler API of Bright Data you can get real user results with the most speed and accuracy in quite high volumes.
Bright Data possesses an amazing speed. It uses Super Proxies' advanced load balancing algorithms that provide the best results in terms of the speed of the network. And it has an inbuilt smart IP rotation management layer that allows you to send unlimited concurrent sessions which plays an important role in speeding up Bright Data.
SOAX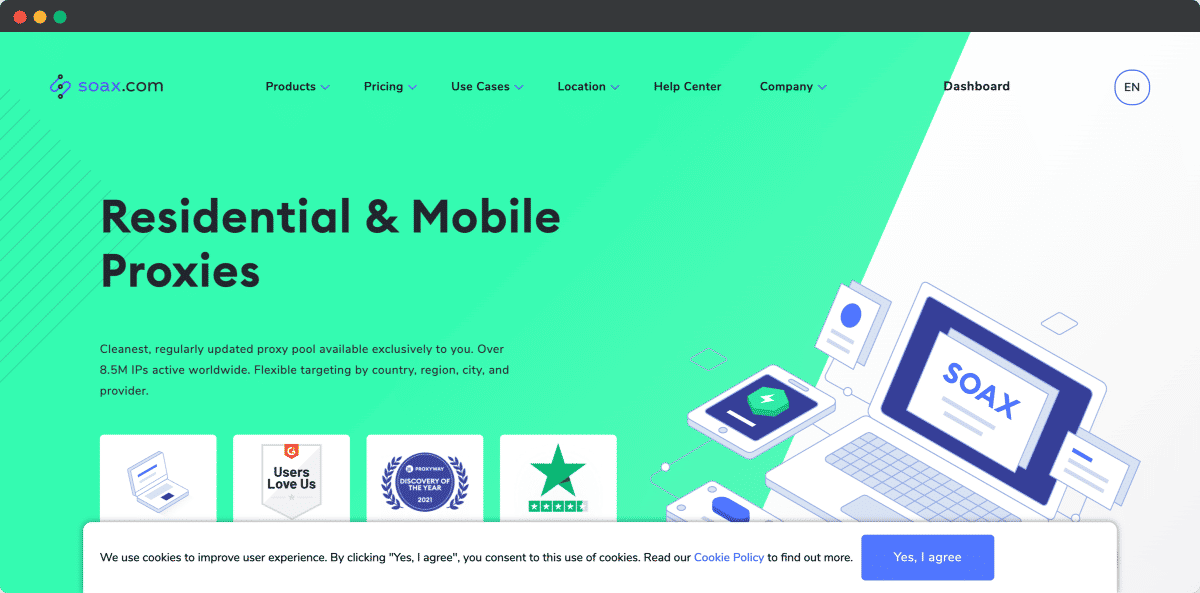 What is Soax?
Soax is another well-known powerful proxy service provider. It is not very old in the market as it only began back in 2019 but in a very short period, it has become one of the most popular proxy providers and is used widely by people who are looking to scrape websites, and monitor prices, and do market research.
Soax offers an impressive set of features like city and ISP-specific geo-targeting, Mobile IPs, ample documentation, and support. It has two types of proxies- Residential Proxies and Mobile Proxies and the cleanest proxy pool that is updated regularly. The residential proxies further offer WiFi proxies that are IP addresses of those devices that are connected with a Wi-Fi network and have over 8.5 million IPs active across the globe.
The Mobile proxies on the other hand include IP addresses of the mobile devices that are connected with a 4G network. Both of these proxies are owned by internet service providers and are assigned to real devices such as laptops and smartphones.
Soax has a dashboard that is very functional and greatly intuitive for all kinds of its users. And it offers a straightforward process of creating a proxy list for your app, by providing you with the option to choose the target country, authorization type, optionally an ISP, type of connection, number of ports and you can also use it to target a particular geographical area so on any port. In all, it has a great interface and it's easy to use. It is mostly used by companies that need a proxy server service.
Pricing of Soax
The pricing plans that Soax offers depend upon the type of proxy you are choosing. It offers four types of plans for each type of proxy. The Residential proxies are priced cheaper than the Mobile proxies. However, Soax is not the cheapest proxy provider in the market.
WiFi Proxies- Starter WiFi at $99/month, Pro WiFi at $300/month, Plus WiFi at $500/month and Regular WiFi at $700/month.
Mobile Proxies- Starter Mobile at $99/month, Pro Mobile at $300/month, Plus Mobile at $500/month, and Regular Mobile at $700/month.
Why choose Soax?
Soax is a new yet very amazingly well-featured platform. It has one of the best dashboards that any proxy provider has, offers flexible pricing packages, and puts no restrictions on the number of proxies that you wish to use making it easier for you to freely choose any plan you need. It also ensures your full security by keeping your real IP address always hidden so you can be 100% anonymous.
Soax allows you complete anonymous access to any network it lets you even change your country of use and any other parameters while constantly keeping a private principle of use. Also, Soax has a great support team that never fails to give you a quality solution to any problem you face, other than that they give you attractive rates and an individual approach that will allow you to configure a proxy service package at your wish, according to your needs and the required results.
Soax offers a high speed along with a great performance. Using Soax you can get instant responses from legitimate IP addresses that are connected to a highly reliable Proxy Exchange Platform. The proxy connection speed of Soax is very sound.
The Synopsis of the article
After discussing briefly Bright Data and Soax it can be concluded that.  Soax doesn't offer any browser or app plugin that can allow you to leverage its huge proxy pool to protect your privacy. It also doesn't have a mixed pool that has both the WiFi and Mobile IPs which makes its pricing a little more complicated.
However, it has some plus points too like a great intuitive dashboard and a few API methods that can be used to build a proxy pool without even using a dashboard. But as Bright Data is the worlds leading web data platform and has almost all the amazing features in it including a fast speed and user-friendly dashboard it can be said that though Soax is a great tool still it is not better than Bright Data to an extent. Bright Data is surely the best choice for you.