Artificial Intelligence (AI) software is used for writing in case you want good quality content without running short of time. It not only gives ideas and generates an outline for your content but also generates a full long-form of content by instantly categorizing it into different paragraphs on the basis of your content preference. If you do not want to invest much time in writing or spend much money on hiring any professional writer, you can simply opt for any of the best AI software available digitally as it delivers good quality content at a faster speed.
However, AI writing tools don't replace the need for a content writer. They can be used to help brainstorm ideas and create drafts, but they lack the human touch that is essential for producing high-quality content. Content writers are still needed to review, refine and add the personal touches that make content shine. AI writing tools should be seen as a supplement to a content writer's toolbox rather than a replacement.
List of Best AI Content Tools for writing Long-Form Content in 2023
Scalenut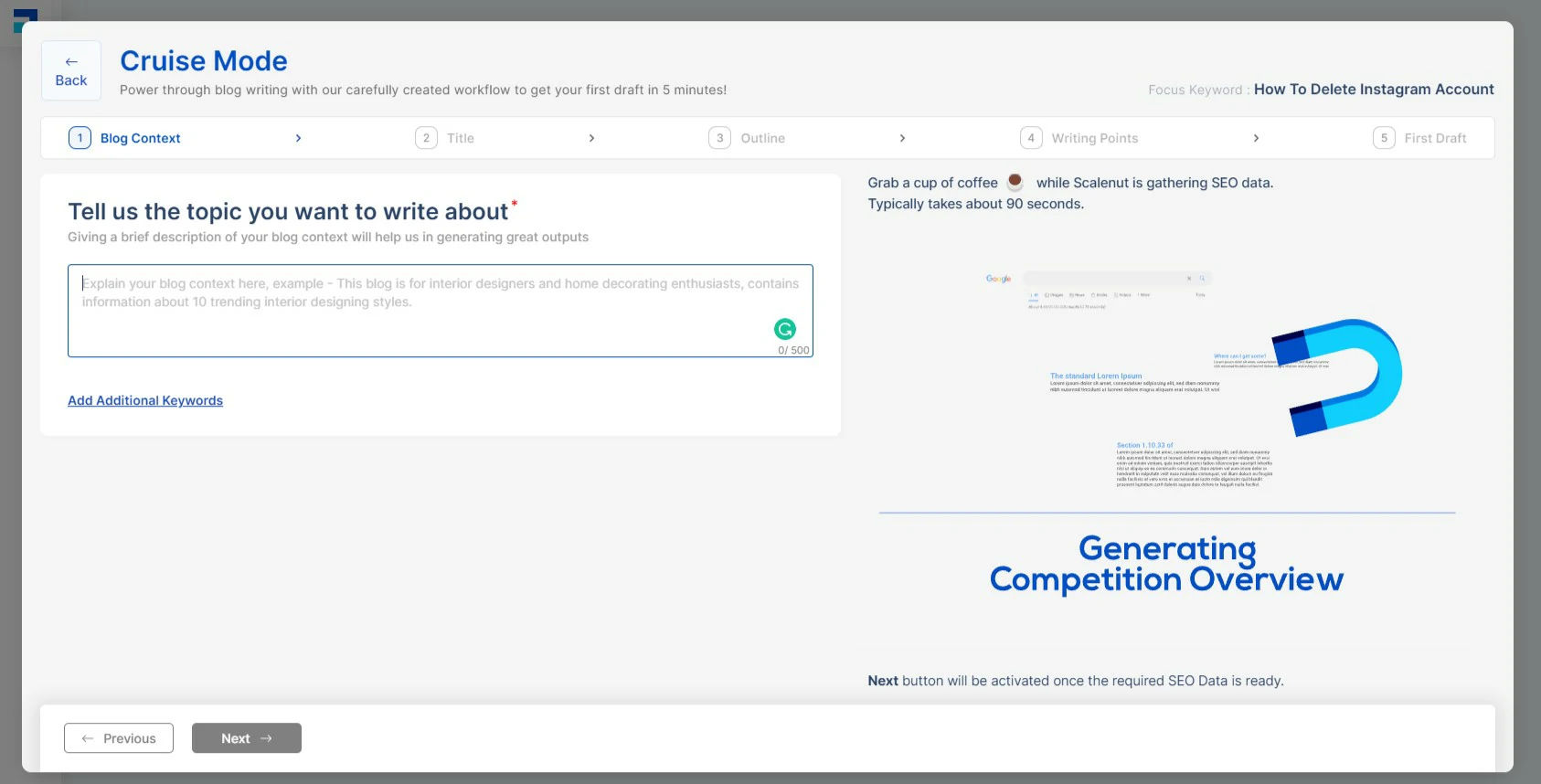 Scalenut is the best AI writing software for both long-form as well as short forms of content. More than 40 use cases are available to choose from and write content as per the requirement. Appreciable content gets generated using the AI SEO assistant writing tool including in-build content brief and automated NLP key terms without wasting time. This software is best for long-form content writing as the interface allows you the cruise mode where you can generate perfect outlines, headings, and FAQs for your long-form content.
Scalenut Features-
Pros –
User-friendly
AI Content Writing
SEO Guided Cruise Mode
Google Chrome Extension
Best quality results
Affordable Plans
Cons-
Insufficient customizable templates
Pricing Plans-
Individual- $ 12/month; 100,000 AI words, 5 SEO reports, 40+ AI tools
Growth- $32/month; Endless AI words, 30 SEO reports, Cruise mode, SERP facts
Pro- $60/month; Unlimited SEO reports, 2 users, full-on customer success manager
Jasper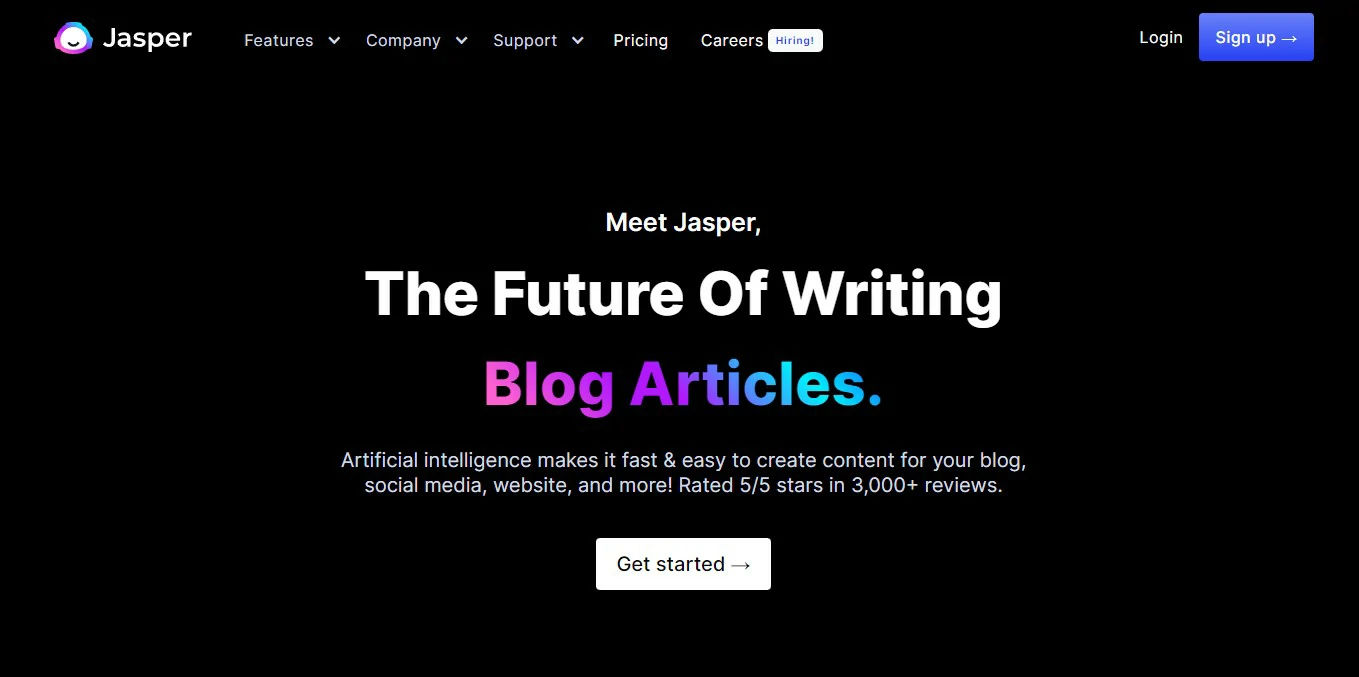 Jasper is an AI writing software that provides 50+ copywriting skills for creating quality content instantly. On choosing from 25+ languages and a variety of concepts available, Japer's AI writing tool can generate long-form and plagiarism-free content in boss mode.
Jasper Features-
Pros-
Powerful features
Accurate content
Powerful Integrations
Numerous Templates
Cons-
Extra charges for junk content
Pricing Plans-
Starter- $299/month; 50+ AI templates, 20+ languages, 5 users
Boss Mode- $99/month; Starter plan features plus strong tools for long-form content and control with adjustability
Anyword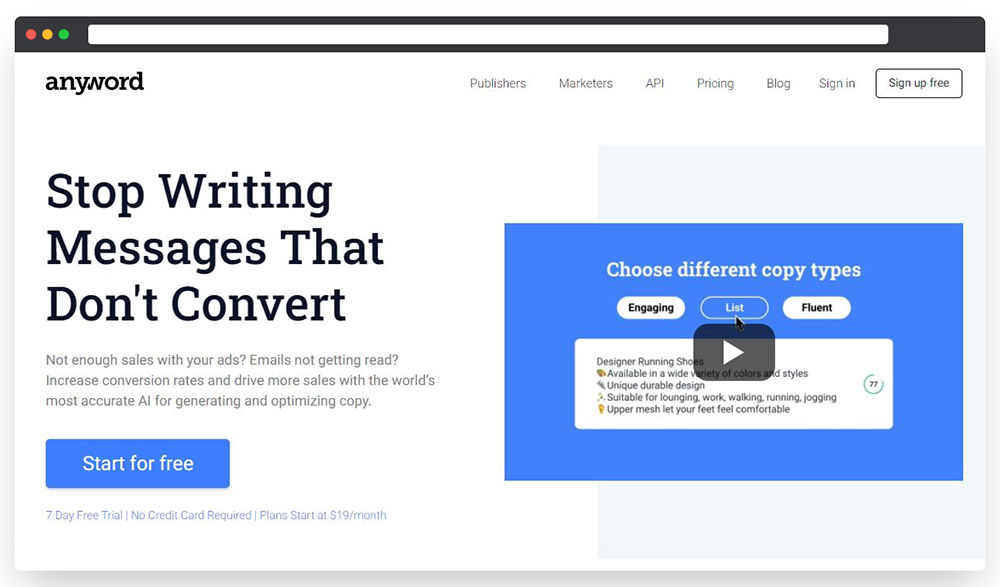 Anyword is an AI writing tool that builds any type of content as well as makes optimizations. It creates ad copies through social media posts, emails, and others. It also estimates your content quality before uploading for enhanced performance.
Anyword Features-
Pros-
Tailor-made content for users
Preset keyword library
Cons-
Advanced pricing for more features
Pricing Plans-
Free- $0/month; 1,000-word credits per month, 1 seat
Basic- $66/month;100,000-word credits per month, 1 seat
Data-Driven- $83/month; 30,000-word credits per month, 1 seat, 25 languages (beta)
Rytr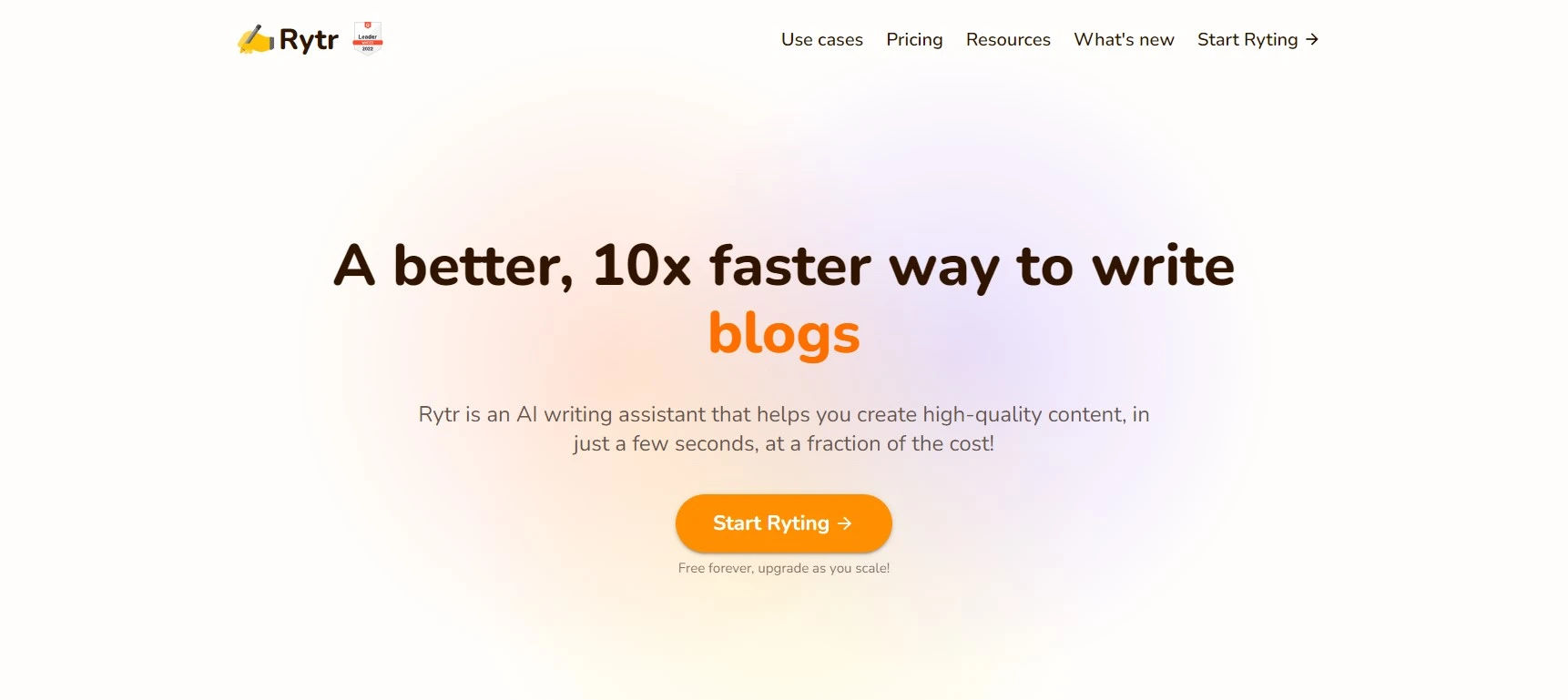 Rytr is an AI writing tool that works on scientific copywriting formulas that require not much editing and automatically creates plagiarism-free content in less time. SEO analyzer is also available for organizing content. It is best for social media copies and blog writing. Its initutive UI allows you to easily generate copies, modify them include wherever you want.
Rytr Features-
Pros-
SEO analyzer
User-friendly
Cons-
Less advanced characteristics
Pricing Plans-
Free- $0/month; 5000+ characters per month
Saver- $9/month; 50k+ characters per month
Unlimited- $29/month; Unlimited characters per month
Wordhero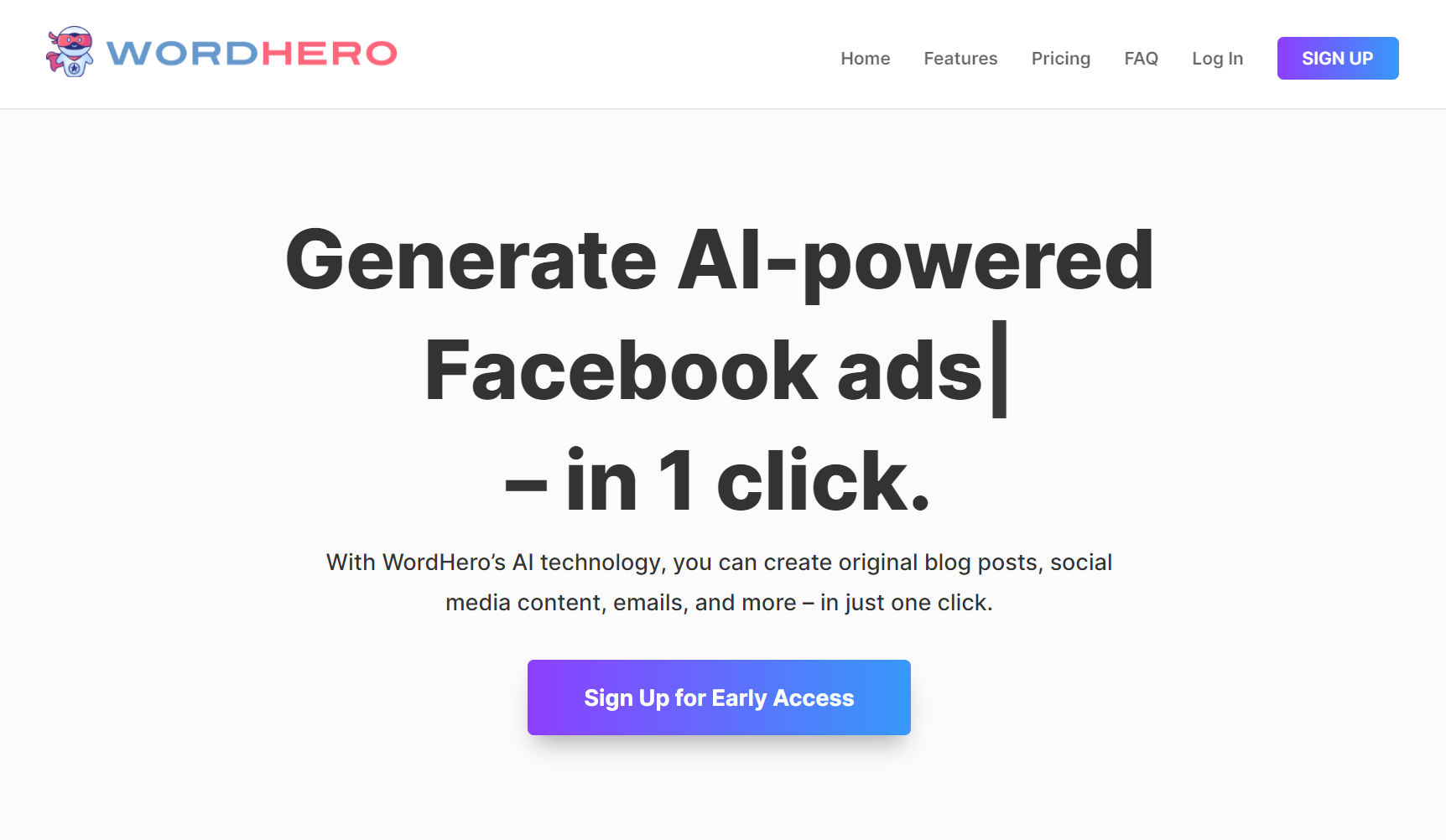 AI integrated tool of Worhero automatically generates plagiarism-free content such as social media posts, blog posts, emails, SEO descriptions, etc. simply by inserting keywords. It takes less time and delivers quality content.
Wordhero Features-
Pros-
User-friendly workplace
Creates content instantly at any scale
Cons-
Not sufficient enough to replace the human writing style
Pricing Plans-
Both plans provide all writing tools to create endless content
$49/month
$348/year ($29/month yearly)
Surfer SEO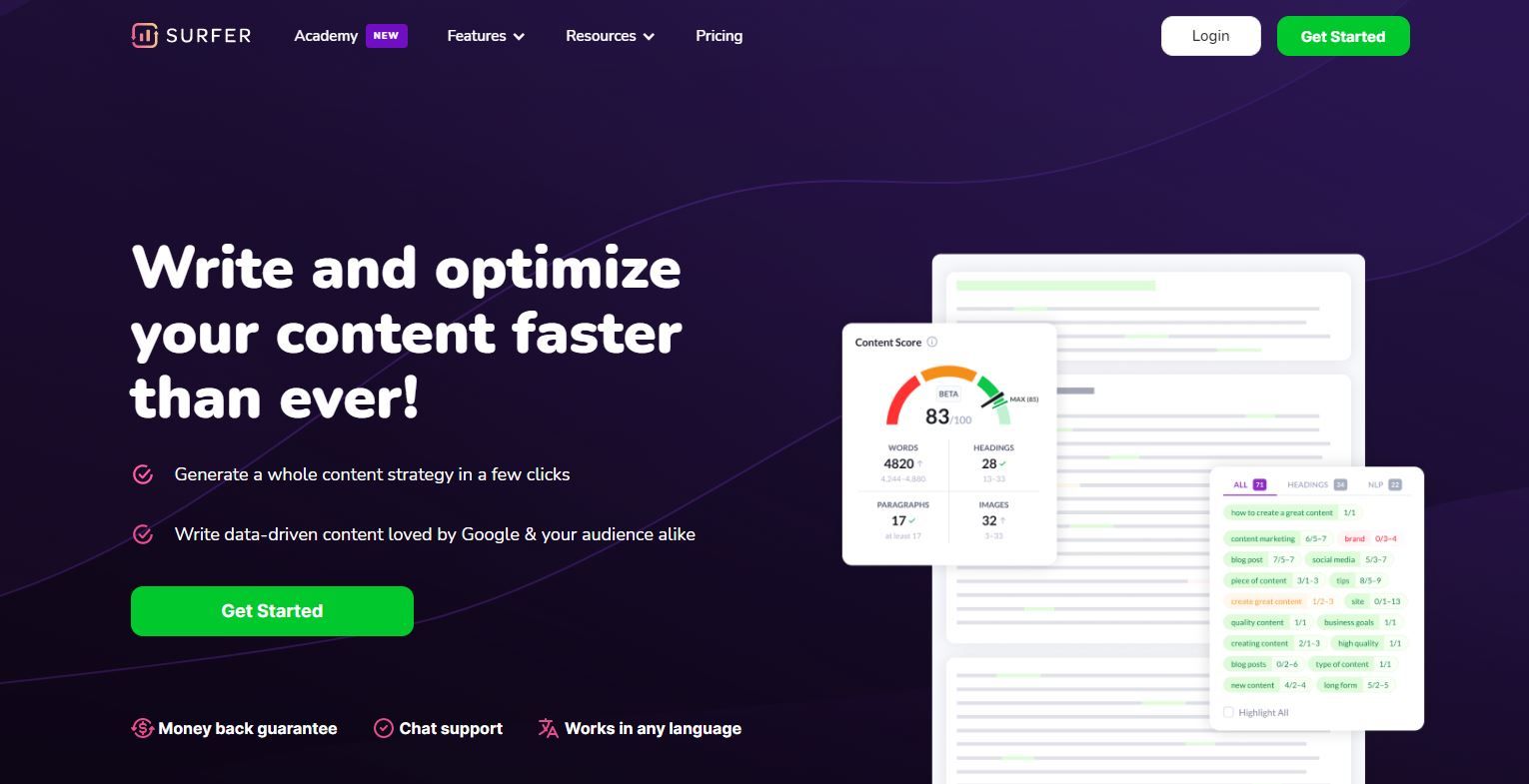 SurferSEO is a platform for content optimization using high algorithms to generate the best content. It also creates internal links utilizing an audit tool to organize the target audience from the top ranking. It provides an outline for long-form of content and then divides it into proper sections to maintain the workflow and simply generate content.
Surfer SEO Features-
Pros-
Audit content
Estimate content through the chrome extension
Cons-
Knowledge of SEO is required for the clarity of the interface
Pricing Plans-
Basic- $59/month; Generate and optimize 10 articles/month, audit 20 pages/month
Pro- $119/month; Generate and optimize 30 articles/month, audit 60 pages/month
Business- $239/month; Generate and optimize 70 articles/month, audit 140 pages/month
Writerzen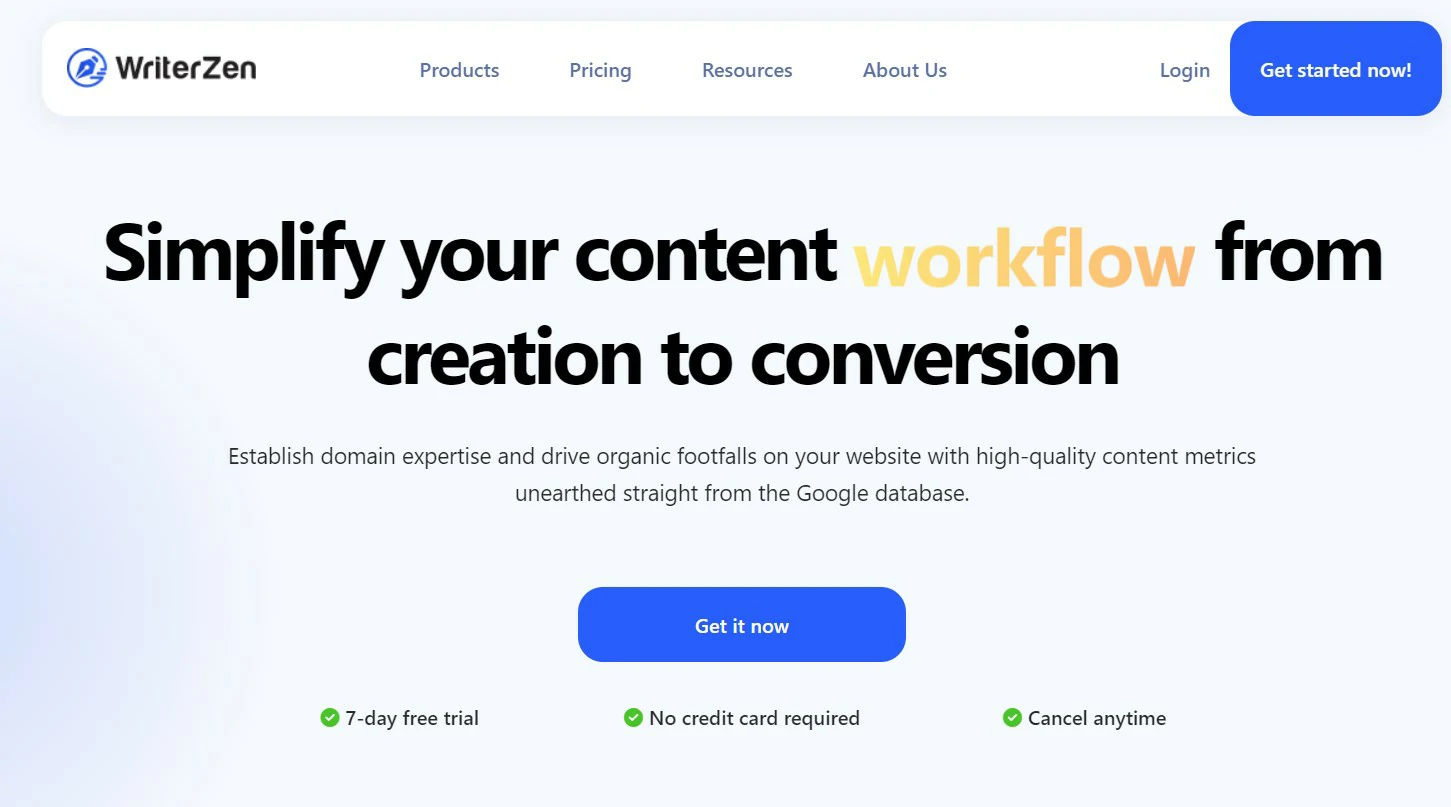 Writerzen is an AI writing tool that provides various keywords from the source of Google Keyword and Google Suggest Database. Suggest ideas for content through estimation of competitor's content with the aid of 60+ templates available. It auto-writes, and even rewrites content after getting suggestions from users.
Writerzen Features-
Pros-
Enhance content at a faster rate
Keyword research tool
Cons-
Requires improvement in further optimizing content
Pricing Plans-
Basic- $39/month; 50 keywords look up/day, 50 topics look up/day, 5,000 AI writing words/month, 25,000 words check/day
Standard- $59/month; 75 keywords look up/day, 75 topics look up/day, 8,000 AI writing words/month, 40,000 words check/day
Advanced- $99/month; 150 keywords look up/day, 150 topics look up/day, 15,000 AI writing words/month, 100,000 words check/day
Marketmuse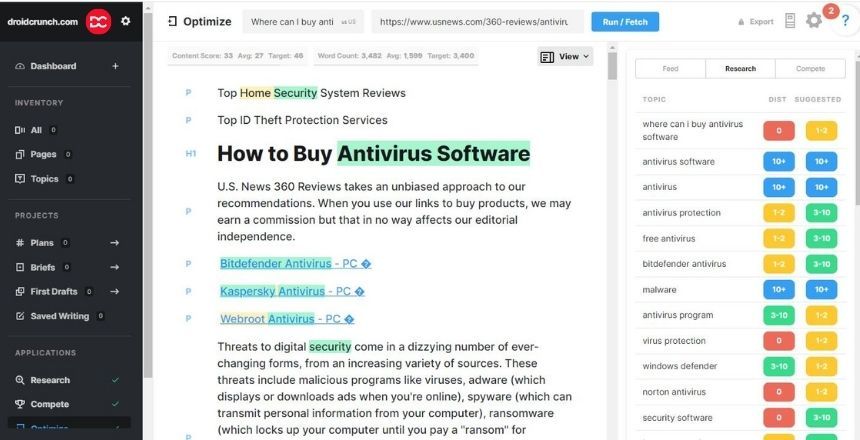 Marketmuse is an AI-powered platform for content research and creation. It estimates real-time text editor and uses relevant topics, internal and external attachment suggestions, and content schemes, and through a team of SEOs, engineers, and data scientists, boosts content faster by proper management.
Marketmuse Features-
Pros-
Content advancements
Easy user interface
Cons-
Restricted credits
No link-sharing feature
Pricing Plans-
Free- $0/month; 1 user, 15 queries/month, 10 projects
Standard- $7,200/year; 1 user (additional users at $99/month), 100 queries/month, unlimited projects
Premium- $12,000/year; Team access, unlimited queries, unlimited projects, focused account management
Over to You
In conclusion, AI writing tools can be incredibly useful for producing high-quality long-form content. The range of features and specifications varies from tool to tool, so it is important to compare each of the best options based on your individual needs.
From basic grammar checks to more complex AI capacities like summarization and natural language processing, there is something available for everyone. No matter which you choose, you will benefit from efficient and accurate writing solutions that save time and energy in the long run.
Plus, these tools are not just limited to writing – they can also assist greatly with content marketing efforts. By leveraging the power of AI, marketers can access valuable insights into customers and target audiences while simultaneously creating highly relevant content that resonates with users. Evaluate each of these solutions with care and choose the one that satisfies your business needs in order to unlock the full potential of Artificial Intelligence and take your content strategy to new heights.