Writerzen is an Al-powered content creation tool. The platform is relatively new to the market. It was launched back in 2018. But since then, it has gained a lot of popularity at the global level.
Writerzen is a pioneer toolset. It walks through the optimal content-creating process, tailored particularly to your SEO expertise. It allows you to establish topic clusters, discover hidden topics, and research keywords that amp up your content's ranking as well as drive traffic.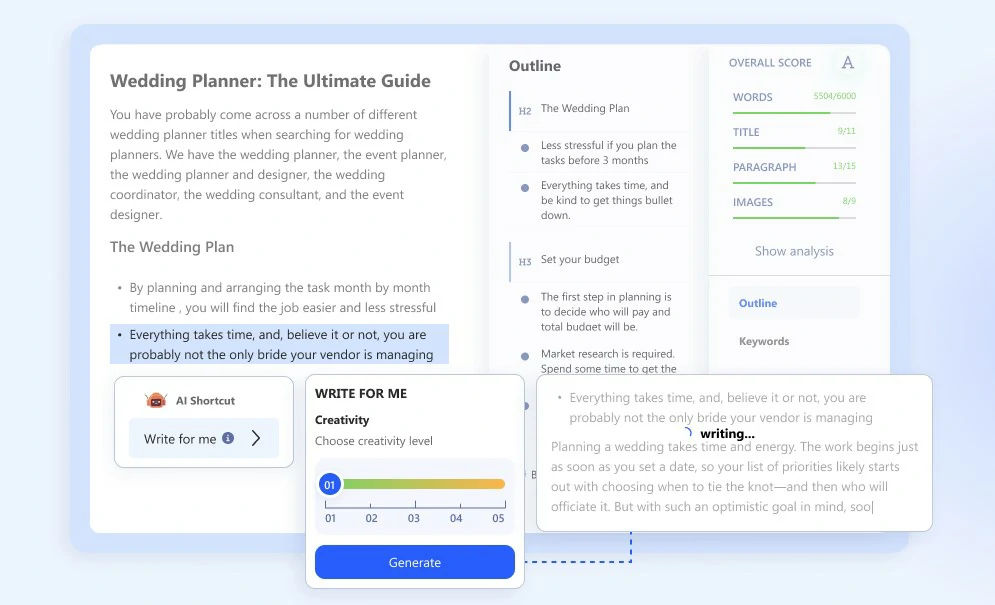 It has enabled businesses to create a structured knowledge base, and store all the relevant keywords and topics in a personalized database.
Writerzen provides you with SEO tools that help you to generate and optimize the website contents on a centralized platform. The professionals can easily detect plagiarism across the content and also automatically detect the sentiments through natural language processing (NLP) functionality.
The software helps you to do topic research based on specific keywords, create unique content, etc. Considering that Writerzen offers amazing features and highly affordable pricing plans, it is worth the investment.
Writerzen Features
Writerzen is feature-rich software. It has features like Topic Discovery, Keyword Explorer, Keyword Data, All in Title, Keyword Insights, Keyword Cluster, Content Creator, and Plagiarism Checker. Here in this section, we have discussed some of them.
Topic Discovery
It is a very time taking process to decide the topic for your articles and blogs. And doing manual research consumes a lot of your time. Here comes, The Topic Discovery feature that saves a lot of your time and provides you with amazing topic ideas and relevant keywords in just a matter of a few minutes.
Keyword Data
While doing keyword research on keyword explorer, you get to see the Keyword data on all the keyword ideas. A complete list of keywords with a volume, word count, CPC, trend chart, and PPC competition will appear. You just have to click on any one keyword and see the keyword difficulty, overview SERPs, and search volume.
Keyword Explorer
This feature helps you to do keyword research within just a few seconds. The top SEO experts believe that without it, you can harm your website ranking. This is why it is very important to know which is the essential keyword that will prove best for you. Keyword Explorer does this job for you, it provides you with amazing keywords to work with.
Keyword Insights
This feature lets you see those questions that come along with the keyword that you have searched for. These include the questions that people have been asking on the internet. And you can answer them in the FAQs section of your blog posts. Keyword Insights is a feature that provides you with plenty of ideas that you can scrap keywords that are worth months for your website.
Plagiarism Checker
Once you are done creating your content you can enhance its quality by checking if there is any plagiarism in it. The features are a bonus for all the content writers present out there.
Writerzen Pricing
Writerzen offers three types of pricing plans, and they are as follows-
Basic Plan- Comes at $39 per month or $27 per month annually. The plan is perfect for individual content writers who work to handle one project at a time. All the features of Writerzen are included in the plan.
Standard Plan- This plan comes at $59 per month or $41 per month annually. It is perfect for small teams who wish to work on multiple projects. It gives you more credit than the basic plan.
Advanced Plan- It comes at $99/month or $69/month annually. The plan is best suited for big agencies and marketing firms. It gives you more credits than the Standard plan does.
A.l. Assistant Plan
The Al assistant add-on-plan comes at $99 per month or $84 per month. This add-on plan lets you generate unlimited words for your articles, you can use over 70 prebuilt Al templates, and even more. It works amazingly with any one of the regular subscription plans. You can buy just this one plan for creating content for your website.
One-Time Credits
You can also buy extra Google NLP credits and extra keyword credits. The pricing is as follows
20k keyword credits- $19
40k keyword credits- $29
150k keyword credits- $99
60 Google NLP credits- $19
180 Google NLP credits- $49
600 Google NLP credits- $149
Writerzen- Free-trial
Writerzen offers a free trial for 7-days😎. During the trial, you get access to all its features, without even using your credit card info. To get started with Writerzen's free trial you need to follow a few steps-
Step1– Visit Writerzen's official website. On the homepage, click on the "Get it Now" button. Then proceed with the registration process.
Step2- Create an account directly through Google or manually. Once you are done with it press the "Submit" button.
Step3- You will get a verification email at your email address. Go to your email and open it from Writerzen. Then click on "Verify".
Step4- Answer a few questions and complete your account setup.
Step5- Get started with Writerzen's free trial of 7-days. And the experience of its features before making any purchase.
Writerzen FAQs
Does Writerzen have a refund policy🤷‍♀️?
Yes. In case, if you are not satisfied with Writerzen then you can apply for a refund within 48 hours of the purchase of the tool. But after this decided time limit, you can cancel your subscription, but you can't get any refund.
Does Writerzen offer any discounts?
Yes. From time to time Writerzen offers many amazing discounts offers. And when you choose to pay for any of its subscriptions annually, then you can save up to 30% right away easily.
Does Writerzen have a lifetime access deal?
Yes👍. AppSumo offers many outstanding deals for various products, and Writerzen is one among them.
Writerzen Pros and Cons
Pros-
Very flexible pricing. More affordable than most of the other Al-powered writing tools.
Use KGR and Allintitle features, and get unique ideas for topics.
Writerzen's UI is straightforward.
A lifetime deal is available on AppSumo.
Cons-
As compared to other plagiarism checker tools Writerzen is average.