Teachable is an amazing platform for creating an online course. It offers a great opportunity to the course creators to build, then market, and sell their coaching and course services using this platform. It also offers additional features like memberships and comes along with a course marketplace. Teachable's collection of features and its intricate details clearly shows that the platform is specifically designed for ease of use.
Teachable was created back in 2013, the first instance of this tool Fedora. Teachable is a tool designed for beginners. It is an intuitive platform, and very easy to use. Although it is ideal for beginners it can also work great for an intermediate course creator. It works exactly how you wish it to; it streamlines the procedure of getting your online course live, which means it saves your time that is spent otherwise on copywriting, coding, selling, marketing, and everything in between.
Features of Teachable 🔥
Dashboard 🖥️
The dashboard can be a little tricky to build. It is the first screen that will be seen once you complete the onboarding questions. It shows the core features that are needed for launching your course.
Accessing users 👥
Users are the place where all the information that is related to your course is available. Users include owners, affiliates, students, authors, and anyone else you wish to include. The user section also comes with a search and filter bar that helps you find people based on a definite criterion.
Customize theme ✒️
Customize your theme with the theme section. It comes with the ability to customize the font that appears throughout your footers, site, colors, navigation bar link, headings, body text, and even your video player.
Pages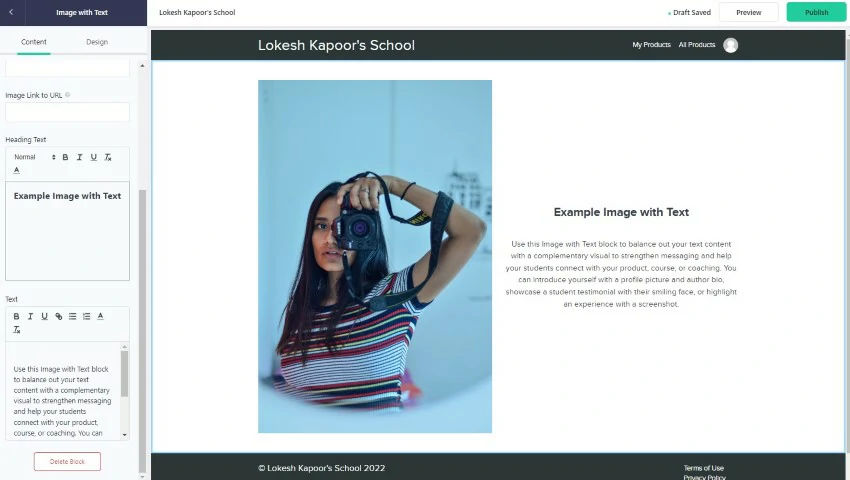 The page editor is a sophisticated solution that enables you to create content-rich, aesthetically pleasing website pages, sales pages, and thank you pages. The page editor is intuitive, yet flexible enough to allow for advanced page design if necessary.
It allows you to add the blocks and change the content based on your need to create necessary pages for your website. It is easy to use the visual builder for your teachable website. Know more about Teachable pages here
Domains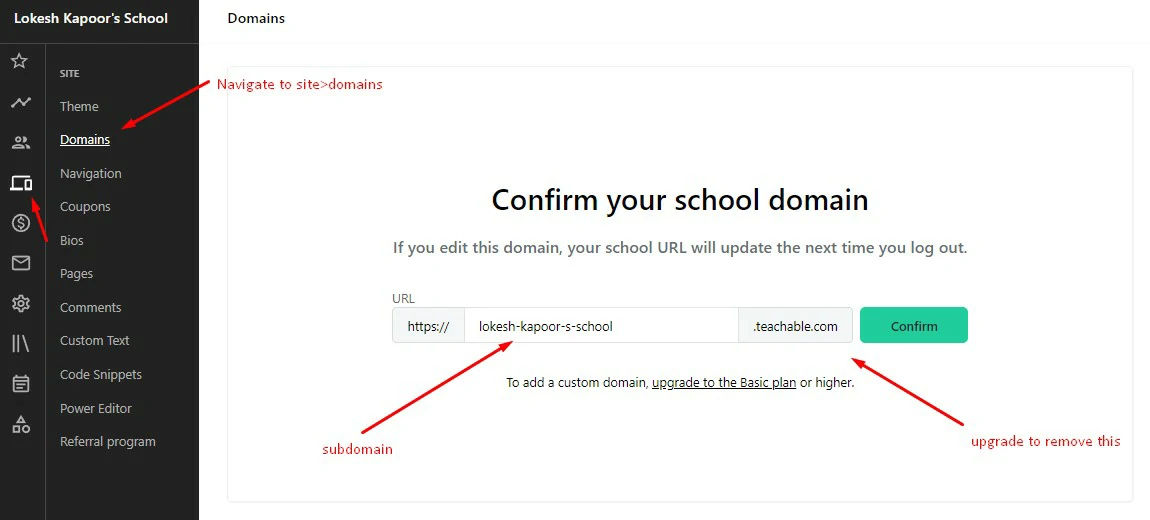 Teachable offers a subdomain that supports the online course creators. You can also use a custom domain. It is one of the easiest ways of launching your online course without worrying about dodging hosting.
Coupons
With teachable one can easily create coupons for the students to use when they are purchasing the courses. It is a very useful feature to have more sales and conversions for the creators.
Code Snippets
With this feature, you can have more control over your teachable website by adding custom HTML, CSS, or JS files. It is however a paid option but very useful.
Email Management
Like other course selling platforms, Teachable too allows you to manage the emails, and send the campaigns in order to increase the sales, trust, and interactivity with the existing and nonexisting users that are relevant to your course.
Navigation
Navigation under the site section is where you are allowed to set your login pages and website's homepages for learners. Other areas are the navigation bar, where the URLs associated with the links in your main navigation bar are determined.
Bios
Bios is a form of proof for the learners who show interest in your course. The teachable bio section enables you to edit your name, add a profile image, and include a description and a headline. While bio is not the most important thing while you create your site, creating a bio is still very crucial.
Custom Text
Custom text is very helpful to have. This is the section where there are a collection of site elements or "kills" that can be customized. A site key is a string that is associated with a particular function and also comes with a friendly name that can be changed.
Teachable Free Trial
Teachable offers a free trial that can develop your online course and let you understand its capabilities. It has several free courses available where you get to learn how to create the courses. It also offers a money-back guarantee, that permits you to sign up for a plan and then cancel it in case you are not satisfied with it and get the full refund.
Teachable has two versions- one is the free trial for 14-days and another is a 30-days risk-free trial. It has now also added a free plan to its already existing plans. The free plan includes features like- 1 user at the admin, templates for course design, coaching services with no limits, and more.
For trying out its 30-day risk-free trial you have to follow these steps-
Go to its official website.
Select the pricing options.
Choose a paid plan.
Login and then fill out the form.
Make the payment.
Start with your no-risk trial.
A teachable free trial offers many capabilities for managing and creating your course. It provides a great experience with course creation and management. It also provides you with information that might be not familiar to you. Teachable handles the majority of the details letting you focus on delivering your course.
Pricing of Teachable
Apart from its 14-day free trial. Teachable offers three types of paid plans-
Basic: The basic plan comes at $29 per month when billed annually. It has two admin-level users.
Pro: The pro plans $99 per month when billed annually. It supports five-admin level users.
Business: The business plan comes at $249 per month when billed annually. It has 20-admin level users.
All these plans include features like- lecture comments, integrated payment processing, student management, unlimited video hosting, unlimited hosting and courses, basic quizzes, value-added-tax (VAT) for EU countries, and no fees on free courses.
Pros and Cons of Teachable
Pros of Teachable
Various customization options
Great customer support
Many useful tools to promote and build new courses
Easy to navigate dashboard
Integrated affiliate program
Unlimited and free video hosting
Built-in certificate creator to appreciate and acknowledge the students
Cons of Teachable
No EU VAT support
No native options are there for course completion certificates
High price point
Minimal analytics and reporting
The student's interface is not very intuitive
It recently discontinued the blog feature
You might have to wait for two months before receiving the payouts
There are not enough website theme customization options
FAQs of Teachable
Does Teachable offer a demo?
Yes. Teachable offers a demo. It is for a period of 14-days for the course creators.
Does Teachable offer affiliate links? Are there tutorials offered by Teachable?
Yes. There are affiliate links. When you are signed up as an affiliate, you get to earn 30% lifetime commissions on the referrals. Yes. On the YouTube channel, Teachable tutorials are available.
Why use Teachable?
Teachable is a great platform that helps you to sell and create courses online. It handles almost everything from web hosting to payment processing. It lets you build an amazing online business.