InVideo is a video-making platform that allows you to turn your ideas into videos in real-time. It comes with many custom-built templates, millions of royalty-free images, and many video clips. Professionals can use this software to customize the templates by changing animations, colors, social media posts, transitions, emojis, shapes, and more.
InVideo also enables you to add voiceover and include the automated text-to-speech function. Other than that, it allows you to add media files and choose files from an integrated media library. InVideo lets the user preview, create, edit, and share videos with the team members.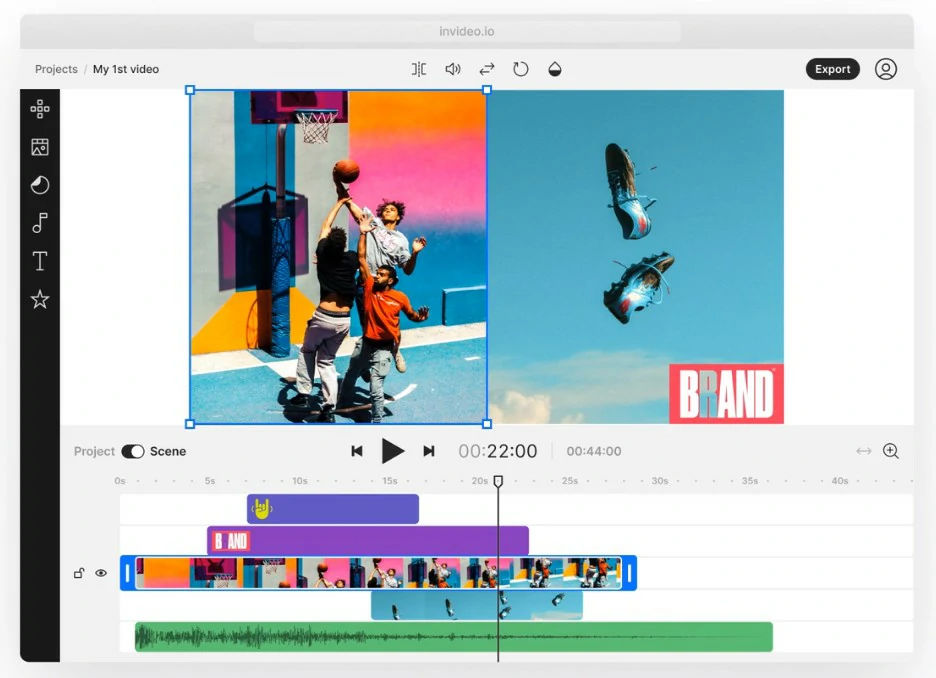 InVideo works to clip and trim the social media videos, edit Instagram videos, birthday and wedding invitation templates, export YouTube videos to MP3 audio formats and MP4 video formats, access Facebook templates and videos, and more.
InVideo pricing plans are available on monthly or yearly based subscriptions and it offers strong live support 24/7. It is the world's simplest video creation tool that enables everyone and anyone to create thumb-stopping videos in just a few minutes.
InVideo is usually used by small businesses, media companies, brands, as well as entrepreneurs who wish to foster engagement with their video content.
Though there are many alternatives to Invideo when it comes to the best editing tools for youtube, however, this masterpiece is still one of the best when you need classic results.
InVideo Features 2022
InVideo is a feature-rich platform that allows you to create attractive and informative videos easily without wasting any of your time. Some of its amazing features are-
Video capture, collaboration, split video, brand overlay, social sharing, video speed controller, text overlay, video stabilization, supports HD resolution, merge video, media library, audio tools, animation, API, bulk uploading, closed captions, content library, customizable branding, user-interface, templates, video sharing, video and image management, upload audio or video file, trim and slice, supports HD resolution and more.
Some other features of InVideo include language support, video exports, text-to-speech, reseller rights, video duration, team members, and so on.
InVideo Free Trial December 2022
Despite using great video templates, creating a captivating video is hard at times. With InVideo, you get the opportunity to develop amazing-quality content that will surely resonate with your audience. And to test some of the features that InVideo offers, it's a great idea to first start with its free trial.
InVideo offers a free trial of 14-days for both the Unlimited and Business plans that provide you access to everything in the free version along with the added benefits and features.
Follow some simple steps to get started with the free trial-
Step1- Visit the InVideo homepage and click on "Try for Free"
Step2- Choose a plan that you think is best for you.
Step3- Fill in the account details and payment information. Use a valid card to sign up.
Step4- Click on the button "Try InVideo-14 Days".
Step5- Start creating videos.
Pricing of InVideo 2022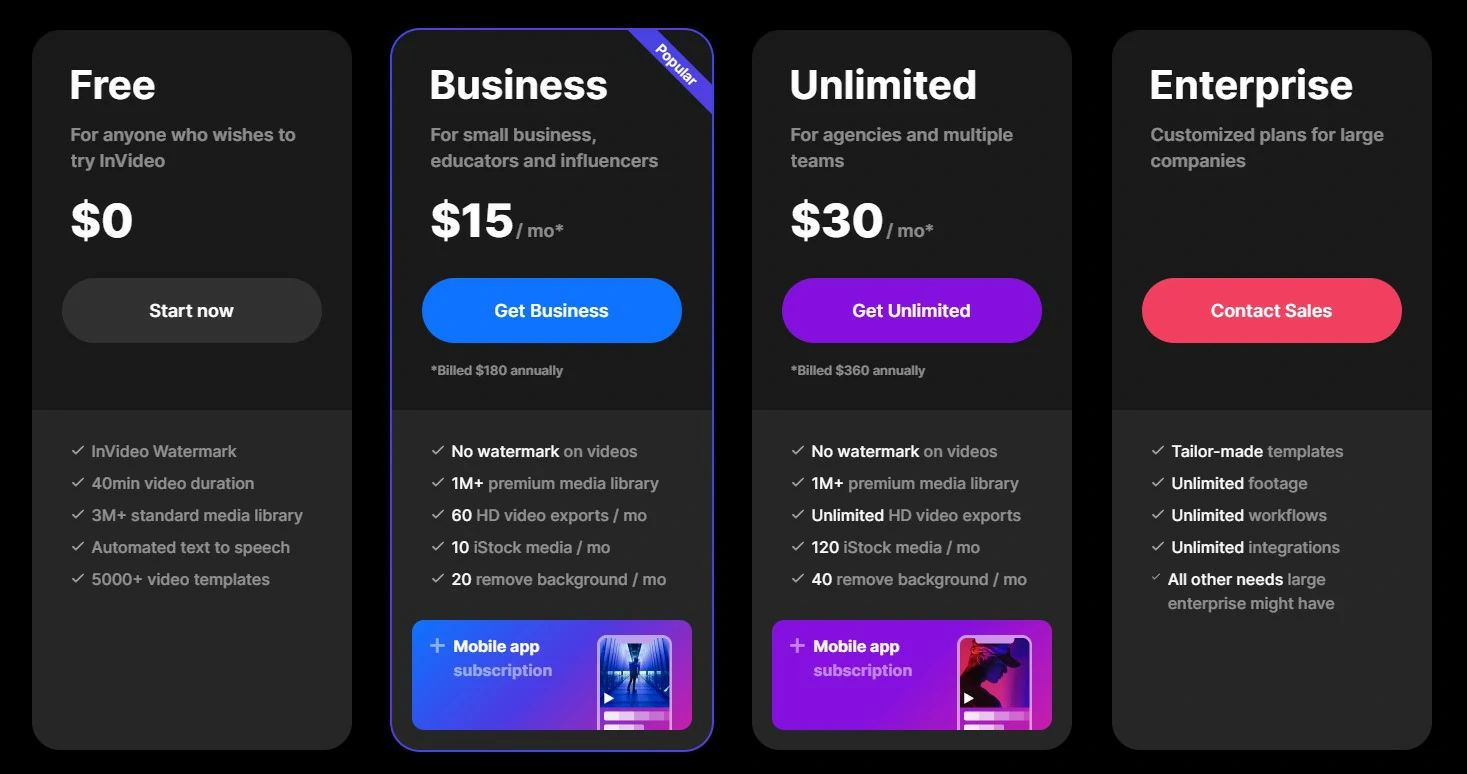 InVideo offers four plans-
Free Plan
The free plan includes the export of over 60 videos per month, along with a watermark.
Business Plan- Starts from $15 per month.
The business plan has 60 unique video exports a month, access to 1M+ images and video clips, unlimited users, 4000+ fully-customized templates, and allows you to make videos in any language.
Unlimited Plan- Starts from $30 per month.
The unlimited plan comes with 4000+ fully customizable templates, unlimited access to stock images, unlimited HD videos per month, full access to all the premium templates, and a video duration of 15 mins.
Enterprise Plan
It is basically a customized plan for large companies that require custom features.
If you are just testing out, you can use the free plan, or if you are looking to create videos for your YouTube, social media, or for your client you can opt for a Business plan. Additionally, if you are an agency, then opting for an unlimited plan can be a great choice for you.
Pros and Cons of InVideo
Pros-
Complete control over the feel and look of your project.
Access to a library of over a million images, stock video clips, and music. Plus, text animations, stickers, and filters.
You can use your own Instagram posts and tweets in the videos.
Highlights the words in your script and then search for the content.
Record audio inside of the InVideo software.
Upload and use your media. Also, use the items available in the library.
The YouTube channel of InVideo provides a lot of information about the platform and how to use it well.
The tutorial and instructional videos are also present within the program interface in the region of the support section.
No restrictions are imposed on the videos you create. This means, you can sell, show, use, and share them for whatever. Once you download them, they become yours.
Cons-
Once you choose a template you can't choose a "new look".
There is a limit of 50 scenes.
Exporting and previewing takes a huge amount of time.
When you will change a scene's format you lose your setup. So, you have to start over again if you choose and then change.
FAQs of InVideo
Is InVideo good for video editing?
Yes. InVideo is the best video editor available for windows or for any other system that is present out there. It comes with pre-built everything that is needed for creating professional videos, from the templates to stock footage.
Do you have to pay for InVideo?
InVideo is billed either monthly or on yearly bases and offers two types of pricing plans. A free plan is also available, which allows exports of around 60 videos per month, along with a watermark.
How long does InVideo provide a free trial?
InVideo provides a free trial for 14-days. So, you can use the software and check yourself if it's complex or simple to use.
What are some of the alternatives to InVideo?
InVideo has a lot of competitors present in the market. Some of its alternatives include- Simplified, Wevideo, Offeo, Flexclip, Fastreel, etc.
What supports are available for InVideo?
If you are new to Invideo or even a professional, you may need support at some times. In order to assist you with your various queries, there is Email and training support available to you as an InVideo user.