One of the most effective software accessible to modern businesses is social media. It may be used to increase website traffic, attract new consumers, and communicate with current clients to keep them interested in your company. You need to be very careful with how you use it.
While you won't like to waste a significant amount of your precious time attempting to maintain several inboxes across different applications, post the same content on all the different platforms, and stay on top of everything else. And using typical consumer applications is virtually impossible. For such situations, you need a social media management tool to accomplish it correctly.
The finest social media management tools enable you to manage all aspects of your online persona from a single application. Using them, your social media account may be analyzed, automated, and managed so you can concentrate on producing precisely the kinds of material your audience enjoys.
Social media marketing has many moving pieces: producing, publishing, monitoring, engaging, and so on. That is why having a social media management solution can help you simplify all of your responsibilities in a single interface is essential.
Discussed below are the top social media management tools. I recommend that you start with the free trials of any applications that appear to be a good fit for you and work your way up from there. After choosing a social media management program, you may automate it to increase its effectiveness and power. And examine how automation might help your social marketing.
List of Best Social Media Management Software 2023
Buffer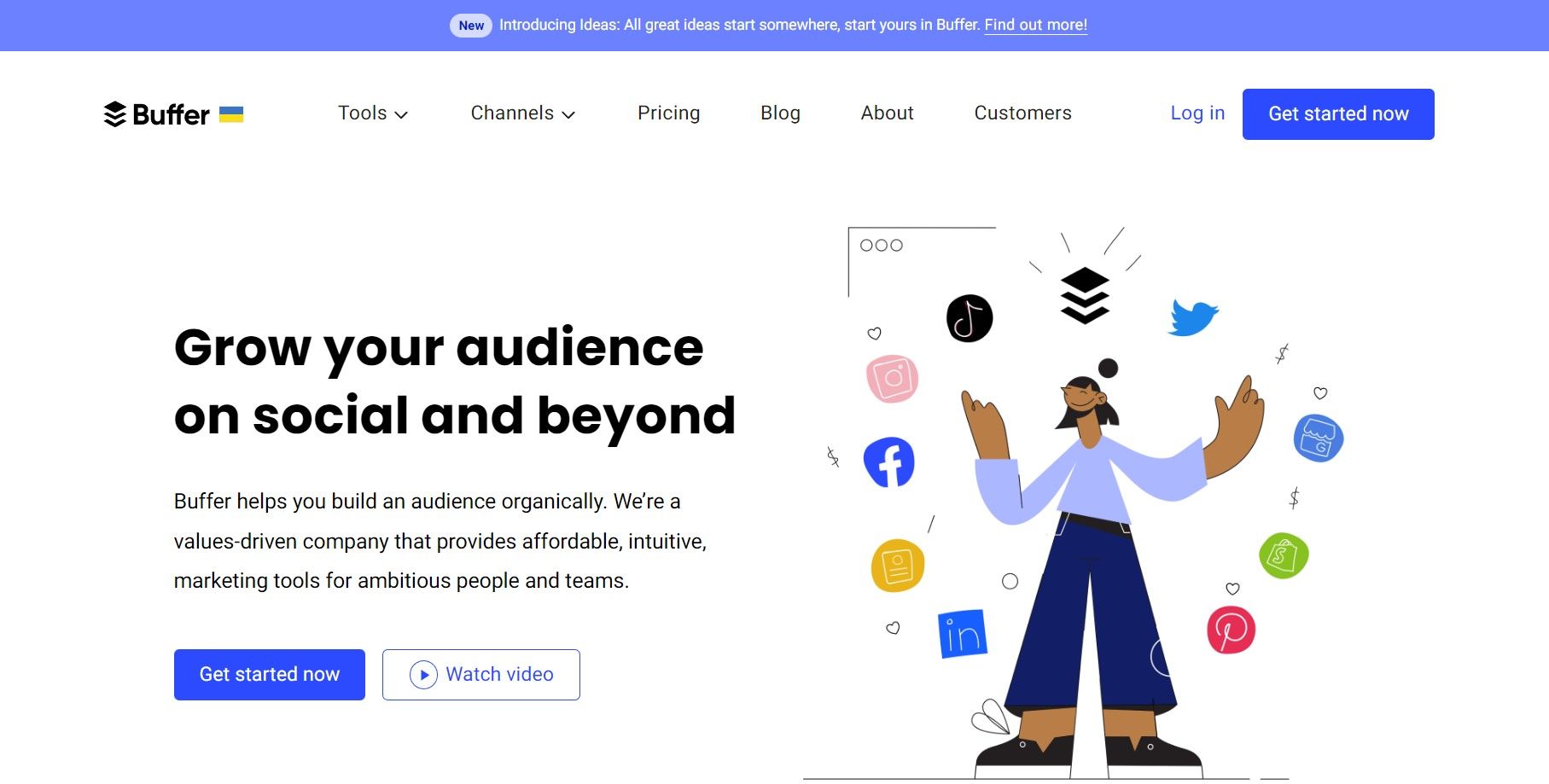 Buffer is an outstanding social media management tool that is a perfect fit for small organizations or those who are just starting. The software provides a full free plan for your first three social media channels, thus making itself an ideal choice for getting your Instagram, Facebook, or Twitter up and running.
Features of Buffer
Social media publishing solutions that lets you quickly schedule all of your social media material for every channel.
A social media engagement dashboard there that allows you to reply to any online mentions or comments in one location.
There is an analytics dashboard and reporting to provide you with a birds-eye perspective telling how your social media activities are faring.
The ability to design landing pages for sales, lead generation, and other purposes.
Pricing of Buffer
Pricing of Buffer starts from- $5 per month per channel
eclincher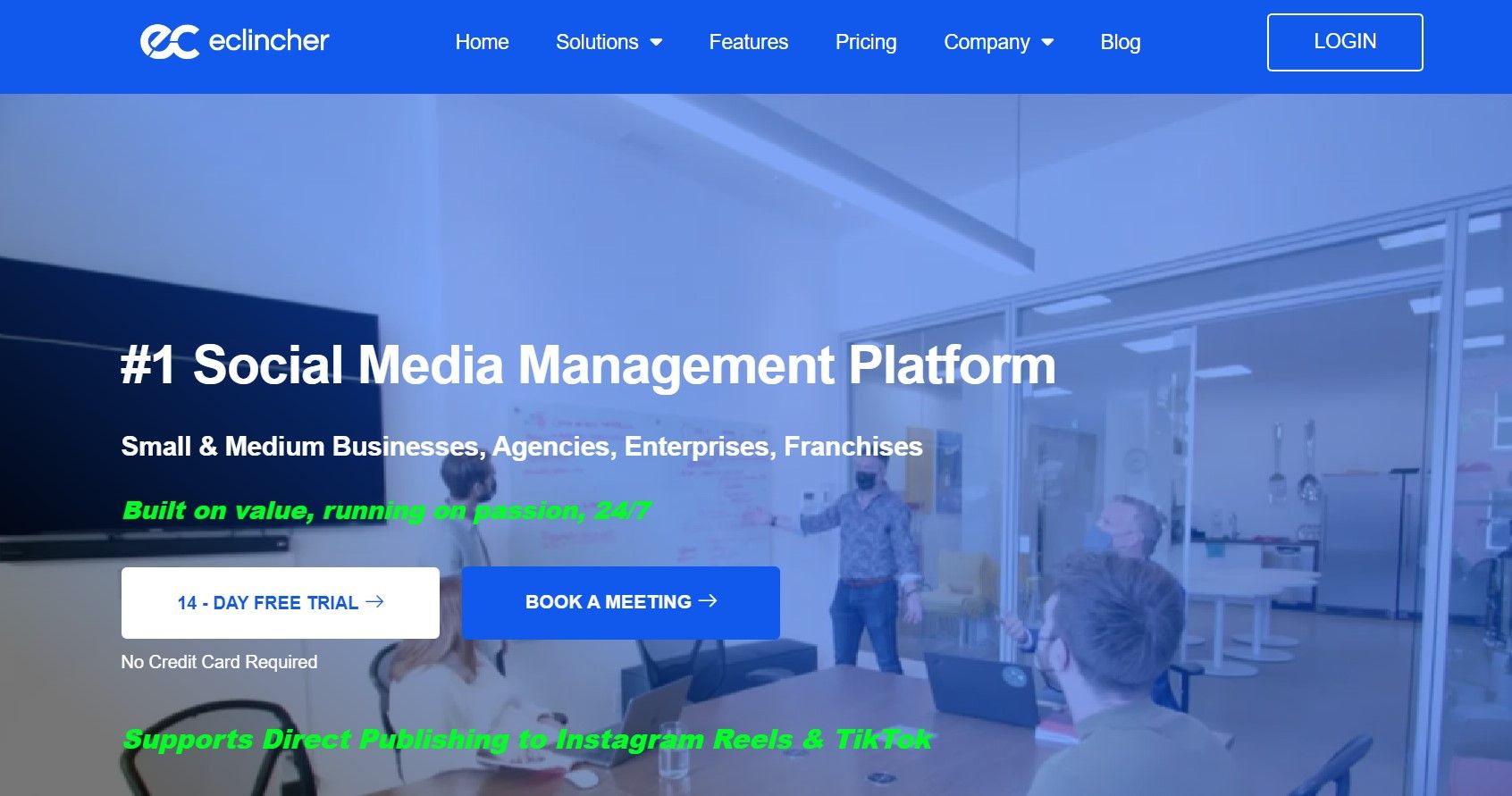 The tool, eClincher promotes itself as a social media management platform, emphasizing its excellent dedication to providing 24/7 customer service. eClincher emphasizes its team agility to consistently enhance its product for meeting the demands of its clients, simplify, and save time for the users.
eClincher, like most other social media management software, has a cross-network social publishing tool, a visual calendar, as well as a publication queue, and a dedicated chat inbox. It also includes brand monitoring through news, blogs, social media, and other channels, as well as sentiment research.
Features of eclincher
It offers 24/7 customer assistance so that its consumers may "strategize, optimize, and analyze ROI."
Team collaboration via comments, alerts, tagging, and message assignment
Pricing of eclincher
The pricing of eclincher starts from- $65 per monthand$702 with an annual plan
Hostsuite

Hootsuite is another social media marketing platform that is very well recognized for publishing unique research on social media and digital marketing throughout the entire world.
This software has been around nearly as long as social media marketing has been a strategy, and Hostsuite has evolved over the years to provide many useful features to businesses—but one feature that has remained consistent is its dashboard, which provides a snapshot of all of your social media progress at once.
Features of Hostsuite
Publish and schedule social media posts to sites such as Facebook, YouTube, Instagram, Twitter, Pinterest, and others.
Manage and reply to incoming mentions and messages in a single inbox.
Monitor online conversations related to your business and industry to gain consumer feedback and remain up to date on hot issues.
Pricing of Hostsuite
The pricing of Hostsuite starts from- Rs 1915 per month
SocialPilot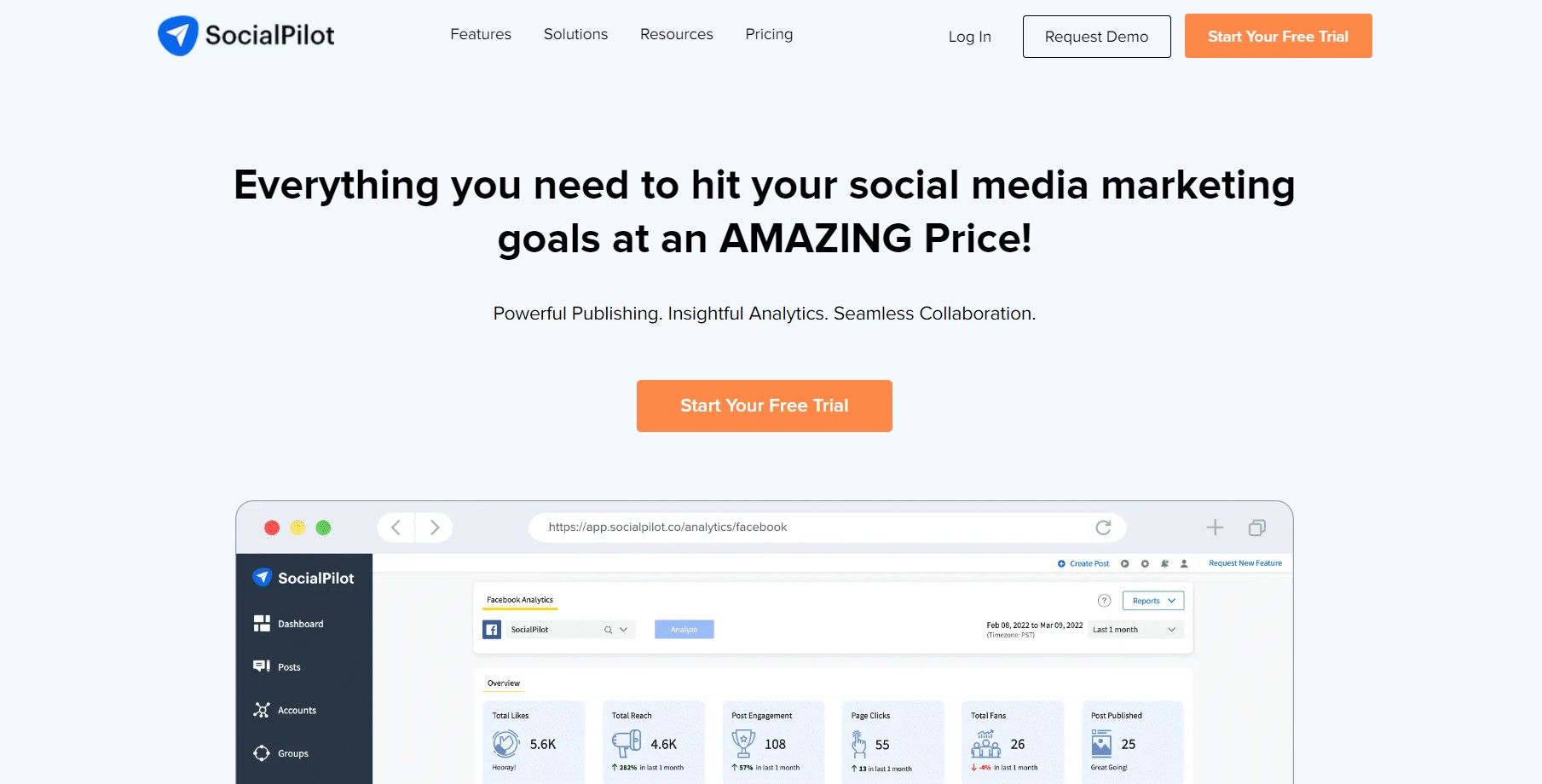 SocialPilot is an easy social media management software solution for people who are not experienced or just getting started with a management tool. Aside from posting and scheduling, the app includes a curated content list based on keywords and categories, which it will automatically send to your feed.
The software provides detailed analytics data that will help you in developing better tactics. Then the users will be able to identify what audiences are interacting with and even evaluate growth trends to continue generating content based on audience analytics and content performance.
Features of SocialPilot
Integration with key social networking networks such as TikTok, Instagram, Facebook, and YouTube
In a single Post composer, you can configure as well as optimize posts for numerous social networks.
A content curation tool is there that presents you with a list of content items to help you come up with fresh ideas.
Pricing of SocialPilot
The pricing of SocialPilot starts from- $30 per month
Sprout Social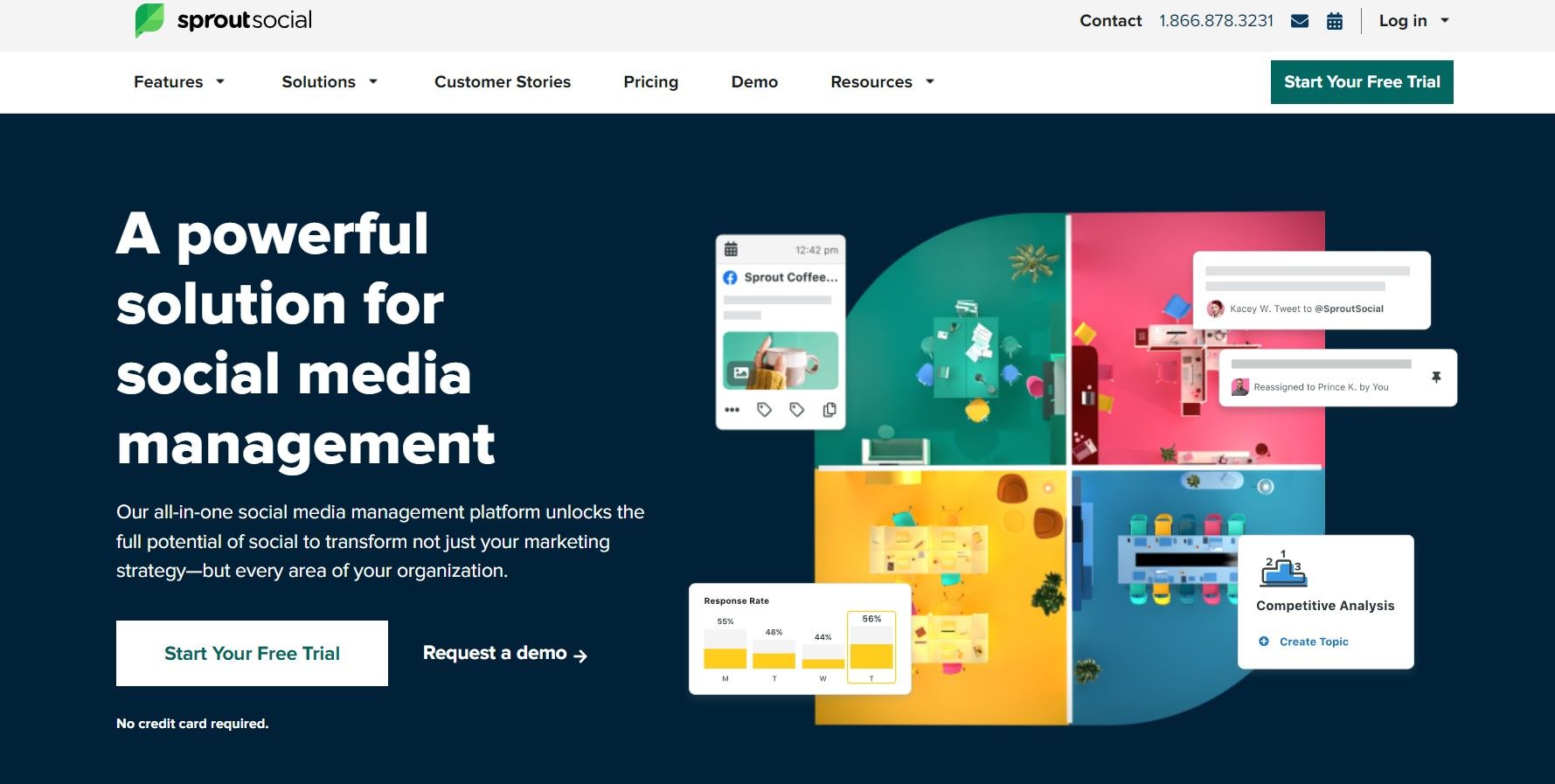 Sprout Social is a comprehensive social media management solution that enables organizations of all sizes to organize and manage all parts of their social media strategy.
Using this tool, you can manage your whole presence on a single dashboard by integrating with Instagram, Facebook, YouTube, Instagram, TikTok, Instagram, LinkedIn, Pinterest, and other networks. You can also manage reviews from Facebook and Google My Business, as well as make shoppable articles that are connected with Facebook Shops and Shopify catalogs.
Its Employee Advocacy tool delivers a curated stream of material for your workers enabling them to share across their social networks, thus increasing the reach of your company.
Features of Sprout Social
Social media scheduling, publishing, monitoring, analytics, reporting, and more are all available in one dashboard.
The ViralPost feature, guarantees you publish your content when your followers are most likely to engage. Thus, automatically increasing exposure and reach.
Smart Inbox is there that collects all of your incoming messages from various social media networks, providing you with a comprehensive snapshot of all your social connections.
The ability to determine and show which hashtags are most relevant to your content
Custom URL monitoring provides a more detailed picture of how your posts are performing in terms of referral traffic as well as conversions.
Pricing of Sprout Social
The pricing of Sprout Social starts from- $249 per month
MeetEdgar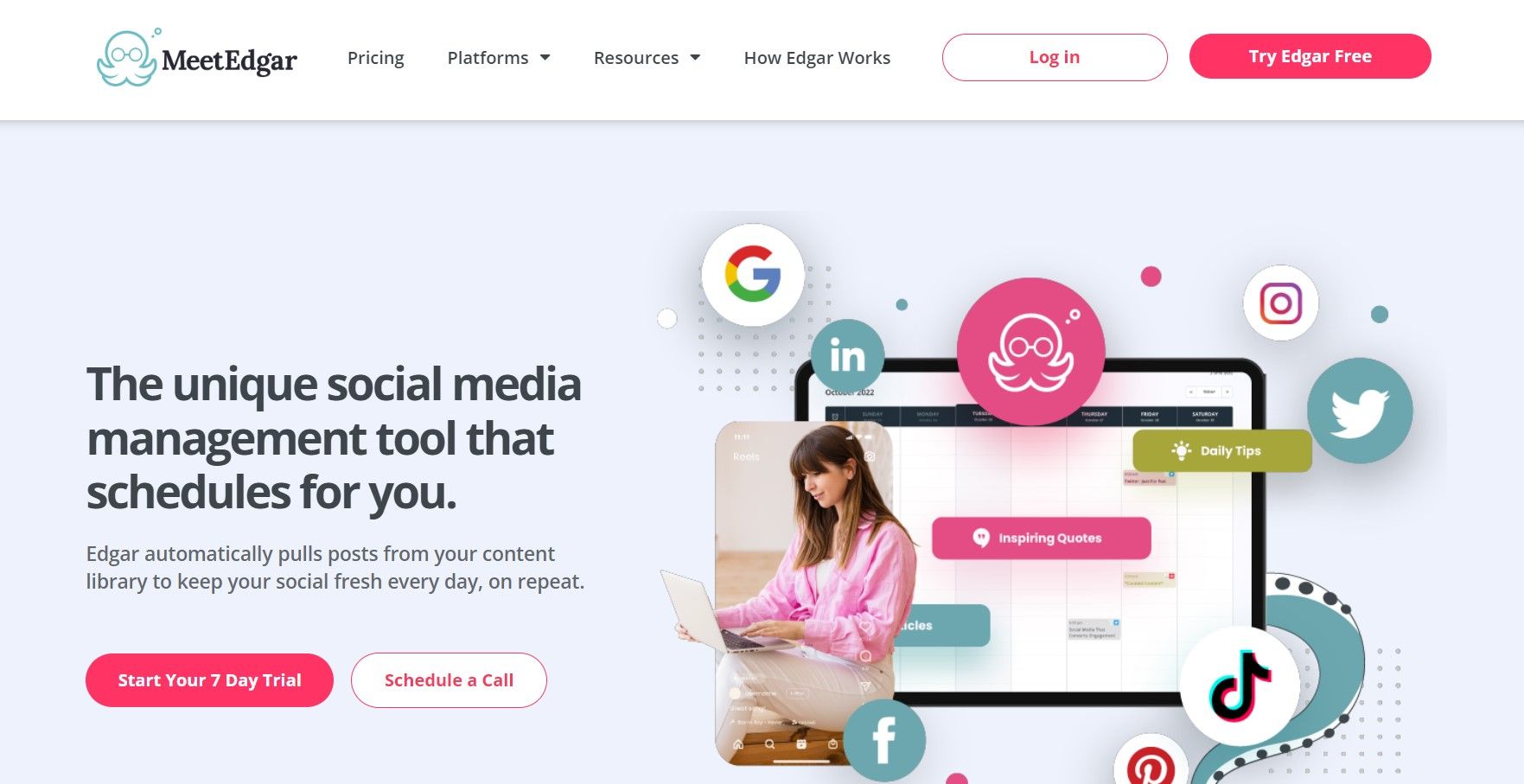 MeetEdgar is another well-known social media management application that assists teams in curating their social media feeds automatically. This is ideal for small enterprises and solopreneurs. MeetEdgar's features may prove to be useful for startups.
Features of MeetEdgar
Get scheduling tools that allow you to choose the optimum times for MeetEdgar to plan your content A/B testing, letting you learn which sorts of material your audience prefers.
Pricing of MeetEdgar
The pricing of MeetEdgar starts from- $29.99 per month
Sendible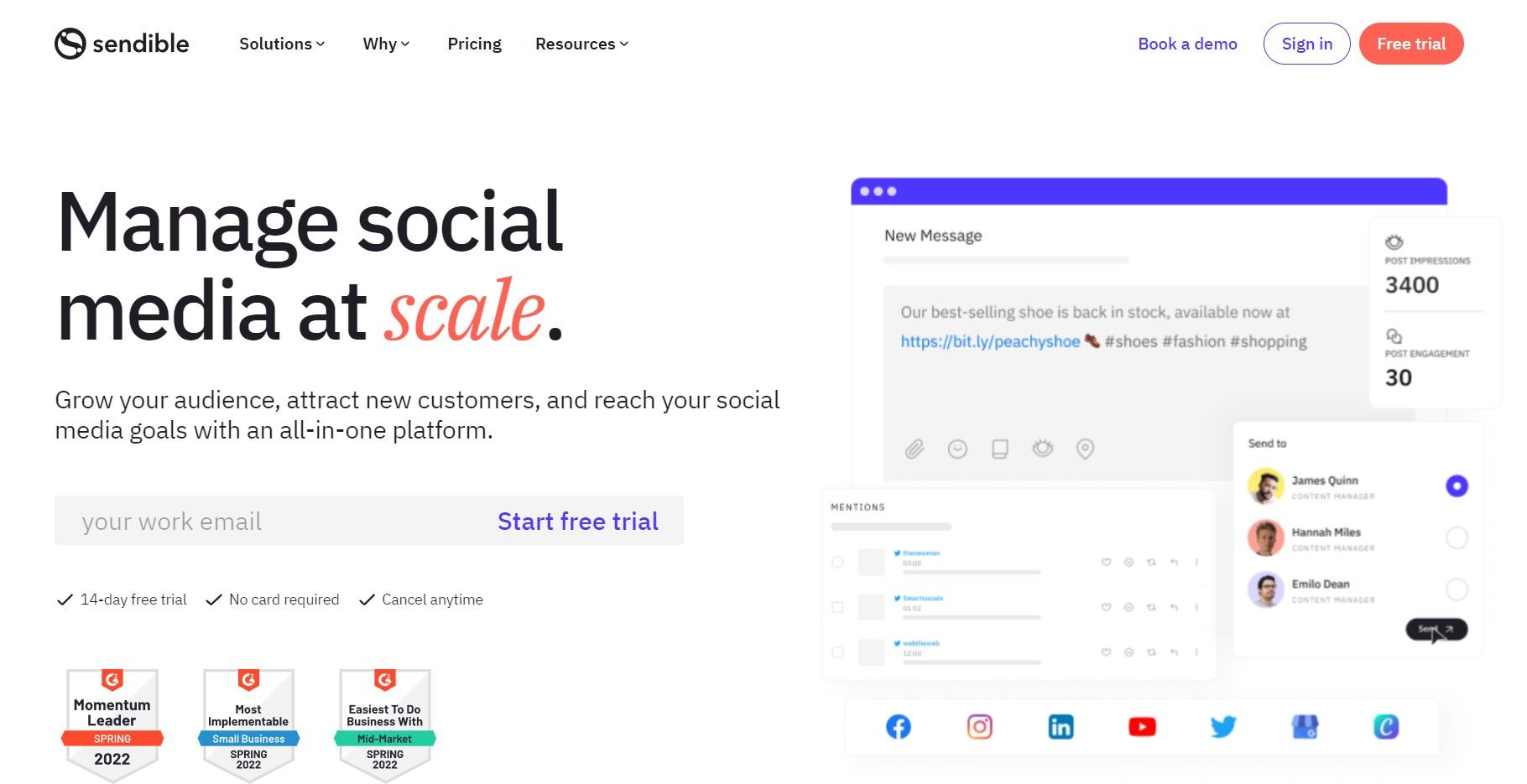 Sendible has done an outstanding job of niching down and tailoring its social media management software to agencies and many other large enterprises with several social media sites. Sendible also provides a variety of valuable connectors to assist its customers in managing their social network accounts as easily and simply as possible.
Features of Sendible
Sendible has an all-in-one dashboard allowing you to quickly assess your social media performance.
Collaboration solutions are there that lets your team develop material and then transmit it for approval to the team or client leader.
Reports are already ready for presentation to clients, demonstrating the ROI of your social media activities.
A smartphone application is there that allows you to monitor and manage your social media accounts while you're on the road.
Pricing of Sendible
The pricing of Sendible starts from-$29 per month
Loomly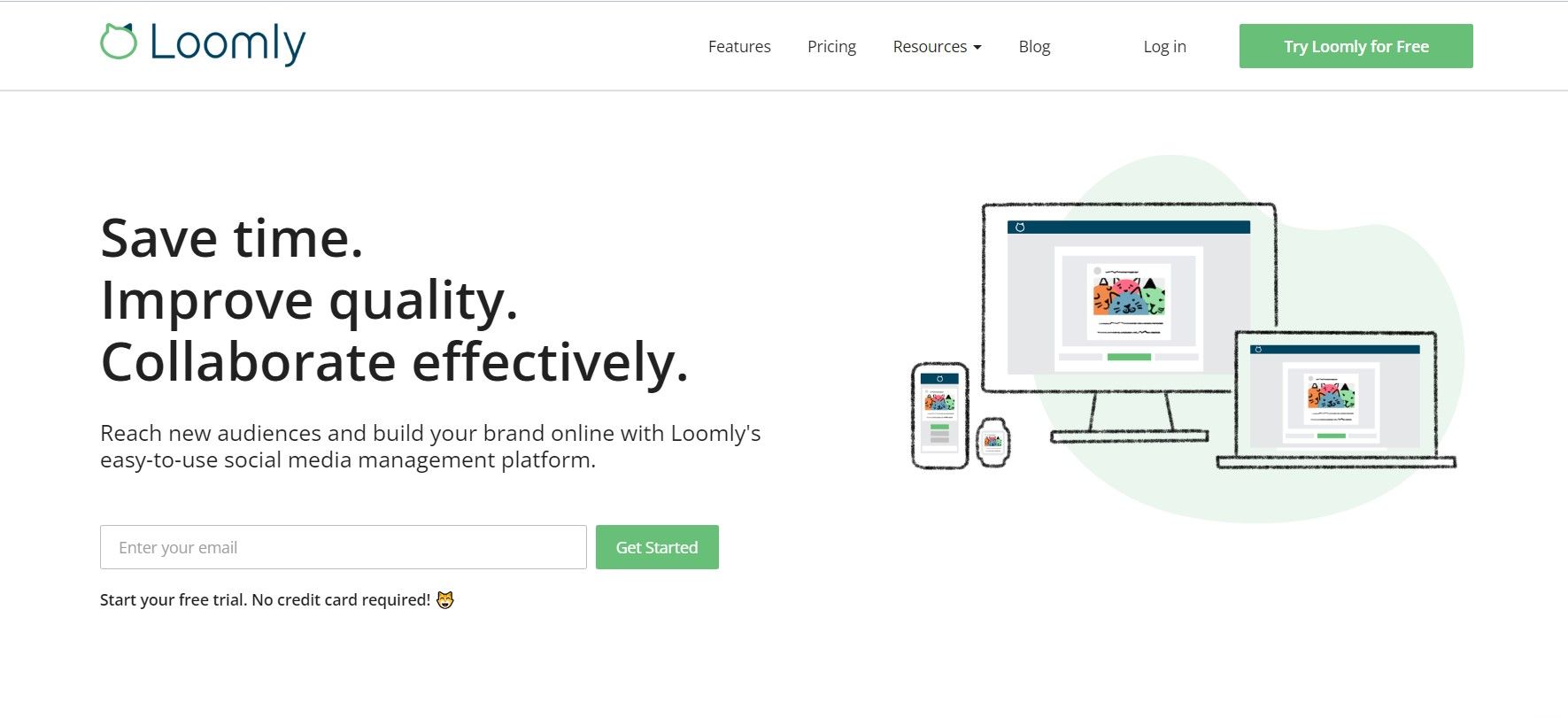 Loomly is a good social media management tool with one ridiculously nice feature: using it you can design a bespoke social network that allows you to publish to nearly any service as part of your social media management. Loomly covers all the bases in terms of having a multi-service inbox, scheduling, and basic statistics.
Features of Loomly
You can use Loomly to create several scheduling calendars for your various social media demands.
You may also add a Snapchat, LinkedIn, YouTube, Facebook, Twitter, Instagram, Pinterest, and TikTok account to each calendar, as well as a Custom Channel.
Pricing of Loomly
The pricing of Loomly starts from- $26 per month
KeyHole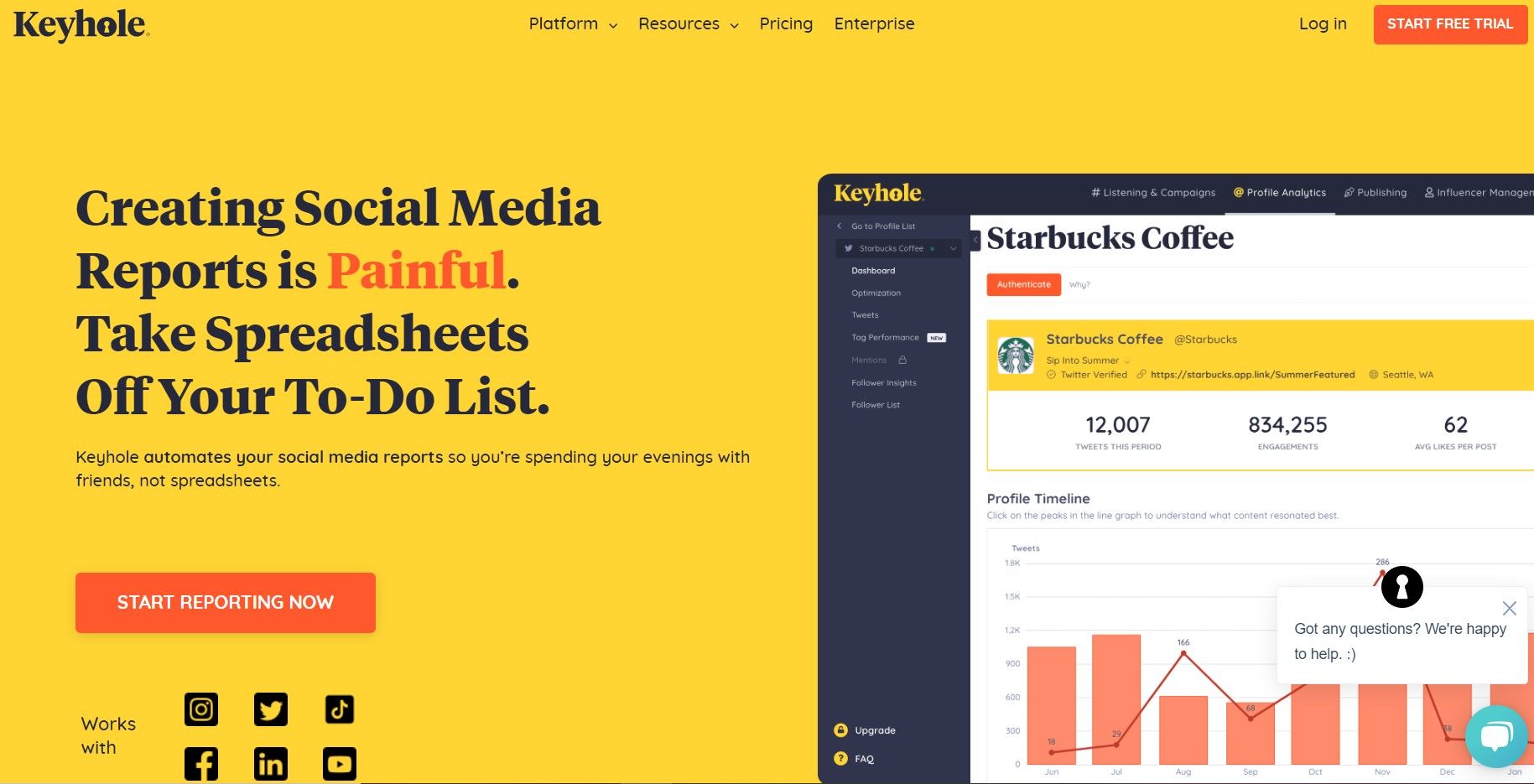 KeyHole differs from the majority of the other social media management software on our list in that it also functions as an influencer tracking and marketing tool. KeyHole's Influencer Analytics function gives marketers the information they require to understand how each influencer can affect their marketing objectives. In reality, social media reports are their main source of income.
Features of KeyHole
Automated social media reports that are perfectly ready to post and show in seconds
Several reporting options are available, including campaign reporting, hashtag reporting, brand reporting, and influencer reporting.
Pricing of KeyHole
The pricing of KeyHole starts from- $39 per month
Zoho Social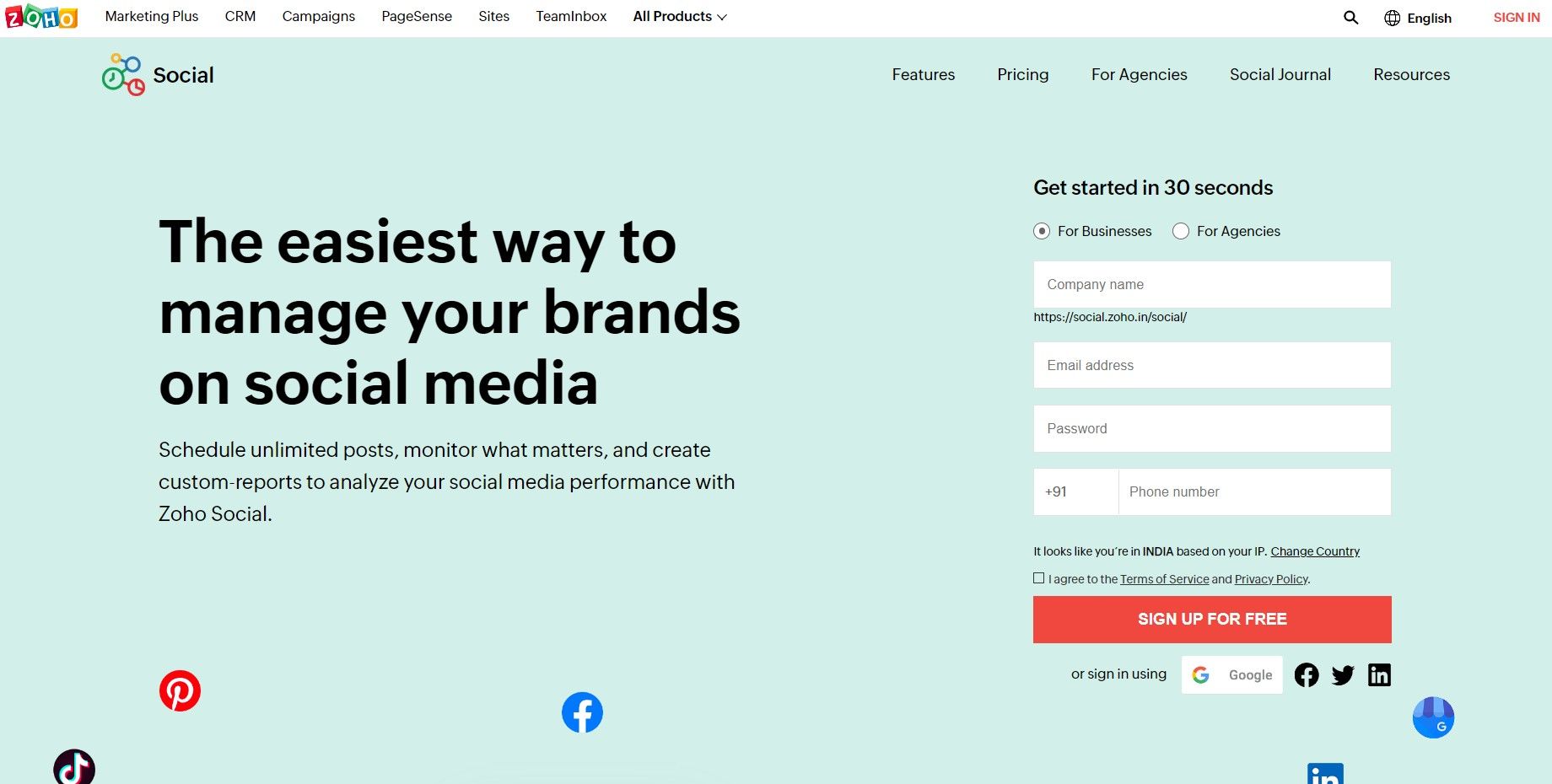 Zoho Social is a software program with capabilities "designed for every social media stream." You may use this application to exchange reports, initiate discussions, assign team responsibilities, and solicit feedback. This makes it simple to have your tactics, modifications, and performance insights to get approved by everyone.
The platform has optimized timing features in addition to scheduling. Zoho Social also includes Instagram scheduling, which allows you to post as well as repost user-generated content from your desktop.
Features of Zoho Social
Get an immediate interface with Zoho CRM and the ability to track customer interactions
Dashboards for social listening that track @mentions, brand reviews, and branded keywords
Collaboration with peers on the platform via audio, chat, and video calls
Pricing of Zoho Social
The pricing of Zoho Social starts from- Rs 600 per month, billed annually
Over to you: Best Social Media Management Software 2023
In its most basic form, social media management software is software that allows a user or users to manage one or more social media profiles across one or more networks from a single dashboard or app.
Social media management software simplifies all parts of social media administration, including authoring, publishing, scheduling, analyzing, monitoring, participating, and collaborating.
We propose that you select a partner that will save you and your team considerable time automating collaborative workflows, social media marketing procedures, and actionable analytics.
Examine the list above again to determine which platform is best for your company and supports all of the social media channels you require.