Canva is definitely one of the best designing software out there when it comes to blog post designing, resume building, social media graphic or presentation making. With its high demand in the market, it automatically grew even more and became one of the must-have apps for any aspiring web designer or professional in that field of art. With great features and interface Canav makes the designing process fun and engaging.
Canva is a cloud-based app which means one doesn't need to worry about saving the templates locally. All your designs, branding assets and even trash files are saved in your cloud data at Canva. Even we at DroidCrunch, use Canva heavily for our various graphic designing needs. If someone is looking to find alternatives to Canva, he/she may have to compromise on one thing or the other for sure. Because there is hardly any app as efficient as Canva which is why Canva is priced high.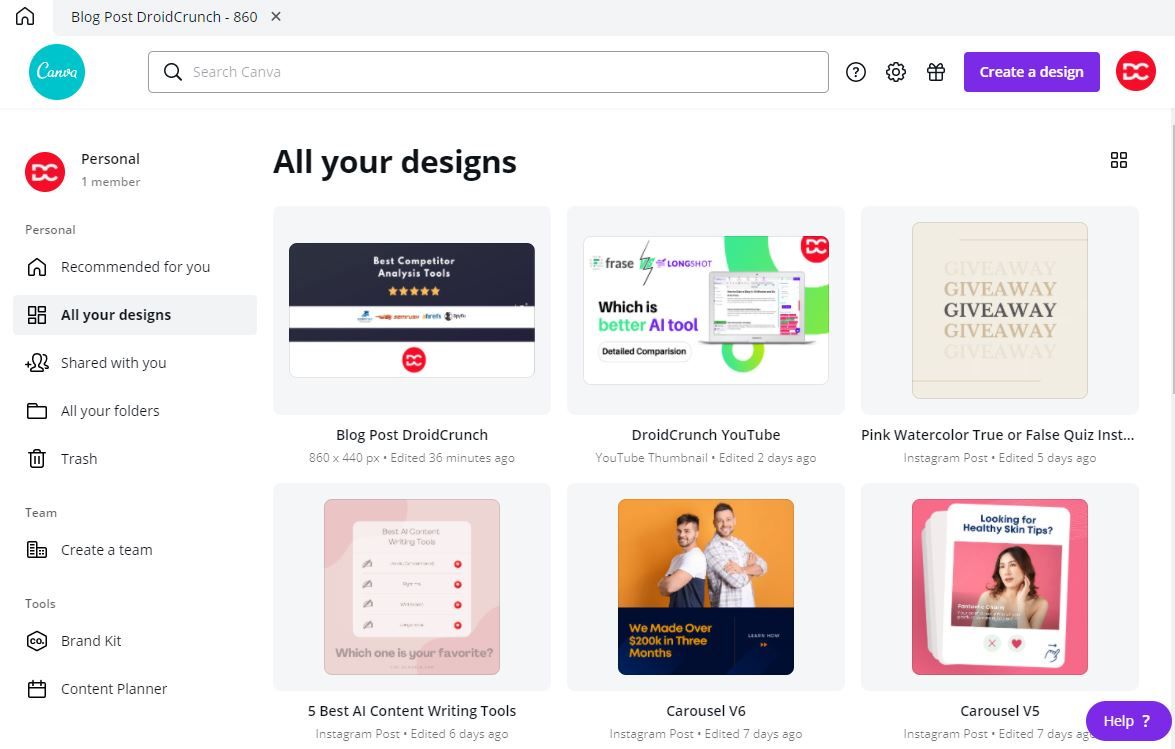 Canva for Designers is like Grammarly for content creators, SEMrush for SEO agencies and Elementor for WordPress designers. Canva has improved a lot over a couple of years. Team collaboration, videos, great elements are literally unbeatable features. The number of templates available on Canva is hardly imaginable on any other online designing platform.
However, there are still some competitors and alternatives to Canva which are doing really good and have also improved over the years. Not as popular as Canva but in functions and affordability there are surely beating Canva someway. Let's shed light on these best Canva alternatives.
List of Best Alternatives to Canva Online Designing Software
Adobe Spark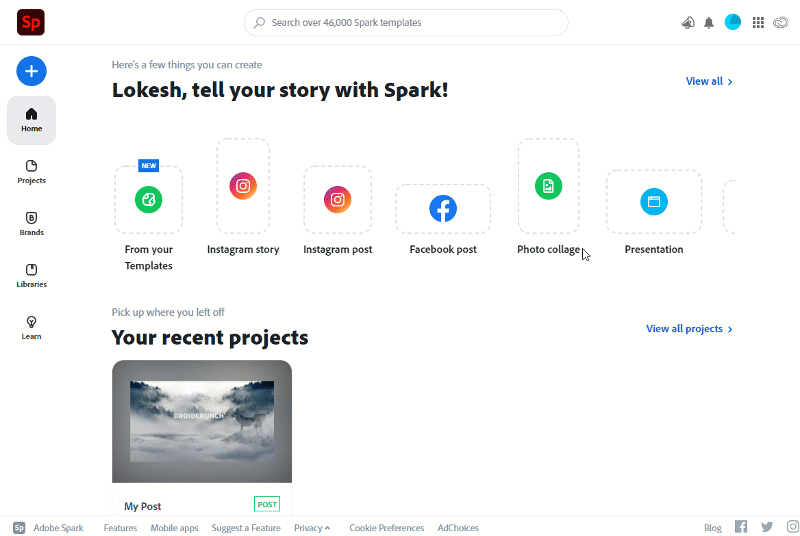 Adobe Spark has an amazing set of features that makes it land on the first spot as an alternative for Canva. As its name suggests, it's a part of Adobe but you don't have to have Photoshop or InDesign to access it. You can try out the app for free and it has a lot of options, even in limited free criteria. If you are satisfied with it, you can go ahead and purchase a premium plan that is cheaper than the plans in Canva. You can explore a number of design templates and social marketing in the trial period if you're okay with the Adobe Spark watermark.
Features:
Large storage of images, photos and logos.
An unlimited number of pre-made templates.
Categories templates for different occasions and events.
A quick download option in different image formats.
A branding feature for your brand's logo, design, etc to add to your work.
Pricing:
Starter- $0 with unlimited access to the photo library, saving options and marketing with Adobe Spark watermark.
Individual- $9.99/month with all the benefits from the starter plan plus extra benefits and features like branded and premium templates, etc.
Team- $19.99/month with unlimited access to all the features Adobe Spark has to offer along with multiple managing spaces.
DesignBold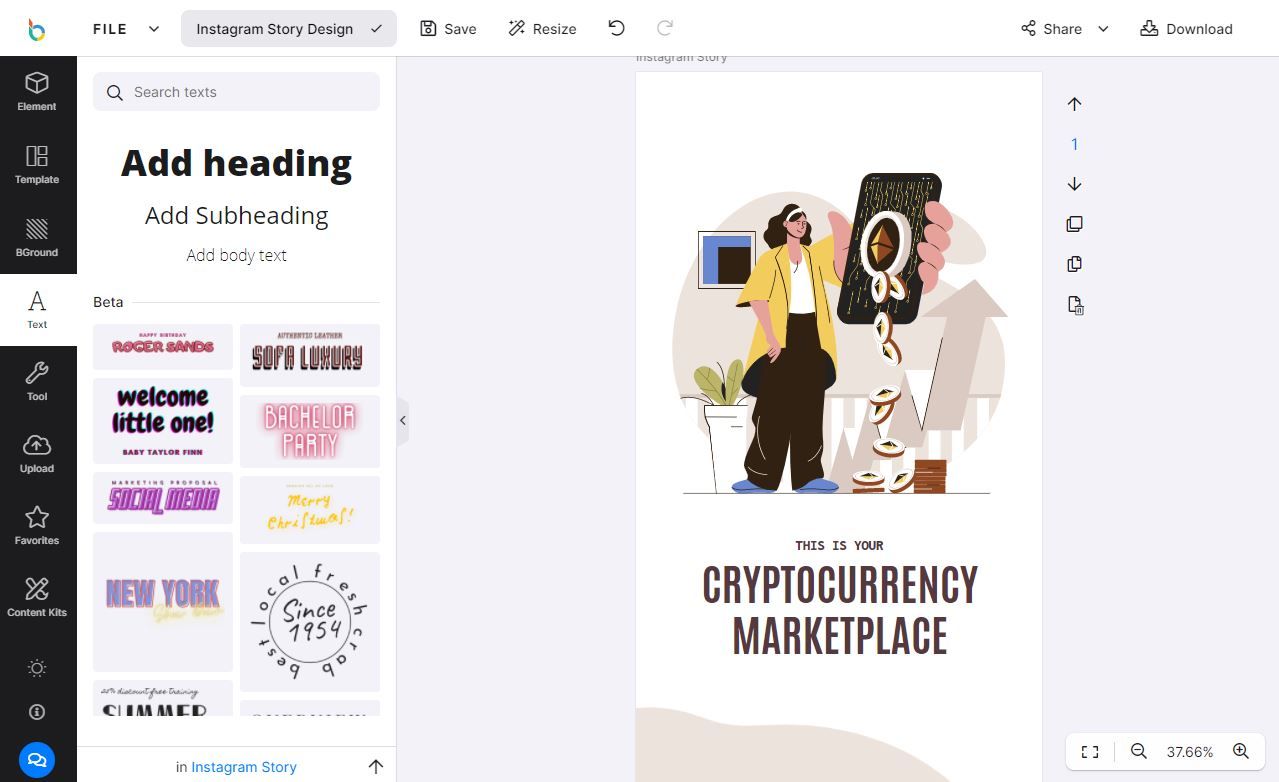 DesignBold is one of the best alternatives for Canva because of its unlimited number of templates and over 10,000 in-built logos, images design that you can use in its free option. It's limited to only one area and that is, you can save up to only 5 images per month but personally speaking, one doesn't have to design new templates for their brand every day so it's an ideal designing place for those who don't have to use this every day.
Features:
A large and unlimited collection of templates and images, all categorized into different moods and settings.
A drag-and-drop option with keyboard shortcuts for quick designing clips.
Automatic backup option.
Feature to invite other people to work on a project.
A pin saving system, allowing you to access all your saves later on.
Pricing:
Free- $0 and you receive over 10,00 templates design on the main dashboard pus access to other images and options with five saves per month.
Pro- $9.99/month for everything in the free plan and more premium templates and new layouts every day along with unlimited storage and additional features.
Crello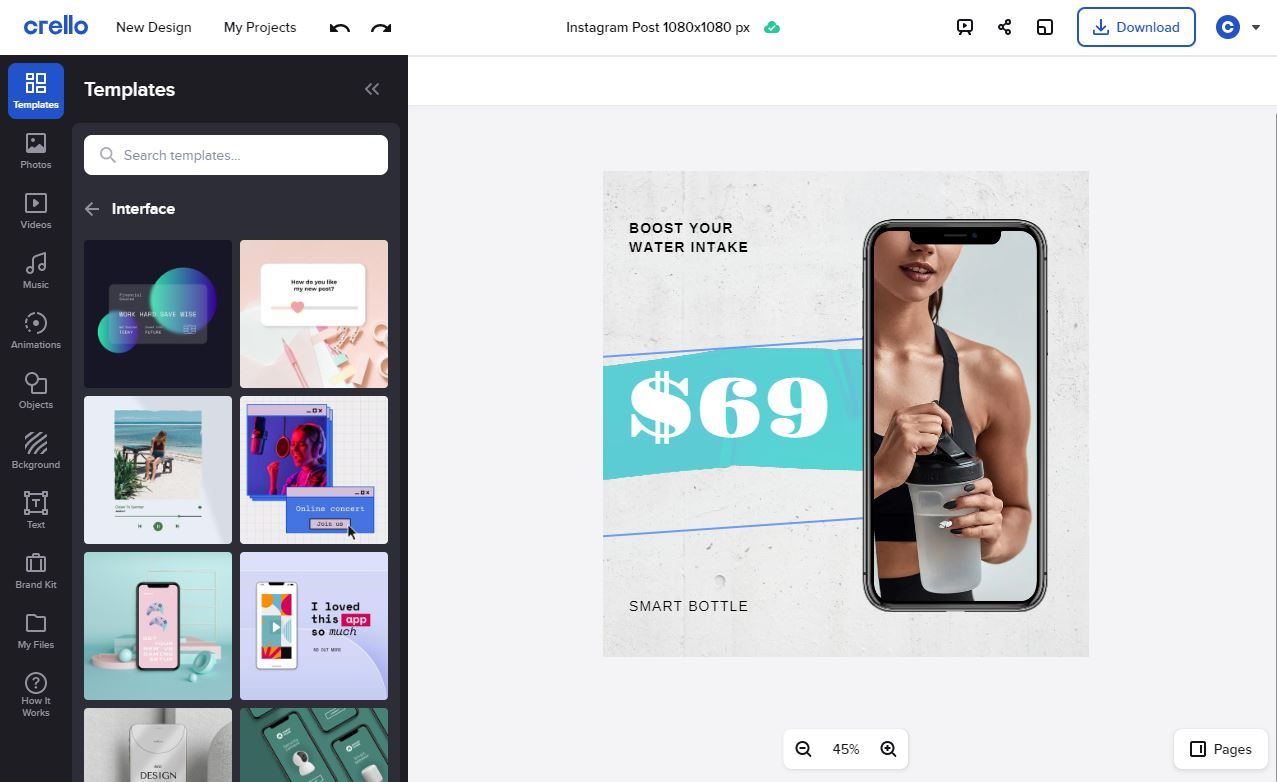 Crello has a similar interface to that of Canva. It has a search bar that lets you look up an template design and it shows what you are looking for in a categories manner. It also has a limited five saves per month feature, in its free plan but other than that, there are a number of features that you can enjoy with its amazing interface and features like designed colour palettes and drag-and-drop option to add to the relaxed interface of Crello.
Features:
Over 30,000 templates to choose from for blogging, marketing.
A rapid cropping option to get rid of extra edges.
Aesthetically pleasing filters to change the mood of the image.
Image resetting options like rotation.
Quick background removal.
Pricing:
Starter- $0 with over 30,000 templates ,600,000 stock images, 30,00 design and video clips + five saves per month.
Pro- $9.99/month for all the features available in the free plans plus additional features and unlimited storage and attics.
DesignCap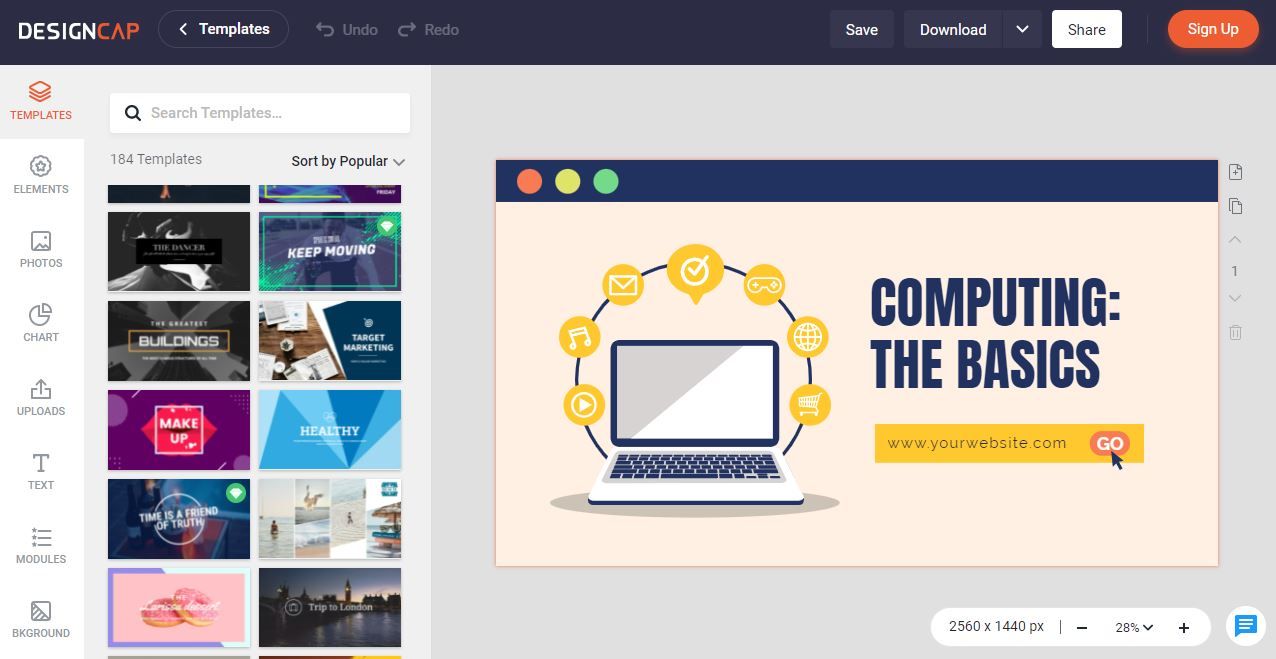 Designcap is a popular designing software. For creating high-resolution graphics Designcap is one of the best alternatives to Canva. Its features are all similar to any other graphic designing software. Unlike Canva, it does not allow you to create videos for your social media. However, if your use is limited to graphics then it can give you fair results. Compared to Canva, its pricing is also very attractive and affordable.
Stencil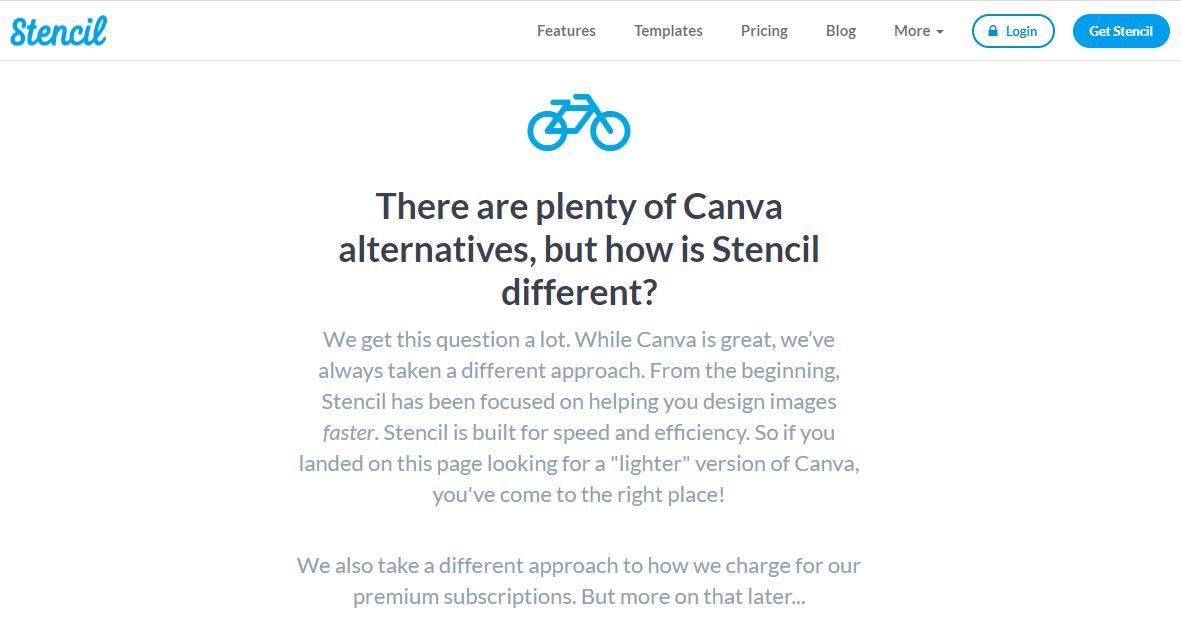 This is very simple to use and it's easy to navigate the software, with its sleek design and features. Stencil has the capacity to generate high-resolution images without the use of any complicated software like Photoshop. Stencil boasts of itself to be the lighter version of Canva. It offers great speed and a premium feel.
Features:
Unique designing tools like a colour picker, live previews, and safe areas.
An Instagram direct feature that sends the design to Instagram quickly.
Social media platform sharing option.
Access to millions of options to choose from when deciding on an image, video clip, art, logo or heading, etc.
Over 100 re-sizing options to assure that your image fits everywhere with good resolution.
Pricing:
Starter- $0 with over 10 images, 10 collections, and 10 Instagram shares per month.
Pro- $15/month with every feature listed in the software like millions of images, template designs, logo plus extra shares on Instagram.
Unlimited- $20/month for everything mentioned in the above plans along with more than 100 Instagram shares.
Snappa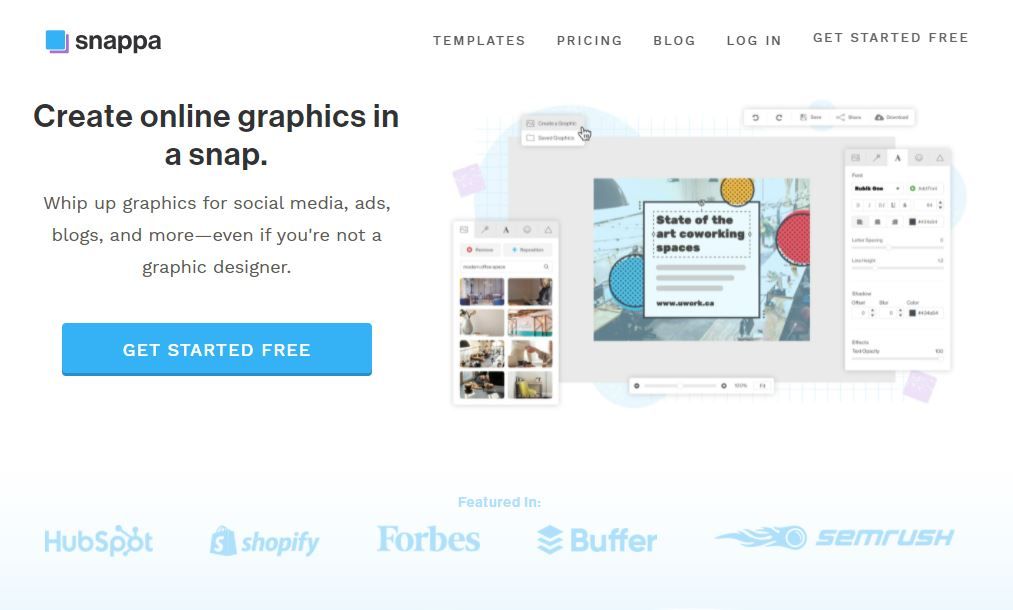 Snappa is an excellent choice to work with when you want to design templates for your blog post, business page or design logo. It has a variety of options to choose from that you can play around with and then proceed to design the one perfect for you. They have high-resolution images and template designs that is an attractive aspect of it.
Features:
A polished designer with thousands of template designs
Free access to millions of stock images
Easily link to social media platforms
Variety of fonts.
Quick background removal option.
Pricing:
Starter- $0 for one user with over 50,000 templates and images and three downloads per month.
Pro- $15/month for unlimited templates, font designs and downloads along with social media integration and background removal.
Team- $30/month for every feature mentioned above along with five users and team collaboration.
Note- All the Plans mentioned above are billed yearly, and hence the overall rage is comparatively less than plans Canva has to offer.
Final Thoughts-
All the software mentioned above are excellent in their area of expertise and are a few of the best players in the market when it comes to web designing and editing, be it with image stock, resolution and font designs with additional features that the software has to offer, they are so affordable in nature. You can try all these platforms out before choosing the one best for you and then proceed to invest in the plan of your liking.
Hope this list was helpful!