Consolto was founded in 2018, it aimed to help small businesses by allowing them to thrive in a hyper-competitive environment. Remote interactions have been made easier with Consolto as it is hassle-free, easy to work on, and most importantly cost-effective. It allows personalization along with context which helps businesses know more about the need and wants of their customers. This in turn results in building a strong and long-term customer relationship which is the key to a successful business.
Consolto allows you to do video chat using the website itself. It is a live chat software that works to provide an attractive and quick way of interaction with customers and various stakeholders. It is a safe platform and very easy to use. People from any profession can use this and connect with their colleagues through a video chat platform where different meetings and business discussions can take place by sharing screens, models, map applications, and so on.
It is also a great help to this busy world as here you don't need to download any extra application but can interact with your client within the website which means a perfect virtual office can be created using this. In all, Consolto is a very friendly setup that allows its user to connect with their clients and meet their needs.
Features Of Consolto
Easy to Setup
Consolto is very easy to set up via the script whether you have a WordPress website or a website on any CMS or Framework. It takes only a couple of minutes to set it up and make it live with a nice appearance that followers your project branding.
Text Chat
Interactions using Consolto can also be done through texting. Automatic messages can be set under the "automatic messages" and "communication" tabs.
Chat history- The messages done in real-time can be saved into the saved history and can be viewed later. However, the website visitors can access the visibility into the last 30 minutes of the chat history only.
Title
Set a tag line or a title that will help visitors understand who are you and the service you're delivering.
Widget Customization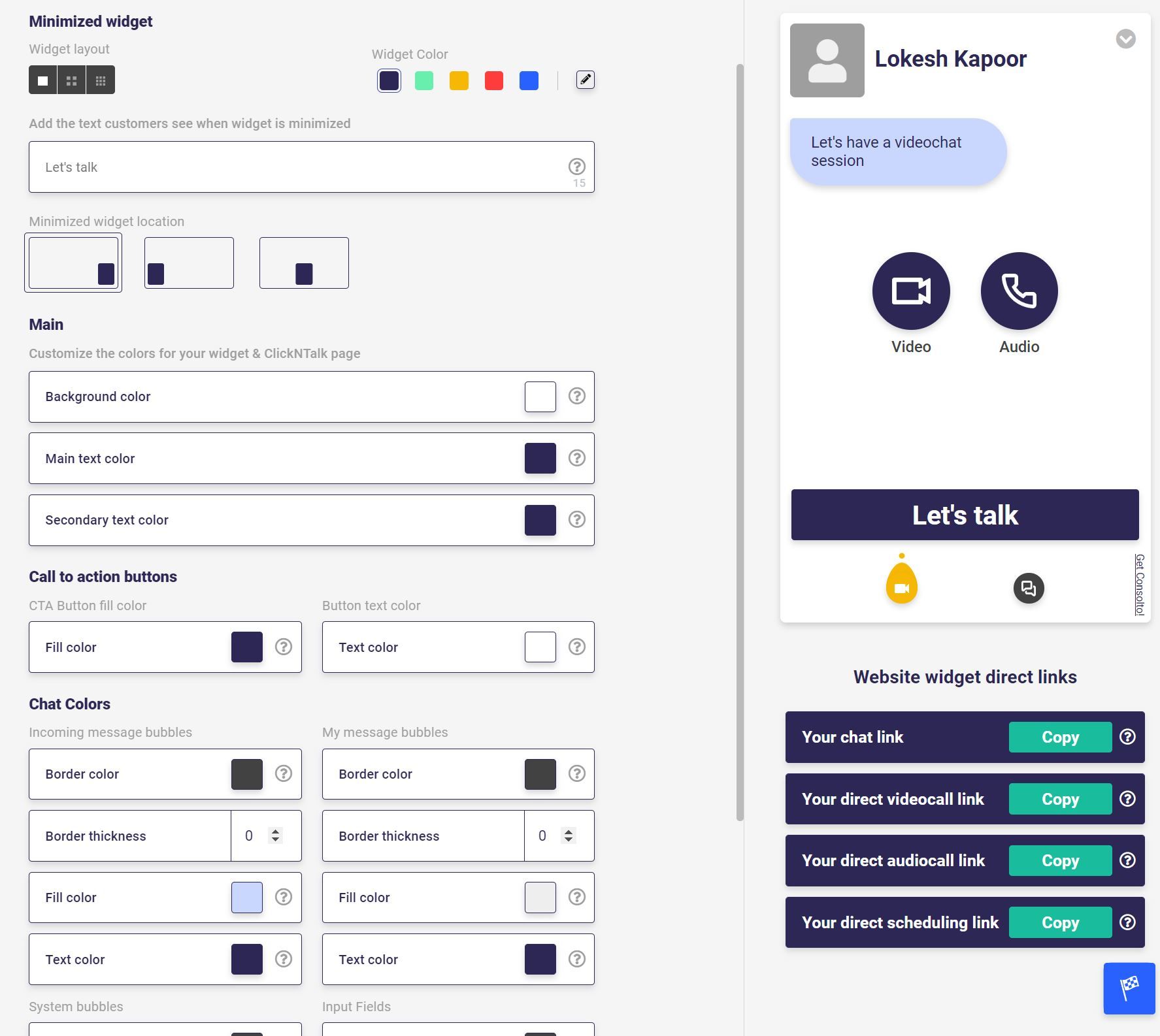 There are various customization options available in the app dashboard to select colors, texts, and more. As such, you can customize all the major parts of the widget. It is easier and even possible to make your widget look completely aligned with your website brand guidelines.
WordPress plugin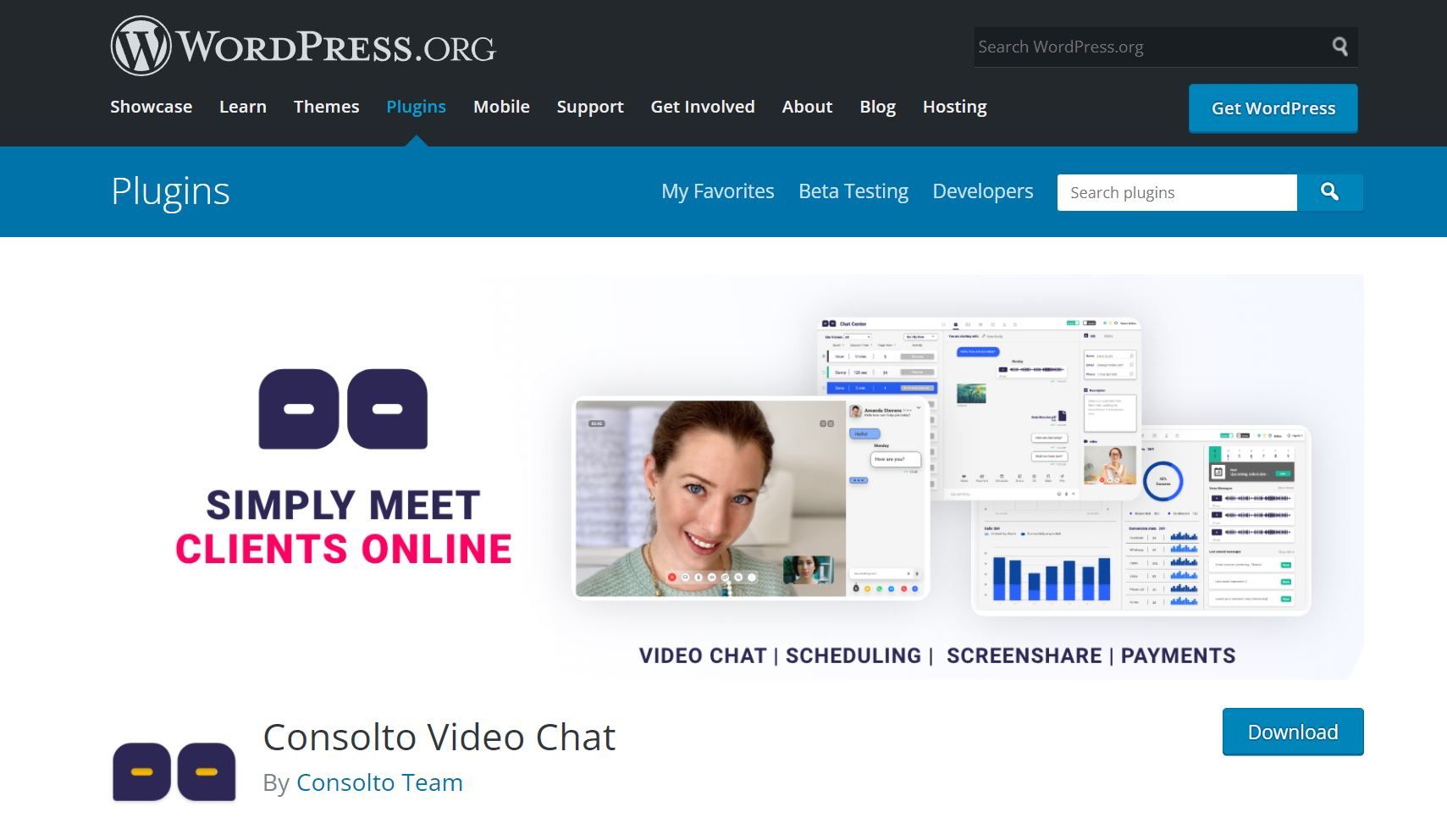 You can set up the Consolto live chat service on your website through the WordPress plugin. It is very easy to set up with a couple of clicks.
Email support
With Consolto, you can also interact with your customers by capturing their emails like most other live chat software in the market.
Availability Status
In the Consolto dashboard, you can set up your availability time status so that you are presently available or online to your visitors and they can initiate a conversation with you.
Screen Sharing
With this feature of Consolto, you are able to share your screen or view your client's screen only with a single click. It makes the conversation more interactive and goal-oriented and serves as a better tool for client servicing.
Video Chat
Visitors can initiate Video chat directly from within the website without installing any other application. By just allowing the required permissions in the browser, they can interact with the support person or the admin to converse for support, product know-how, services, or anything.
FB messenger Integration
Social messaging via Facebook is also made possible inside of Consulto with Facebook integration that is available in Consolto software.
Whatsapp Integration
Integration through Whatsapp is also possible in Consolto. One can see the WhatsApp button to start a WhatsApp conversation with the support person if it is properly integrated and activated in the dashboard by the admin.
Advanced scheduling
This helps the site visitors to schedule meetings in a simple manner. Invitations can also be sent as well.
Voice mail
Allows customers to leave voice messages directly from within the website.
Supports multiple languages
It supports 12 languages including English, Italian, Hebrew, Russian, French, Portuguese, Japanese, German, Spanish, Dutch, and Turkish.
Another additional feature includes an easy remote business as here one can work more effectively within a click of a button. Consolto allows the transfer of files during an ongoing video chat which makes it even more useful and effective. One of its features is very helpful to camera-shy people as here audio calls are also possible.
How to use Consolto?
Access your website's admin panel
Download the "Consolto Video Chat" WordPress Plugin
On your WordPress admin dashboard, select 'Add New' from within the 'Plugins' option, search for Consolto video chat and click the install now button, and activate it to use Consolto on your Website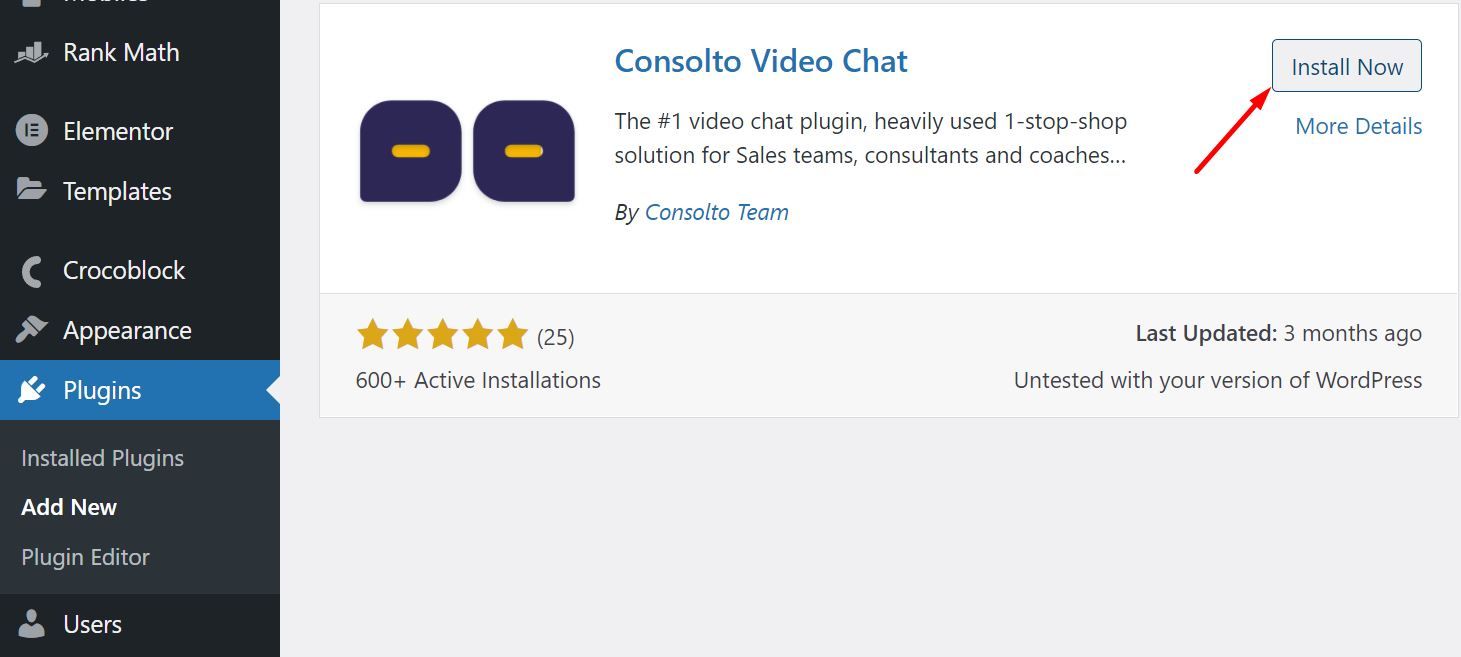 Paste the copied script to your Consolto Plugin installer setting in WordPress Dashboard and then save the changes.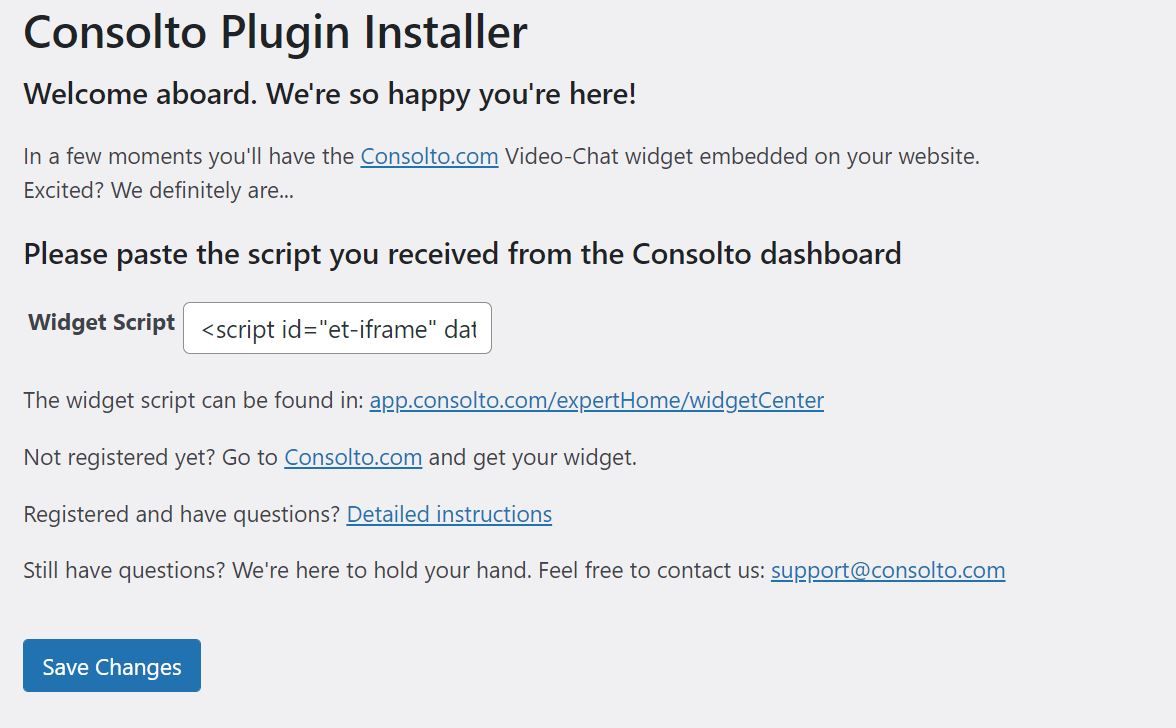 Now you can see the widget on your website frontend.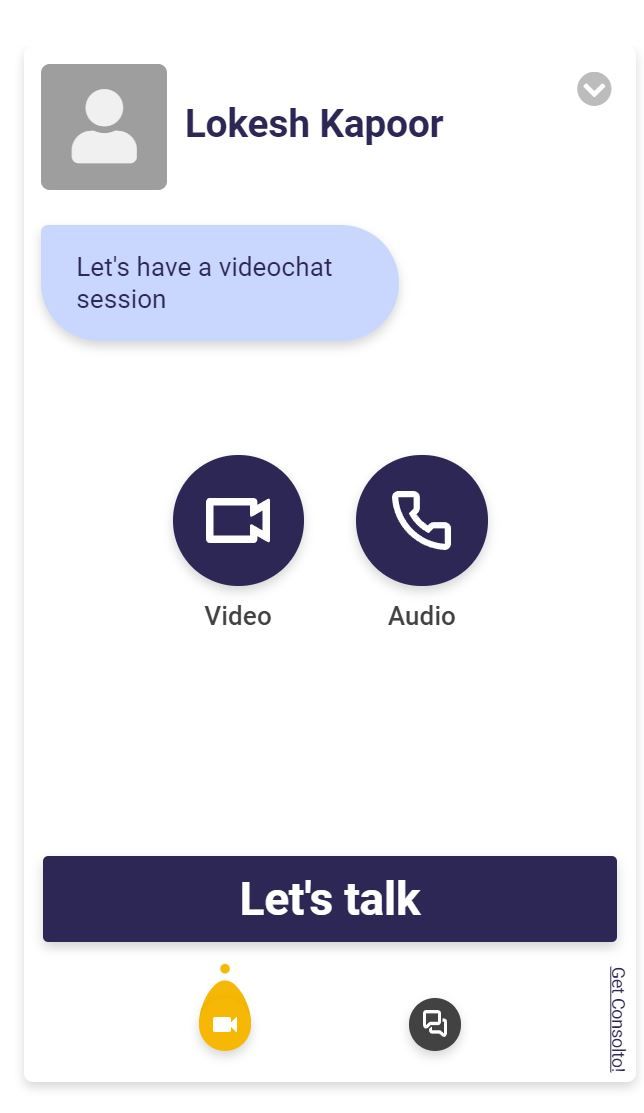 There are various widget settings that you can customize.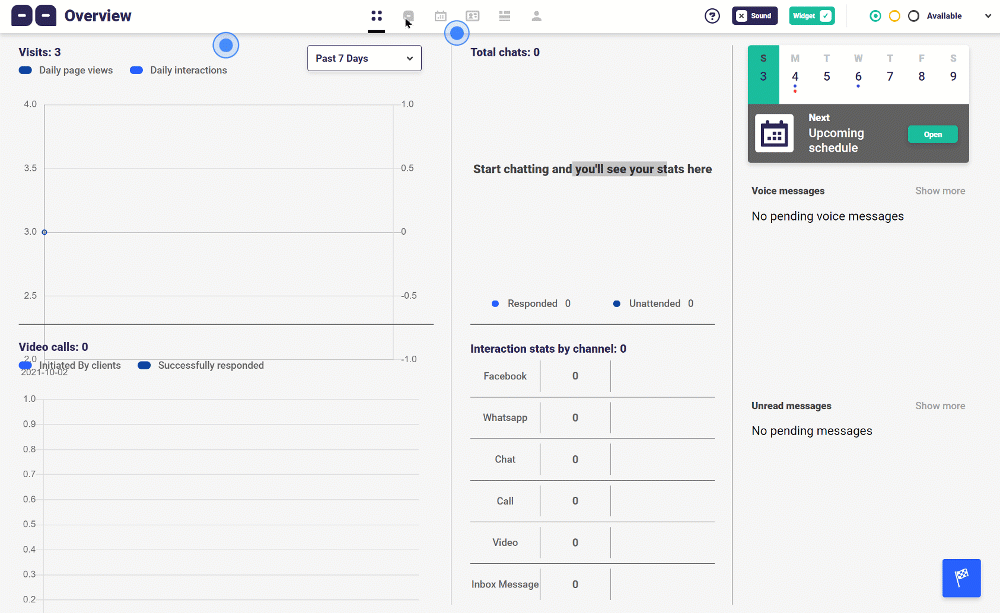 Alternatives of Consolto
There are many alternatives to Consolto or it can be said that there is a huge variety of platforms that can replace Consolto. Some examples are Web-based, Android, Windows, Mac, iPhone, and Discord. While Jitsi Meet, Hangouts, Zoom, and Whereby are some of the other great platforms like Consolto. Adding to the list there are applications like tawk.to, Google Duo, FaceTime, Cisco Webex Meetings, join.me, Intercom, ActiveCmpaign, LiveAgent, 3CX, Skype which can serve as an alternative to Consolto. At present some of the best alternatives to Consolto are Zendesk, Salesforce Service Cloud, Acquire, LiveAgent, Uaserlike, ProProfs Chat, LiveChat, Comm100 Live Chat, Olark, Heyday, and more.
Consolto Pricing
The pricing of Consolto is based on the requirements. It also provides a free trial period of around 7 days to its users. As a flat rate per month, the price starts from $10.00 per month. And a certain plan can be upgraded at any time by visiting the personal setting tab. There are a set of different plans according to the needs of different users. A smart plan includes a sum of $98 per year with 3 hours of video chat. A clever plan gives 20 hours of video chat per month at $197 per year. While a genius plan gives 50 video chat hours at $384 per year.
Consolto Lifetime Plan on Appsumo
To avoid regular or subscription-based pricing, you can buy the limited-time lifetime deal of Consolto on Appsumo. With lifetime access to the software, you can optimize your cost for the upcoming months and it doesn't charge much as well. Appsumo lifetime deals are mostly available at $49, $69 or $99. Sometimes there are stacking and tiers where you are instigated for buying a better tier to avail most features or more credits. The same goes with Consolto. There are three tier plans available on Appsumo for Consolto viz. $59, $99, and $289. You can decide which plan can be best suited for your needs. Since its a lifetime plan, you can decide by considering the future needs as well.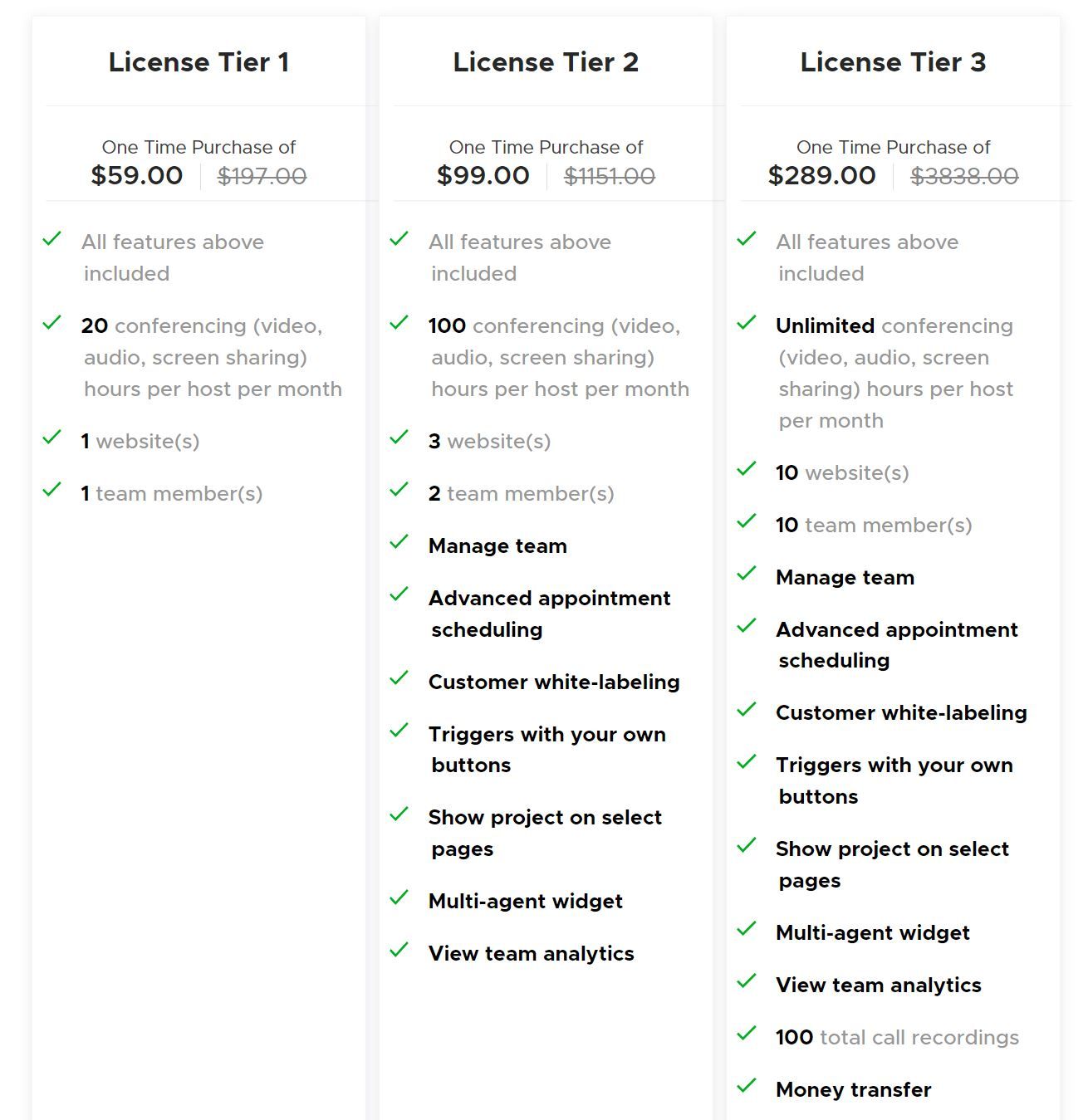 Over to you
Consolto is a great solution for you to manage the communications with clients, have better ORM, and increase more conversions. Like any other live chat tool, it serves the basic purpose of satisfying clients but it is only a medium. The end results depend on how you actually make use of it. Depending upon your need you can choose a lifetime plan of Consolto which is never going to be a bad deal. However, you can avail of a 7-days free trial to test this software and then make a decision whether to continue (upgrade) this live chat tool.
The Review
Consolto
Consolto is a powerful live chat plugin and software to manage your support and business communication with clients and visitors very easily. I facilitate better interaction and affordable cost when compared to other live chat plugins in the market. Consolto is a powerful option for entrepreneurs to crack deals and satisfy existing customers.
PROS
Easy to use and Time-saving
Communication via Video Chat, Texts, and Audio Notes
Easy to Install and Setup
WordPress Plugin Available
Neat and Convenient Workflow
Best for Support Teams and E-Commerce Websites to increase conversions
CONS
Sometimes there are glitches
Design doesn't look fresh
Lack of sub accounts and basic customization options
Review Breakdown
Easy to Use

0%

Brand Trust

0%

Support

0%

Features

0%

Value for Money

0%