AI writing software is an online platform that provides high-quality content in less time whether it's about generating attractive headlines for your products, descriptions for your blog posts, giving ideas for your content, generating long-form content in sections instantly, or creating a landing page for your website to display your product details and features. So, landing pages has to be attractive as it is the most important thing for your website.
A properly created landing page works well for differentiating a visitor from a customer. Using the AI writing software provided here you can go for the templates of your choice and start building your landing page by mentioning the required details of your product.
Some of the tools listed below; for example Writesonic; work best for the landing pages. So, you can choose any tool listed below for generating the content for your landing pages with utmost confidence.
List of Best AI Writing Tools for Landing Pages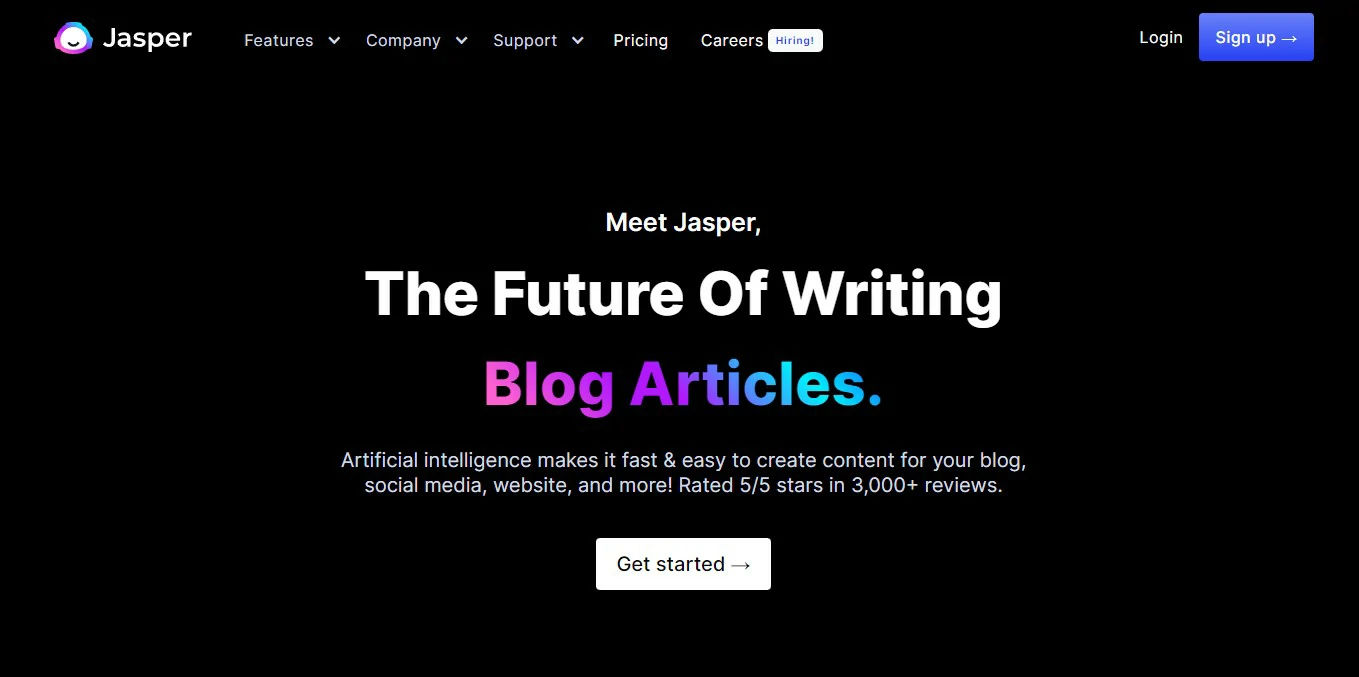 Jasper is an AI writing tool through which you can generate the best quality content just by giving commands related to the preference of your content. Jasper AI will write it down for you in paragraphs in a very short period. So, it becomes easy to generate even long forms of content without wasting time. It not only gives ideas for creating content but also provides marketing plans for enhancing content productivity. 50+ copywriting skills are available to develop ideas and outlines for various types of content. 25+ languages are available to develop content in any of your desired languages for better clarification.
Features of Jasper
Automatically creates content by mentioning some information relevant to the content
Serves in completing the first draft ten times faster
Provides long-form document editor in Boss Mode subscription plan
Generates great quality content that serves for SEO ranking
Best AI Copywriting after estimation of copy variations to improve the ad transformations and sales copy
Optimize content for a better performance to increase sales
Generates real and plagiarism-free content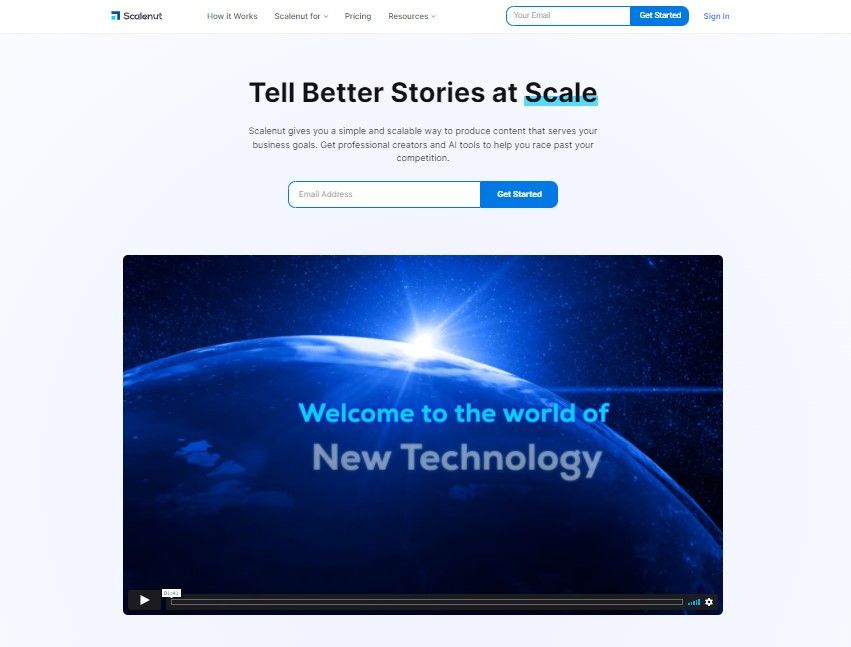 Scalenut is an AI SEO assistant and content creator software for both long-form and short-form content. It has a user-friendly interface with all its features well explained in its dashboard. It has an integrated content brief and automated NLP key terms that help in developing amazing content in less time. It is one in all platform for all SaaS solutions provided to content creators, regular bloggers, marketing teams, agencies, and businesses at all stages. 40+ cases are provided to select and create high-ranking content as per your needs.
Features of Scalenut
Generates SEO-centered outlines for content
Provides endless schemes for creating blog introduction and conclusion, product description, subject lines for email, social media posts, and so on
Generates long form of content in seconds using AI writing tool which is of best quality and SEO-friendly to grow sales
Ensures proper workflow during content creation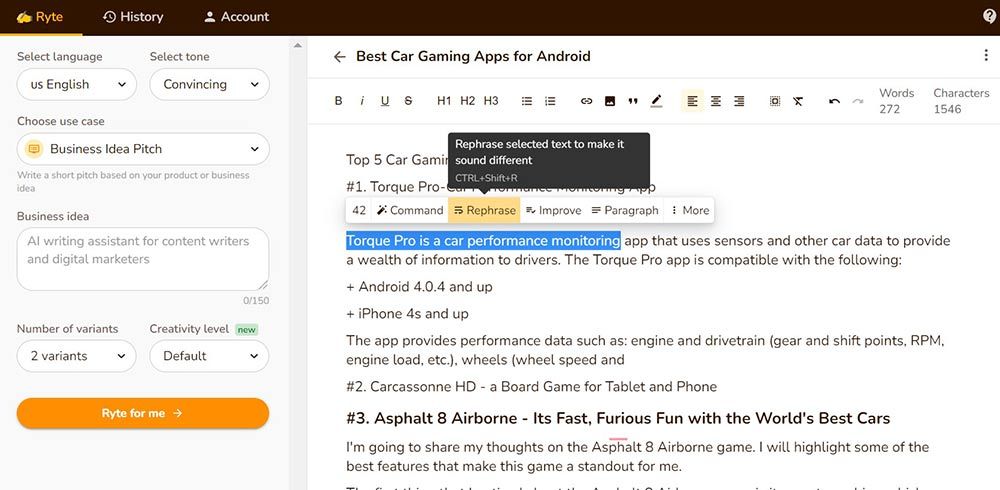 Rytr is an AI writing tool that functions using scientific copywriting formulas which need very less editing and generates real content that is plagiarism-free without taking much time. It keeps proper track of the contents through an SEO analyzer. More than 30 use cases, templates, and languages are available to choose from for creating content in your preferable way along with 20+ tones so that you can express your more clearly about your content to the readers to engage them to enhance your product sales.
Features of Rytr
It works on the Generative Pre-Trained Transformer 3 (GPT-3) AI model that helps in creating original and plagiarism-free content instantly
Creates good quality content for YouTube, marketing, videos, emails, landing pages, social media posts, ads, and so on
Rytr has an integrated landing page creator, plagiarism tester, magic command tool, and many more
It enables text editing to ensure the quality of content
Rytr works on copywriting framework AIDA (Attention, Interest, Desire, and Action) that makes users transform into customers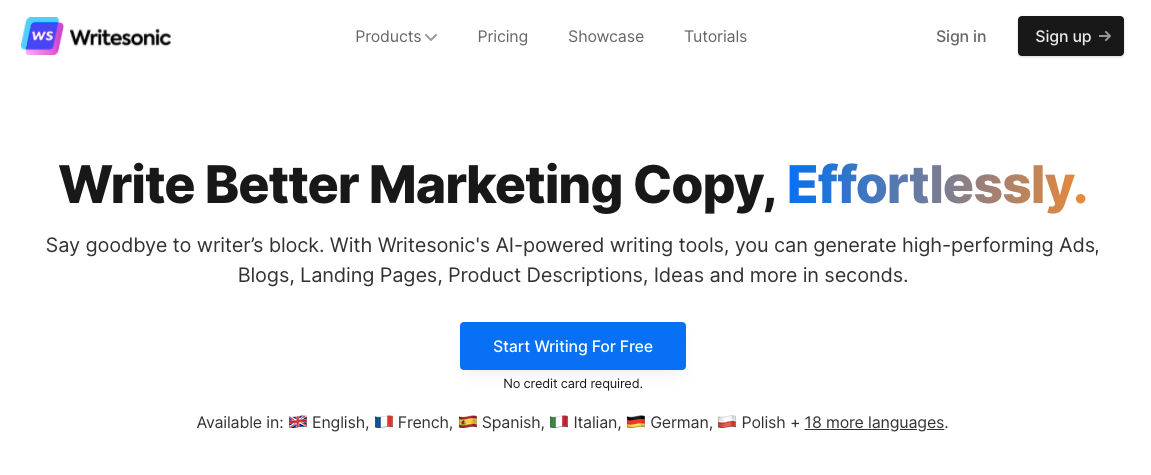 Writesonic is an AI writing tool through which you can create content for your website, social media posts, or blogs. You can also select ideas for your content through a variety of templates available whether it's for creating blogs, articles, ad copies, landing pages, or anything like that.
The AI software will accept the idea and starts creating an outline which further develops into a whole content. If you get satisfied with the content, you can create more such copies. In case it does not suit your requirement, you can click on the regenerate button or you can also make optimizations in that copy using editing tools.
Features of Writesonic
Provides content in a short period just by mentioning some keywords along with a brief description related to the product
Helps in creating digital ad copies to promote products so that more customers can be engaged
Builds headers, SEO meta descriptions, product descriptions, and landing pages for your website
Provides schemes for a blog, social media posts, product introduction, and so on following outline generation
A grammar checker and readability score tools are also available
Copysmith
Copysmith is an AI writing tool for generating blog posts, SEO-centered product descriptions, SEO meta tags, marketing copies, social media campaigns and ads, landing pages, emails and so on which takes less time without comprising quality of content. It serves bests for eCommerce teams and agencies. Its AI writing tool is experienced in generating SEO-friendly content that ranks higher on Google.
Various templates are available to establish, promote and scale your online stock of products. The best thing is that it gets linked with the tools you use daily so that you don't have to waste any time in research and helps you in completing your order faster.
Features of Copysmith
Using the team and collaboration features, you can estimate content feedback and acceptance by the customers without involving any third-party project organizing tools or attending any review meetings. It saves your time for focusing on the next project
A campaign builder tool is provided using that you can build a complete campaign in a few clicks. Maintain a transparent path for your customers so that your product sales can rise and customers go for repetitive purchases
A restricted plagiarism checker is also provided for free
With the chrome extension, you can create and upload the best quality content on any browser-based platform. You just have to upload a spreadsheet and Copysmith will simply generate the copy
Integrated key systems are provided to connect your everyday tools to your Copysmith work area to save time and enhance your product quality
Over to You
So, if you are looking for organizing your content in a better way, you can opt for any of the AI writing software provided here. The AI writing tools will save your time and delivers the best quality content and helps you in building proper and sufficient landing pages for your websites to grab more attention and transform visitors into customers. Choose from the range of templates available in this AI software and start building your website landing pages. If you want an affordable plan, you can go for Rytr. Else you can choose any of the AI software provided above to receive the best outputs.