Landing pages are one-page websites with one keen focus, like getting the customers to sign up for your newsletter and promoting your product. You can even consider them as a unique interactive online business flyer or card for yourself or your business.
As you know, building a complete website is a very involved process, but when you use the right tools, launching a great landing page is a quick and straightforward process. With the help of landing page builders, you can create lists, make funnels and create new clients for your business.
Landing Page Builders are usually easy to use and come with drag-and-drop functionality. As such, any marketing person or salesperson can use the tool to create the pages. With the help of the tools, the optimization and lead collection process is simplified, and you don't have to worry much about that. If you are a creator or influencer, you can focus on your primary work and leave everything on these tools.
Best Landing Page Builders in September 2023
Mentioned below are some of the best landing page builders. Each platform has its strengths. Choose the right landing page builder for yourself and boost your business.
ConverKit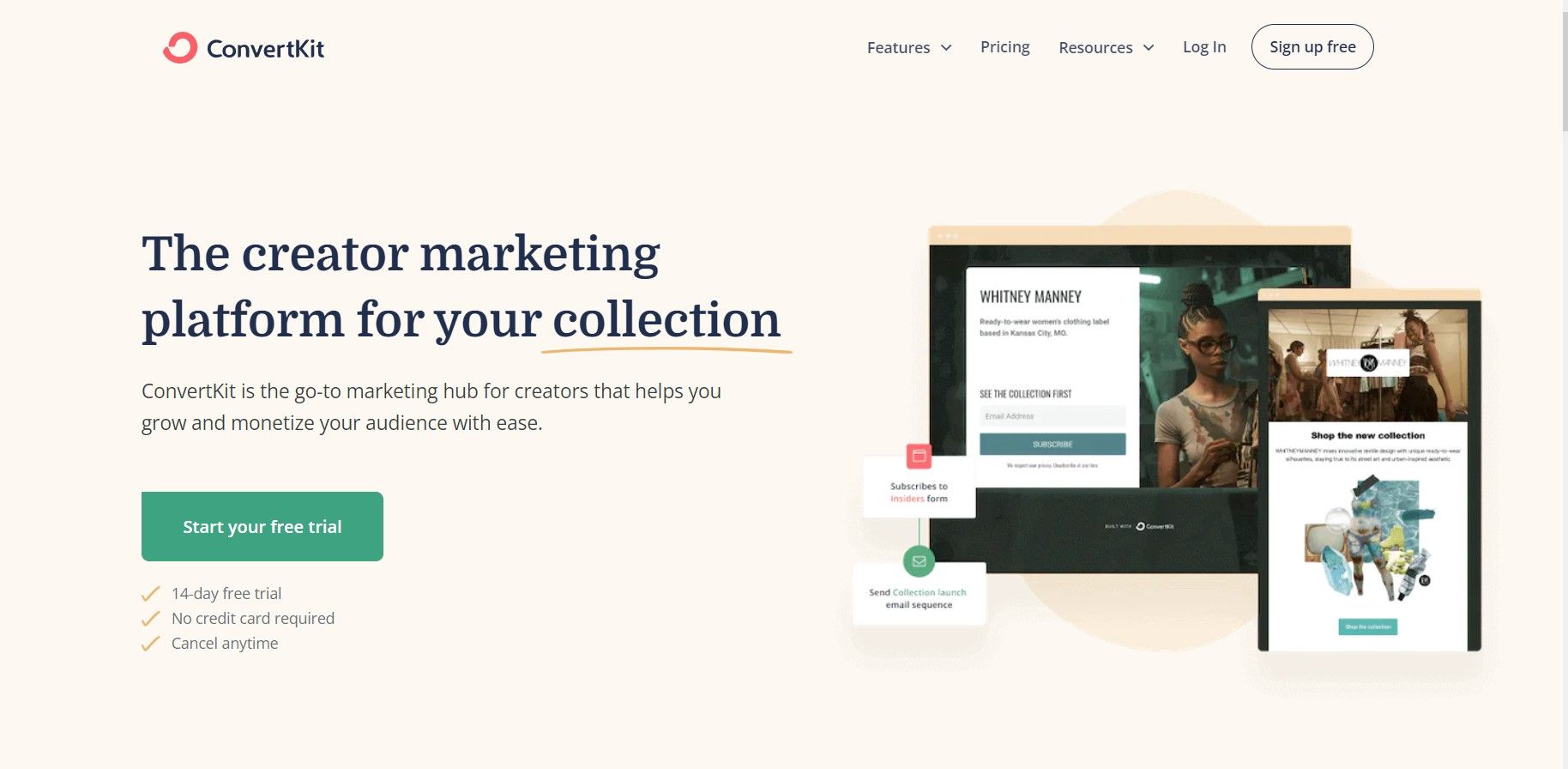 CoverKit is the best option if you wish to use a landing page for launching an email newsletter. It is designed for bloggers, authors, musicians, YouTubers, and other creators who wish to monetize what they are doing, and it will work equally well for any person who is trying to build an email list.
It is an excellent landing page builder, and its free plan is a great way to get started with it. But if you are wishing to build your newsletter, then you can consider its paid plans.
Features of ConverKit
More than 50 base templates
Excellent themes
Pricing of ConverKit
The pricing of ConverKit starts from- $15 per month
Carrd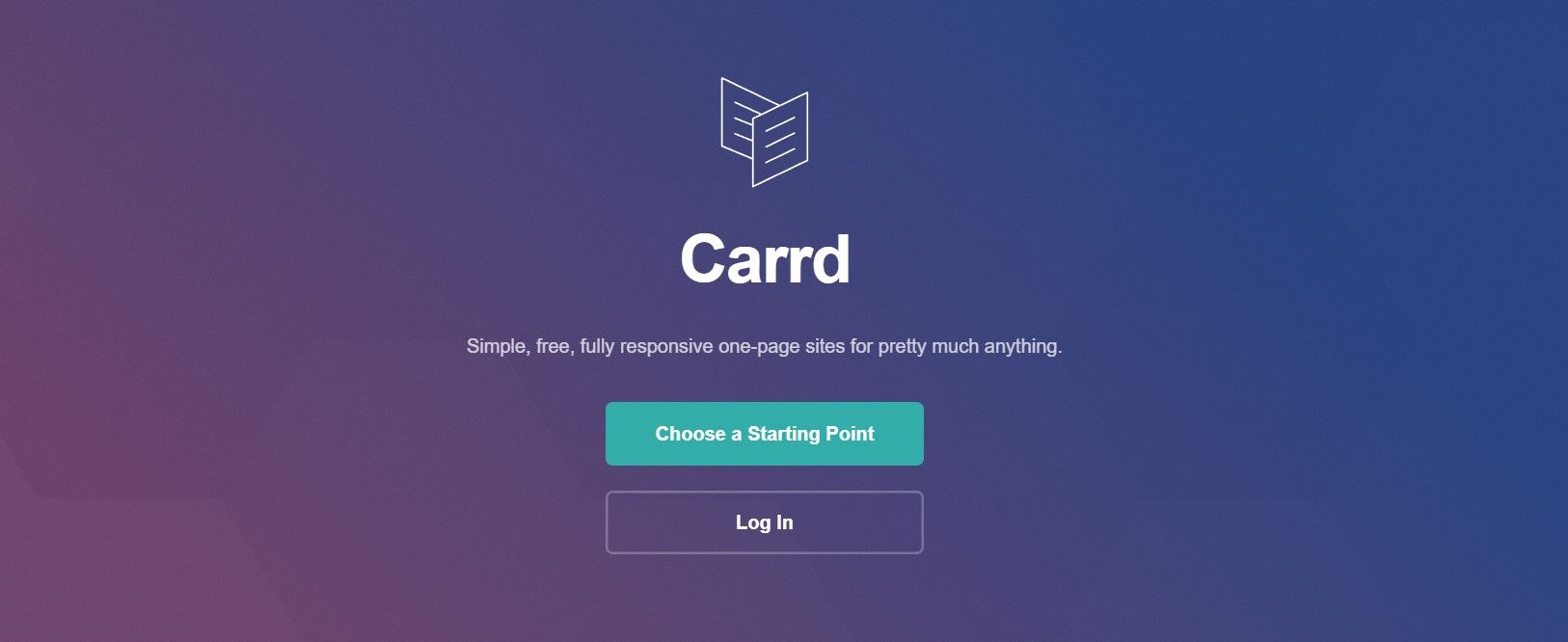 Carrd is an outstanding landing page builder available in the market- and most of its core features are available free of cost. Here, you are not even required to create an account to start building a page. Simply go to the Carrd website, select any one of the themes, and get it. And once you get ready to publish or save your website, that is when you are required to sign up.
Features of Carrd
Create containers with columns to make things appear side by side
The themes are restrictive with their layouts
The free Basic plan lets you make basic landing pages for free
Pricing of Carrd
The pricing of Carrd starts from- $9 per year
Unbounce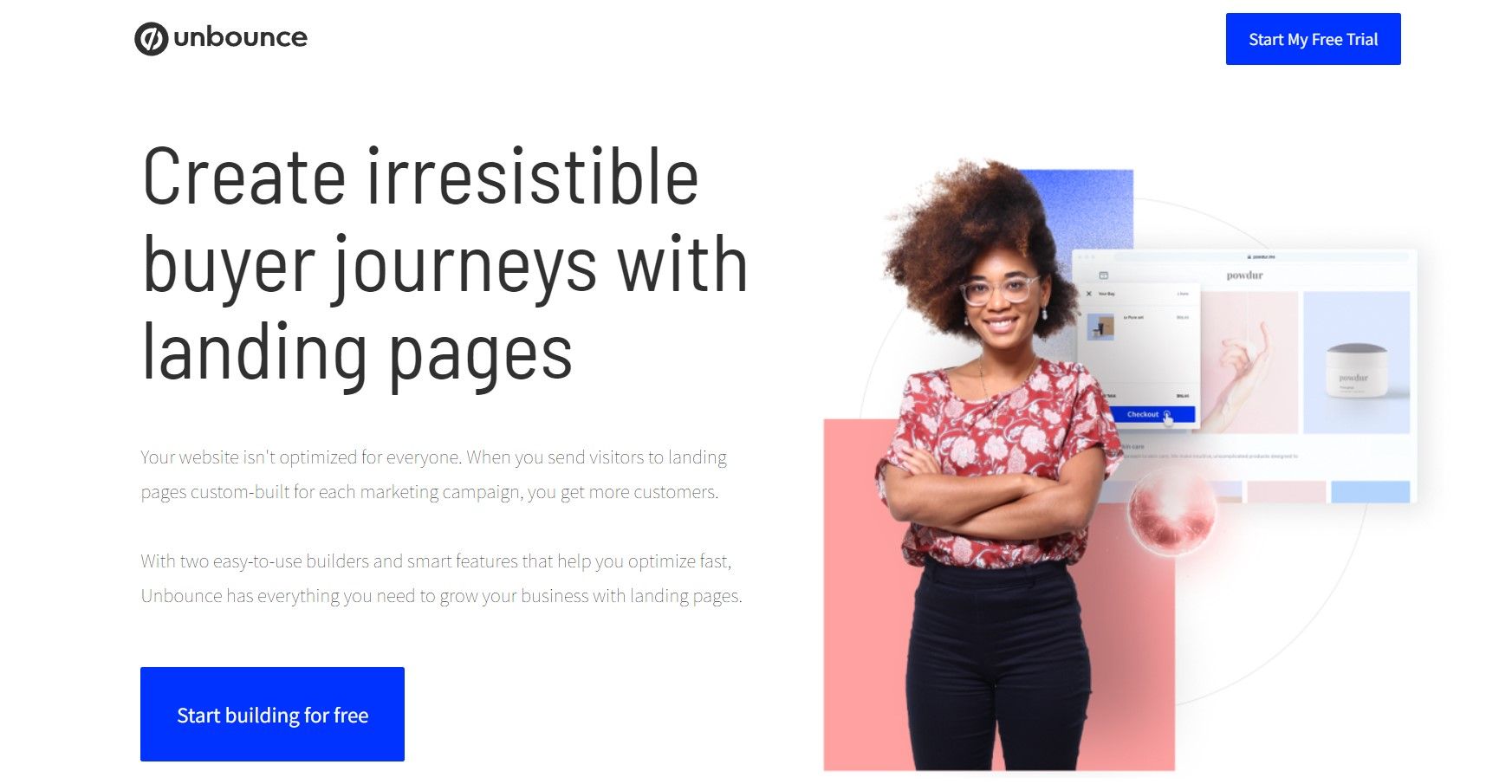 Unbounce is a landing page builder that offers a lot for small, offline business owners like lawyers, dentists, and plumbers. It is oriented toward people who are making real money straight from their leads.
You can build in either of the two ways- using the drag-and-drop classic builder or using the new AI-powered smart builder. Classic builder is powerful and works like most of the other drag-and-drop builders while Smart Builder asks you what you wish to use the page for, and then creates the page for you automatically.
Features of Unbounce
AI-powered built-in copy-generating to auto-fill content on the page
Create multiple variants of your page (Classic Builder) or add a new variant from the dashboard (Smart Builder)
Dynamically replace the texts
A/B testing
WordPress Integration
100+ out-of-the-box templates
AMP mobile pages
Clone and edit entire pages
Add maps, pixels, and scripts to landing pages
Pricing of Unbounce
The pricing of Unbounce starts from- $90 per month
ClickFunnels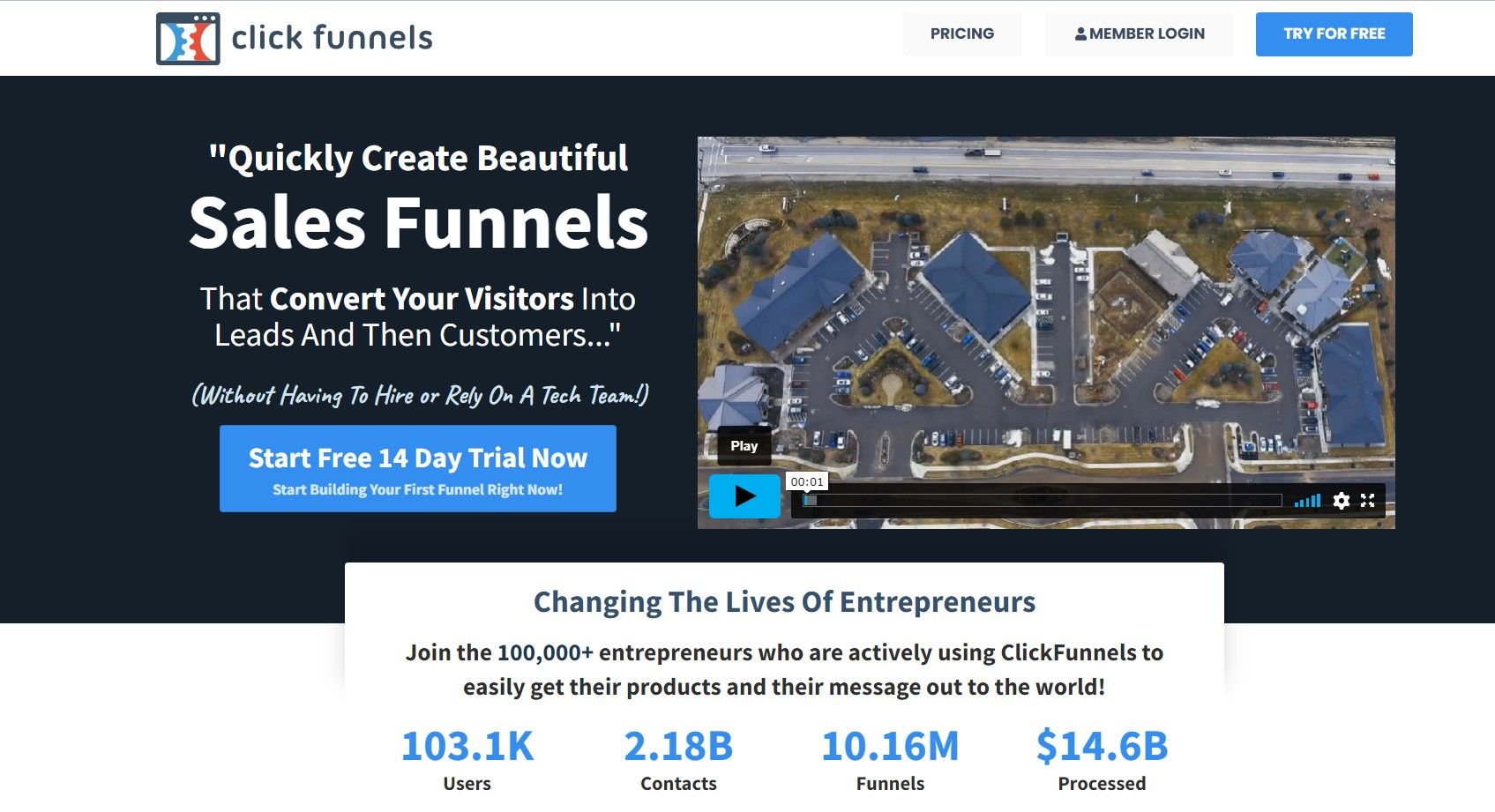 ClickFunnels is great for driving sales leads. It focuses on the entire funnel experience like creating cross-selling, upselling, and down-selling is seamless with this application.
Features of ClickFunnels
Webinar Funnels
Membership Funnels
Checkout funnels
Pricing of ClickFunnels
The pricing of ClickFunnels starts from-$97.00 per month
Swipe Pages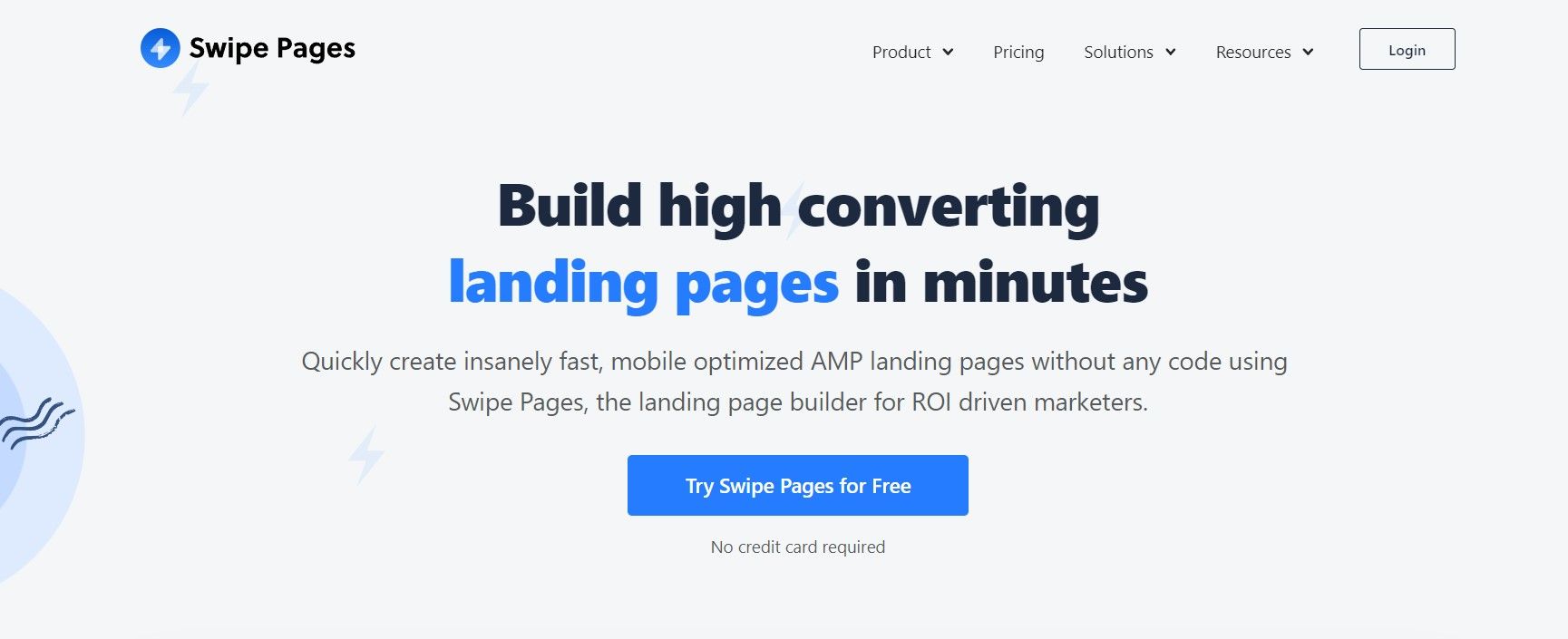 Swipe Pages, just like the other landing page builders, is a reliable tool. Here, you have to start with a template, customize it according to your needs using an intuitive drag-and-drop builder, and push people toward your CTA- whether that be buying a product or signing up for a newsletter.
The best thing about Swipe Pages is that it allows you to generate a regular landing page for people browsing on their PC and redirect all the phone/mobile traffic to a set of mobile slides.
Features of Swipe Pages
Dynamic text replacement and Global blocks
A/B testing
Over 50+ templates
Custom fonts
Ecommerce features
Sell products using payment forms- Paypal and Stripe support
Create a mobile app-like landing
Capture leads with forms and then send them to other tools
Pricing of Swipe Pages
The starting price of swipe pages landing page builder starts from- $39 per month
Leadpages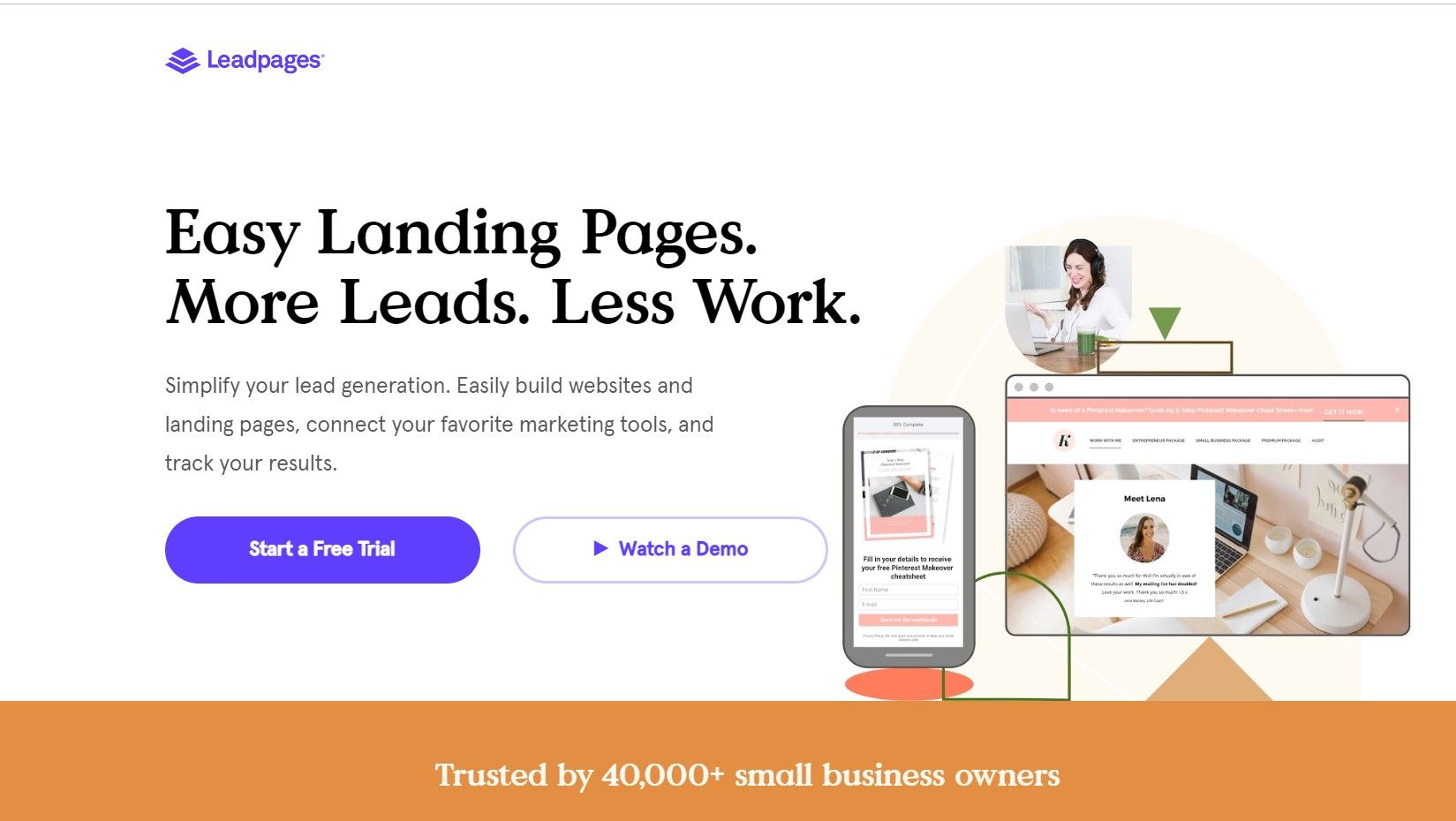 If you wish to launch a page where people can visit to learn about and buy your product, then Leadpages is the right choice for you. It is a strong landing page builder with all the tools you need to fulfill your purpose. If you don't have much coding knowledge, then Leadpages can indeed become your favorite editors.
Using Leadpages is very easy; start with a template, click on anything on the landing page designs, and then the rest of the page will automatically fade out a little, allowing you to work on the one thing that you are editing.
Features of Leadpages
Quickly change how certain things look.
Widgets and page options to add images, videos, forms, and so on
Add a pre-styled block of content
160+ out-of-the-box templates
Works with 40+ tools
A/B testing
Can integrate with WordPress
Unlimited mobile-responsive pages
Captures lead with forms in an easy format
Pricing of Leadpages
The pricing of Leadpages starts from- $49 per month- for a standard plan for one site.
Instapage

Instapage builder is somewhat similar to Unbounce. It offers highly customizable features for landing page creation. And in addition to that, it also offers over 80 high-quality templates.
If you wish to build a landing page straight from scratch or edit any one of the eighty templates, then the amazing drag-and-drop builder offers many powerful features to you.
It is an excellent choice for the agencies. The agencies that require to create multiple landing pages for their clients find the Instablocks feature of Instapage fantastic, which helps them to free up bandwidth.
Features of Instapage
Customizable widgets
A form builder
Integration options
Instablocks to create a reusable landing page
Built-in heat maps
A/B testing
Best user interface and is easy to use
Easy-to-lead analytics
Friendly plugins
Direct WordPress integration
Pricing of Instapage
The pricing of Instapage starts from- $199 per month
Landingi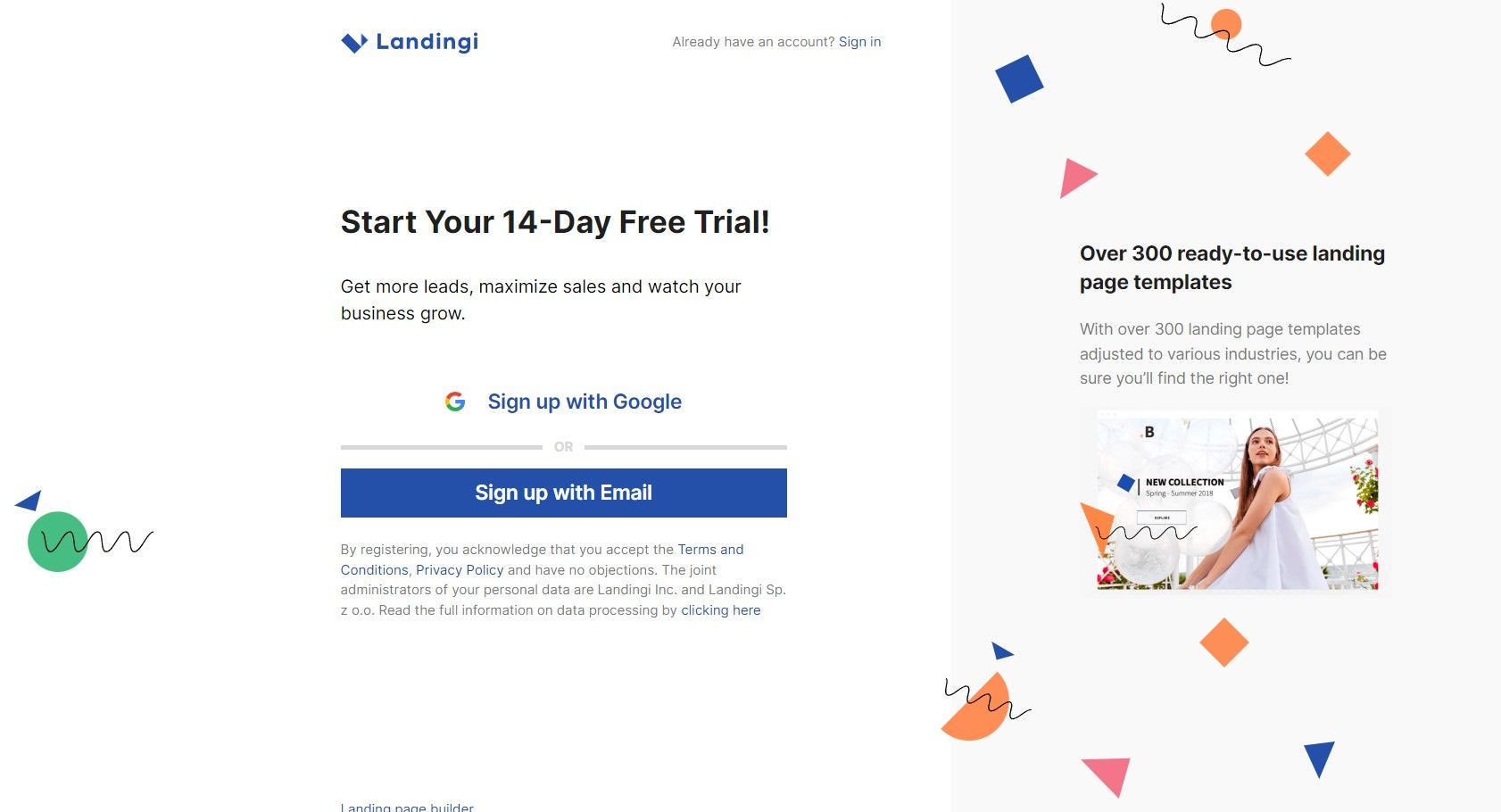 Landingi is a flexible platform with options that are dedicated to converting traffic. It is an end-to-end platform that converts your digital campaigns into customers. And the tool can be used without IT and coding knowledge. Using Landingi, you can create, publish, as well as optimize your landing pages and run A/B tests simply by yourself.
With its drag-and-drop editor, you will be able to easily create a landing page, select from 300 high-converting templates, use the built-in integrations to automate your marketing stack, and bring your marketing to a higher level.
Features of Landingi
300+ out-of-the-box templates
Integrations with Mailchimp, Hubspot, Salesforce, and many more
A/B testing
Ability to add custom code
Captures leads and permits you to perform automation while using those leads.
Popup Builder
Pricing of Landingi
The pricing of Landingi starts from- $29 per month
Over to you: List of Best Landing Page Builders
Landing page builders are amazing tools if you wish to build a single-page marketing site along with a clear CTA. But in case you think that soon you will want to expand it to an online store or an entire website then it is better to create your site, even if it is a single-page one to start.
We have discussed some of the best Landing page builder tools in the list mentioned above. To weigh these options, consider your business goals and budget and then decide which device is most closely aligned with your needs.