To be honest, I am not untouched by image-editing android apps. Even my phone is always flooded with lots of apps that are genuinely impressive and give better results thereon.
If you love taking pictures, sharing them, and occasionally editing them to look even better, you'll want to check out these 10 photo editing apps that are perfect for the job. Whether you're working on an Instagram feed or if you like to keep all your family photos looking neat and clean, these apps will help you achieve the results you're looking for in no time at all!
Of course, we can do many things with these photo apps. We can easily give effects to any image, rotate it, crop it, frame it, draw on to it, straighten it, and more with our pre-existed editor. But these extended apps give enhanced features and enable users to shape, make the collage, make it attractive and do more without bothering about the picture quality. So, every 9 out of 10 active Android users use one or the other image editing applications.
Well, the decent popularity of these apps probably lies in social media websites. But it may not be the only reason, I guess. In fact, in our all day to day lives, there may be some moments we want to capture and make more attractive, and this draws our attention over here.
The 10 Best Photo Editing Apps to Help You Level Up Your Instagram Game
We've all heard about the power of Instagram and how your popularity as a blogger can grow if you use it to its fullest potential, but that's not always easy to do, especially if you don't know how to edit pictures on an app like Photoshop or GIMP, or even if you do! That's why I've put together this list of the best photo editing apps to help you up your Instagram game. Let's take a look at my top picks!
Here I am indicating some excellent photo editing applications for Android, and I believe you will love them. All are known for their different features.
Lightroom Photo & Video Editor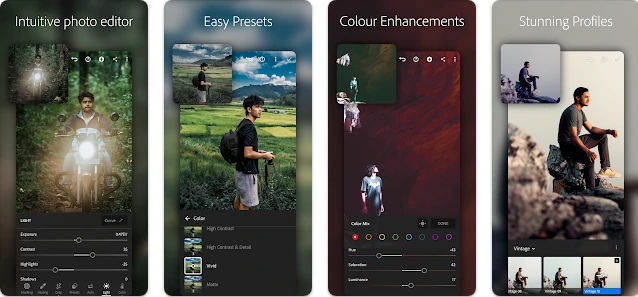 Lightroom is an excellent app for editing photos, especially if you want a simple and quick edit. It's not as robust as some of the other apps on this list, but it gets the job done. The best part about Lightroom is that there are no in-app purchases, so you get all the features for free. Lightroom doesn't have the bells and whistles that others on this list do, but it provides an easy way to adjust your photo without any in-app purchases. The best part about using Lightroom is all of its features are included with your purchase from the start!
VSCO: Photo & Video Editor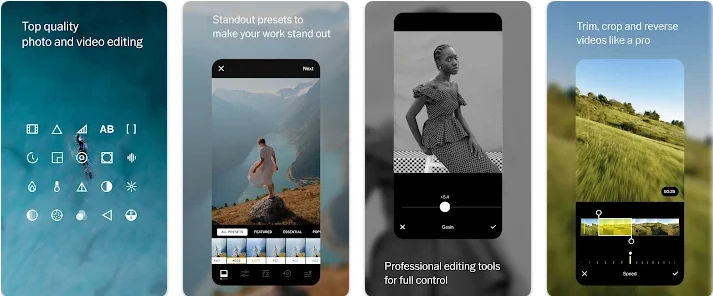 VSCO is a photo editing app for iOS and Android that lets you customize your photos with filters, presets, and other tools. It also has integrations with social media platforms like Facebook, Twitter, and YouTube. What's great about it: The interface is really user-friendly, which makes it ideal for beginners who want to make some changes without getting overwhelmed. Price: Free
Camera+ 5G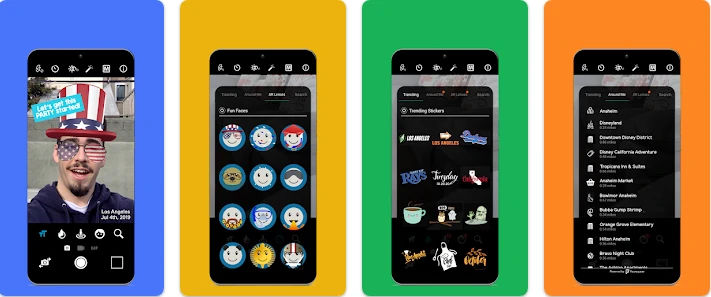 Camera+ 5G is a well-rounded app that can be used for editing photos or taken as an alternative to the default camera. It has a bunch of filters and effects that you can apply, plus all the basic photo editing tools like cropping, rotating, and adjusting the exposure. Camera+ 5G also has a nice interface with big buttons that make it easy to edit pictures on your phone.
Photoshop Express Photo Editor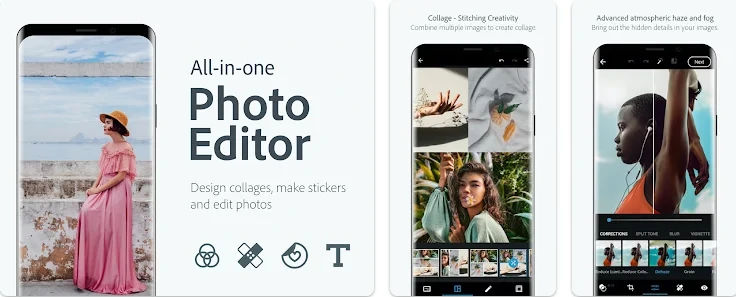 Photoshop Express is a free photo editing app that offers basic editing features and filters. It's a great option for those who don't have the time or money to invest in other apps. However, this app doesn't offer many customization options, so it may not be the best choice for advanced users looking for special effects like light leaks or lens flares. Additionally, Photoshop Express has more than four million downloads with an average rating of 4.5 stars on the App Store.
Afterlight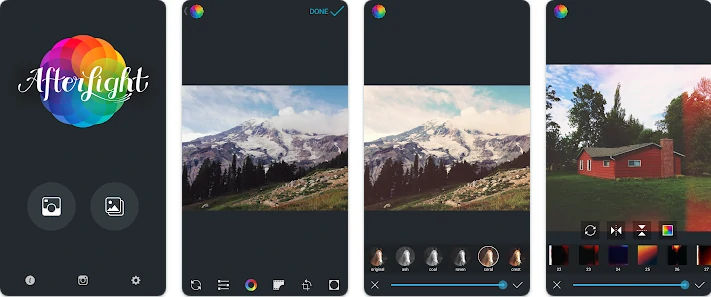 Afterlight is one of the most popular photo editing apps on the market. It features a simple, intuitive interface that allows you to edit photos quickly and easily. One of the best features is its ability to mix multiple exposures into one image. If you're looking for something a little different, try Afterlight. The app offers a wide range of filters and editing options in addition to being able to create an infinite number of light leaks, which can be layered on top of your shots. If you have any experience with Photoshop or Lightroom, then you'll feel right at home with this app as it also has similar tools and functions (e.g., crop tool).
This app doesn't have as many features as other editing programs out there; however, it's still quite versatile with what it does offer.
Photo Editor for Android™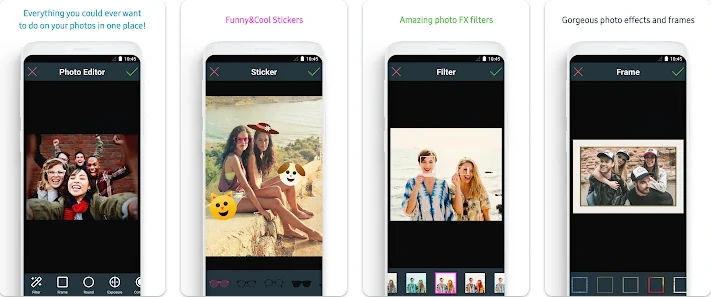 Photo Editor for AndroidTM is a powerful and easy-to-use photo editor app. It comes with a variety of features and filters that allow you to edit your photos, add filters, or create new collages in no time at all. It also allows you to make GIFs from videos on your camera roll. Plus, it has cool stickers if that's what you're looking for. There are many great apps out there, but this one is our favorite because it doesn't require any complicated setup procedures; just install the app and start editing!
Photo Editor – Polish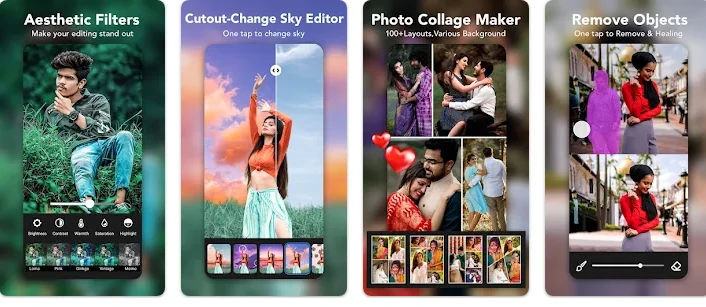 Polish is a mobile photo editing app that helps you bring your photos to life with the perfect filter, adding different effects and making them look professional. It also has a variety of tools that make it easy for you to edit brightness, contrast, temperature, and saturation. Other features include a stabilizer, overlay transparency, screen recorder, and crop tool. With this one-stop solution, you'll be able to do all of your editing right on your phone in just seconds.
LightX Photo Editor & Effects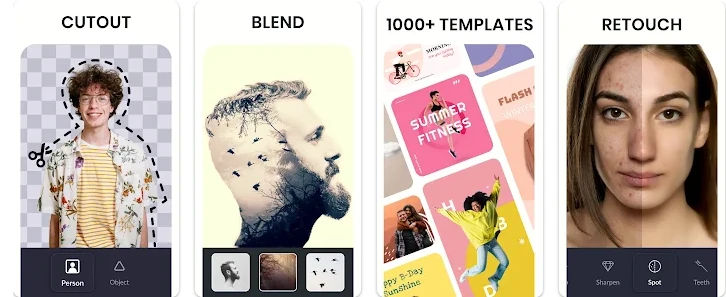 LightX is a free photo editor app that has an easy-to-use interface and a ton of features. LightX includes tons of filters, overlays, and editing tools. The best part is that you don't have to be a professional photographer or graphic designer in order to use the app! With LightX, anyone can make their photos look professional and beautiful in seconds with just one tap. Another popular photo editing app for both Android and iOS users is Afterlight 2 – although it doesn't come with as many filters as LightX does, it does offer basic adjustments like contrast, brightness, saturation levels, white balance, etc.
Photo Editor, Collage – Fotor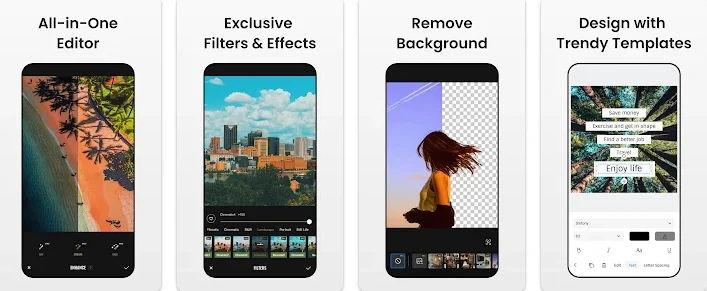 Fotor's photo editor app is perfect for all kinds of edits, and it's free. So if you're looking for a simple and intuitive photo editing app, or need something that can do more advanced photo editing, this is the best app for you. Plus, it has some of the most beautiful filters out there! There are over 100 filter options in total, so no matter what kind of mood you're trying to set for your photos, there will be one available on the app.
Snapseed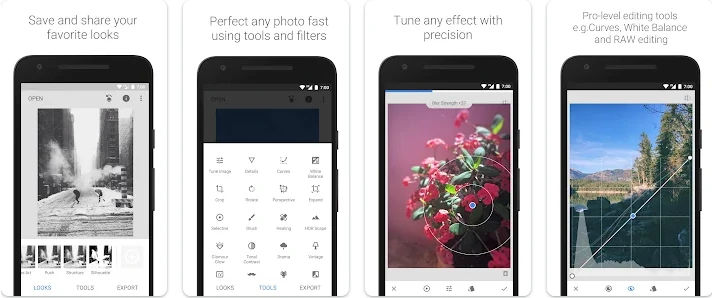 Snapseed is one of the most popular and best photo editing apps out there. With tons of filters, tools, and effects, Snapseed is a must-have app for anyone who wants to make their photos look better than ever. With the ability to edit videos as well as photos, this app has something that everyone will enjoy. Plus, it's free!
Retrica – The Original Filter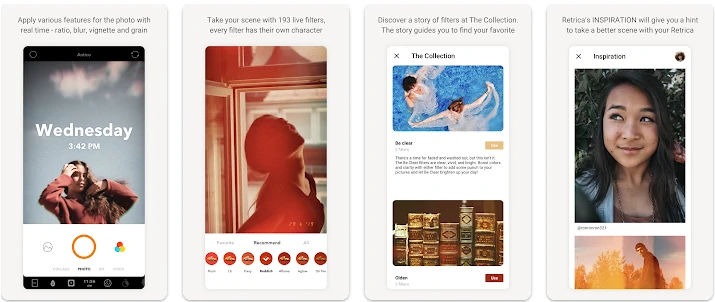 Well, you will probably find no other application as useful as Retrica. Its filtering options are excellent. Images are clicked at the blinking of an eye. It is so fine and addictive. There are lots of features available. With the instant sharing option, one can go global with a click. There is also the Retrica selfie application available on the play store. With the help of which good quality selfie images can be clicked quickly. Retrica is also available for Windows/Mac users.
Youcam Perfect

These are very cool editor applications. It is armed with lots of unique features. It's like a beauty parlor. Beautifying images with this app is very simple. You can take a selfie with real-time beautification. Making collages, makeup, and editing tools are awesome. At the same time, you get features like skin smoother, skin whitener, blemish removal, face reshaper, nose enlarger, and more.
Youcam is perfect as an extension to the app which is even more fascinating and awesome to put more stars and beautify your images. It is Youcam Makeup, Do check out that too
PIP Camera Photo Editor Pro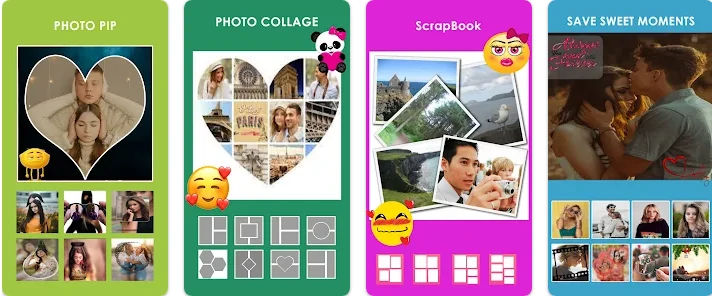 This fun app provides you making creative frames for your pic. PIP Camera sets your photo in another photo frame with some creative frames. It is totally different from other frames and gives beautiful frames. There is the pip-in-pic mode, where your picture sets in the frame, and the exact image remains back in fade mode.
Photo Funia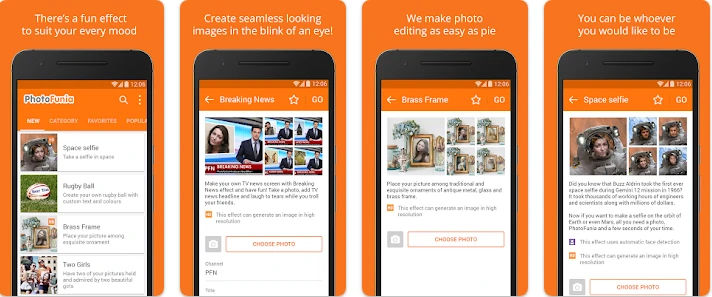 With this fun image editor, you can make your picture more stylish and memorable. Here you find lots of amazing effects waiting for you. You will love this application. Its fantastic concept gives it fame and makes it different from others available on the play store.
Photo Grid – Plus Photo Editor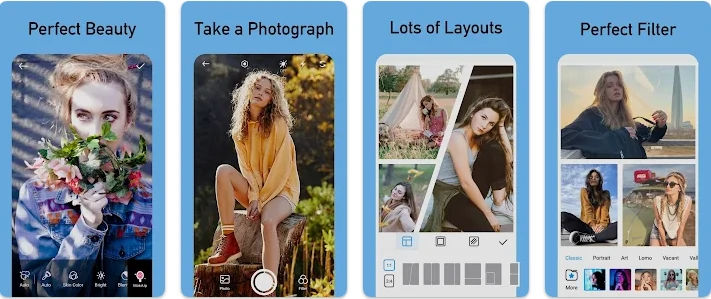 Photo Grid is one of the most eminent collage maker android applications. With Photo Grid – Photo Collage Editor, you can decorate your pics by applying the fantastic filter and adding stickers and text. it is a fully featured photo editing app that you might need on your smartphone. There are vast filters and customization options that you will love.
Picsart Photo Editor & Filters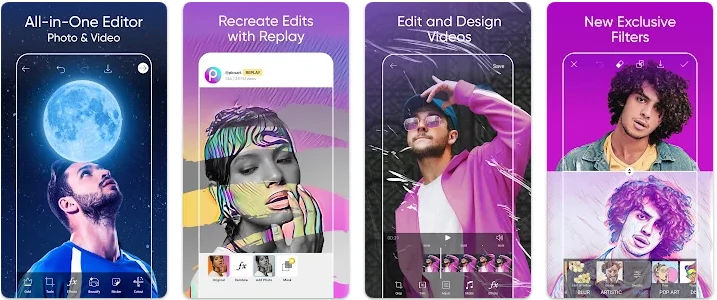 How can I forget PicsArt? It is the first android app that introduced me to mobile image editing, and I am still using it to make fun with the images on my phone.
The best part of the PicsArt photo studio is the light effect, which is incredible. You could color your hair and give yourself a freaking excellent look.
Wrapping Up
There are plenty of photo apps on the market, but there are also plenty that offers features that aren't worth the price tag, so it can be hard to know which ones are best. To help you decide which apps are worth downloading, we've rounded up some of our favorites, along with details on their pros and cons and what they have to offer.
I hope you enjoyed the collection. What do you think about selfie camera apps? I think you must take a look. Oh man, I forgot to ask about your favorite android photo editor application. Can you let me know using the comment box below?