VPS stands for Virtual Private Server, a step above shared web hosting. With a VPS, you will still be sharing just a single server, but now you'll be sharing with only a fewer websites.
The VPS is a server that is divided into separate virtual machines. And each of these virtual servers can be run with a separate operating system and custom configurations.
Virtual Private Servers come with dedicated server resources. So even when you are sharing a single server with other websites, your CPU and RAM are independent of those sites.
When you upgrade from a shared plan to a VPS, it improves the performance and speed of your website. As of now, you will not be sharing the resources, and your site will become more responsive on the user-end.
A VPS provider as it splits a single piece of hardware into multiple virtual servers by using the virtualization technology called a hypervisor. In turn, several separate servers are created on the internet.
The VPS hosting is more equipped to manage the traffic spikes as well. Many companies across diverse sizes and fields can benefit from leveraging the Virtual Private Servers for edge computing.
A VPS is best for those who want to have the benefits of a dedicated server but don't want to pay any costs that are associated with the dedicated hosting.
List of the Best VPS Hosting Services December 2022
The Virtual Private Server hosting offers better performance, more memory, and greater flexibility at an affordable price. It is an amazing option to consider at a time when you have outgrown a shared hosting plan.
Different Virtual Private Server providers are good for various use cases. Some are made for scalability, while others are built for developers. Some of the best VPS hosting services are discussed below.
Kamatera
InMotion Hosting
DreamHost
Webdock
ScalaHosting
HostArmada
InterServer.net
A2Hosting
FastComet
ChemiCloud
Kamatera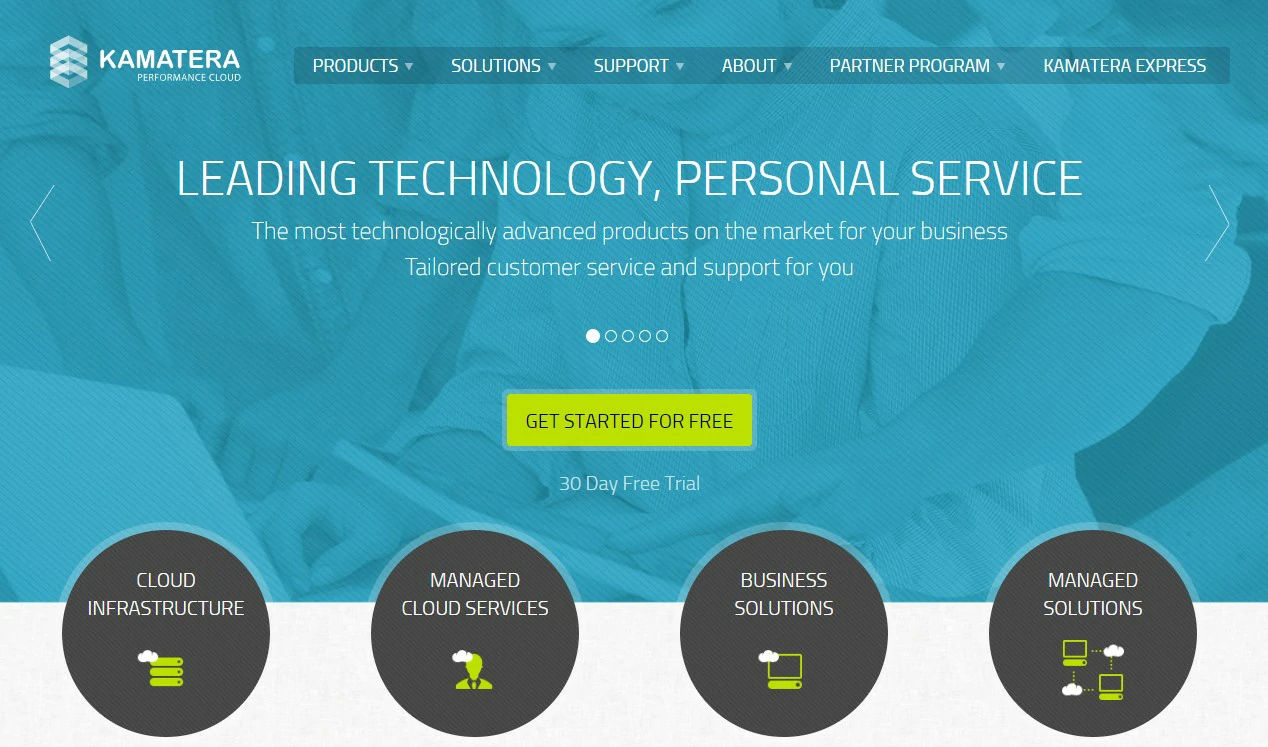 Kamatera is a great hosting platform for instant scaling. It offers many flexible cloud-based VPS solutions for web hosting. You can set up their servers for whatever you need- CRM, ERP, VolP, email- and they continuously grow with you.
Things that make Kamater stand out are that it starts just from /44 per month, offers a free trial, has more than a dozen servers worldwide, and has instant scalability.
Using Kamatera you don't need to choose any plans. Instead, you can simply dial in the exact pay of resources that you need.
It is, in fact, one of the most scalable Virtual Private Servers available in the market.
InMotion Hosting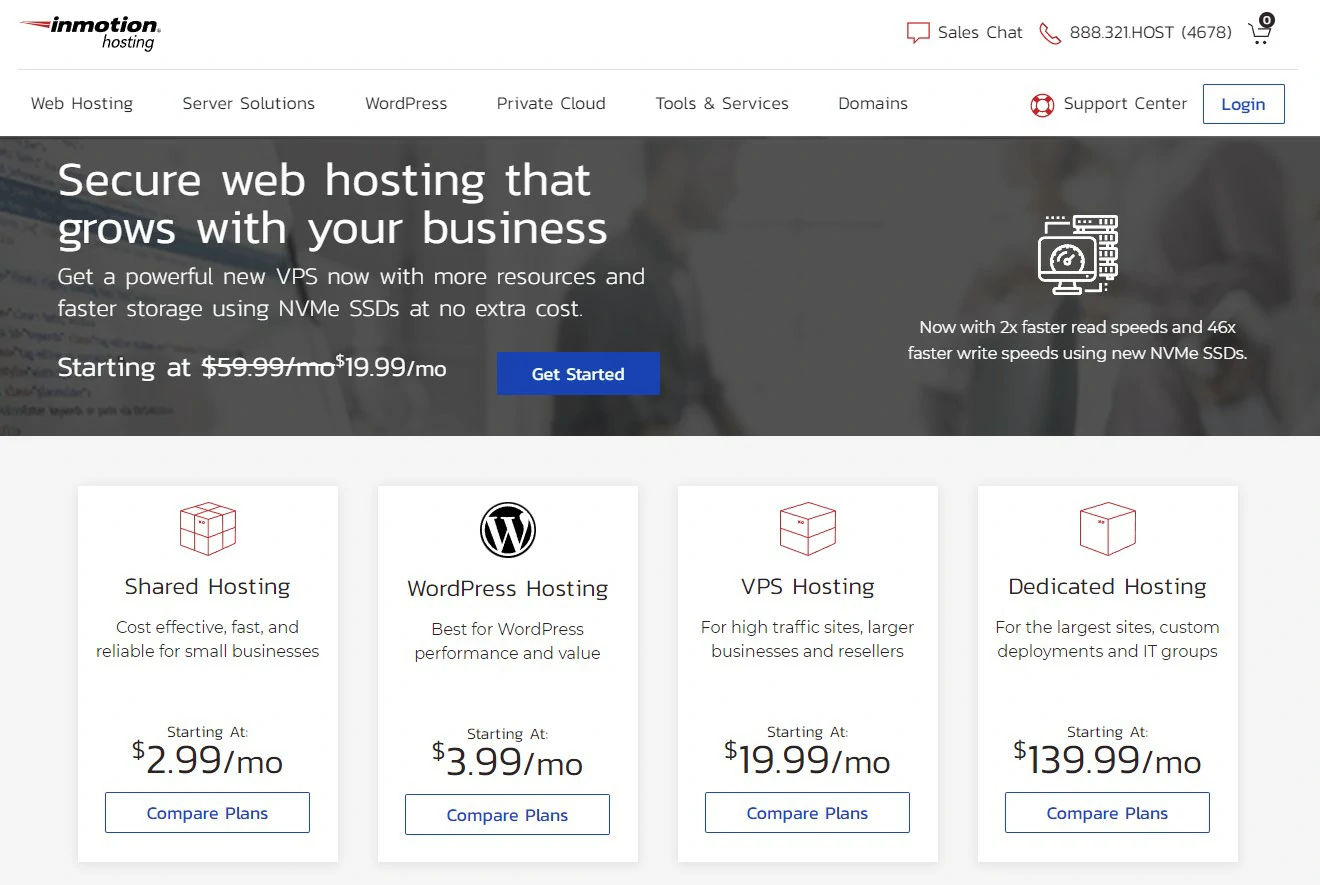 InMotion specializes in Virtual Private Server hosting. The plans offered by the tool come in two flavors- Managed and Cloud.
The Managed hosting is amazing and offers tremendous performance, while the Cloud hosting plan offers more control over your server for website managers and developers.
The managed plans are great for agencies, resellers, and business owners. While the cloud plans are best for system administrators and developers.
The InMotion Hosting platform stands out: high-performance cloud VPS offers a money-back guarantee for 90-days, free and unlimited email, and more.
DreamHost
DreamHost is a premium hosting solution based on Solid State Drives (SSDs). The tool is available as an add-on to an already existing DreamHost plan or even a standalone service.
The software main shared hosting plan comes with some popular apps like WordPress, website builder options including its own, and others like Weebly or Wix.
The plans offered by the tool have unlimited bandwidth as well as disk space. And it also provides a money-back guarantee for 97-days to test the service out.
Webdock
Webdock is an outstanding and popular VPS provider that comes with a baked-in control panel. It is aimed at the professionals for the advanced stuff such as caching, you just need to do some server administration.
Some of the pros of this software are- 8 server snapshots, easy-to-manage server, easy installation of WordPress, transactional email, amazing performance for the price, fast support, and team manager for easy collaboration.
ScalaHosting
ScalaHosting gives more resources than shared or cloud hosting does. But at times, the bespoke VPN hosting packages give the exact specific amount of the resources that are needed by your business.
The tool enables you to tailor your VPS servers to an exact specification that you will require for your sites.
ScalaHosting stands out from the rest of the VPS tools because it offers- fully customizable VPS resources, 24 helpful add-ons, 128 GB RAM, 2 TB of disk space, and max out at 24 CPUs cores.
HostArmada
HostArmada is not a very old hosting company. However, it provides promising services and amazing customer support. The key features of the tool include- free website migration, daily backups, and fewer clients per server.
The tool comes packed with features at an affordable price. It also offers a wide range of web hosting pages. The pros of HostArmada are- good load management, good website speed, good site builder, excellent support, and more.
In all, HostArmada is a feature-rich web host with good load handling (Apache servers), and amazing speed as well as performance. The customer support that it provides is knowledgeable and even very helpful. Other than that, it also provides affordable prices for its plans.
InterServer.net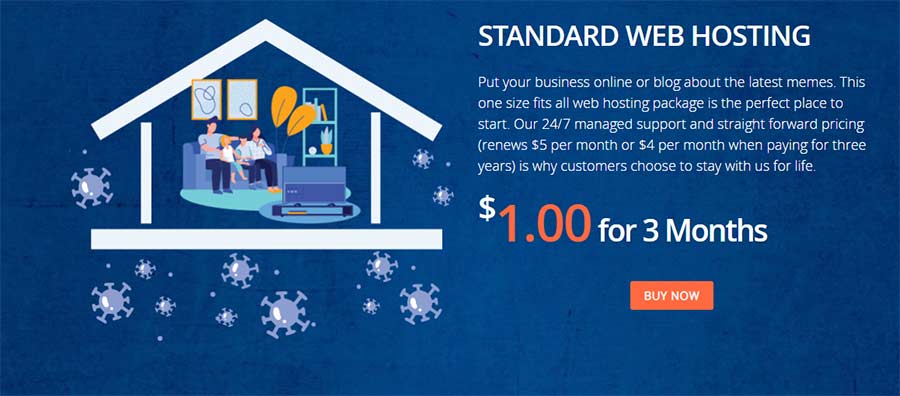 InterServer is an old VPS provider. It has been providing amazing web hosting services for the last 19 years. Although technology has changed a lot since then, the core principles of service, quality, and support have remained the same.
When it comes to web hosting, the software offered is good. And InterServer doesn't limit the number of websites that you can add while its performance is top-notch in this category.
The tool stands out from the rest because of its affordable month-to-month pricing, 99.99% uptime result, free SSL, malware protection, weekly backups, and classic cPanel interface.
A2Hosting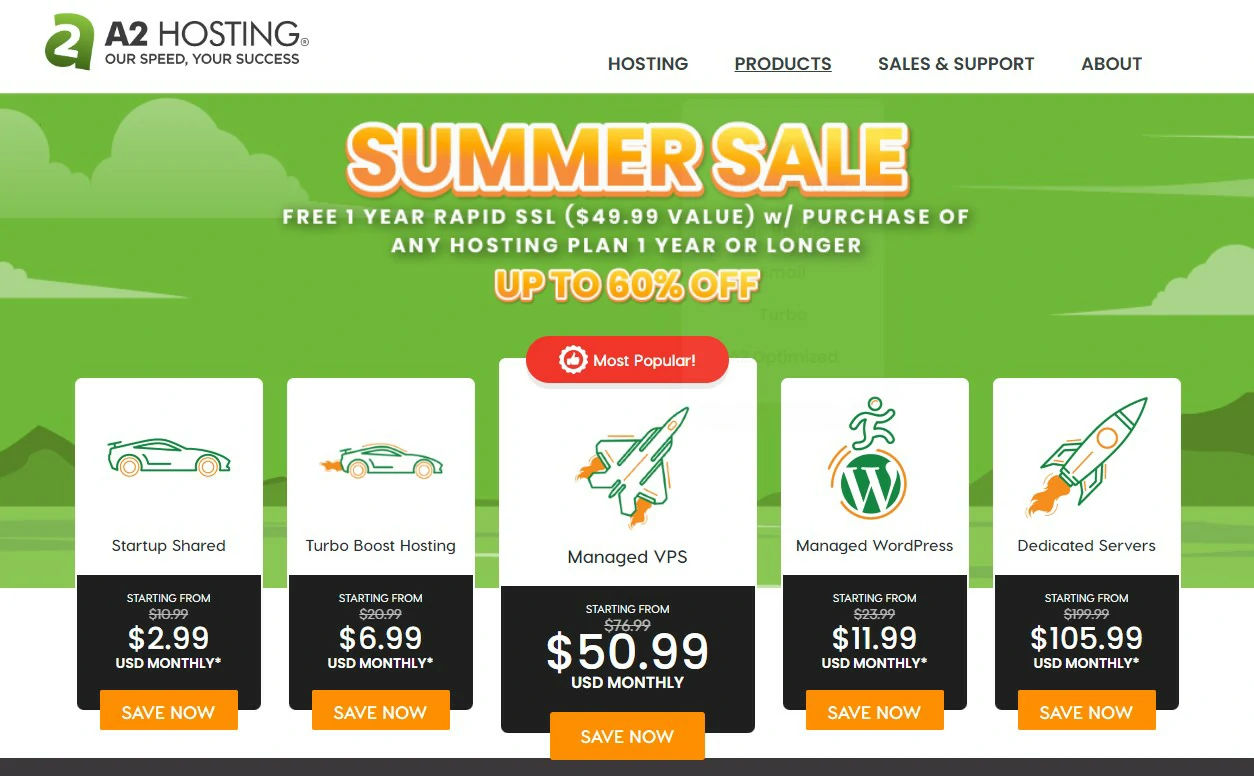 A2Hosting provides the best-unmanaged plans for the developers. With this plan, you can configure your server preferences for CPU, bandwidth, memory, and disk space.
The tool's pricing for managed plans starts from $44.99 per month and for unmanaged, it starts from $5 per month. It also offers a money-back guarantee for 30-days. But the software especially stands out from the crowd because it offers both managed and unmanaged VPS plans.
A2 hosting has been in the market since 2001 and is known mostly for its page loading speeds. Also, it has a really strong uptime that makes the hosting platform reliable.
The plans offered by A2 are developer-friendly and their "anytime" money-back guarantee is a feature that stands out because of its uniqueness.
A2 has excellent speed, the uptime is reliable, security features are plentiful, customer service is friendly, and the refund policy is liberal. And above all, they are environmentally conscious.
FastComet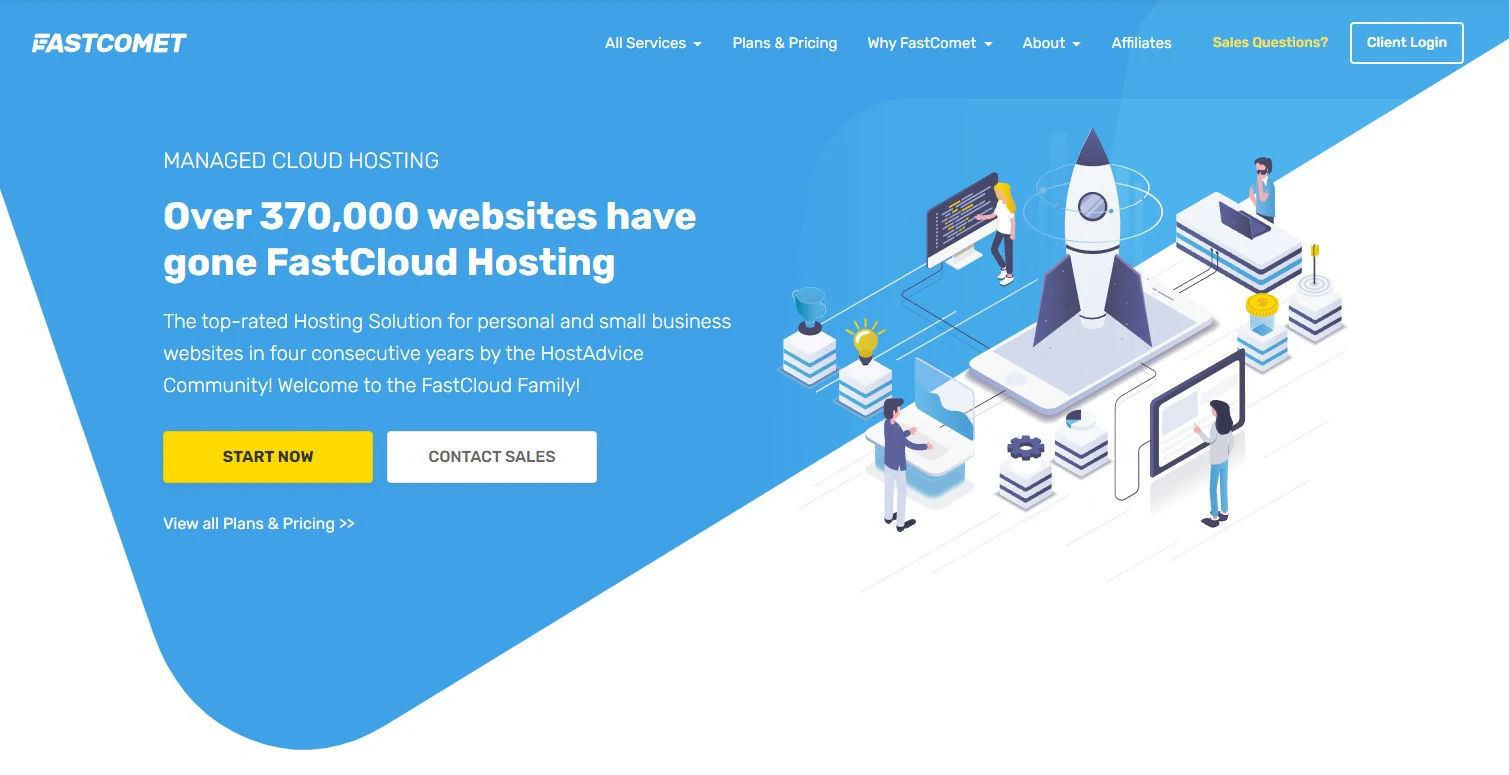 FastComet was established in the year 2013, with its headquarters in San Franciso. The platform is notable as it has nearly all the types of hosting that you can need. There are options for Joomla, WordPress, and a few others, all of which come at the same price as the shared standard hosting.
If your website is unsecured and slow, then FastComet is the solution for you. It utilizes SSD-only storage for the files and databases, providing Global CDN access. The tool focuses on achieving just-a-second load time for the content of your website.
FastComet is a VPS hosting that brings with it a generous number of features and many reliable services. It offers plans for almost everyone from the tiny one-man business to the busting e-commerce store.
Along with some unprecedented tools and a promise of pricing integrity, FastComet deserves some real serious attention.
ChemiCloud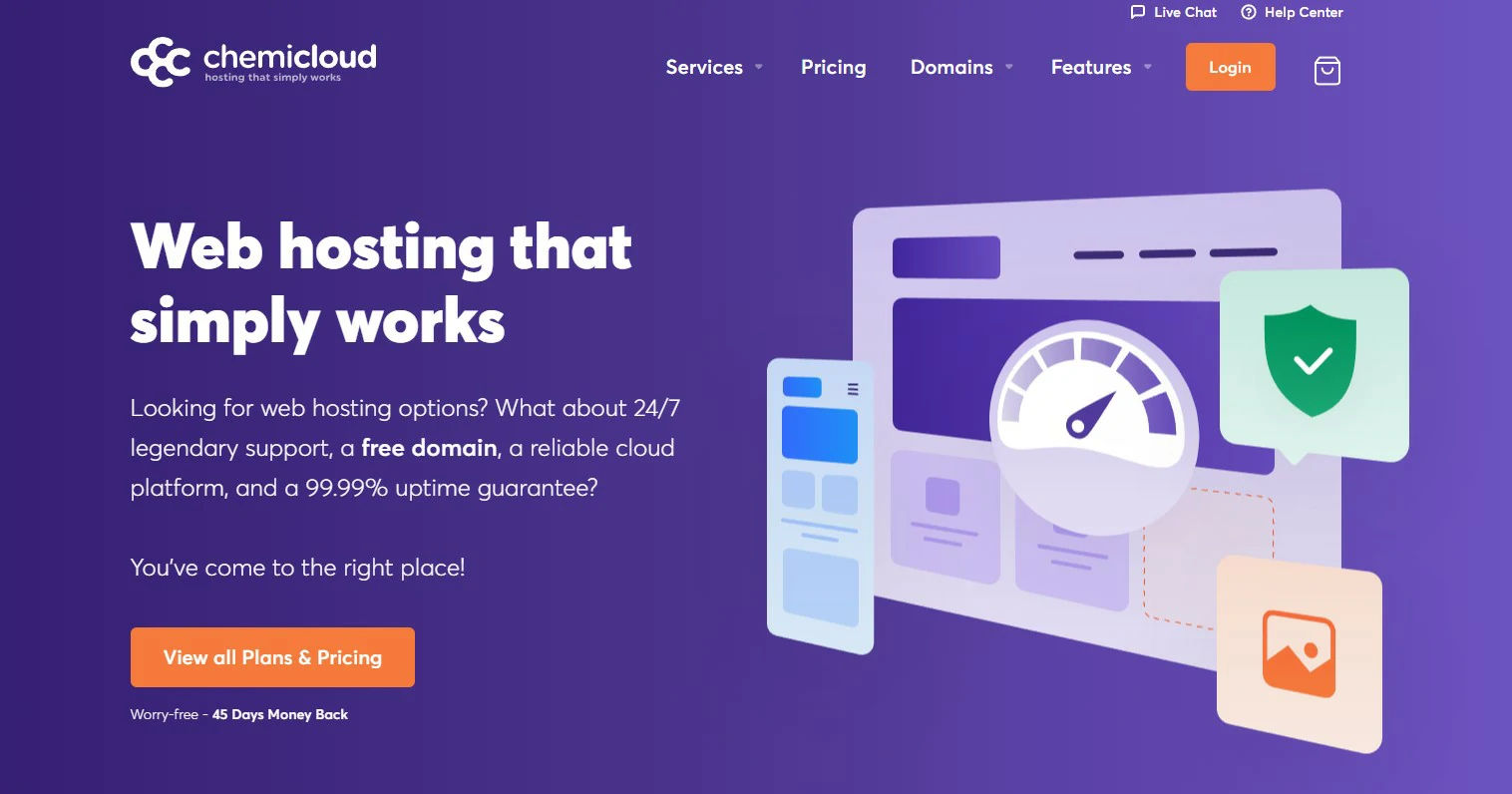 ChemiCloud is a relatively recent entrant to the hosting market. Although the plans it offers are slightly pricey, the support responses are very speedy. It also provides you with a money-back guarantee for 45-days.
It is a platform that provides 24/7 award-winning support, a reliable cloud platform, a free domain for life, several user-friendly features, and a 99.999% uptime.
The tool offers four cloud VPS plans, four reseller hosting plans, and three WordPress-optimized shared hosting plans.
ChemCloud is a great option that comes with lite speed servers, an impressive refund policy, great customer support, dozens of site migrations for free, and a free lifetime domain name.
Over to you: Best VPS Hosting Services
The critical aspects of many different VPS providers are discussed above. Including the performance they provide. You can go through the list and choose the VPS provider that proves to be the best software for your heavy-traffic site.
Using Virtual Private Server, you will not share hosting resources with people and you can easily set up the server in a way that you wish.
The best VPS Hosting Services that are most popular among people are Kamatera and InMotion hosting. But before you finalize your decision on any VPS hosting plan, you must ensure that a VPS is your best option.
Shared hosting is very cost-friendly for the beginner as well as for low-traffic websites. It's high time you should look for a virtual private server hosting that fits your needs well.