Talkie.ai is an AI voice bot software that provides AI solutions for calls. Here is our Talkie.ai review that will talk about the benefits of this software. It has a demo trial for every feature. You can use this AI software in your business to create virtual agents who can be trained and convert the end customers. This will help you to increase sales of your product and service.
So, if you are the one looking to have a better call experience with your clients so that they can trust your company and avail your product and service then Talkie can be your next big thing.
What is Talike.ai?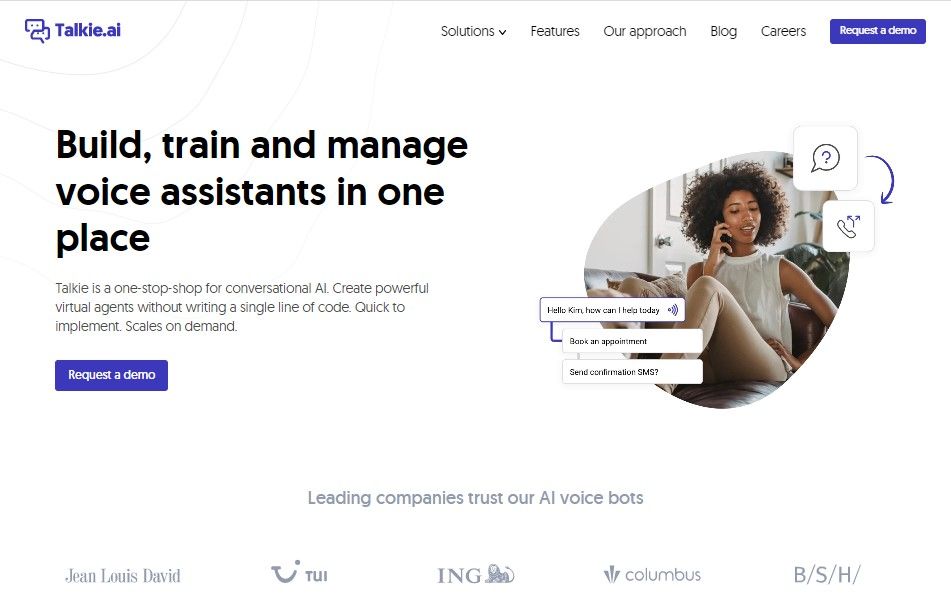 Talie.ai as the name suggests is a voice assistant bot with no use of code. It is easy to create and can help your customers. In fact, most of today's software is based on no-code technology where they offer the software with an experience where the users don't have to code anything. Like most other chatbot software out there, Talkie also works the same. One can easily set it up to give a personalized experience to clients based on the product or service.
This software is interesting because it is not text-based but, a voice-based assistant. Talkie.ai includes a one-stop shop for conversational AI. This will help you to create virtual agents. With this software, you can create virtual agents. These virtual agents are build-up without writing a single line of code and they can handle pretty much of everything that you want. Talkie.ai is quick to implement and they scale on demand.
Use Cases of Talkie.ai
It is pertinent to understand at what circumstances, Talkie.ai can be used to streamline customer communications through conversational AI.
Customer Service Automation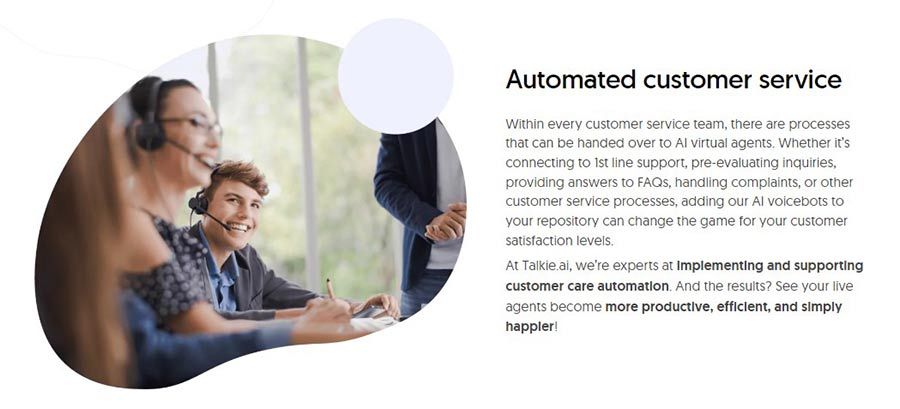 The Tech industry and online industry are already leveraging customer service automation through various AI tools. Especially, where the companies have answers to customer queries in their knowledgebase or documentation, they send customers a link to their doc. They are also utilizing custom solutions for understanding their problems via MCQ way.
Talkie at the same also can be used to give customers a much better experience with automation voice solutions to interact with customers and offer better customer satisfaction. This can lead to more satisfaction, sales, reviews, and trust for the business.
Order Tracking AI speech Bot
With talkie, businesses can easily solve the queries of customers about the order status and tracking. People mostly have this kind of query and they don't want to stay in queues for the answers. As such, automating this task can be a game-changer for businesses.
Outbound Campaigns
With Talkie.ai, you can easily scale up your outbound call center strategy to reach more clients without increasing your costs. One can set up/configure Talkie.ai to place outgoing calls for the purpose of lead generation, appointment reminders, surveys, debt collection, and whatnot.
Transportation and Logistics
Talkie can be used for transportation and logistics business where many tasks or conversations are mere repetitions that can be automated to prevent some losses and increase profits.
Travel and Hospitality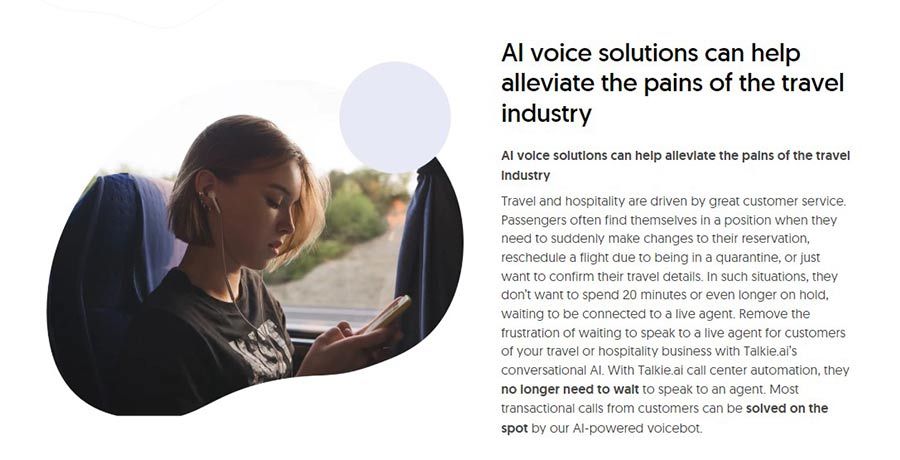 This AI solution can minimize the pains of the travel industry to a great degree of extent because the root of this business lies in excellent customer experience. With the use of Talkie, one can automate various tasks and relieve the customers with their queries without putting them in queues and can be a life savior for a larger stakeholding.
Healthcare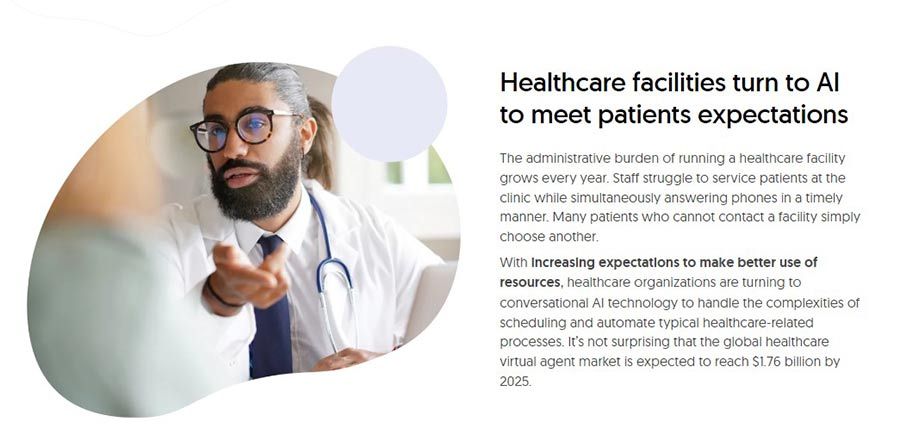 Patients have generally large queues sometimes even for small queries. The Healthcare industry is already suffering a bad time due to Covid. As such, with the use of AI clinics and hospitals can serve their patients and customers with accurate details based on the current database and situation.
Features of Talkie.ai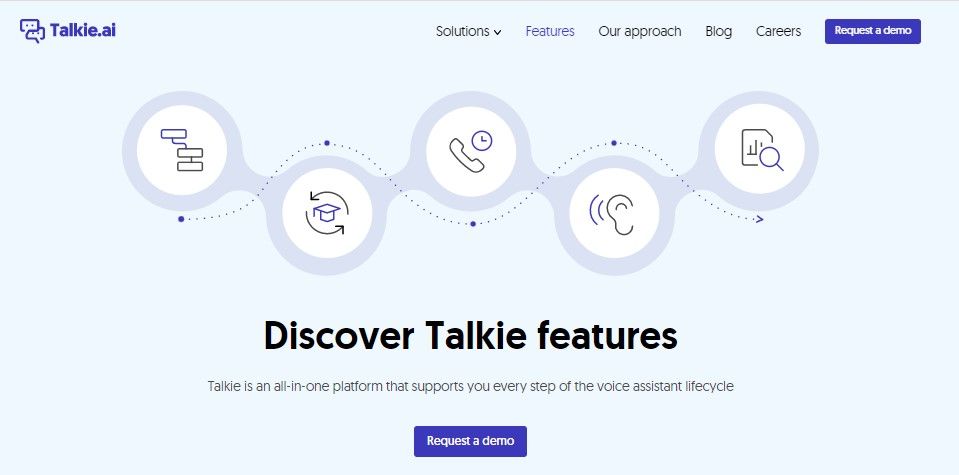 Build a voice assistant from scratch or use pre-built components
It has ready-to-use conversation blocks and has various languages. Not only languages but it also has voice options. You can choose the way your AI agent's voice will sound. Talkie.ai has customer intent recognition and also has entity extraction as well. Moreover, it also includes dynamic content.
Improve and maintain quality with intuitive training tools
You have features of Talkie.ai that intuitive training tools and also maintain quality. You can test these tools through both voice and text. It has manual as well as bulk training of the unrecognized customer utterances. Moreover, it also provides you with training data libraries. These are industry-specific and also have utterances, synonyms, and also general intents.
Manage incoming and schedule outgoing calls
With this tool, you can make various calls simultaneously and allow you to purchase phone numbers on demand. It also has the feature of voicemail detection. Moreover, it has a contact center as well as IVR integration. You can also have the facility to transfer calls.
Discover customer insights
You can also unlock customer insights. There are various ways to do so including listening to call recordings as well as reviewing transcripts. You have facilities of data anonymization on demand. It includes search and filter options as well as automatic tags.
Keep track of performance
You can keep a track of your performance which will help you to analyze your outlook. It has downloadable raw data and also provides im-app statistics. This feature also has API integration.
Trusted Companies with Talkie.ai

Talkie.ai is trusted by a lot of companies. It is trusted by Talkie's AI voice bots. These leading companies include Jean Louis David, Columbus, and also ING. Moreover, not only this but these are also integrated with B/S/H/ as well.
Contact Center Automation Benefits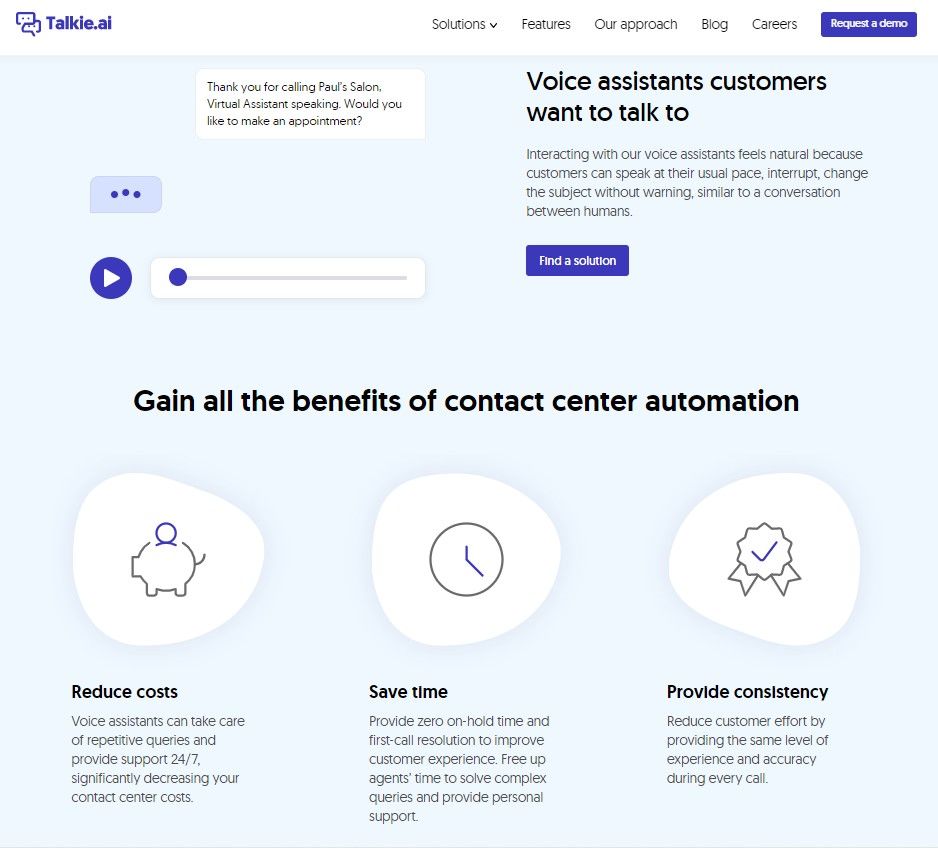 Talkie.ai has a contact center automation tool that has three different benefits included in it. The first is that it decreases cost. This can be done because the voice assistants look after the queries of customers and also provide an all-time support service. The second advantage is that it allows you to save time. The zero on-hold time and the first call resolution have given better customer service. The last benefit is that it provides consistency. It has proven to be consistent as it has provided the same call experience for all customers and has accuracy over every call.
Conclusion
At the end of this Talkie.ai review, we have a good analysis of the features of this software. It has different benefits to offer. Moreover, Talkie.ai has a lot of trusted clients that have benefitted from this software. Let us know about your experience in the comment section.
The Review
Talkie.ai
Talkie is an AI-based Voice Assistant tool that can be used for automating client conversations to boost the ROI. It is a result-oriented software and can definitely bring an impact on business dealings. With so many use cases, Talkie can be used by many businesses to prevent losses and win customer trust.
PROS
Conversational Voice Assistant
Boosts the Customer Confidence and Trust for Business
Automates Repititive Tasks
Interacts with Customers and Gives them Accurate Solution
CONS
Useful for Large Enterprises or Govt. Bodies
Review Breakdown
Easy To Configure

0%

Features

0%

Use Cases

0%

Integrations

0%

Brand Trust

0%

Useful

0%