Gravitec started its journey in 2016 with four digital enthusiastic marketers. This small team of 4 members has the potential to grow their business with no boundaries. Gravitec offers a huge number of services to its users. This company now offers a huge range of push notification services to people all over the globe.
If you are a web owner looking to integrate push notifications on your app or website, then Gravitec is worth a look. It lets you set up the notifications in seconds, whether you have a WordPress, Wix, or Standard website. You can create and send campaigns to your push subscribers and build an audience.
What is Gravitec?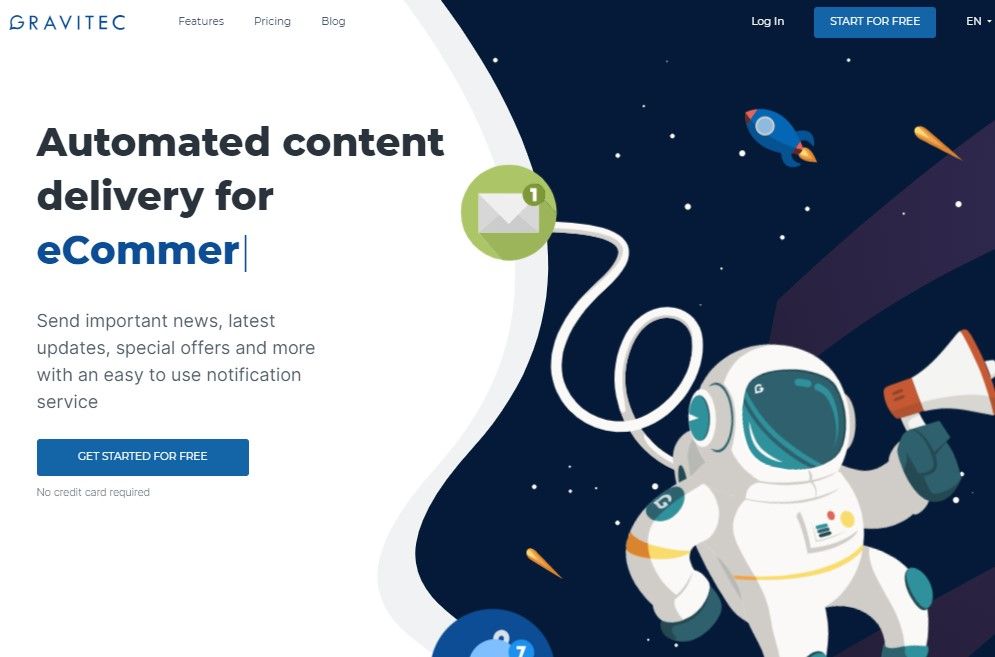 Gravitec is an online service company that provides high-quality messaging services to its users around the globe. It has just started its journey but has established itself and made a huge impact. Gravitec has an optimized workflow as the Web push helps its customers back to Gravitec. You can create personalized messages and target the potential audience. Moreover, all you need is to set the message, the rest is on Gravitec. It will automatically send messages based on user behavior.
You can analyze the conversion rate for each message separately and view the delivery of the message as well. By providing a reason to opt in before the needed push notification pop up, you can increase your reach to the audience. The best part is that it gives you ensured relevancy. You can set up a follow-up message which will get delivered after 24 hours of downloading the app.
How does Gravitec Work?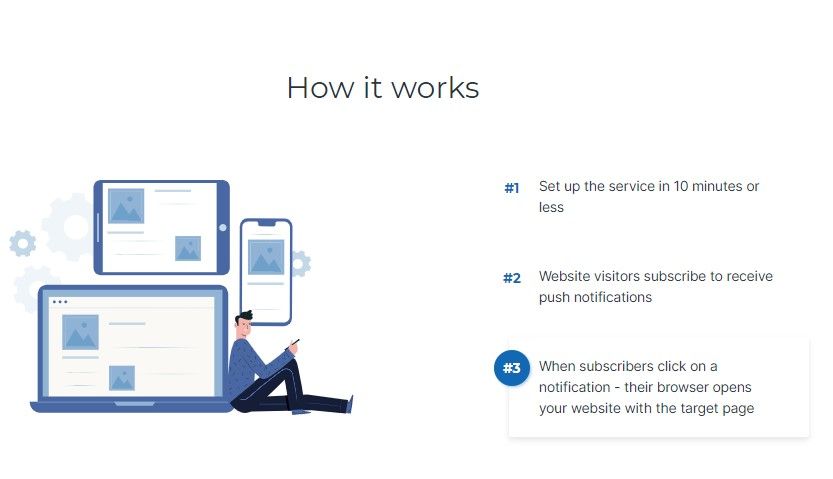 It is easy to set up and use Gravitec and everything you need to know is provided step by step in this review as well as on the website sign-up page. It takes less than 10 minutes to set up a Gravitec account. all you require is a Gmail account.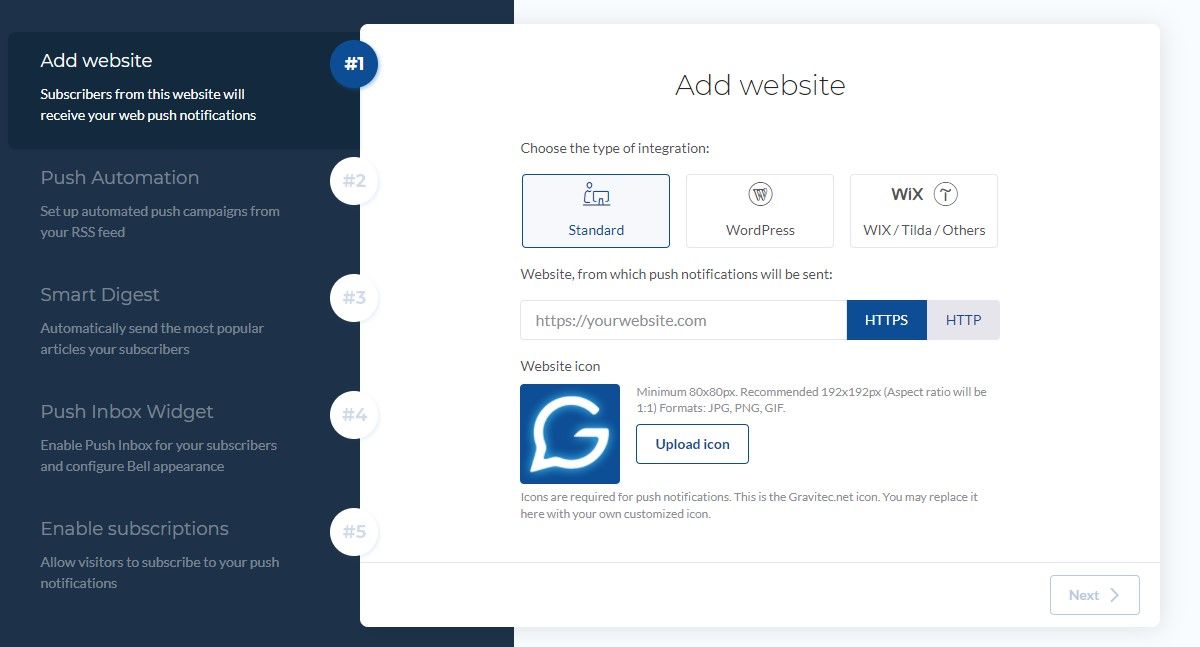 There are 5 steps to set up and work after verifying your account on Gravitec. These include:
Add Website
Adding your website link and icon and subscribers will receive push notifications
Push Automation
You can set up automated push campaigns from your RSS feed easily. It will ensure efficient working.
Smart Digest
Then you shift to the third step. That is the smart digest part, it will allow you to directly send popular notifications to your audience.
Push Inbox Widget
The fourth part will enable the push inbox. It will configure bell visual for your viewers
Enable Subscription
Lastly, You can allow your visitors to subscribe to your push notifications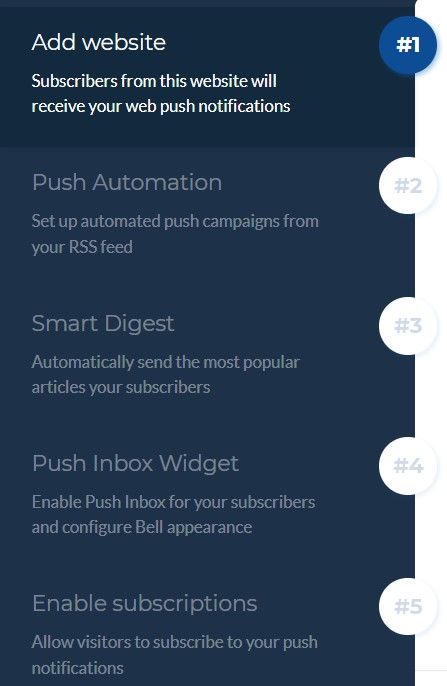 After fully setting up your account, you now can have the privilege to work with Gravitec and enjoy its features while growing your business without any limits.
Gravitec Features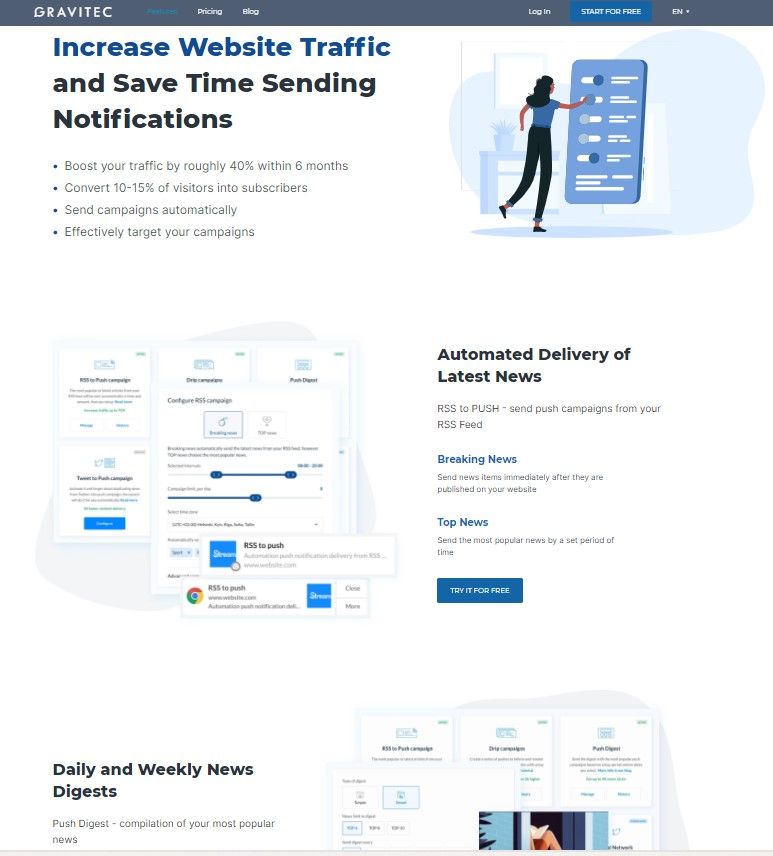 There are a huge number of features included in Gravitec. These features have a great deal to offer. You can increase your reach in no time. the optimized use of these services will eventually help you to grow your business and target the right and potential clients for better reach. These features include:
Increase Website Traffic and Save Time Sending Notifications
You can increase your web traffic and boost it up to 40% within a span of half year. It will also help you to convert over 10-15% of your site visitors into subscribers. There is an automatic setting to send campaigns, which will automatically help target your campaigns in an effective way.
Automated Delivery of Latest News
You can send push campaigns from your RSS feed and turn RSS into PUSH. Moreover, you can not only send breaking news but also select top news notifications. In the breaking news section, you can immediately send news on your website and also classify top news according to a set period of time.
Daily and Weekly News Digests
The push digest is a feature that will allow you to compile all the latest news. You can send about 10 top news items in one push notification. Moreover, you can keep a track of your subscribers and use "smart digest" to send news items to them.
Permission prompt
The Permission Prompt is a feature that can be customized according to your need. All you require is to select the location of the prompt and also set prompts differently for smartphones and desktops. By making your permission multilingual, you can reach out to a better audience coverage and also choose when the prompt should be displayed.
Targeted Campaigns
Gravitec allows you to target campaigns according to various aspects, including OS, city, and language. country and browser. This segmentation will help you to target a better audience. More than these, you also have a lot of advanced segmentation potions as well.
Especially for New Subscribers
Gravitec allows you to connect best to new subscribers and keep them engaged with your new messages and campaigns. The Drip campaign is introduced to new subscribers, it is a series of notifications compiled to keep your new subscribers intact.
Pros of Gravitec
There are a huge number of benefits that you can get from Gravitec. This includes its features and pricing mainly! The pros of Gravitec include:
Lifetime Free subscriptions
Guaranteed Subscribers
Free access to features
An easier and efficient way to increase business
Easy to set up and work with
RSS automation is available
Cons of Gravitec
There are no such cons of Gravitec, but there are two not-so-significant issues that occur in this software. These include:
The reports are very basic
The segmentation based on the subscription page is not available
Gravitec Pricing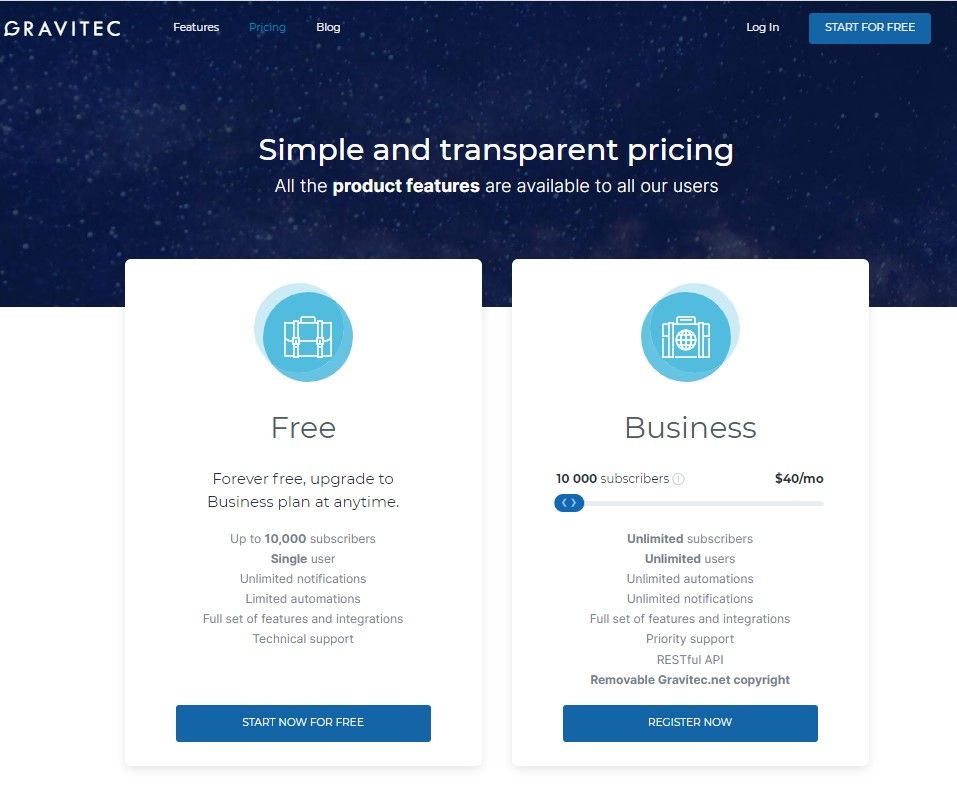 There are a total of 2 simple plans offered by Gravitec, and these pricing plans are offered according to the number of subscribers required. The free plan can be upgraded to a business plan anytime, when required, or can work in the free plan for a lifetime. Coming onto the Business plan, it starts from 1000 subscribers for $4 per month to 2,00,000 subscribers for $800 per month. These Plans are either free, or the other plan differs according to subscribers. Gravitec pricing plans include:
Free Plan
Up to 10,000 subscribers
It is a single-user plan
Unlimited notifications
Limited automation
Full set of features and integrations
It offers technical support
Business Plan
Unlimited subscribers
Unlimited users
Unlimited automation
Unlimited notifications
Full set of features and integrations
Offers priority support
It has a restful API
Alternatives for Gravitec
Omnisend
Omnisend is a top-rated alternative you will find for Gravitec. The software will help you increase sales while decreasing your workload. Omnisend helps you to find an easier way to reach high revenue for your company and also provides easy to use platform for email marketing. It includes various ways to message your subscribers yet does not stand out Gravitec in performance.
Onesignal
Onesignal is a market-leading self-serve customer engagement solution for Push Notifications, Email, SMS, and also In-App. Even with all of these features, it stands out as a great alternative for Gravitec but is not as high functioning as Gravitec.
AWeber
With AWeber, you can engage your audience and, more importantly, keep them engaged. It provides good social media and email marketing for your business. AWeber allows you a free trial, but unlike Gravitec, it does not offer a lifetime free subscription.
FAQS
Who can use browser push notifications
Almost all browsers support push notifications only for HTTPS websites. Gravitec allows web push for HTTP websites and through HTTPS subdomains. Therefore, any website can integrate push technology and also send notifications to each and every subscriber.
What is a Web Push Notification?
Web push notifications are small messages that are sent from a website to subscribers through browsers. These are also known as browser push notifications. Messages are used for instant communication with subscribers. A notification appears on a subscriber's device on top of all open windows but only if their browser is active. Web push works for not only mobile but also desktop devices.
Who are Gravitec Clients?
Gravitec clients include online stores, media, travel, sports, and financial websites.
What are the types of web push messages?
There are 3 main types of web push defined by their content:
Informative – alert subscribers about news, company updates, new articles on a website, etc.
Promotional – promote products, notify subscribers about sales,  discounts, and personal offers
Service – provide support after purchase, notify about the delivery of a product, and warn about technical issues.
Conclusion
Here we are at the end of this Gravitec Review with all the details you need to know. You can get all of these benefits for free and a total of 10,000 subscribers for your business. Gravitec will help you grow your company in no time and advertise it on social media and online by targeting potential clients. Let us know in the comment section about your views on Gravitec.
The Review
Gravitec
Gravitec is an Automated Content Delivery Service Software with the help of which one can send notifications to subscribers, and also allow them to add to the notification list. One can easily send the campaigns through Gravitec to the subscriber's list and ensure more trust and conversions through the generated list.
PROS
Free Up to 10,000 subscribers
Unlimited notifications
Easy to Collect Subscribers and Send the Notifications
Automating the Campaigns becomes feasible
Full set of features and integrations
CONS
Limited Automations in Free Plan
Review Breakdown
Easy To Use

0%

Features

0%

Integrations

0%

Support

0%

Value for money

0%