if you're looking to host your website and wondering if you can opt for Linode as a potential hosting provider, then this article is for you. Definitely, there are a lot of hosting companies out there in the market providing similar services at great prices and features. As such, it becomes quite challenging to choose the one that can fulfill all your business requirements.
So in this article, we will talk about all the features you get with Linode hosting so that you can decide for yourself whether you can trust it for your projects.
Linode is a cloud-computing provider launched in 2003 by Christopher Acker. Its company is based in New York City, with its main data center in Atlanta. Linode was given an unusual A+ rating by the Better Business Bureau and was included in Forbes' lists of America's Most Promising Companies in 2012 and 2013.
Let us know more about Linode and where it can be used.
What is Linode?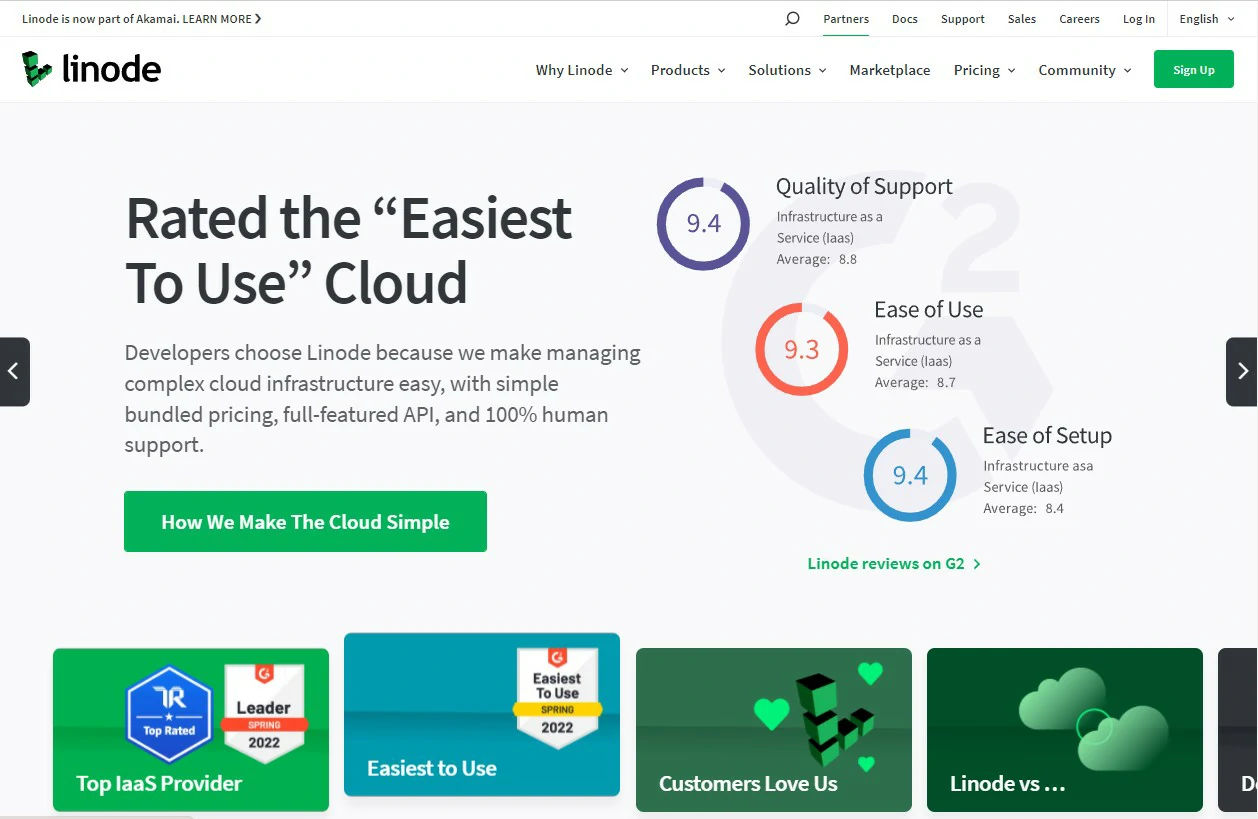 Linode is considered one of the largest cloud service providers in the world. Linode is popular for its high-performance network and easy-to-use control panel.
It is available as a cloud-computing platform that provides you with a secure, reliable platform where you can host your website or application.
In simple words, Linode is a cloud hosting company capable of providing you access to Linux virtual servers. You may be able to gain full control over your server via Linode's custom web-based terminal or via SSH.
Get $100 Free Linode Credits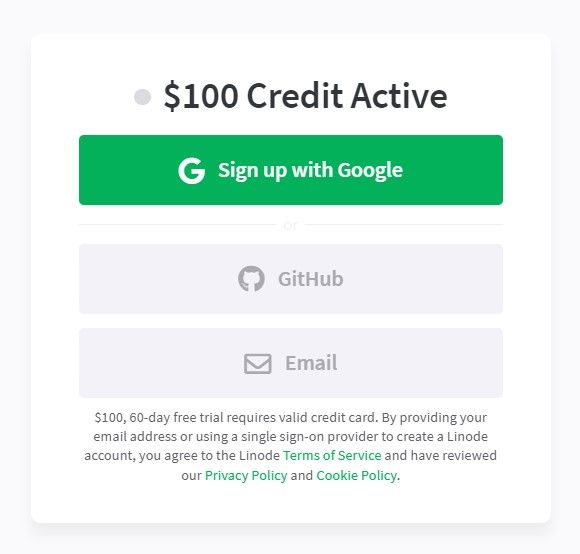 Linode offers you $100 credits on a 60-day free trial. You will however need a valid credit card to avail of the trial. As such, you can easily trust the company and deploy your websites, you can scale when you are happy with the performance, uptime, security, and features.
Why do developers trust Linode?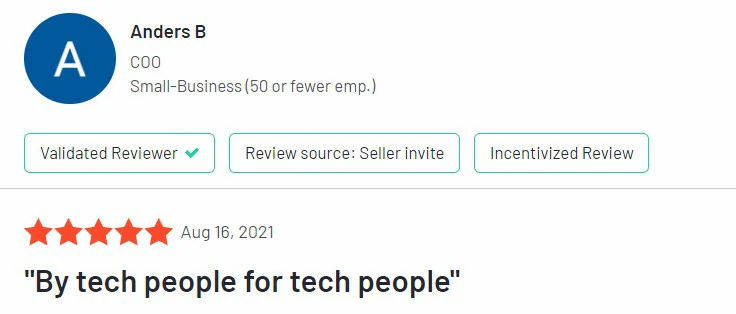 Linode is developers-friendly and offers you access to all the features a developer may need to optimize. The host is performance-ready and is capable of handling pretty much everything.
If you're stuck on something important, they're not gonna try to get rid of you instead will help you in the best possible way. Even then, they don't try to give you template-based answers. They look at your issue profoundly, and then they will provide you with a solution.
Linode Cloud Hosting has long been as capable of developer transparency as reliability. In addition, it does not add complexity to products or pricing.
People or developers prefer to opt for Linode, as it provides better customer service. Furthermore, their support team provides both solutions and resources to resolve customer problems. Linode tries to solve customer problems through various ways like – tickets, email, phone calls or social media, etc. It can empower every individual or team to feel confident and capable of dealing with problems through a robust training or mentorship program.
Features of Linode
Here are the top features of Linode that you must know about.
SSD Storage
Linode has been using fast and reliable Solid State Disks (SSDs) in all its data centers since 2012. This is the reason why their IOPS performance consistently gets pretty decent and fast speeds. Linode offers lightning-fast SSDs, 24×7 support, and 99.9% uptime guarantees.
GPU Instance
Linode is also capable of providing GPU instances for machine learning, video rendering, and other GPU-accelerated workloads.
Managed Services
It is capable of providing managed services for Cabernets clusters and databases, helping you focus on building rather than managing the infrastructure.
API Availability
It gives you a comprehensive API, capable of giving you control over the entire account and infrastructure. This API can be used to deploy instances as well as manage your account.
Reliability
With data centers across the globe, Linode cloud-based hosting can provide you with reliability and peace of mind.
Security and Flexibility
This hosting provides state-of-the-art security measures to keep your data safe. Moreover, you can choose from various plans and increase your flexibility as your need grows.
High Availability and Scalability
Linode provides a flexible platform to scale your servers. Your resources can easily be scaled up and down, allowing you to pay only for what you need.
If you want to run large-scale websites or applications but do not want to invest in expensive hardware, Linode is the perfect solution. Linode's High Availability Clusters provide an automated failover resolution across multiple data centers so that you can work with ease.
Other Features
Hundreds of thousands of businesses and developers around the world deploy their modern applications on Linode to make it faster and easier to scale up.
With Linode, your team can be able to build web, mobile, database, and machine learning applications more efficiently with a simple cloud manager or API and CLI.
It is able to talk to you 24/7 for customer support or whenever required. It gives you the support experience you love and is able to provide all the tools you need for total control over your infrastructure.
Pricing & Plans
There are four types of plans accessible –
Dedicated CPU plans,
Shared CPU plans,
High memory plans,
GPU plans.
Dedicated CPU Plans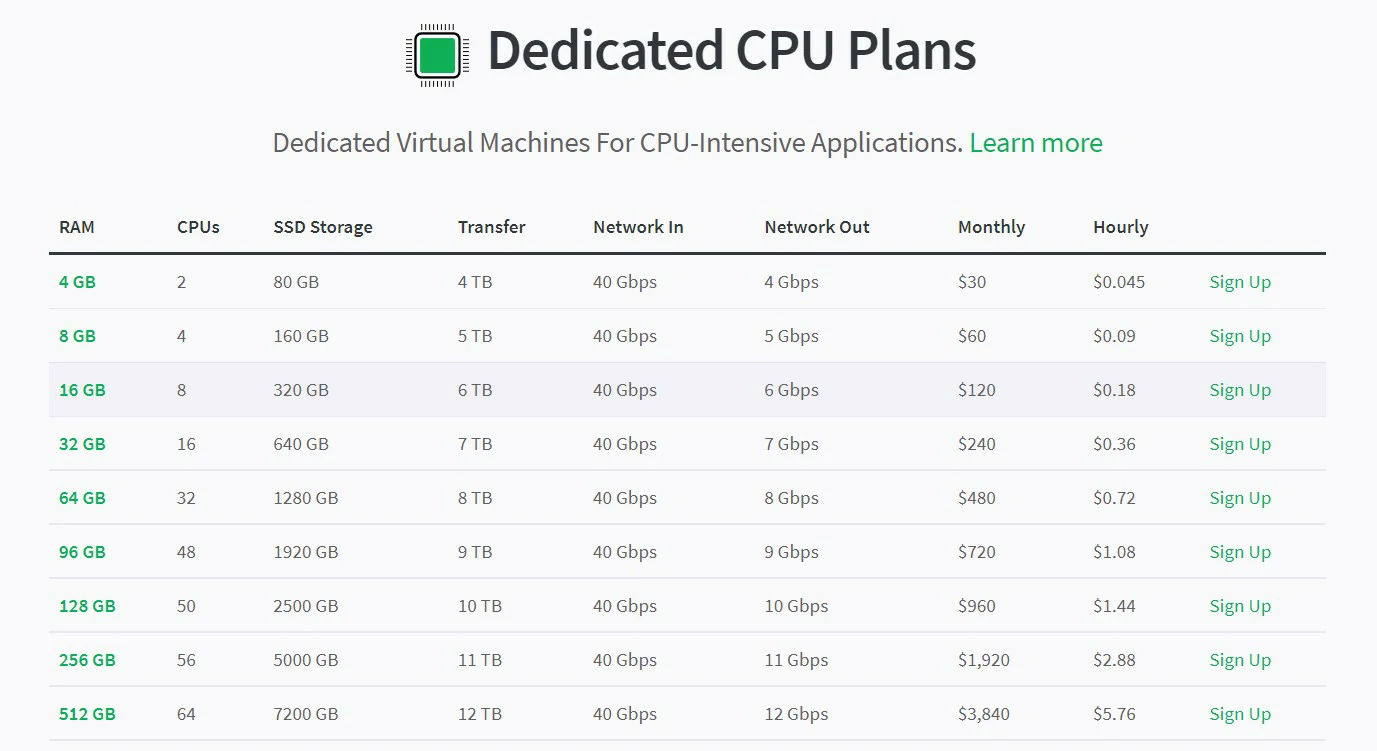 There are nine different plans available in this, which we have told in the following picture –
Shared CPU Plans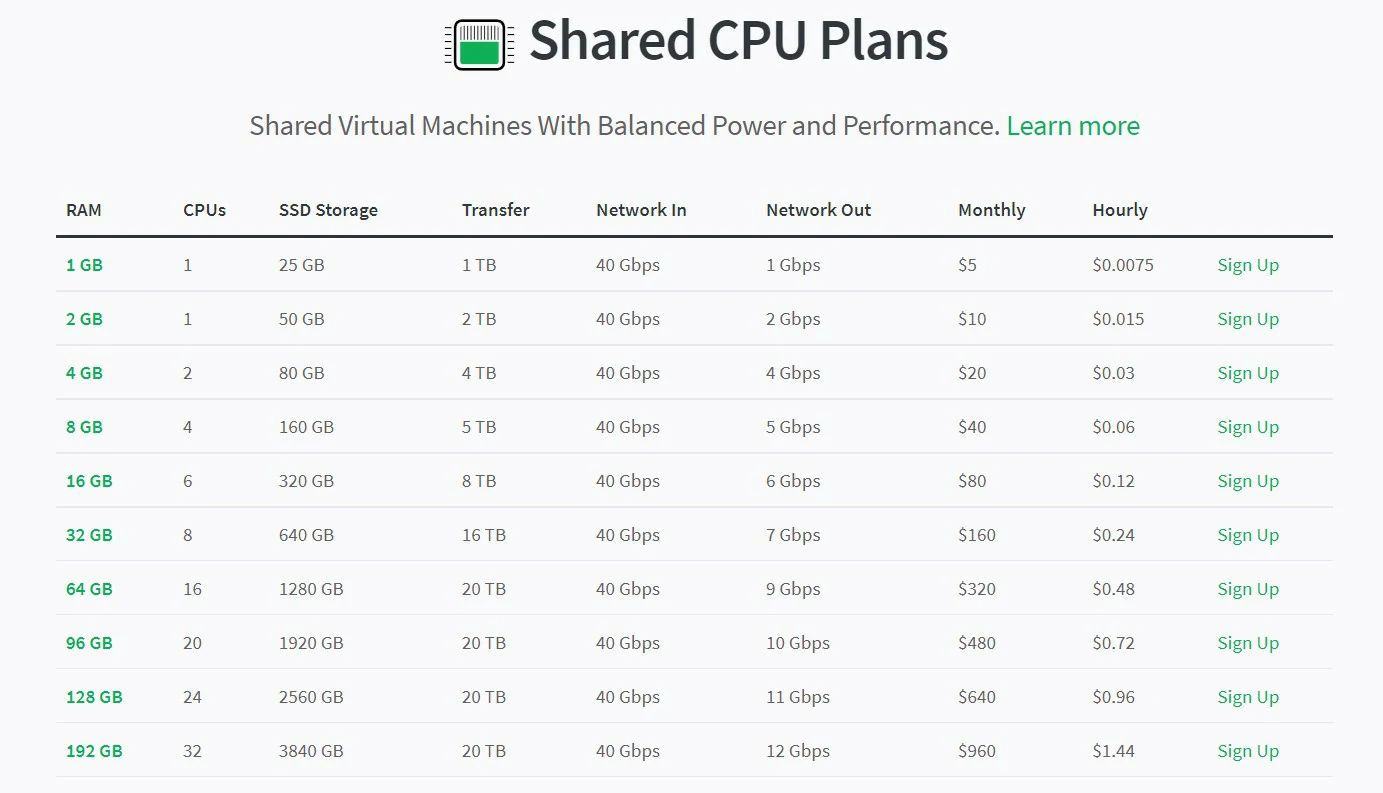 There are 10 different plans available in this, which we have shown by the picture in the following –
High Memory Plans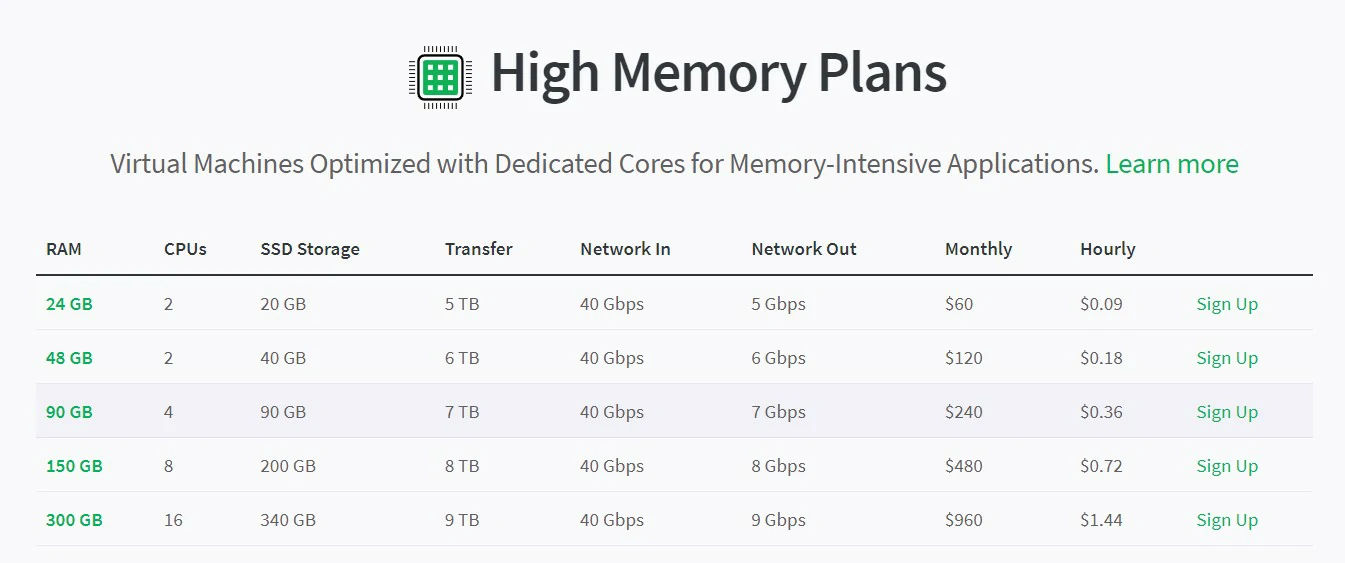 There are five different plans available in this, which we have presented through the picture in the following –
GPU Plans
There are four different types of plans available, which are shown in the picture below –

Alternatives of Linode
DigitalOcean
DigitalOcean is a cloud infrastructure provider that offers the same great features as Linode, including robust APIs, high-performance SSDs, and hourly pricing. It's also priced the same as Linode, starting at $30/month for 4GB of RAM and 80GB of SSD storage. They also provide managed services for your servers.
Amazon EC2
Amazon EC2 is a highly-scalable infrastructure-as-a-service solution that comes with an almost limitless choice of server types, giving it a slight advantage over other providers like Linode because they've been doing this since 2003. . It's a bit more complicated to manage than Linode or DigitalOcean, but if you're looking for flexibility and scalability in a provider, it's a great option.
Vultr
The primary reason why Vultr is a solid alternative is that it offers 16 data centers located worldwide. With such a vast network of servers, it ensures that users can choose the best location based on their target audience and enjoy maximum performance and minimal latency.
Amazon Web Services (AWS)
AWS is another cloud-hosting service that offers many benefits besides cloud hosting. It is an excellent option if you are looking for something simple or plan on using other AWS services as well.
UpCloud is a cloud-hosting provider that provides public and private cloud solutions, as well as high-availability servers for users who need enterprise-grade reliability.
Founded in 2011, UpCloud cloud hosting provides virtual server and storage solutions to businesses of all sizes. It can create server clusters for high availability or automate processes with APIs.
Frequently Asked Questions –
Is Linode Better than Digital Ocean?
Linode and Digital Ocean are both cloud hosting providers, meaning they offer servers that you can use to build and host websites. They are both popular with small-business owners and individual developers, but they each have their own strengths.
If you need to scale your business quickly and want a lot of flexibility in the size of your server, Linode is a good choice. It is also a great option for speedy customer support, including live chat.
Digital Ocean offers a much simpler user interface, making it easier for new users or non-technical users to manage their servers. Digital Ocean also has more features on its basic plan than Linode does. Ultimately, though, the best provider for you will depend on what kind of applications you are using and what kind of budget you have available.
Is Linode.com Safe?
Linode is an excellent choice for hosting your website. It is one of the most popular options in the market. Is Linode safe? Yes, Linode is safe.
Can you Host Multiple Websites on Linode
Yes, you can host multiple websites on a Linode server. You can do this directly through the Linode Manager, which allows you to create any number of website configurations and link them to your domains.
The Review
Linode Review
Linode is a cloud-computing provider, launched in 2003 by Christopher Acker. Its company is based in New York City, with its main data center in Atlanta. Linode was given an unusual A+ rating...
PROS
Linode has a simple pricing model.
The company's plans are customizable, helping you can add or remove resources as needed.
4 GB RAM offers a higher-priced option for 4 GB SSD storage and 20b transfers at $30/month.
Reliable network availability with a 100% uptime SLA guarantee.
Features a simple web-based console for easy server management and can provide helpful documentation and community resources.
Free DNS hosting is included with every plan. In addition, Linode is one of the few providers that offer a free trial, so you can try it out before you buy.
They have a worldwide network of data centers with multiple locations in the USA, UK, and Singapore.
It has considerable reliability, customer service cons, security concerns, lack of transparency, and adequate flexibility.
CONS
It does not have a completely free tier available like some competitors.
Their pricing plans are quite expensive as compared to other competitors.
It has limited storage space in the lower-tier plans.
Review Breakdown
Features

0%

Easy to Use

0%

Interface

0%

Scalability

0%

Server Locations

0%

Value for Money

0%

Support

0%

Brand Trust

0%