Hubspot is an all-in-one marketing software that lets you experience how Marketing Hub Professionals can easily manage campaigns, unify your team, drive leads and revenue, and save time. Use this platform and see how you can manage your marketing campaigns all in one place while saving your time.
HubSpot works well to manage your web content, create landing pages, manage your social media accounts, and measure the success of your results by customers and leads. HubSpot has an amazing library of webinars that helps you understand the entire process of inbound marketing.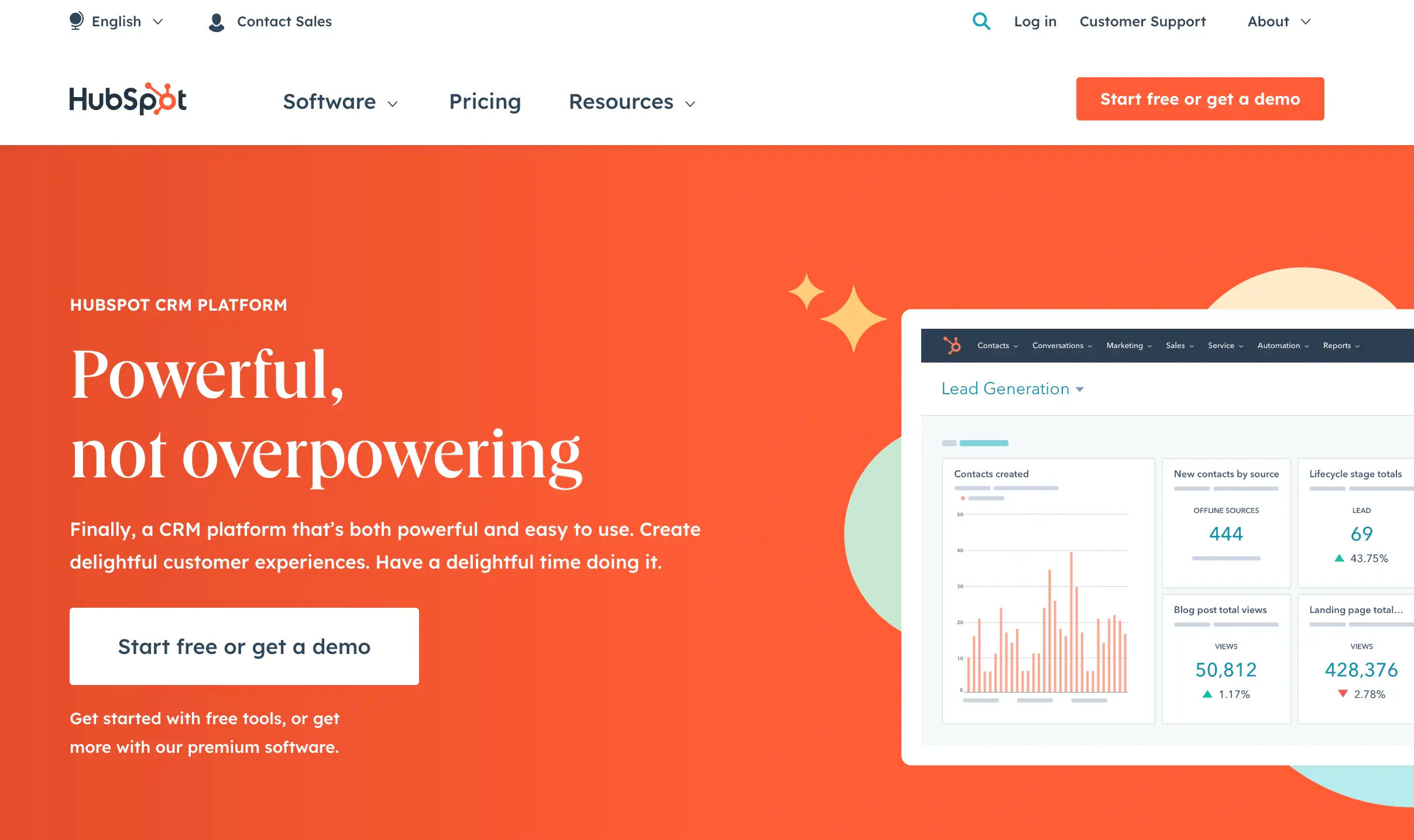 Hubspot lets you optimize your website so that you can be founded by more prospects and convert more and more of them into important leads and paying customers.
HubSpot's free edition outshines most of the other paid CRMs available in the market. It is a great choice for every business that is present out there. HubSpot is a scalable, modular solution that refers to a range of scalable tools and offers covering operations, customer service, marketing, sales, and content.
HubSpot's CRM spares no detail while delivering what you need, irrespective of your business's size. The software is easy and intuitive to use. The developers work greatly to make everything easily accessible. Even when using the free plan, you will face no problems navigating around.
Features of Hubspot
Free CRM
HubSpot provides free CRM. That is technically its standalone feature. CRM proves to be the heart of the software. With it, the users easily access contact behavior tracking information that is present across various HubSpot objects. These objects include companies, contacts, tickets, and deals; all information is entered as the properties on those object records.
List Segmentation
HubSpot lets you create lists, which are groups of contacts in your database that are very much alike based on the criteria you have dictated. Based on many different things like lead sources, several interactions, page views, interaction with emails, last activity, or any other property that you store on your contact records can be grouped.
Workflows
HotSpot offers a beautiful feature of automation. That is an amazing thing for marketers as it makes their activities and tasks more intuitive and simpler. Its workflows automate tasks like list building, property filling, and email sending. The job is done through the selection of certain rules or criteria that will work to trigger the action needed.
Landing Pages
For any marketing strategy, landing pages are a critical part. Marketers are free to choose their templates or use any of their pre-designed ones. The drag-and-drop editor makes it further easier to move the modules around and add images or text for the marketers with little or no knowledge of coding or design.
Paid Ad Tracking
HubSpot offers ad integration that helps marketers to analyze the performance of their Facebook, Google, and LinkedIn Ads. The good part of integrating ads with HubSpot is the ability to track down the interaction back to the contact records in the software. This thing gives ad attribution and information to all of your teams, increasing your visibility at the same time.
Free trial of Hubspot
For trying out Hubspot free trial, there is no requirement for any commitment or credit card. It offers a free trial for 30-days. During this period of 30-days, you can-
Manage and attract new leads with social media, blog tools, and SEO, and seamlessly unify your marketing efforts using its campaign tools.
Prove ROI with custom reports or pre-built reports to track virtually any metric.
Nurture and convert leads with easy-to-build landing pages, email marketing tools, forms, and automated workflows.
Pass the quality to lead sales with a robust CRM that works to create to create a single source of truth for each company and contact record.
Get more traffic with social media, blogging tools, and SEO.
Get more customers with marketing automation, email, and lead intelligence tools.
Get more leads with calls-to-action, landing pages, and form-building tools.
Pricing of Hubspot
The pricing plans offered by Hubspot are as follows-
Free, Starter, Professional, and Enterprise.
HubSpot's marketing, customer support, sales, and operational hubs start at $45 per month. And the CRM hub pricing starts from $23 per month each.
A lot of money can be saved if you directly buy the Starter Bundle. It includes all the hubs and starts at $45 per month.
Pros and Cons of Hubspot
Pros-
Core CRM software comes free.
Tons of great free tools.
Amazing customer support.
It is easy to use and incredibly easy to create with.
It is a scalable and modular solution.
Flexible pricing.
Offers the most comprehensive free plan.
Provides you with hundreds of powerful features.
Cons-
A little complicated pricing plan.
On the free plan, there is no customer support provided.
There are limitations to the free plan.
FAQs of Hubspot
What is the main goal of HubSpot?
HubSpot is a platform that brings everything that a scaling company needs to deliver a great-in-class customer experience all in one place.
What type of companies use HubSpot?
Around 4013+ companies use this software in their tech stacks, including Mollie, Trustpilot, and Accenture.
Why should you try using HubSpot?
HubSpot is the perfect platform that gives employees the tools and flexibility to succeed. Its feedback, adaptability, and flexibility are some of the secrets to its success.
What are the products of Hubspot?
HubSpot offers five premium products- Service Hub, Sales Hub, Marketing Hub, Operations Hub, and CMS Hub. There are built on top of a collection of many tools and features that you can access for free.
What programming language does HubSpot use?
HubSpot uses the HubSpot Markup Language, referred to as Hub.
What are some of the problems that HubSpot solves?
HubSpot solves some of the best business problems. Some ways by which it can solve some of the biggest problems are-
Sales-qualified leads
Service-qualified leads
Product-qualified leads
Marketing-qualified leads