Moosend was designed originally with the idea to redesign its Campaign Editor in a way for those who need to use it for the first time or those who have just started with Moosend. And those who are not high-frequency users. All of its features are available to all the users of Moosend. You can freely use this platform without learning how to do so.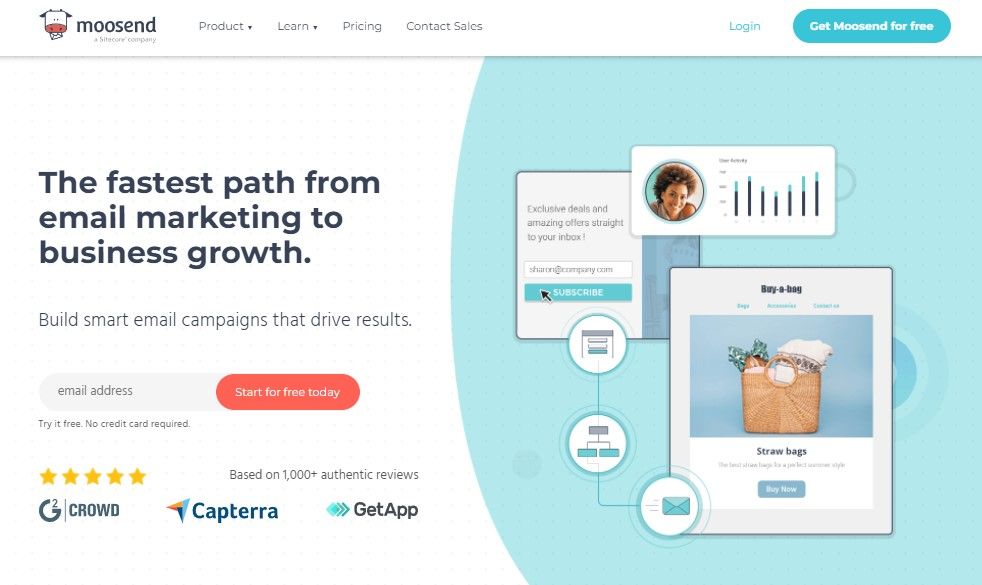 Moosend is an email marketing platform that greatly helps small businesses to execute their marketing campaigns. Its workflows are very smooth as compared to its competitors. Moosend is a great option for you if you wish to have a robust automation workflow at an affordable price.
Moosend has an extremely user-friendly interface, which proves to be great for beginners. It also makes it easier to launch your first email campaigns while having access to a free plan. You can build entire email marketing campaigns using this simple marketing solution.
Moosend is a great value for money and offers an amazing free trial for 30-days. Everything in Moosend is quick to learn and easy to use. Using it you can connect your website for in-depth campaign tracking. It has marketing automation and segmentation tools that are amazing to use. The workflow templates allow you to set up automation very fast.
Features of Moosend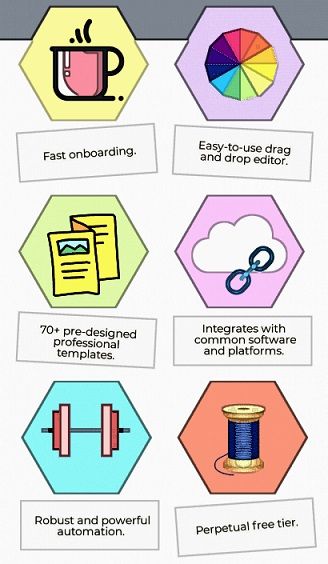 Data integration and Storage
Moosend lets you collect and store data about your customers. This data is key to personalizing content, segmentation, and implementing trigger emails. You can have a great email list with Moosend. As the email list gets bigger, you, however, have to pay more for managing or utilizing it. It is thus recommended to use double opt-in so that you have a clean and retrenched list which keeps your delivery rate high and minimizes your cost.
Dashboard
The dashboard that Moosend offers gives you a general overview of the marketing efforts. It shows various changes in your upcoming and past broadcasts, subscribers count, and email lists. It is clean and sophisticated, making it easier to navigate through the options.
Segmentation
Moosend software has many segmentation tools. These tools are used to create segments of customers using the data that is already stored in the system. Using these segments is a way of increasing the relevance of your emails, and saving the cost by reducing the send volume.
Email Builder
Moosend has an email editor that is used to create custom as well as professional emails. You can also drag and drop various content types into your email templates including- Images, products, articles, buttons, videos, timers, social media icons, and text.
Marketing Automation
Moosend permits you to create drip campaigns that send a series of many automated messages to the customers. It includes many pre-built flows that work to trigger and timelines for 18 types of the following drip campaigns as- Upsell & cross-sell, abandoned cart, happy birthday email, repeat purchase reminder, and special offer reminder.
Analytics
Analytics and reporting are important to driving a great customer experience. It comes with a great data translator solution that helps in understanding the behavior of the customer. Using it you can gain complete control of the backend environment, where you bounce rates, click-through rates, unsubscribes, and more.
Free trial of Moosend
Moosend offers a free trial for 30-days. Here, you can try all of its features for free.
No credit card details are required to avail of this free trial. There are automation workflows, unlimited emails, 1x landing page/1x form, and more.
The free trial lets you create an account for free, which includes emails as well as many other features offered by Moosend. And take advantage of according to the business needs.
Pricing of Moosend
Moosend offers two types of packages
Credits- This plan permits you to buy credits which are later deducted according to the number of emails that you send to your subscribers. Each of these credits is equal to one email that you send to one recipient. That simply means, that when a campaign is sent to 1000 recipients, then a total of 1000 credits will be deducted from the account.
Subscription- This plan allows you to send an unlimited number of emails during the month in which you pay a monthly subscription. Based on the size of your email marketing email list you will be charged.
There are two subscription plans Pro and Enterprise. Both of these are customized based on your business needs. And these plans can be monthly, annual, or biannual. The paid plans start at $10 per month and go on increasing as the number of your contact increases.
2,000 subscribers- $10
2,500 subscribers- 20
25,000 subscribers- $125
50,000 subscribers- $205
100,000 subscribers- $390
Moosend also includes a free plan in which 1,000 subscribers can be included and 3,000 monthly emails can be sent.
Pros and Cons of Moosend
Pros-
Customizable free email template library
Mobile Responsiveness
Free trial
"Save draft" and "Draft history" are amazing features
There are reusable content blocks
Create unlimited custom data segments and fields with Moosend.
The free plan of Moosend includes most of those features that are found in the paid plans.
Relative to other similarly priced competitors the automation workflows are robust.
Great range of support options
Marketing integrations and lead generation
Much cheaper than most of its alternatives
Great delivery rates
Many templates to choose from
Many handy integrations to CRM and eCommerce
Cons-
The customer support in the free plan is limited.
It includes about 70 pre-designed email templates which are quite less.
Compared to Moosend's competitors its third-party integrations are limited.
The landing page builder isn't accessible for free
Moosend is not the most advanced service
FAQs of Moosend
Is it easy to use Moosend? Where is Moosend located?
Using Moosend is not very easy as compared to the other tools of its kind. Its user interface was recently updated, but the email editor is not edited. The slight disjoint between the two designs as well as the editor is at times slow to load. Moosend is located in England, the United Kingdom, and London.
Does Moosend offer a free trial? How much does its pricing plan costs?
Yes. Moosend offers a free plan. You can get free access to all the features of Campaign Editor completely free forever up to 1.000 different subscribers. Its pricing starts from $ 10 per month and includes up to 2,000 subscribers.
What is Moosend used for? Is Moosend the right choice for you?
Moosend is used to manage multiple mailing lists, email campaigns, newsletters, and more. Yes. Moosend is an amazing email marketing platform for small businesses. Rest assured that the customer data will be stored safely in the data storage centers.