Video making and editing have been in use a lot recently and have been a platform and way of advertising for the longest time. When it comes to media advertising, cinema, or normal product advertisement, the best way to reach out to the audience is via a video.
Since visual media has evolved over time, the quality of these videos made and directed have also evolved over time. More visually accurate and attractive video making and editing have been helping brands and individuals to grow.
With platforms like YouTube, it becomes extremely important to make your content look visually attractive for it to stand out in the wide spectrum of video making.
Making a video is one thing but editing it to a precise time, manner and way is one and often, one of the most important parts.
Editing is a difficult task for anyone, a beginner or a professional and a creative block tends to take place. So, to fight that creative block, we come with FlexClip, an amazing video editing software to help you create one of the most aesthetically pleasing videos you can get.
What is FlexClip?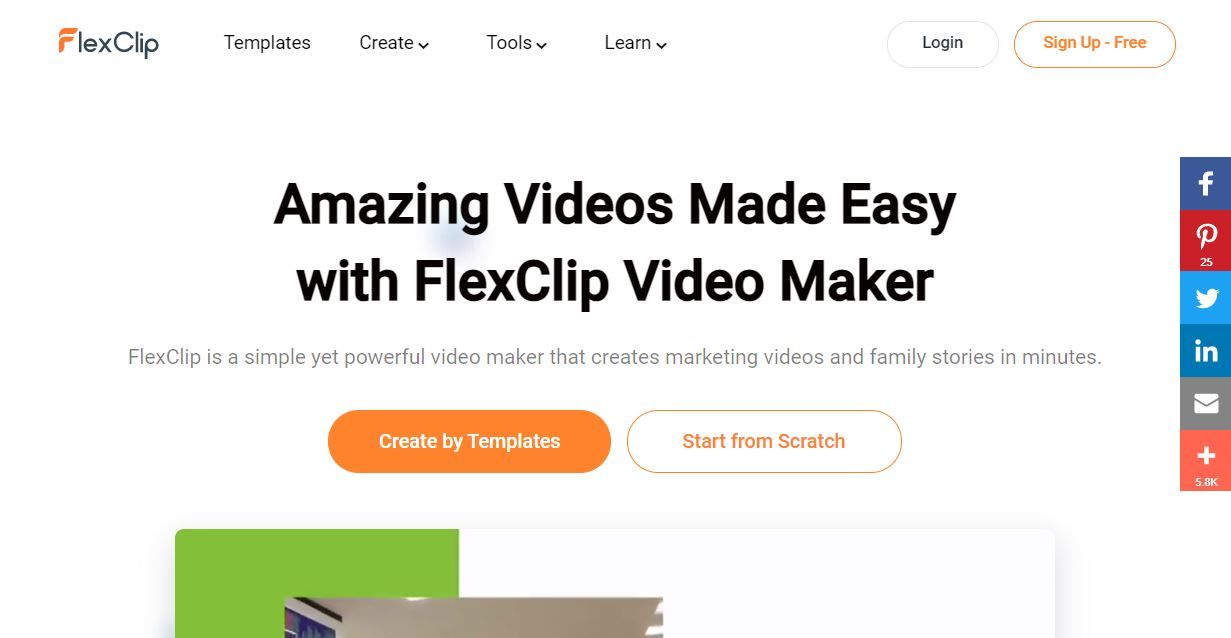 FlexClip is a video editing and creating software that has been deemed as an ideal choice for YouTube video making as well as for other social media platforms. It is a perfect example of a semi-professional video editing software with an advanced but intuitive interface.
The software lets you create spectacular videos with its in-built features such as video templates, motion presets, and an extensive stock footage library. FlexClip helps you create all this in just a click because its main aim is to create videos that are "effortlessly creative".
With FlexClip, you don't have to be tech-savvy or expert to make videos. With its extremely easy to use and user-friendly interface, you can make slideshows, video essays, vlogs, ads, or promotion videos without much hassle.
FlexClip Features
FlexClip offers a wide range of eye-catching and exquisite templates and animation dynamics such as calligraphic texts, logos, widgets, and more. The tool has everything for you to make the perfect video!
It offers a two-in-one mode for both simple storyboard and professional timeline video editing mode. You can choose the model according to your need. While the storyboard tool is easier to use, the timeline comes with flexible tools for editing audios, texts, videos and other elements in the video.
Other than this, there are many more features in FlexClip and they're listed here:
Intuitive Video Editing Interface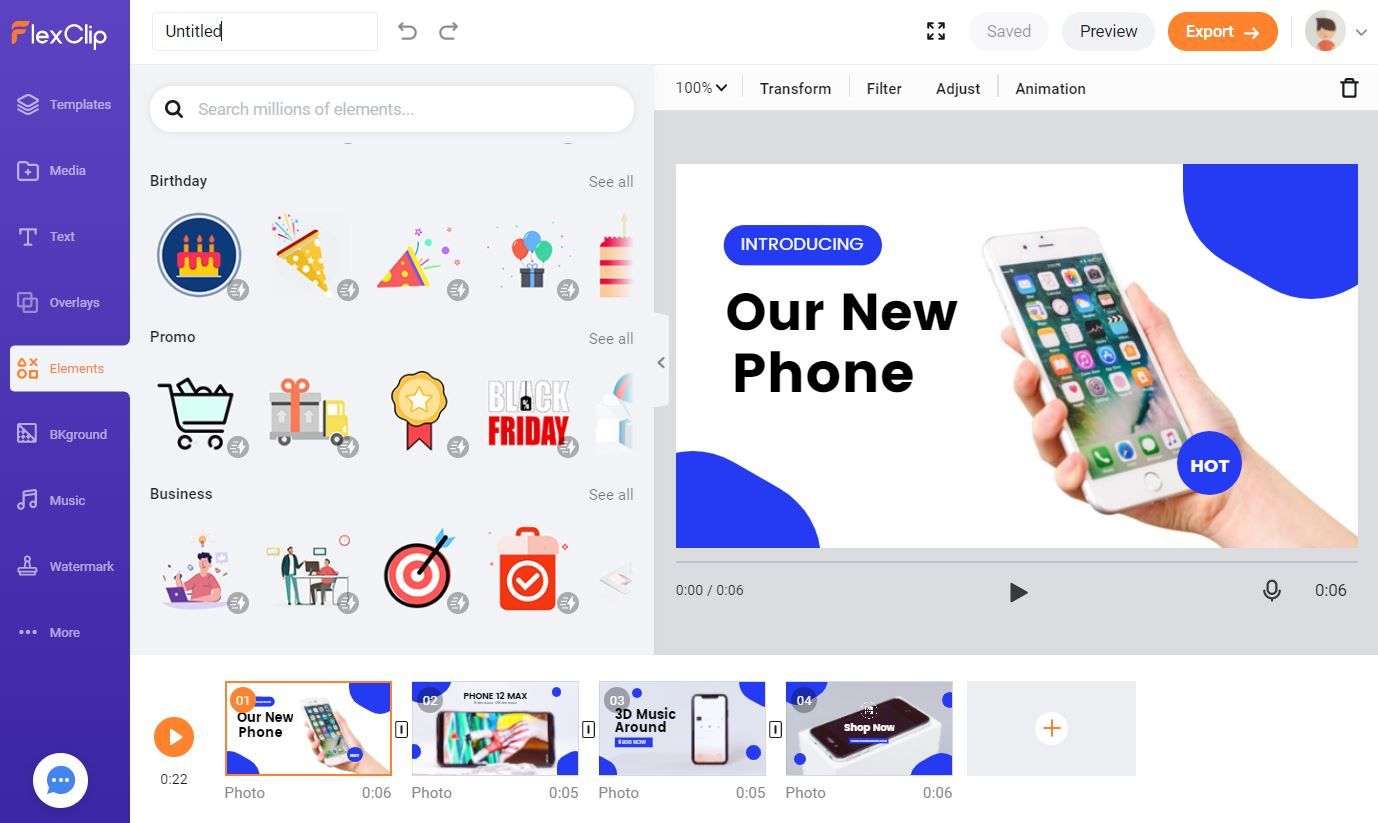 FlexClip allows you to make videos from scratch or from various templates. You get to choose the template, animation, media, and all the elements you want to add in your video. From editing that involves second-to-second frames, adjustable lighting, and speed, plus orientation. You can do it all with ease.
Video Trimmer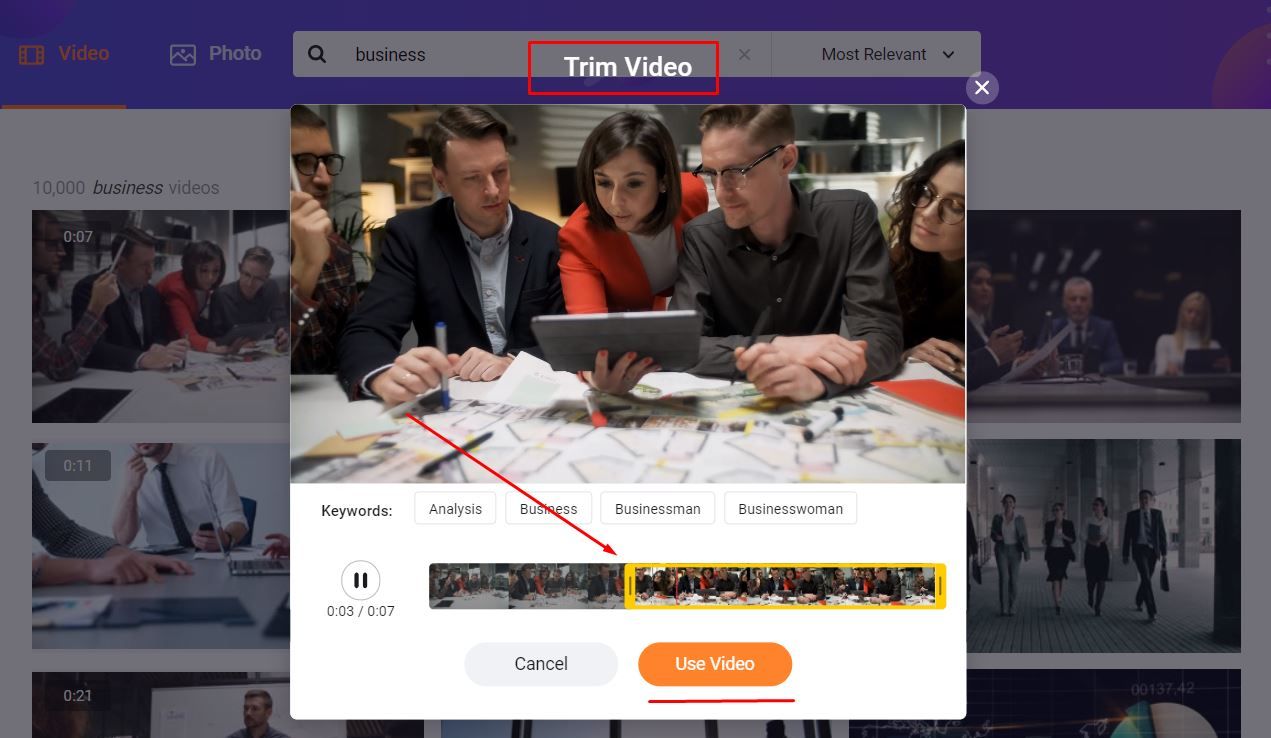 There are times when you want to edit certain parts of your video and trim them out. Don't worry, FlexClip does that too. You can trim the parts of your video by applying a creative jump cut, smash cut, cross-cut, parallel cut, and many other features. You can also trim out the important part of the stock video before importing it to the media.
Video Converter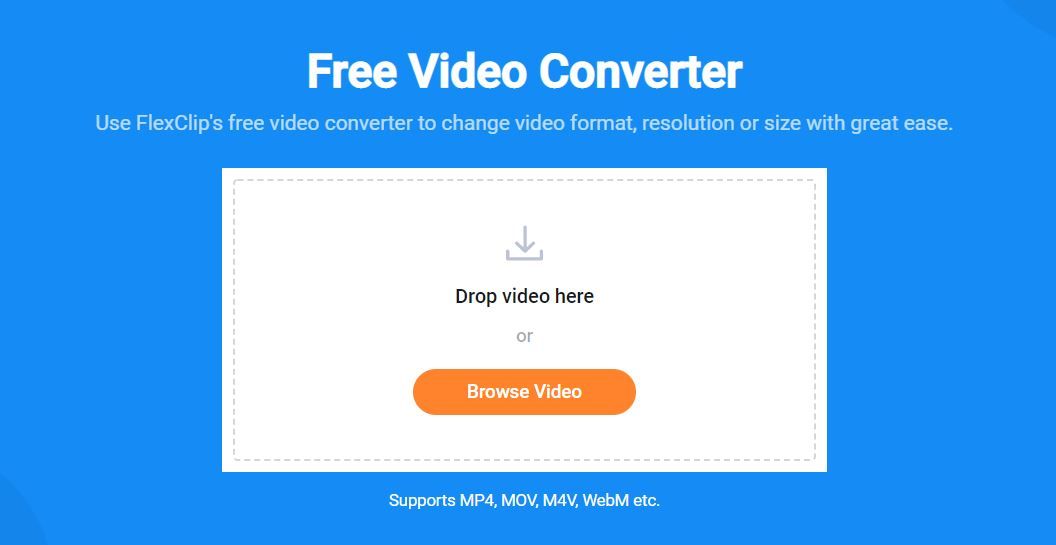 Resizing the video to a particular format in which it also fits perfectly, without tampering it's quality is very important when you're converting video. FlexClip keeps all these details while allowing you to select customization options that fits your phone, computers, tablets so it fits without decreasing the video's resolution.
Filter Video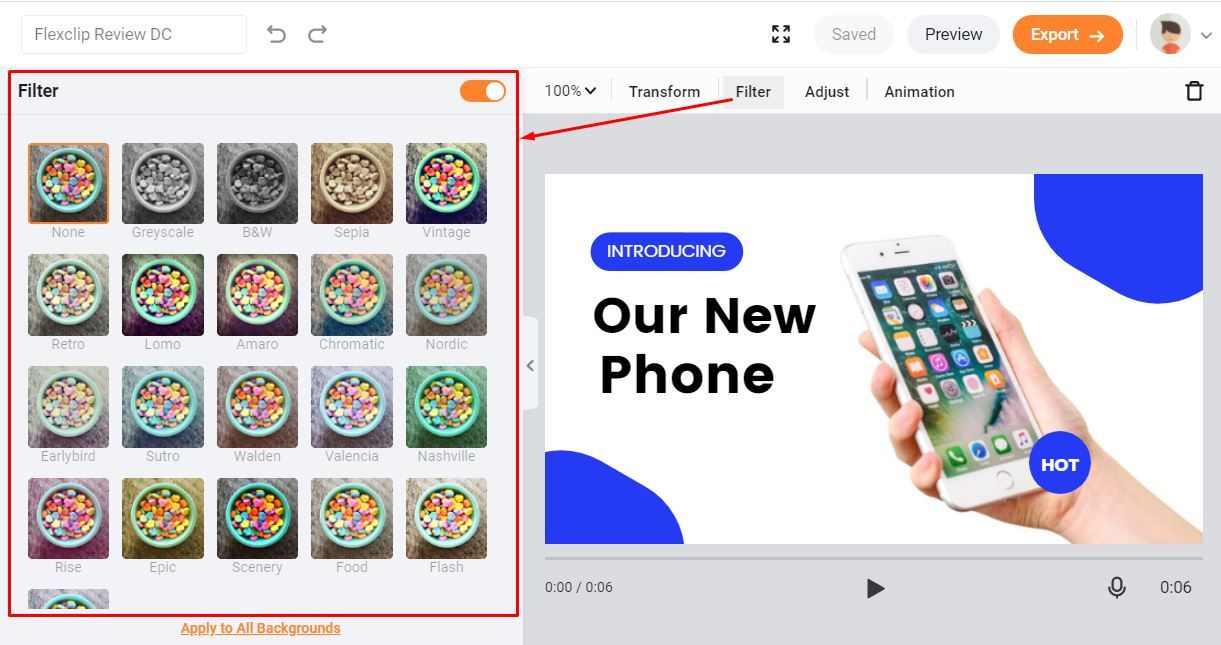 Inside flexclip editor, you can easily navigate to the Filter option while you have the video element selected. Once clicked, you can find all the amazing filter on the left side of the canvas.
From here you can apply any filter of your choice to your selected element. There is a number of filters available such as Greyscale, B&W, Sepia, Vintage, Retro, Chromatic, Earlybird, Epic, Food, Flash, and more.
Video Adjustments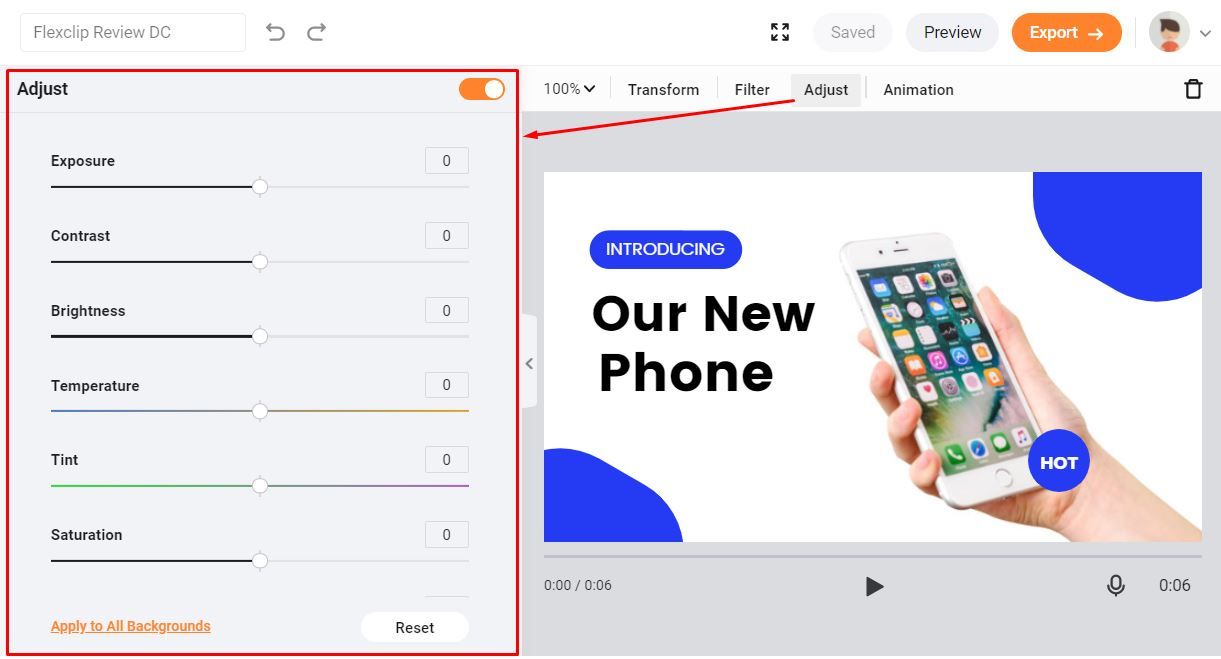 You can easily adjust the element Explore, Contrast, Brightness, Temperature, Tint & Saturation. You can apply the adjustment to all backgrounds with one click and reset all the adjustments with one click as well. To apply Undo, you have buttons of course on the top.
Royalty Free Library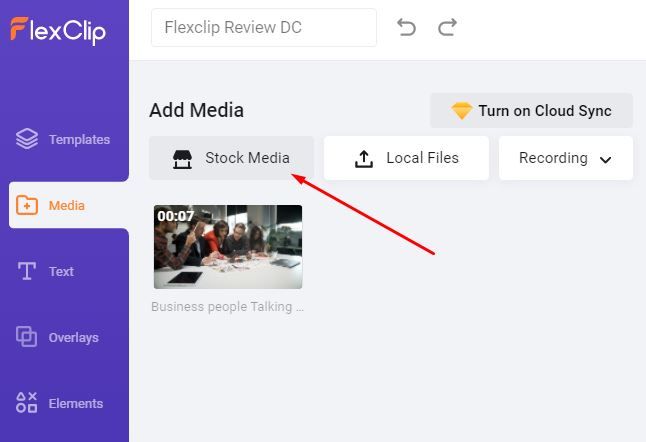 Along with other FlexClip Features, its large storage of content is an excellent feature. If you're working on a project and you lack some material you can easily go through the FlexClip footage library and pick a totally free video, photo or music and add to your content. They are royalty-free so you don't have to worry about copyright as well.
Screen and Video Recorder
As the name itself suggests, this feature is perfect for creators who are making introductory or information-based videos. The software lets you screen-record your screen and add a voiceover to it, which you can do at your own pace. This makes FlexClip an editor as well as a recorder, simultaneously.
Easy to Use
Unlike other video editing platforms, FlexClip is exceptionally easy to navigate through and use to your own flavor. With slick and intuitive interface such as ready-made templates and the "video from scratch" option is extremely useful for someone who's looking for smart work in place of hard work.
How to Use FlexClip?
As mentioned above, it is very easy to use FlexClip and navigate through the entire platform, you don't have to spend hours only learning how to use it.
Here we'll show how easy it is, let's do it together!
Step 1: Open the Website
FlexClip is web-based software so you'll have to open the website before using it. It's optional to register but if you register, you'll find better features.
You can use your email to get a registered account on FlexClip and alternatively, you can use your Google or Facebook accounts.
Step 2: Choose a Template
After logging in FlexClip, there are two paths to enter. FlexClip offers a "Create by Template" option and a "Start From Scratch" on the homepage. The former can be used to modify templates while the latter can be used for a complete video editing mode.
If you're looking for a template, you can click on that option otherwise you can choose to make a video from scratch.
When you click on the templates option, you'll see thousands of templates that are categorized in a neat manner such as business, promotional and sales, intros/outros, YouTube, Facebook, and many more. You can choose one of your likings and move further.
Step 3: Customization of the Layout
After choosing the template, you'll get a customization option and this is how you'll use them.
Left Part: Classification of material types. These are templates, media, texts, elements, background music, watermark, and ect that you can change.
Text: The website allows you to write your own text and insert it in your video, be it static or animated. You can add music through your device or from the library.
Logo: You can remove the FlexClip watermark and add your own logo to boost your brand.
Effects/Transition: After editing all the important parts of the video, you can add other details such as lighting, speed, transitions, appearance to produce the best result.
Other than this, you can see all the activities happening on the Main Screen. The bottom part will preview the video in frames, kind of like a presentation.
On the Other side of the screen, you can see the media library that you can navigate from and use whatever you want.
Step 4: Preview and Output
After doing all the customization and detailing of the video, you can preview the video on the main screen and see if there are any other adjustments that are needed.
After you're completely satisfied with your work, you can choose to export the video on your device by choosing the size of the video you want. It could be any time but for 720p and above you'll have to pay.
You can choose the video resolution of the video based on your choice.
Yep! That was it. That's how you can do it, isn't it easy?
FlexClip Pricing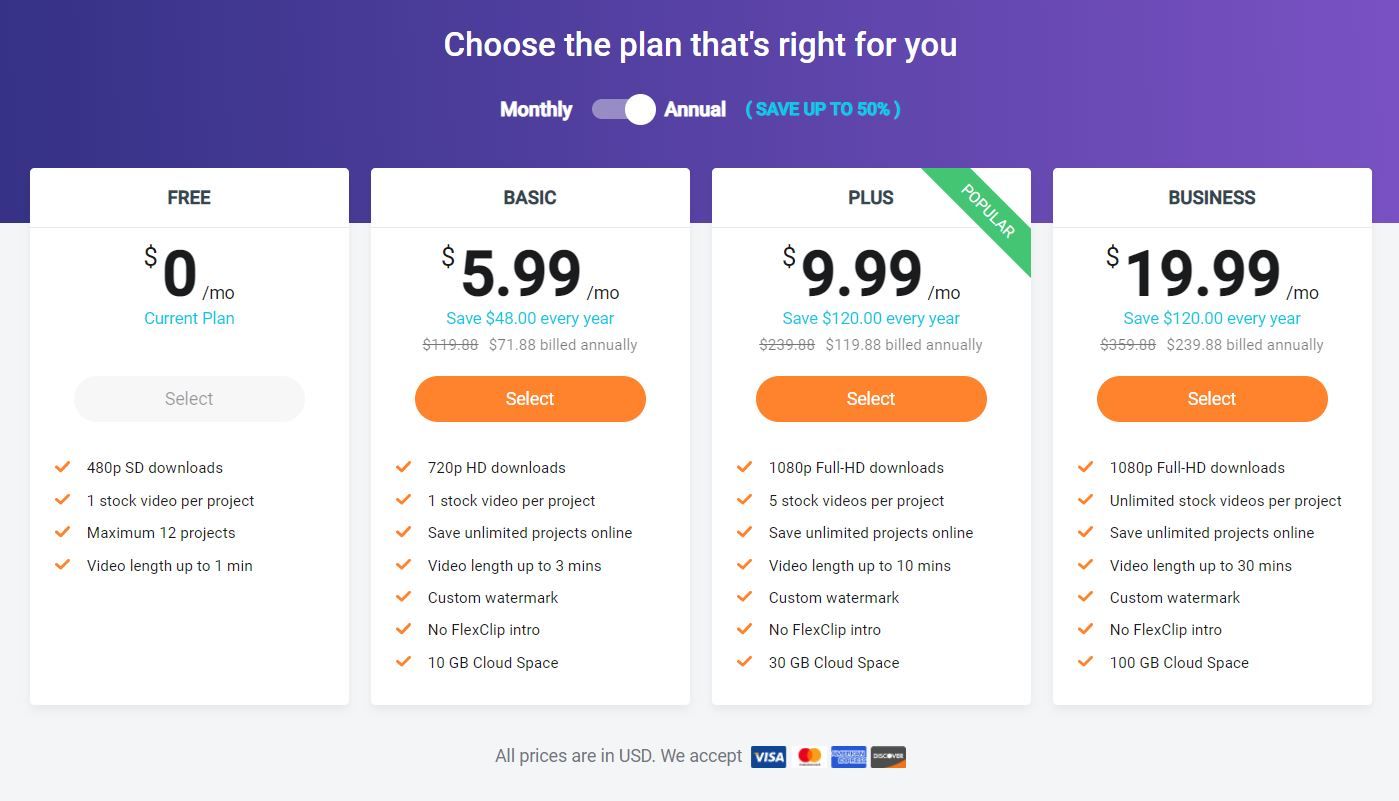 While the platform is free and comes with a lot of features, the paid plan has its own advantage. You can choose to pay a monthly, annual, or lifetime subscription at your own leisure.
The free version and the paid version are different. While the free comes with a limited number of projects and editing, the output range and quality differ.
Free Plan:
480p video quality
Single royalty-free stock use
12 projects only
Video length cannot exceed a minute
Basic Plan: $8.99/month
720p video quality
Single royalty-free stock use, each video
50 projects for future editing
Video length cannot exceed three minutes
You can add your logo/watermark
Remove the FlexClip watermark
Plus Plan: $15.99/month
480p, 720p, 1080p video quality
Free use of 5 royalty-free stock per video
200 projects for future editing
Video length cannot exceed 10 minutes
You can add your logo/watermark
Remove the FlexClip watermark
Business Plan: $29.99/month
480p, 720p, 1080p video quality
Free use of 5 royalty-free stock per video
1000 projects for future editing
Video length cannot exceed 30 minutes
You can add your logo/watermark
Remove the FlexClip watermark
Final Thoughts: Is FlexClip worth it?
Just like any other video editing platform, Flexclip too has its benefits.
While for a professional, it might be extremely simple. For a rookie user, this is a perfect choice. You get to create extremely good-quality videos with features that are easy to use and user-friendly.
The is online video editing software that can help you produce good quality videos for free and however if you get a paid plan, you'll be able to upgrade your editing skills, export in high resolution, and saved a good number of projects in your user database.
Of course, the end decision lies in your hand but FlexClip is a powerful video editing software that gives you good output. It's a smart video creator.
Why don't you give it a shot too?
The Review
Flexclip
Flexclip is truly an amazing online video editing tool to create short advertising and marketing videos for your brand. The built-in templates and ease of use make Flexclip easier and faster to work with. Flexclip saves you lot of time creating video which then can be invested in marketing of the content.
PROS
Perfect Video Ads Builder
No Need to save Projects on Local(Cloud Storage)
Built-in templates and elements for faster workflow
Even a beginner can create professional videos
Affordable Vidoe editing soution for marketers
CONS
Team collaboration not possible easily
Review Breakdown
Ease of use

0%

Features

0%

Support

0%

Brand Trust

0%

Value for money

0%