If you're looking for the best tools to use for Linkedin scraping, look no further. With so many available tools out there, it can be difficult to choose which one to go with. We have done the research and narrowed it down to the top contenders. Our list of best Linkedin scraper tools includes the latest and most advanced tools, designed to offer superior results in the shortest amount of time. Each of these tools offers features such as efficient scraping, flexibility to meet your individual needs, and user-friendly interfaces that are simple to use.
As a professional looking to make the most of their time, you need to have the best tools at your disposal. This is especially true when it comes to finding and engaging with contacts on LinkedIn. Fortunately, there are some great scraper tools available that can help you do just that. These tools provide you with quick and accurate access to LinkedIn profiles, allowing you to find the right people to engage with within a fraction of the time. Not only that, but they are also able to automate many of the more tedious tasks associated with social media networking. Whether you're a marketer looking for new leads, a recruiter looking for new talent, or a researcher needing to source data, With a few clicks, you may receive the information you need from our Best Linkedin Scraper Tools post. Get started now and see the difference these innovative tools can make for your business.
Why should you crawl LinkedIn?
LinkedIn scraping is a growth hacking technique that involves automatic data extraction from prospects. It makes it simple to create a list of leads or opportunities for the growth of your organization. Scraping tools, which delve straight into the structure of a website to retrieve the information they need, can be used to collect a large amount of data. Scraper LinkedIn will help you to manage a large amount of data from your prospects for more efficient and targeted prospecting. While expanding your network, you may create databases, and contact files, and hunt for partners. Following that, we'll look at the scraping tools.
People scrape internet platforms and websites to obtain information for a variety of objectives such as business intelligence, analysis, and so on. People scrape LinkedIn to obtain information about organizations and personnel. For example, if you work as an executive at a firm and want to search LinkedIn for professionals for your company, scraping the platform can assist. This is due to the difficulty of manually scraping or visiting every page on LinkedIn to copy the profile information. You may, however, scrape LinkedIn using bots to obtain profile information on all possible workers in your field who are on LinkedIn. However, because online scraping includes bots, several social networking platforms, including LinkedIn, prohibit it.
What exactly does a scraper do?
A web scraper extracts structured data and information from a website using bots by extracting the underlying HTML code and data stored in a database. There are several sub-processes involved in data extraction, ranging from preventing your IP from being blocked to accurately parsing the source page, creating data in a suitable format, and data cleaning. Fortunately, web scrapers and data scraping technologies make this procedure simple, quick, and dependable.
Sometimes, the amount of information to be collected from the internet is too enormous to be pulled manually. As a result, firms that employ web scraping solutions may acquire more data in less time and at a cheaper cost.
Furthermore, organizations that benefit from data scraping get an advantage over competitors in the long run.
This essay will analyze the top 12 best online scraping tools based on their features, cost, and simplicity of use.
List of Best Linkedin Scraper Tools in 2023
There are several programs available on the internet today that allow you to scrape LinkedIn data effortlessly. All of them have unique characteristics, as well as pros and downsides to consider. Explore our best scraping tools. For those who do not have the time to read the entire article, here is a synopsis of all the tools. The best LinkedIn scraping tool!
Phantombuster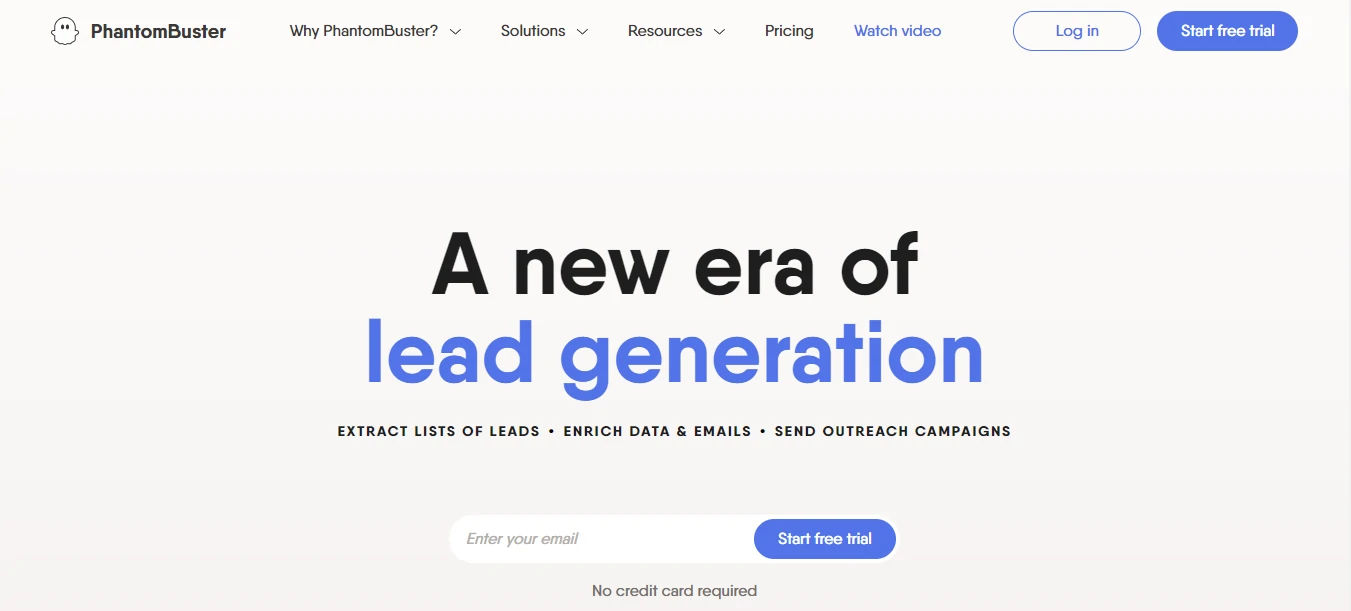 Phantombuster is the go-to solution for LinkedIn scraping, workflow creation, and B2B prospecting automation on the professional social network. Scraping LinkedIn, delivering hyper-personalized messages, requesting connections. Each phantom/workflow has been pre-configured so that you can concentrate on your content and copywriting.
Phantombuster understands how critical it is to be able to scrape LinkedIn profiles for the growth of your business and brand. They understand the sort of LinkedIn scraper tools that you want in order to remain both secure and anonymous while gleaning the data that you require. They think they are capable of assisting their clients by scraping all available data, including email addresses.
La Growth Machine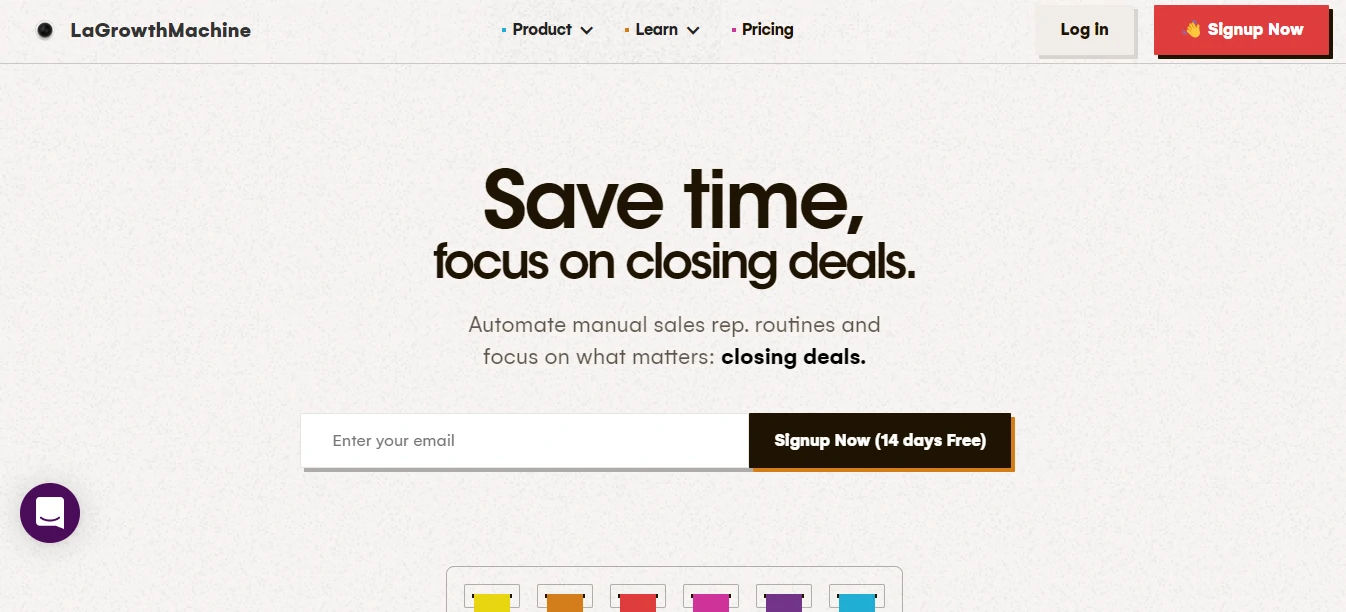 La Growth Machine is a prospecting automation application that works across several channels, including LinkedIn, email, and Twitter. You can effortlessly arrange your prospecting situations. La Growth Machine enables you to crawl LinkedIn, extract all of your prospects' information, and then totally tailor your whole prospecting process, including email, invitation / LinkedIn message, Twitter, time, and condition.
As a result, La Growth Machine enables you to produce qualified leads and approach them in a highly targeted manner in the message, at the correct moment, based on each person's activities. Each scenario may be customized from scratch or by modifying an existing template. The options for personalizing your prospecting are nearly limitless. La Growth Machine is one of the few solutions that allow you to avoid the weekly LinkedIn invitation restriction of 100 by not including notes in the connection request.
Captain Data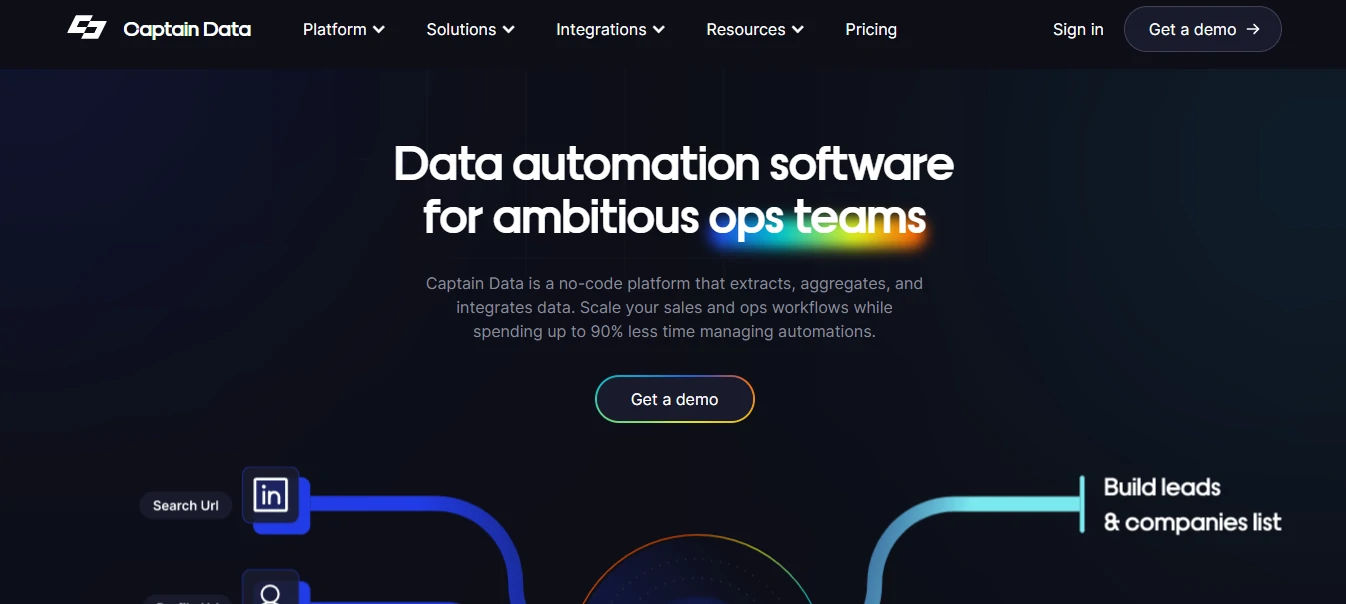 You can use Captain Data to scrape LinkedIn and collect data from nearly any website, including LinkedIn and LinkedIn Sales Navigator. The solution provides ready-to-use workflows for Sales and Marketing teams to automate their prospecting, discover prospects, enhance them, and address them in a hyper-personalized manner. Connecting with a variety of different sites (LinkedIn, Google Drive, lemlist) is straightforward, and you can even share your accounts with your entire team.
When employing a Sales Automation solution with your entire team, is a game changer. Scraping any website or LinkedIn scraping becomes child's play with this tool if you are new to Sales Automation you can create your multi-channel prospecting campaigns in a matter of minutes and clicks. You simply need to input your API key to get your contacts augmented with validated and qualified nominative email, titles, First / Last name normalization, and corporate legal data.
Bright Data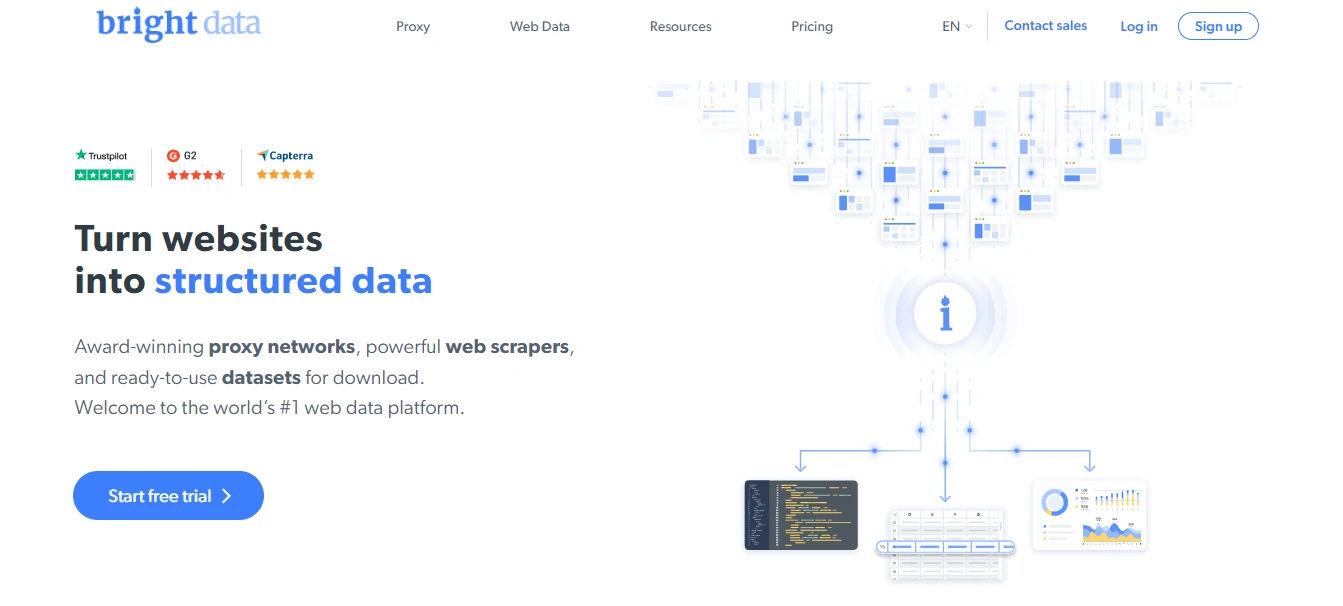 Bright Data is one of the top options for a LinkedIn scraping tool since it can assist you as a web data platform that is well-known throughout the business. They may assist you with ready-made LinkedIn datasets or create a new dataset for you. Bright Data also makes it very simple to obtain the public online data that you are interested in.
You may either request a demo or start your adventure with them right now with their free trial. Their LinkedIn scraper makes it easy to automate and streamline your data collecting so that you can acquire the volumes of data required to advertise your business.
Waalaxy – Prospectin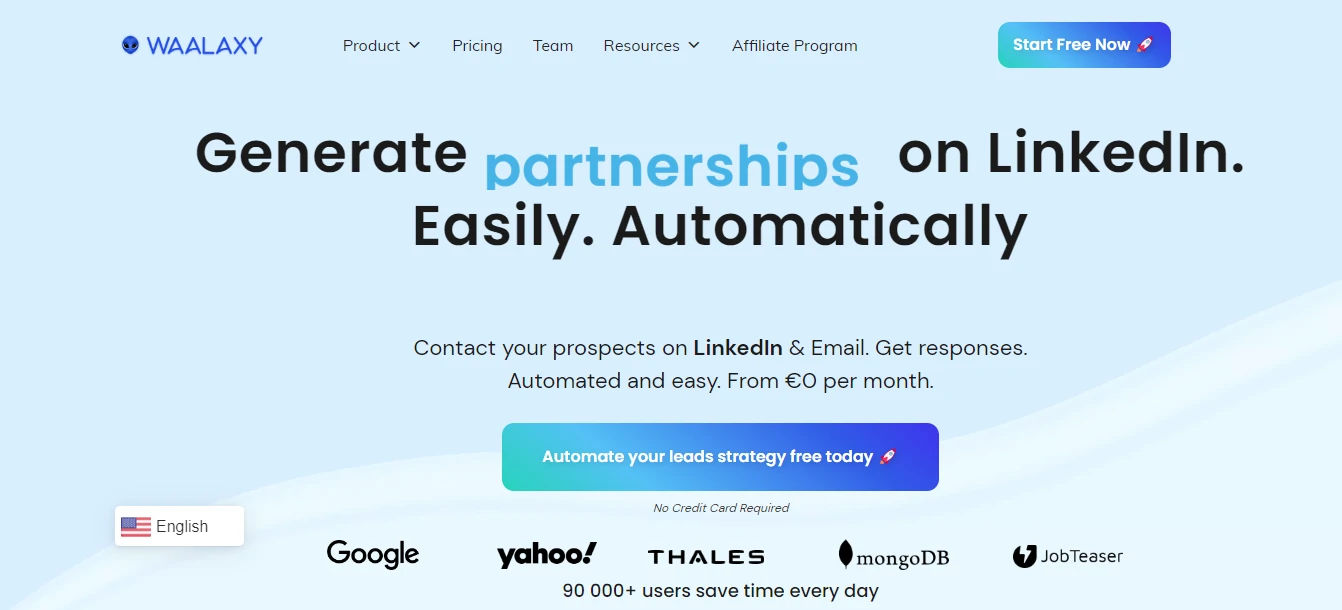 Waalaxy, the reincarnation of ProspectIn, is a multi-channel automation and prospecting tool accessible via a Chrome extension that allows you to crawl LinkedIn, automate profile visits, send messages, and seek connections. Waalaxy is one of the few options for circumventing LinkedIn's weekly invite restriction of 100.
Even though bulk mailing without targeting is not encouraged, not being limited in your LinkedIn actions, particularly connection requests, is always a positive.
Waalaxy makes it simple to establish multi-channel prospecting sequences using LinkedIn, email, or Twitter in order to optimize touchpoints with your leads. Waalaxy uses to identify and enhance emails for all prospects. Email enrichment is available in the Business plan.
Evaboot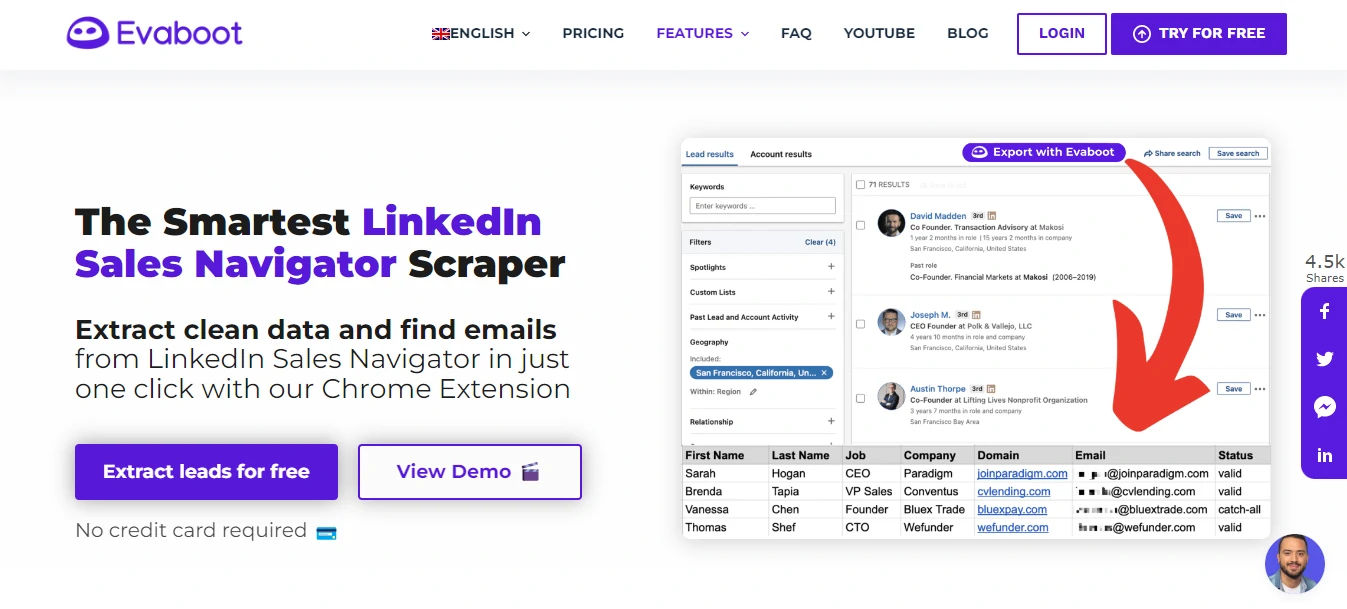 Evaboot scrapes LinkedIn and takes data directly from profiles (personal and corporate). It is a browser extension that adds an "Export with Evaboot" call to action right in Linkedin Sales Navigator, allowing you to extract all of the information from the contacts collected in your filtered search. Evaboot allows you to identify your target contacts immediately on LinkedIn and then import the CSV file directly into your Sales Automation systems.
Evaboot is really simple to use. When you click the "Export with Evaboot" Call-to-Action from a Sales Navigator search, Evaboot will scrape LinkedIn and provide a "ready-to-use" CSV file with cleaned-up data that can be supplemented.
TexAu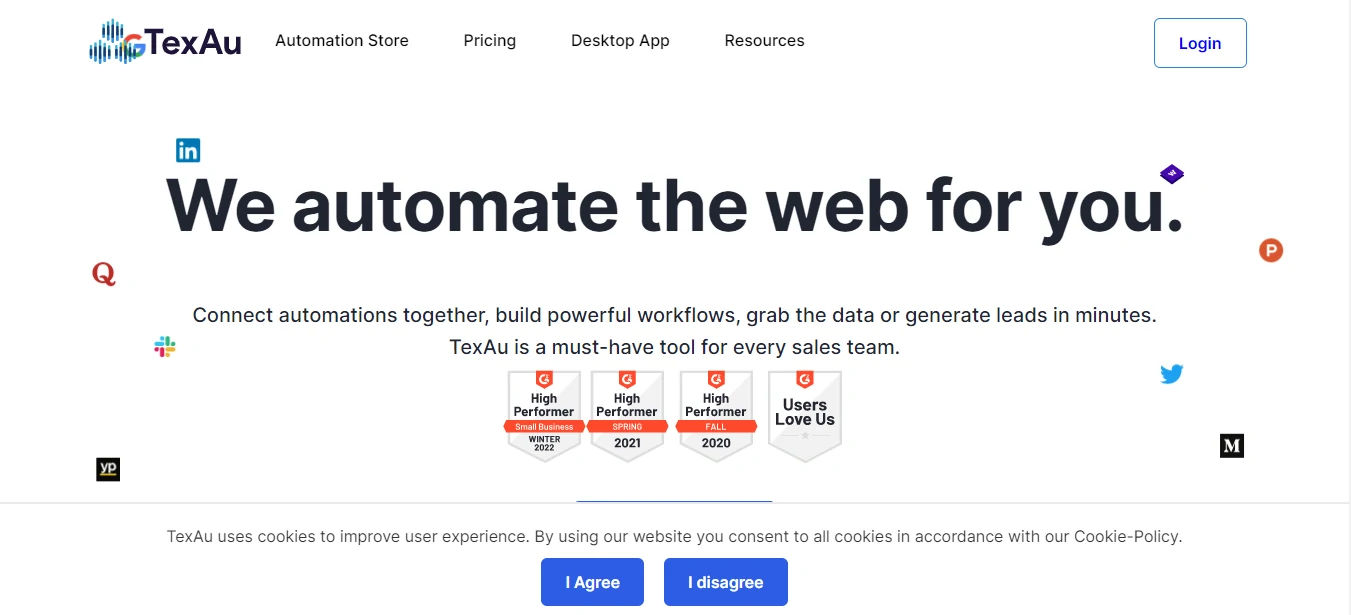 TexAu is a technology developed in India that allows you to design your own prospecting procedures. LinkedIn scraping, enrichment, and sending are all options for modules that may be linked together based on the requirements you specify.
TexAu provides pre-configured templates as well as the most common scenarios. You can publish your own processes. It's also a big bonus to be able to customize 100% of your prospecting procedures by adding time and criteria. TexAu is built in, allowing you to easily enhance your contacts with verified personal email addresses before customizing emails and other messages.
Coolsales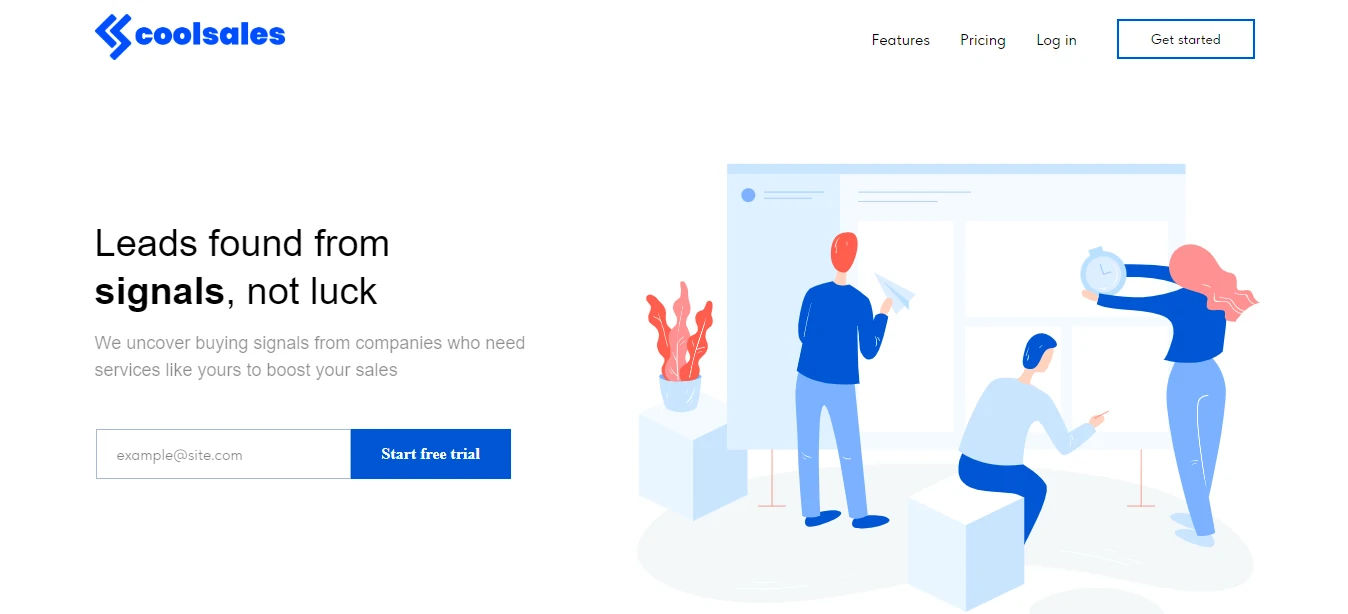 Based on job offers, Coolsales selects the most appropriate firms to prospect. The tool crawls employment boards and includes filters that match your company signals and ICP. These results are enhanced with contact information, allowing you to send customized emails or LinkedIn messages.
There are native connectors with Lemlist, Datananas, La Growth Machine, and Emelia, so you can start a sequence instantly if a firm meets your signal. Coolsales enables you to target your leads at the most appropriate moment. Less volume, but far greater conversion rates! Once your setup is complete, fresh leads are discovered on a daily basis. When lemlist or another prospecting tool is integrated, you get a mix of totally automated lead creation and the correct time.
Surfe (ex-Leadjet)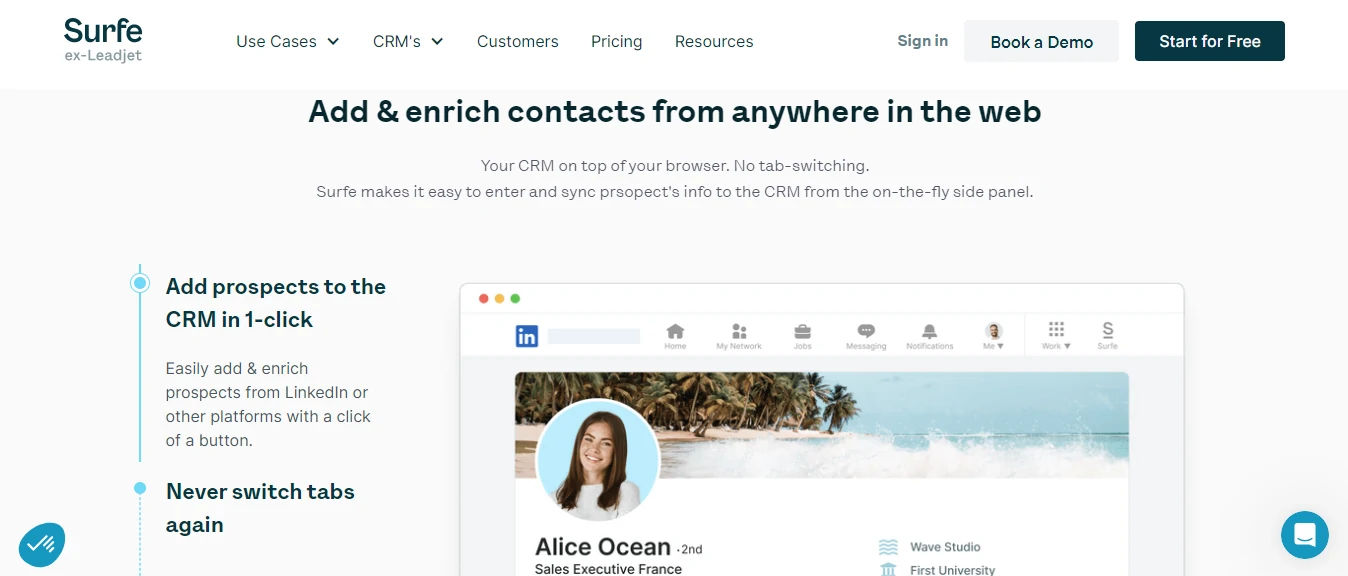 Surfe (formerly Leadjet) is a LinkedIn scraper accessible as an extension. Surfe inserts every profile you visit into your CRM automatically. Surfe is already integrated with Hubspot, Pipedrive, Salesforce, and Copper. A single click on the LinkedIn-integrated button results in the creation of a new contact record for the profile you're browsing.
Surfe offers the first and surname name, job title, company, and website of the contact. When you connect to your CRM, the contact's information is automatically expanded, including a personal and verified email address, business phone number, titles, and all company legal data. This is sufficient to create a true automated lead machine. If you have not yet connected to your CRM, the enrichment is instantly included in Surfe. Enter your API key in the Surfe settings to add the confirmed professional email and business phone number for each of your leads when creating their entry in the CRM
Why do people web scrape in general?
We've previously discussed this briefly in this post, but to summarise, there are several reasons why you would want to web scrape, particularly when it comes to LinkedIn. LinkedIn is a terrific way to create leads for your company and build those all-important professional industry contacts.
Should you Use a Proxy while Scraping the Web?
The trouble with online scraping is that depending on where you are in the globe, there are different laws and legislation that make it theoretically illegal everywhere. If you're doing something unsafe online, you should absolutely use a proxy to conceal your identity and mask your IP address. This can also help you safeguard the information you're retrieving, reducing the possibility of it being hacked.
How much information about a company do I need to know before I use it?
The trouble about services that may help you scrape information from LinkedIn these days is that they are a dime a dozen, making it difficult to evaluate which ones will genuinely help you and which will just try to take your money. As a result, the more information they have about their staff on their website, the more credibility they have, and the more sure you may be that they will be accountable to you in the future.
Final Verdict
After reviewing the available Linkedin Scraper Tools, it's clear that there is no one-size-fits-all solution for every user's needs. Each of the options has its own strengths and weaknesses that make it better suited for certain use cases than others. Depending on the type of data you're trying to extract from Linkedin, one of these tools might be the perfect fit for your project.
As we wrap up our review of the Best Linkedin Scraper Tools, it's important to keep in mind that all of these tools come with different features and functions. While some may provide the ability to access contacts quickly, others may offer more advanced features such as search capabilities. Depending on your individual needs, there is likely a Linkedin Scraper Tool that is the right fit for you.
We hope this review has provided the information you need to make the best decision and that it will lead you to the perfect tool for your scraping needs.