wpDataTables is one of the best WordPress tables and charts plugins. It allows you to create tables virtually from any source, including a table builder, or import tables from the Google Sheets, MySQL queries, Excel, and more. It works for tables as a simple product comparison table or for a huge data table that has millions of rows. Using wpDataTables you can also take any table of your choice and turn it into a captivating chart and graph.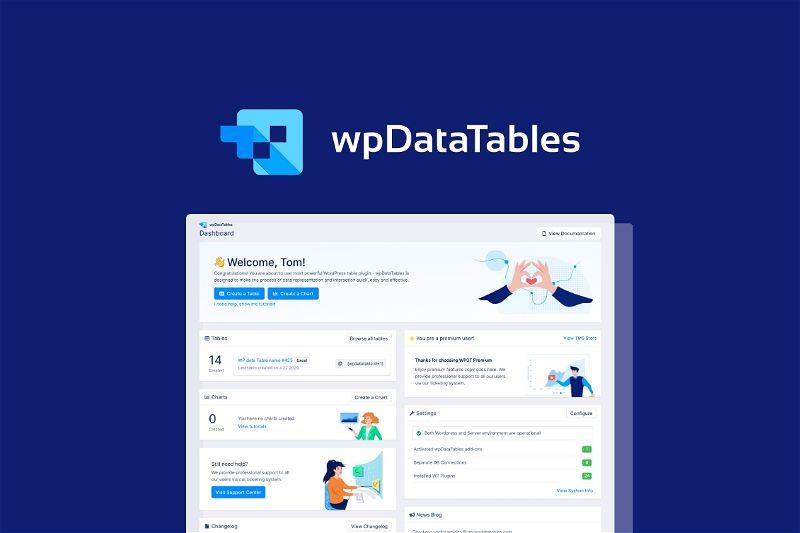 In general, wpDataTables is a very powerful table and chart plugin available in the market. It lets you sync and import data from tons of different sources including Google Sheets, CSV, Excel, JSON, external databases, your WordPress site's databases, and more. If needed, you can then create any type of chart from any of your tables. And with the simple table builder, you can design tables with simple visuals such as pricing tables or product comparison tables. wpDataTables user interface is great on both the frontend and backend, which provides an excellent experience for your visitors and makes it very simple and easier to work with your tables and charts.
wpDataTables Overview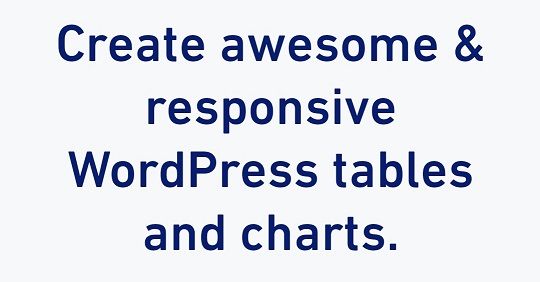 wpDataTables is a flexible, easy-to-use, and user-friendly plugin for working with data as well as charts. You can use wpDataTables to represent vast amounts of complicated data in a concise and user-friendly way using charts and tables. There is a New Table builder introduced in it that lets you create simple tables from scratch. You can now merge cells, style each cell differently, add start ratings to the cells, and even more.
Some functionalities of the simple table include- Merge cells, Undo/Redo, add star ratings, Custom HTML, Shortcode in cells, Custom links, Resize/Reorder columns and rows, Responsive mode, Cell custom formatting, Excel-like editor, Add/Remove columns and rows, Reorder/Resize columns and rows, Front family and front size, Custom links, Add media, Shortcode in cells, Custom HTML, NEW Border options. It has two different editors that make editing your tables very easy and there is plenty of control over your columns or entire tables across the different settings areas.
Features of wpDataTables
Table Constructor Wizard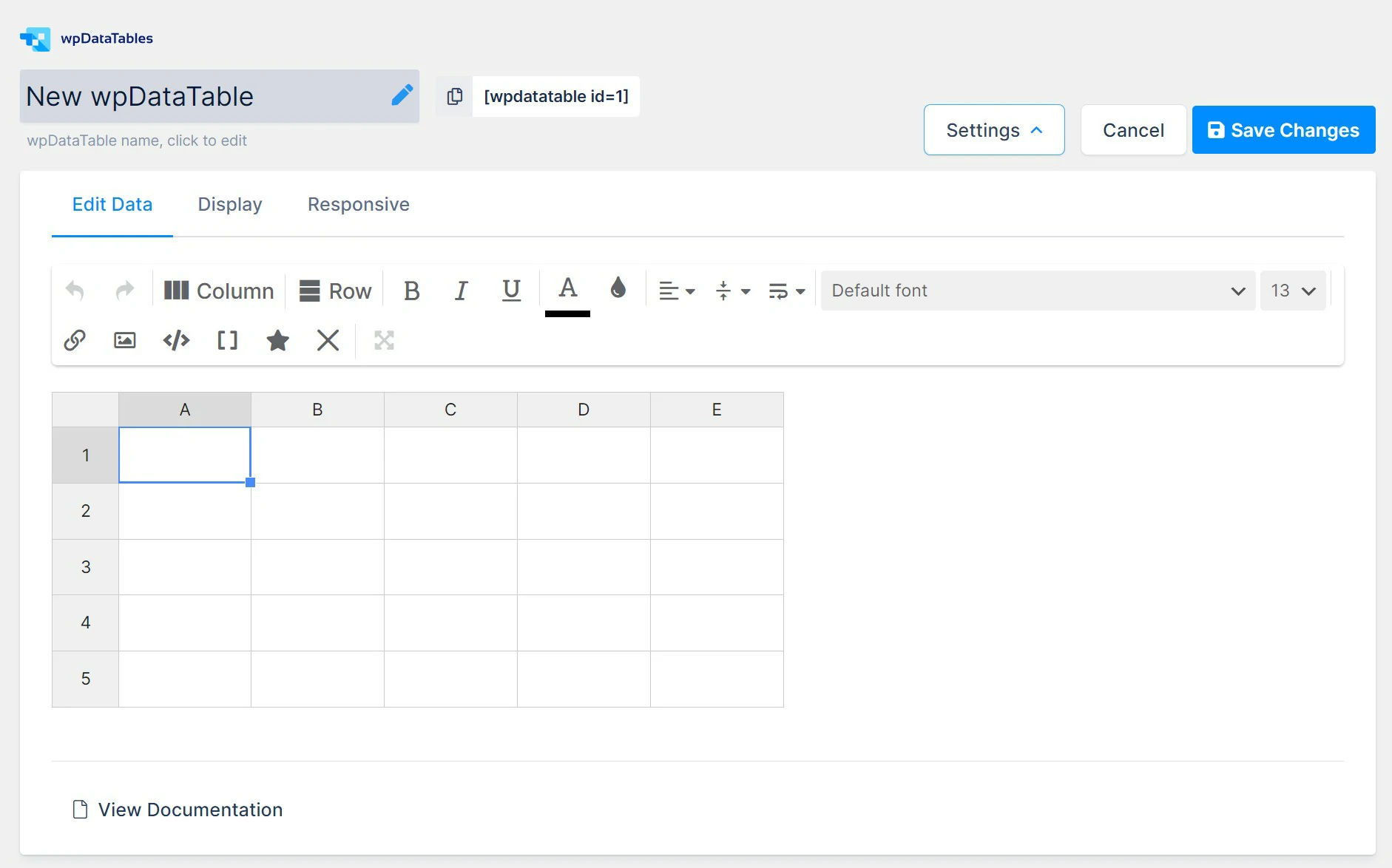 wpDataTables provides you with a well-designed Table Constructor Wizard to help you create your tables. You just have to choose from where you wish to get your table data from.
Table Editors
In addition to a simple table builder for the visual tables. wpDataTables has two different table editors for data. Their editors are- Excel-like editors and Standard editors. In an Excel-like editor, you can edit the data in your browser just like you do in Excel cells. And in Standard editor, there is a more visual interface, along with some popups that let you manage details such as column settings.
Detailed Column Settings
You get detailed column settings in the standard editor, which lets you access detailed settings for any column that you are controlling such as data types, custom CSS classes, allowing filtering and how to use it, and conditional formatting.
Chart from Table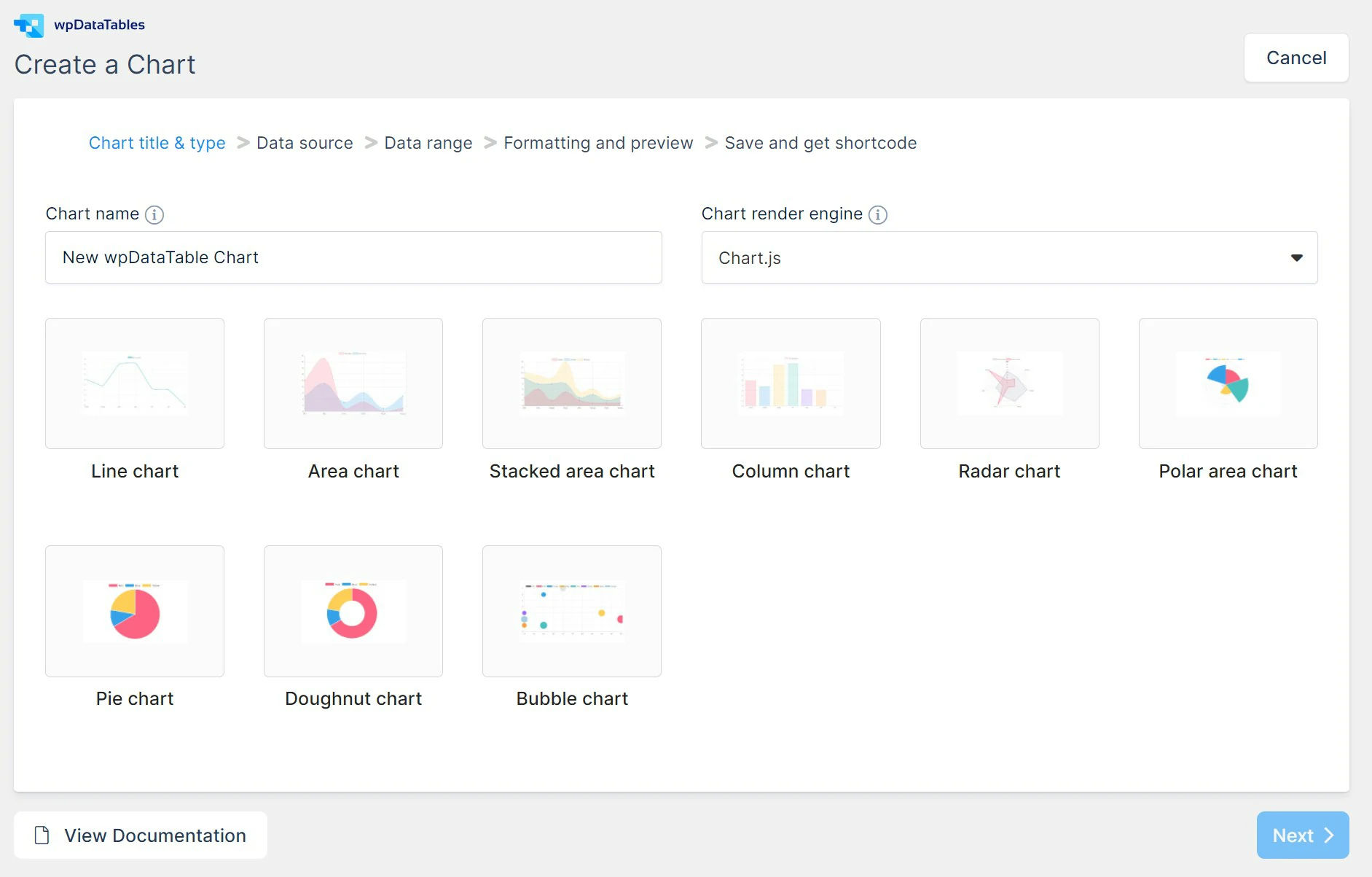 wpDataTables allows you to create a chart from the tables. It also includes powerful chart functionality that enables you to turn any of your tables into various types of charts by some different chart engines.
Filter Widget
wpDataTables has a dedicated filter wizard that you can place in any widget area if you don't wish to include any filter options above your table. This filter widget works well for both- the WordPress classic widgets system and the new-block-based widget editor.
Global Settings
wpDataTables offers tons of options in the wpDataTables settings beyond the table and chart-specific settings. Here, you can configure things like- Responsive breakpoints, Custom CSS and JavaScript, and Whether or not to parse shortcodes in the tables, Colors, Fonts, and Separate database connections.
How to use wpDataTables?
Creating tables and charts with a WordPress plugin is very simple. You just need to follow a few steps-
Step1- Provide the table data
This can be done by uploading CSV, XML, JSON, Excel, or Serialized PHP array. You can also create a simple table from scratch using the new table builder.
Step2- Customization
Customize and configure the columns of your WordPress table (reorder, rename, add CSS classes, change colors, hide) and also maybe customize and configure the Color and Font settings (Table border, Font, Header, Cell, Row, and Pagination) in any way you like.
Step3- Publish in a post or page
Once you are fine with the design of your WordPress table, insert it on any page or post through standard WP Editor and shortcode, Gutenberg, or through page builders like Divi Page Builder, WPBakery Page Builder, Avada Page Builder, or Elementor.
Except for the simple table, all the tables will become sortable and by default, they will have the pagination. Also, each table except the simple table can have a search bar and can have functions like- copy to clipboard, export to PDF, Export to CSV, and Export to XLS. And they are all configurable, you just have to decide whether to toggle these off or on.
Alternatives to wpDataTables
TablePress
The TablePress by Tobias Bathge is an amazing plugin to generate HTML tables. Its spreadsheet-style interface is quite flexible. TablePress creates responsive tables, it works with any type of data- numbers, texts, links, images, HTML, or JavaScript. You can also insert a link or an image and make your table visually informative. And you can edit the data and structure by moving, duplicating, inserting, swapping, etc.
Ninja Tables
Ninja Tables is a plugin by WPManageNinja. It is a freemium plugin that has a highly user-friendly interface. Ninja Tables allows you to create interactive and stylish data tables. It is feature-rich and serves as a great alternative to wpDataTables. Using it you can auto-sync with Google Sheets, create responsive tables and also select the target devices with "Stackable table configuration".
Data Tables Generator by Supsystic
This is a plugin by supsytic.com. Using it you can work with an extensive amount of data, it will arrange and showcase it all. You can calculate numeric values using mathematical formulas, ensure better navigation with search, sort, and pagination options, display tables from the database, import from Excel, CSV, Google Sheets, and export PDF, CSV, and Excel files. Other than that, you can do also many more things using Data Tables Generator.
Visualizer
Visualizer is another great alternative to wpDataTables. It is also a freemium plugin that is rich in features and has an interactive interface. Using this you can customize colors, chart titles, annotations, zoom, animations, tooltip, chart styles, layouts, and pan. You can also import from CSV, Excel, or Google Sheets, and edit the tables live. It supports ChartJS, DataTables.net, and Google Visualization API.
FAQs of wpDataTables
Do you need wpDataTables?
Yes. If you wish to create a great-looking and fully functional WordPress table then you need wpDataTables. Currently, there are over 30,000+ users who are taking advantage of this amazing plugin.
Do wpDataTables offer a free trial?
No. wpDataTables has no free trial available. However, it does have a money-back guarantee for new subscriptions. Even you can use the free version of it without having to pay for any subscription.
How are wpDataTables any different from wpDataTables Premium?
wpDataTables is best for you if you are not sure of which one to choose. wpDataTables is the right option if you don't require the most advanced features because using it you will only be able to create a table in WordPress now and then.
On the other hand, wpDataTables Premium is a great choice if you wish to create small and simple tables. It comes with a huge set of outstanding features. However, one thing that sets it apart is the possibility to manage absolutely any amount of data and create responsive tables in WordPress.
Pricing of wpDataTables
wpDataTables pricing starts from the Basic plan at 5,372 rupees+ 966 rupees GST that has a year of premium support and monthly updates. Then its pro plan comes at rupees 8,486 + rupees 1,527 GST with a year of monthly updates and premium support. Lastly, the Developer plan at 19,386 rupees and 3,489 rupees GST, with 1year premium support and monthly updates.
What makes wpDataTables Stand out?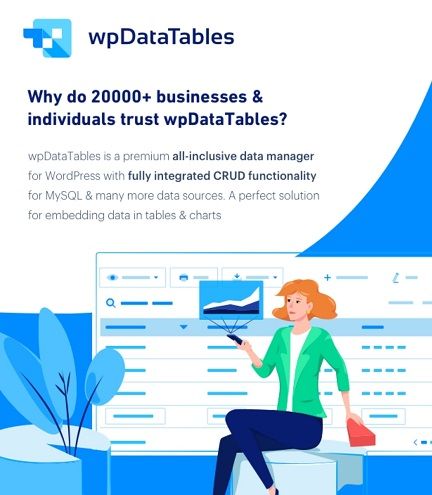 If you need a way to display data, charts, or tables on your WordPress site then wpDataTable is a powerful solution for working with simple or complex tables. All the charts and tables that you create with wpDataTables are responsive. There are however a large number of table plugins in the market that don't manage the responsive design, so it's a great benefit if you are using wpData Tables. Here, you can hide any specific columns on mobile/tablet devices and set up your custom breakpoints. wpDataTables gives you many ways to create tables and import the contents.
Using it you can create tables from scratch, and link a table to an external source, like Google Sheets, SQL, query, Excel, JSON, PHP array, etc. And the data will be updated when you will change the source of the file. You can also import from an external source, like Google Sheets and Excel. This is however a one-time import and the data doesn't sync.
Another thing you can do is, use a MySQL query to pull data from your external database and use a database query builder to add the WordPress content to your table, like taxonomies, posts, etc. Its new update has also made it easier to do product comparisons and pricing tables. wpDataTables is very flexible in how you import your tables and its interface is so user-friendly that it makes what could be a complicated process very simple.
Pros and Cons of wpDataTables
Pros-
User-friendly interface and easy-to-use.
No coding skills are needed.
Builds WordPress tables nicely and quickly. No complicated configuration is needed just simple clicking.
Works like a spreadsheet app. Have all the advanced features and tools.
Fully customized tables and charts. From choosing the color of the palette to inserting the elements wpDataTables allows you to customize your tables as you wish.
Cons-
The free version of wpDataTables at WordPress.org comes with quite limited features.
The Review
wpDataTables
wpDataTables is one of the finest Data Table and Charts plugins available for WordPress as of today. This plugin is very easy to use and provides easy-to-follow documentation and tutorials as well. Now you can easily create excellent data tables on your WordPress website. Interesting, you can create responsive tables with filters using wpDataTables.
PROS
User-friendly interface and easy-to-use.
No coding skills are needed.
Builds WordPress tables nicely and quickly. No complicated configuration is needed just simple clicking.
Works like a spreadsheet app. Have all the advanced features and tools.
Fully customized tables and charts. From choosing the color of the palette to inserting the elements wpDataTables allows you to customize your tables as you wish.
CONS
The free version of wpDataTables at WordPress.org comes with quite limited features.
Review Breakdown
Easy to Use

0%

Features

0%

Scalability

0%

Support

0%

Value for Money

0%
wpDataTables DEALS
We collect information from many stores for best price available
Best Price
$70